As much as I like to advocate risotto, steamy, creamy and just off the skillet, there's not much to say about it's leftovers, a sticky mess with as much appeal as the dirt that follows the snow, except for two words, risotto cakes.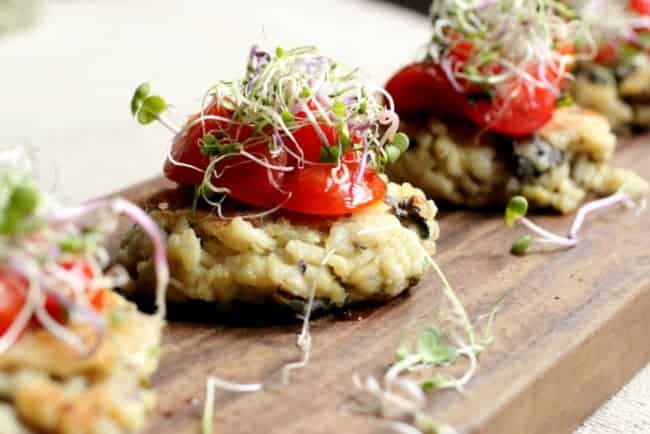 And the world more than rights itself and all is good again. It's a wonder how there were leftovers from the mushroom scallion risotto in the first place.
I think of these cheddar risotto cakes as the lazy alternative to making arancini, those fantastic deep fried rice balls that are as laborious to make as they are awesome to eat.
Well, with these lightly fried patties, you get the crunchiness outside, the creaminess inside, the pungent flavor of the sharp cheddar together with the mellowed flavors of the risotto itself, and it takes about fifteen minutes to have them on the table, ready to eat. If you add the little fresh salad on top, like I did here, add five more minutes.
That's what I call a good use of cold rice, or the reason why I actually love to have leftovers. For dishes like this one.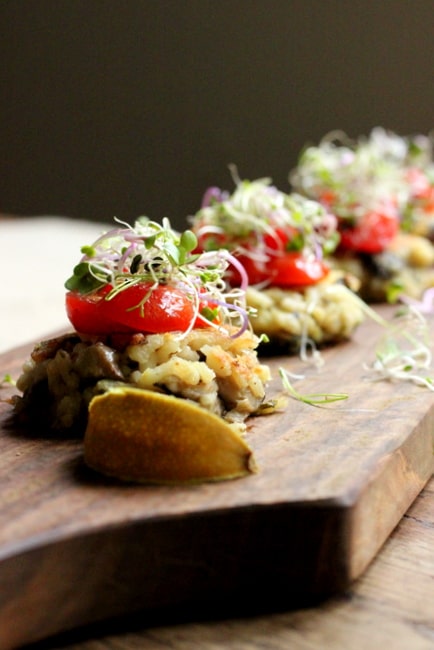 I remember I had two very favorites when I was a kid, which I always said I could eat in any type, shape or form: chicken and rice. I've changed my mind about the former, thanks my evolved palate for that, the idea of liking dry cold chicken today makes me cringe, but rice is pretty much holding it's ground through the years, a lot of years btw.
I base my rice consumption on one of my mother's emergency meals, white rice with fried egg on top, with a runny yolk that coated the white grains and made the whole thing better than having french fries for dinner.
Well, not quite since the ultimate combination was french fries with an egg on top, sort of eggs and soldiers, where the latter are homemade french fries, and yes, it doesn't get much better than that for a kid, or a grown up with a junk food craving.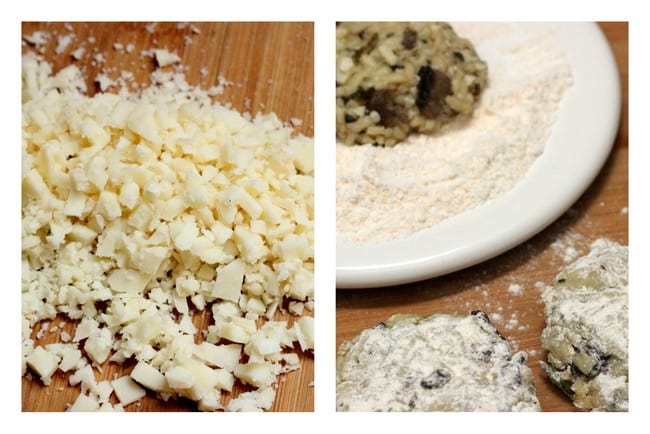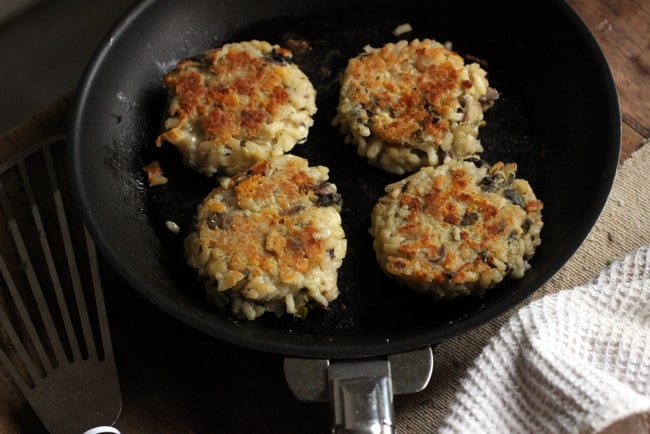 I still like rice to this day, probably all types and forms. A risotto cake with an egg on top? Interesting concept. Never tried it though, yet.
When I'm in the kitchen, my brain and it's two hemispheres usually have a little chat, the creative one focusing only in the recipe I want to make, and the reasonable one trying to come up with a balance of sorts. Like the fruit I eat after I realize
I just had buttered toast for lunch. The little fresh salad on top of the cheddar risotto cakes compliments the starchy, buttery crunchiness of the rice patties.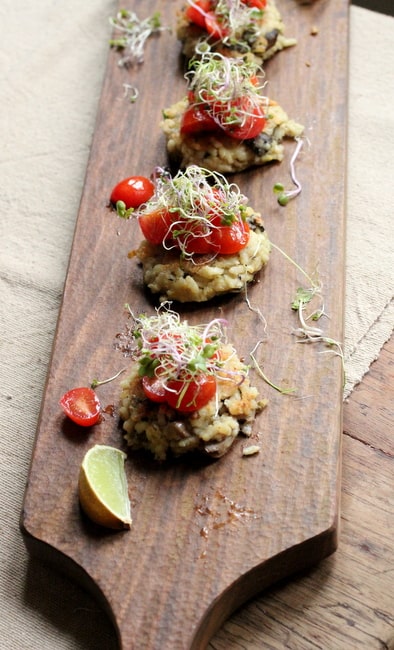 Which is the best risotto for these cakes? The one you like. I've used almost all the ones in the recipes section of this blog, roasted beets and goat cheese, radicchio and provolone and mushroom scallion risotto. Just make sure it's very well seasoned.
I usually add a sharp cheese to make them more flavorful. It never fails.
Let me know in the comments below if you made this recipe and loved it and if you had issues so we can troubleshoot together. I love to hear what you think, always. Thanks for being here. It's much appreciated.
You might also consider subscribing to our FREE email series to Boost your Home Baking Skills! And our regular newsletter.
And let's connect via Facebook, Instagram, and Pinterest.
Print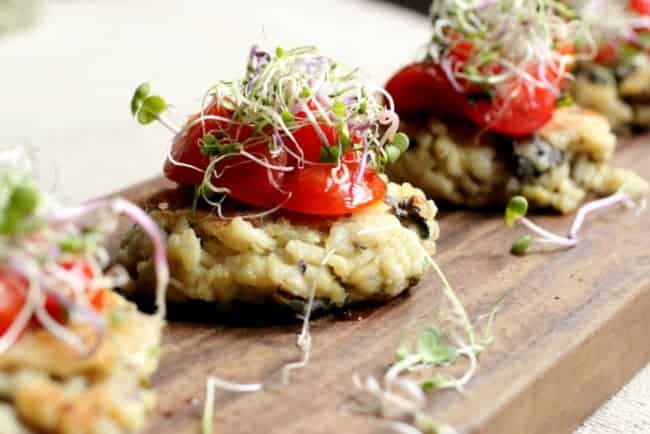 Cheddar Risotto Cakes
This is a no-recipe recipe, depending largely on how much risotto you have left. The amounts given are estimate. Feel free to add a fresh chopped herb, a different cheese or even a grated vegetable like carrot.
Total Time:

25 minutes

Yield:

4 patties
1

cup

leftover risotto

4

Tbs grated sharp cheddar cheese

½

cup

flour (seasoned with salt and pepper)

2

Tbs butter

½

cup

cherry tomatoes
Sprouts to garnish
Lime wedges
Olive oil
Instructions
Put leftover risotto in a bowl, add grated cheese and mix well. Make four patties with the cold risotto.
On a shallow plate put seasoned flour and lightly coat the cakes, lightly shaking off excess.
Melt butter in a skillet over low heat. Add risotto cakes and cook slowly, until very crisp, about 4 minutes on each side. If browning too quickly lower the heat. You want the heat to reach the center of the cakes and melt the cheese.
Meanwhile, cut tomatoes in half, season with salt and pepper, a drizzle of olive oil and lime juice.
When the cakes are done, put them in a platter or wooden board, top with tomatoes and sprouts. Drizzle some of the juice from the tomatoes.
Serve immediately.
Author:

Paula Montenegro

Prep Time:

15 minutes

Cook Time:

10 minutes

Category:

Appetizers

Method:

Cooking

Cuisine:

Italian