Fresh, tangy and creamy, this is a fantastic twist on the popular ranch dressing with a zesty kick from the lime to balance the richness of the avocado. It comes together in minutes and can be adjusted to your taste. Use it as a dressing or as a dip. It keeps for a few days in the fridge.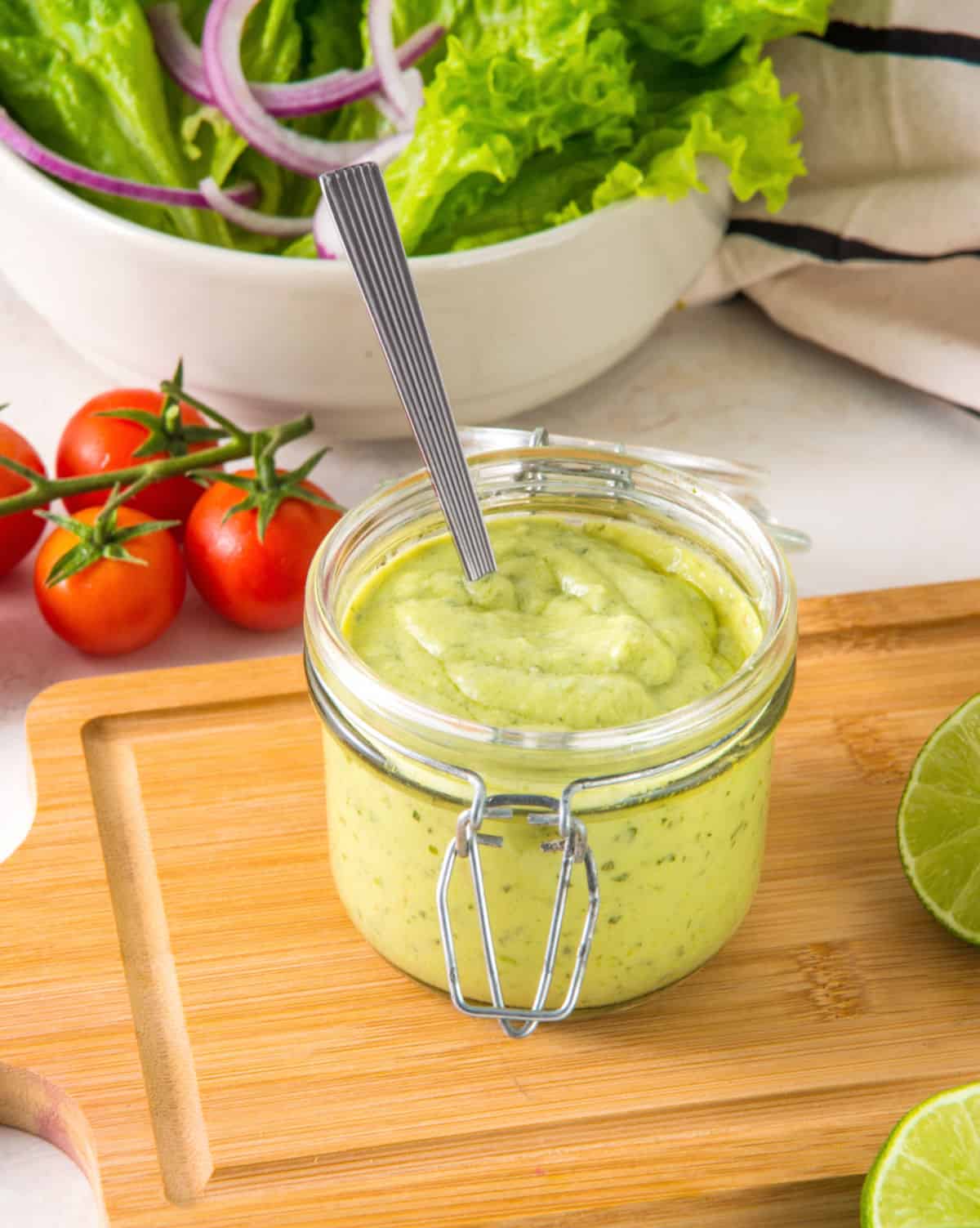 Dressings can turn the ordinary into the extraordinary, and avocado lime ranch salad dressing is no exception.
My usual go-to vinaigrette is this honey mustard dressing, but sometimes I want a creamy texture. Today's recipe can act as a dip, so it fits perfectly!
Though this is mostly a baking blog, I love condiments that can elevate simple green salads or a piece of grilled chicken. And this twist on the classic ranch dressing deserved to be shared.
Why make this recipe
Quick and easy: making this dressing takes a few minutes. With just a few basic ingredients and a blender (I love the immersion blender), you'll have a homemade dressing ready in minutes, saving you time without sacrificing flavor.
Homemade with simple ingredients: you're in control of the ingredients, so there are no hidden preservatives or artificial additives.
Versatile: adjust the amount of lime, avocado and ranch seasoning to make it your own. Use it on salads, grilled meat, sandwiches, wraps and as a dip.
What can I use avocado ranch dressing for?
This creamy dressing is great for salads, as a dip with vegetables, a drizzle over tacos or grilled meats, or as a sauce for wraps and sandwiches. Get creative and use it in any way you'd use traditional ranch dressing.

Can I make the dressing ahead of time for a party or gathering?
Absolutely! Making the dressing a few hours in advance can help the flavors meld together. Just give it a good stir before serving, and you're good to go.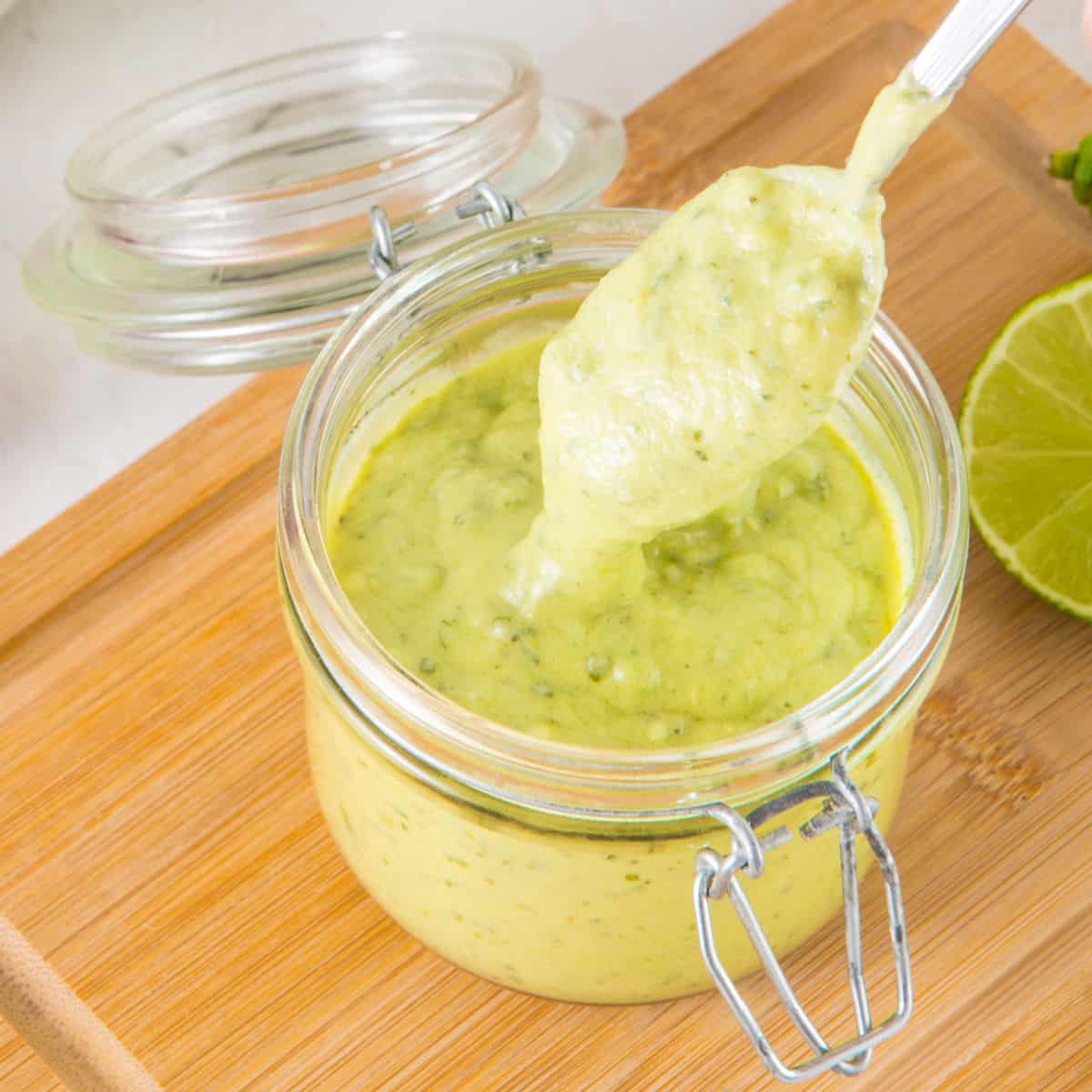 Ingredient list
Ripe avocados: I always use Haas avocados that are small and wrinkled but have the best flavor.
Natural yogurt: Greek yogurt or a thinner option; they all work as long as they're sugarless and unflavored.
Ranch seasoning mix, the dried herbs, not the prepared dressing. You can make it or buy it. Though it varies depending on the recipe, it usually includes onion powder, garlic powder, dill, chives, buttermilk, salt, pepper and parsley.
Olive oil: extra virgin.
Lime: juice and zest.
Salt: I like using kosher salt or fine sea salt. But regular table salt works just fine.
See the recipe card towards the end of this post for quantities.
Variations & substitutions
Avocado ranch dip: use half yogurt and half mayo for a thicker mixture. Serve it with crackers and chips or fresh veggies like carrot and celery sticks.
Garlicky: add minced fresh garlic for a sharper flavor or roasted garlic for a mellower taste. Start with a small amount and adjust so it doesn't overpower the rest of the ingredients.
Lemon juice: use it instead of lime.
Sour cream or mayo: use them together or on their own instead of the yogurt. They dressing will be thicker and richer.
Spicy: mix in finely chopped jalapeños, a dash of hot sauce (Tabasco or Sriracha) or cayenne pepper.
Fresh herbs: they add freshness and balance out the creaminess. Chopped cilantro, parsley or dill work well with the rest of the flavors.
Creamy avocado dressing: omit the ranch seasonings and you have a simple dressing with avocado. But you'll be missing that unique flavor.
How to choose avocados
Color: it varies depending on the variety. But a ripe avocado is usually dark green to nearly black. Avoid avocados with a very light green or yellowish color.
Firmness: it should feel slightly soft when gently squeezed in the palm of your hand. A ripe avocado will yield to gentle pressure but not be too soft or mushy, or the skin feels detached from the pulp.
Stem End: check the button or small stem at the top of the avocado. Gently remove it. The avocado is likely ripe if it comes off easily and you see green underneath. The avocado may be underripe or overripe it's hard to remove and brown underneath.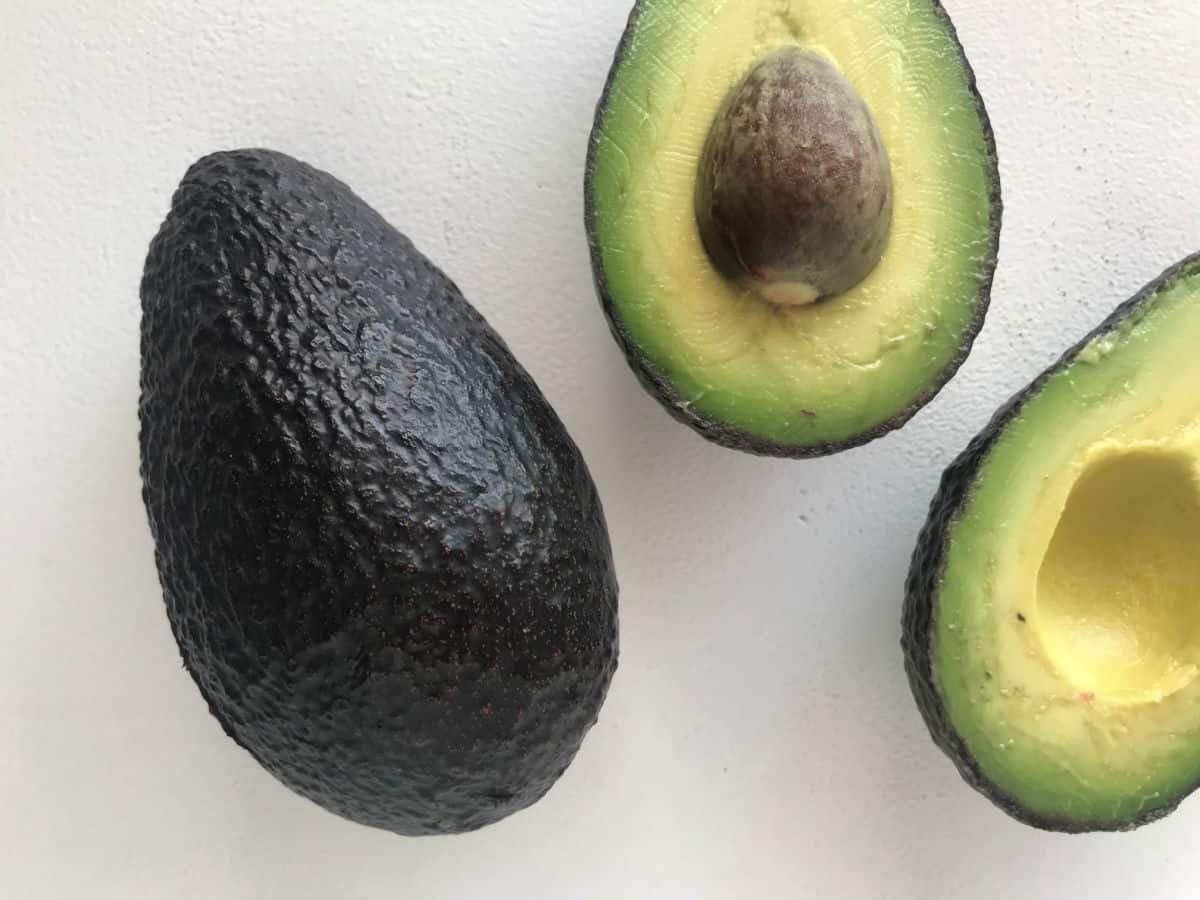 How to make avocado ranch dressing
Mixing: you need to process the ingredients. Use a regular blender, an immersion blender or a food processor.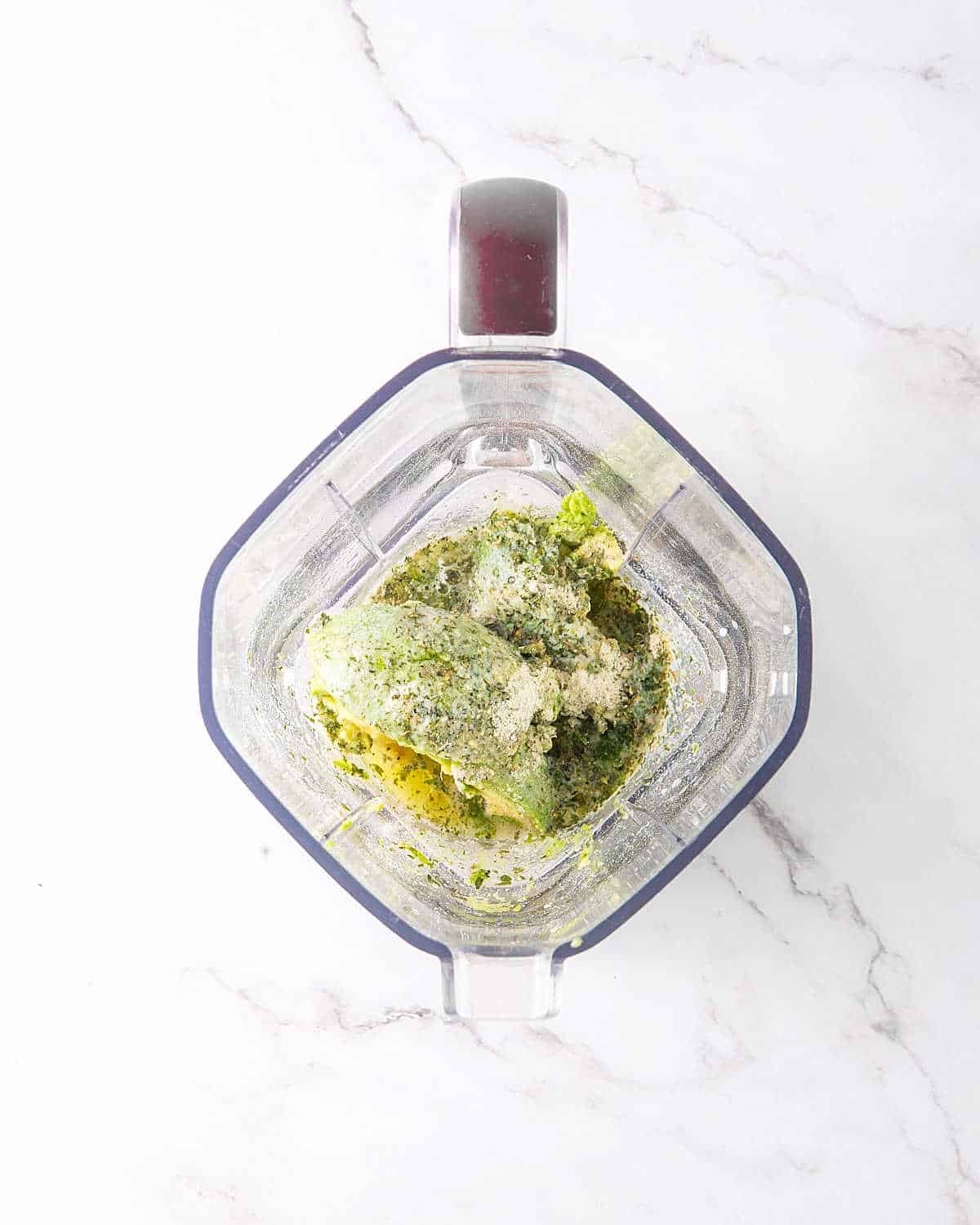 Combine all ingredients in the blender jar or bowl and process immediately.
The final mixture is thick and buttery. Taste and adjust seasonings.
Can I use bottled lime juice instead of fresh lime juice?
Freshly squeezed lime juice is always recommended. You can use bottled juice for convenience or because fresh limes are unavailable, but the taste will not be as fresh or vibrant.
How do I prevent the avocados from turning brown in the dressing?
The lime juice in the dressing helps prevent browning (oxidation process). Make sure to blend the avocados with lime juice as soon as they're peeled. Additionally, pressing plastic wrap directly onto the surface of the dressing before refrigerating or adding a thin layer of olive oil before closing the jar can help minimize exposure to air and slow down oxidation.
How long does homemade avocado lime ranch dressing last in the fridge?
It lasts 3-5 days in an airtight container or jar. Take into account that the color will probably not be as vibrant with each passing day due to the oxidation process the avocado will inevitably suffer.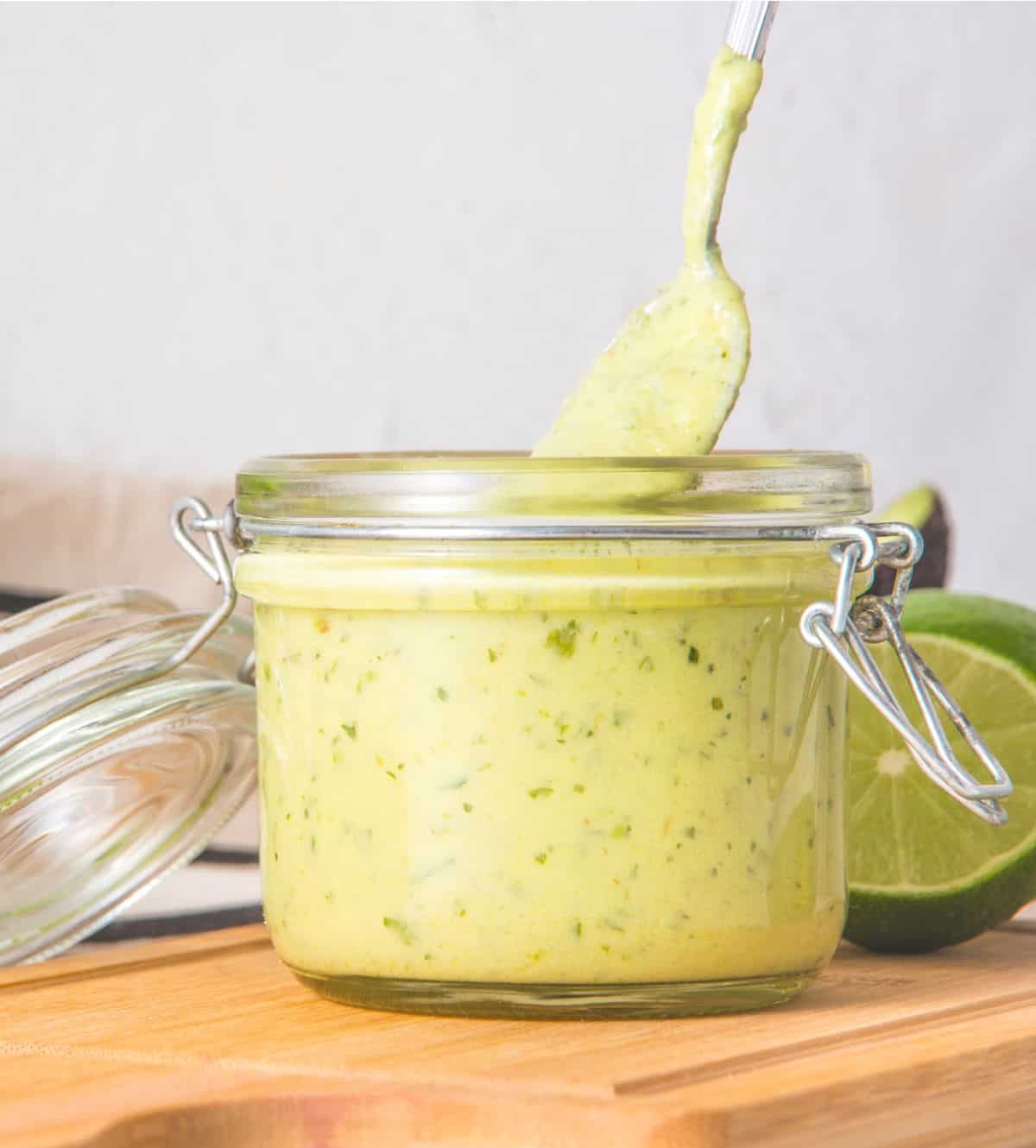 Is avocado lime ranch healthy?
If made without mayo or other fats, it can be quite healthy. Avocados have what are referred to as healthy fats, and the avocado ranch dressing recipe below uses yogurt for a lighter yet flavorful dressing.
What does avocado lime ranch taste like?
The flavor is similar to the regular ranch dressing but much creamier due to the avocado and a kick from the lime.
Does avocado ranch have sugar?
The commercial dressing usually does, but not this homemade avocado lime ranch dressing.
---
Related recipes you might like:
---
Let me know in the comments below if you made this recipe and loved it and if you had issues so we can troubleshoot together. I love to hear what you think, always. Thanks for being here. It's much appreciated.
You might also consider subscribing to our FREE email series to Boost your Home Baking Skills! And our regular newsletter.
And let's connect via Facebook, Instagram, and Pinterest.
As an Amazon Associate, I earn from qualifying purchases. Please read my disclosure policy.
Print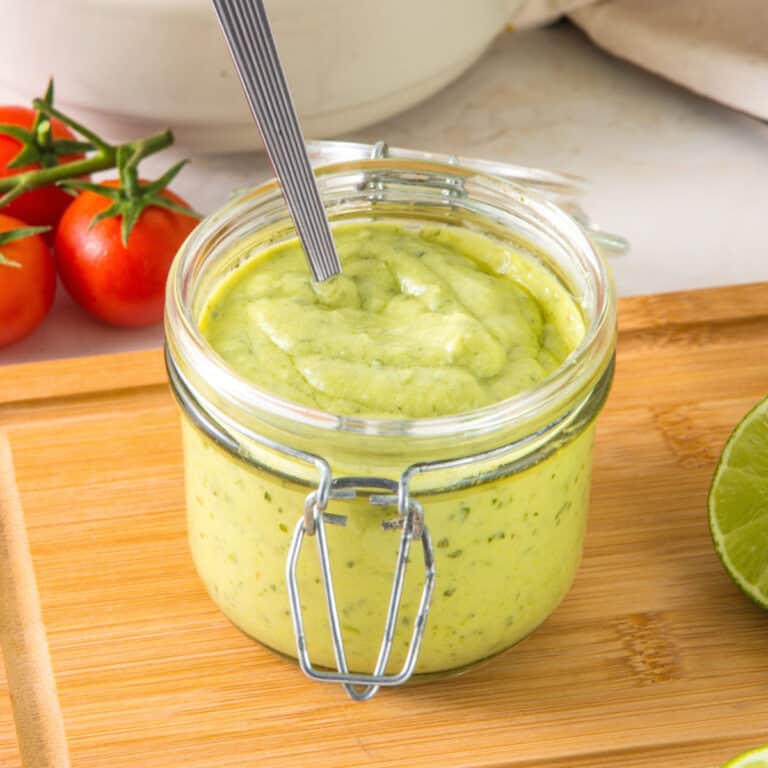 Avocado Lime Ranch Dressing (easy recipe)
Fresh and tangy, this creamy avocado dressing is a fantastic twist on the popular ranch dressing. It comes together in minutes and can be adjusted to your taste. Use it as a dressing or as a dip. It keeps for a few days in the fridge.
Total Time:

10 minutes

Yield:

1 ¼ cups
1

large avocado

½

cup

natural or Greek yogurt

2 tablespoons

ranch seasoning

2 tablespoons

olive oil

3 tablespoons

lime juice

¼ teaspoon

of lime zest (it adds sharpness but can be omitted)

½ teaspoon

salt
Instructions
Place all the ingredients into a blender jar or bowl if using an immersion blender. Or the bowl of the food processor.
Blend or process until the mixture is smooth. Taste and adjust the consistency and flavor of the dressing. Add more lime juice or water if you like it thinner.
Transfer the dressing to a clean glass jar with a tight-fitting lid.
Use immediately or keep refrigerated for 3 days.
Notes
Choose ripe avocados: they should be ripe but not overly soft. They should give slightly when gently squeezed. This will ensure a creamy texture and optimal flavor for your dressing.
Use fresh lime juice: it adds a bright and tangy flavor. You can replace this with lemon juice. It will still be tangy but not sweet.
Store properly: store leftover dressing in an airtight jar or container in the refrigerator. Avocados can brown quickly when exposed to air, so consider placing plastic wrap directly on the surface of the dressing, or a thin layer of olive oil, before sealing the container. This helps preserve the freshness of the dressing.
Author:

Paula Montenegro

Prep Time:

10 minutes

Category:

Condiments

Method:

Mixing

Cuisine:

American
Keywords: avocado ranch dressing