Fresh and flavorful, this simple salad has to be one of the easiest recipes ever. It's perfect for barbecues, potlucks, and when you find perfect avocados. The better the ingredients you use, the better the final result.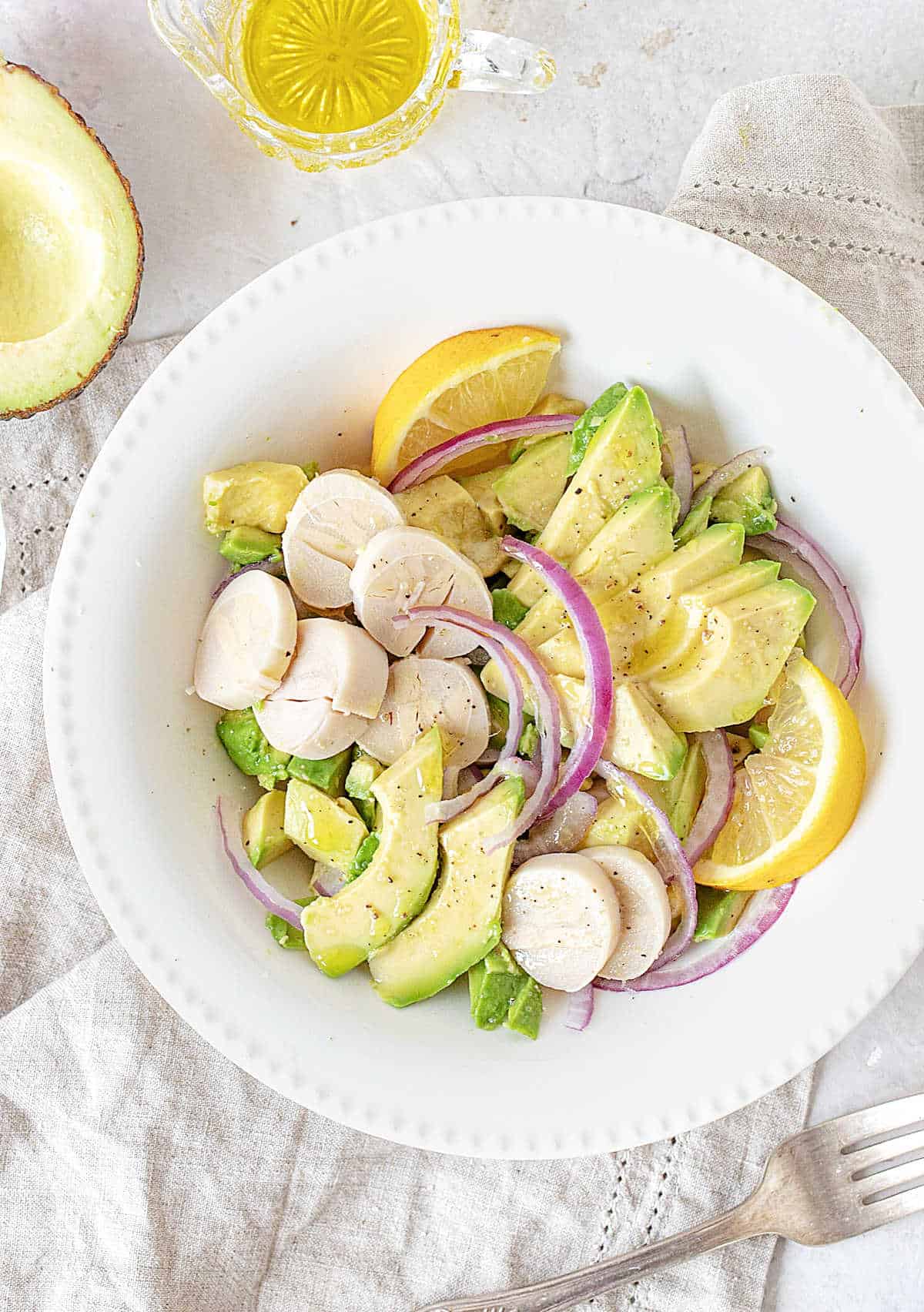 Hearts of palm are unique and have a particular flavor. You either love them or can't stand them. At least, that's what I get around here.
For years I ate them with mayonnaise and ketchup mixed together, what we here call golf sauce, who knows why that name.
I don't know where I heard about this simple and fantastic salad, but I've been making it for decades, especially for outdoor gatherings and large barbecue tables.
And lately included it in the 5 de Mayo menu plan and use lime juice and sometimes a touch of cilantro, and serve it alongside my favorite corn mango salsa recipe. Fresh and vibrant!
This is a side dish to make whenever there are good avocados.
Hearts of palm are available all the time. The same with red onion; it's rare not to find it year-round.
It's so easy to put this palmito salad together, and it differs from your usual potato, pasta, and tomato salad. But complements them nicely as part of a buffet table.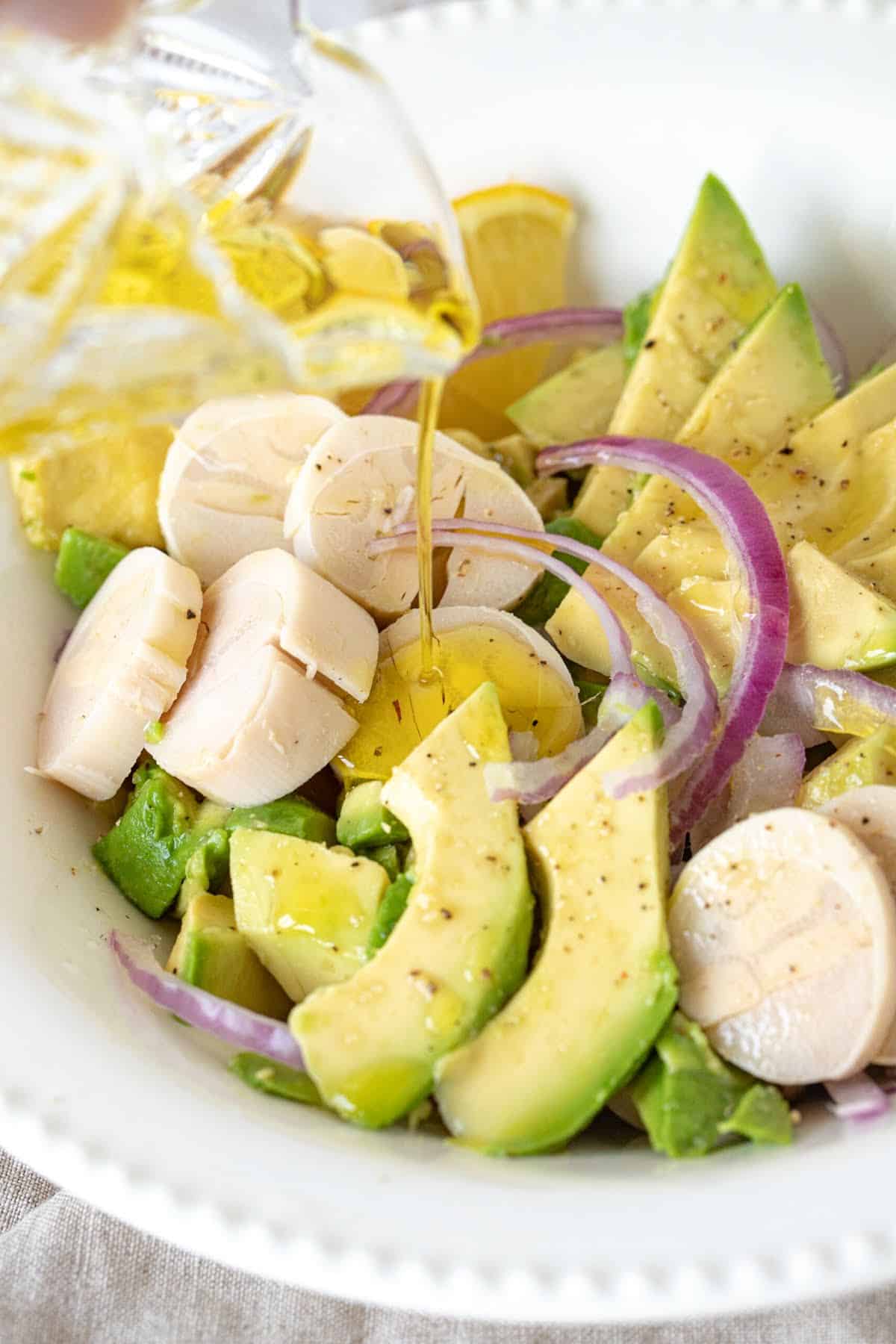 Ingredient list
Avocados.
Hearts of palm: they're sold canned and I highly recommend buying whole hearts of palm as opposed to sliced or salad cut as they're sometimes labeled.
Red onion.
Lemon juice.
Olive oil.
Salt: I like to use kosher salt, but regular table salt works just fine.
Black pepper.
See the recipe card at the end of this post for quantities.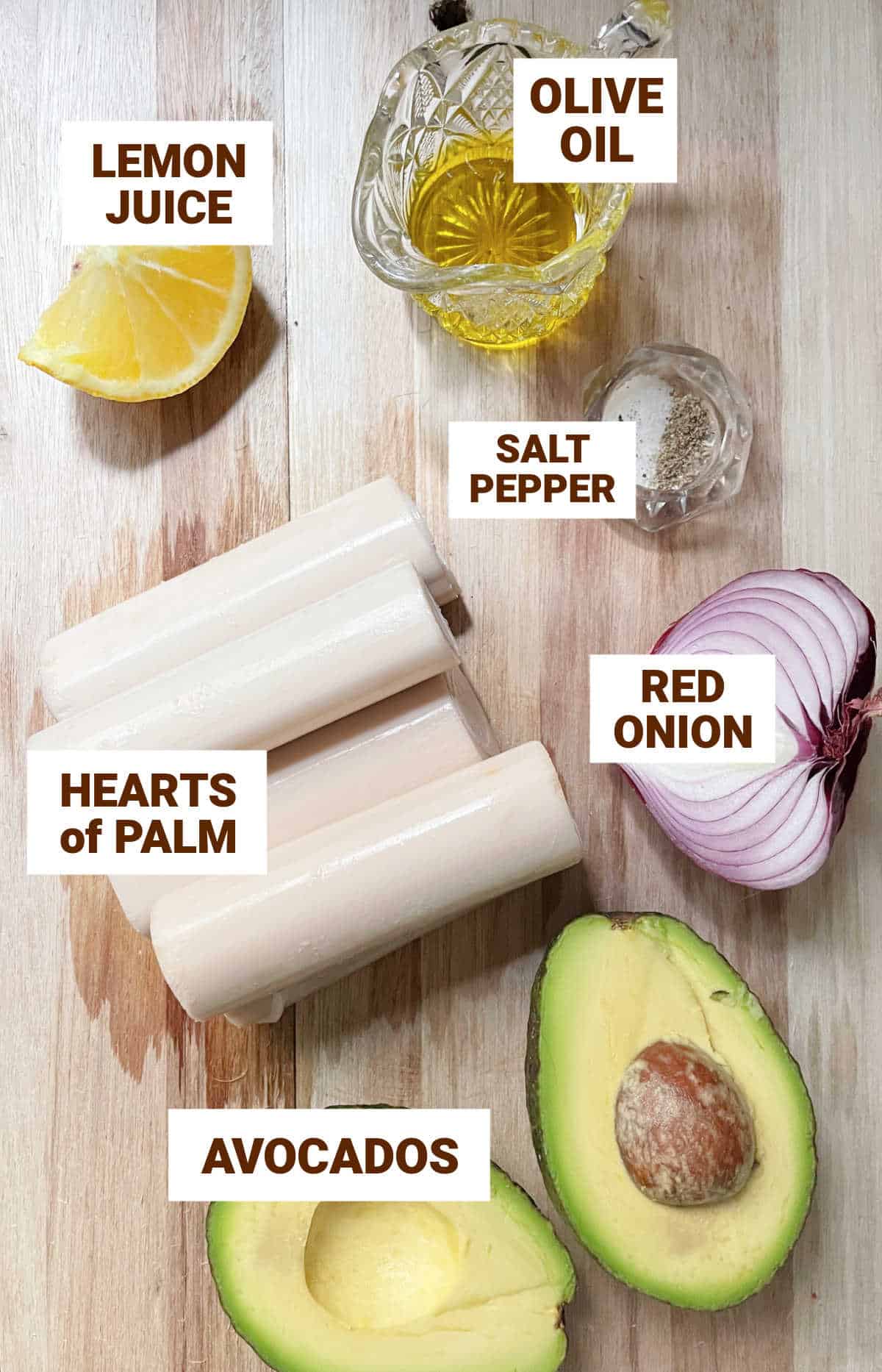 What are hearts of palm?
In case you're not familiar with this ingredient, they come canned and are thick white stalks harvested from the inside of some palm trees. Look for whole hearts of palm not sliced or chopped.
The texture is tender yet firm, with a similar mouthfeel to asparagus or artichoke hearts. They are soft but crunchy and creamy at the same time.
It's a love or hate situation for most.
It's hard to describe how hearts of palm taste but they have a delicate, fresh, sometimes barely sweet flavor with a slightly nutty and earthy undertone.
Check out a good brand, as inferior ones tend to add one or two hard stalks in the mix that you won't be able to use.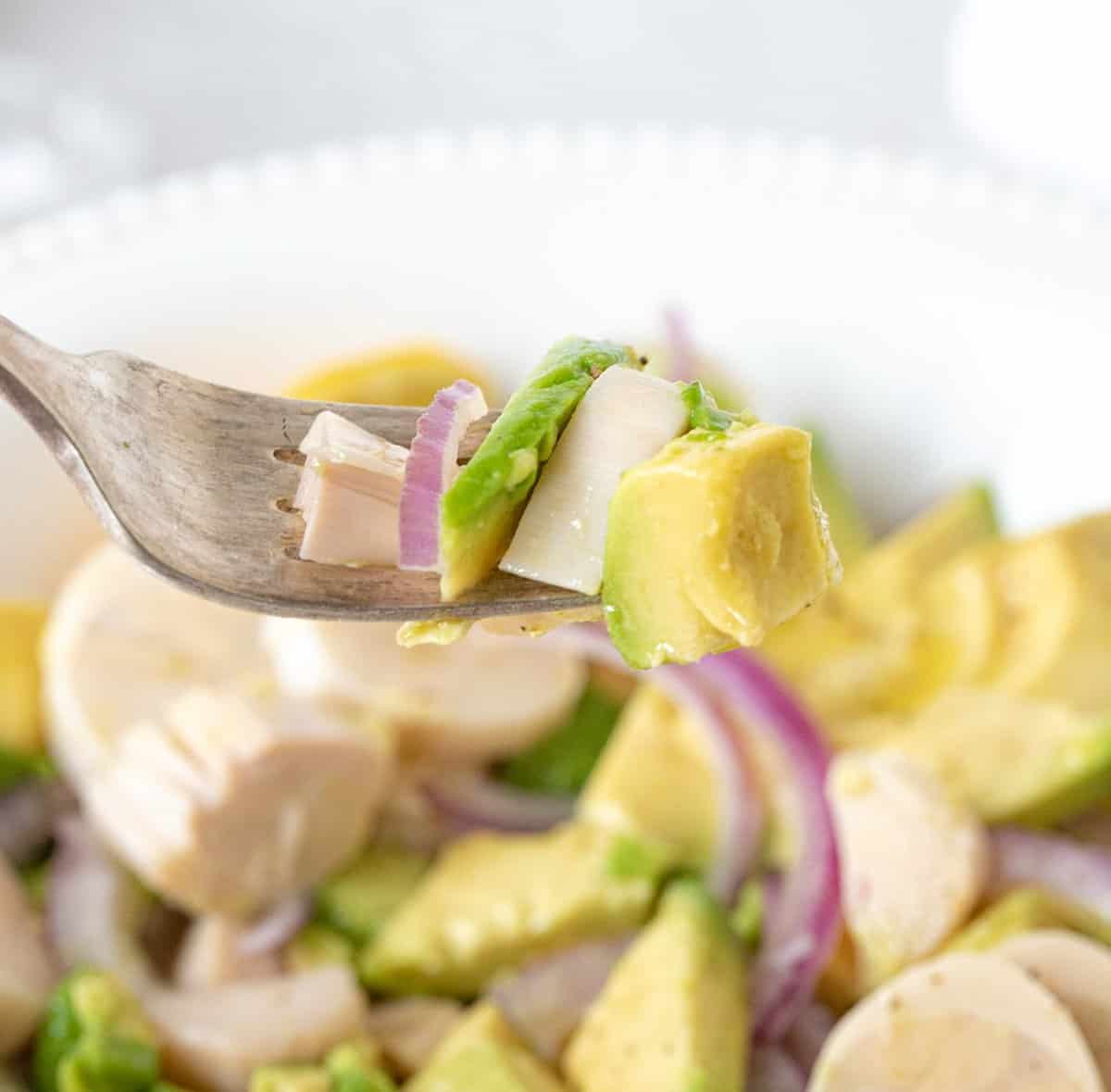 Avocado varieties
My first choice: I always use Haas avocados, those small, blackish, pretty ugly-looking ones. They have the best flavor and are super creamy without being watery.
In my opinion, there is a larger type of avocado that has little flavor due to its higher water content.
But there are many to choose from, and here is a good list to learn about avocado varieties.
Choosing avocados
It's essential to choose just-ripe avocados for the best result.
The stem at the top should come off easily and reveal a light spot. If the spot is brown the avocado is probably a little over-ripen.
An avocado that is ready to be eaten is slightly soft but not mushy; when you lightly press it barely gives.
The skin might be black but not always completely, some dark green might still be there. If you open it, it has green and yellow parts, but not brown ones.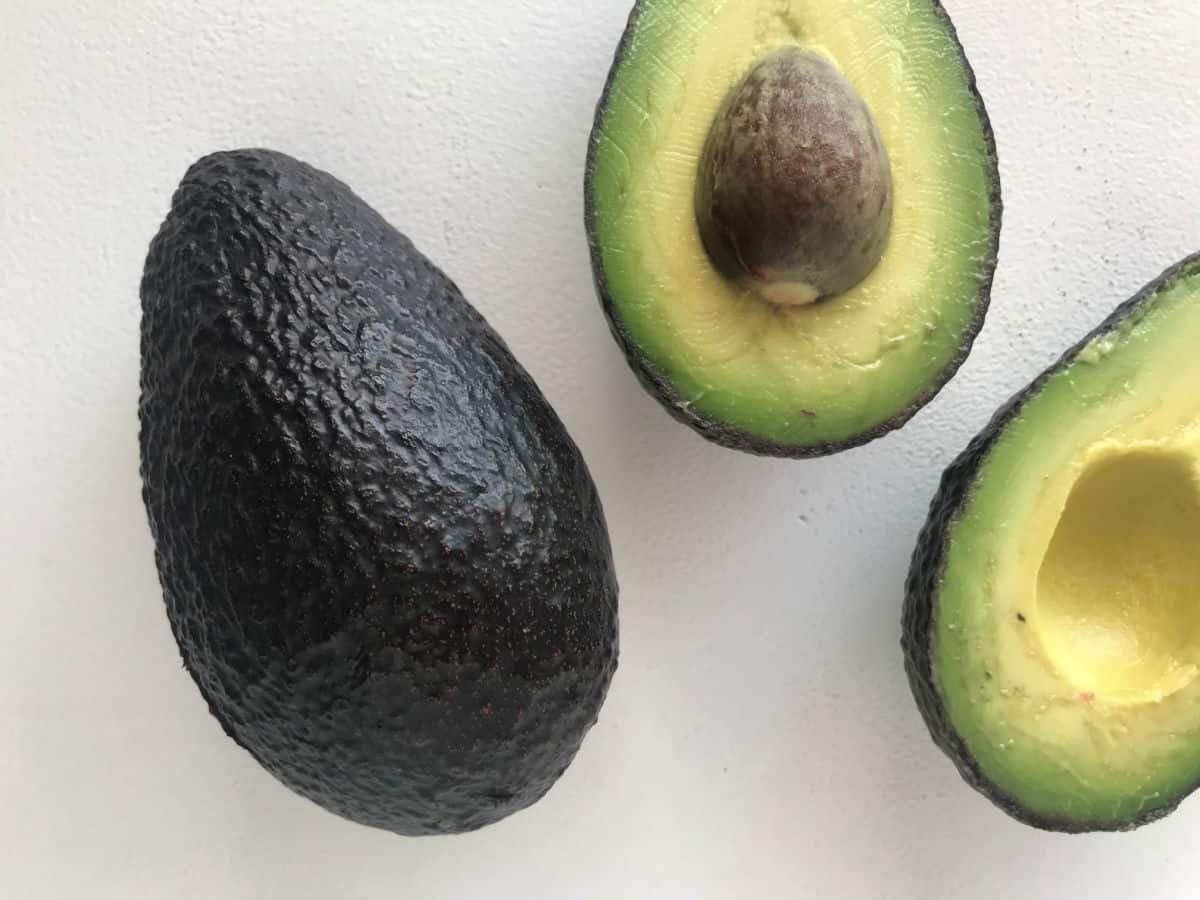 How to assemble this salad
There's no right or wrong way of layering the ingredients. I assemble it in two layers.
First layer: it's the bulk of the salad. Add the three ingredients in smaller pieces than on top. Diced avocado, coarsely chopped hearts of palm, and thin slices of red onion. And a light drizzle of dressing.
Second layer: arrange nicer-looking pieces. Slices of avocado, red onion, and hearts of palm sprinkled with salt and pepper and drizzled right before serving with dressing.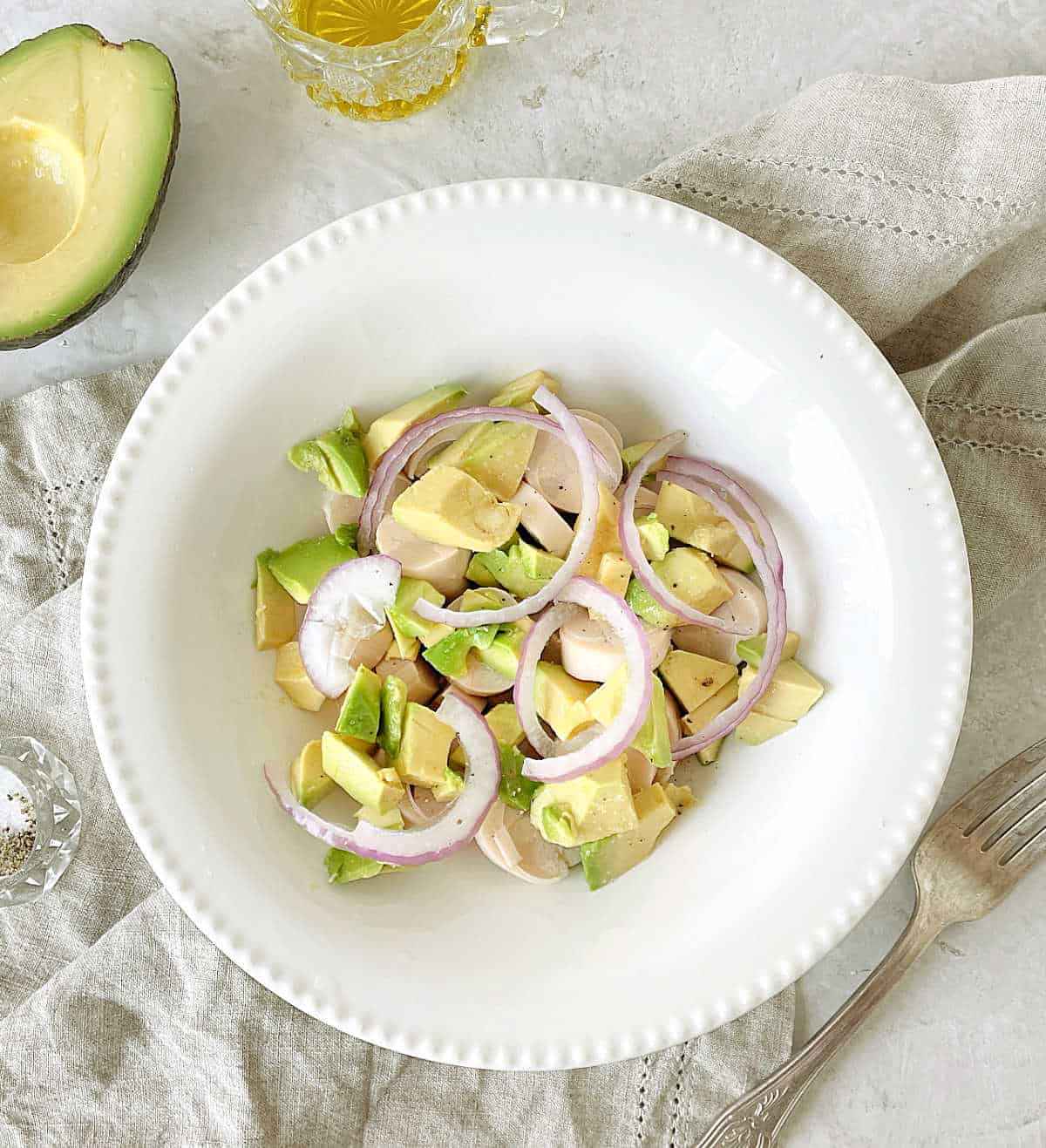 Vintage Kitchen tip: once you open the avocados, drizzle them lightly with lemon juice to prevent browning.
Dressing
Lemon vinaigrette: mix olive oil, lemon juice, salt, and black pepper. The key is balancing the flavors and not having one invade the salad.
Balsamic vinaigrette: same as above but using balsamic vinegar instead of lemon.
The two are simple and sound similar, but balsamic is a definite flavor different from lemon juice.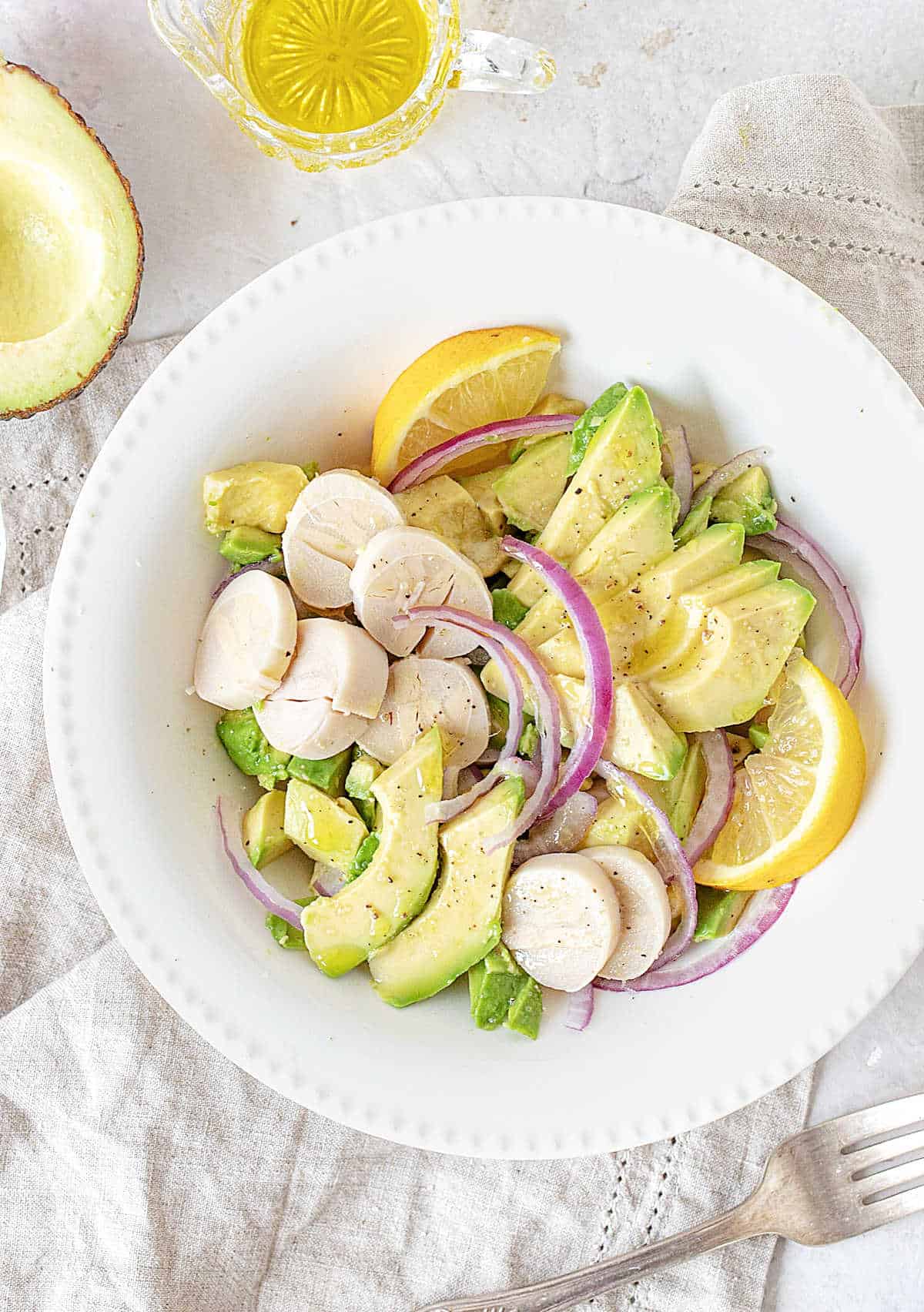 Variations
Artichoke hearts: they pair well with the rest of the ingredients. Use the best quality you can afford so you get soft, tender ones.
Arugula and tomatoes: they can be added to this salad with good results if you want a heartier dish. I like cherry tomatoes cut in half. And you can make a base of arugula leaves and serve the salad on top of it.
Mustard honey dressing: it's the one we use for the pear arugula salad and complements this simple salad if you like stronger flavors. I like to keep it light, so I use the one above.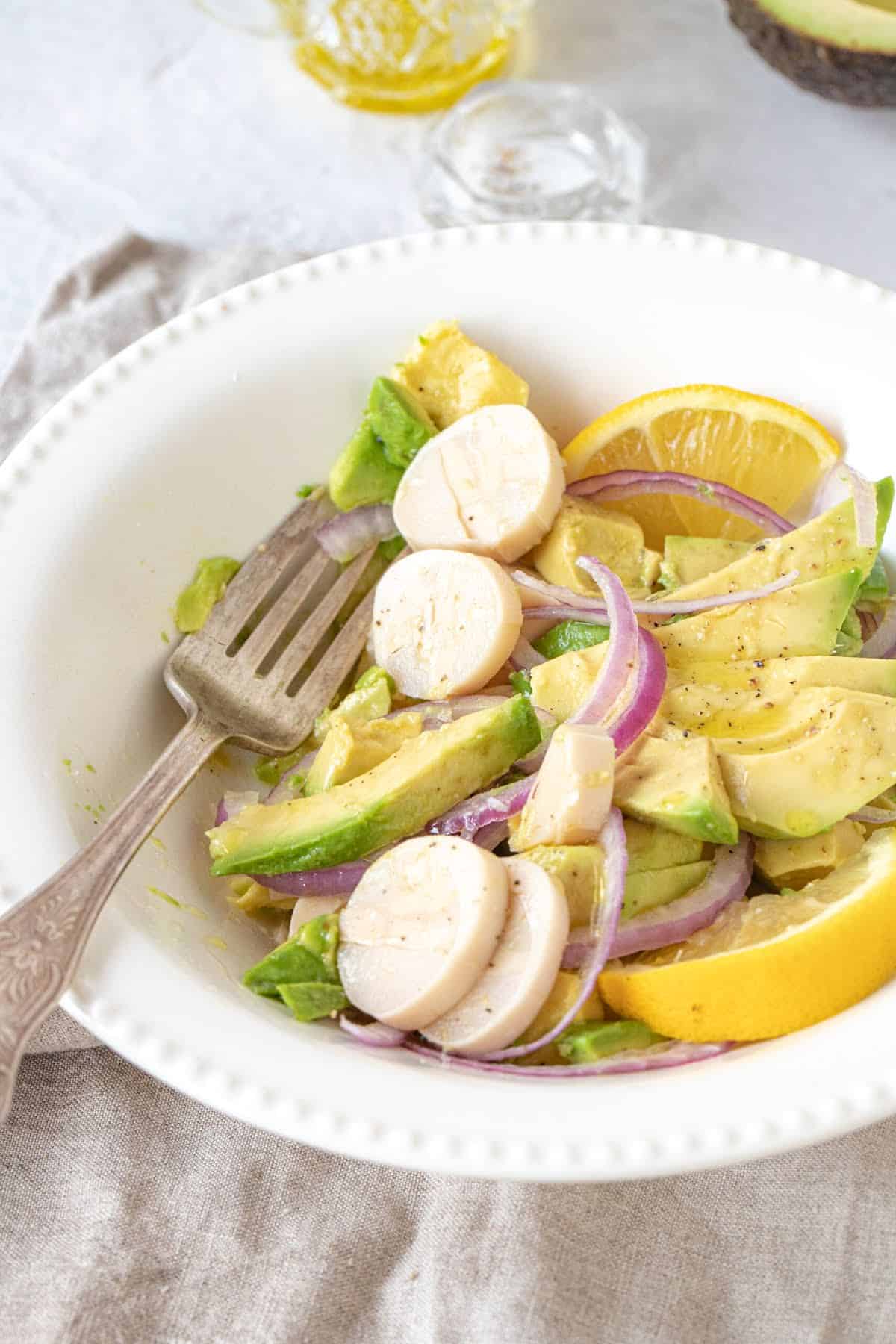 ---
Related recipes you might like:
---
Let me know in the comments below if you made this recipe and loved it and if you had issues so we can troubleshoot together. I love to hear what you think, always. Thanks for being here. It's much appreciated.
You might also consider subscribing to our FREE email series to Boost your Home Baking Skills! And our regular newsletter.
And let's connect via Facebook, Instagram, and Pinterest.
As an Amazon Associate, I earn from qualifying purchases. Please read my disclosure policy.
Print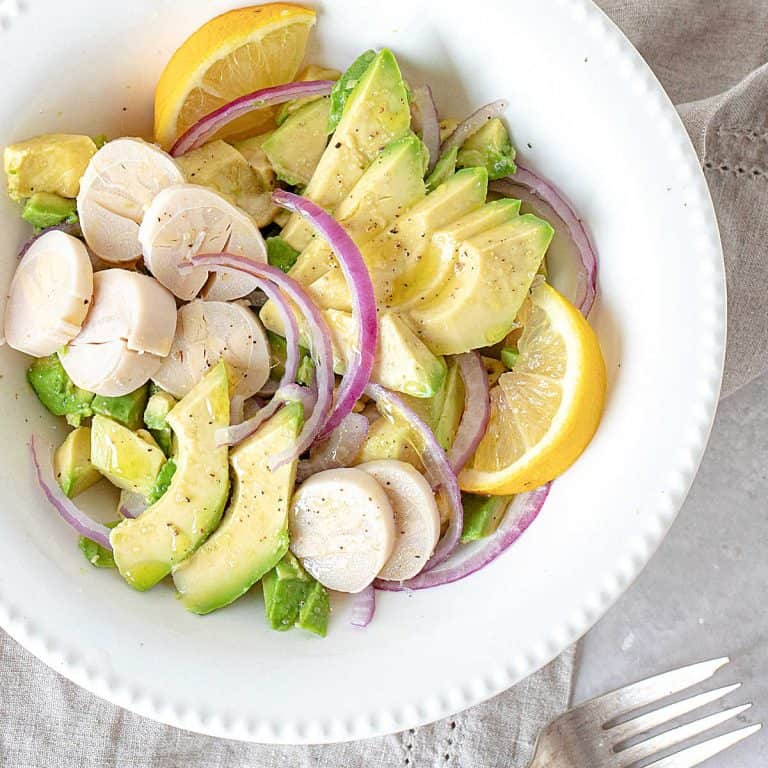 Hearts of Palm Salad
Fresh and flavorful, this simple salad has to be one of the easiest recipes ever. It's perfect for barbecues, potlucks, and when you find perfect avocados. The better the ingredients you can find, the best result you'll get.
Total Time:

10 minutes

Yield:

2 servings
1

avocado

½

medium red onion

6

canned hearts of palm

4

-

5

tablespoons of olive oil

2 tablespoons

fresh lemon juice or balsamic vinegar.

¼

to

½

teaspoon salt
Black pepper, to taste
Instructions
Make the vinaigrette by mixing the oil, lemon juice, balsamic vinegar, salt, and pepper in a small bowl or jar. Adjust seasoning to your taste.
Slice half of the avocado in wedges, and dice the other half.
Thinly slice the onion.
Slice the hearts of palm.
Arrange the diced avocados and half the ingredients between two plates.
Drizzle half the dressing among the two. Toss lightly to mix.
Arrange the rest of the sliced avocados, onion, and hearts of palm on top, sprinkle with salt and pepper and drizzle the rest of the dressing, dividing equally.
Or simply put them in a large salad bowl, depending on the number of servings you're making.
Serve immediately.
Notes
Avocado: it should be cut at the last minute to avoid it turning brown. I recommend Haas avocados but any variety that you like works.
Hearts of palm: buy a good brand as inferior ones tend to add one or two hard stalks in the mix that you won't be able to use.
Author:

Paula Montenegro

Prep Time:

10 minutes

Category:

Salads

Method:

Mixing

Cuisine:

International
Nutrition
Serving Size:

⅓

Calories:

329

Sugar:

3 g

Sodium:

708.2 mg

Fat:

31 g

Carbohydrates:

14.3 g

Fiber:

7.4 g

Protein:

3.7 g

Cholesterol:

0 mg
Keywords: hearts of palm salad