As far as Fall salads are concerned, this pear arugula beauty is high up on the list. Very flavorful and vibrant, it has a bit of everything and is perfect for a light lunch and a holiday buffet.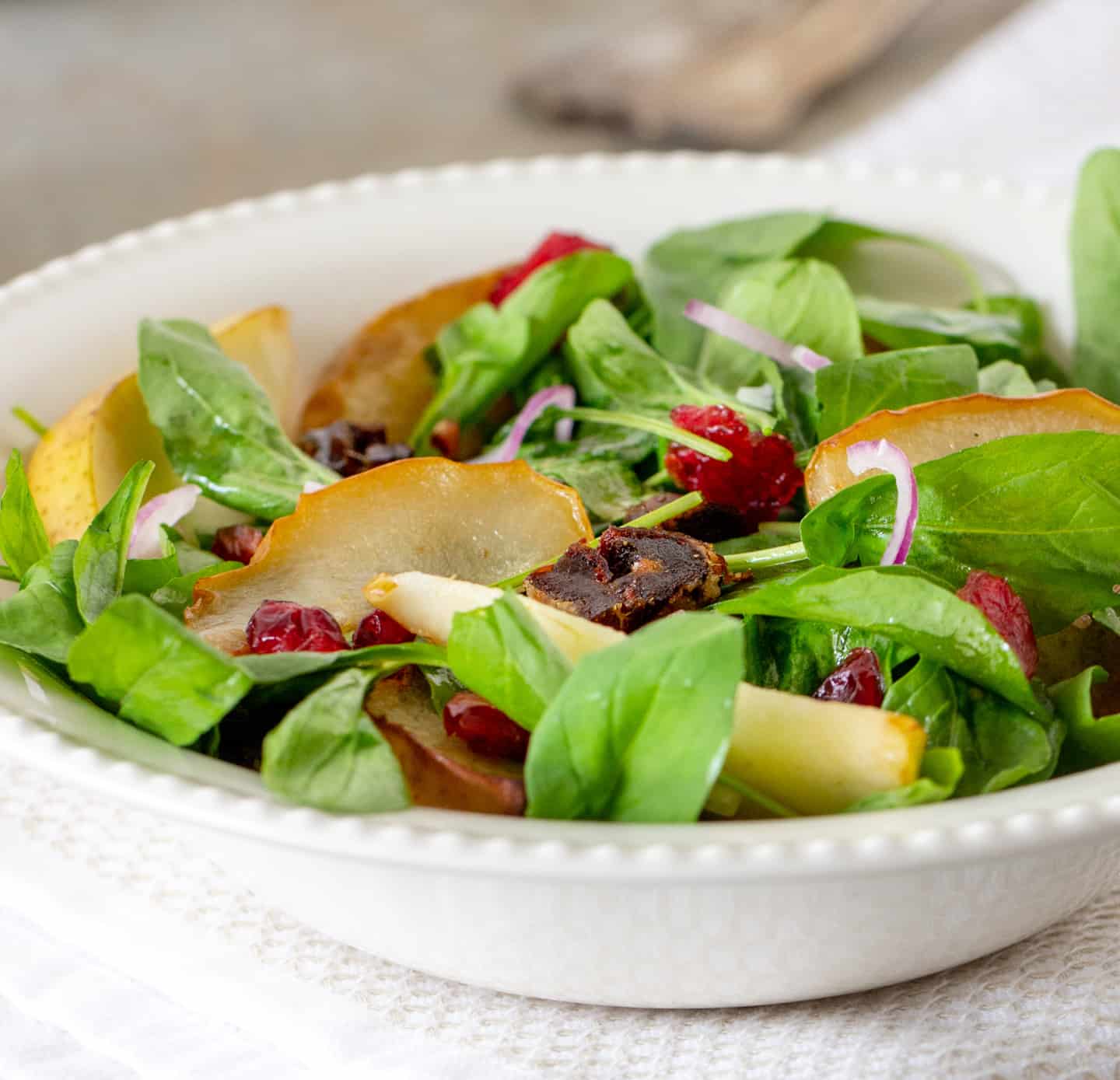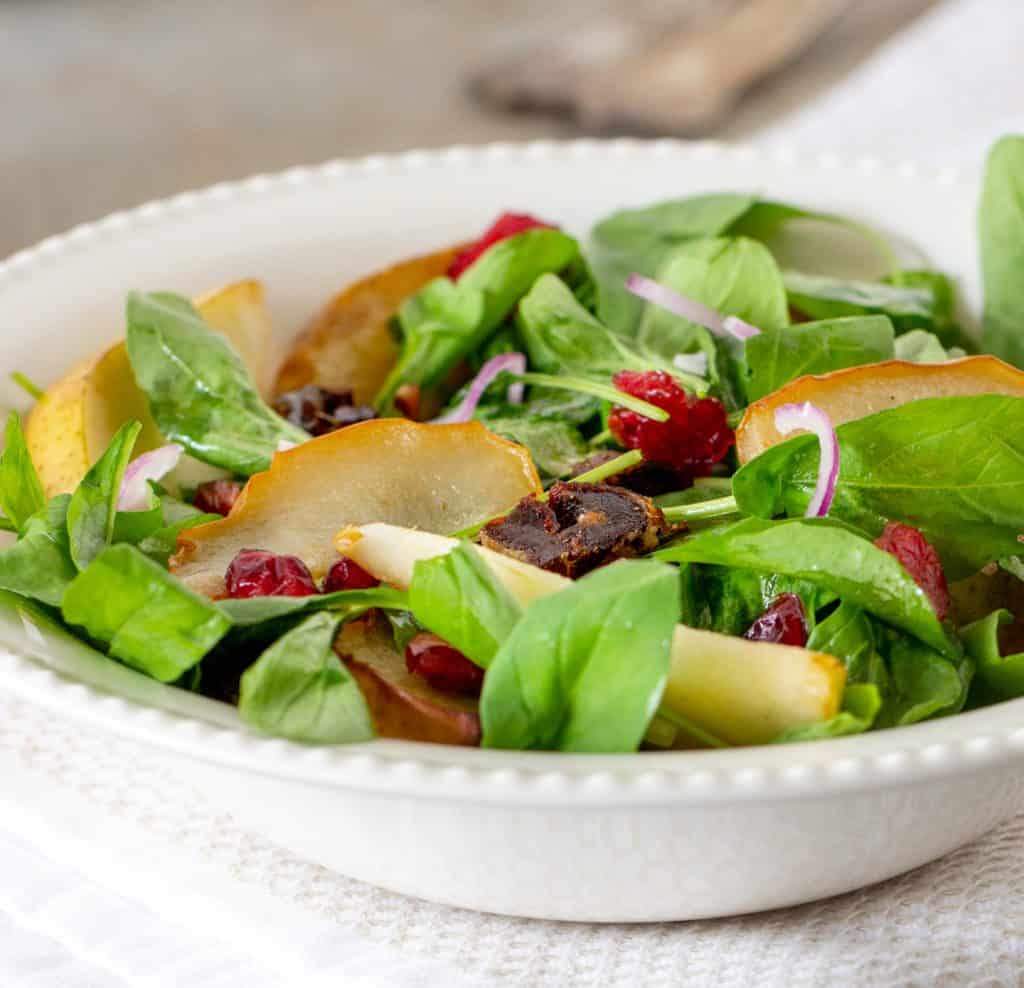 Even though pears and arugula are sort of the main characters here, there are several add-ons you can use to adjust this wonderful salad to special diets or to make it more of a main course instead of a side dish as I do.
We'll go through the salad as was made for this post and then I'm listing variations at the end.
Aren't you craving some healthy stuff considering the holidays that are coming? I know I am. This is the perfect salad recipe for that. And to add a lighter dish to your holiday table.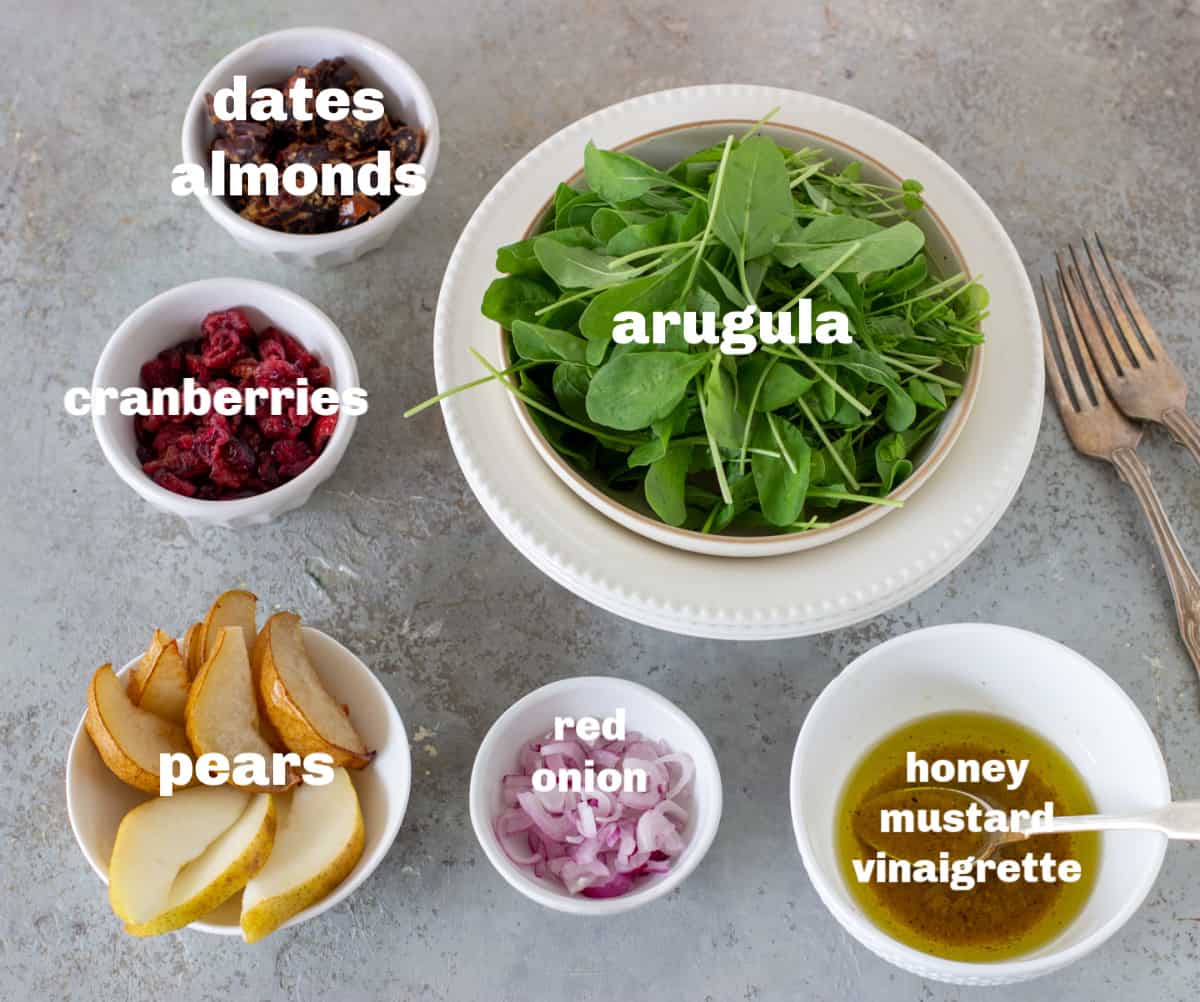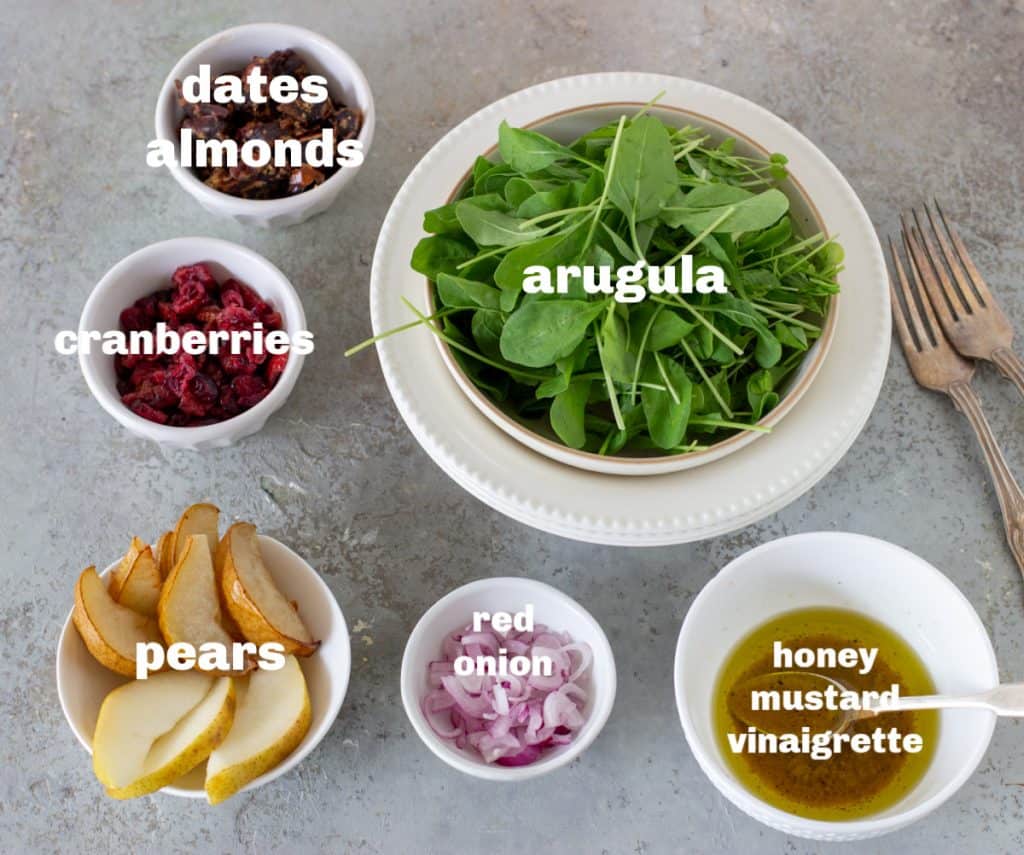 This is a gorgeous salad, with a bit of everything, the kind of salad that is good on the waist and also good for you.
List of main ingredients.
Pears - of course, they are the star of this show. I like to use regular Bartlett pears because they are juicy, plump and they hold their shape after being baked. I don't peel them and use baked and raw wedges in the salad. The contrast is wonderful.
Arugula - probably my favorite green of all time. With that peppery undertone, it goes well with all the other ingredients, the sweet dried fruits, the nuts, the honey and mustard in the vinaigrette. It is the perfect complement. Baby arugula is more tender usually.
Dried fruit - I'm partial to Medjool date, soft and plump. I've added cranberries to the original recipe because it adds some wonderful acidity.
Onion - I love red onions or shallots for this salad.
Dressing (or Vinaigrette) - it has honey and mustard and is amazing!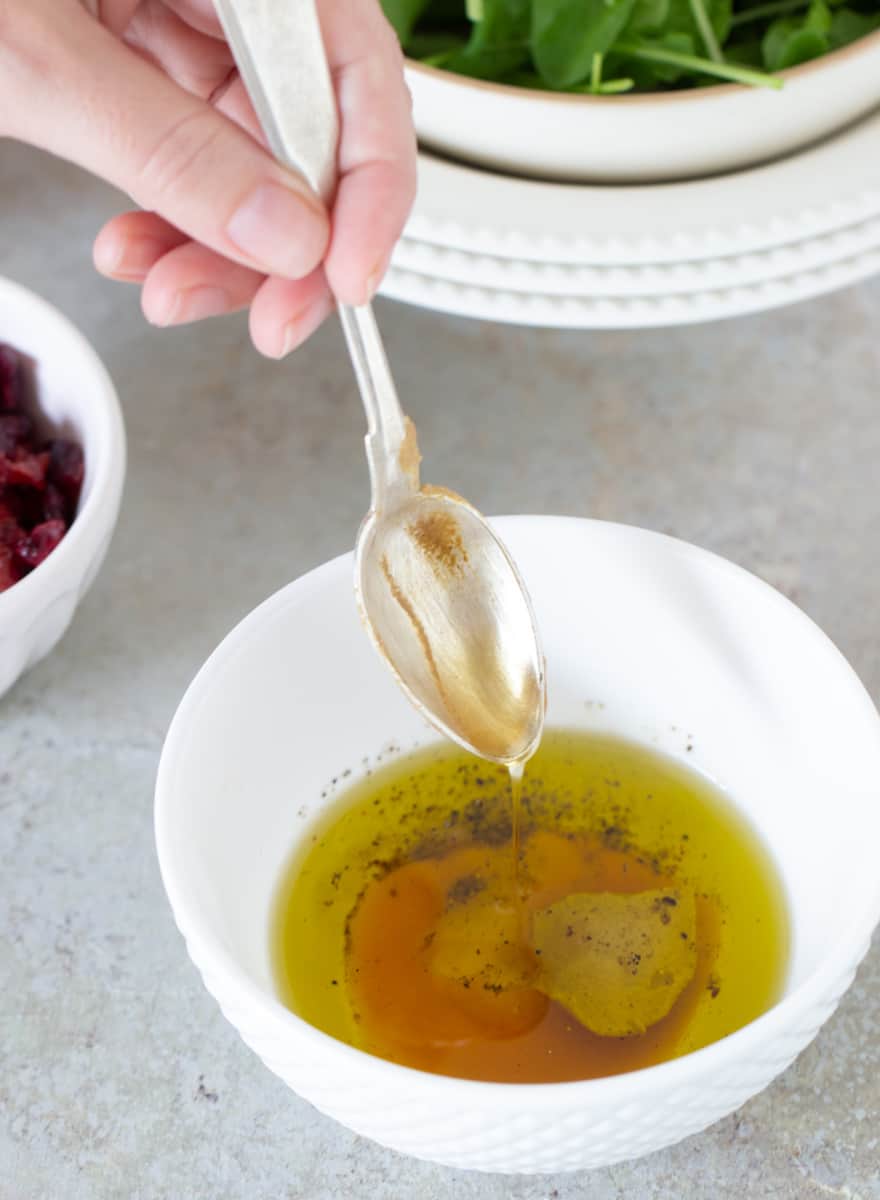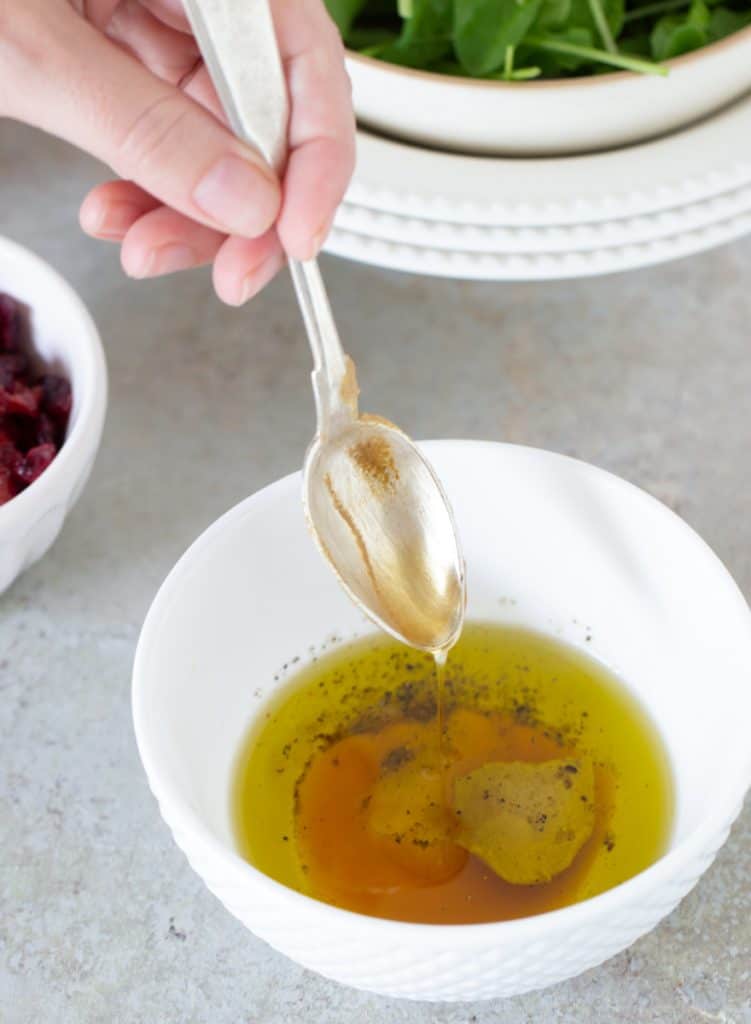 Honey Mustard dressing.
Years ago I had a Cafe.
During that time, I discovered this vinaigrette (or dressing), which is nothing special except that it is very versatile. It pairs well with so many salads, we used to have it prepared at all times so customers could ask for it. They usually did.
Mustard - I'm partial to dijon because it has a sharp flavor. But ancient is a good choice also, though you will have the little seeds in the salad. I don't recommend commercial brands used for hot dogs and burgers.
Honey - any good runny honey that you like works.
Vinegar - I found that apple cider vinegar is the best choice, the one that balances the vinaigrette the best. But you can use balsamic vinegar. I did for a while until I opted for apple.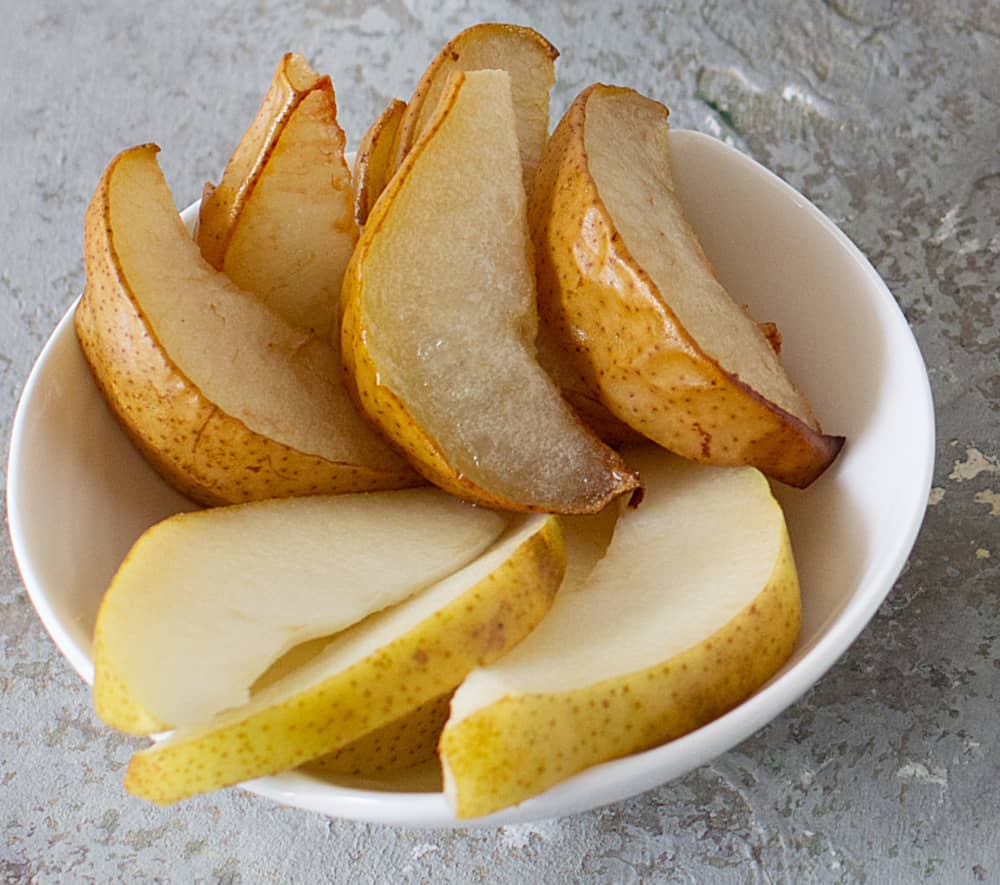 How to prepare the pears.
As I said before, I use Bartlett pears, probably the most widely available. They are juicy, plump and they hold their shape after being baked.
I don't peel them and use baked and raw wedges in the salad. The contrast is wonderful. But you can certainly peel them; just watch the baking time as they will become soft and have no shell to hold the shape.
Bake them in a medium oven, 350°F (180°C) until they are soft but still hold their shape. Don't be tempted to slice them too thin as they will disintegrate a lot while adding them to the salad. You can also dice them.
Butter or oil the pan and simply pop them in the oven. They will caramelize in their own sugars and the flavor will concentrate.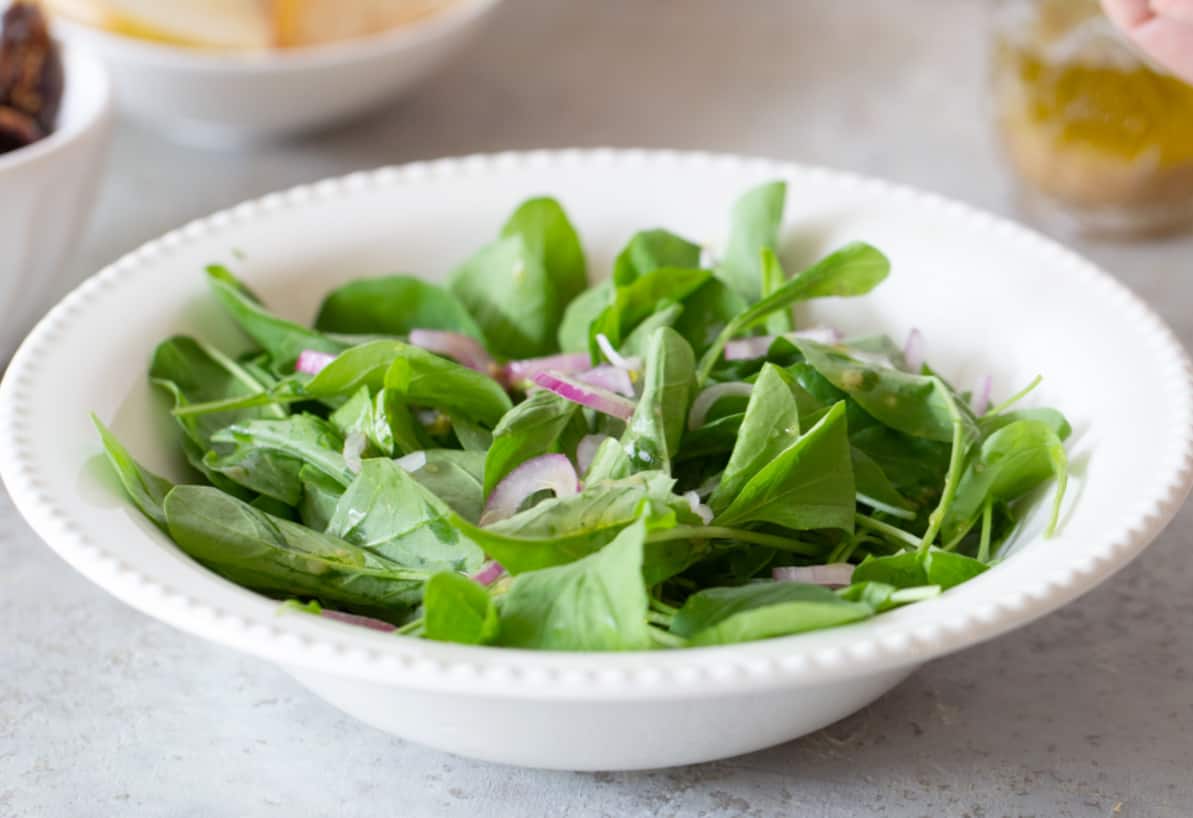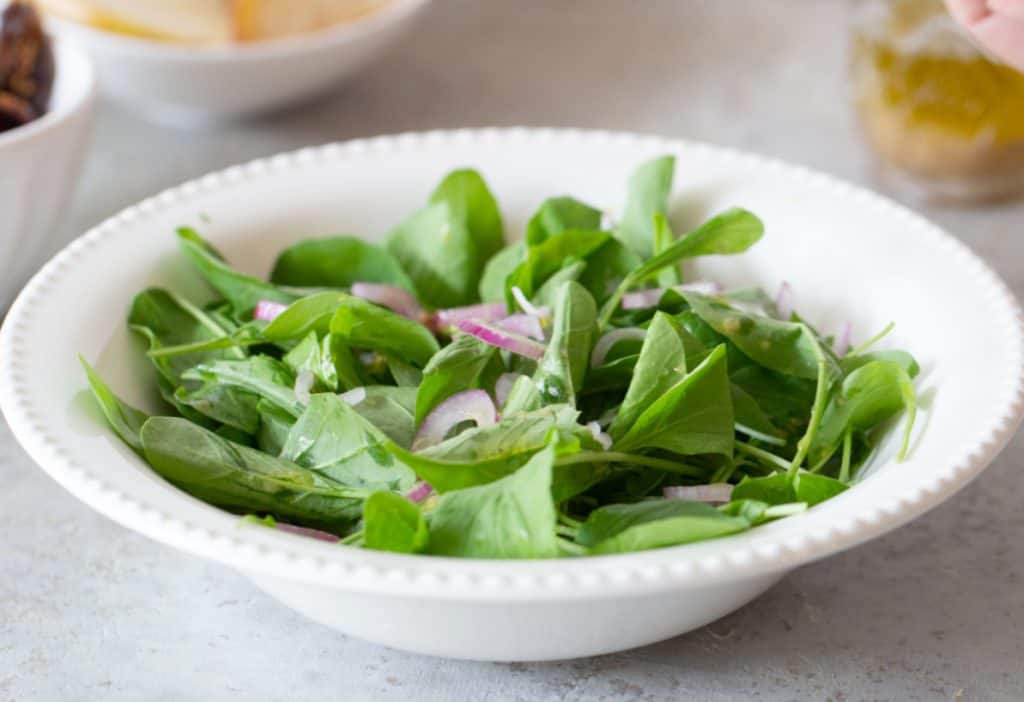 Building a salad.
I love to put together salads in layers. That is, I don't mix everything together into one big thing, but layer it so that the ingredients, especially the add-ons, are scattered all over. Otherwise, they tend to go to the bottom.
Serving dish: or plate. Whether serving it in a large platter or individual servings, choose a dish that is not very deep (not a bowl) so that all the ingredients are visible and well distributed so that every diner gets the whole deal.
Layers: my recommendation is to divide the ingredients into two parts and make two similar layers; they will distribute more evenly that way. Start with half the arugula (or whatever the bulk ingredient is if building another salad). That will be your base (image above). After that, half the add-ons. Another layer of green and the final layer of extras on top so the salad is colorful and inviting.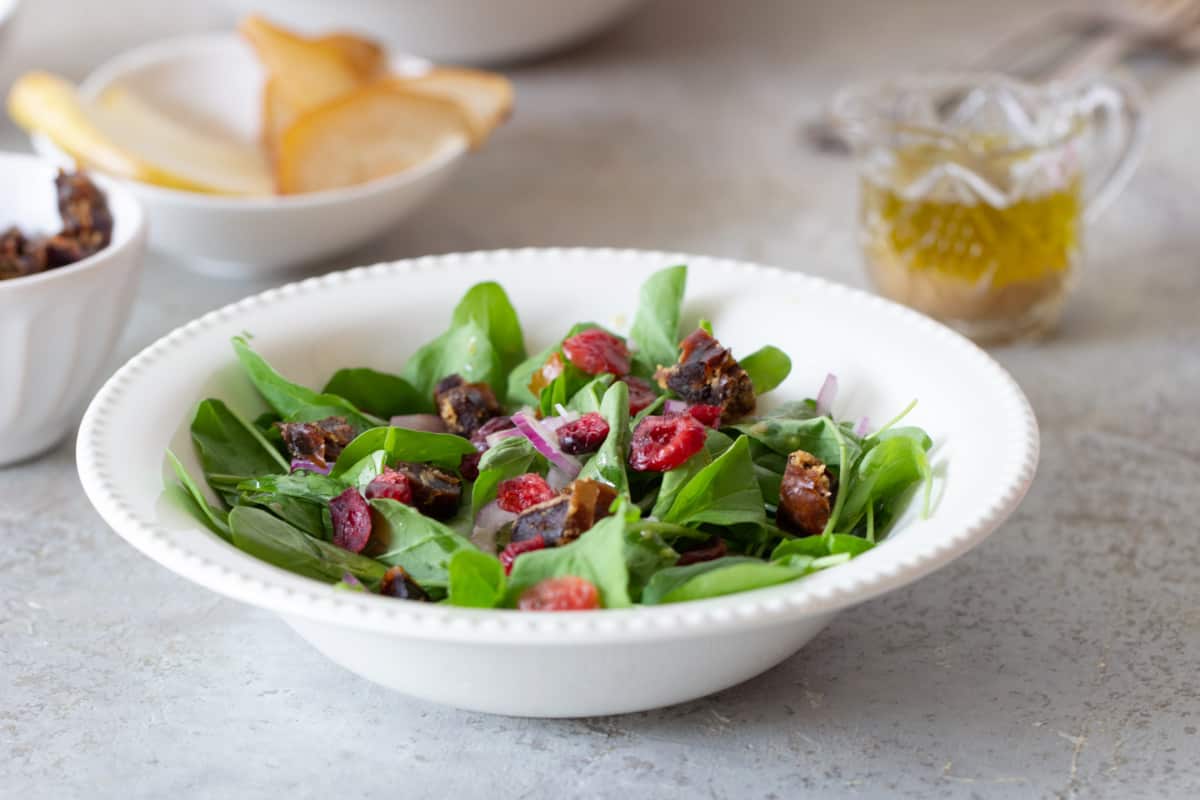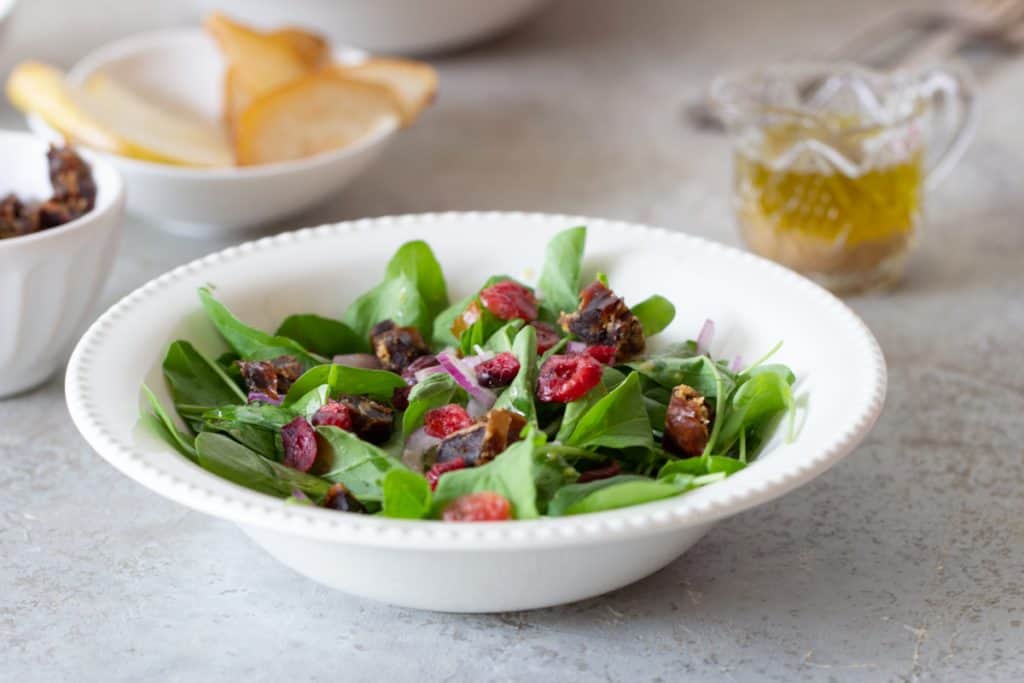 Dressing: It is a good idea to mix a little dressing to the bulk ingredient (arugula in this case) before you start layering. It will distribute better as it is dense and will go to the bottom. My suggestion is to serve the rest of the dressing in a jar so that every guest add as much or as little as they want (image below).
Vinaigrette is the traditional French dressing. Very simple and flavorful, it is a wonderful addition to any salad. I added honey and use apple cider vinegar and is even better.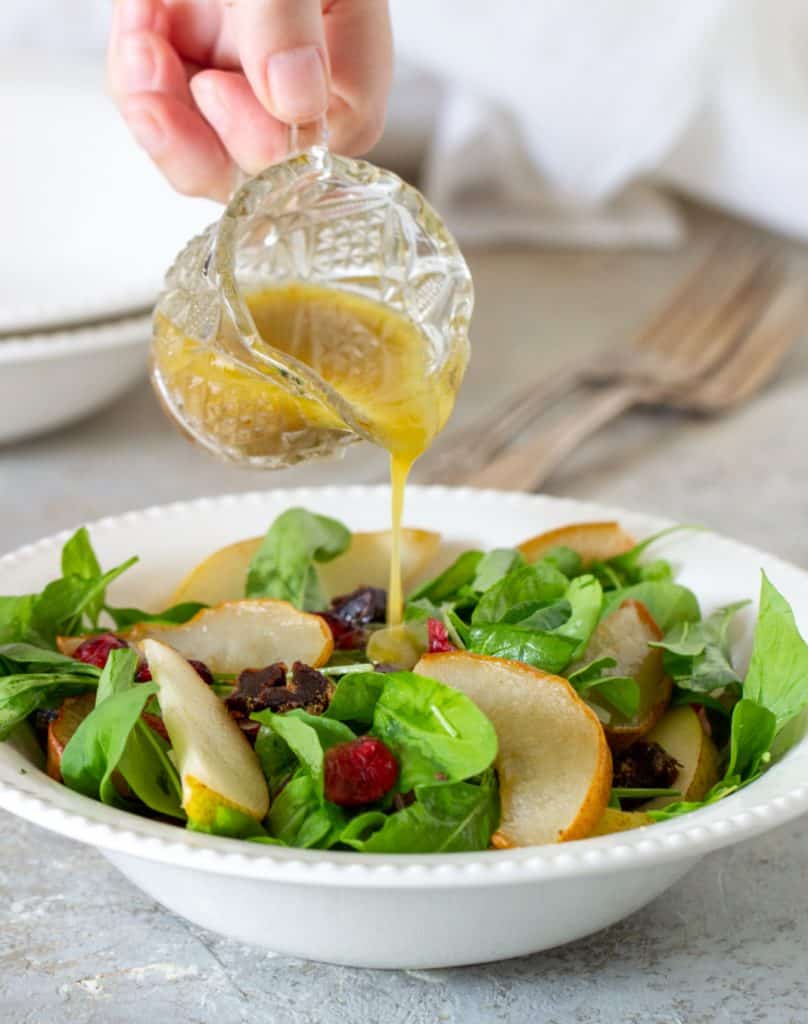 Variations on this recipe.
Greens: you can use mixed greens and the salad will still be amazing.
Dressing: use a different vinegar, such as sherry or red wine vinegar. or even balsamic vinegar. I find it is a little bit overpowering, but I know fans of it that use it no matter what the salad is.
Fruit: you can use apples instead of pears. It can be made in the summer with fresh strawberries and/or peaches and it is fantastic!
Dried fruit: you can add dried figs and/or raisins. I suggest you choose your favorite 2 dried fruits. Adding too many different ones will add too many different flavors and they will be lost.
Nuts: use pecans (toasted lightly) in addition to the almonds or as a replacement. They are wonderful in this salad during the holiday season.
Special diets: make a nut-free salad by omitting the almonds. Add half the dried fruit for a streamlined, but still flavorful, salad.
Main dish: this can easily turn into a light main dish by adding soft goat cheese or feta cheese. And slices of cold turkey or chicken.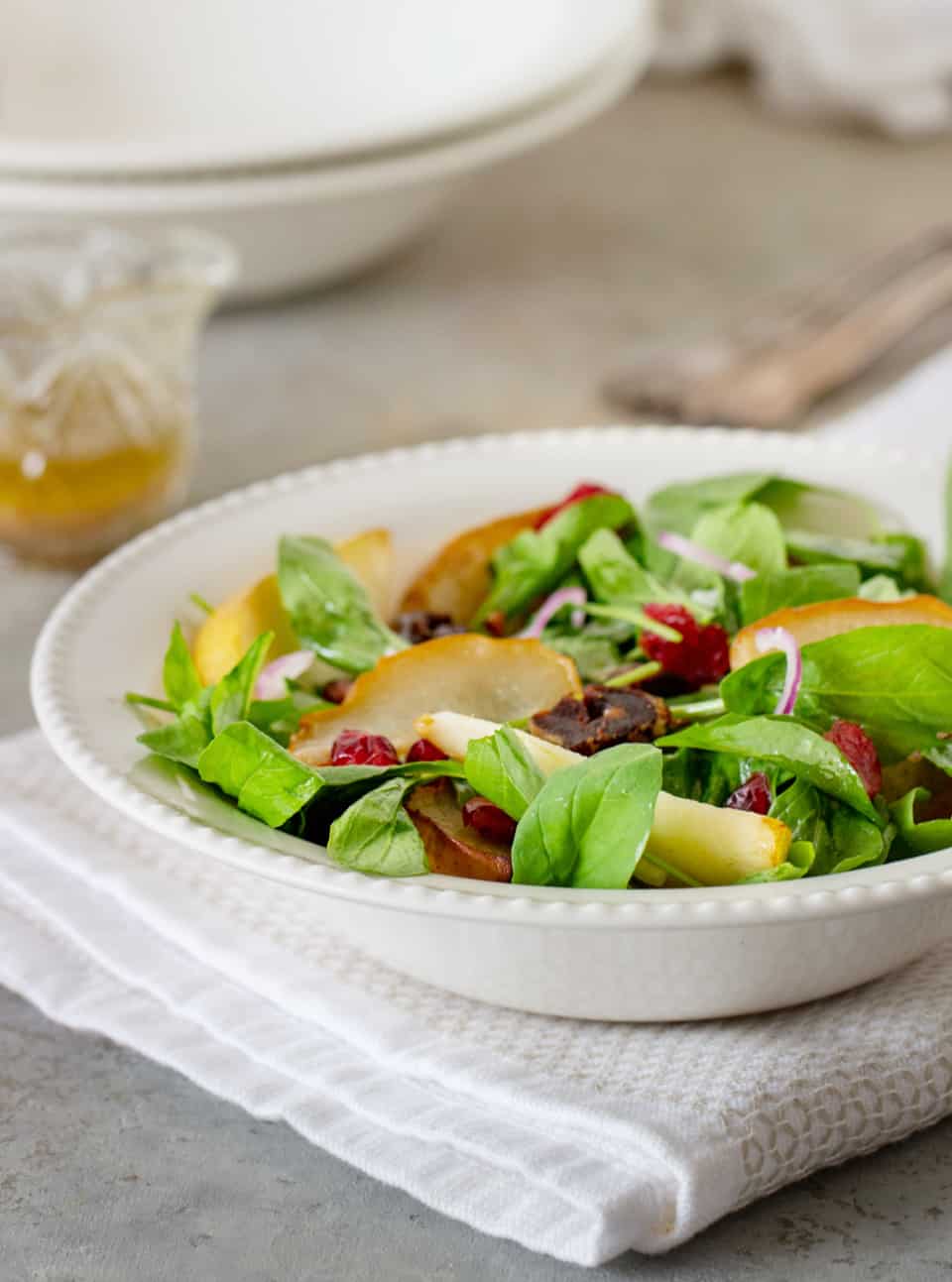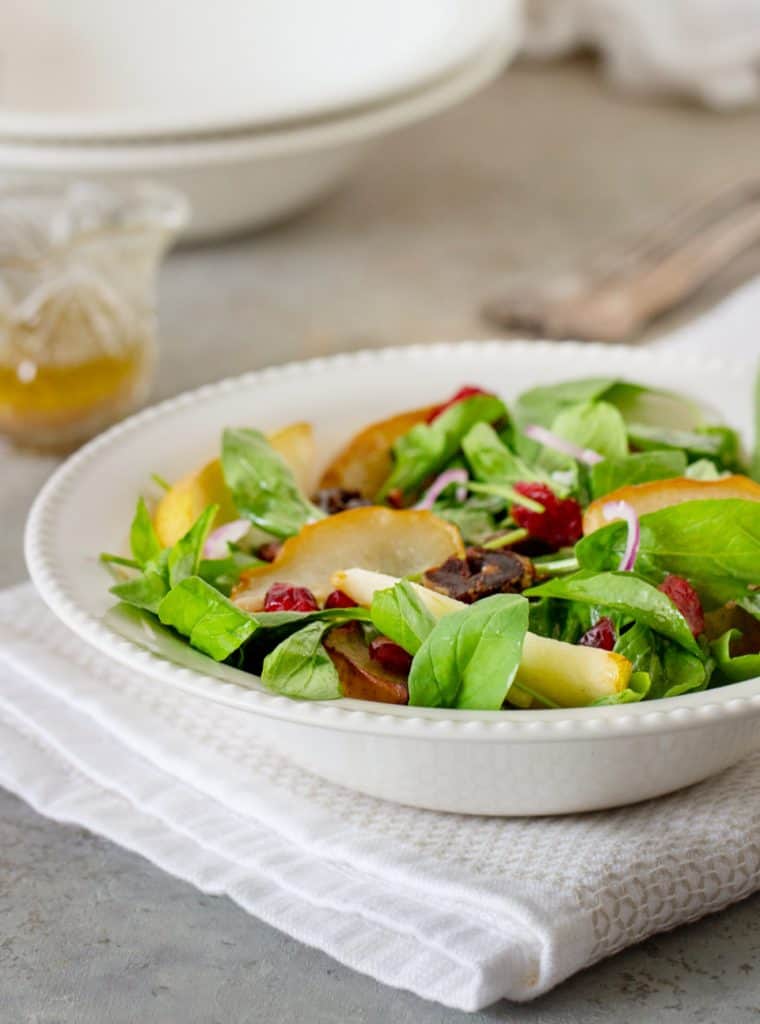 Other recipes you might like:
Spicy Turmeric Cauliflower
Roasted Pumpkin with Herbs
Moroccan Carrot Chickpea Salad
Basmati Rice with Salsa Verde
Roasted Carrot Dip
Spicy Baked Potato Wedges
Let me know if you make this recipe! I'd love to hear what you think about it.
Thank you for being here, I appreciate it! Let's connect via Facebook, Instagram, and Pinterest.
Print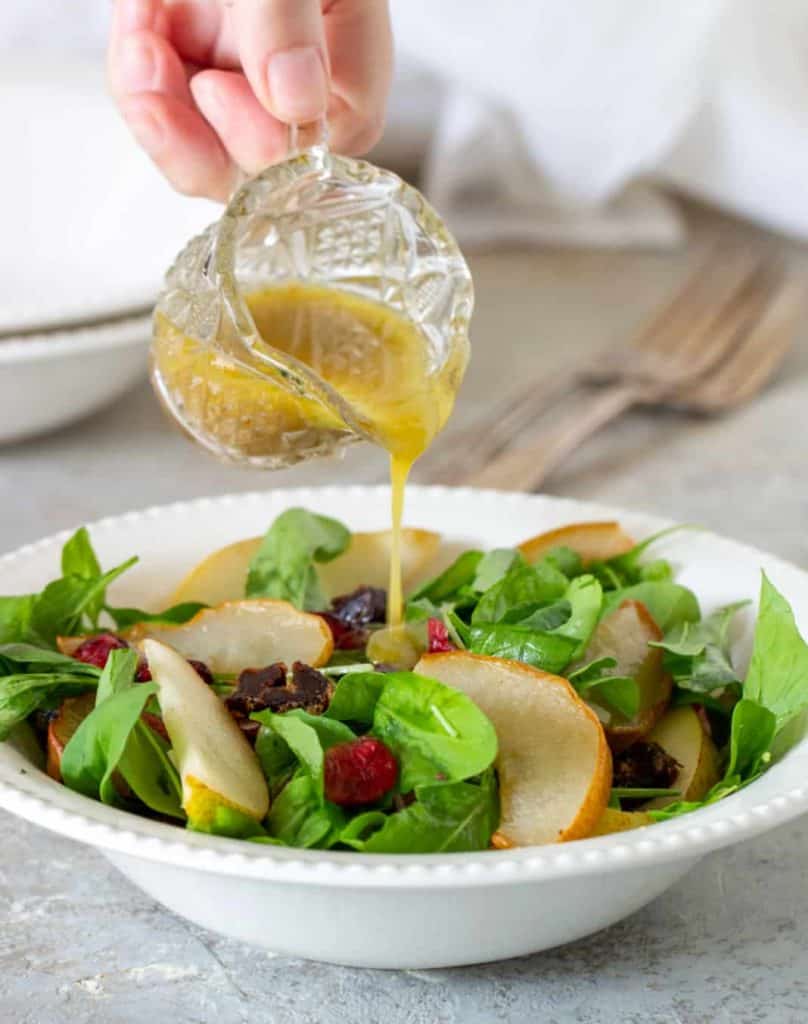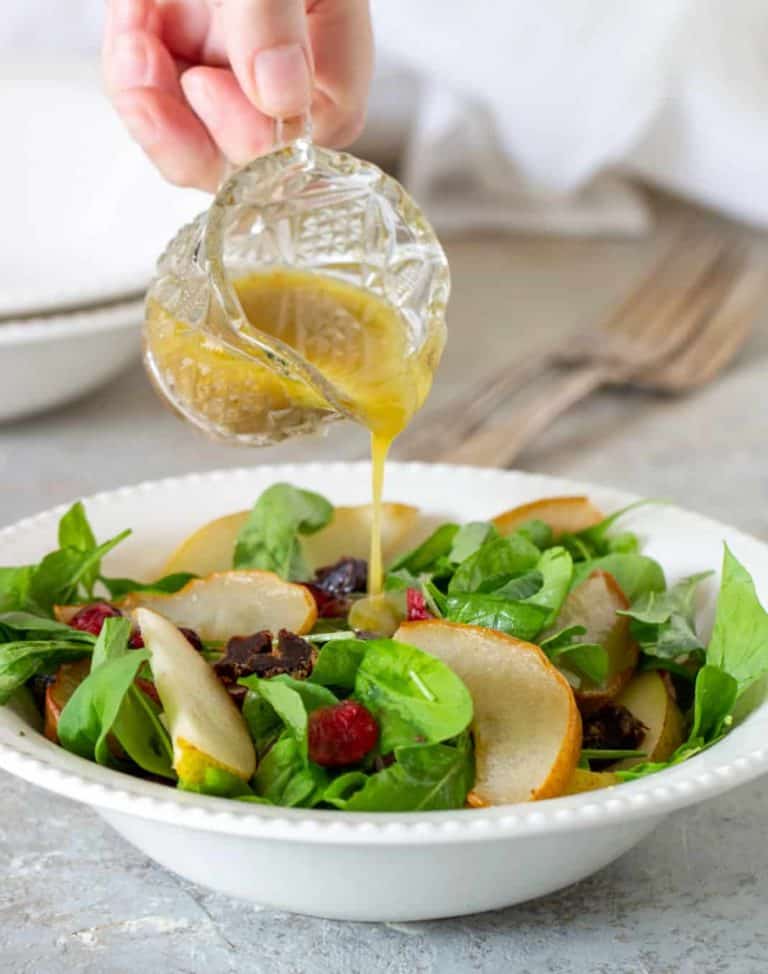 Pear Arugula Salad with Honey Dressing
As far as Fall salads are concerned, this pear arugula beauty is high up in the list. Very flavorful and vibrant, it has a bit of everything and is perfect for a light lunch and a holiday buffet.
Total Time:

20 minutes

Yield:

4

side servings

1

x
3 cups

arugula, washed and dried

2 tablespoons

thinly sliced red onion or shallots

1

pear (I used Bartlett)

2

medjool dates, chopped into little pieces

2 tablespoons

dried cranberries

2 tablespoons

chopped almonds
Vinaigrette:
2 tablespoons

apple cider vinegar

2 teaspoons

dijon mustard

1

Tbs honey

⅓

to

½

cup olive oil
Salt
Freshly ground black pepper
Instructions
For the vinaigrette:
I suggest using a blender (a glass jar is better so the oil and mustard doesn't permeate the plastic) or an immersion blender as this dressing/vinaigrette separates after a while.
In a jar with lid or bowl, mix vinegar, mustard, honey and some salt.
Slowly add oil while mixing well.
Add pepper and check seasoning.
Refrigerate while you prepare salad. Or if you make a large quantity.
For the salad:
Preheat oven to 350°F /180°C.
Brush a baking pan with oil or butter.
Cut pear in half and scoop out the centres.
Cut each half into wedges.
Bake half of the pieces for about 10 minutes, until they soften up but still retain the shape. (Alternatively, heat 1 teaspoon olive oil in a medium skillet and cook half the wedges until beginning to brown). Reserve.
In a bowl dress arugula with three tablespoons of vinaigrette.
Mound arugula on center of platter or individual plates.
Scatter shallots or onion on top.
Add half the raw and half of the baked pear wedges.
Scatter half the chopped dates, cranberries, and almonds on top of the arugula.
Repeat with remaining ingredients in same order.
Drizzle a few tablespoons of vinaigrette and serve with extra dressing on the side.
Notes
Serving: use a large serving platter or individual serving plates.
Dressing: it separates after a while, so you might consider blending it right before serving.
Variations: see the last part of the post, above, for suggestions.
Author:

Paula Montenegro

Prep Time:

20

Category:

Salads

Method:

Baking + Mixing

Cuisine:

International
Nutrition
Serving Size:

¼

Calories:

317

Sugar:

21.2 g

Sodium:

296.6 mg

Fat:

23.7 g

Carbohydrates:

27.5 g

Protein:

3 g

Cholesterol:

0 mg
Keywords: pear salad, pear arugula salad