Homemade coleslaw with crunchy apples and tart cranberries is a sweet and tangy twist on the traditional salad. It's a simple, no-fuss cabbage dish with a quick creamy apple cider dressing. It can be made a few hours ahead and is a wonderful side dish for potlucks, barbecues and even Thanksgiving.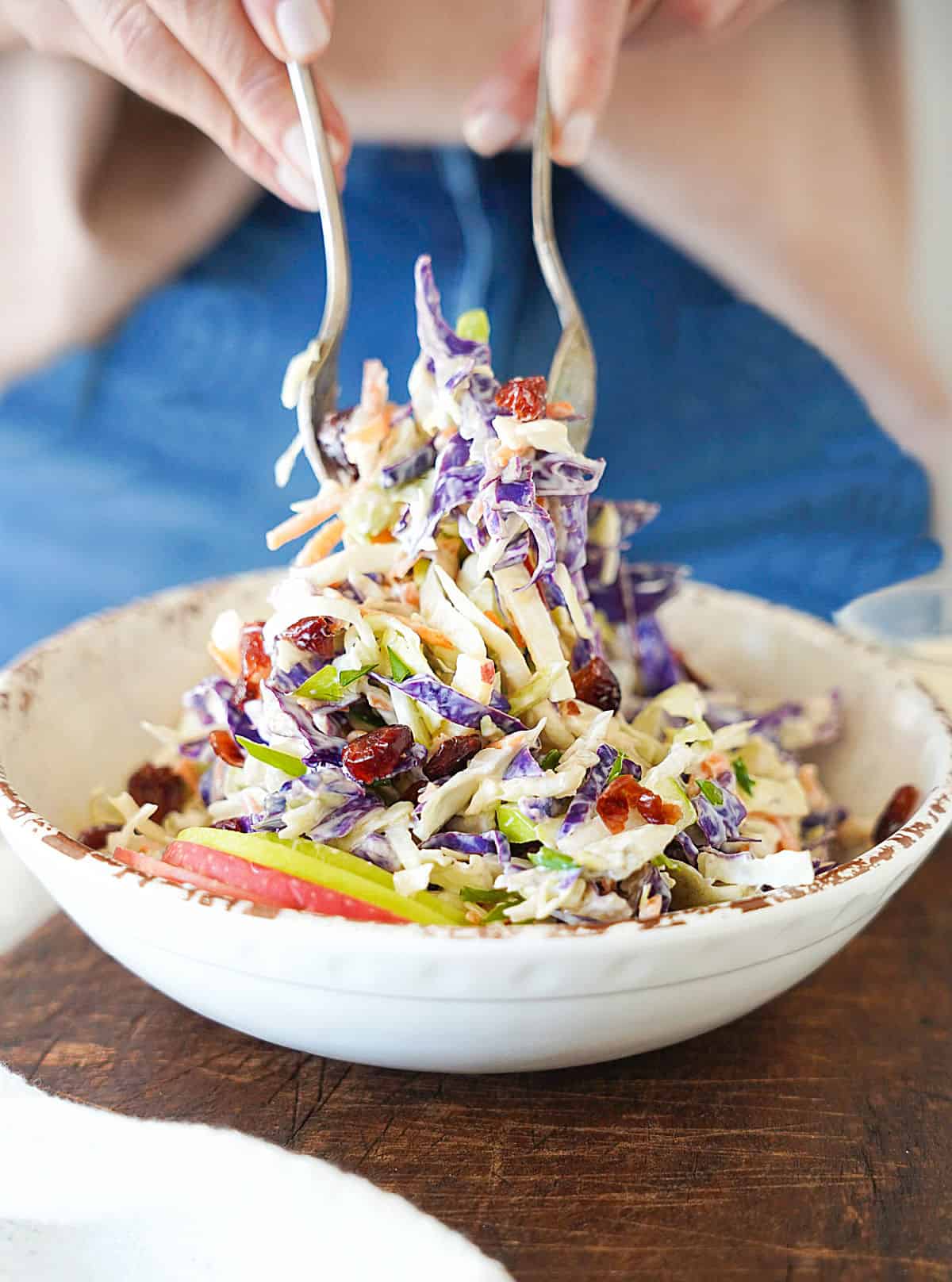 Coleslaw reminds us of barbecues and hot days, but with apples and dried cranberries, it can be a holiday side dish, especially if you want to add something different or live in a mild climate.
We eat this salad year-long; it's especially good with pork sandwiches or when you just want a change from the traditional coleslaw recipe.
Why use this recipe
Quick and easy.
Adaptable: use different types of apples and cabbage. Adjust the amount of each component and make it your own. For us, the apple is very present, but you might want less of it or a different amount of cranberries.
Versatile: besides the classic barbecue, you can take this delicious side dish to a Thanksgiving potluck or add it to the holiday table for a different salad option.
Make-Ahead: prepare it beforehand and save you stress on busy days or when hosting guests. The flavors often improve as it sits in the fridge, making it a great option.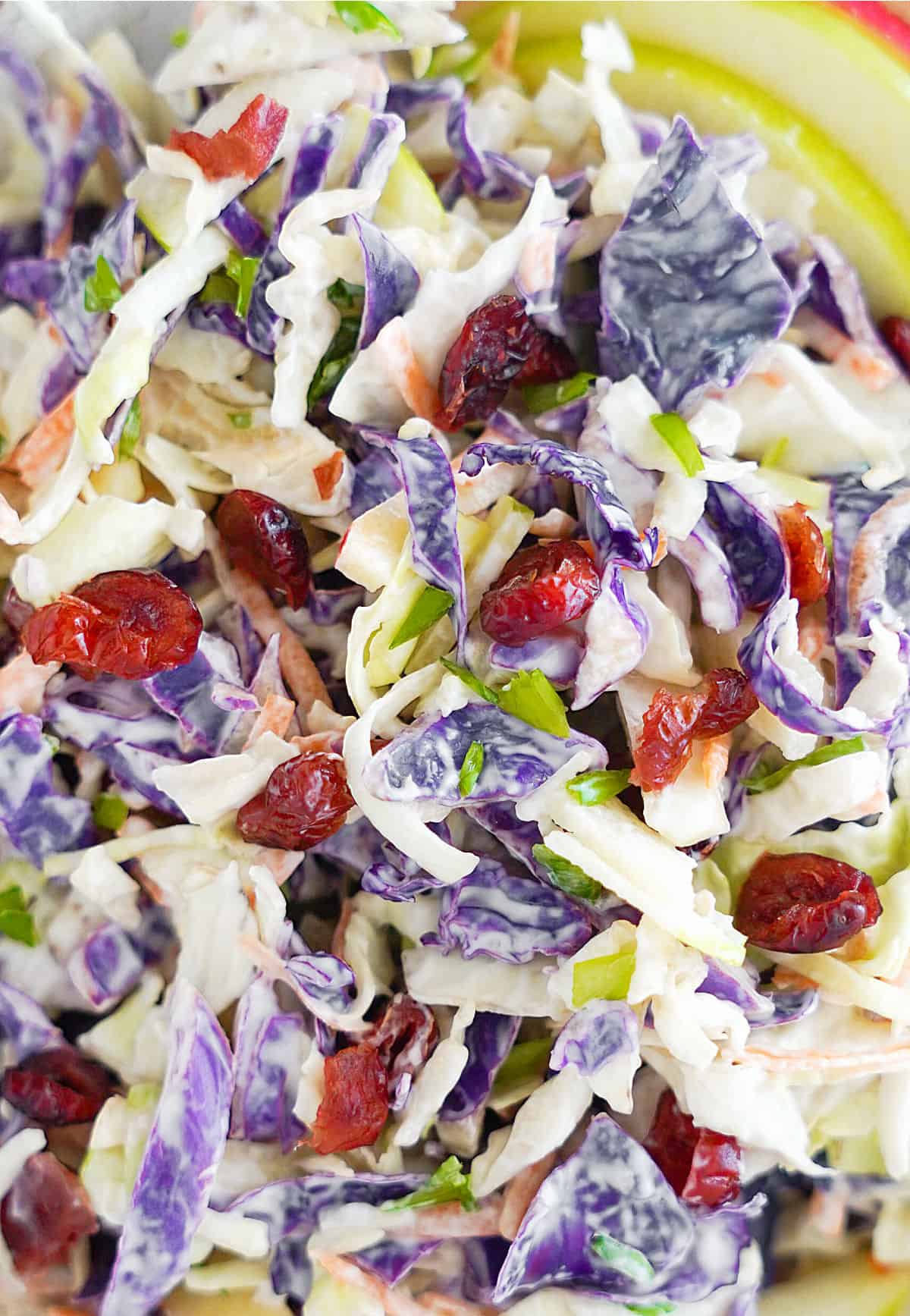 Ingredient list
Cabbage: use green and purple, shredded.
Carrots: shredded or grated with a large-holed grater.
Dried cranberries: make sure they're soft and plump.
Apples: use your favorite apple variety. We use red and green (usually honeycrisp and granny smith) to have a contrast in acidity and color. But you can use only one (red apples for a sweeter salad, green apples for a sharper flavor).
Natural yogurt: Greek yogurt is a favorite, but any unflavored, natural, sugarless yogurt works.
Apple cider vinegar.
Mayonnaise.
Cream or milk: it's used to thin the dressing. You might not need it if you like a thick dressing or use a very fluid natural yogurt.
Salt: I like using kosher salt or fine sea salt, but regular table salt works fine.
Black pepper: freshly ground.
Chives or green onions: they add flavor and color.
See the recipe card towards the end of this post for quantities.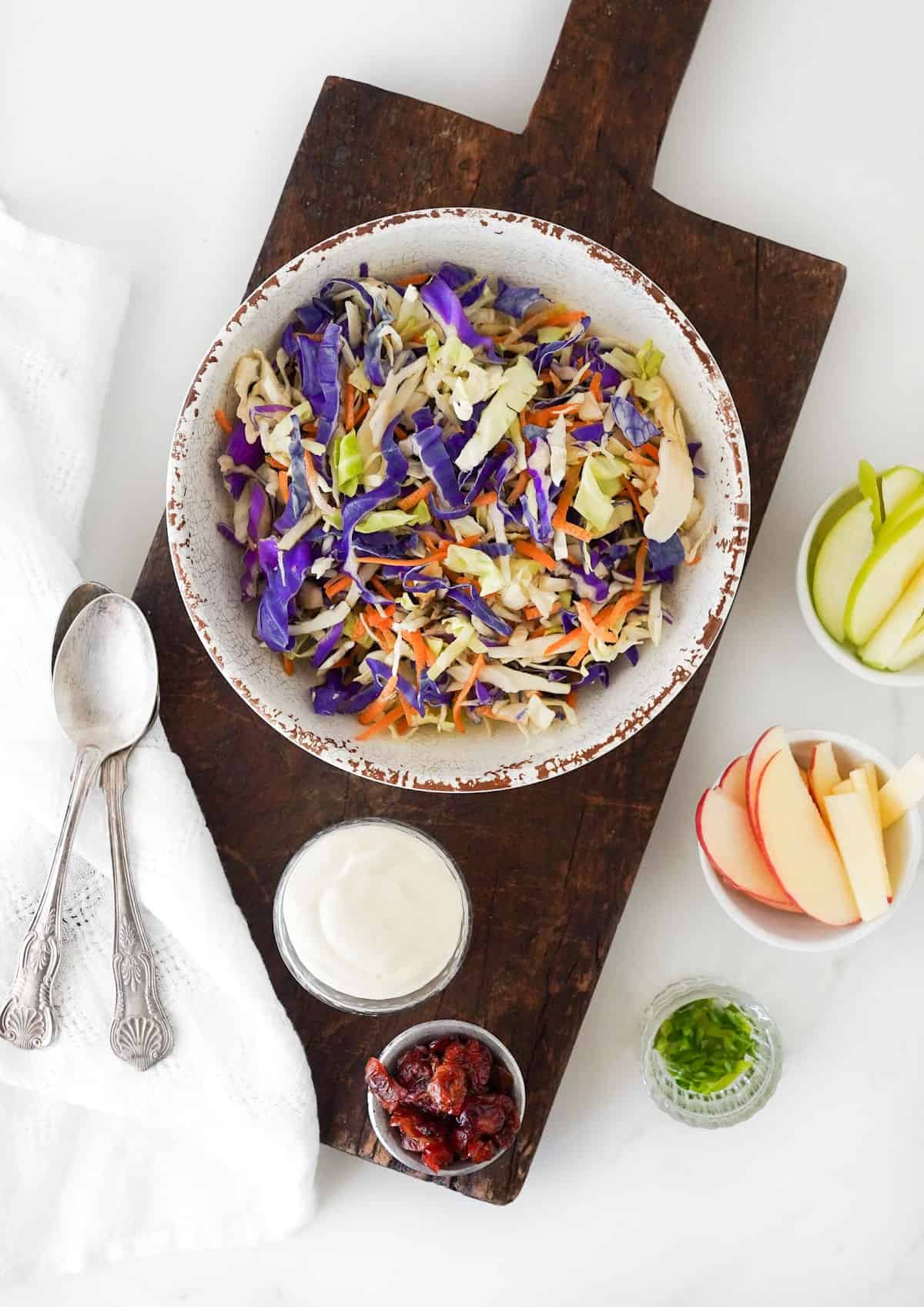 Variations & substitutions
Fresh cranberries: use them instead of, or in addition to, the dried ones.
Different types of apples: take advantage of apple season and vary the sweetness of the salad by mixing in different varieties.
Richer dressing: use cream instead of yogurt for a more traditional and heavier coleslaw.
Sour cream: substitute for the yogurt for a denser and creamier salad.
Lemon juice: use it instead of the apple cider vinegar.
Olive oil: use it instead of the mayonnaise for a no mayo coleslaw.
Sweeter slaw: use only sweet apples and a touch of maple syrup or honey in the dressing.
Nuts: some sliced or chopped almonds or pecans pair well with the rest of the ingredients.
How to make apple cabbage slaw
We use two layers so the ingredients are better distributed.
Cutting the cabbage: you can use a kitchen mandoline, a box grater, shred it in the processor with the grater attachment, use a large kitchen knife and some patience, or buy the coleslaw mix at the grocery store.
The shreds are traditionally long and thin. But it's your salad, whatever works for you.
How to cut the apples: you can cut sticks, dice them, or cut slices in half. It depends on how you like to bite into the apples.
We cut small pieces like thick matchsticks, similar to the cabbage pieces, for the bulk of the salad. Then add thin slices on top before serving. Both are shown below.
Cranberries: make sure they're soft and plump. Old, dry ones won't make the cut.
You can plump them up by putting them in a small saucepan with hot water to cover them, let it boil and remove the pan from the heat. Cool down in the water, drain and dry with a kitchen towel.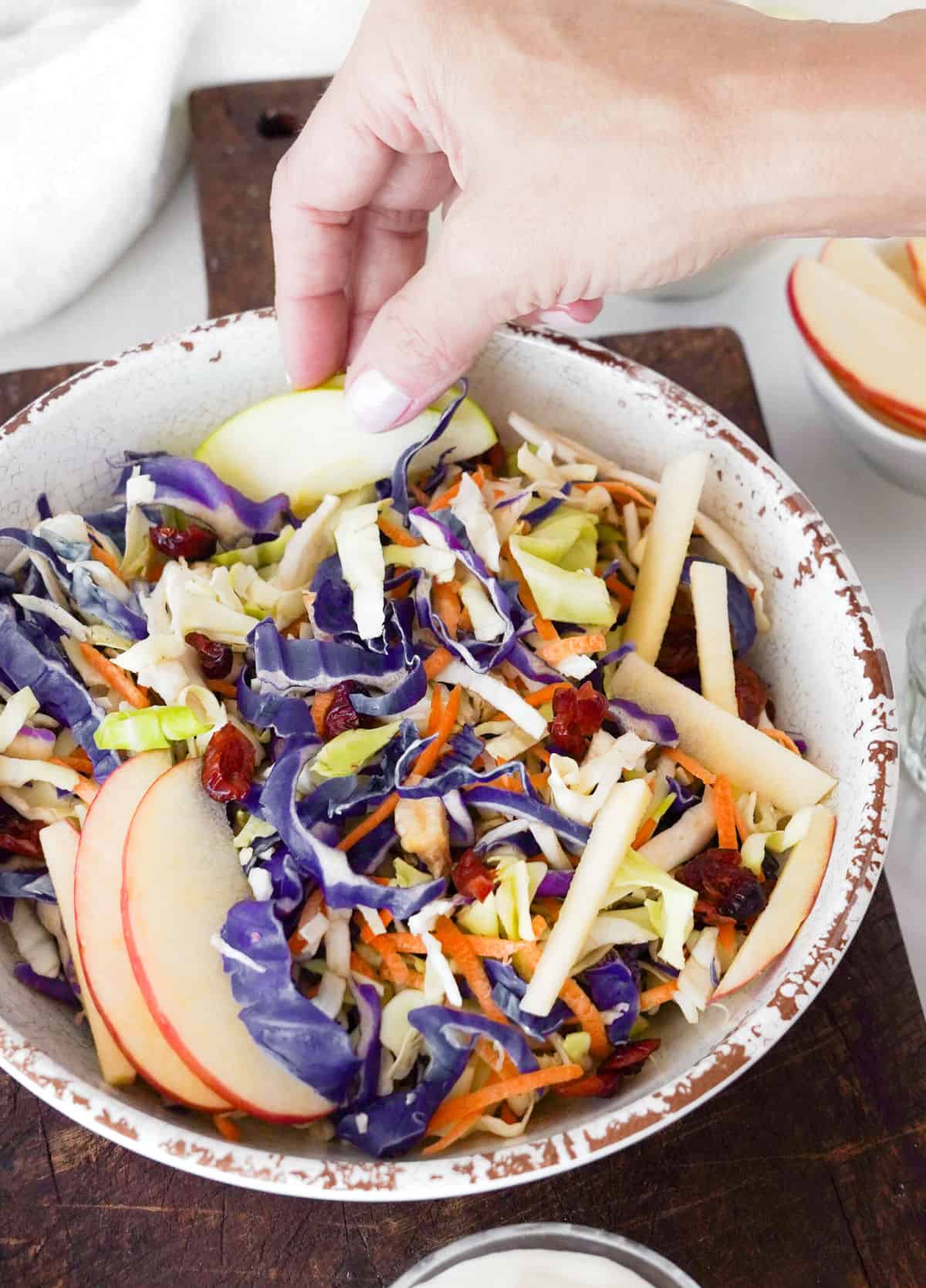 Creamy coleslaw dressing
While a tangy vinaigrette is often used, we opted for a yogurt and mayonnaise based dressing to give the coleslaw a rich and velvety texture and add some tang. It complements the crispness of the apples and cranberries beautifully.
Make ahead: keep it in an airtight jar or bottle in the refrigerator up to 5 days before using. Stir well before adding it to the coleslaw.
Thicker or more fluid dressing: use a few tablespoons of milk (or cream) to make a runnier dressing. But remember the vegetables release liquid after a while, moistening the salad.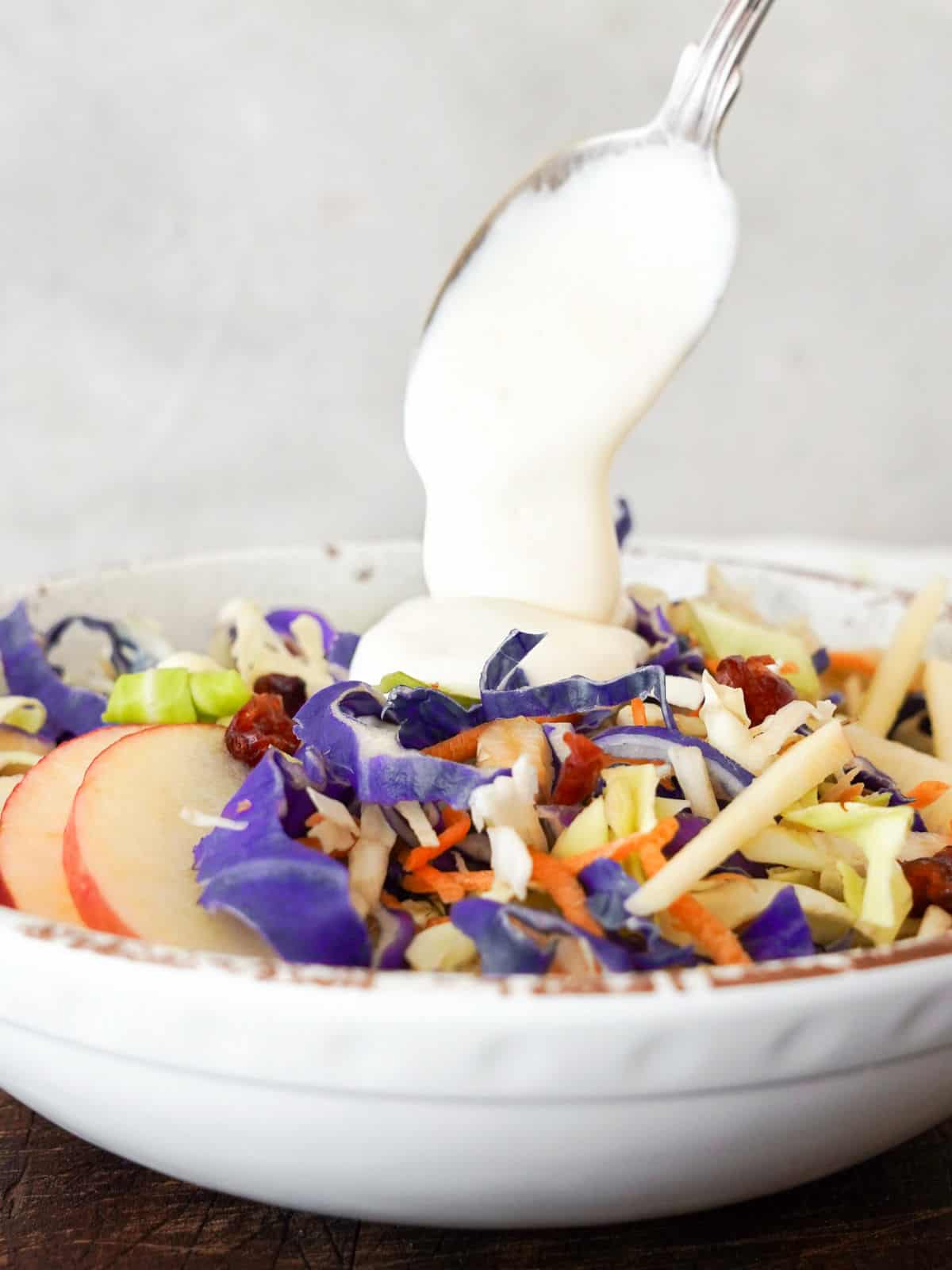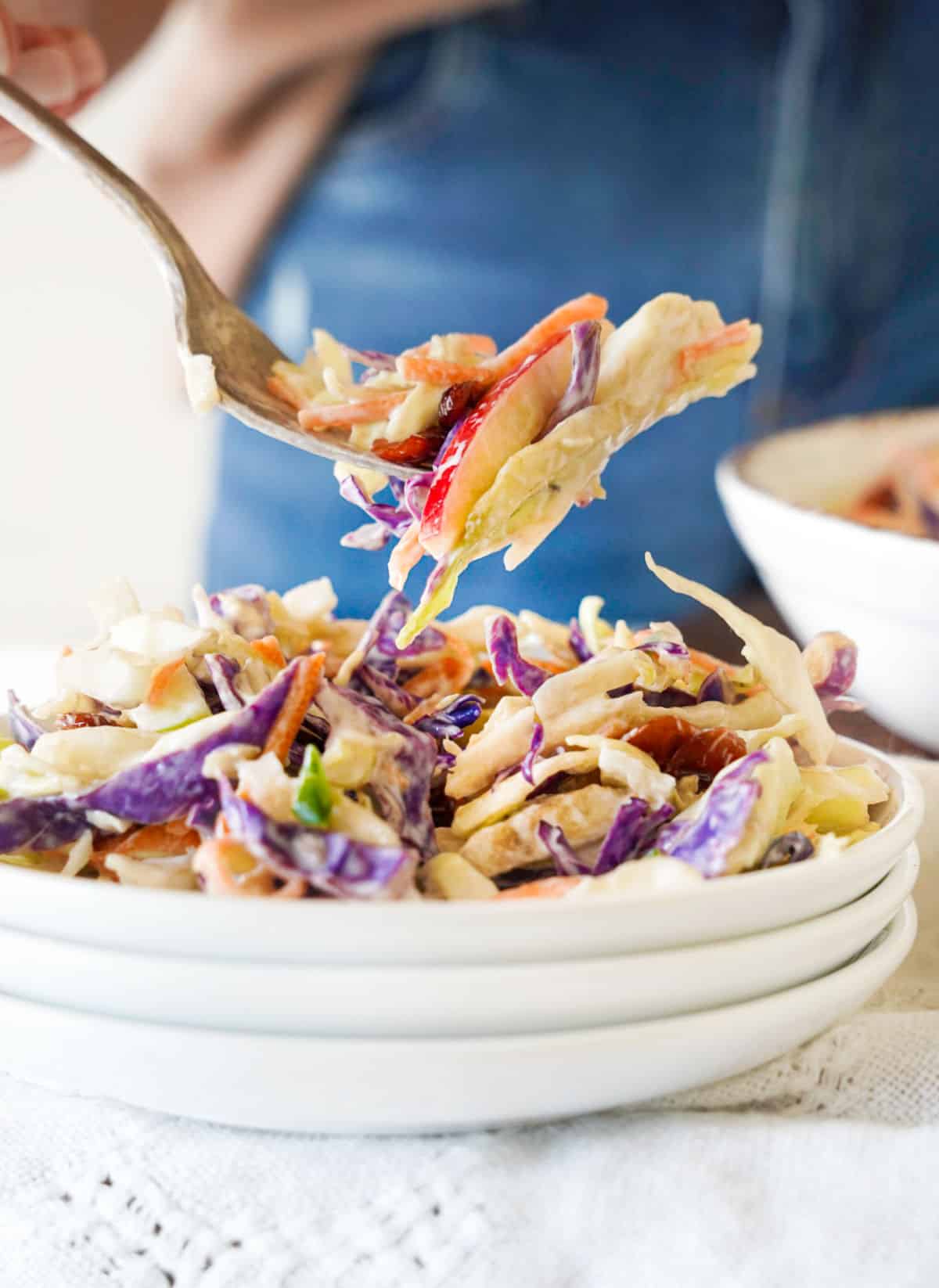 Storage
Consume within a few days: it typically stays fresh for 3 to 4 days when stored properly in the refrigerator. Beyond this time, the texture and flavor may start to deteriorate.
Refrigerate promptly: especially if it has been sitting out at room temperature. The crisper drawer is usually a good place to store it.
Use an airtight container: to prevent moisture loss and keep the coleslaw from absorbing any strong odors from the fridge.
Separate liquids: if you notice excess liquid pooling at the bottom of the container, you can drain it to prevent the coleslaw from becoming soggy. However, this may make the coleslaw less creamy over time.
Avoid freezing: it can cause the vegetables to become mushy when thawed, and the dressing may separate.
Check before consuming: discard it if it smells funny or has green or dark spots.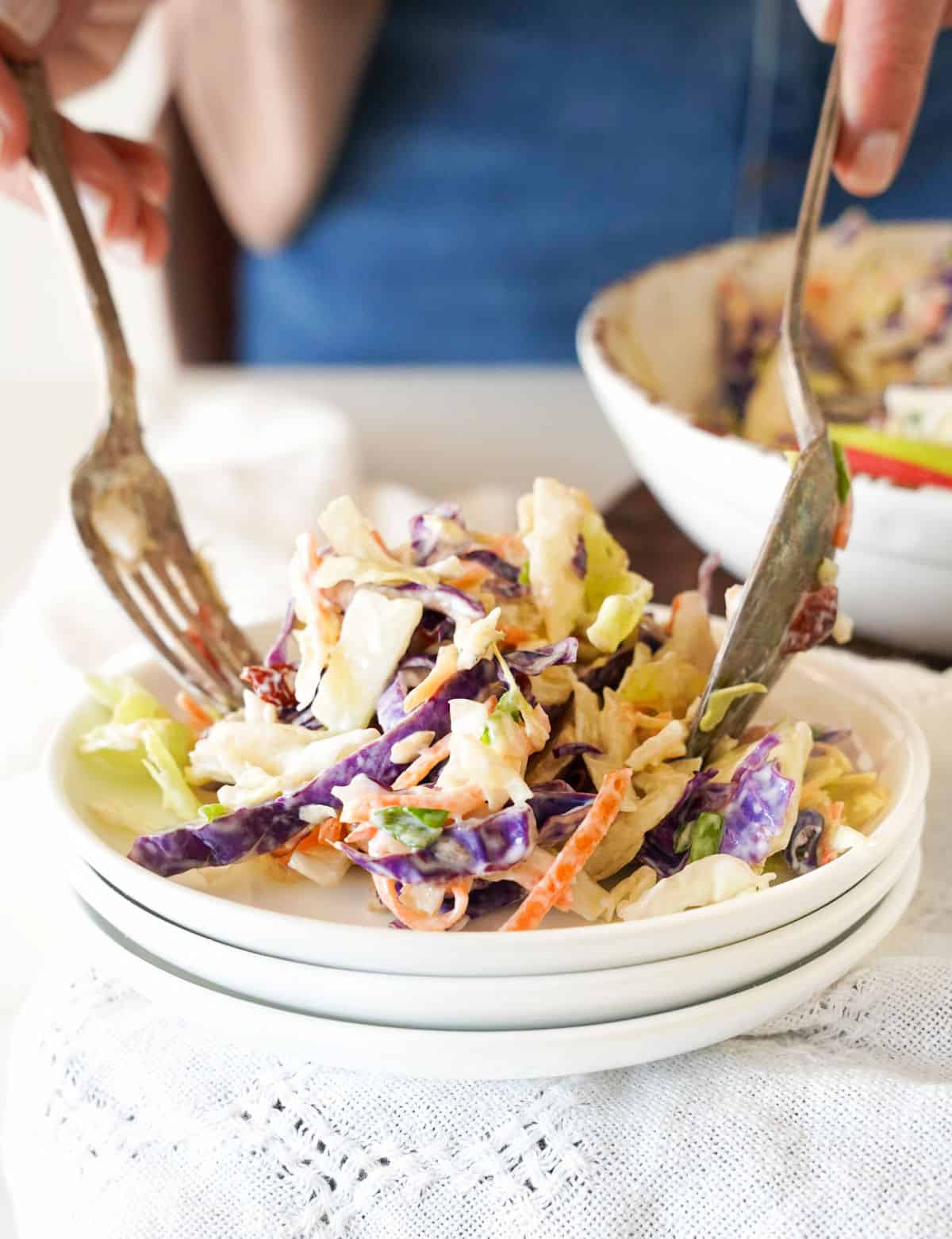 ---
Related recipes you might like:
---
Let me know in the comments below if you made this recipe and loved it and if you had issues so we can troubleshoot together. I love to hear what you think, always. Thanks for being here. It's much appreciated.
You might also consider subscribing to our FREE email series to Boost your Home Baking Skills! And our regular newsletter.
And let's connect via Facebook, Instagram, and Pinterest.
As an Amazon Associate, I earn from qualifying purchases. Please read my disclosure policy.
Print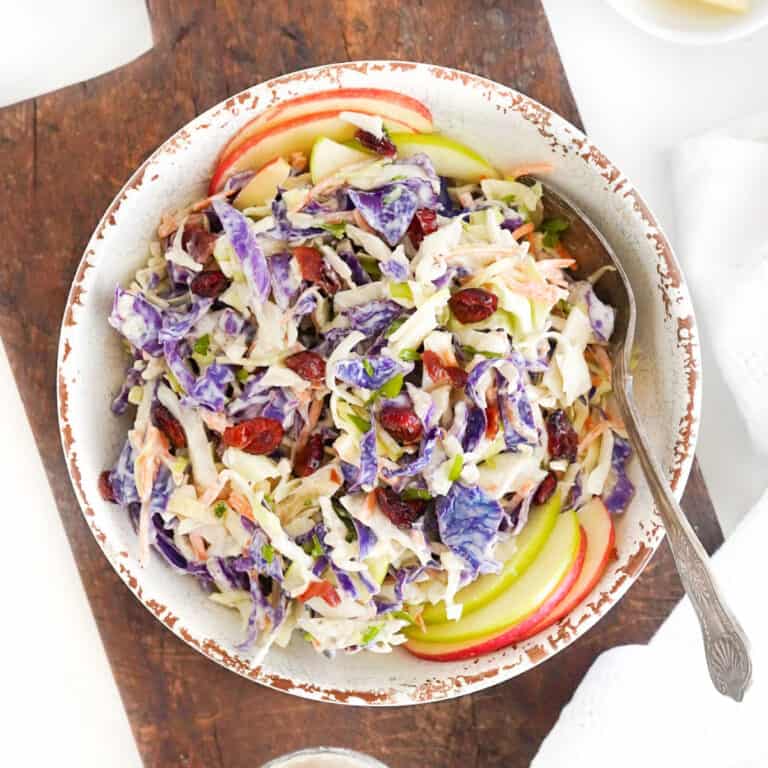 Creamy Apple Slaw (with cranberries)
This creamy coleslaw is a simple recipe with a wonderful tangy, bright flavor. A mix of crunchy cabbage, fresh apples and cranberries with a yogurt dressing. It's a great side dish for barbecues, potlucks and the holiday season. It can be made ahead and takes 10 minutes to assemble.
Total Time:

20 minutes

Yield:

6 servings
For the salad:
6

cups

coleslaw mix (shredded green and red cabbage with a smaller amount of shredded carrots) See Notes below

½

cup

dried cranberries

1

red apple with skin

½

green apple with skin
For the tangy dressing:
⅓

cup

natural yogurt

⅓

cup

mayonnaise

4 tablespoons

apple cider vinegar

1 teaspoon

salt (or more to taste)
Freshly ground black pepper

3

-

4

tablespoons (sometimes more) of milk or cream, to thin out the dressing
Instructions
One or two hours before serving, toss coleslaw mix in a large bowl.
In a small bowl, stir together the dressing ingredients.
Taste and adjust, adding more vinegar, salt or whatever you feel is needed. If you want it more fluid, add a couple tablespoons of milk or cream and adjust again.
Cut the apples into quarters. Cut and discard the hard center with seeds. Slice the apple pieces, and cut them into strips like thick matchsticks. Add them to the rest of the slaw ingredients.
Toss lightly with half of the dressing until well coated. Add more gradually, adjusting to your taste.
Cover with plastic wrap and refrigerate until ready to serve. Coleslaw tastes better after 1 or 2 hours in the fridge. The dressing flavors meld and slightly soften the vegetables.
To serve, place half the coleslaw mixture in the serving bowl or platter. Scatter half the cranberries on top. Repeat with the rest of the ingredients, add fresh apple slices and serve.
Notes
Coleslaw mix: we use 2 cups shredded green cabbage, 1 cup shredded red cabbage and 1 cup shredded carrots. Adapt to what you have and what you like. The ratio of cabbage to carrots is 3:1 to 4:1, depending on how much carrots you like.
Dressing: you can make it up to 5 days ahead. Refrigerate it in a jar or bottle with a tight-fitting lid.
How to store leftovers:


Refrigerate promptly

: especially if it has been sitting out at room temperature. The crisper drawer is usually a good place to store it.


Use an airtight container

: to prevent moisture loss and keep the coleslaw from absorbing any strong odors from the fridge.


Avoid freezing

: it can cause the vegetables to become mushy when thawed, and the dressing may separate.
Author:

Paula Montenegro

Prep Time:

20 minutes

Category:

Salads - Side dishes

Method:

Mixing

Cuisine:

American
Nutrition
Serving Size:

⅙

Calories:

191

Sugar:

17.8 g

Sodium:

492.6 mg

Fat:

10.6 g

Carbohydrates:

22.9 g

Fiber:

3.9 g

Protein:

3.1 g

Cholesterol:

8.2 mg