A twist on the traditional potato egg salad, this one has pesto and peas and is fantastic. Very simple, it's always a hit in my house and when I take it to barbecues and potlucks.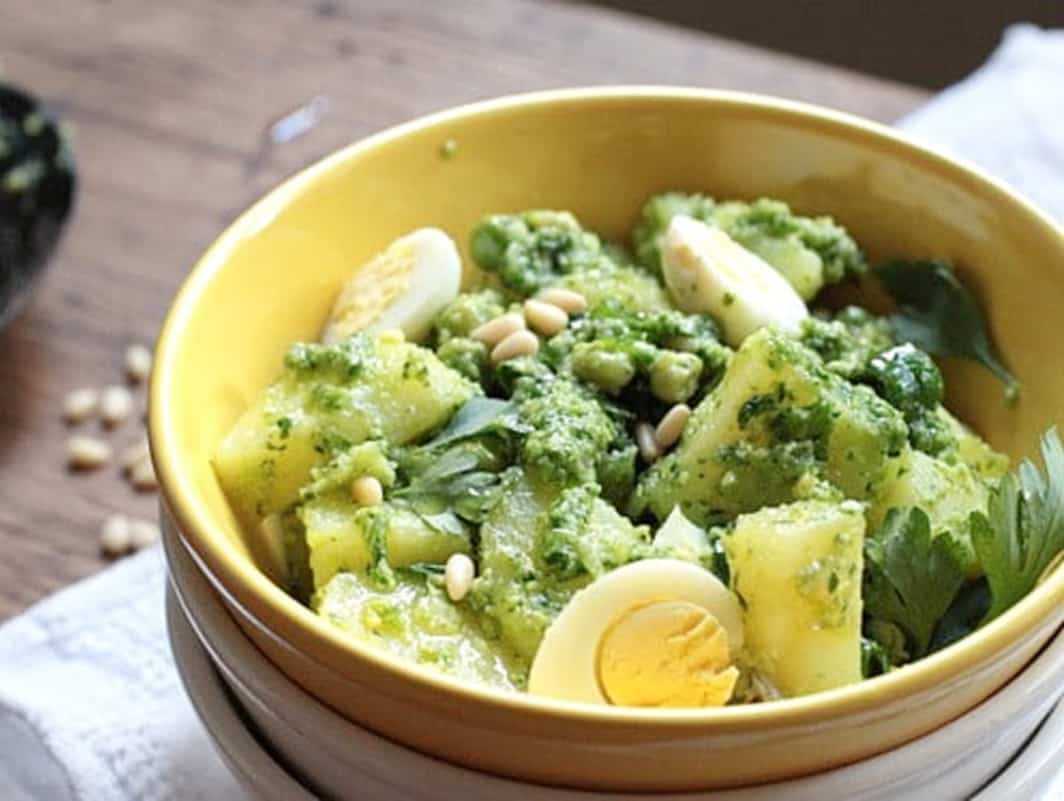 Few things make me happier, foodwise, than to open my refrigerator and find two or three different things that I can spoon or fork directly from the bowl - this pesto potato salad a favorite - often with the door open.
On days I'm feeling very proper, I present a nice plate with different things on it. Like an everyday mini buffet lunch or dinner.
I can't think of any better meal than one that involves a lot of dishes I like that get piled up on my plate. Maybe a very good sandwich, like this with serrano ham, mozzarella, and arugula, can compete with that.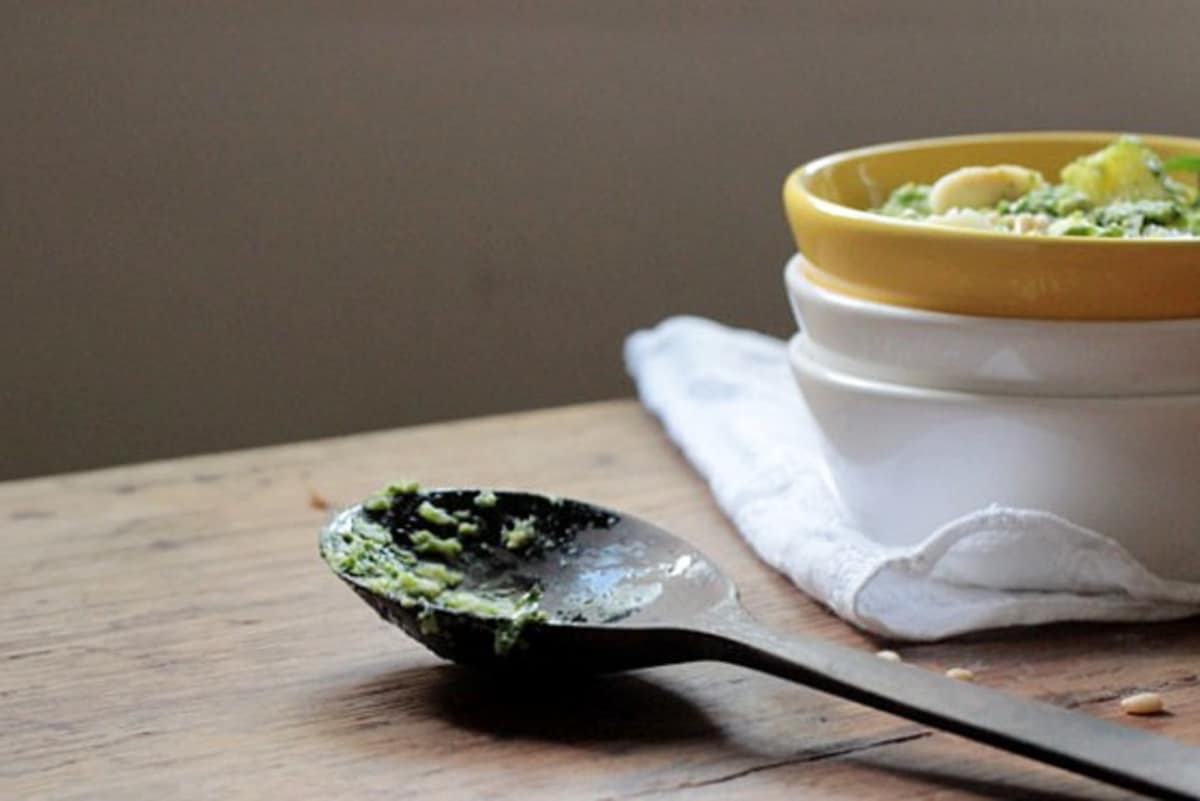 Or a great barbecue, but then, they involve several types of meat and salads, so we'd be back to the buffet-like idea.
Though to tell you the truth, I dislike the word buffet a lot, have no clue to why, I just do, but it serves its purpose very well here.
It's pretty hard to post a potato salad that has not been made before or that we haven't seen everywhere. Is it that we all pretty much like the same thing? Probably.
For me, it has some kick from mustard or vinegar, and I really like it with eggs and parsley.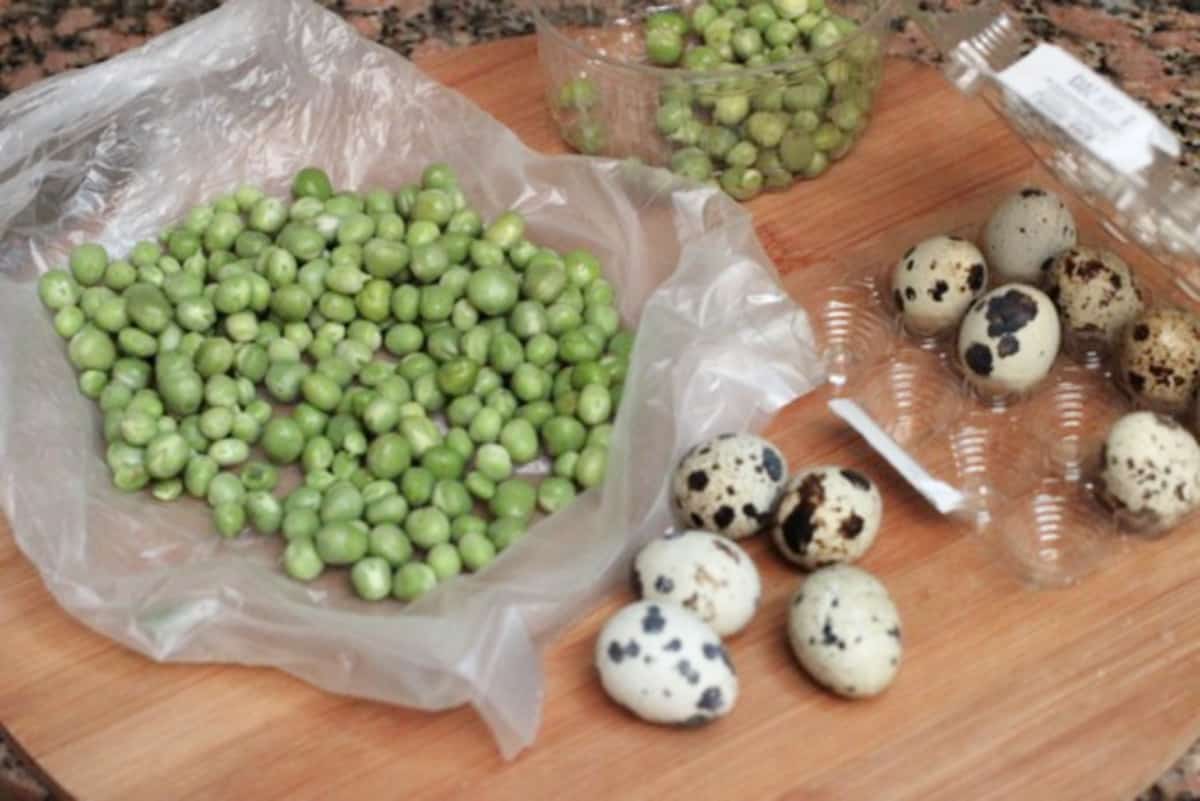 Now, this one that I'm sharing today has probably everything that I like in a potato salad, and out of it, like a fantastic pesto and some accurately boiled quail eggs, with that creamy yolk that is for some reason creamier than the creamiest chicken egg one.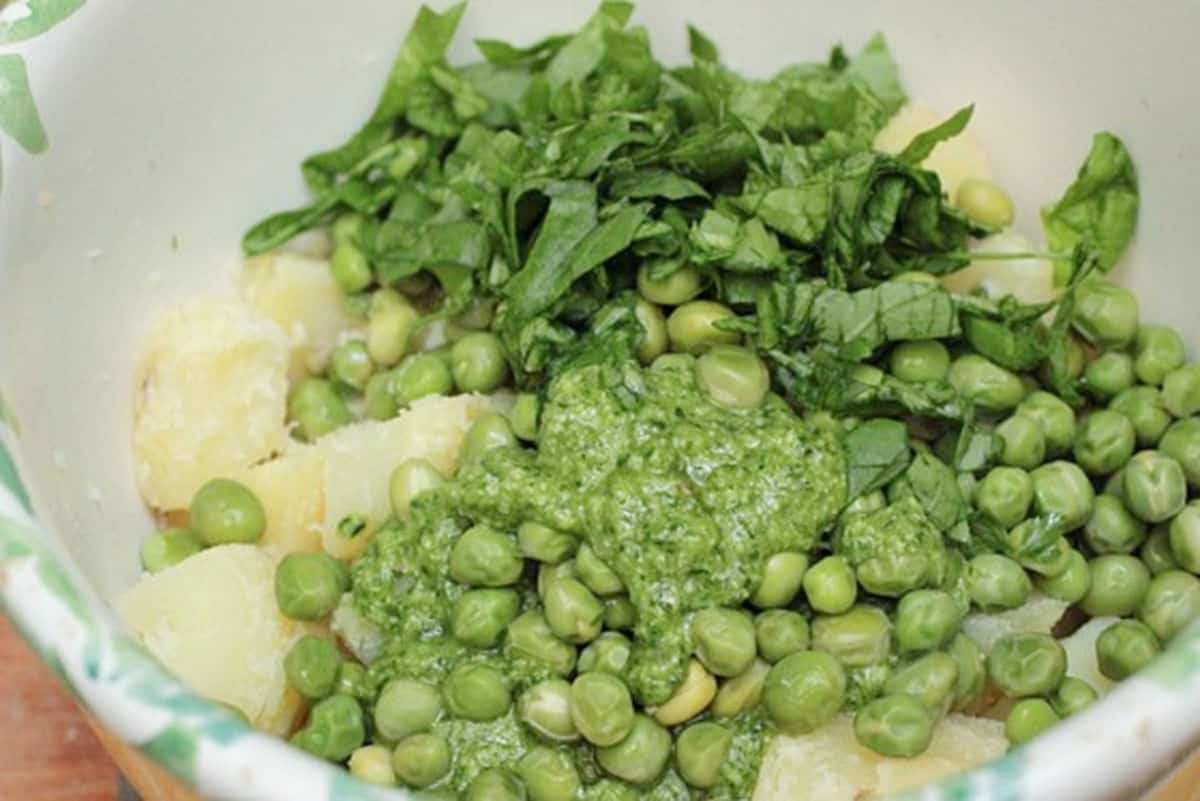 How can a pesto be so different?
I don't know, I make them all the time and have posted a few, like the wonderful cauliflower pesto, sun-dried tomato pesto, and the very popular cilantro pesto.
So, I dig pesto a lot. How come this one surprised me?
This recipe is adapted from Ottolenghi's cookbook Plenty. I don't think there ever was a recipe from him that I didn't like.
So line up your potatoes, peas, basil pesto, and quail eggs, make this super wonderful potato salad, and go on a picnic, celebrate the spring or the fall, or some holiday that must be coming soon, or just that life is good.
Or do as I do, make a huge bowl for yourself, have a few tablespoons every hour and call it a meal.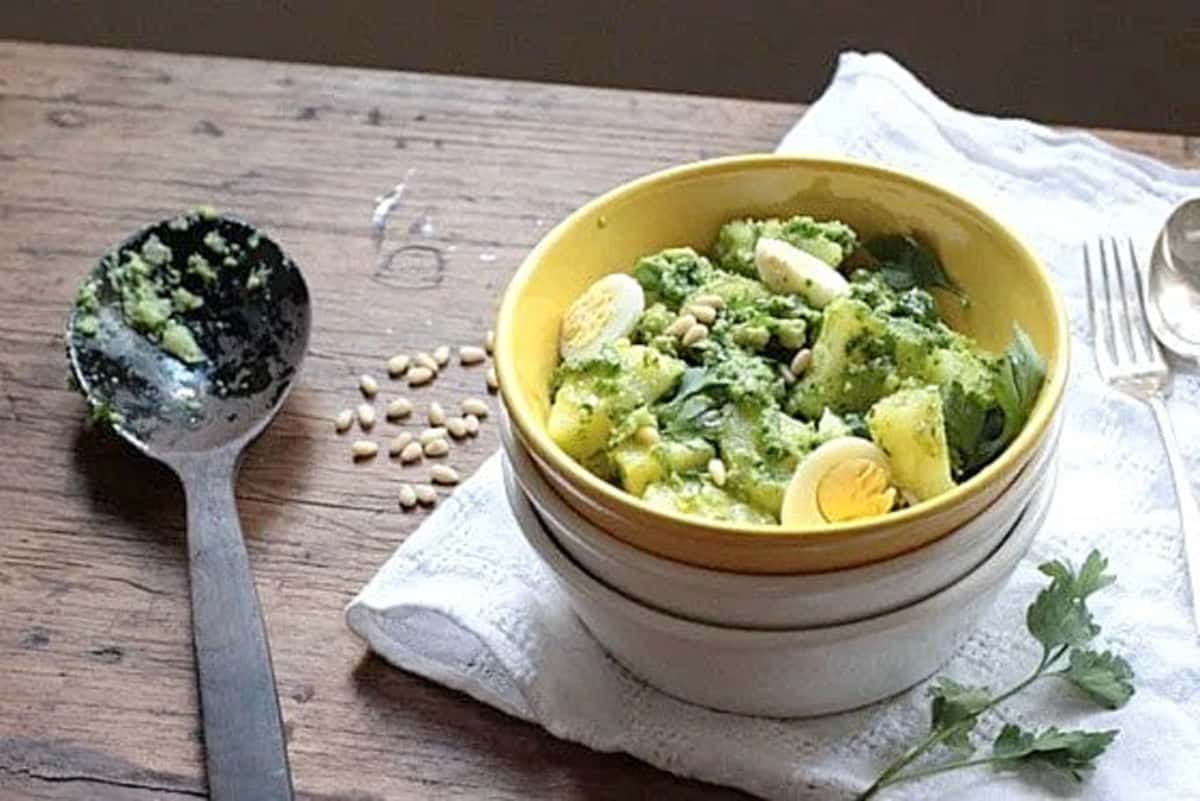 ---
Related recipes you might like:
---
Let me know in the comments below if you made this recipe and loved it and if you had issues so we can troubleshoot together. I love to hear what you think, always. Thanks for being here. It's much appreciated.
You might also consider subscribing to our FREE email series to Boost your Home Baking Skills! And our regular newsletter.
And let's connect via Facebook, Instagram, and Pinterest.
Print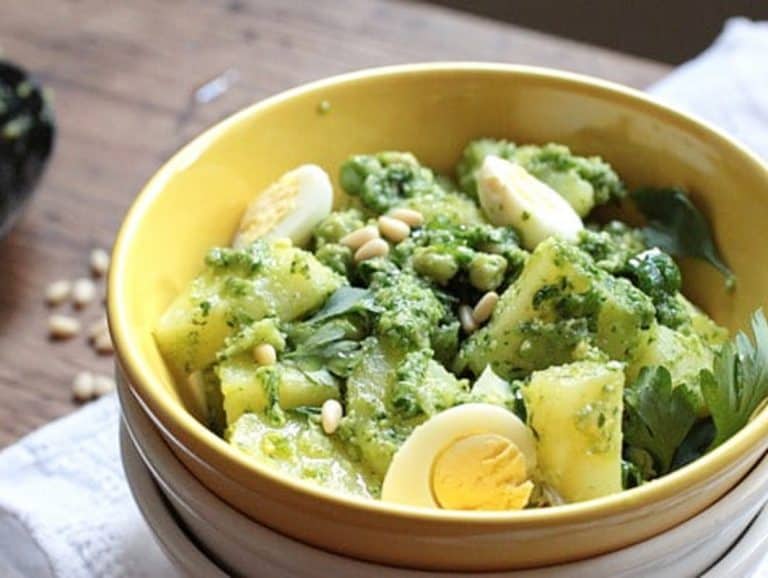 Potato Egg Salad with Pesto
A twist on the traditional potato egg salad, this one has pesto and peas and is fantastic. Very simple, it's always a hit in my house and when I take it to barbecues and potlucks.
Total Time:

45 minutes

Yield:

4 servings
For the salad:
12

quail eggs or

3

regular eggs

1

cup

fresh or frozen peas

2

pounds

potatoes (your favorites, unpeeled)

1

Tbs wine vinegar
Bunch of spinach leaves (sliced thinly)
Salt and freshly ground black pepper
For the pesto:
1

cup

basil leaves

½

cup

parsley leaves (plus extra for garnish)

⅓

cup

pine nuts

1

shallot

½

cup

2oz - 30g asiago or parmesan cheese, grated

1

cup

olive oil
Instructions
For the salad:
In a saucepan, cook the potatoes in very salted water, unpeeled, until the are tender but not too soft. Drain, peel as soon as you can, as they will absorb flavors better if hot, and put in a large salad bowl.
Add vinegar and pepper and mix lightly.
Bring quail eggs to a boil (starting from cold water), and boil for 1 ½ minutes, for hard boiled eggs. Drain, let cool and peel. Reserve.
In boiling water, cook peas for 1 minute for frozen and 2 minutes for fresh, and drain. Put in the bowl with the potatoes.
Add the pesto, spinach and mix. Check for salt and pepper.
You can add the quail eggs, cut in half, to the whole salad, or you can add them to each individual plate, three per serving aprox.
For the pesto:
In a food processor or with an immersion blender, mix basil, parsley, pine nuts, shallot, cheese, black pepper and half of the oil.
Add the rest of the oil and check for salt and pepper.
If not using all in the salad, keep covered in the refrigerator.
Notes
I add a lot of salt to the water where I cook my potatoes, and it makes a difference in the finished salad. It works better than adding extra afterwords.
Author:

Paula Montenegro

Prep Time:

45 minutes

Category:

Salads

Method:

Boiling + Mixing
Keywords: pasta pesto egg salad