Thick and fluffy, these homemade pancakes have texture from the cornmeal and are not overly sweet. Served with berries and maple syrup, they are fantastic brunch fare, a great recipe the whole family will love. The dry pancake mix can be kept in a jar for weeks.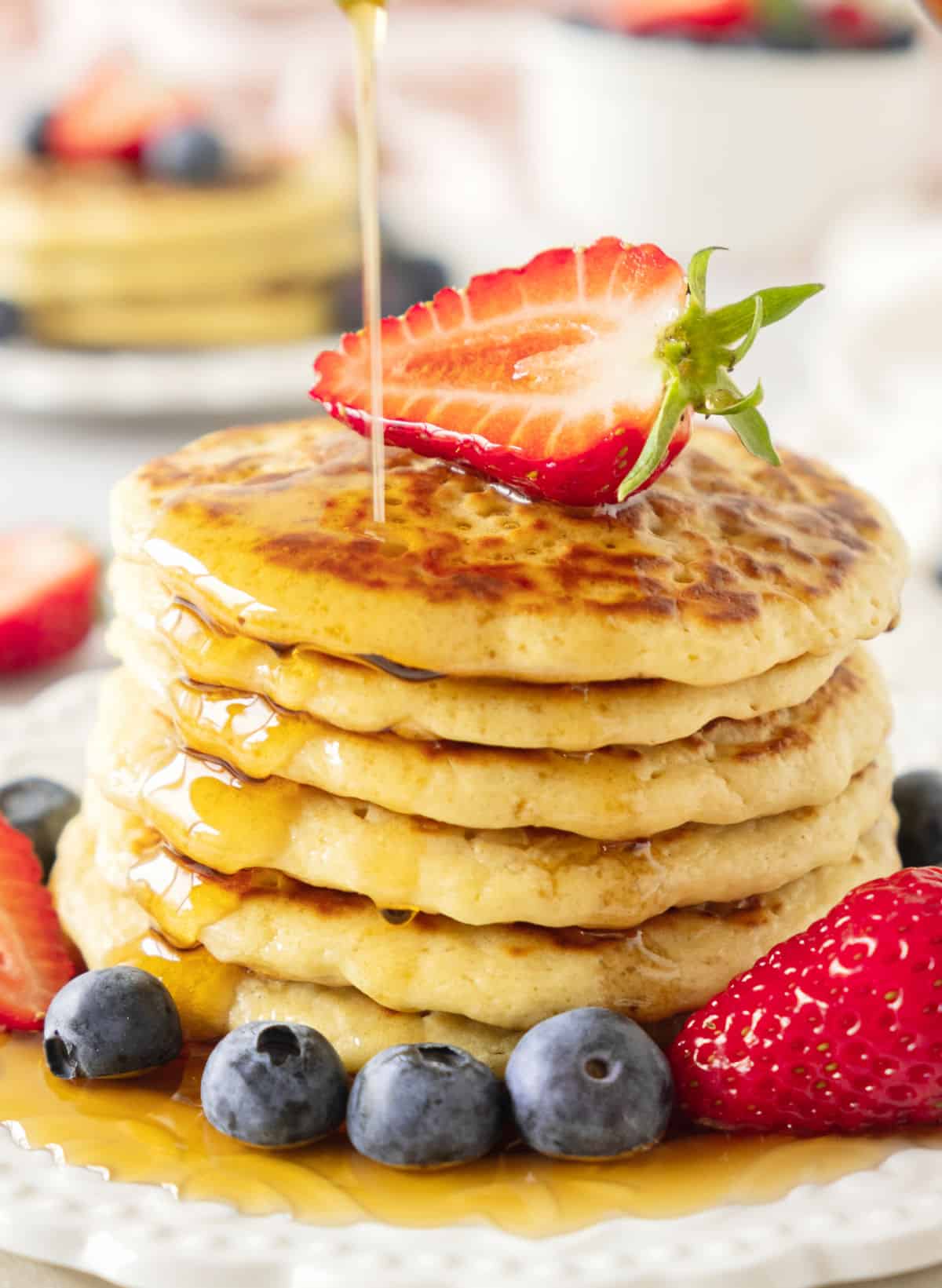 If you need to change your usual stack of fluffy pancakes for weekend breakfast, these are wonderful, with some rusticity from the cornmeal that makes them unique.
This pancake mix is perfectly balanced, down to the salt amount. But, as I always encourage you, adjust to your taste and make them your own.
The key is the same as for the buttermilk pancakes: don't overmix the batter and serve them immediately. We drench them in maple syrup. And add fresh berries to add some freshness.
Cornmeal pancakes vs. Johnny cakes
Johnny cakes are typically made with only cornmeal and, depending on the coarseness of it, can be more of a corn flatbread than the fluffy, traditional pancakes we're used to. They're also known as hoe cakes.
Cornmeal pancakes contain wheat flour and cornmeal, making them softer and fluffier.
What is cornmeal?
It's a coarse flour that derives from dried corn that has been milled. It comes in different textures depending on how fine the grain is. Polenta is a type of coarser cornmeal than cornflour, for example.
It can be used in sweet and savory dishes like these pancakes, a lemon ricotta cake, or cornbread muffins.
Find the type you like the most and use it for this recipe. Each type of cornmeal will give you a slightly different texture.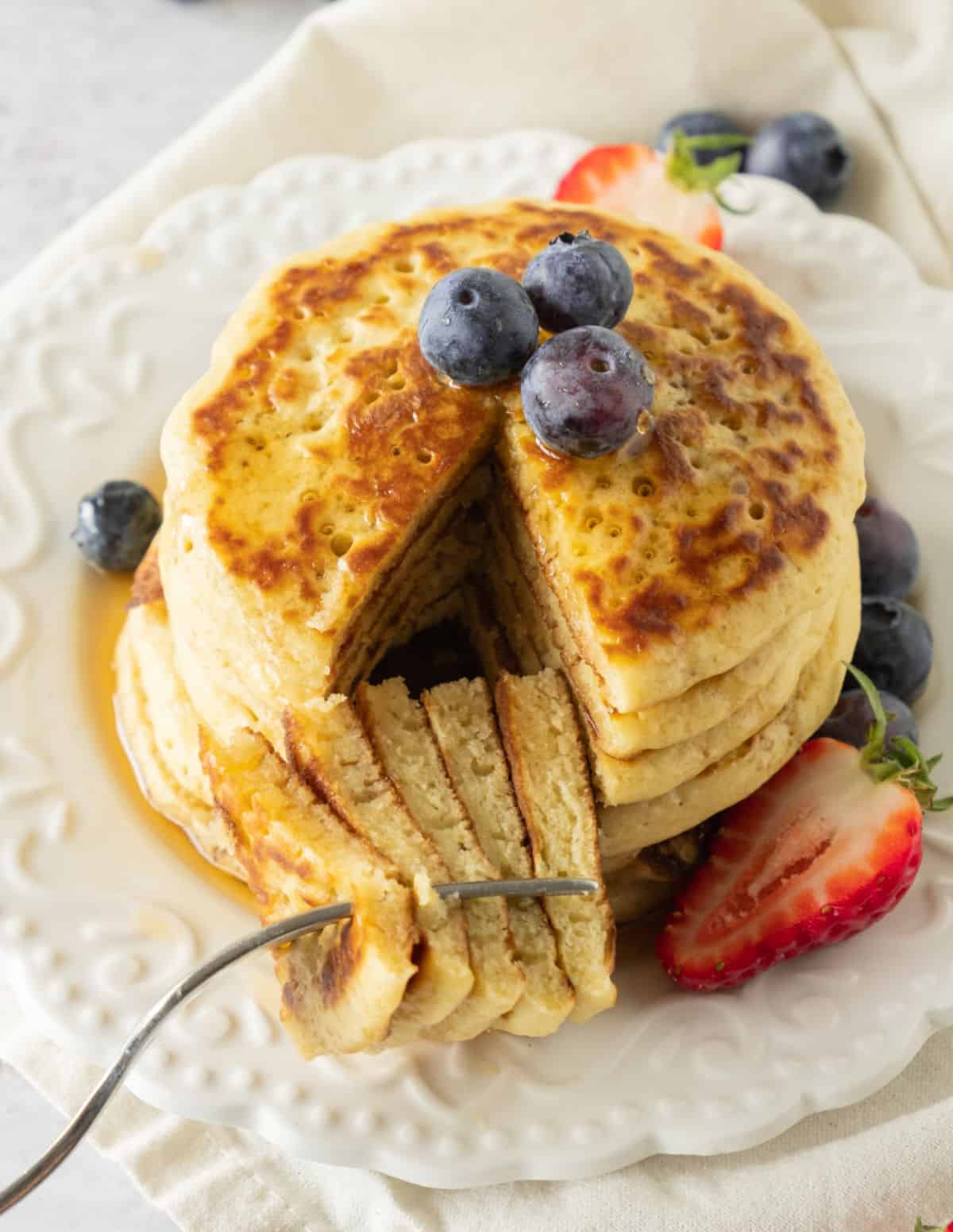 Ingredient list
Cornmeal: we use a medium-ground yellow cornmeal usually. Experiment with different textures until you find your favorite. A finely ground cornmeal will make softer pancakes.
All-purpose flour.
Baking powder: is essential for fluffiness, so make sure it hasn't expired.
White, granulated sugar.
Egg: fresh, large.
Milk.
Salt: I like using kosher salt when baking. But regular table salt works just fine.
Unsalted butter.
Berries and maple syrup for serving are optional, but complement these pancakes very well.
See the recipe card towards the end of this post for quantities.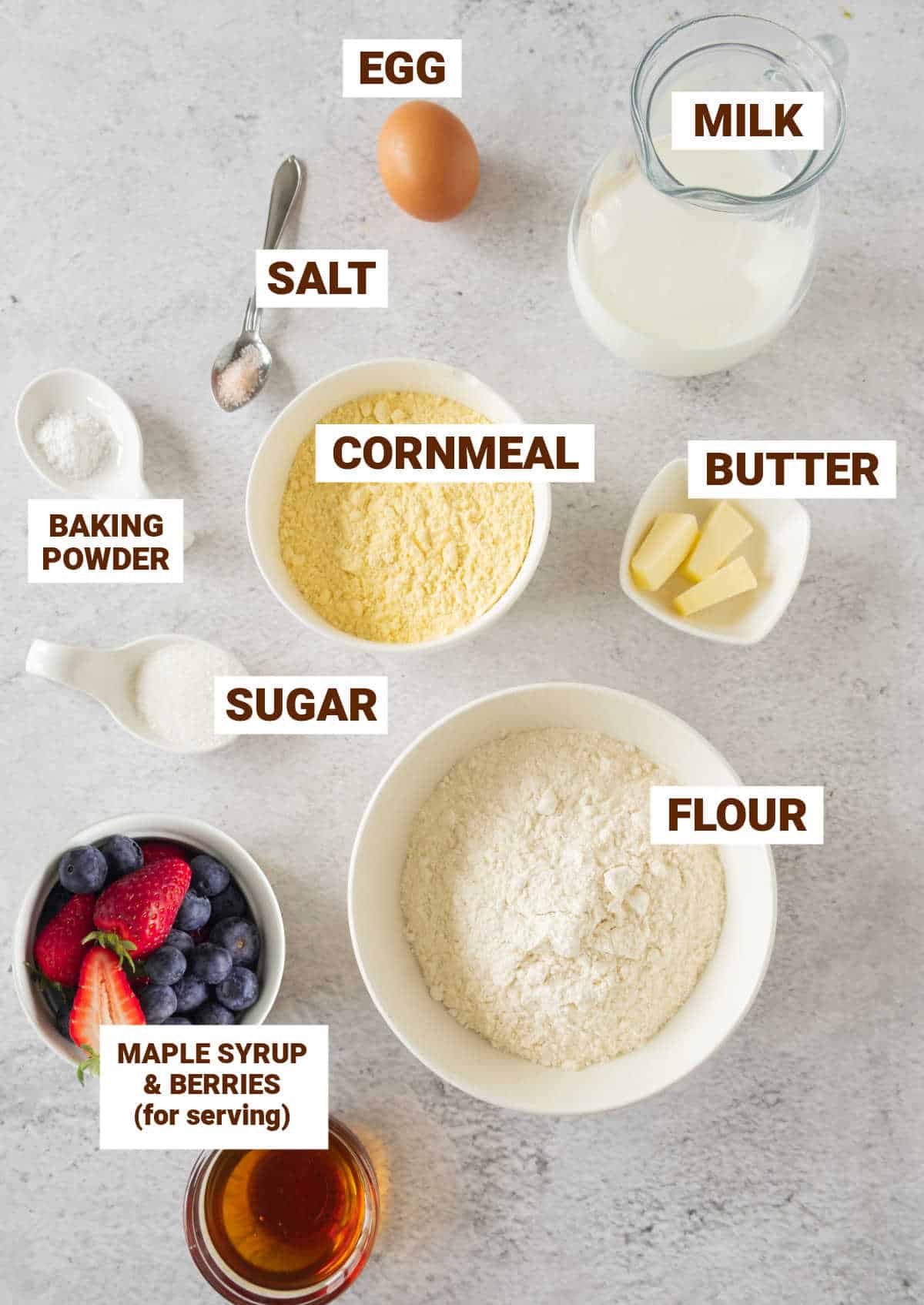 How to make cornmeal pancakes
Dry mix: you can keep it in an airtight jar for a week.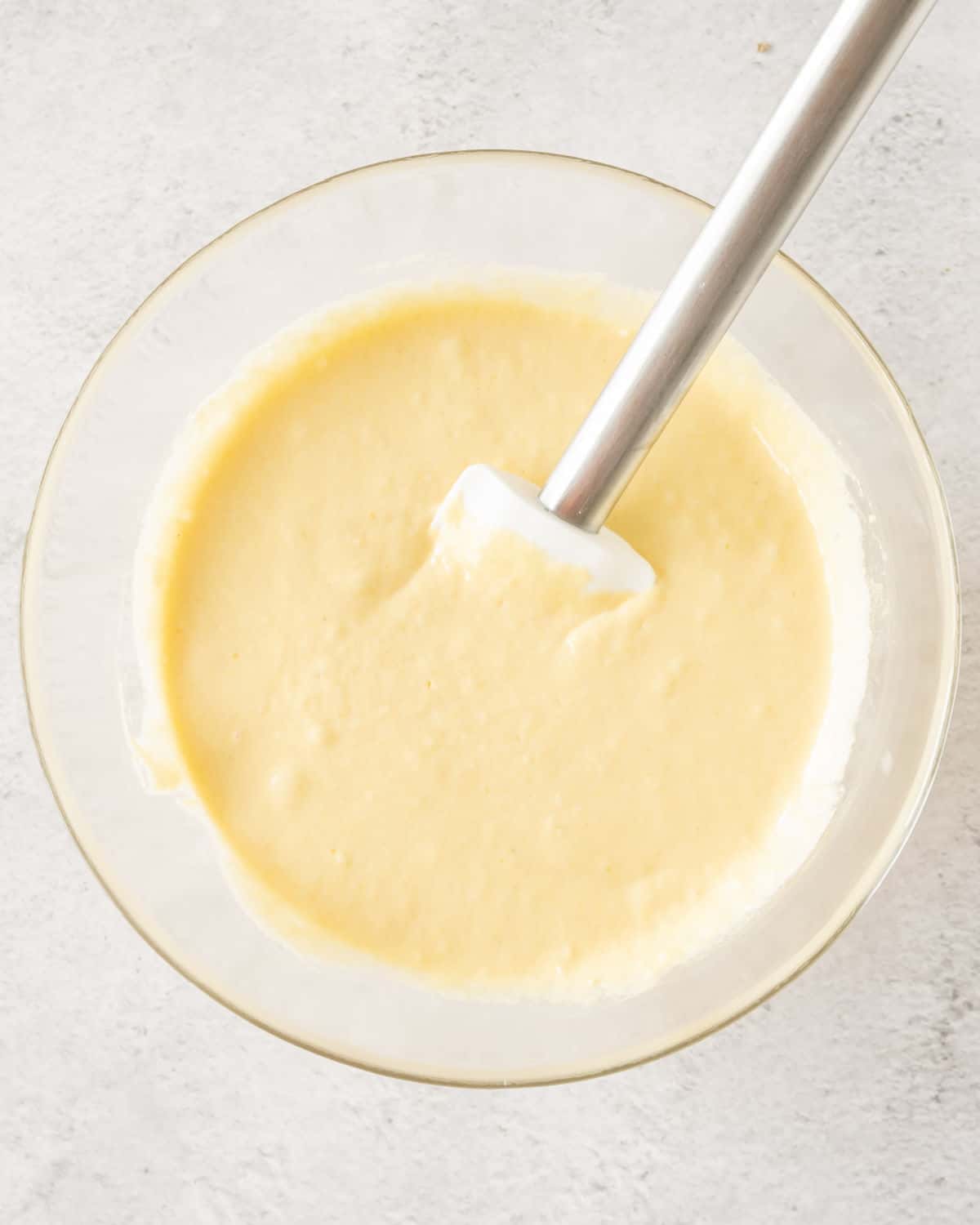 The key to fluffy cornmeal pancakes is not to overmix the batter. Stir it gently, don't beat it. Some small lumps are fine.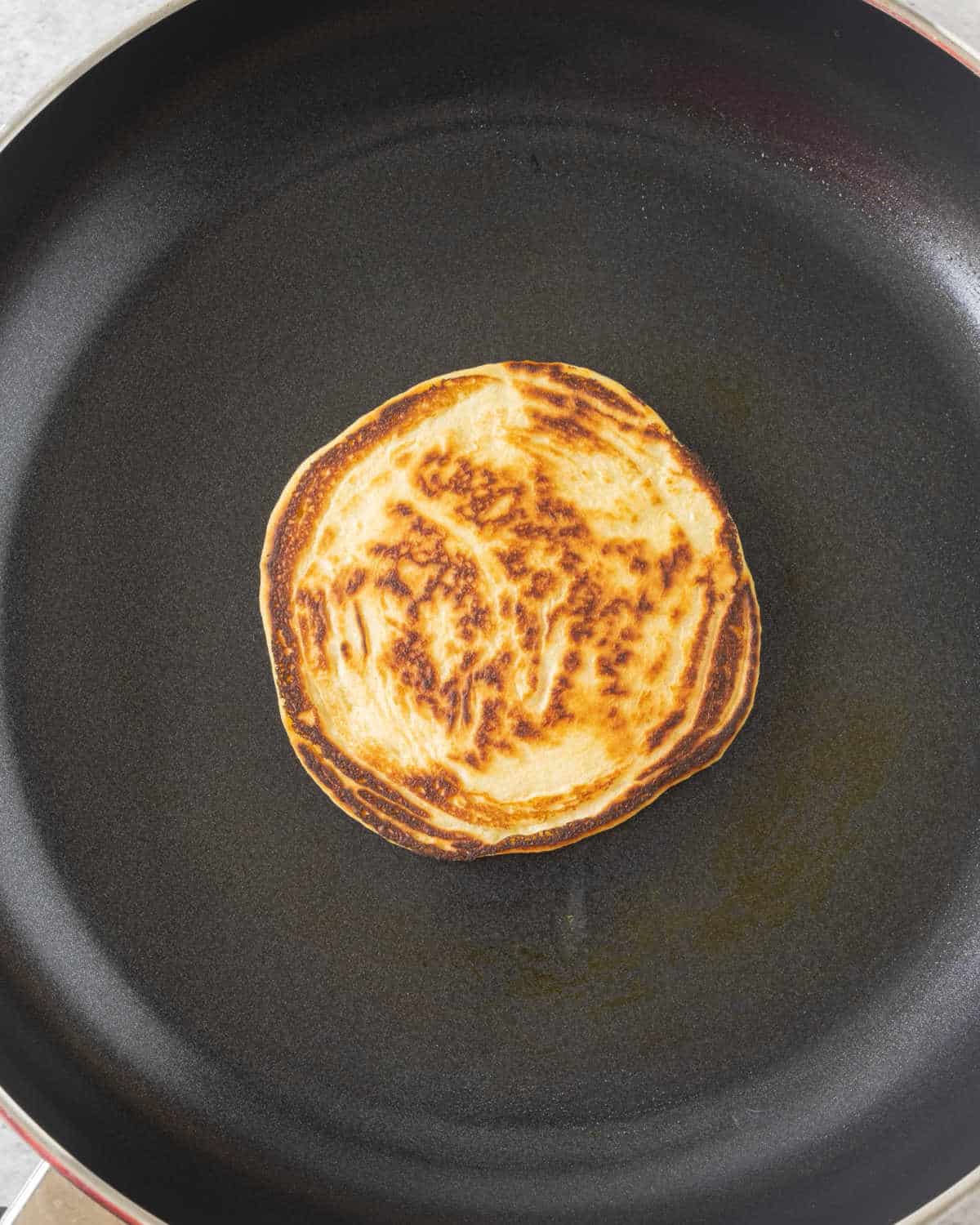 We make medium-small pancakes. You can adjust the size to your taste. Use a non-stick pancake skillet for best results.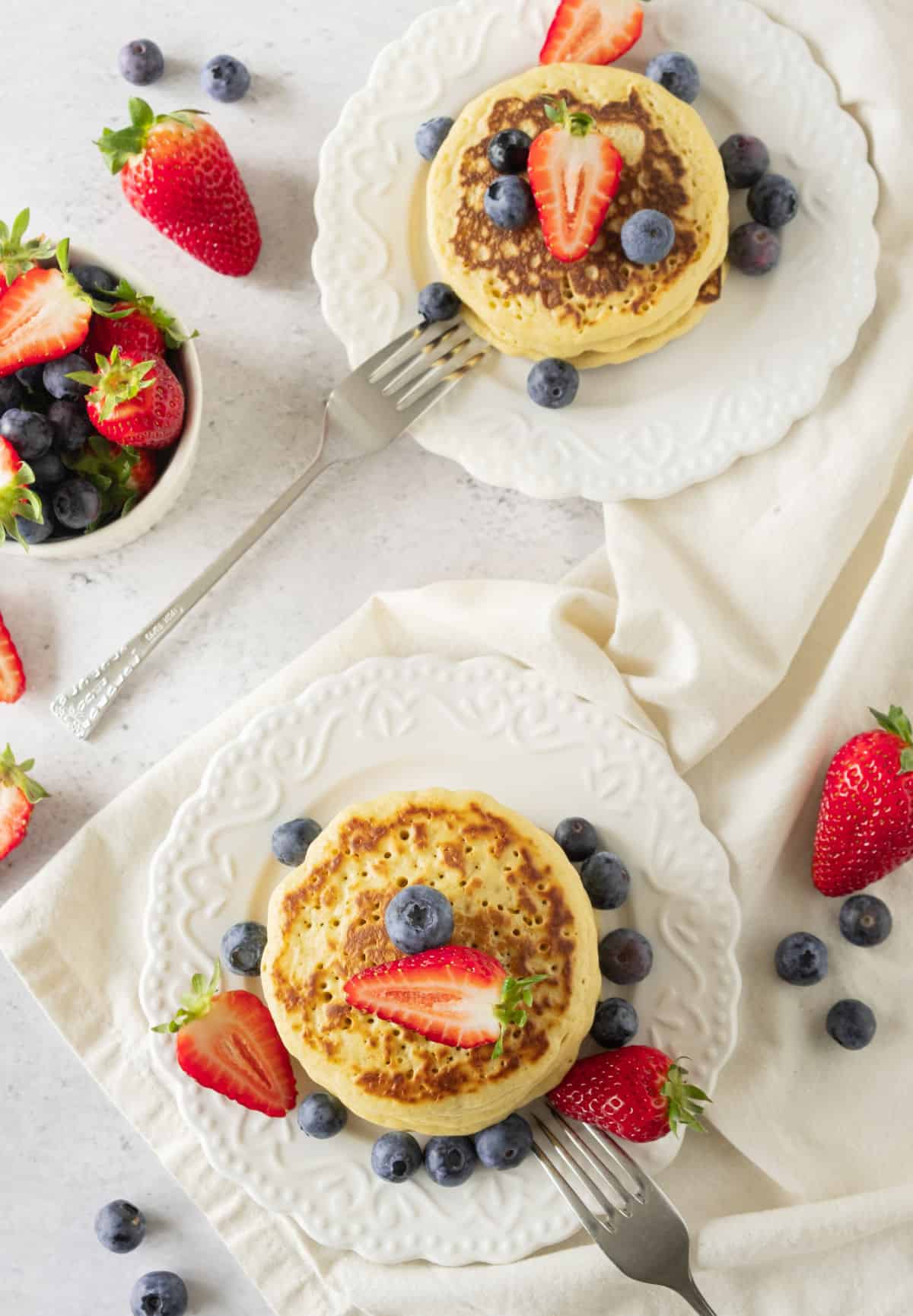 Storing pancakes
Pancakes are best eaten immediately as the texture varies afterward. But if you have to make them ahead or have leftovers, store them for later.
Prevent sogginess by allowing the pancakes to cool completely at room temperature.
Prevent them from sticking together by stacking the pancakes on a flat surface, and placing a small piece of wax or parchment paper between them.
Wrap the stack tightly with plastic warp or in an airtight container to prevent dryness.
Store in the refrigerator for 3-4 days or in the freezer for a month.
When ready to eat: reheat the pancakes in a toaster or toaster oven until warmed through. I don't recommend the microwave.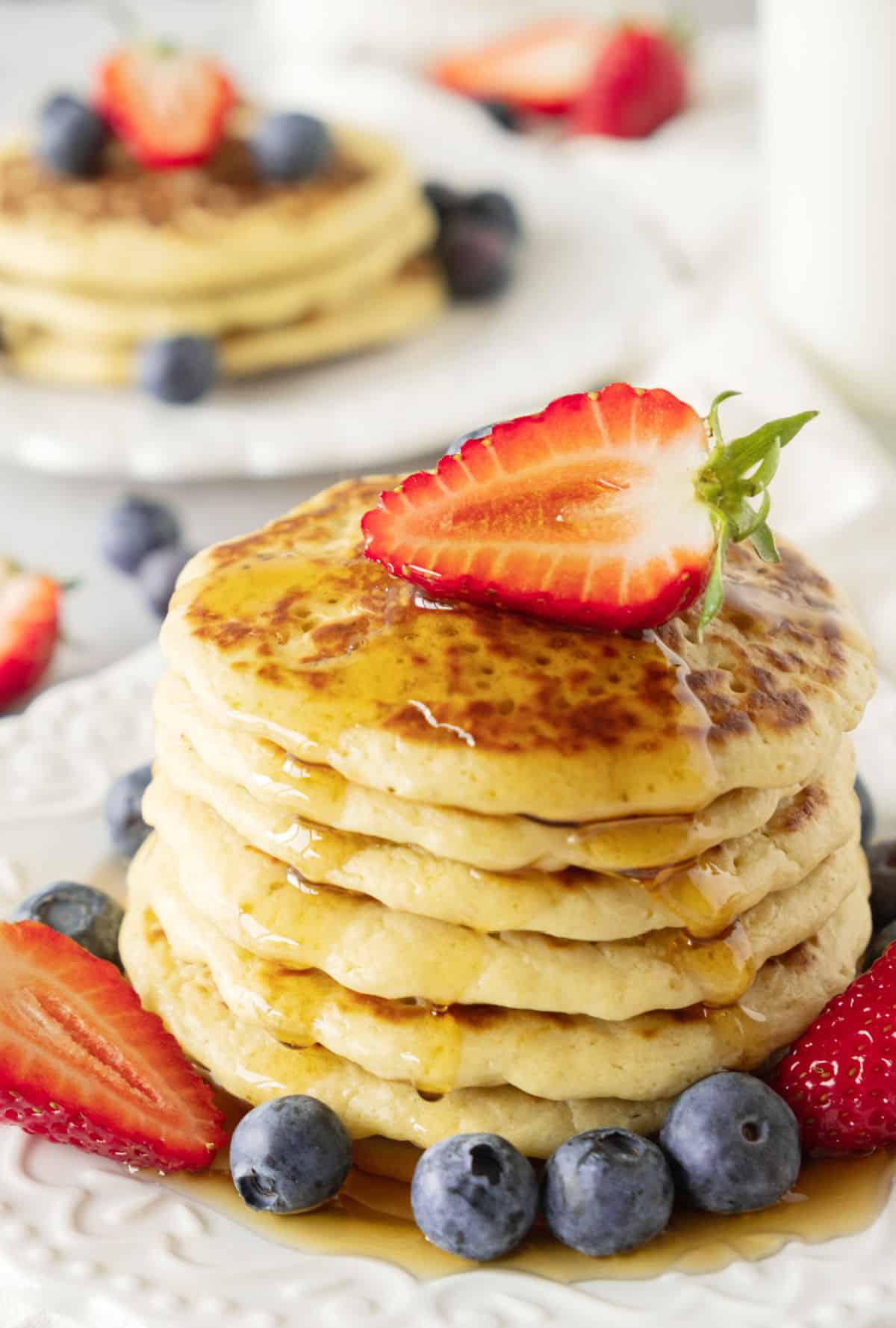 Kitchen notes
Organization: read the recipe first and ensure you have ingredients at the correct temperature, equipment, and enough workspace. This will make the process so much easier.
Vegetable milk: instead of regular whole milk or buttermilk, you can use almond milk for this recipe.
Cornmeal blueberry pancakes: add cinnamon to the dry ingredients and blueberries when you cook the pancake.
Buttermilk cornmeal pancakes: use buttermilk instead of regular milk. It will make them tender and help with the fluffiness.
Homemade maple syrup: for years I couldn't find it where I live, so I made my own. Stir 1 cup of water with ½ cup brown sugar and 1 ½ cups white sugar in a medium saucepan. Cook over medium heat until the sugar completely dissolves and the mixture boils. Add 3 teaspoons of maple syrup extract and cook for 2 minutes over low heat, stirring constantly. Taste and adjust with more extract for a stronger flavor.
---
Related recipes you might like:
---
Let me know in the comments below if you made this recipe and loved it and if you had issues so we can troubleshoot together. I love to hear what you think, always. Thanks for being here. It's much appreciated.
You might also consider subscribing to our FREE email series to Boost your Home Baking Skills! And our regular newsletter.
And let's connect via Facebook, Instagram, and Pinterest.
As an Amazon Associate, I earn from qualifying purchases. Please read my disclosure policy.
Print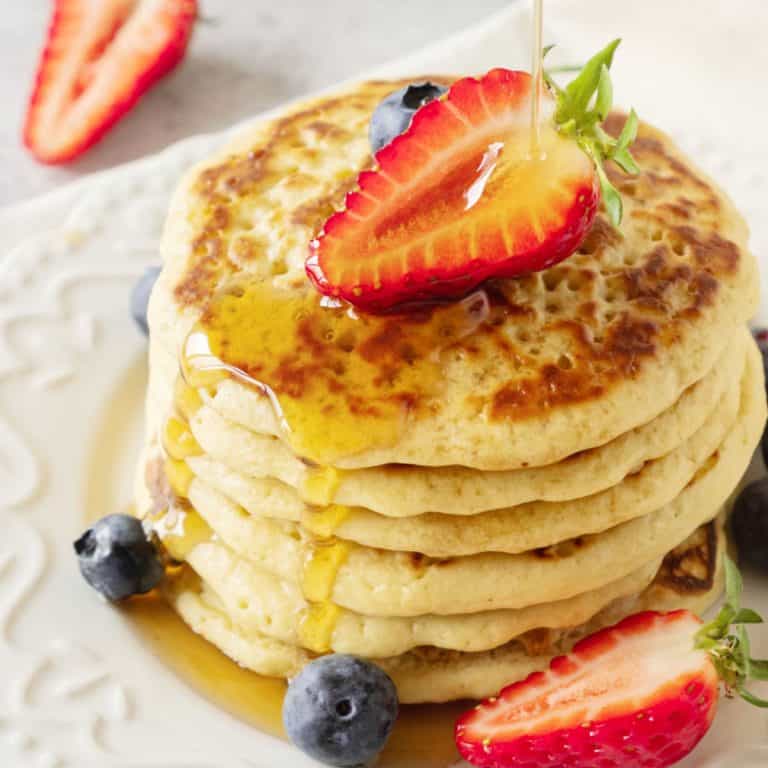 Easy Fluffy Cornmeal Pancakes
Thick and fluffy, these homemade pancakes have texture from the cornmeal and are not overly sweet. Served with berries and maple syrup, they are fantastic brunch fare, a great recipe the whole family will love. The dry pancake mix can be kept in a jar for weeks.
Total Time:

20 minutes

Yield:

4 servings
Cornmeal pancake mix:
¾

cup

cornmeal

1 ¼

cup

all-purpose flour

2 tablespoons

sugar

1 tablespoon

baking powder

1 teaspoon

salt
For the assembly:
1

cup

milk, at room temperature

1

egg, at room temperature

1 tablespoon

unsalted butter, melted and warm

½

cup

berries and maple syrup for serving
Instructions
Combine the pancake mix ingredients in a large bowl. You can keep this dry mix refrigerated in an airtight container (preferably glass or a jar) for several weeks.
Add the wet ingredients: egg, milk, and butter and stir without beating.
Batter rest: give it a 15 minute rest period before making the pancakes. This allows the dry ingredients to absorb more liquid resulting in thicker and fluffier corn pancakes.
Heat a pancake skillet or hot griddle over medium-low heat. You can add a smidgen of butter before each pancake, I do for the first few.
Add about ¼ cup batter for each pancake to the skillet.
Cook for 1 or 2 minutes on one side, flip over and cook for 45 seconds to 1 minute more, until as golden brown as you want.
Transfer to a plate.
Eat immediately with berries and maple syrup or your choice of favorite pancake toppings.
Notes
For thicker or thinner pancakes, add a few tablespoons more pancake mix or milk.
Double batch: you can easily double this recipe. Use a large mixing bowl and a large skillet so you can cook a few at a time.
Berry pancakes: I use ½ cup of berries per cup of dry pancake mix, not counting the addition of egg and milk.
If you make your maple syrup, follow the recipe, and the next day check to see if you need more extract.
Seeds: for added texture and crunch, incorporate a handful of sunflower, flaxseed, or chia seeds to the pancake batter before cooking.
Author:

Paula Montenegro

Prep Time:

15 minutes

Cook Time:

5 minutes

Category:

Breakfast & Brunch

Method:

Cooking

Cuisine:

American
Nutrition
Serving Size:

⅙

Calories:

211

Sugar:

6.5 g

Sodium:

424.8 mg

Fat:

3.6 g

Carbohydrates:

39 g

Fiber:

1.9 g

Protein:

6.4 g

Cholesterol:

36.9 mg
Keywords: cornmeal pancakes