Thick and fluffy, these pancakes are studded with berries and served with maple syrup. The mix can be kept in a jar for weeks.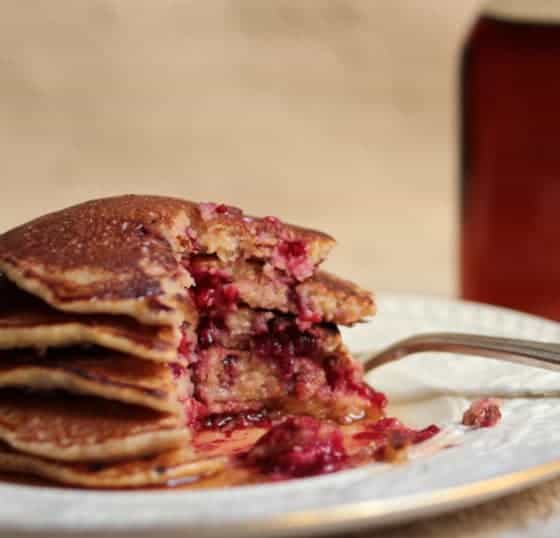 These Cornmeal Berry Pancakes come with a story. In a nutshell, goes something like this: in the mid/late '40s, my paternal grandmother had developed a line of instant cake and pancake mixes, had spent a year or more developing it, had registered a name, and was ready to give it a go, an idea that had started with my grandfather, her husband, after he had gone to college in the US, Cornell University to be precise in 1918, and came back in love with boxed mixes, especially pancakes.
Some kind of argument happened between them, I assume a huge one, putting an end to her dream due to an unexpected decision on his part to back out of the whole thing.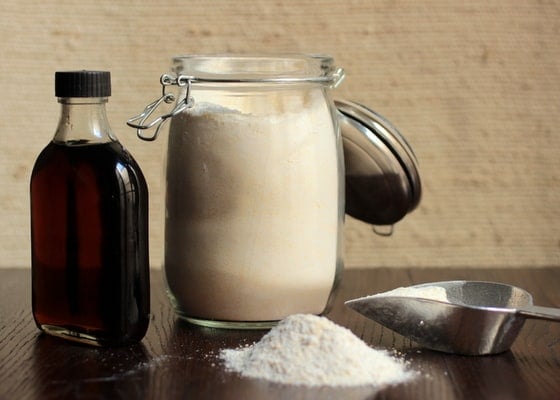 My father's parents were a very interesting pair with avant-garde lives for their time.
I didn't know him, he died a year before I was born, but my grandmother is my connection to food, I made my first recipe, an apple crumble that was my first post here.
I grew up with my father eating thick, fluffy American pancakes whenever he could, something very unusual in this country, and a very hard thing to pull off in my home, due to my mother's lack of baking skills, except for a few dishes that involved an English roast, a corn pie, and polenta.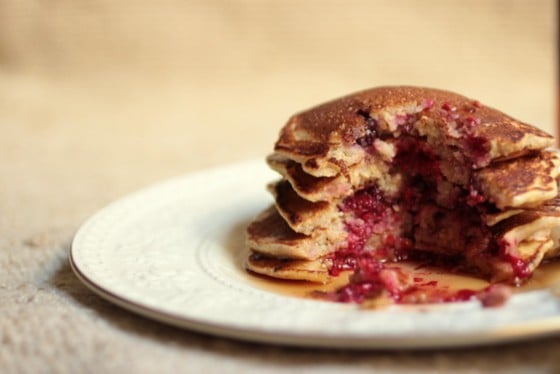 It always struck me as odd that my dad would have such unusual tastes.
But a few weeks ago, we got to talking about the pancake mix episode, and besides giving me a few extra details that didn't explain the real reason as to why the whole thing was suddenly stopped, he reminded me about my grandfather's college days studying engineering, and how he had come home eating cereals and pancakes.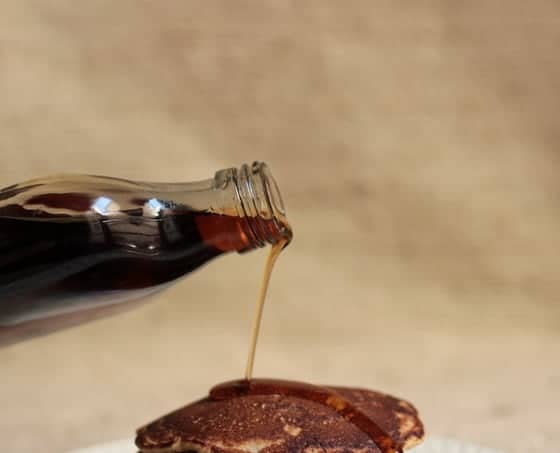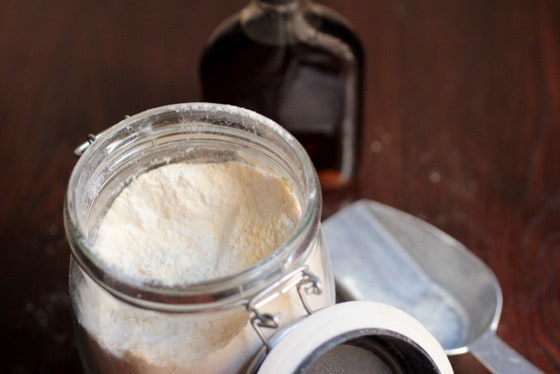 I wonder if my grandmother had been the first to introduce boxed mixes in this country. Since I'll never know, I decided to celebrate today with some homemade pancake mixes and homemade maple syrup.
Because what I'm celebrating today is this blog's 1st anniversary, my baby who made the last year so ridiculously rich, interesting, and exciting, a feeling hard to explain if you're not crazy enough to be a food blogger.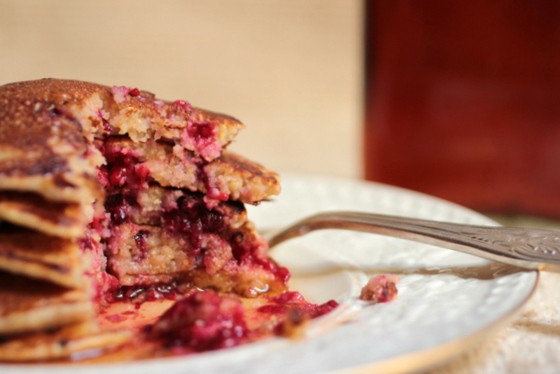 I decided to make some pancake mixes and homemade maple syrup.
I have resorted to the homemade mix of sugar syrup and maple extract, which is artificial but has the flavor that I love so much, and besides, it's either that or nothing.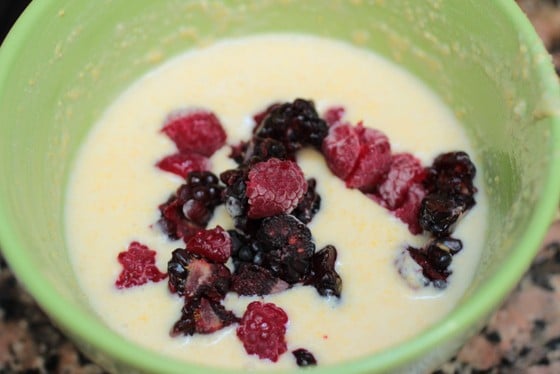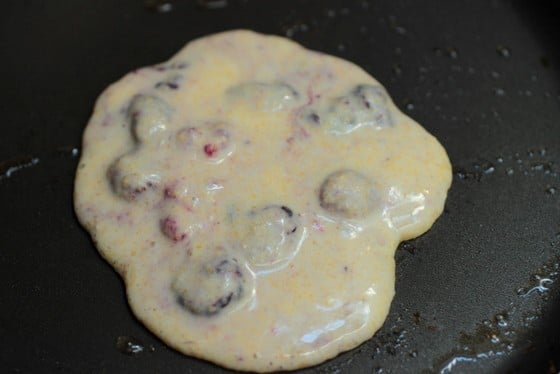 As you can imagine, I gave the first homemade pancake mix to my dad together with the homemade maple syrup, and he was beyond himself, happier than a dog with two tails.
That is after making these for the post and eating what is missing. They are phenomenal.
The pancake mix is perfectly balanced, right down to the amount of salt.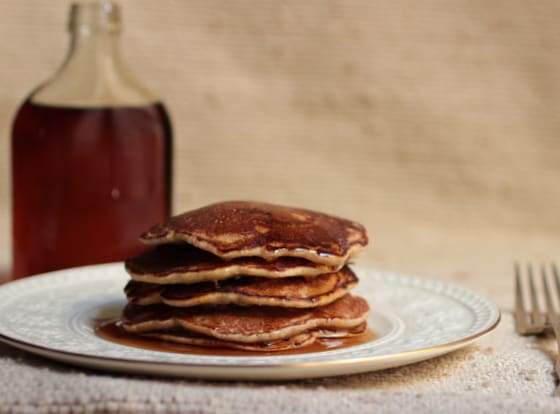 The addition of berries is a happy one.
I particularly like the pronounced tartness of the raspberries and blackberries (I used some I had frozen myself) with the maple syrup.
This type of food is what I believe makes breakfast all day so appealing. Be sure to cut the berries in pieces, especially the blackberries, otherwise, you can't get a flat pancake.
Print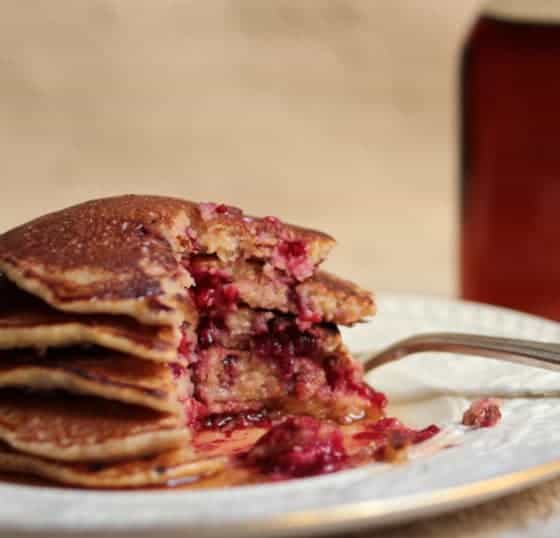 Cornmeal Berry Pancakes
Thick and fluffy, these pancakes are studded with berries and served with maple syrup. The mix can be kept in a jar for weeks.
Total Time:

20 minutes

Yield:

4 servings
Cornmeal pancake mix:
¾

cup

cornmeal

1 ¼

cup

all-purpose flour

2 tablespoons

sugar

1 tablespoon

baking powder

1 teaspoon

salt
For the assembly:
1

cup

milk, at room temperature

1

egg, at room temperature

1 tablespoon

unsalted butter, melted and warm

½

cup

berries (chopped coarsely)
Maple syrup (for serving)
Instructions
Mix the pancake mix ingredients in a bowl. You can keep it refrigerated in an airtight jar for a few months.
Add the egg, milk, and butter and mix without beating.
Add the cut-up berries and stir a few times until coated. Do not mix too much so the batter is all stained with the berry juice.
Heat a pancake skillet over medium-low heat. You can add a smidgen of butter before each pancake, I do for the first few.
Add about ¼ cup pancake batter to the skillet and make sure the berry pieces are flat.
Cook for about 1 or 2 minutes on one side, flip over and cook for 45 seconds to 1 minute more.
Transfer to a plate.
Eat immediately with maple syrup.
Notes
If you want thicker or thinner pancakes, add a few tablespoons more pancake mix or milk. I use ½ cup of berries per cup of dry pancake mix, not counting the addition of egg and milk.
If you make your maple syrup, follow the recipe, and the next day check to see if you need more extract. It varies according to the brands.
Author:

Paula Montenegro

Prep Time:

15 minutes

Cook Time:

5 minutes

Category:

Breakfast & Brunch

Method:

Cooking

Cuisine:

American
Keywords: cornmeal pancakes