Whatever type of baked potatoes you like to make right now, this spicy recipe will become a favorite. They are my absolute go-to recipe, not only as a snack (tailgating anyone?) but also as a side dish to meat courses. So good, I can eat them all day, every day. Is that stretching it too much? jaja. It helps to keep a jar with a mix of spices at all times.
Something as simple as a potato, with skin on, cut into wedges, baked in a mixture of spices and seeds – which can be made in bulk and kept handy for spur of the moment cravings – is the answer to a simple and flavorful alternative to whatever it is you make right now on a regular basis.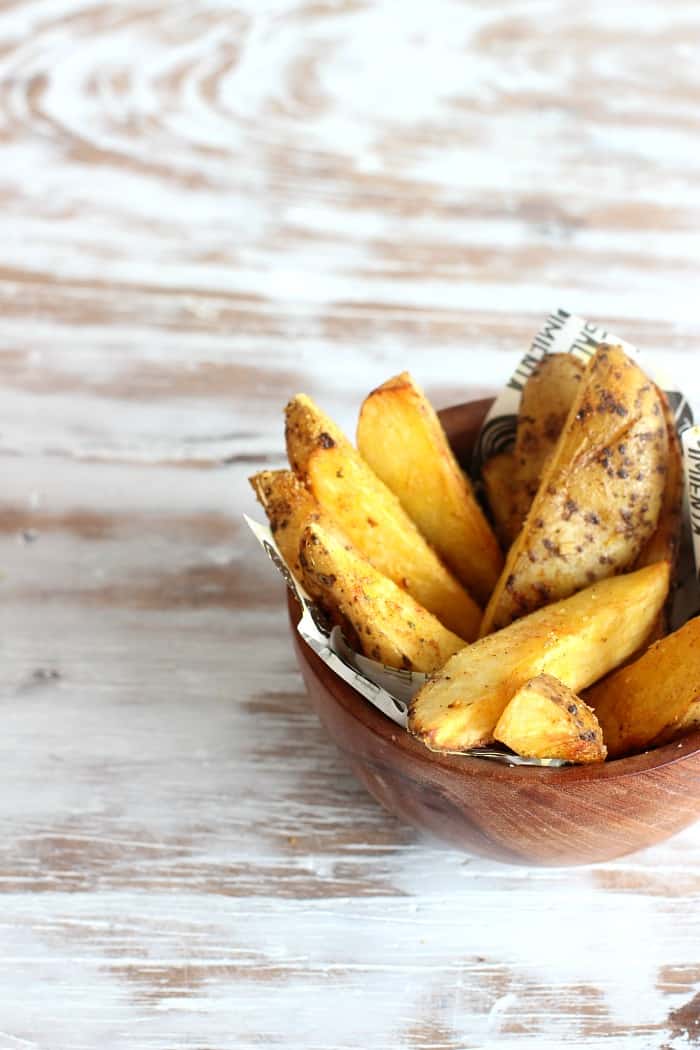 The mix of ingredients I like the best is the one below. But, and this is one of the reasons I love this recipe, is that is as versatile as the spices and seeds you keep in your pantry. More of this, less of that, and you can custom make your baked potatoes. Or maybe you like them spicier. Or maybe you never have celery seeds. Just don't steer too far from the list below.
Here we eat a lot of provencal potatoes (fried usually), which means adding chopped fresh garlic and parsley to the fries just out of the oil. But that implies having fresh parsley, which I don't know about you, but in my fridge fresh herbs last a few days only. They either end up in a pesto or wilt before I have the chance to do something.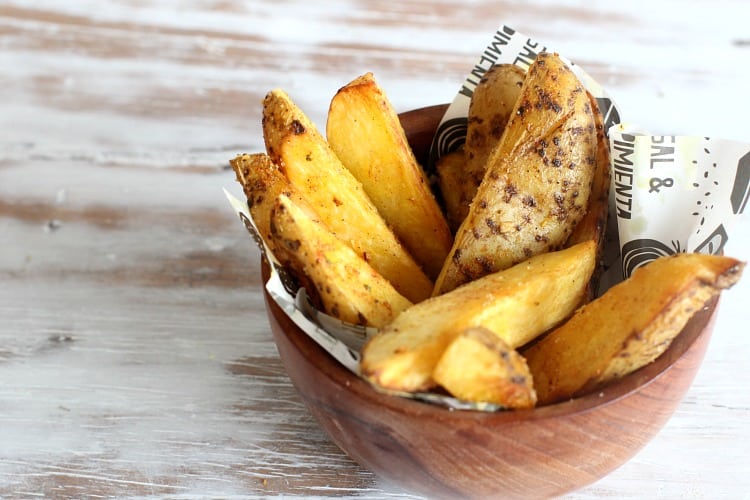 So, get ready to love this recipe. Baked potatoes are the bomb, especially these.
Print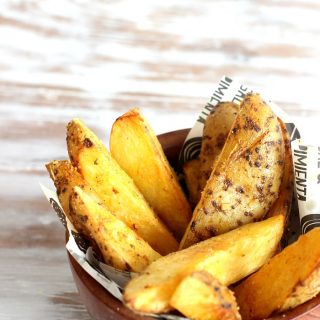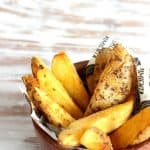 spicy baked potato wedges
---
Scale
Ingredients
1/3

  cup medium coarse salt

1 teaspoon

dried garlic  (you can use minced fresh garlic, but add it before serving it and don't add it to the jar if you're keeping the salt for later)

1 teaspoon

smoked paprika 

1 teaspoon

chili powder

1

  teaspoon turmeric

1 teaspoon

black pepper

1/2

  teaspoon dried mustard powder

1/2 teaspoon

fennel seeds

1/2

  teaspoon celery seeds

1/2

  teaspoon dried onion powder
A few tablespoons olive oil
A few tablespoons butter (melter)

1

pound potatoes (scrubbed and dried, with skin)
---
Instructions
Mix all ingredients except potato wedges and olive oil in a jar. 
Preheat oven to 180ºC / 350ºF.
Put aluminum foil in an oven tray (it makes it easier to clean up afterwards).
Cut washed and dried potatoes in half, and then each half in thirds or fourths, depending on how big you want the wedges. Put them in a bowl.
Add melted butter and oil to the potatoes and mix a bit to coat the wedges.
Bake for 30-40 minutes, or until they are tender and golden. 
Add a few tablespoons of the spice mixture and return to the oven for 5-10 minutes, until they are crunchy and golden. 
Serve immediately with more spice salt if you want to.
---
---