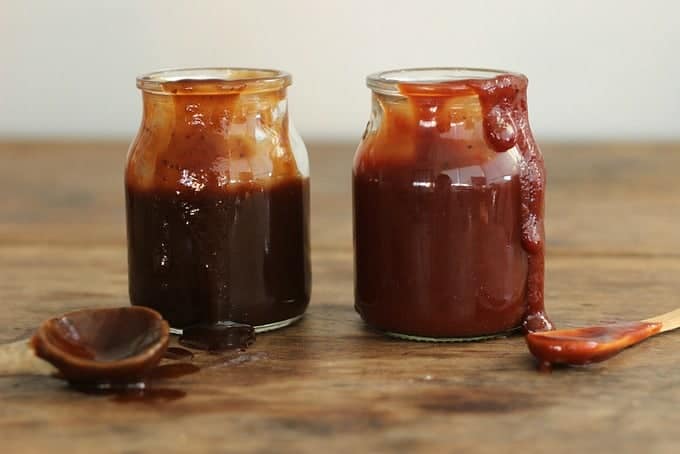 I tend to fix on a recipe and just don't let it go. Sometimes it's an old recipe I made years decades ago, but I just need to make it again. That's how I made this maple walnut pound cake after a million years or ended up making two bourbon barbecue sauces out of nowhere. Because when I started looking for the original recipe in my old bon appetit magazines, I found a new version online, and just couldn't help but make them both. Lucky you.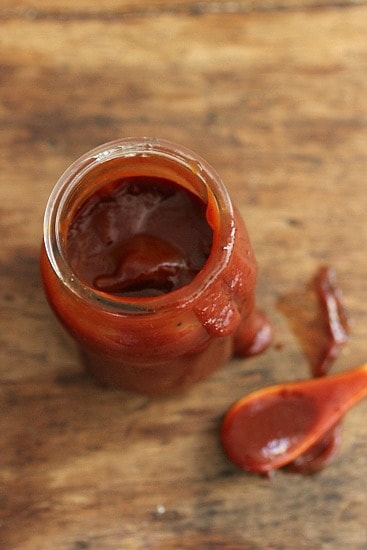 Both are awesome.
The truth is that a barbecue sauce made with bourbon is awesome. Barbecue sauce by itself is awesome really. Bourbon is awesome in the first place, who am I kidding.
The original recipe is the one in the picture above, redder, with a more defined tomato flavor, an onion and vinegar aftertaste and the amount of hotness you like, since it's the added tabasco which gives it an extra kick – which I suggest you start with a teaspoon and see how it goes, since adding too much makes it hard to water down afterwards, something I learned the hard way.
It has a more traditional taste, more old-fashioned.
The newer version, pictured above, of my loved bourbon barbecue sauce, is more sophisticated, with liquid smoke, soy sauce, and a few other ingredients. Its texture is more liquid and has a smoky aftertaste, a more adult version of what I always thought as barbecue sauce.
Both are amazingly easy to make, nothing more than cooking the ingredients in a saucepan, stirring often to avoid burning the bottom, and then refrigerate before using. Really easy and so worth making at home. Grilling season is ending somewhere but will start soon somewhere else. And a bourbon barbecue sauce is always a good idea to have in the fridge. You never know when the burger pang strikes.
Which one do I choose? The darker one, with liquid smoke. For now at least.
Print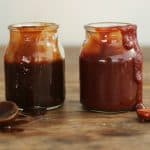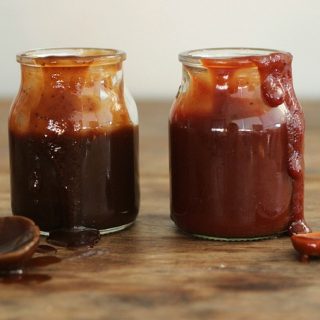 Bourbon Barbecue Sauce – a tale of two recipes
---
Scale
Ingredients
For the red one (right on top picture):
1 cup

250ml ketchup

2 Tablespoon

s molasses

3 Tablespoon

s honey

1/3 cup

bourbon

2 Tablespoon

s dijon mustard

1/2

to

1

teaspoons hot sauce (such as Tabasco)

1 Tablespoon

Worcestershire sauce

1 teaspoon

smoked paprika

1 teaspoon

garlic powder

1 teaspoon

onion powder
For the brown one (left on top picture):
1 cup

ketchup

1/2 cup

bourbon

3 Tablespoon

s brown sugar

1 Tablespoon

molasses

2 Tablespoon

honey

3 Tablespoon

apple vinegar

2 Tablespoon

Worcestershire sauce

1 Tablespoon

soy sauce

1 Tablespoon

dijon mustard

1 1/2 teaspoon

liquid smoke

1 teaspoon

garlic powder

1 teaspoon

onion powder

1/2 teaspoon

hot paprika

1/2 teaspoon

freshly ground black pepper
---
Instructions
For both recipes, put all ingredients in a medium saucepan with high edges.
Mix with a wooden spoon and cook at low heat for 20 to 30 minutes, stirring often, until it thickens a bit.
Let cool completely, transfer to a container with lid, and refrigerate.
It keeps for weeks, even months.
---
adapted from Bon Appetit