For a condiment fanatic as myself, this fresh peach chutney recipe is one of the best ever! Spicy, sweet, and tangy, it still has a quality of freshness to it and is a perfect companion for meats and sandwiches. Make a large batch and take advantage of sweet peaches!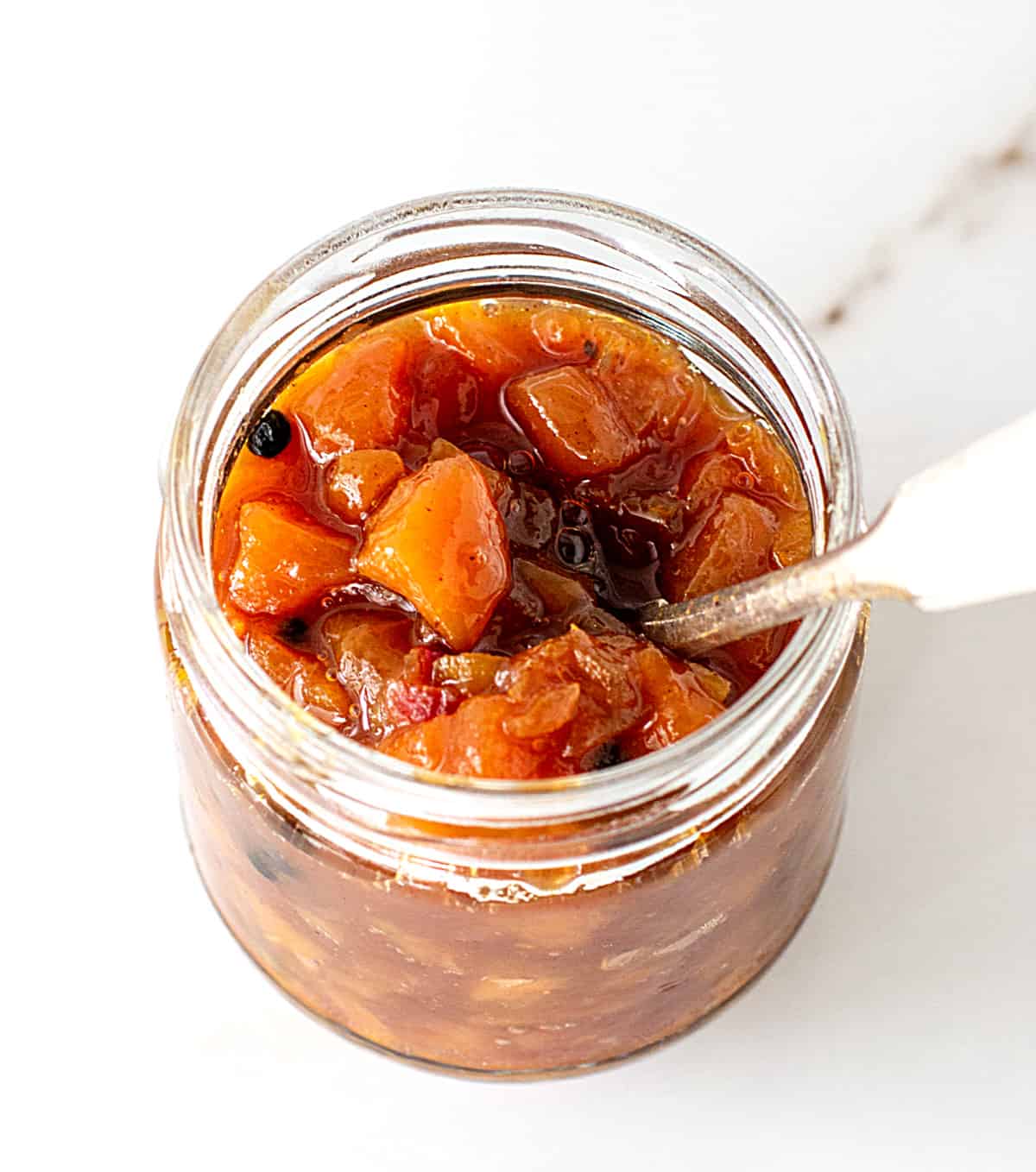 The end of white and yellow summer peaches shouts for homemade peach chutney, doesn't it? I'm both a fan of sweet and tangy things and stone fruit. A chutney fanatic some might say. And also of easy recipes where you cut a few ingredients in small pieces, throw them together in a large saucepan with warm spices and vinegar and in 45 minutes you have a fantastic spicy peach chutney that is a game changer.
So this is probably my favorite moment when I get to make this fruit chutney and know I will be able to enjoy it all winter! Think about pork, chicken, even sandwiches or warm brie on toast. it's the perfect condiment for all of that and more.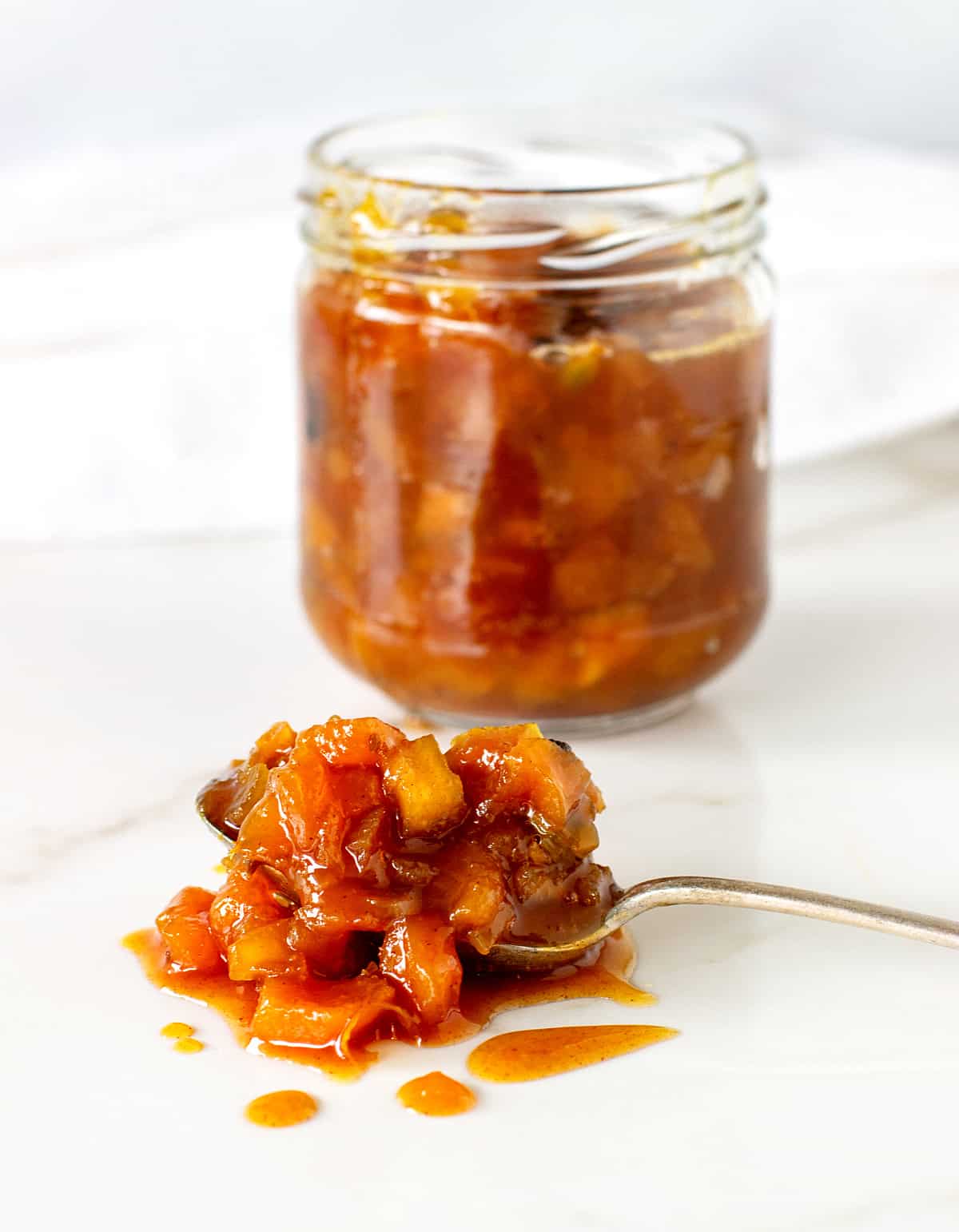 Whenever I make this recipe it doesn't last long.
I find myself eating it with everything, especially roasted chicken and pork chops. Truth is, I can eat it directly from the jar by the spoonful, that's how great I think it is. Are you a fan of sweet vinegary food also?
Then you will love it.
Ingredients
As you can see in the image below, there is a quite interesting (long you might say) list of spices. There is no chutney without spices. They are a huge part of the success of the recipe.
But the truth is that we have to adapt it to our own palate. If there's a spice (or two, or three) that you don't like go ahead and omit them. It will still be amazing. Or add some that can also work, like some mustard seeds.
That said, I personally find that cinnamon, ginger, black pepper, coriander, and cardamom are quite essential. They all add a distinct quality that makes this peach chutney the best I ever tried.
Vinegar: I use white vinegar most of the time, but apple cider vinegar also works. The best quality you can afford.
Peaches: this is a recipe for fresh peaches, to make when they're in season. I like to use those that are not the best ones, as they will soften and become part of a more complex flavor. Of course that if you have perfectly ripe peaches they will add juice and flavor, but don't refrain from making this recipe because your fruit is not great.
Apple: I use Granny smith (green apples) because they add acidity. But it can be made with red apples also.
Onion: whatever type of regular onion works (red onion, white or yellow onion), but don't use sweet onions, it doesn't work as well.
Brown sugar: this is a key ingredient for that unique flavor. Light brown sugar or dark work well.
Dried or fresh chile: this is the spicy ingredient that you can add more or less of depending on how hot you like your food. My only suggestion is not to over do it or it will mask the rest of the flavors.
Ginger: both fresh ginger and ground ginger are used.
Spices: ground cinnamon, turmeric, coriander seeds, aniseed, black pepper pods, cardamom pods. Cumin seeds were part of the original recipe, but I don't use them, I find them overpowering.
Variations: you can add some golden raisins which go very well with the fruit and spices.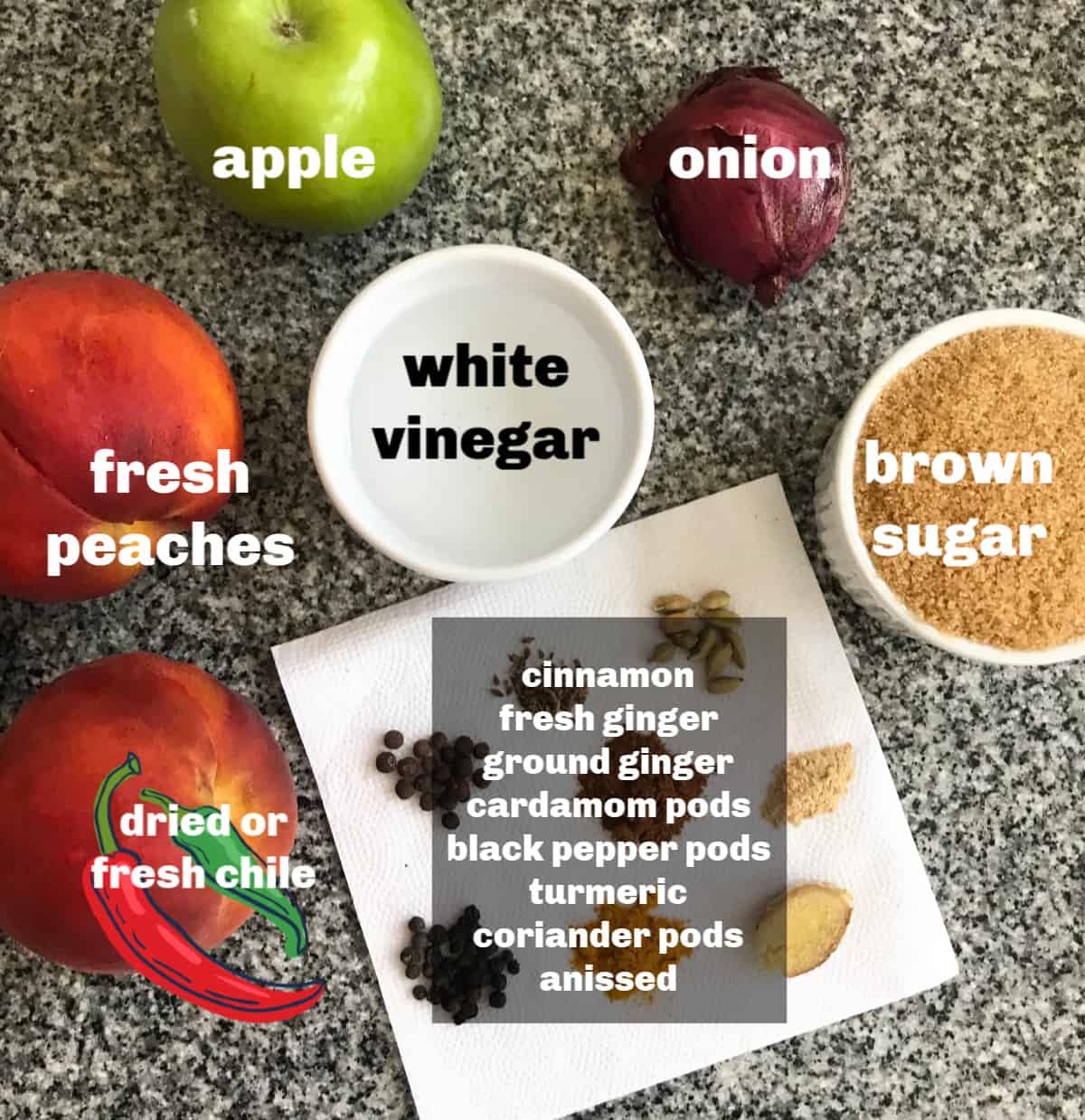 Simple steps
Though there might be a recipe that is different, chutneys are pretty much like jams: put ingredients in a saucepan and simmer until syrupy and cooked.
This recipe is no different.
Cut fruits and onion and mix in a large saucepan with spices (image 1).
Add the brown sugar and mix (image 2).
Add vinegar and cook over medium heat (image 3) until it breaks into a boil, stirring several times. I like to use a wooden spoon, but a regular one or a spatula also work.
Let it simmer slowly (low heat) until it thickens and the onions are well cooked (image 4).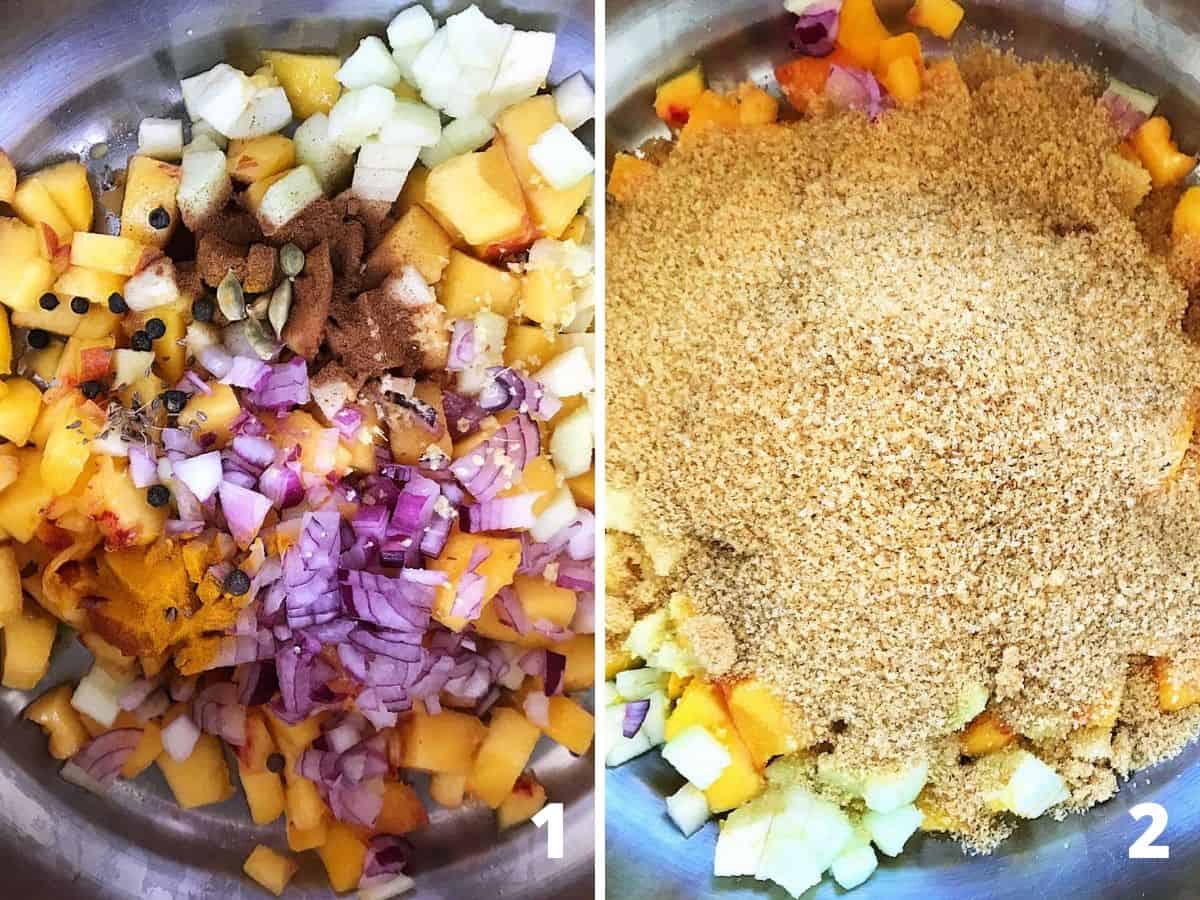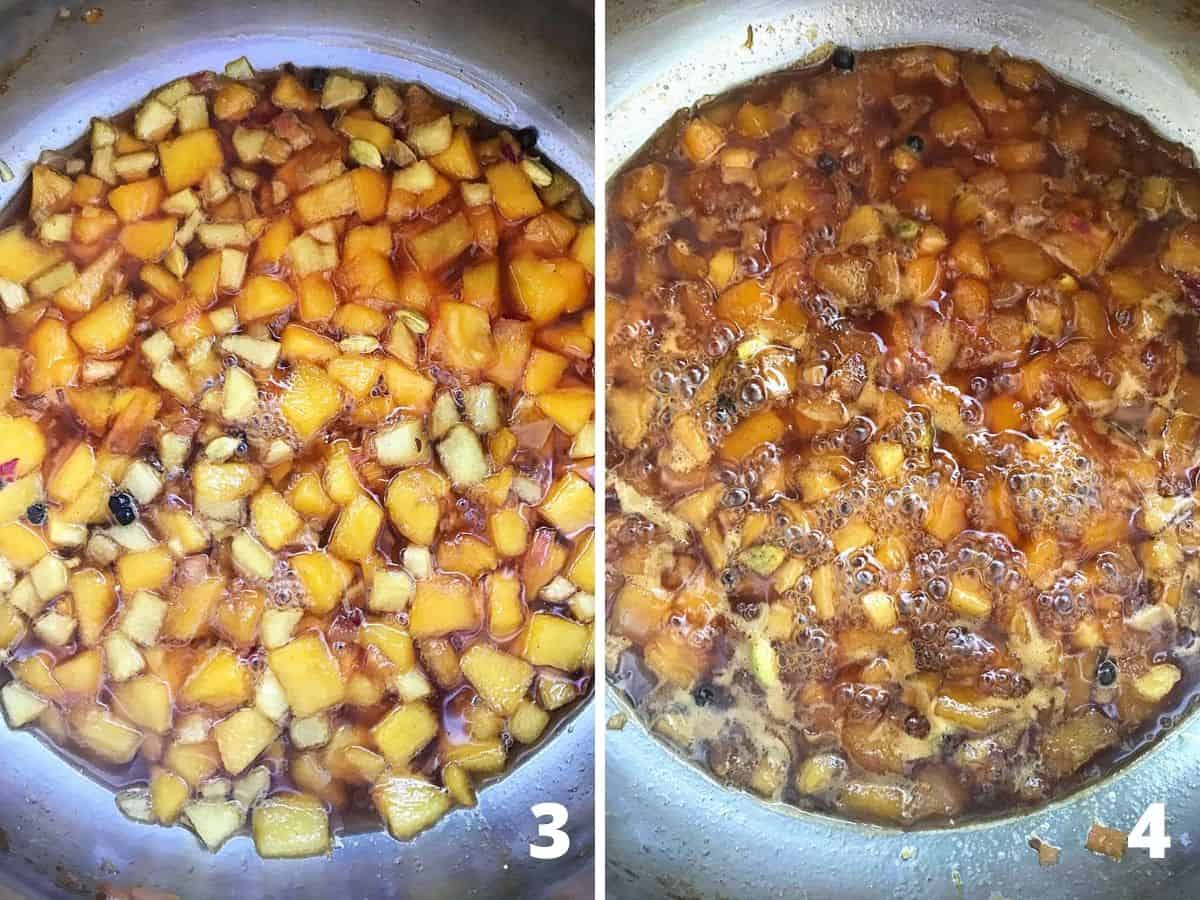 Storing chutney
Refrigeration
Truth is, I eat it in a few weeks, so I keep it in the fridge. In my experience it lasts several weeks (or more). But I can't recommend you keep it longer because I'm just a cook sharing a chutney recipe, I'm not a food technician. Can it or freeze it if you want to keep it a long time.
Canning
Sterilizing jars in the oven: I wash glass jars and put them in the oven for about 15 minutes. Medium temperature, around 325°F/160°C
Lids: I boil them while the jars are in the oven.
Take the jars out and pour in the hot chutney. Put on the lids while still hot but don't tighten them at this point. Half screw them until the chutney has cooled down. My mother covers the top with a piece of wax paper before adjusting the lids. I don't do it normally, but my grandmother used to do that so she also does. She says it helps to keep it longer.
Keep in the refrigerator.
Freezing
Let it cool down and fill freezer-safe containers. It keeps for a few months. Defrost in the fridge or at room temperature. The texture might not be exactly the same, but some people don't want to go through the task of canning and freezing is a great way to store it.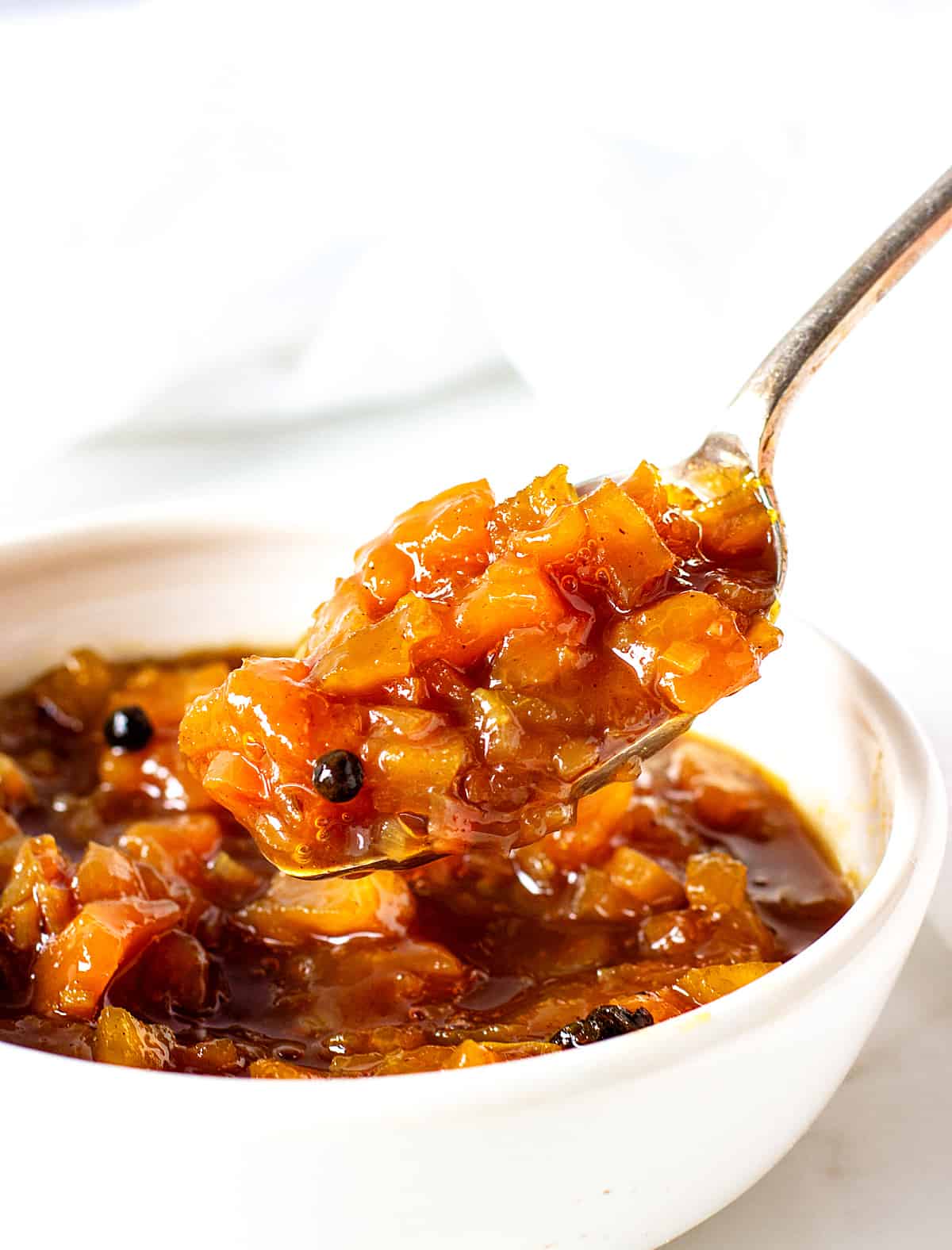 Frequently asked questions
What does chutney taste like?
It's sweet and spicy with a vinegar flavor. It has a resemblance to sweet pickles but with deeper flavors that are very unique to each combination of fruit and spices.
What is Chutney used for?
It's a great condiment for pork, chicken and some cheeses like brie. It's great as part of a charcuterie board, on sandwiches and with some salads. A vegetarian friend eats it with tofu.
Can you eat chutney straight away?
Technically, you can. But if you let the flavors mellow and meld for a few days it will be tastier. I like to eat it at room temperature also, I find that the flavor can be better appreciated than when eating it straight from the refrigerator.
Does chutney thicken on cooling?
Yes, it does. Similar to a homemade jam, the juices and syrup that forms with the sugar will thicken as it cools.
---
---
Let me know in the comments below if you made this recipe and loved it, and if you had issues, so we can troubleshoot together. I love to hear what you think, always. Thanks for being here, it's much appreciated.
You might also consider subscribing to our FREE email series to Boost your Home Baking Skills! And our regular newsletter.
And let's connect via Facebook, Instagram, and Pinterest.
Print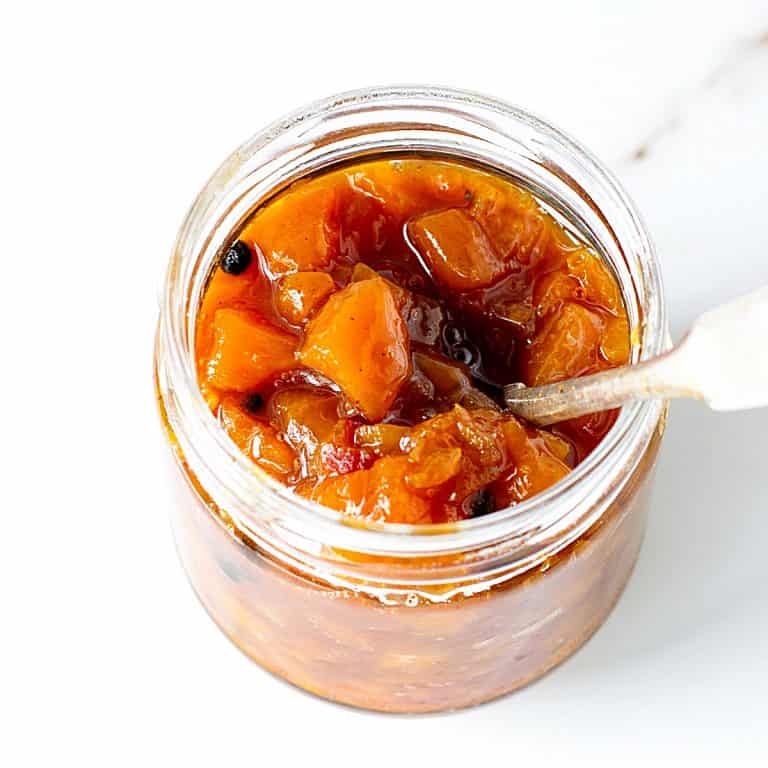 Fresh Peach Chutney Recipe
For a chutney fanatic as myself, this fresh peach chutney recipe is one of the best ever! Spicy, sweet, and tangy, it still has a quality of freshness to it and is a perfect companion for meats and sandwiches. Make a large batch and take advantage of summer peaches!
Total Time:

1 hour

Yield:

3

-

4

cups

1

x
2

pounds

(950g) fresh peaches

1

medium red onion (or white)

1

green or red apple

¼ teaspoon

ground ginger

1 teaspoon

grated fresh ginger

1 teaspoon

ground cinnamon

7

cardamom pods, ground

¼ teaspoon

aniseed

½ teaspoon

ground turmeric

1 teaspoon

coriander seeds

1 teaspoon

black pepper pods

1

small dried whole red chile

1 ¼

cups

(300g) white vinegar

1

pound

(455g) light brown sugar
Instructions
Peel, core and chop the peaches and the apple.
Finely chop the onion.
Put them in a large saucepan together.
Add sugar, vinegar, and spices and bring to a boil.
Lower the heat until the mixture is simmering.
Cook for 45 minutes to 1 hour or until the liquid is reduced and the mixture is of a marmalade consistency.
Let cool and keep refrigerated.
If not using immediately store in sterilized jars while still hot. Don't forget to label them.
Notes
Small batch recipe: you can easily make half the recipe. Take into account that it will take less time to thicken, about 20 minutes, so finely chop everything to make sure it softens as it should.
Spices: as I mention in the post, adapt to your own taste.
Canning: I'm not an expert, so I will leave a link for preparing jars for canning, and this link that explains how to store chutneys.
Author:

Paula Montenegro

Prep Time:

15

Cook Time:

45

Category:

Condiments

Method:

Cooking

Cuisine:

International
Nutrition
Serving Size:

1/15

Calories:

225

Sugar:

31.3 g

Sodium:

103.2 mg

Fat:

6.3 g

Carbohydrates:

33.3 g

Protein:

8.5 g

Cholesterol:

245 mg
Adapted from Dolli Irigoyen