The end of white and yellow summer peaches shouts for homemade peach chutney.
Summer in the city can be a challenge. But not in the way you're probably thinking. I never feel that everyone is having more fun because they're at the beach or that it is too hot to be faced with cement every time I go out. I have no problem enjoying a not-so-crowded city, days of leisure à la Jane Austen due to said people not being around to call you or make demands, organizing my house and now my blog ideas, the former not fully accomplished of course, and very few deadlines in the horizon.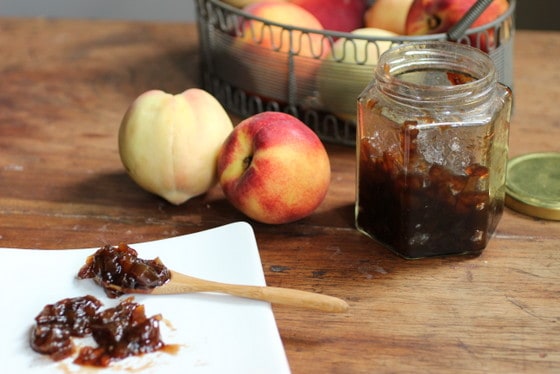 The challenge is to feel I did those things to the full of my capacity. Three weeks have already passed by me like the road-runner and I am, once again since it happens almost every year, left with the feeling, very well deserved by the way, that I won´t get anything done really, that I won't take advantage of all advantages exposed in the above paragraph.
Foodwise, my meals are very erratic to say the least, I seem to be constantly reaching for a spoon or a cracker and digging into any bowl or jar in the fridge, which amounts to periodically feeding myself with this chutney, hummus, leftover frozen pizza, or
corn pudding
.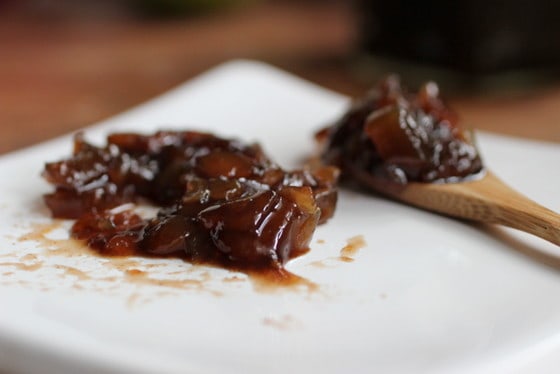 I made this peach chutney last week and there's only half of a medium jar left from the original two.
Really, except for the first day when I had a pork tenderloin in the fridge and ate what would be my most complete meal in the last days, the rest simply disappeared.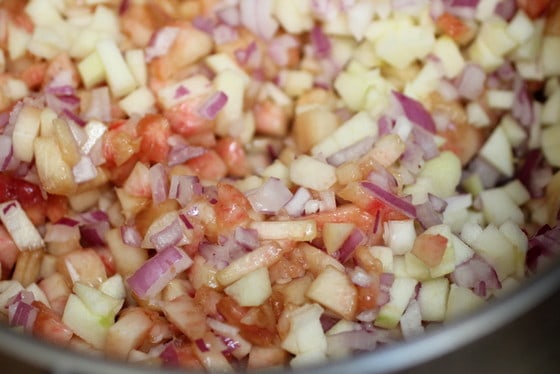 In my defense I can say first, that the peaches, both yellow and white, are at their prime right now and I get what can only be described as a compulsion to make the most of them, and second that this is so good. So so good. I don't know if I ever made peach chutney before, but now I'm spoiled forever. Besides the sweet and the spicy it has a fresh quality to it. I suppose it's the juicy peach I have to thank for. I already bought jars and will can the next batch, so I´m going to be eating this for a long time.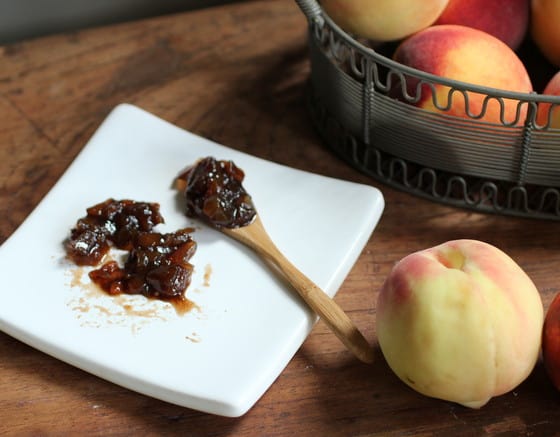 Print
---
Scale
Ingredients
2

pounds 950g fresh peaches

1

medium red onion (chopped)

1

green apple

¼ teaspoon

ground ginger

1 teaspoon

grated fresh ginger

1 teaspoon

ground cinnamon

7

cardamom pods (ground)

¼ teaspoon

aniseed

½ teaspoon

ground turmeric

1 teaspoon

coriander seeds

1 teaspoon

black pepper pods

1

small dried whole red chile

1 ¼ cup

s 300g white vinegar

1

pound 455g light brown sugar
---
Instructions
Peel, core and chop the peaches and the apple.
Put them in a large saucepan together with the onion.
Add sugar, vinegar and spices and bring to a boil.
Lower the heat until the mixture is simmering.
Cook for 1 hour or until the liquid is reduced and the mixture is of a marmalade consistency.
Let cool and keep refrigerated.
If not using immediately store in sterilized jars while still hot. Don't forget to label them.
---
adapted from Dolli Irigoyen
---