This is the easiest Cherry Tart ever! With a creamy vanilla custard filling, fresh cherries and a crust that doesn't require refrigeration or rolling before lining the pan. It comes together quickly and looks incredibly sophisticated.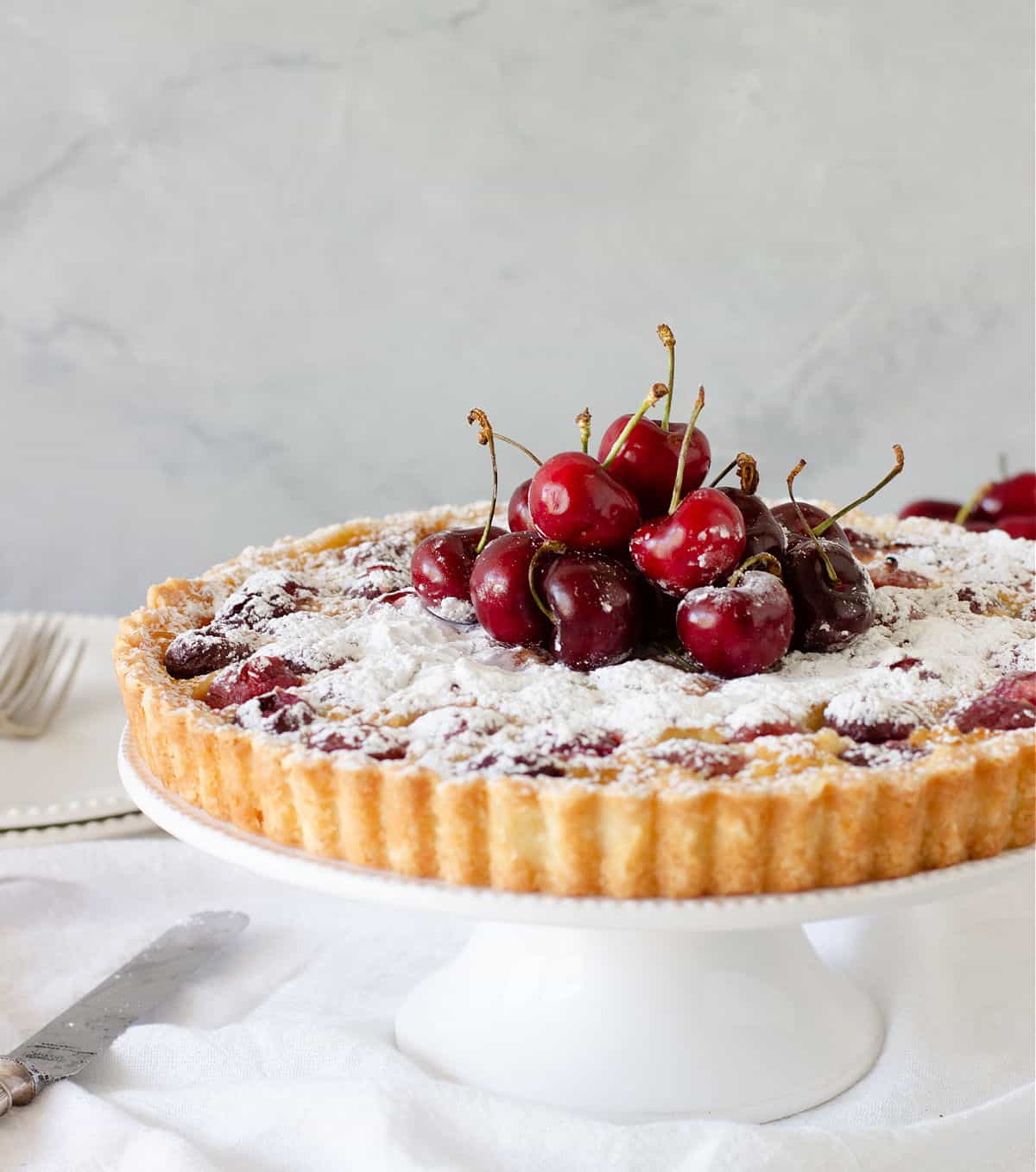 Originally published in December 2012, this post has been updated for images and text. The recipe remains the same (because it's the best!).
This recipe caught my eye because of the crust and the fact that I earnestly await the cherry season. It's from Bill Granger, a perpetually grinning Aussie that had a great television show that I watched earnestly before the internet was a thing.
And now that cherrye finally here, I like to take advantage and bake a few things. Though nothing will ever beat eating them by themselves, very cold.
Yet, some recipes make it worth baking them. This is one of them.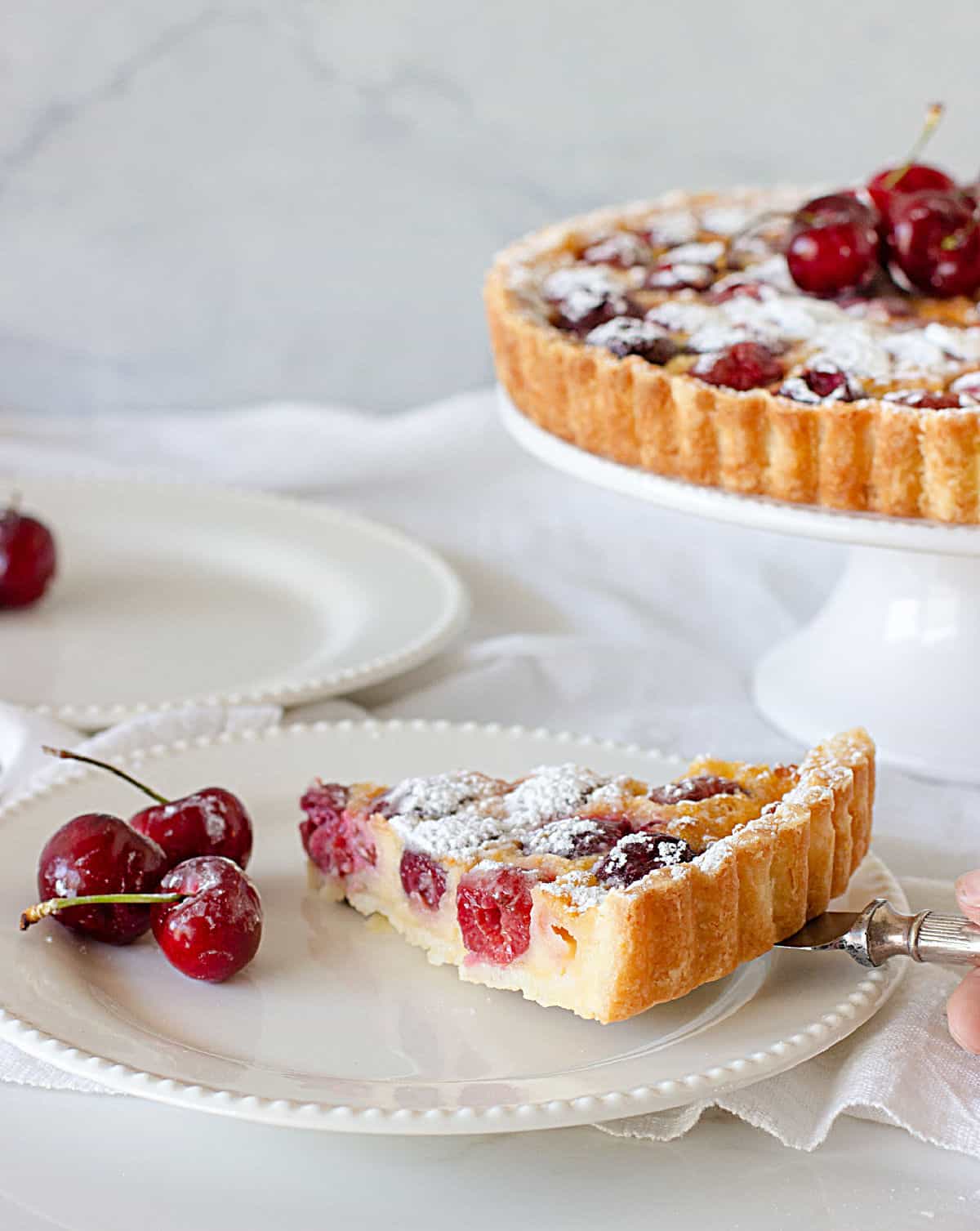 The pie crust
Pie crusts (or shortcrust pastry) usually require a stay in the refrigerator and involve a rolling pin, a floured counter and so on.
It defies everything they ever taught you in pastry school, or what you read about crust making. It starts with melted butter and it doesn't need to chill before baking.
It doesn't need to be refrigerated before lining the pan or before baking. How's that for simplicity? And believe me, it is a fantastic crispy crust. It works, it just does.
Ingredients
Just 4 ingredients and you're good to go. All pantry staples.
The almonds are used after the crust is pre-baked, so they're not technically part of the crust. They're part of the cherry tart as a whole.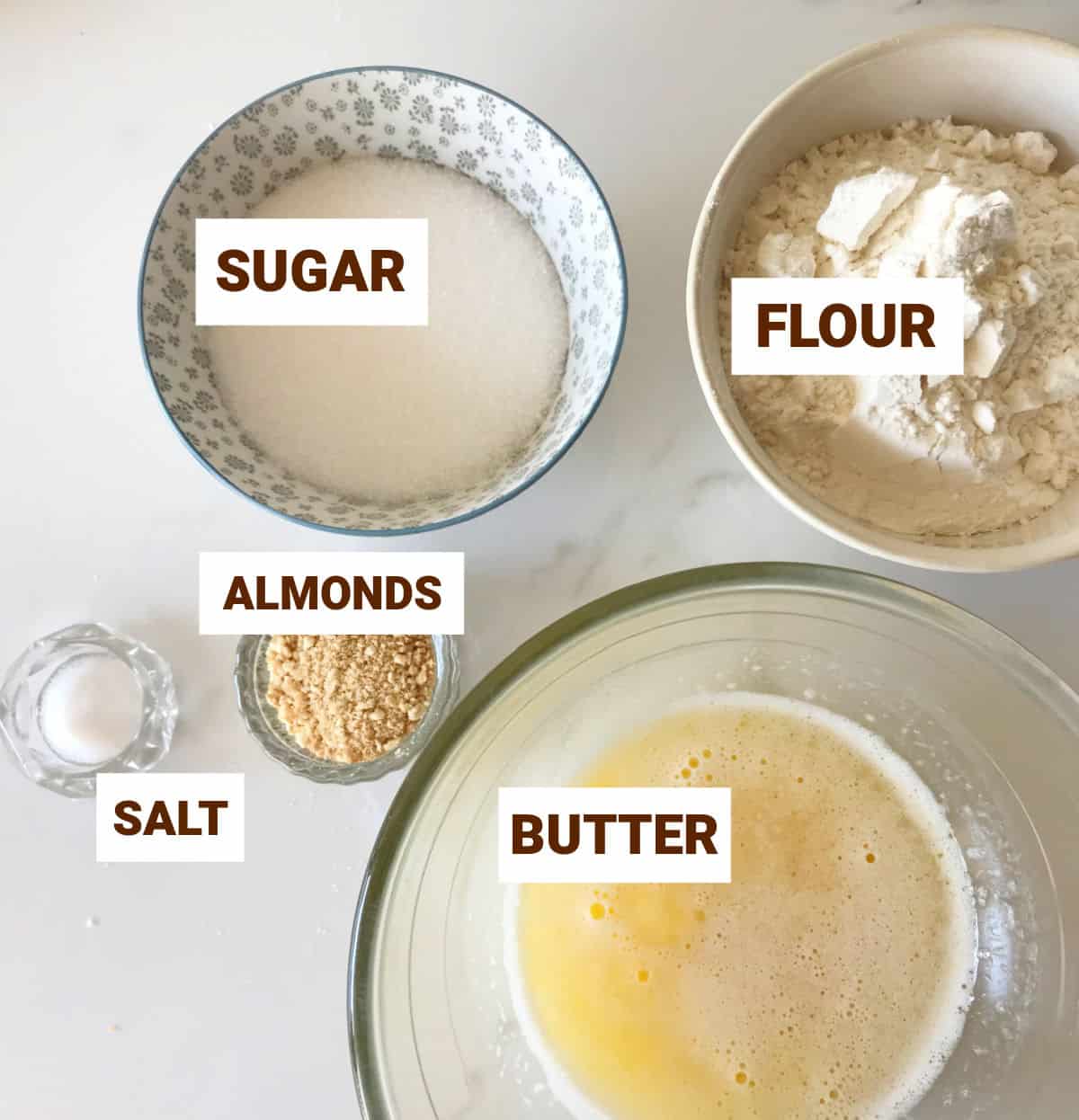 How to make it
Simply start with the melted butter in a large bowl and a spoon, spatula or wooden spoon.
Add first the sugar to the butter and mix.
Add the flour and salt (image below, left) and mix until you have a wet but smooth mixture (image below, right).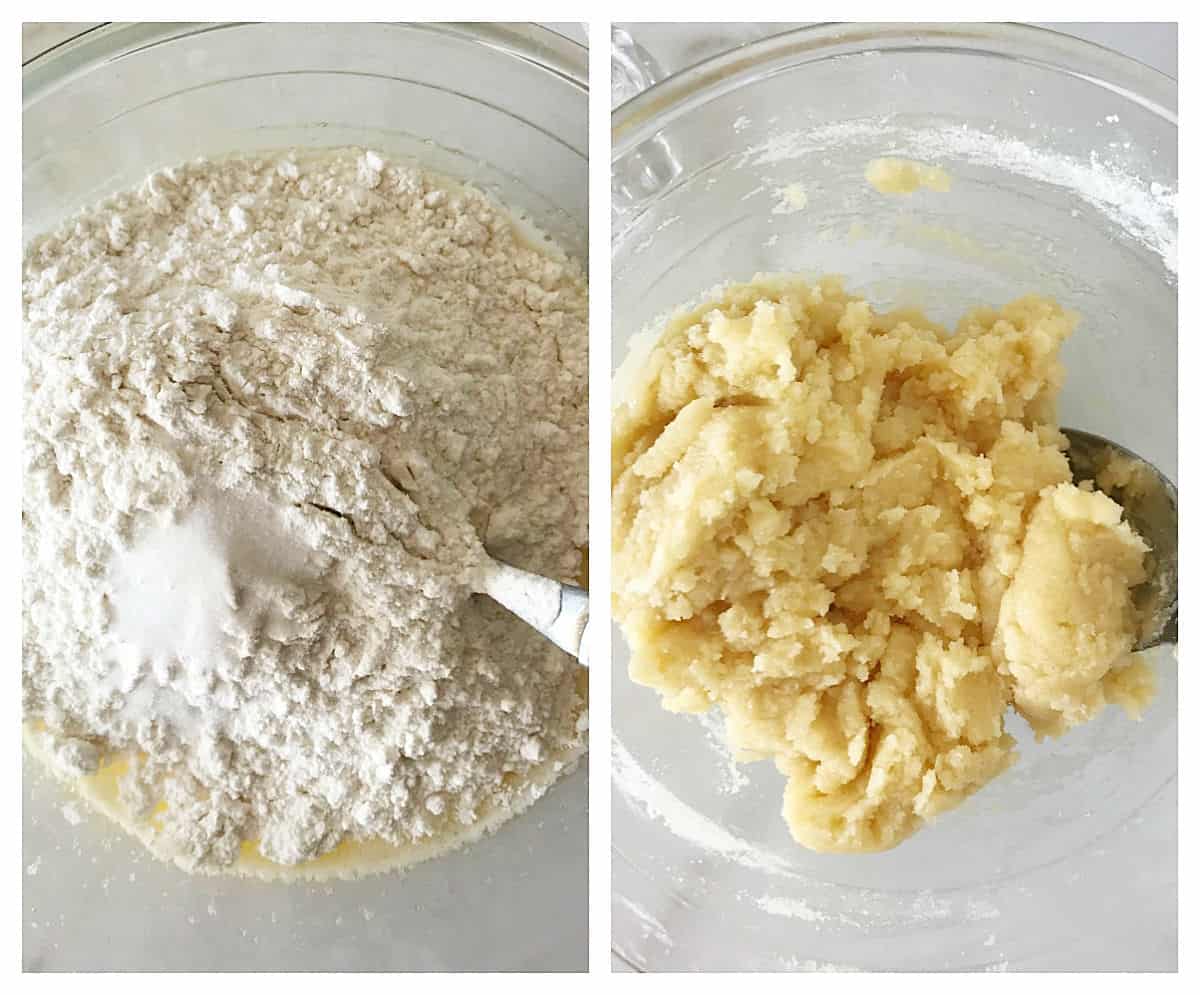 Lining the tart pan
This is super easy.
Have ready a 9-inch (24cm) tart pan with a removable bottom. You don't need to butter it; this dough is buttery enough.
Scatter small pieces of dough (straight from the bowl, image above) all over the bottom of the pie pan.
Start pressing the sides and angles where they meet the bottom (image below, left). This is important because if you're short of dough on the sides you won't reach the top of the pan edges and the custard filling might spill.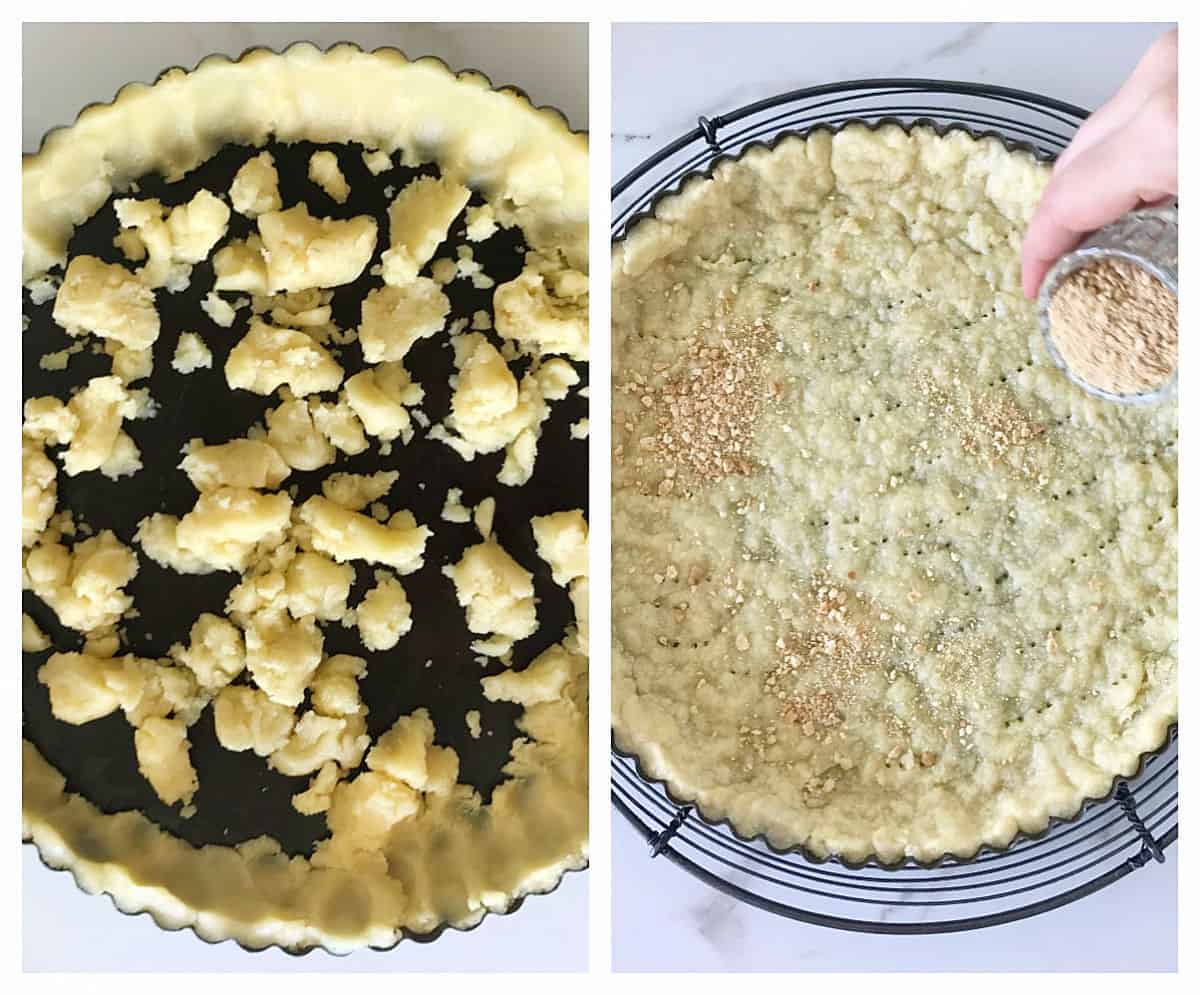 Have the oven ready and pre-bake the crust for 12-15 minutes. It will still be light-colored but the surface will be dry.
Scatter the almonds over it (image above, right).
Both the pre-baking and the almonds will act as a cushion between the dough and the wet filling and absorb some of the liquid so that it doesn't seep into the dough and soften it.

Vintage Kitchen Tip
If you use the right-sized pan, this recipe is the exact amount you need. I don't recall many pie recipes where I measure the ingredients and they fit exactly in the pan. So there are no leftovers!
The cherries
Cherries are small, round stone fruit that are usually available during hot months, usually Summer, but that can vary according to the weather. They can be sweet or sour/tart. I love them both.
Their color ranges a lot, from bright reds to deep purples and scarlets.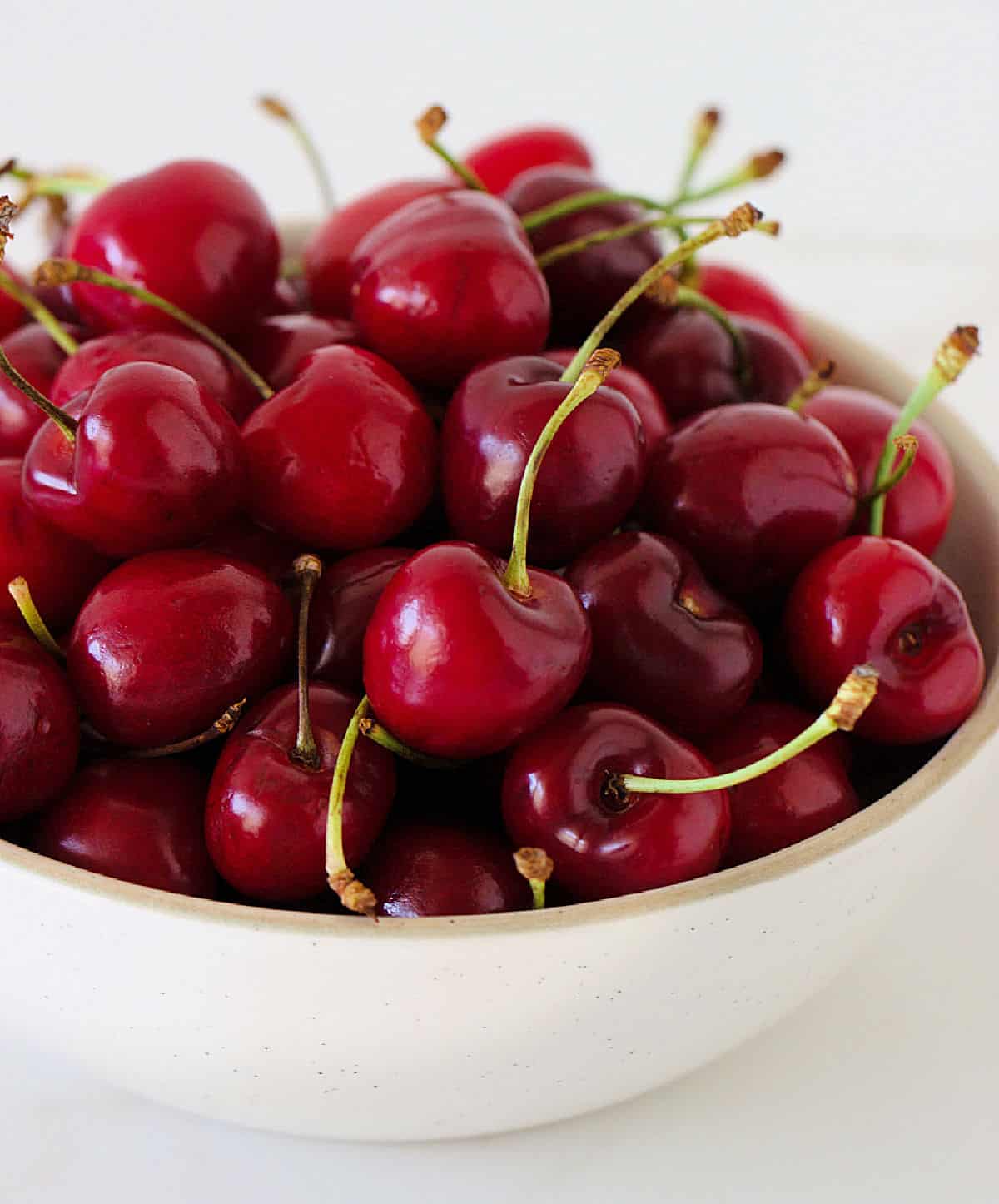 I am mad about fresh cherries (image above). The season is short but I always take advantage of them.
This pie works way better with fresh ones. BUT, you can use frozen ones. It's such a pretty holiday tart that we should all be able to make it.
Pitting cherries
Even if you only bake a couple of times a year with fresh cherries, I recommend you buy yourself a cherry pitter, like the one in the image below. You can buy them online, there are many styles and brands.
They are super handy to take out the stone from the fruit in minutes. And the cherry stays whole, which is wonderful for a tart recipe like this one.
Freezing: I usually freeze a few bags of cherries to enjoy during the winter. I pit them, put them in a pan, freeze them individually and then transfer to Ziploc bags.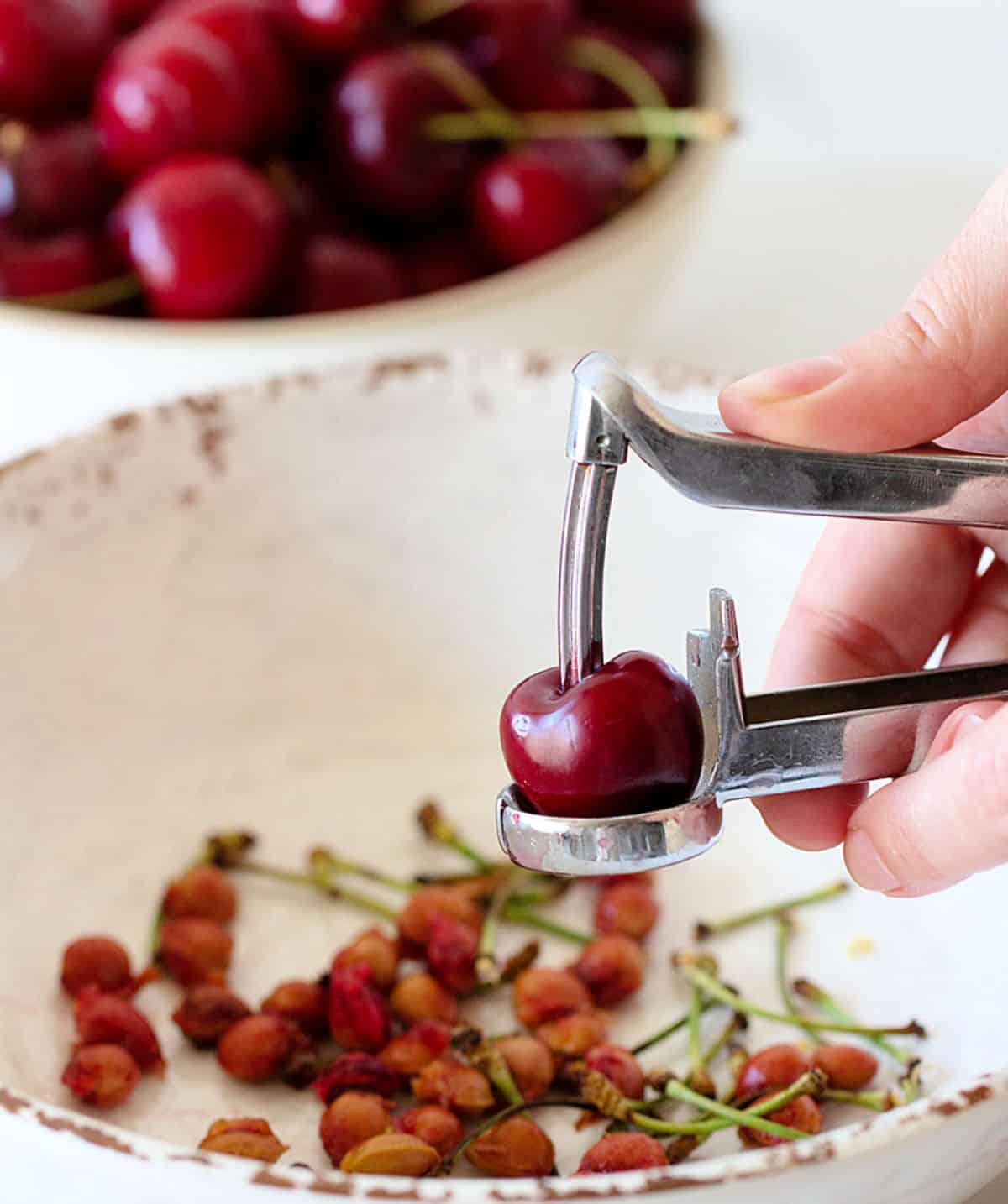 The filling
It's a custard, very straight forward and super easy to make. You simply mix all ingredients in a bowl, and that's it. Don't be tempted to beat as we don't want to incorporate air.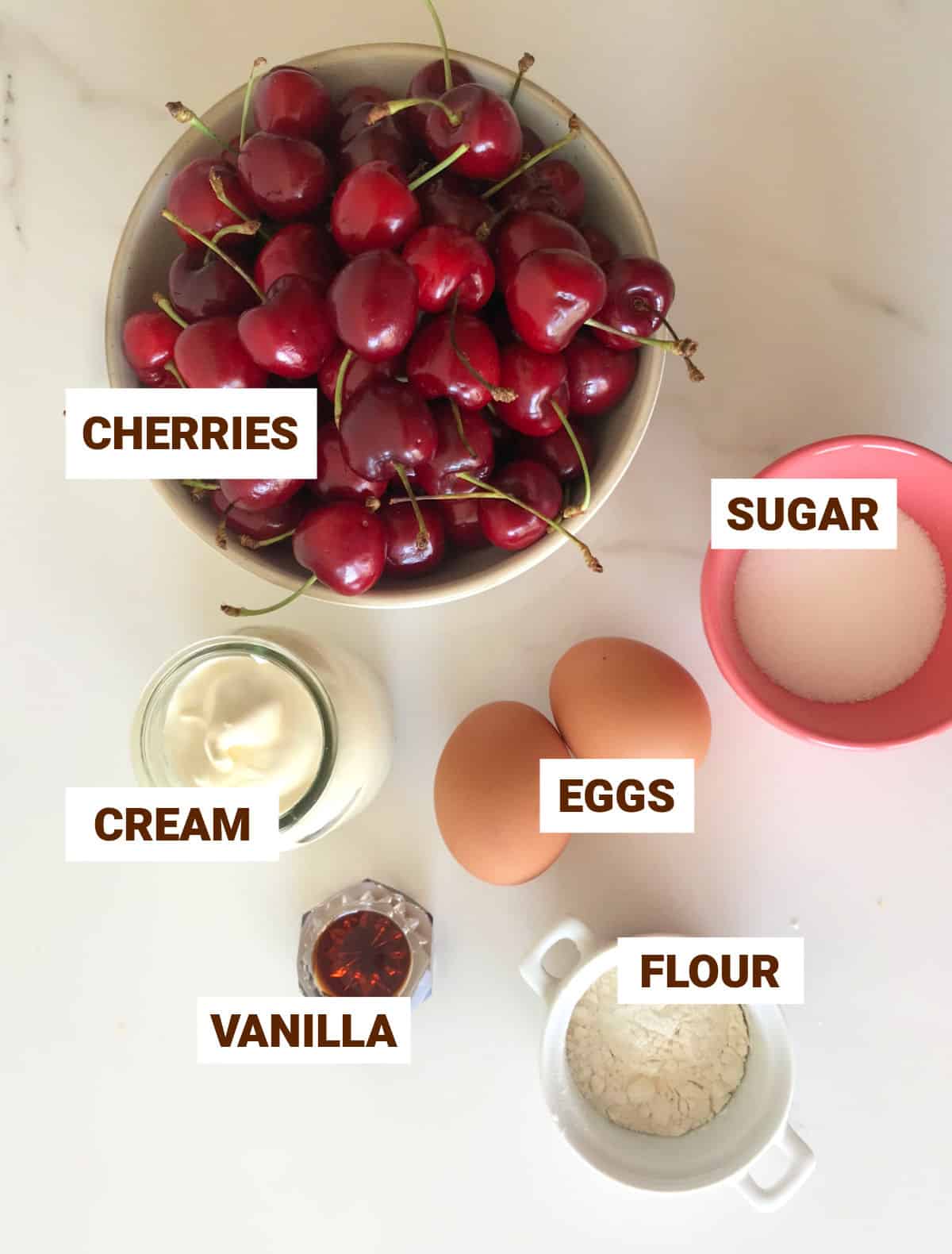 Ingredients
The filling ingredients are simple, everyday ones (image above). The results are wonderful and it takes a few minutes to make it.
Sugar: I have used brown sugar on occasion, and it works really well. So feel free to use whatever sugar you have or like.
As with the amount of crust, if you follow the recipe you will have exactly the amount of filling you need to fill this tart crust.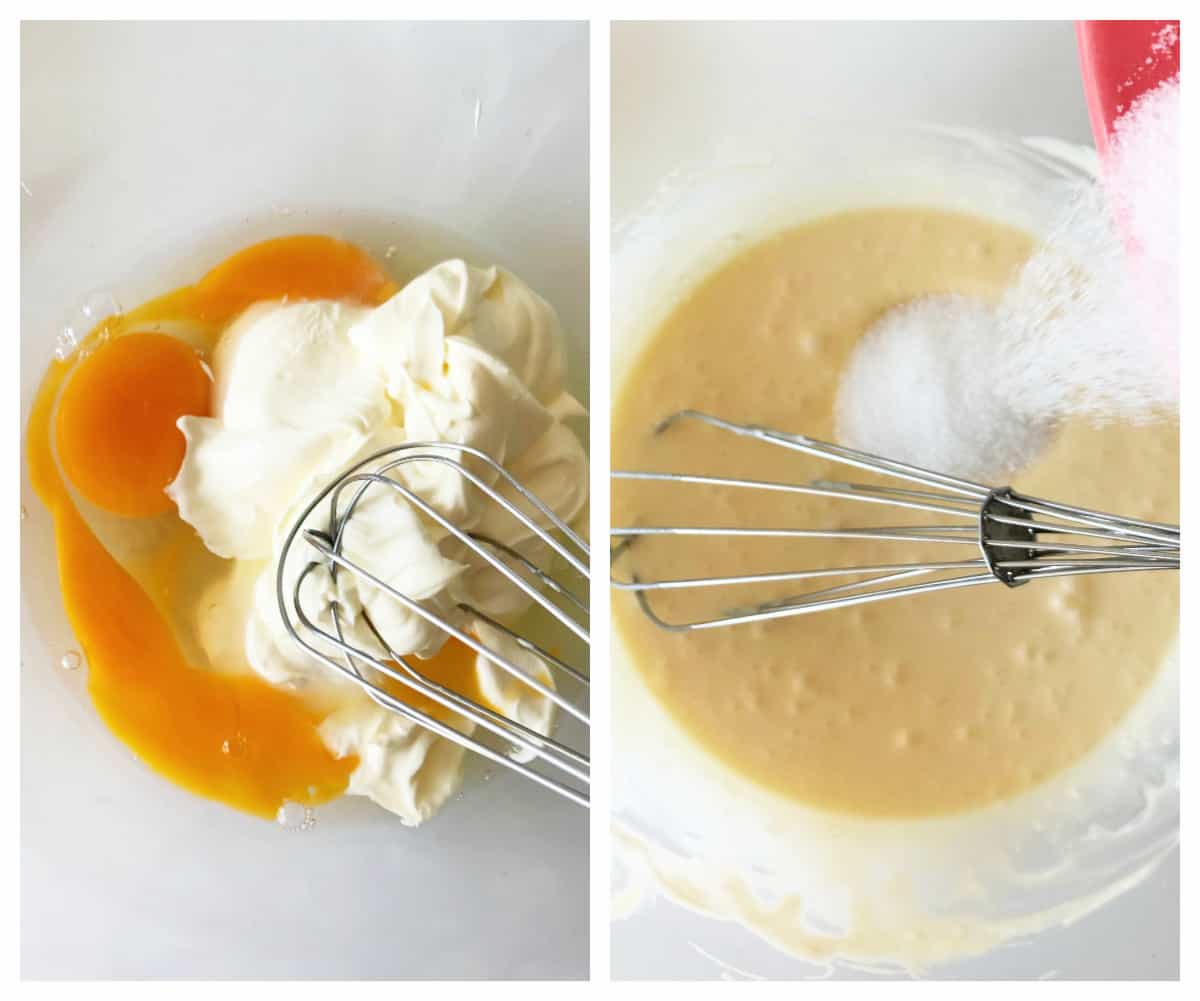 The vanilla custard
This cherry pie has a creamy, sweet vanilla custard filling that comes together in no time and is just the perfect thing to complement the rest of this pie.
Simply mix all ingredients with a hand whisk in a bowl (image collage above). That's it. No stove or beating is involved.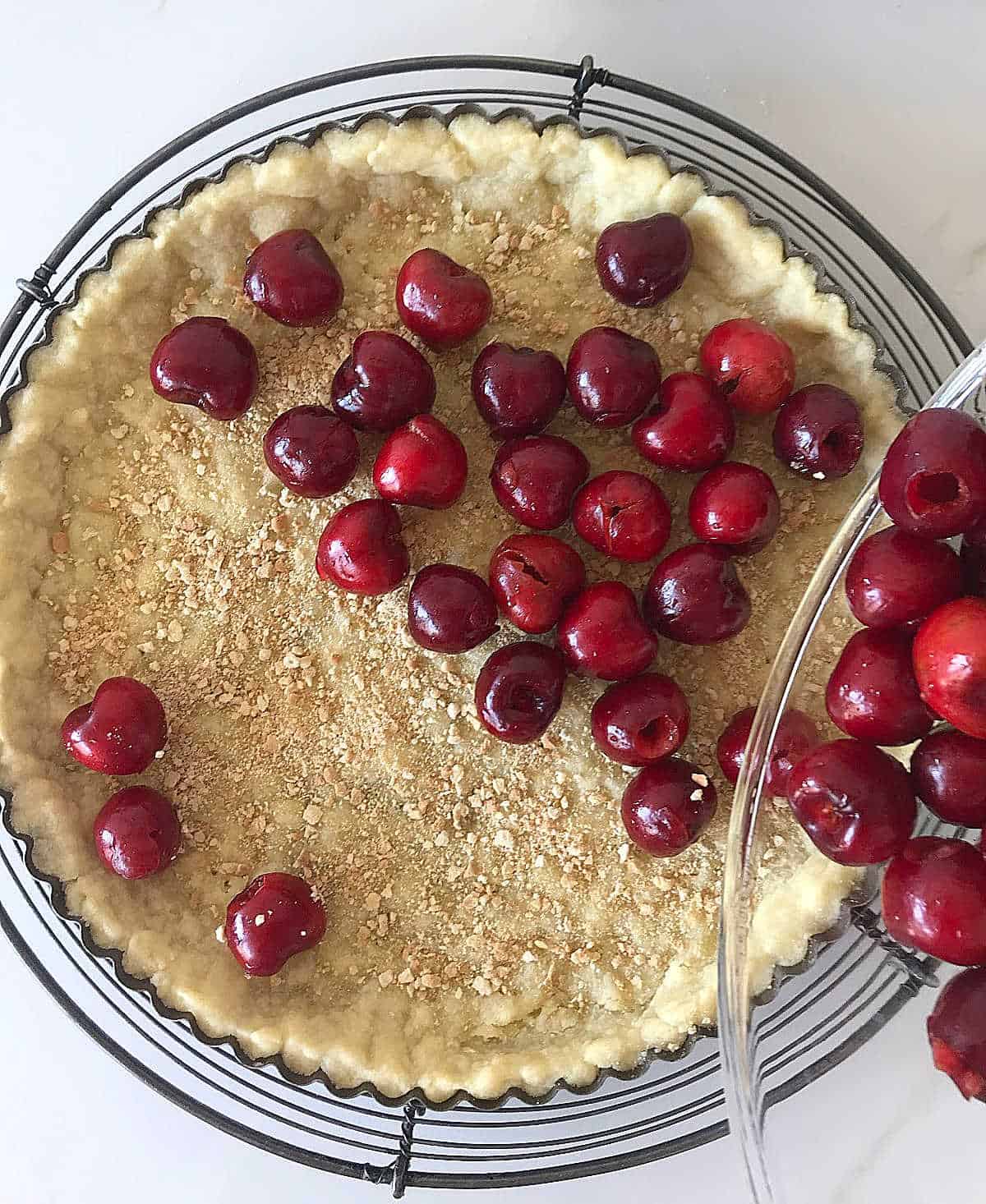 I suggest you have the pre-baked crust with the almonds scattered on top and then go make the filling.
The amount of cherries is spot on, and it will almost fill the bottom completely.
I transfer the filling to a jar for easier pouring (and for the photos!) but you can pour it directly from the bowl where you mix it. Be careful, you want all of it inside the crust, haha.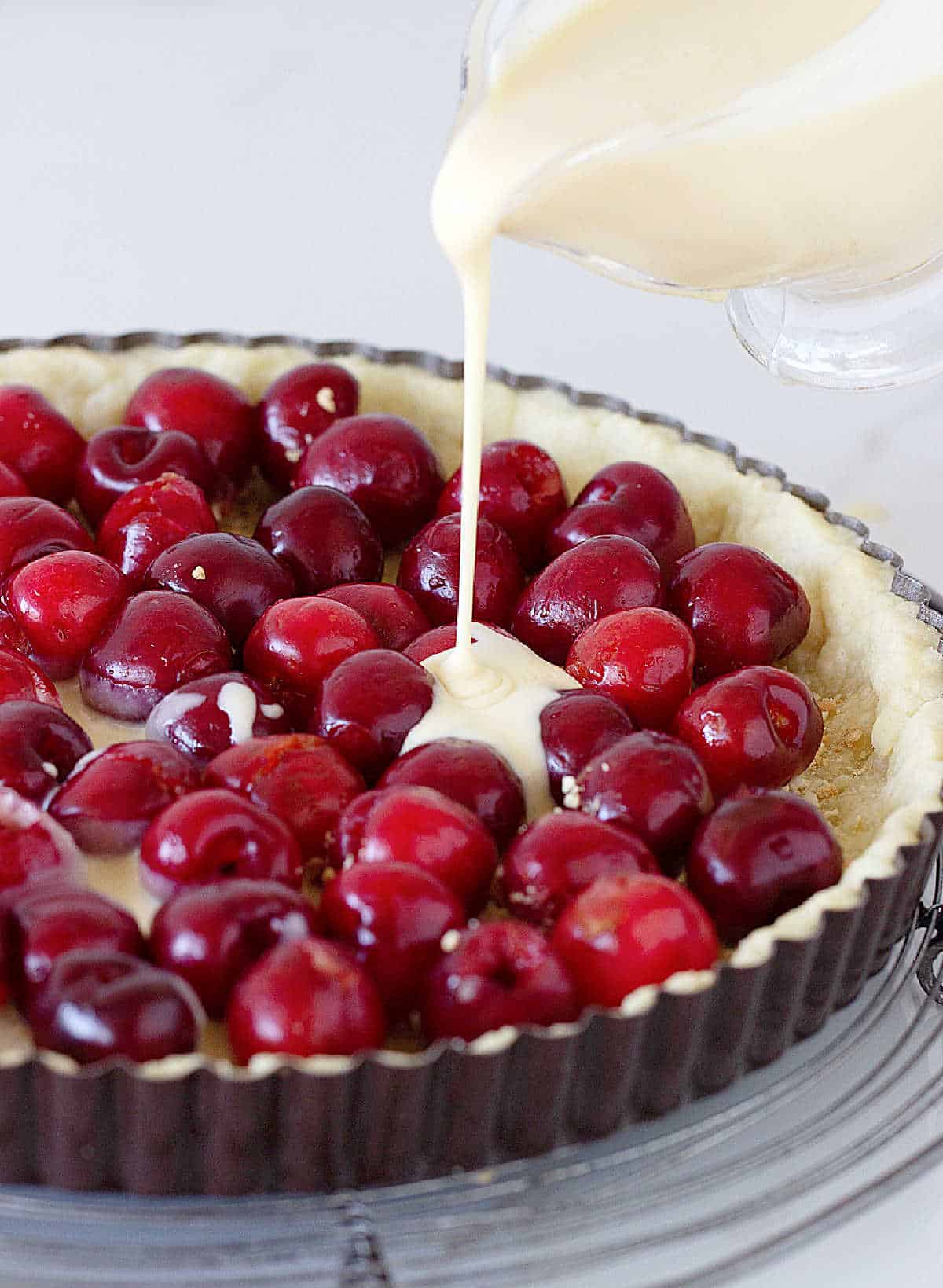 Baking this pie
When custards are involved, I recommend baking it until it barely jiggles in the center. Or until it just stops jiggling, at the most. That way the filling will be creamy.
If you wait until the filling is too firm, it will have a thicker consistency when it cools and not be as creamy, especially if there's refrigeration involved.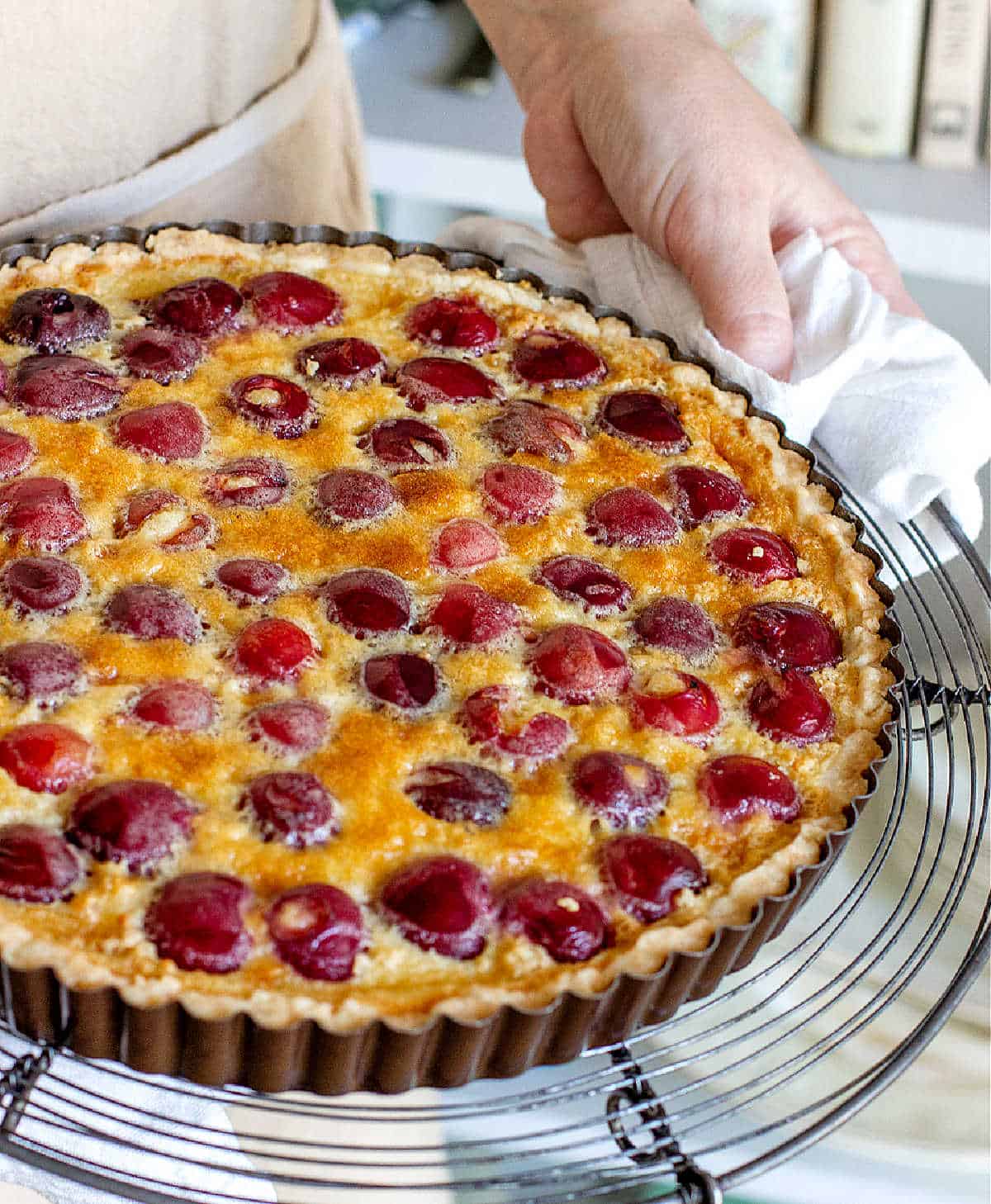 Variations
Stone fruit: apricots, peaches, nectarines, plums, they all work here. Choose fresh fruits that have a little acidity in them to counterbalance the butter and cream.
Berries: blueberries, blackberries, and raspberries work very well in this recipe.
Flavorings: use spices, citrus zest, or extracts to flavor the custard to complement the fruit you use.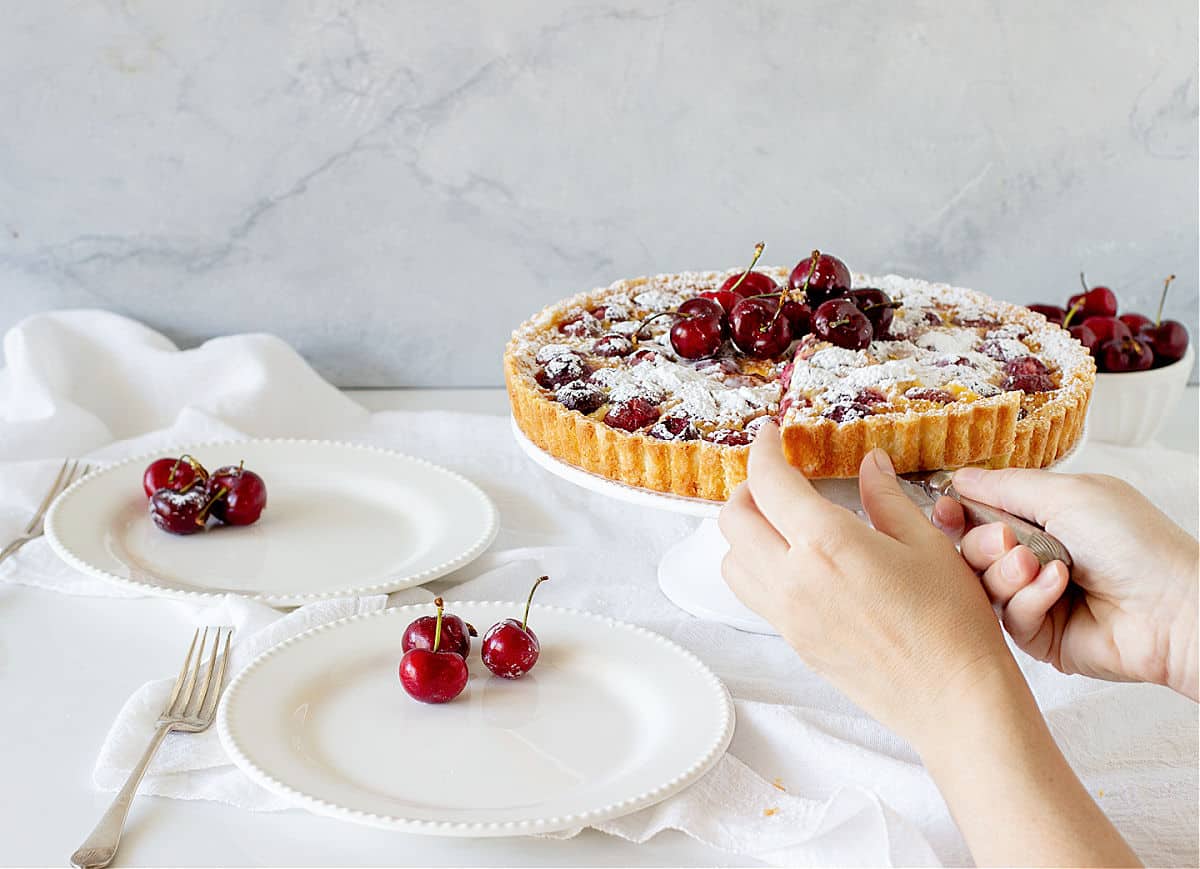 Serving this tart
I suggest a sprinkle of powdered sugar and a small pile of wonderful fresh cherries.
A spoonful of fresh whipped cream and some grated chocolate on top of it works well.
This is a recipe by Bill Granger, a perpetually grinning Aussie that makes food seem fresh and effortless.
This cherry tart is everything I remember from his tv shows: easy, sunny, a crowd-pleaser and with kitchen staples and fresh produce.
When I told you this cherry tart was the easiest one EVER I wasn't kidding!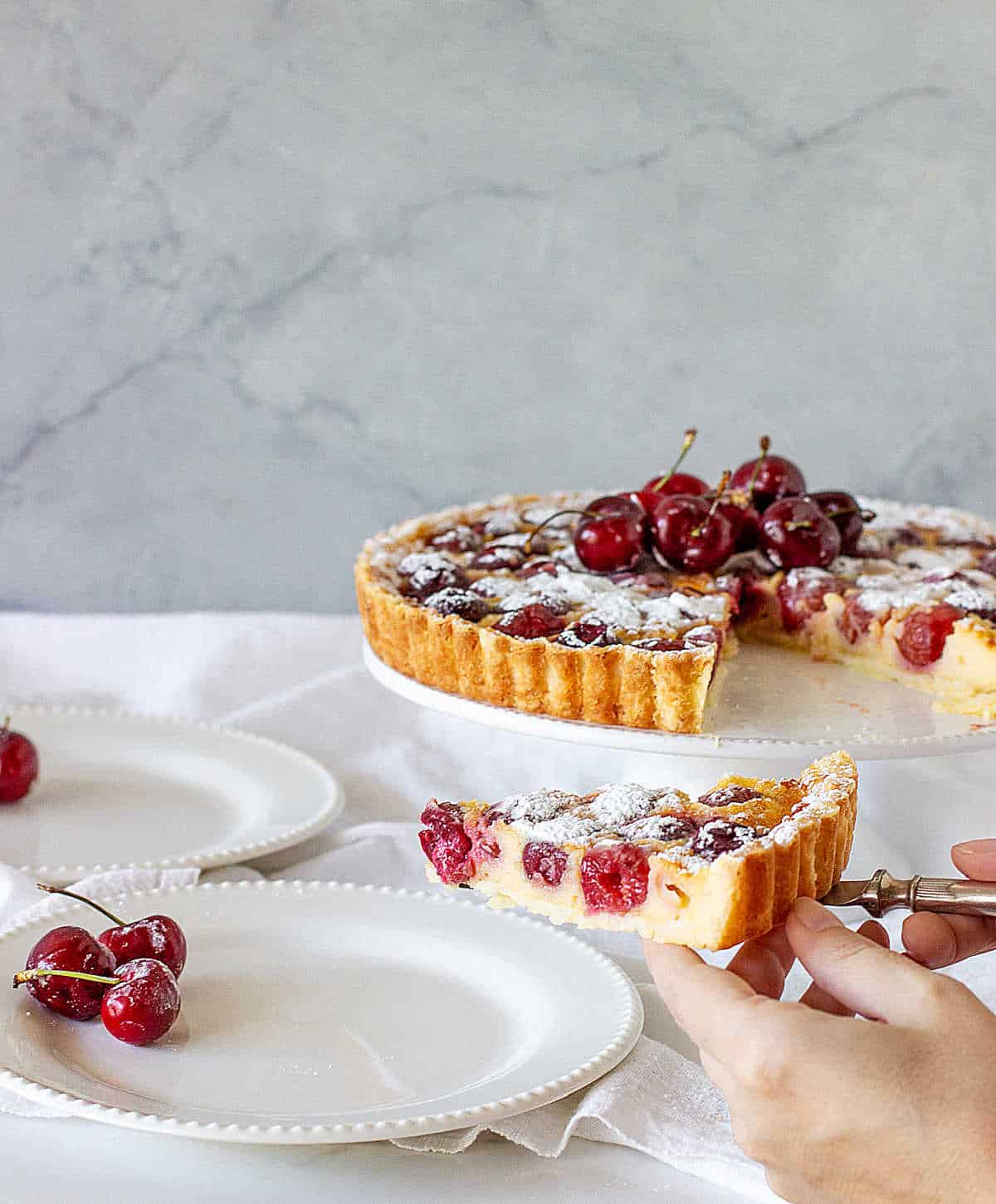 ---
Related recipes you might like:
---
Let me know in the comments below if you made this recipe and loved it, and if you had issues, so we can troubleshoot together. I love to hear what you think, always. Thanks for being here, it's much appreciated.
You might also consider subscribing to our FREE email series to Boost your Home Baking Skills! And our regular newsletter.
And let's connect via Facebook, Instagram, and Pinterest.
Print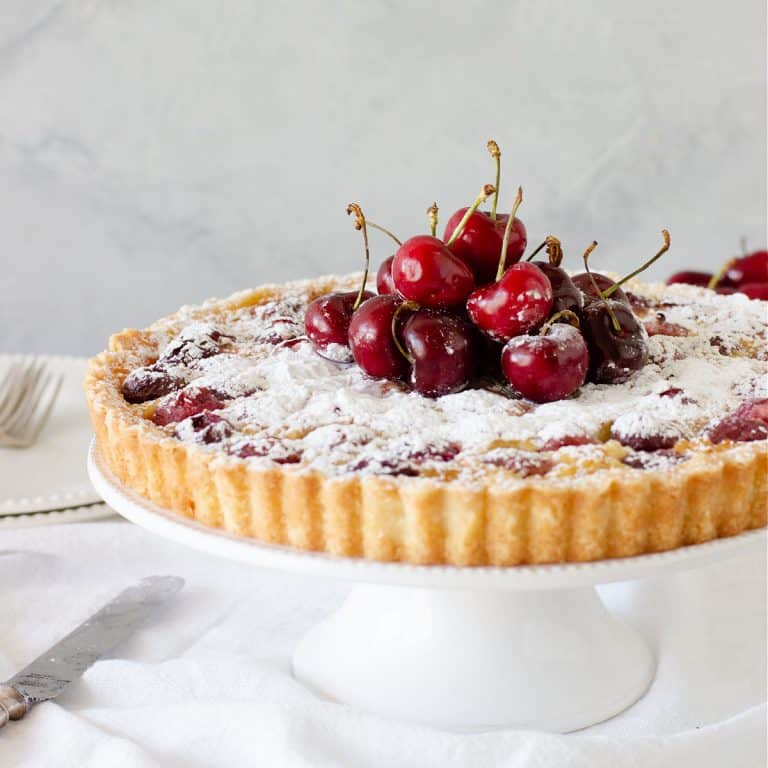 Fresh Cherry Tart
This is the easiest Cherry Tart ever! With a creamy vanilla custard filling, fresh cherries and a crust that doesn't require refrigeration or rolling before lining the pan.
Total Time:

3 hours 25 minutes

Yield:

8

slices

1

x
For the crust:
½

cup

unsalted butter, melted and cooled
Scant

½

cup

granulated sugar

1 ¼

cups

all-purpose flour
A pinch of salt

2 tablespoons

almond meal (ground almonds) or ground vanilla cookies
For the filling:
¾

cup

whipping cream

2

eggs, at room temperature

1 teaspoon

vanilla extract

3 tablespoons

granulated sugar

2 tablespoons

all-purpose flour

1

pound

cherries, pitted (fresh are best)
Instructions
Preheat the oven to 350ºF/180°C.
Have ready a 9-inch (24cm) round tart pan with a removable bottom.
Have the pitted cherries in a bowl.
For the crust:
Stir together the butter and sugar in a large mixing bowl. I use a spatula.
Add the flour and salt and stir to make a soft dough.
Transfer the dough to the pan in small pieces, distributing them on the bottom, and press evenly into the sides first, and then the base, with your floured fingertips. The dough seems like it's not enough but it is.
Bake for 15-18 minutes, until beginning to brown.
Remove from the oven and sprinkle the almond meal over the base.
For the filling:
Whisk together the cream, eggs, vanilla and sugar.
Add the flour and whisk until well mixed.
Arrange the pitted cherries over the pastry base and slowly pour the cream filling evenly over the cherries.
Return the tart to the oven and bake 40-50 minutes until the filling is barely firm, still jiggling slightly in the center.
Cool completely on a wire rack and serve dusted with powdered sugar and fresh cherries.
I like to refrigerate it for a 1-2 hours, well wrapped, before serving.
Refrigerate leftovers, wrapped so it doesn't dry out.
Notes
Baking time: I recommend baking it until it barely jiggles in the center. Or until it just stops jiggling, at the most. That way the filling will be creamy.
Fruit: use other stone fruit (nectarines, apricots, plums or peaches) or berries (blueberries, blackberries or raspberries).
Flavorings: add spices or extracts to the custard to complement the fruit you use.
Author:

Paula Montenegro

Prep Time:

40

Refrigeration time:

120

Cook Time:

45

Category:

Dessert

Method:

Baking

Cuisine:

International
Nutrition
Serving Size:

⅛

Calories:

383

Sugar:

25.3 g

Sodium:

45.1 mg

Fat:

21.4 g

Carbohydrates:

43.8 g

Protein:

5.5 g

Cholesterol:

101 mg