I like the trend of the last decade (or more) where tv food shows emphasize laid back cooking. No aprons, a bit of a mess, not even the need for professional training. It's about lifestyle and charisma.
Today we're bringing our favorite celebrity chefs to the table for
Sunday Supper
. The lovely Tammi, from
Mommas Meals
dared us to inspire ourselves in a famous face in the food world and go into the kitchen. I have to say, if you're somewhat interested in the subject you've come to the right place foodie!
.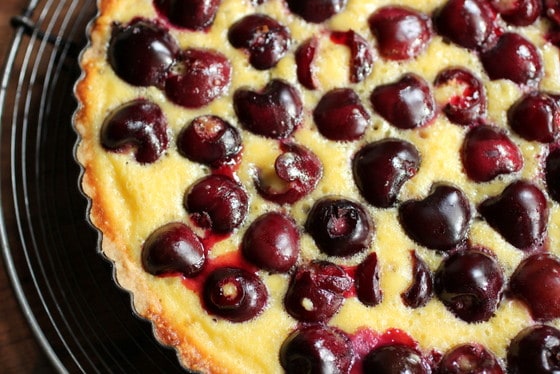 We have a few good food shows here, but for today I choose a recipe by
Bill Grange
r, a perpetually grinning Aussie that makes food seem so fresh and effortless. He and
Nigella
 always make me believe I want to be eating exactly what they're cooking. The power of television.
Funny how I don't own any of his books, don't know how that happened given the piles of books lying around in my house. So many it's almost shameful.
And also, and this is something that happens a lot in my world, I have many, many of his recipes copied in folders yet this is the first time I make one.
.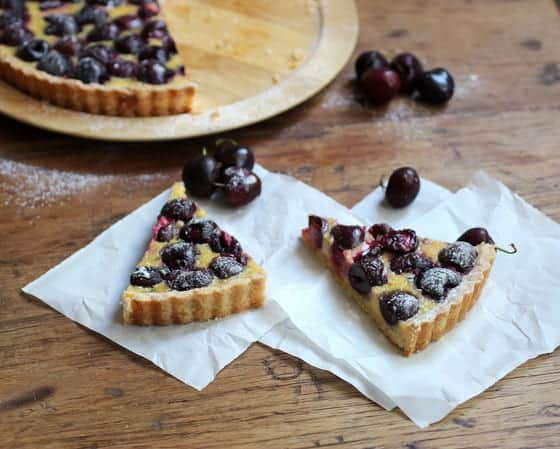 I also have a mysterious fascination with Australia. The mystery part is because I've never been there but it's first on my next-trip-to-an-unknown-place list. Soon, very soon.
This recipe caught my eye because of the crust and the fact that I earnestly await cherry season. And now that they're finally here, I like to take advantage and bake a few things. Though nothing will ever beat eating them by themselves, very cold.
.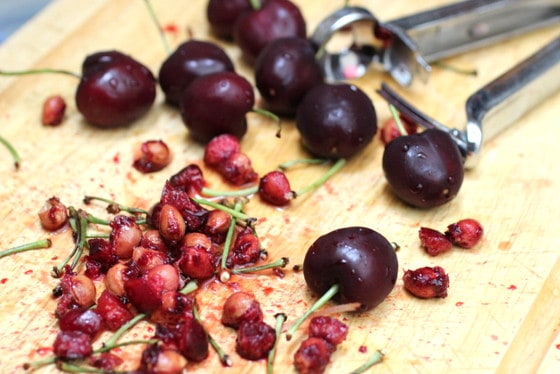 This crust defies everything they ever taught you in pastry school, or you ever read about crusts. It starts with melted butter and it doesn't need to chill before baking. How's that for simplicity? And believe me, it is a fantastic crispy crust. It works, it just does.
If you use a 24 cm/ 10 inch tart pan, this recipe is exact. I don't recall many pie recipes where I measure the ingredients and they fit exactly in the pan. No leftovers at all.
.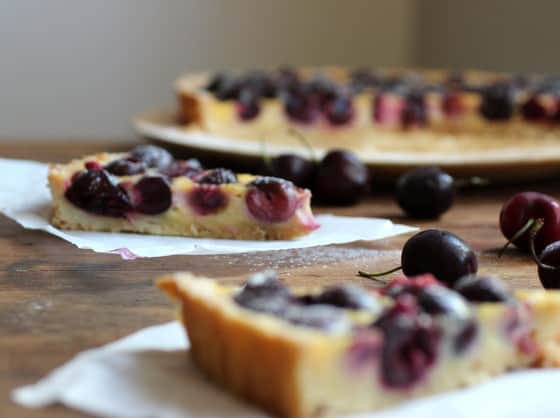 And think peaches, plums, or berries, they all work here. Choose fresh fruits that have a little acidity in them to counterbalance the butter and cream.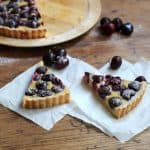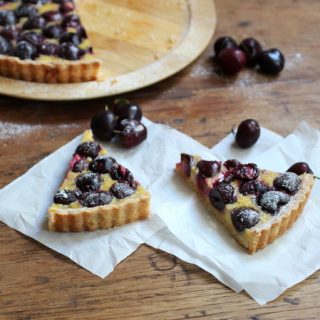 Bill Granger's Fresh Cherry Tart
You can substitute the cherries for other red fruits, or stone fruits such as plums or apricots.
Ingredients
For the crust:
125

g

1/2 cup unsalted butter, melted and cooled

90

g

scant 1/2 cup caster sugar

175

g

1 1/4 cups plain flour

A pinch of salt

2

tablespoons

almond meal

ground almonds
For the filling:
170

ml

cream

2

eggs

lightly beaten

2

teaspons vanilla extract

3

tablespoons

caster sugar

2

tablespoons

plain flour

450

g

1 pound cherries, pitted (fresh are best)
Instructions
Preheat the oven to 350ºF/180°C.

Have ready a 24cm/10-inch round loose-bottomed tart pan.
For the crust:
Stir together the butter and sugar in a large mixing bowl.

Add the flour and salt and stir to make a soft dough.

Transfer the dough to the pan and press evenly into the base and sides with your floured fingertips. The dough seems like it's not enough but it is.

Bake for 15-18 minutes, until beginning to brown.

Remove from the oven and sprinkle the almond meal over the base.
For the filling:
Whisk together the cream, eggs, vanilla and sugar.

Add the flour and whisk until well mixed.

Arrange the cherries over the pastry base and slowly pour the cream filling evenly over the cherries.

Return the tart to the oven and bake 40-50 minutes until the filling is firm.Leave to cool on a wire rack and serve with cream or ice cream.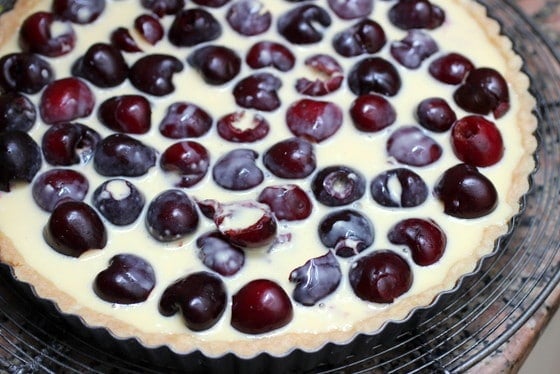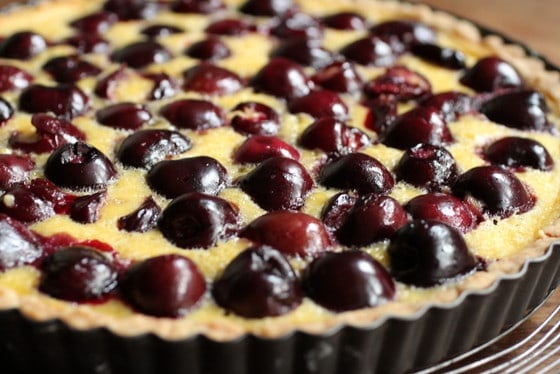 FAVORITE CELEBRITY CHEF SUNDAY SUPPER RECIPES
Starters or Snacks :
Martin at 
ENOFYLZ Wine Blog
 – Oyster and Brie Soup and Wine Pairings for Celebrity Chef #SundaySupper
Katie from She likes Ruffles, He likes Truffles – Chef Fabio Viviani's Spinach and Artichoke Risotto
Please join on us via Twitter for 
#SundaySupper
 throughout today.
In the evening, we will meet at 7 PM EST for our weekly 
#SundaySupper
 live chat.