Wonderfully lemony, these cupcakes have white chocolate in the batter, lemon curd in the filling, and fresh blueberries in the frosting. Simply gorgeous!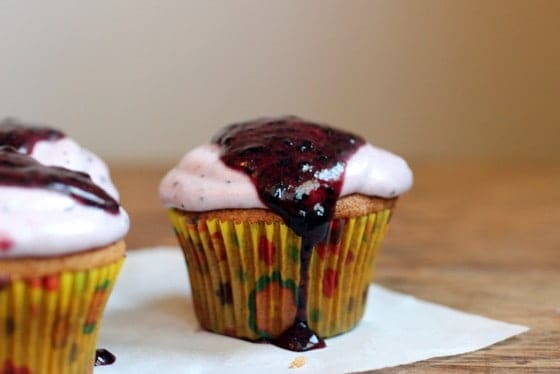 Innovate on a cupcake.
That is Willow Bird Baking's challenge for this week.
I sat there thinking how not up to my alley this was. Just any cupcake? How do I narrow it down? Then she added baking according to the season we're on now.
I'm happy to be having a few incredible spring days. After a lot of rain and humid days, we're having clear skies, perfect weather, the kind of days you want to last and last. Really. That's the feeling.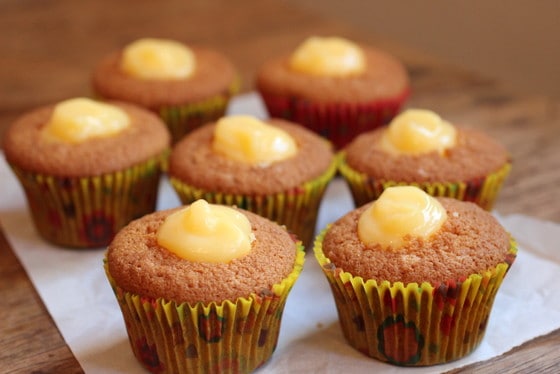 I'm no cupcake baker. I'm all for bundt and layer cakes. So this was a real challenge. Lemon immediately came to mind, but then what? Fresh blueberries, that are popping up plump and dark, with the first sweetness in them.
Not a new flavor combination idea, but the fresh berries in the frosting look so pretty. I mean, cupcakes have to have some sort of prettiness to them, right?
The cake part has some white chocolate, which really makes them moist and deepens tremendously the flavor of vanilla.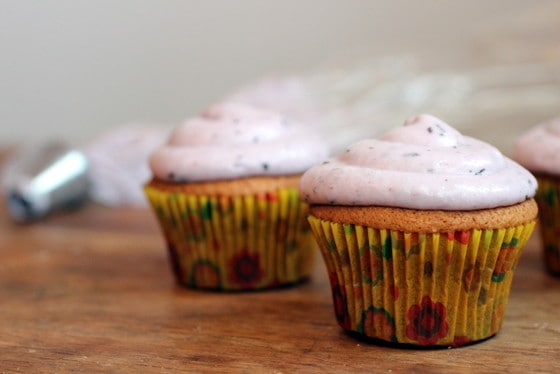 Ever since I closed the coffee shop, I suddenly realized that the more I bake the more everything will just lie around the house, taking up counter space and even living room space. So I'm starting a list of happy takers of baked goods.
One of those recipients, until they get sick of eating sweet things or put on a few pounds and start seeing me as the evil baker, is one of my weavers, you know, from my now only job.
So I made half the batch the way you see them here, and the other half filled with dulce de leche and topped with melted chocolate. I didn't photograph them because they are ridiculously simple, not even a ganache involved. But it goes to show that this cake recipe admits endless flavor combinations.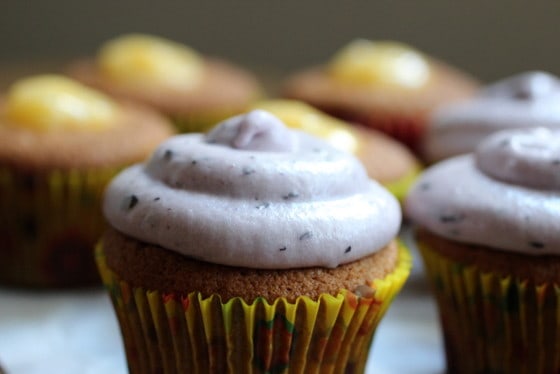 Flavored cream cheese frosting
The fresh blueberries in the frosting are made by processing them and adding a tablespoon of lemon juice and water. If you have frozen blueberries, you don't need to add liquid, the ice will melt and be perfect.
And they give the cream cheese frosting the most wonderful lilac color.
I like this frosting, I really do. The lemon curd cuts nicely through it and the extra blueberry puree spooned on top adds another sharp and fresh note.
I think they are perfect for spring. And my happy testers agreed.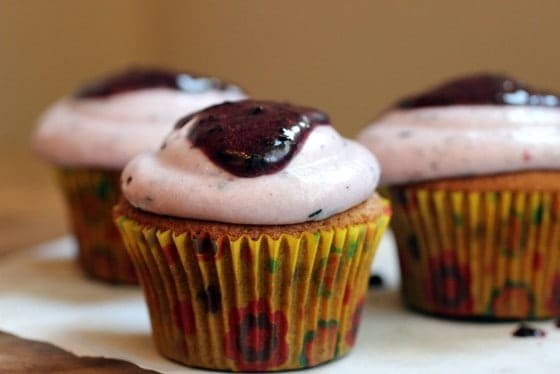 ---
Related recipes you might like:
---
Let me know in the comments below if you made this recipe and loved it and if you had issues so we can troubleshoot together. I love to hear what you think, always. Thanks for being here. It's much appreciated.
You might also consider subscribing to our FREE email series to Boost your Home Baking Skills! And our regular newsletter.
And let's connect via Facebook, Instagram, and Pinterest.
Print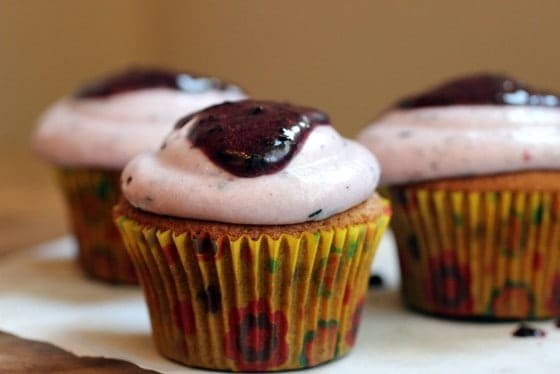 Blueberry Lemon Curd Cupcakes
Wonderfully lemony, they have white chocolate in the batter and fresh blueberries in the frosting.
Total Time:

3 hours 10 minutes

Yield:

12 cupcakes
For the cupcakes:
½

cup

chopped white chocolate

½

cup

water

2 ½

cups

all purpose flour

1 teaspoon

baking soda

1

cup

unsalted butter, at room temperature

1 ½

cups

sugar

4

large eggs, separated, at room temperature

1

cup

buttermilk or plain yogurt, at room temperature

1 teaspoon

vanilla extract
For the lemon curd:
1

cup

fresh lemon juice

¼

cup

unsalted butter

2 tablespoons

cream

4

eggs

2

egg yolks

1

cup

sugar

¼ teaspoon

salt
A few drops of vanilla extract
For the cream cheese frosting:
1

cup

fresh or frozen blueberries (If using frozen blueberries omit the water)

1 tablespoon

water

1 tablespoon

lemon juice

1

cup

butter, at room temperature

2

cups

cream cheese, at room temperature

3

to

4

cups

confectioners' sugar
Instructions
For the cupcakes:
Preheat the oven to 350ºF/180°C.
Line 24 muffin molds with paper cups.
Over a pot with boiling water, melt chocolate and water. Reserve.
In a large bowl, with an electric mixer, beat butter until smooth.
Gradually add sugar and beat until light and fluffy.
Add egg yolks, one at a time, and mix until well combined.
Add vanilla.
Add dry ingredients in three additions, alternating with buttermilk in two additions.
In a clean bowl with dry, clean beaters, beat egg whites until soft peaks form. With a spatula add to the cake batter in two or three additions, mixing gently until no streaks of white remain.
Carefully fill muffin cups to ¾ of their capacity.
Bake for about 30 minutes, until springy and a cake tester or toothpick inserted in the middle comes out clean.
Let cool completely on a wire rack.
For the lemon curd:
In a medium heavy saucepan, heat lemon juice, butter, and cream, just below the boiling point.
In a large bowl mix eggs, yolks, and sugar to blend.
Gradually add hot lemon mixture, mixing well.
Transfer the mixture back to the saucepan and stir constantly over medium heat until it thickens and leaves a path in the back of the spoon. Be careful not to burn the bottom.
Remove from heat, add salt and vanilla and let cool. Cover and refrigerate. It keeps for 5 days refrigerated.
For the cream cheese frosting:
Process blueberries with water and lemon juice. It will take a few minutes.
In a large bowl, mix butter and cream cheese. Beat until very smooth.
Add 10 tablespoons of the blueberry purée.
Add 1 cup sugar and beat well. Keep adding confectioners' sugar, ½ cup at a time until the frosting is thick enough to spread. Refrigerate for 1 hour.
To assemble cupcakes:
With a small spoon or melon ball scoop, take out a piece of cake the size of a small walnut. Discard.
Pipe or spoon some of the cold lemon curd, filling the hole completely.
Using a piping bag with a wide, plain tip, pipe the frosting on top of the cupcakes.
To serve, spoon some extra blueberry purée on top of the frosting.
Notes
Use raspberries instead of blueberries for a tangier cupcake.
Author:

Paula Montenegro

Prep Time:

40 minutes

Cooling time:

120 minutes

Cook Time:

30 minutes

Category:

Cupcakes

Method:

Baking + stovetop

Cuisine:

American
Keywords: blueberry lemon cupcakes
Cupcake recipe from The Buttercup Bake Shop Cookbook, by Jennifer Appel
Curd recipe from Flour, by Joanne Chang