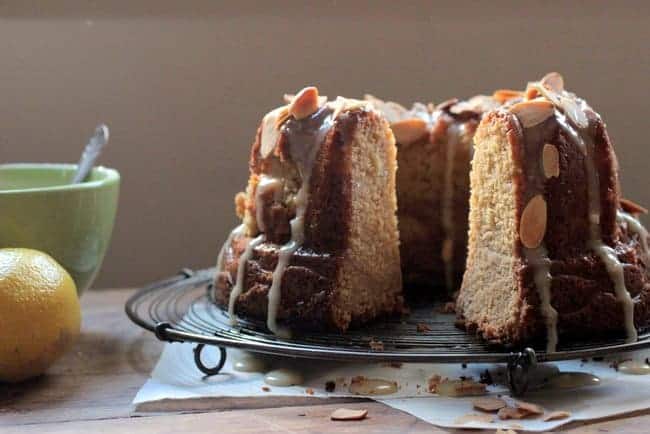 This lemon almond bundt cake was a hit. When I realized food can be used as exchange, or a bribe, it got interesting.
The two sides are that you can get people to help and pay them with food, yet you also get to be the one who knows how to cook and become the designated chef every time – you can bring something sweet tomorrow, right?, and the expected answer is always a yes. The former is what matters today.
This simple lemon almond bundt cake, in appearance only because it has almond cream in the batter and limoncello in the glaze, was my way of thanking my only friend/family who is a doctor and who gets a lot of phone calls from me, about this and that, because, you know, I trust him. A family doctor you can trust, has to be the worst unpaid job ever, the cold fact being that he's on call 24/7 because, you know, we can trust him.
Again, you don't realize it till it's too late. In my case, I'm the only one who can feed him in return, with good stuff, so I like to think I have some leverage.
Though when I have a health situation –always minor mind you- and call him five times in one afternoon, I just fall into the same black list as everyone else. Until I exchange chocolate peanut butter fudge and bundt cakes with him. Then we're all good. Until my next string of calls.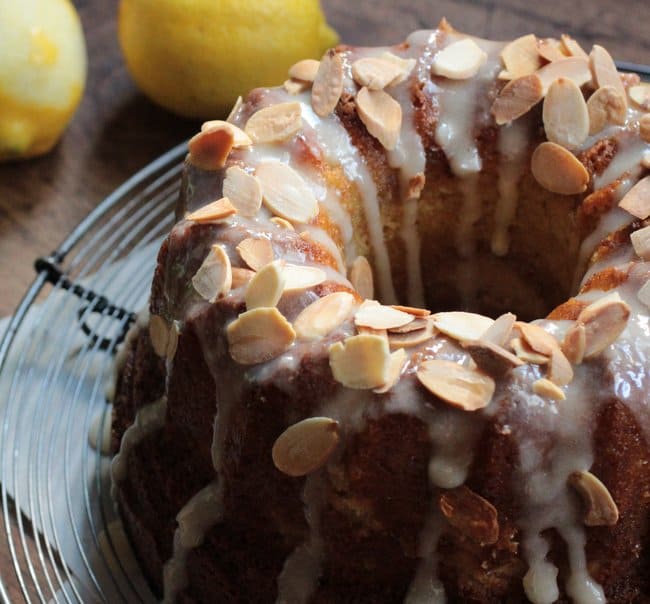 We have a celebration here today.
The Bundt a Month group turns 1, and we were asked by it's founders,
Lora
and Anuradha to bring a birthday cake. I know what you're thinking, this rustic looking bundt cake is not exactly party material. Where are the sprinkles? The fluffy frosting? It should
at least
have some chocolate in it.
.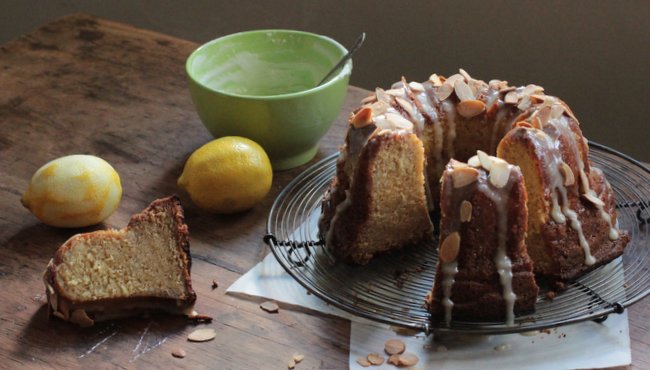 Let me explain. My favorite of favorites chocolate cake is the one with red wine. I already made it a few months ago with a homemade raspberry liqueur and wine, and also a dozen other times with white wine, some red some white, strong cabernets and mellower rosés. You name it. It's still ranks as my first choice, if I had someone making my birthday cake for me, which never happens – refer to paragraph 1.
.
It turns out my idea of a party cake is more about flavor than glitter. My first idea for this cake was to make an almond swirl, which is a rather stupid idea if your swirling mixture is the same color as your batter… well, I was going through a rough month, clearly explained by the fact that I exchanged this lemon almond bundt cake with my friendly doctor – again refer to paragraph 1.
But the flavor! There's frangipane, not just almonds.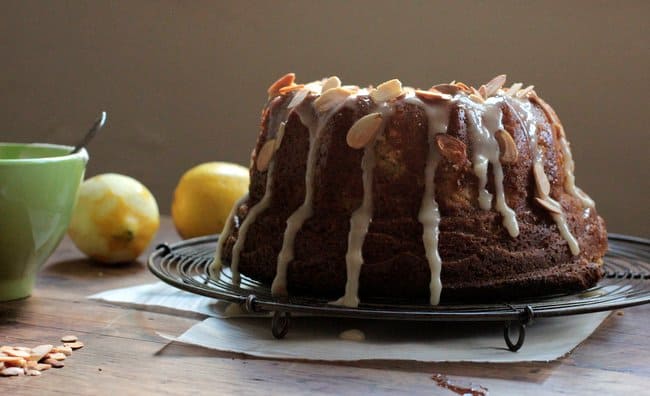 Almond cream is almond meal (or almond flour) with powdered sugar, eggs and butter. Used by the French a lot in their desserts, my favorite being pear pies. Though on occasion I change the almonds for walnuts and baked things like chocolate swirl walnut pound cake or fresh fig walnut pie with graham cracker crust, I feel most fruits pies can be assembled with a good sweet dough and a layer of frangipane.
The
limoncello glaze is optional, but why on earth would you do that? Use lemon
juice if not a fan of licor glazes, but don't expect me to understand…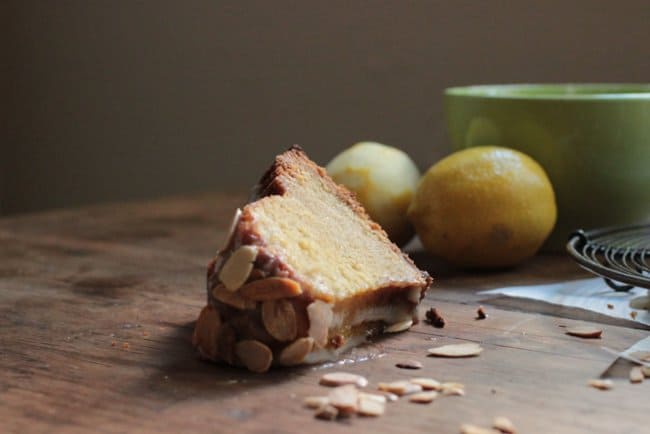 Print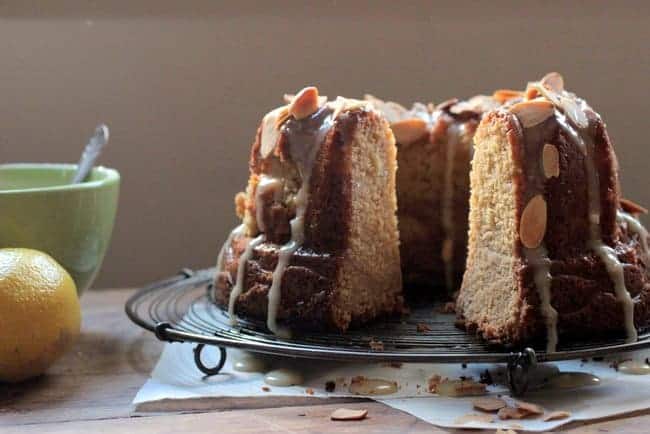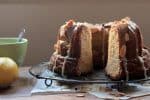 ---
Scale
Ingredients
For the almond cream (frangipane):
¾ cup

almond paste ** (room tº)

1

egg

2 oz

55g unsalted butter, room tº

⅓ cup

ground almonds
**For the almond paste:
1 cup

almond flour (or ground almonds)

1 cup

powdered sugar

1

egg white
For the lemon cake:
12 oz

340g unsalted butter, room tº

3 cups

600g sugar

5

eggs

3 cups

420g all purpose flour

1 teaspoon

baking soda
Pinch of salt

¾ cup

180cc whole milk

1 teaspoon

vanilla extract
Zest of

2

lemons

½ teaspoon

pure lemon extract

½ teaspoon

pure almond extract
A few Tbs ground almonds (for coating pan)
For the glaze:
1 cup

powdered sugar

2

or 3 Tbs lemoncello (or lemon juice)
Sliced almonds (toasted, optional)
---
Instructions
For the almond cream:
In a bowl, combine almond paste**, egg, soft butter and almonds until well mixed.
Keep in the refrigerator.
**For the almond paste: In a food processor mix almonds and sugar. Add egg white and pulse until it all comes together. It will be dry and thick. Keep refrigerated.
For the almond cake:
Preheat oven to 350º. Grease well a large bundt pan and coat with ground almonds.
Sift flour with baking soda and salt. Reserve.
In a large bowl (stand mixer or with an electric hand mixer), beat butter with lemon zest for 1 minute. Add sugar gradually while beating at medium/high speed for 3 minutes.
Add eggs, one at a time, beating until well incorporated after each addition.
Add vanilla, lemon and almond extract and mix to combine.
Add dry ingredients in three additions, alternating with milk in two additions.
Pour half of the batter in the prepared pan. Add half the frangipane and swirl with a knife. Repeat with remaining batters.
Bake for about 45 minutes, our until a tester in the middle comes out clean.
Let cool for a few minutes and carefully unmold onto a wire rack, and let cool completely.
Glaze and sprinkle with sliced almonds, toasted.
For the glaze:
Mix sugar and limoncello until completely smooth.
---
adapted from this orange chocolate marble bundt cake recipe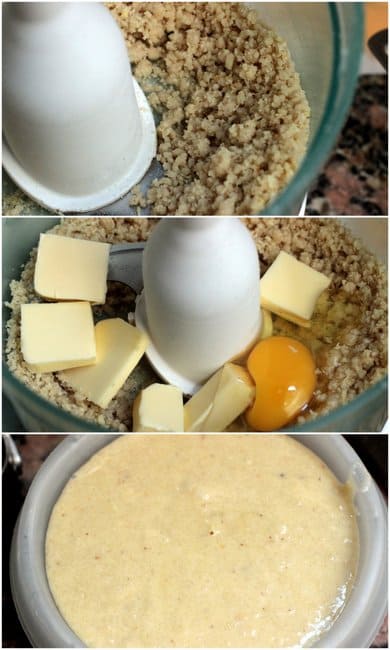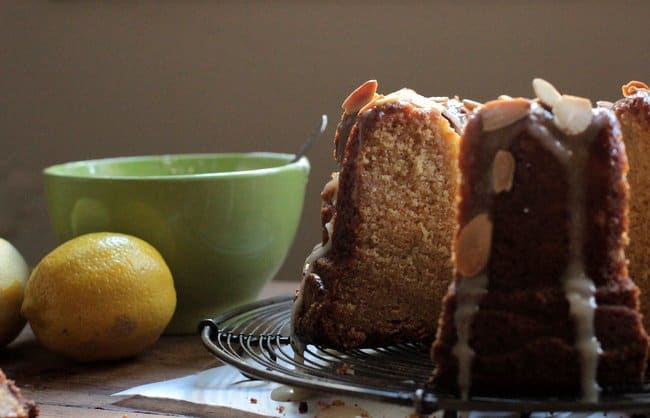 ---