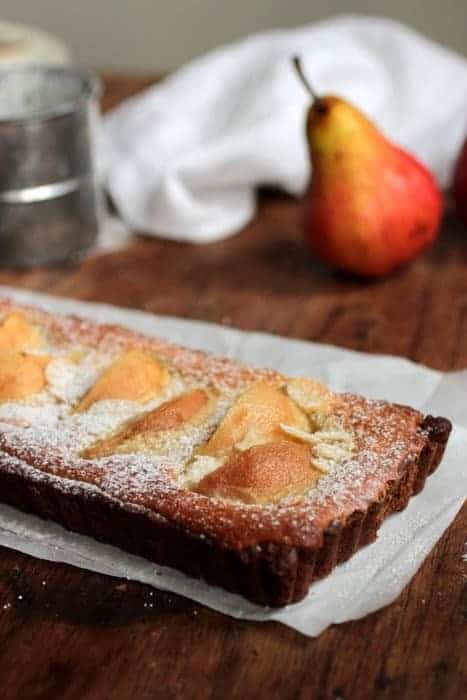 From what I hear autumn is a very popular season, the weather, the clothes, the colors, crisp air all contribute to a good mood, and the idea of getting ready for nesting season and the holidays, which, you do know, will be here before you can say pear almond graham cracker tart. Me? I officially welcomed spring today, as all of us south of the equator did, and though we were all in great spirits and ate a memorable barbecue outside over at a friend's house, it was grey and oh so cold!, ending with a drizzle that has gone on for most part of the afternoon. So much for spring and picnics.
We had warmer days in the middle of winter.
.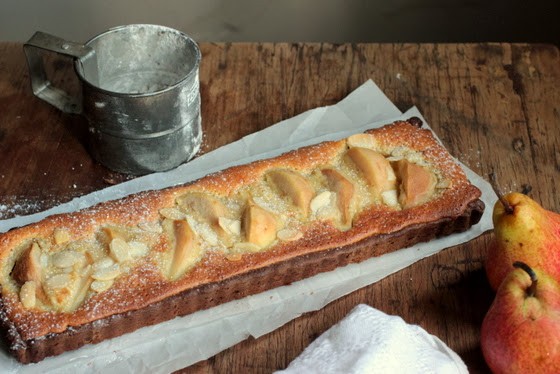 So, it turned out to be the perfect weather for the fall foods sunday supper theme today, where our attention will turn to apples and pears, pumpkins and pies, root vegetables and the end of berry season. Our host is the wonderful Soni of Soni's Foods, who is going through a rough moment, and we're all keeping her family in your thoughts.
Ever since 
making the two versions of
homemade graham crackers
I've been using the dough 
as a base for tarts, among
other sweet things
.  
The fig and walnut pie was such a hit – especially with me – I used it again in a recipe I made for a independent spanish food magazine, a project three blogger friends from buenos aires 
started some months ago. 
It was about time I shared it with you, and who knew it was going to stay in my already-made-but-want-to-wait-till-fall-to-post
list. Well, it's not technically fall here, but I know most northeners reading this will enjoy it, the cinnamon crust holding a layer of almond cream – an ingredient I absolutely adore in fruit pies – and juicy pears, with some skin still on. If you like cooking them in spiced wine first, they are great for a holiday table.
.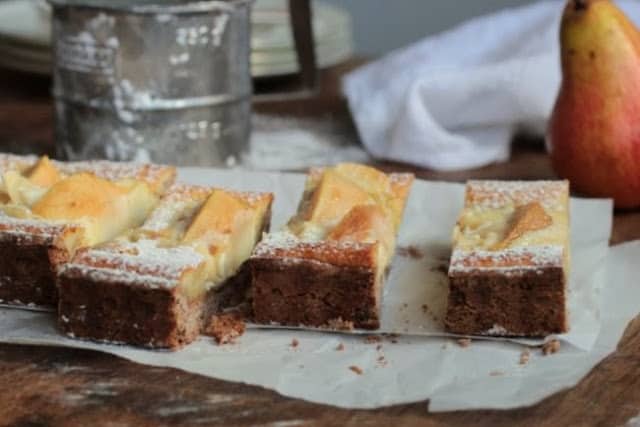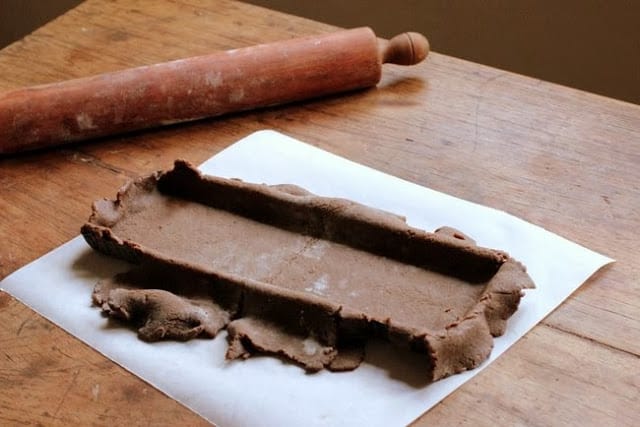 It's an 
almost last minute stunning dessert if you have the cookie dough and almond 
cream made ahead of time.
Apples work great here too, as do plums. If you're feeling festive, use some pistachios instead of almonds in the cream, that would be just amazing, and you can invite me for a cup of coffee and a slice of tart.
.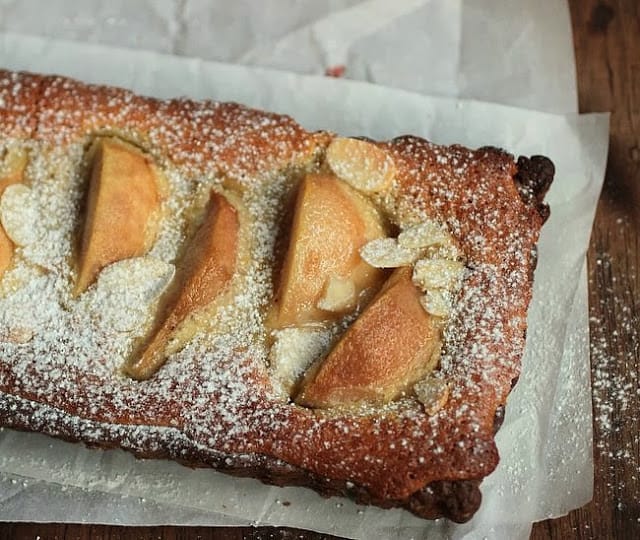 Print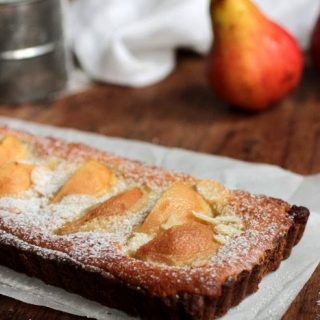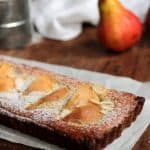 Pear Almond Graham Cracker Tart #FallFoods #SundaySupper
---
Scale
Ingredients
½

recipe graham crackers dough

1 ½ cup

s almond cream

3

pears

2

Tbs sliced almonds
Confectioners' sugar (for serving)
---
Instructions
Preheat the oven to 350º. Have ready aluminum foil and pie weights (I used raw lentils), and a 3×7-inch rectangular tart pan with removable bottom.
Cut pears in half, core them, peel half of them, and cut each half into thirds.
On a lightly floured surface, roll graham cracker dough to ¼ inch thickness. Line the pan, cover with aluminum foil and fill with weight.
Bake for 15 minutes, carefully remove foil and continue baking 5 more minutes.
Spread the almond cream in the bottom of the dough, with the aid of a spoon and careful not to tear the dough. Put the pear chunks on top in a row and pressing lightly down.
Bake for 15 minutes, sprinkle with the almonds and return to the over for 10 more minutes, or until the pears have started to soften and release some juice, and the almonds cream is puffed.
Let cool on wire rack, remove from pan onto a serving platter, and sprinkle with confectioners' sugar before serving.
---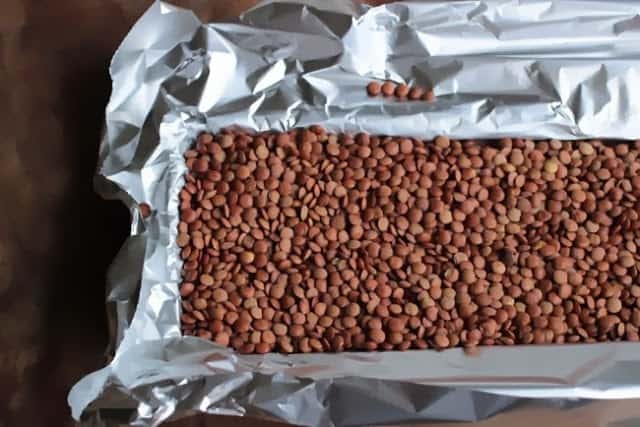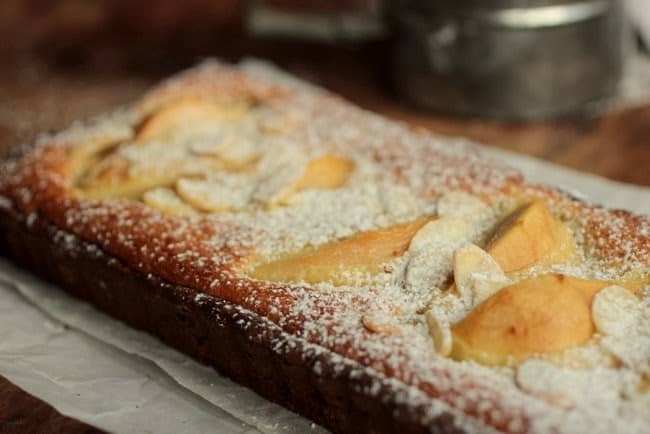 Looking for Fall ideas? We have 50+ recipes for you today!


Amazing Breakfasts, Brunches, and Breads
Outstanding Soups, Starters and Sides:
Comforting Main Dishes:
Decadent Desserts:
Tasty Drinks:
---