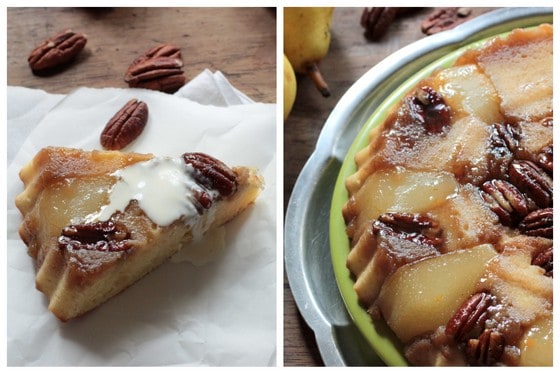 The seasons are usually nice to me , strawberries and blueberries most of the year, asparagus and fresh peas in the fall, or the evasive fig popping up unexpectedly.
But no rhubarb, not even during the right season. Or kale for that matter. Though I know I've seen them occasionally in the last years, they're not a staple here, probably never will be, so I doubt anyone will take the trouble to grow them so that I can have them for my posts. The nerve.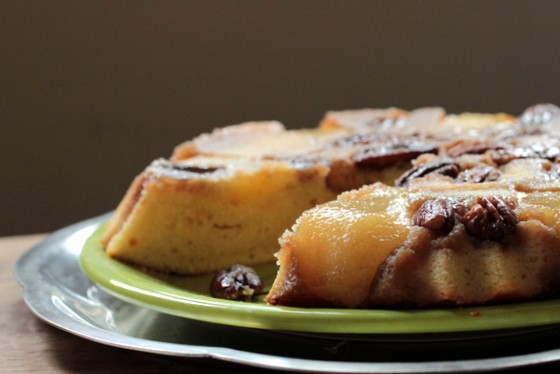 If I have a garden in the near future I will have dogs, rhubarb and kale. But today I had no choice but to change the fruit in the cake we're making for our
Tuesdays with Dorie
group. And since it´s fall here, and very noticeably with colder days (finally!), multicolored leaves and the sweetest butternut squashes of the year, I decided to use the seasonal pear and add some pecans. Very traditional I know, but then upside down cakes are just that.
This pear pecan upside down cake, a recipe by contributing baker Johanne Killeen found in the book
Baking with Julia
, is basically a butter cake enriched with sour cream and a topping of caramel and fruit.
What I wasn't expecting is for it to be so good. So ridiculously rich both in texture and flavor, the crunchy caramelized pecans and smoky flavor of the soaked cake and the pears, adding that perfect aftertaste that has you wanting to stay in that moment a bit
longer before it disappears.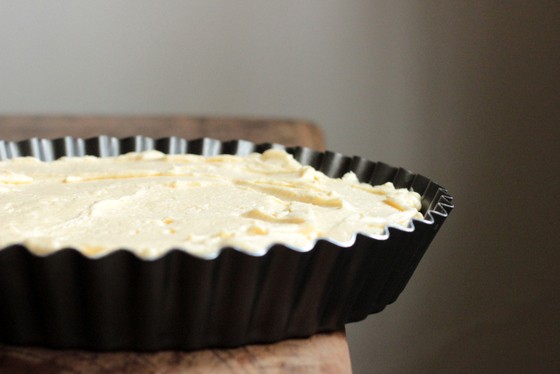 As with any plain cake that has added fat in the form of creamy soft cheese, be it sour cream, mascarpone, creme fraiche or the like, the moistness is incomparable.
A few days ago I read
Orangette's latest post
about a cream cheese pound cake, and immediately thought about this pear pecan upside down cake when she writes how surprised she was with it, and describes it as a quiet sensation. It is just that. Leave it to Molly to describe things effortlessly, just like I also told you in
this chocolate swirl pound cake post
.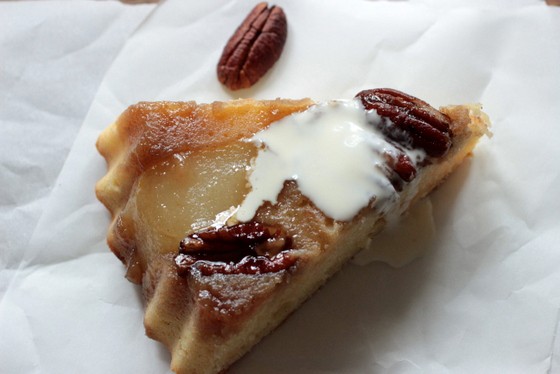 I usually taste what I bake, maybe have a half slice of it. Then I give it to my neighbor or any friend or colleague who happens to stop by, or take it over to friend's house if we´re having a dinner or barbecue. This cake was hard to part with which is unusual. I enjoyed it with coffee twice before I parted with it. And I didn't really, since I froze some, for research purposes of course.
Though I don't know how the pears will hold up, the cake will probably be even better. Just like it happens when you freeze a cheesecake. It becomes even creamier.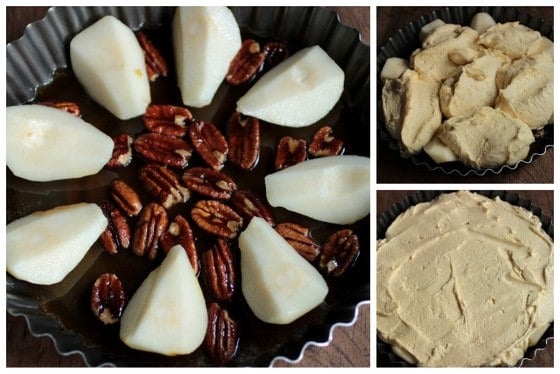 Go check the recipe. I made it exactly as printed, except I used 2 peeled and cored pears cut into fourths each, and a cup of pecans. Oh, and I simply topped the warm cake with cold cream directly from the container.
And to find out what the rest of the group did with this recipe,
go to this page
.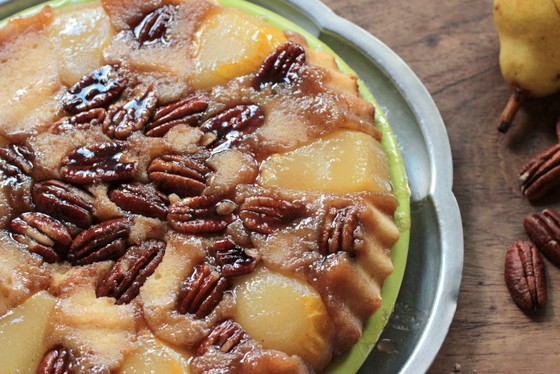 Today´s 5 related recipes worth looking at:
Pear Crisp with Maple Pecan Crumble from Whipped
Caramel Pecan and Pear Pudding Cake from Dessert for Breakfast
Sweet Pepper Upside Down Cake from No Recipes
Strawberry Upside Down Cake with Cardamom from Joy the Baker
Pear, Blue cheese and Candied Pecan Salad from Table for Two
---