The perfect sweet shortcrust pastry or sweet pie crust is not hard to make if you follow the step-by-step recipe in this post.
Homemade sweet pie dough makes all the difference, no matter what type of pie or tart you make!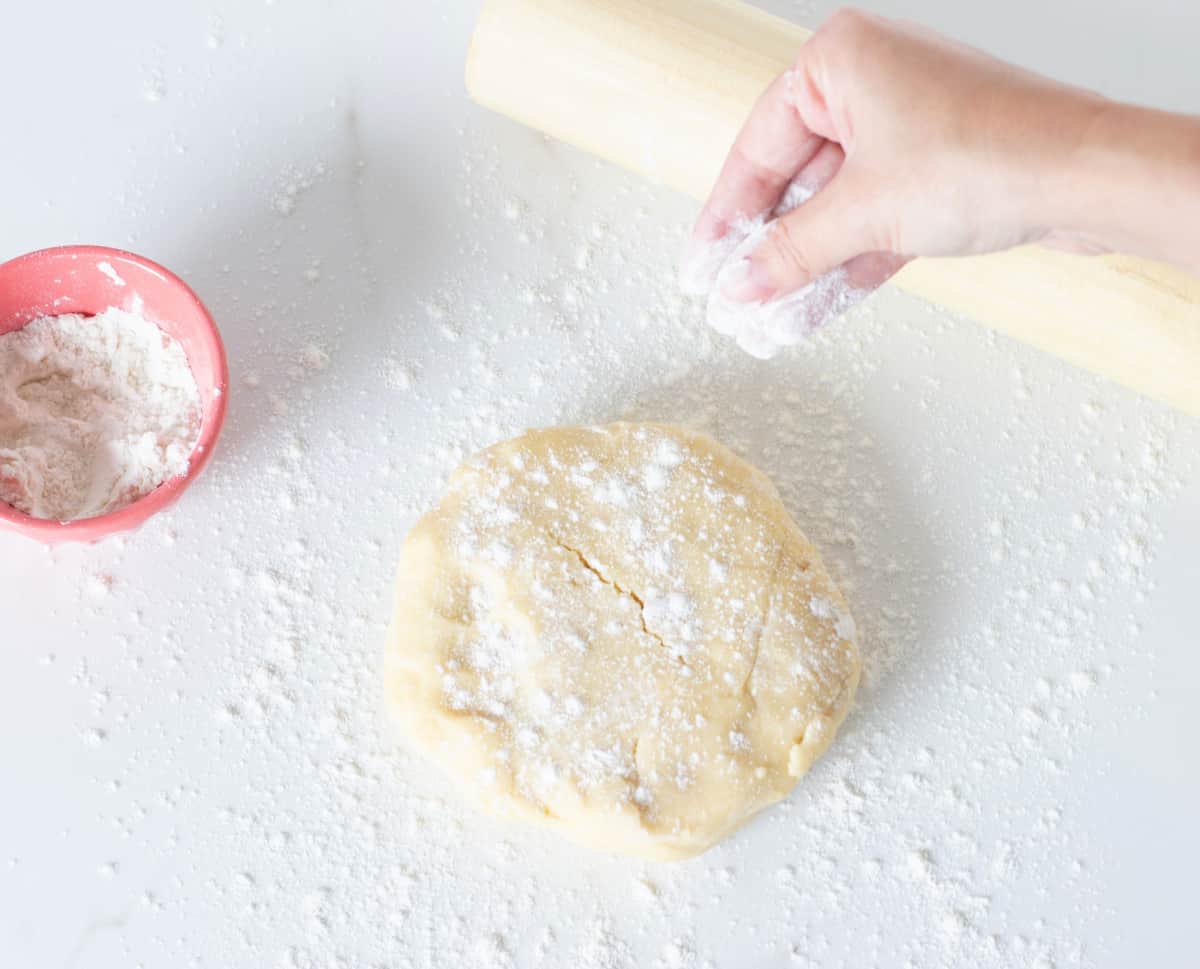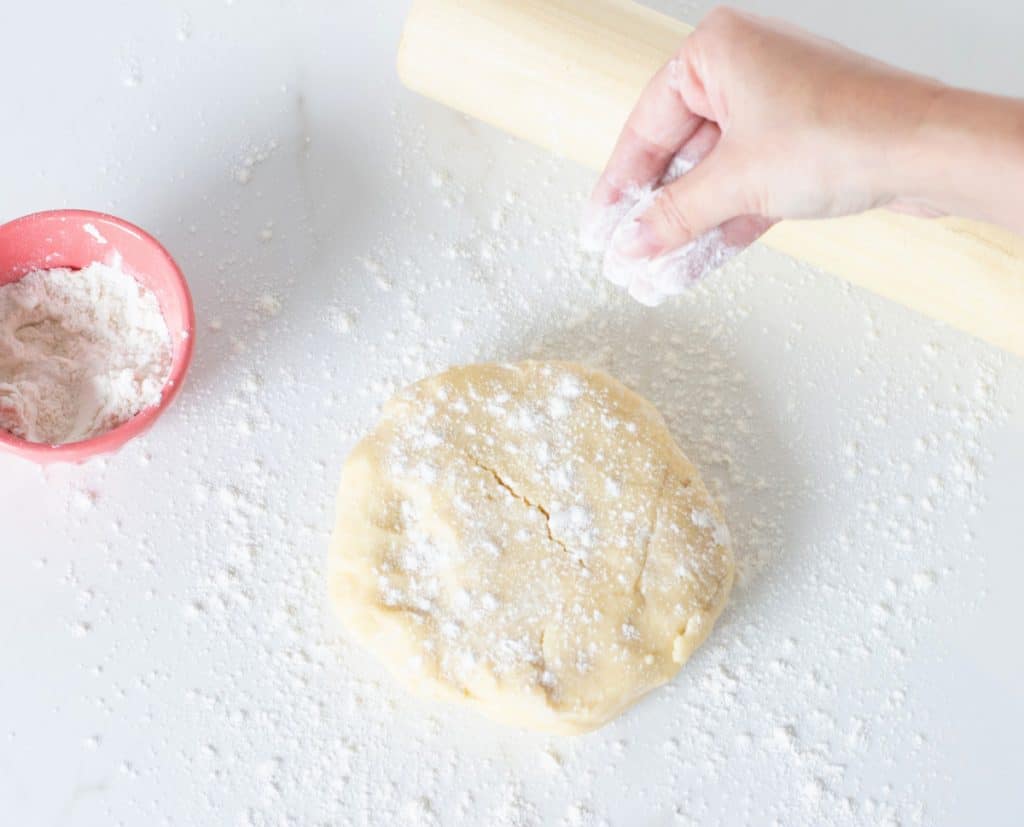 Do you make your own pie crusts? If you don't I urge you to give it a try soon. It makes a huge difference once you master the details that make a great sweet dough.
Also known as pate sucrée in French (which means sweet dough), or sweet shortcrust pastry, this is my favorite sweet pie crust recipe.
What is shortcrust pastry?
Shortcrust means that the fat content (butter in this recipe) is high, and the baked result will be flaky and crumbly.
The step-by-step recipe here is made by hand. Because I strongly believe that learning this way is where we learn the most. If you know how to make pie crust by hand making it in with a mixer is a piece of cake. But if needed, you will always be able to make it with a bowl and a spoon.
You can make it in a stand mixer with the paddle attachment, but be very careful not to overwork it once you add the flour.
If you mix it too much the gluten develops and that is not good. The dough will not stretch as it should and the result will not be tender and flaky. But if, for example, you need to make a large quantity, the stand mixer is the way to go.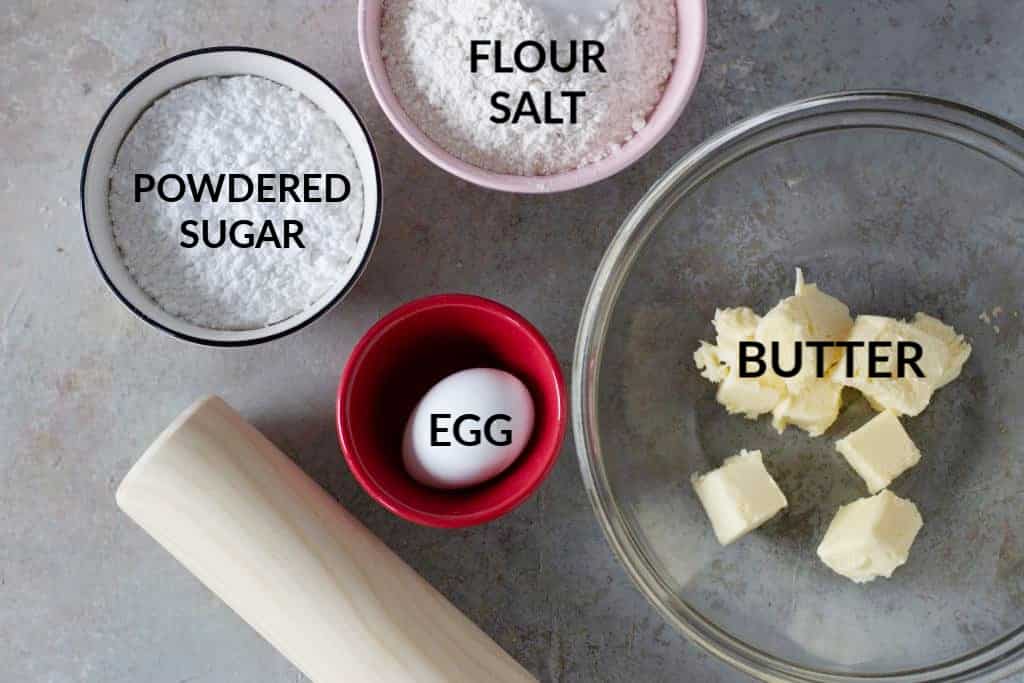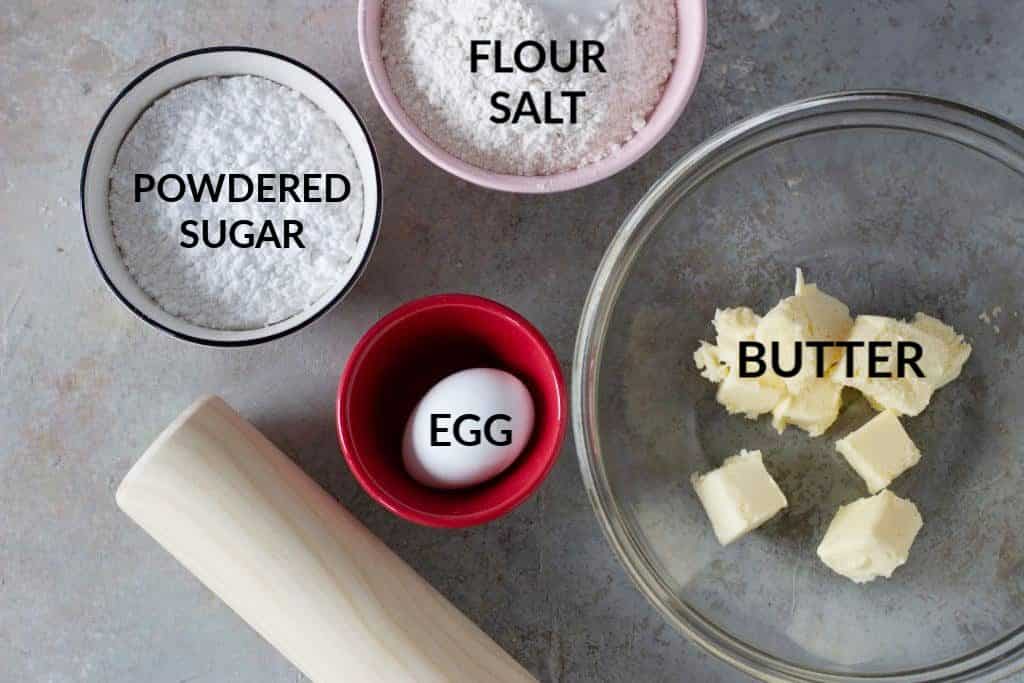 Ingredients in a sweet shortcrust pastry.
As usual with popular recipes, each one might have slight variations in the ingredient ratio.
And sometimes in the ingredients themselves (image above). Some use whole eggs, some use only yolks, some add ice water. Rest assured that the results are amazing.
Butter: unsalted butter is used, and is my first choice. I know some persons use half shortening for flakiness, but I think that the all-butter flavor is unmatched.
Flour: the most common is all-purpose flour, but, depending on the country cake flour is used too. The latter is more refined (more powdery) and sometimes has a very small amount of cornstarch or a similar product, making it very smooth.
Sugar: powdered or regular sugar can be used. I am partial to the first option because it makes for a smoother pie crust since it is already a fine powder.
Eggs: some recipes use whole eggs and others only yolks. I like the simplicity of using a whole egg, but the all-yolk version will be crisper, have more of a crunchy feeling, after it is baked.
Salt: a pinch of salt is recommended in my opinion, as it enhances the flavors of the other ingredients.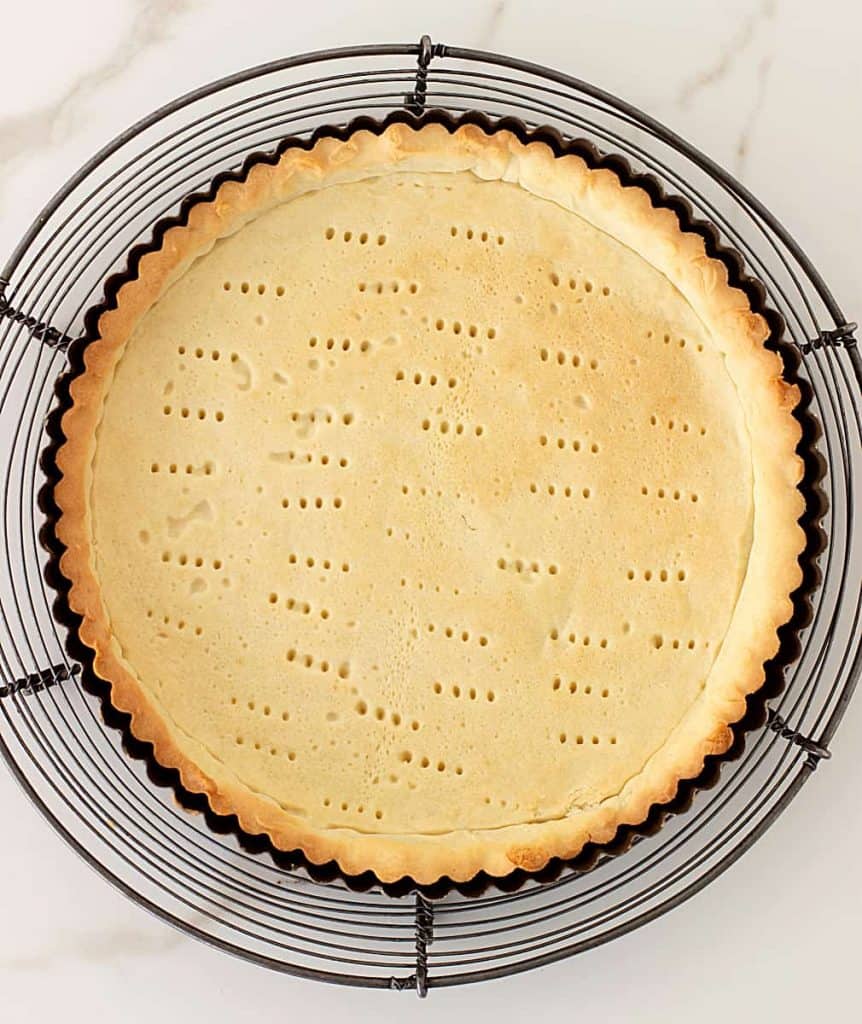 So, what are the steps for making homemade sweet pie crust?
Use a large bowl. I like using glass, but any material that is apt for food works.
The butter must be at room temperature, smooth and soft (image 1).
Add sugar and mix with a spatula (images 2) or a wooden spoon. Make sure the sugar is incorporated into the butter. You can aid yourself with a spatula sliding it downwards (image 3).
Add egg and mix. I change to a fork or a wire whisk (image 4).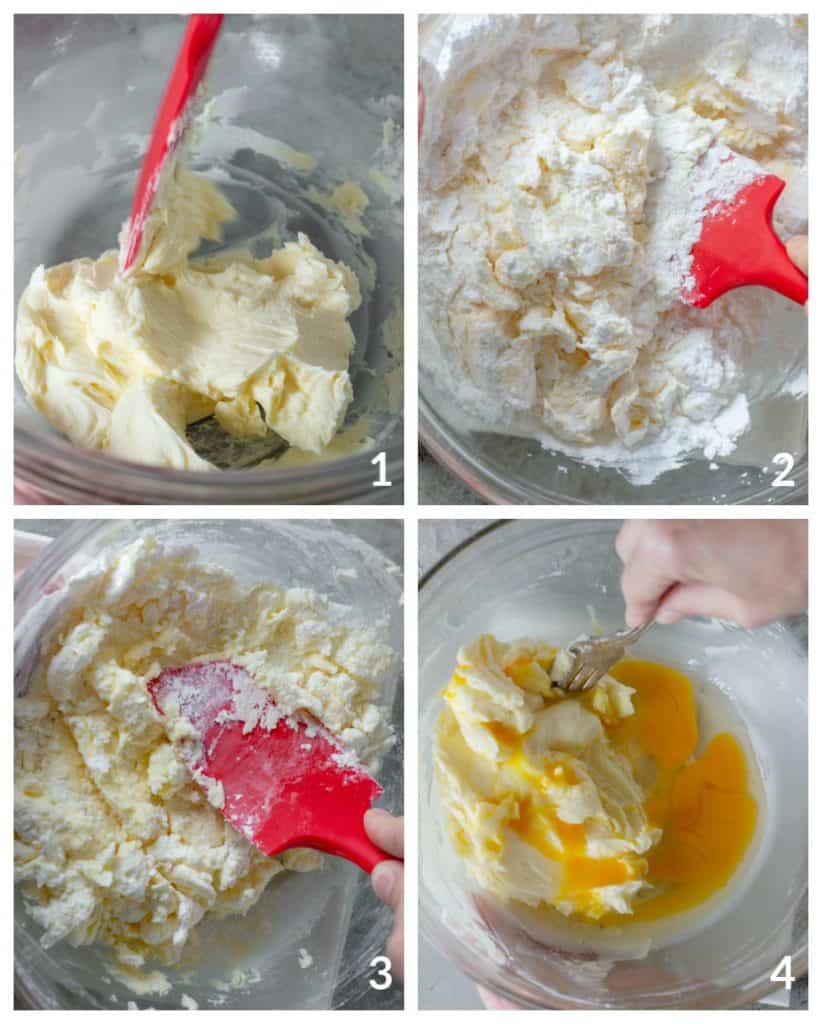 The mixture will be soupy and lumpy at the same time (image 5) and you don't have to mix until it's completely smooth.
Add the flour (image 6) and mix with the fork until no dry spots remain (image 7).
Turn the shaggy dough onto the counter and start gathering it together with your hands (image 8).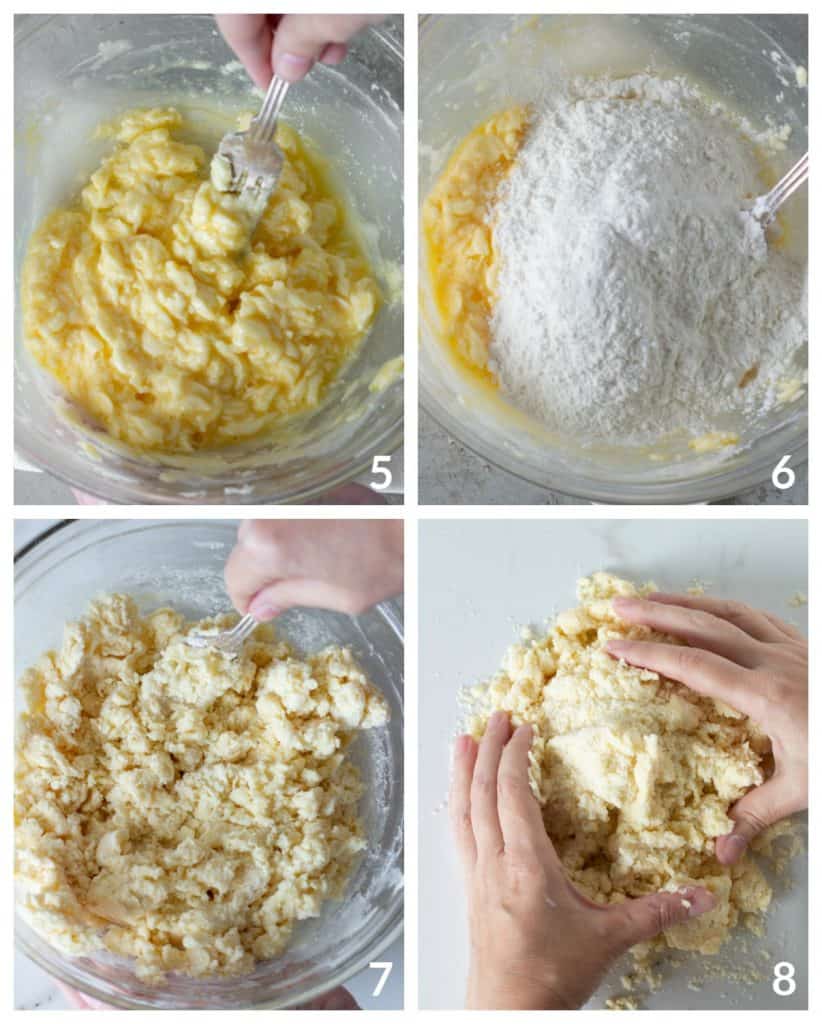 Now you have to gather the whole mass into a ball. But be careful not to touch it more than necessary.
If you find that there are too many dry spots, don't squeeze it too much with both hands, but aid yourself with the thick part of your hand, sliding it downwards (image 9) so that the flour and butter come together with the least amount of touching (image 10). You don't want to warm the dough more than necessary.
Flatten the disc of dough and wrap it in plastic (image 11).
I use plastic sheets, the ones used for freezing items that need to be kept separated (image 12).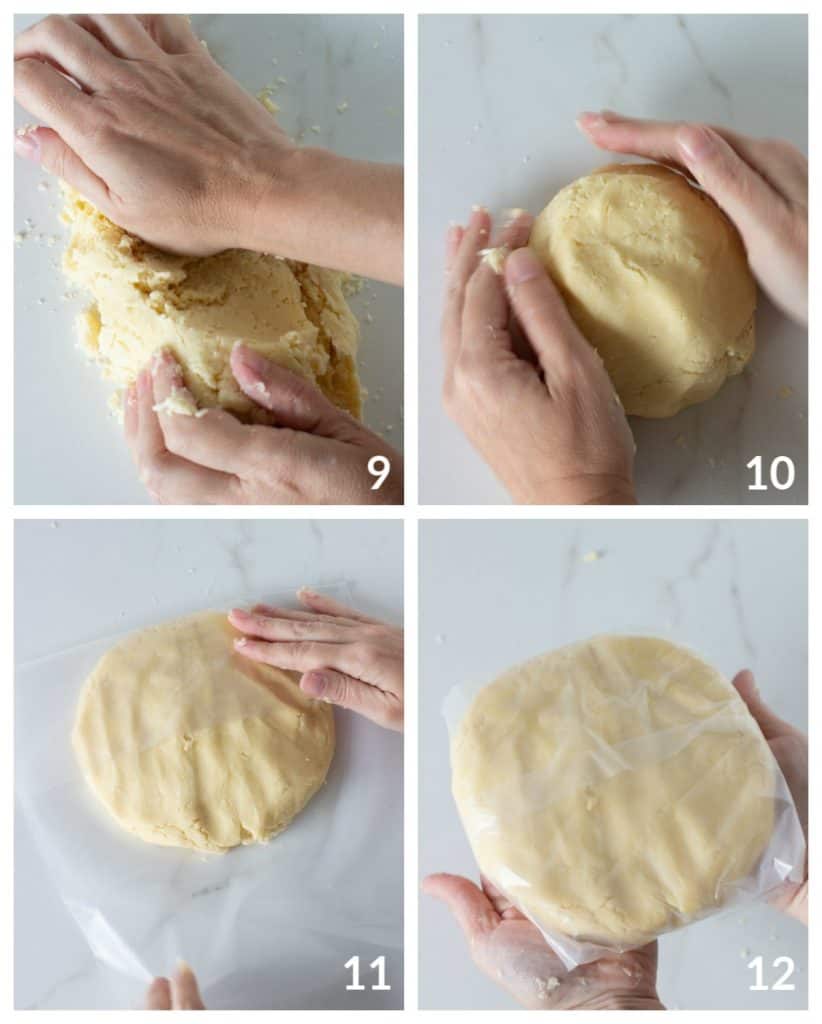 Resting the sweet shortcrust pastry.
The dough at this point needs to rest in the refrigerator for 1 hour or in the freezer for 20 minutes.
This is a crucial step if you want the pie crust to roll easily and be tender and crisp after baking.
Video – Watch the video below with the step-by-step instructions for making Sweet Shortcrust Pastry from scratch.
Defrosting a frozen pie dough.
If the dough has been frozen you have to take into account that the best way to defrost it is in the refrigerator, if you want to ensure the best result. That will take hours. I do it from one day to the other. Simply put the wrapped packet with the frozen dough in the fridge.
If you're in a hurry you can defrost it at room temperature. Let it come to a point where it is very cold and barely softened.
Again, be careful it doesn't get too soft because it won't give you the tender and flaky result you want. It's best that you roll it out while still very cold.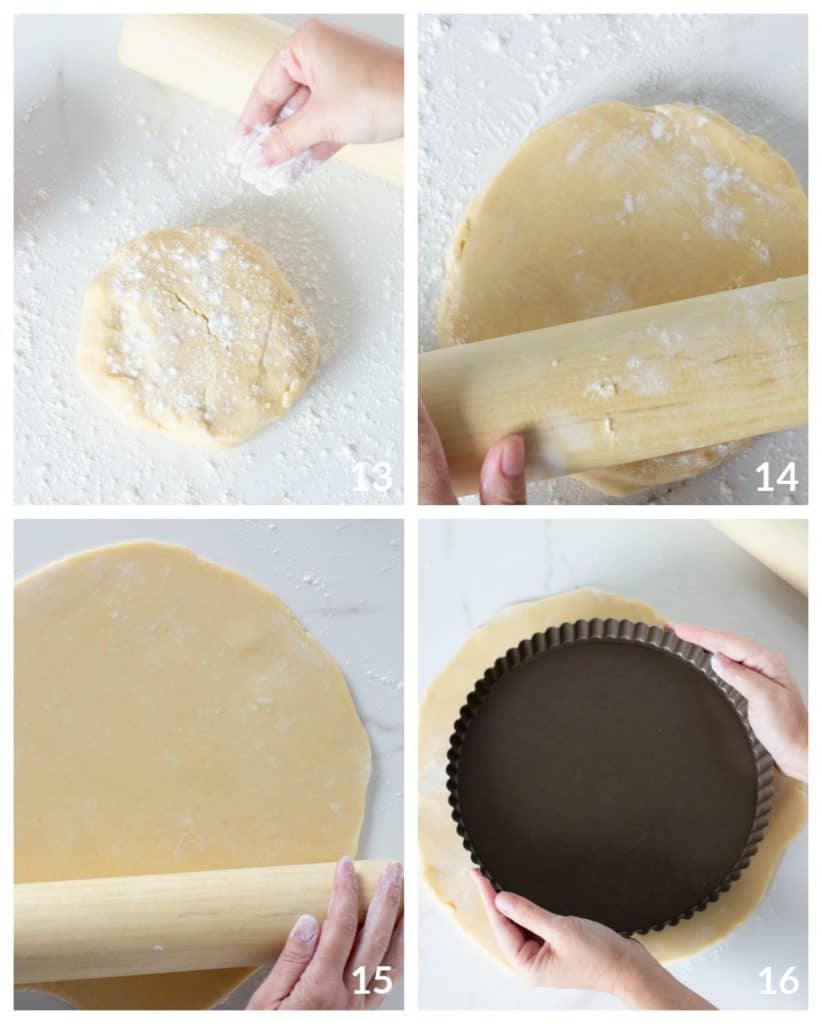 Rolling this sweet pie crust.
Once the dough has rested, you're ready to roll it. Make sure the pie dough is softened enough to be rolled but still cold, as cold as possible.
Lightly flour a clean counter or surface, unwrap the cold dough (image 13, above).
Start rolling (image 14, 15) and make sure you do a quarter turn often (I do it to the left), that is you roll a few times and then lift the dough and turn it a little to the left. That will ensure that the dough never sticks too much to the counter and, if it does, you fix it adding some flour.
But you don't roll it a lot without checking if it needs more flour. Because if you do, it will soften too much, stick to the surface and it will be difficult to lift it without tearing it. And also, it will probably mean that the dough has softened too much and we don't want that.
Roll it until the dough is a few inches larger than the pan you're using. Measure it so you have enough dough to go up the sides (image 16).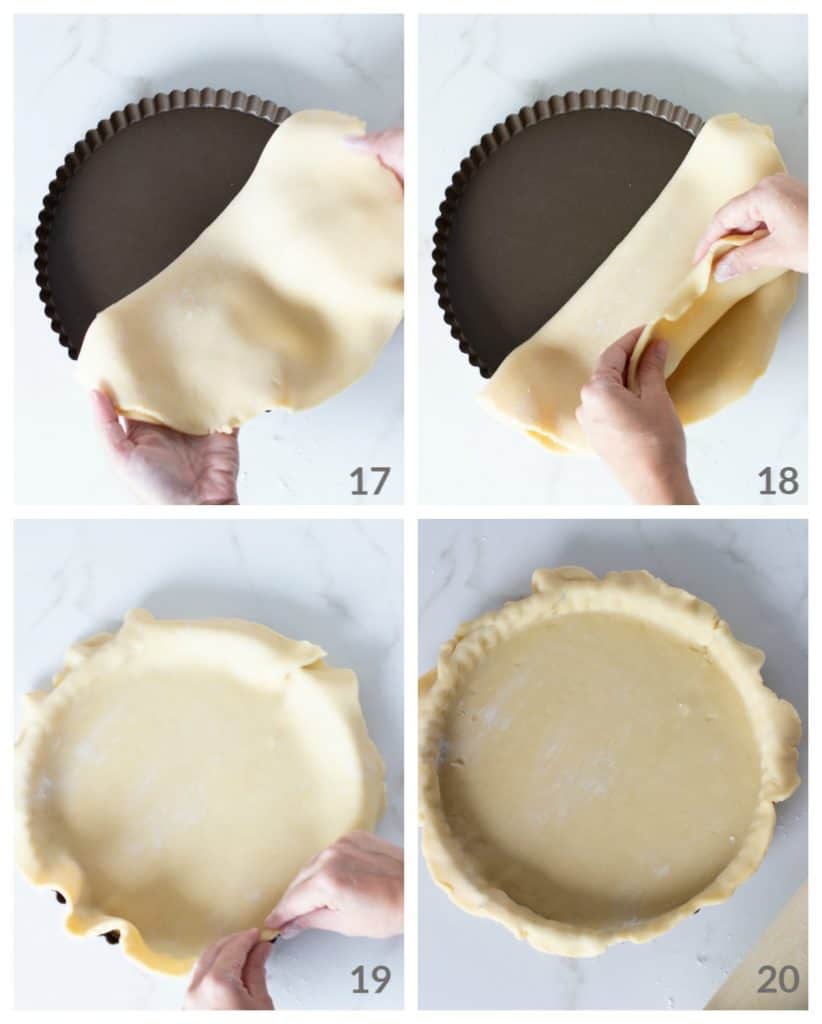 Lining the pie or tart pan.
This sweet shortcrust pastry or pie dough is good for any type of pie pan.
I use metal ones with removable bottoms a lot. With taller or shorter sides depending on what type of recipe I'm making.
For the purpose of this post, I'm using a tart pan which has shorter sides than traditional American pie pans. That is because I'm making this amazing Apricot Raspberry Tart.
Once you have the rolled pie dough to fit your pan (image 16), fold it in half and lifting it with your both hands, place it in the middle of the pan (image 17).
Unfold the dough to cover the whole pan, and let it ease itself into the pan, not stretching it to fit. This is very important so the dough shrinks as little as possible during baking (images 18, 19).
Help by adhering it with to the sides with your hands (image 19), but never stretching it, remember that.
The final lined pan will have some excess pastry around (image 20).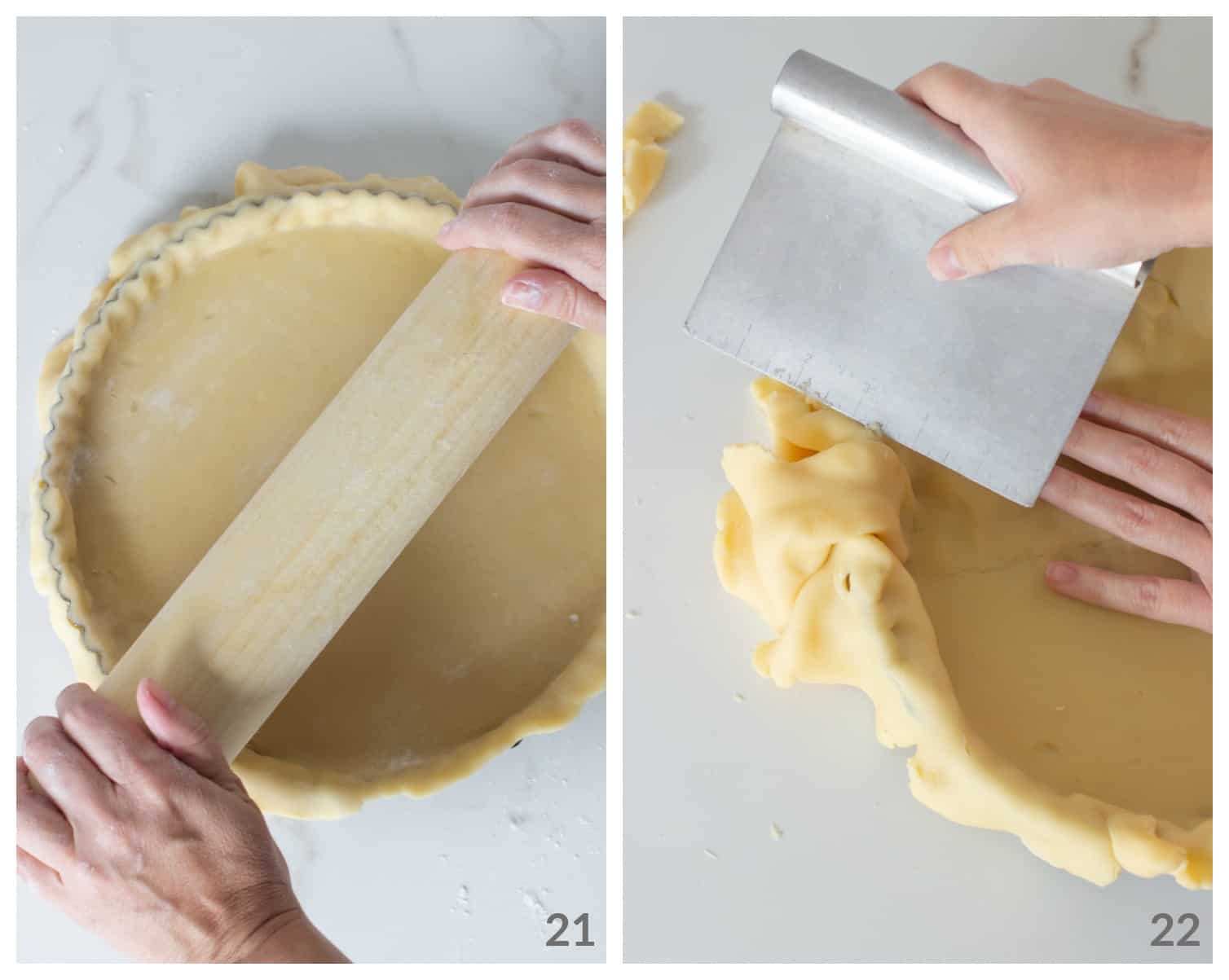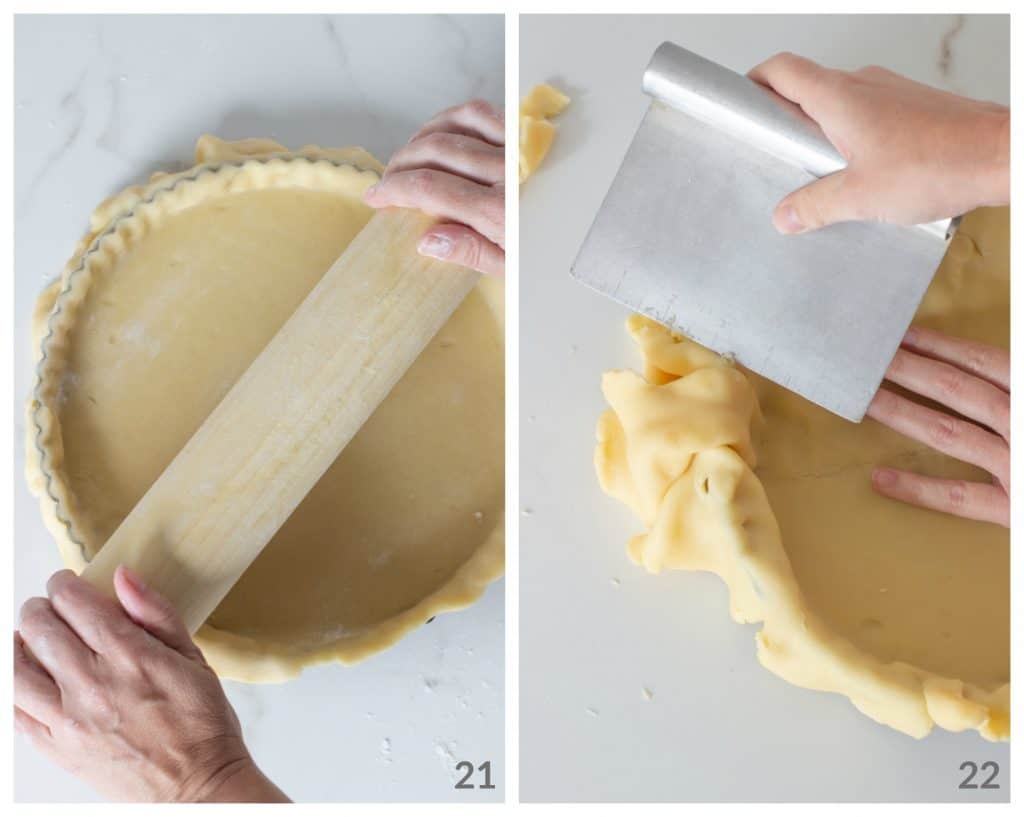 Removing excess pastry:
Rolling pin: my favorite method when using regular tart pans is to use a rolling pin (image 21). Simply roll from one side of the other and the weight of the pin will cut the dough. Remove any excess dough still clinging to the pan and you're set.
Dough scraper or smooth bladed knife: you can also cut the excess dough with a scraper or a knife (image 22). This is a good option but the cut is more uneven than the first option. You will have to finish it by hand, smoothing it.
Video - Watch the video below with the step-by-step instructions for rolling the dough and lining the pan.
Pricking the shortcrust pastry:
Once the pie pan is lined and the excess dough removed, we need to prick the bottom (or dock a pie crust as it's called) of the pan with a fork (image above).
Why do we do this? The dough when baking will try to grow and if not pierced it will puff and that will reduce the amount of space left for the filling.
So piercing the bottom helps it stay put and not puff as much because the air trapped inside will be able to escape through the holes.
This, combined with blind baking, is what we do in order to have a flat and crisp dough.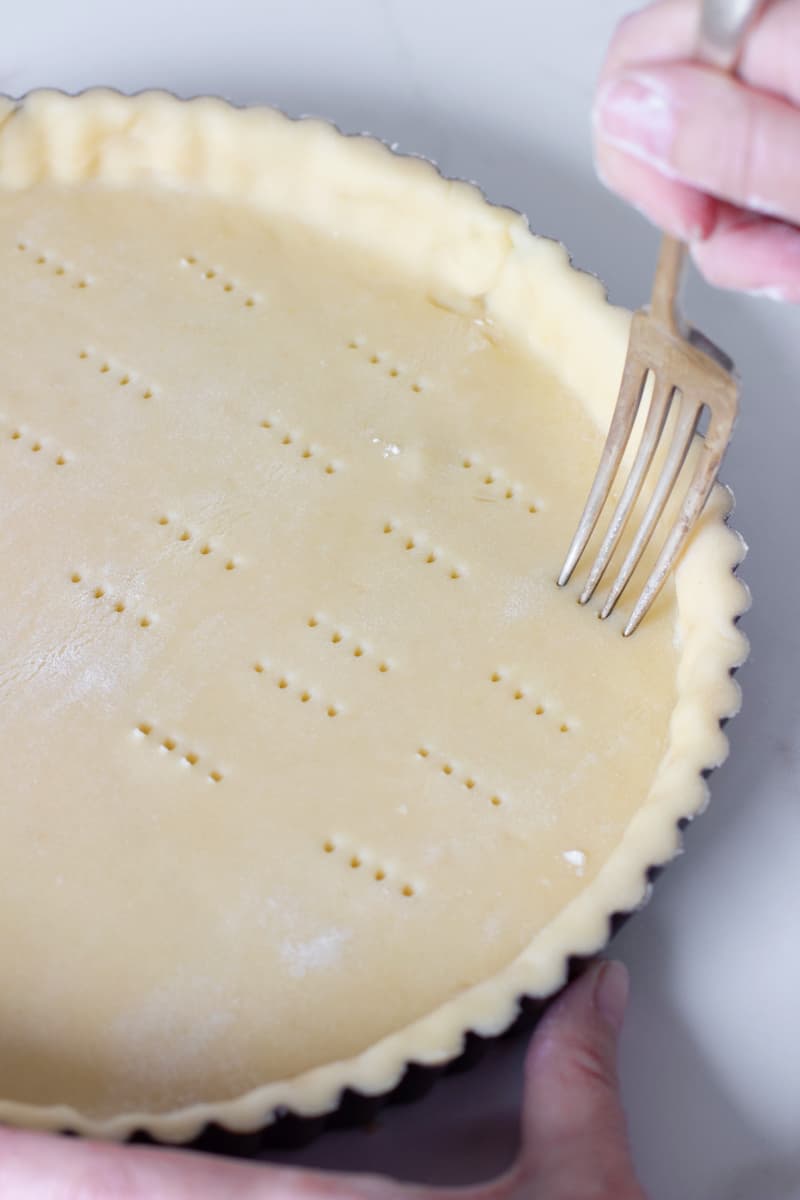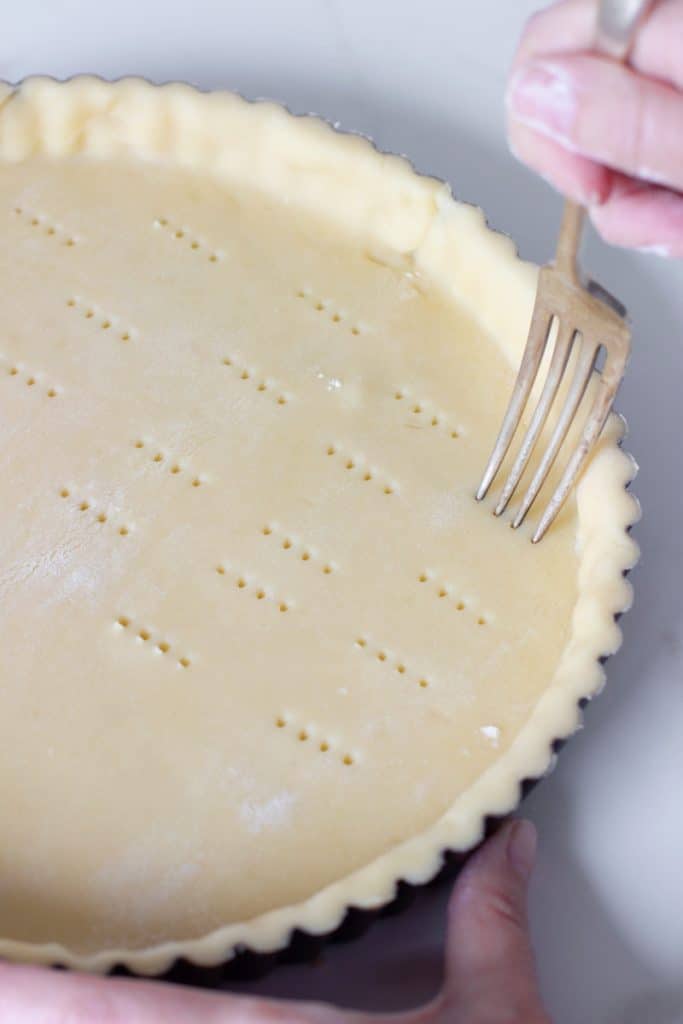 So, what is blind baking?
Blind baking is pre-baking the dough with weight on top. It is called blind because the raw pie dough is completely covered with aluminum paper and weight.
Some fillings tend to seep into the unbaked dough while baking, so this step ensures that the dough develops a layer before the tart is filled and is not soggy after it is baked.
As I mentioned above, it left to chance without piercing and/or blind baking the pie dough will puff as it bakes. We don't want that. We want it to keep the shape and have enough space for the filling.
How to prepare a pie crust for blind baking:
Preheat oven to 350°F and take out the cold dough - having it in the freezer is always my first choice.
Cut a piece of aluminum paper that is larger than the tart pan. Line the inside of the pan by covering the cold dough with it and adjusting it so that it takes the shape of the dough (image 23). You can also use parchment paper, but it's usually coarser and more difficult to make it take the shape of the pan and cover the dough well.
Add weight. I use round ceramic weights that you can buy online (image 24), but you can add any raw grains and legumes such as beans, lentils, rice or even flour (simply fill the aluminum paper with flour or rice or whatever you're using until you have added a layer of weight that will be enough to keep the paper down during baking.
Bake for 15 minutes. It might be a few minutes more or less depending on the type of pie crust, but the idea is to let the dough bake and dry out enough so that we can lift the aluminum paper without it attaching to the raw dough. The paper should lift easily (image 25) and the dough below be half baked.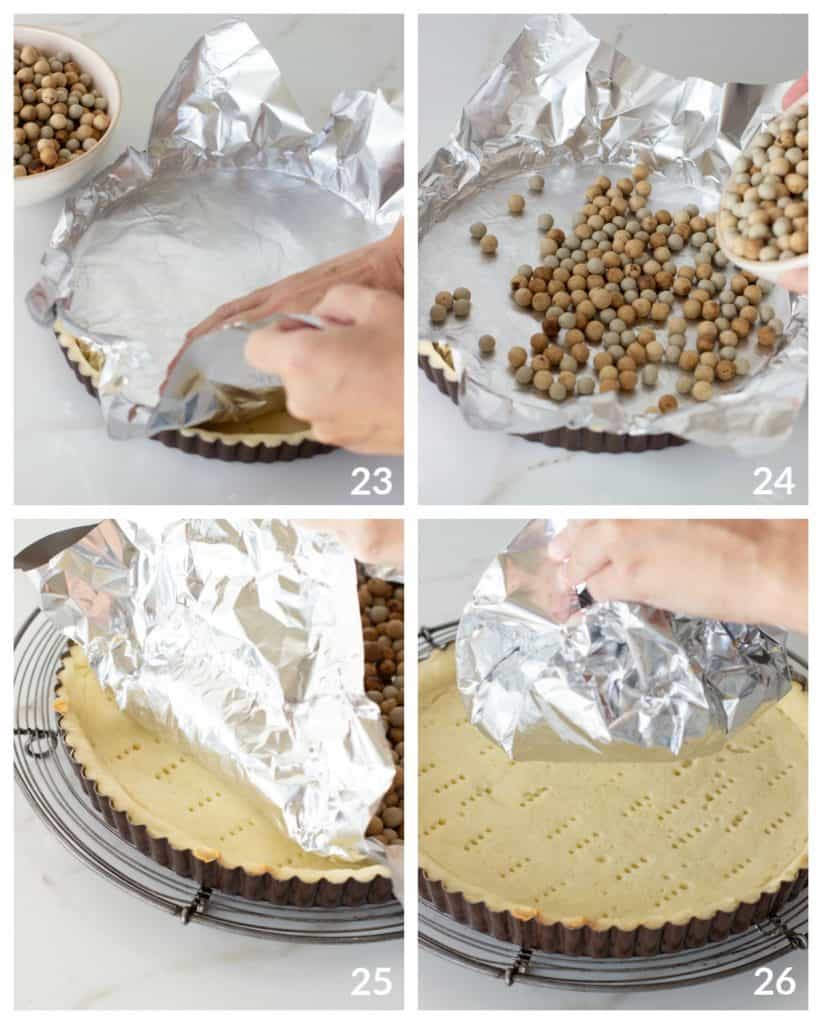 Bake it completely: you can put it back in the oven and bake it completely (image above) which might take 10-15 more minutes. You do that if you will be adding a filling that doesn't require further baking, such as this Lemon Coconut Tart.
Leave it pre-baked: about 4-5 more minutes only after you remove the weight, just as it starts to color. We do this when we'll be adding a filling that needs to be baked.
You can buy ceramic pie weights online.
Pan types and sizes.
This is a sweet tart or pie crust that can be used for any type of tart or pie.
Metal pans are my favorites because they bake evenly and conduct heat better, but ceramic, glass or other types work fine if that's what you use.
This recipe makes enough dough for a 9-inch tart or lattice and deep-dish 8-inch pies.
I have two favorite sweet pie crust recipes: one with more sugar and one with less. I use one or another depending on the filling.
Today I'm posting the sweeter one, the one that I use for most French tarts and that is adapted from master baker Francois Payard.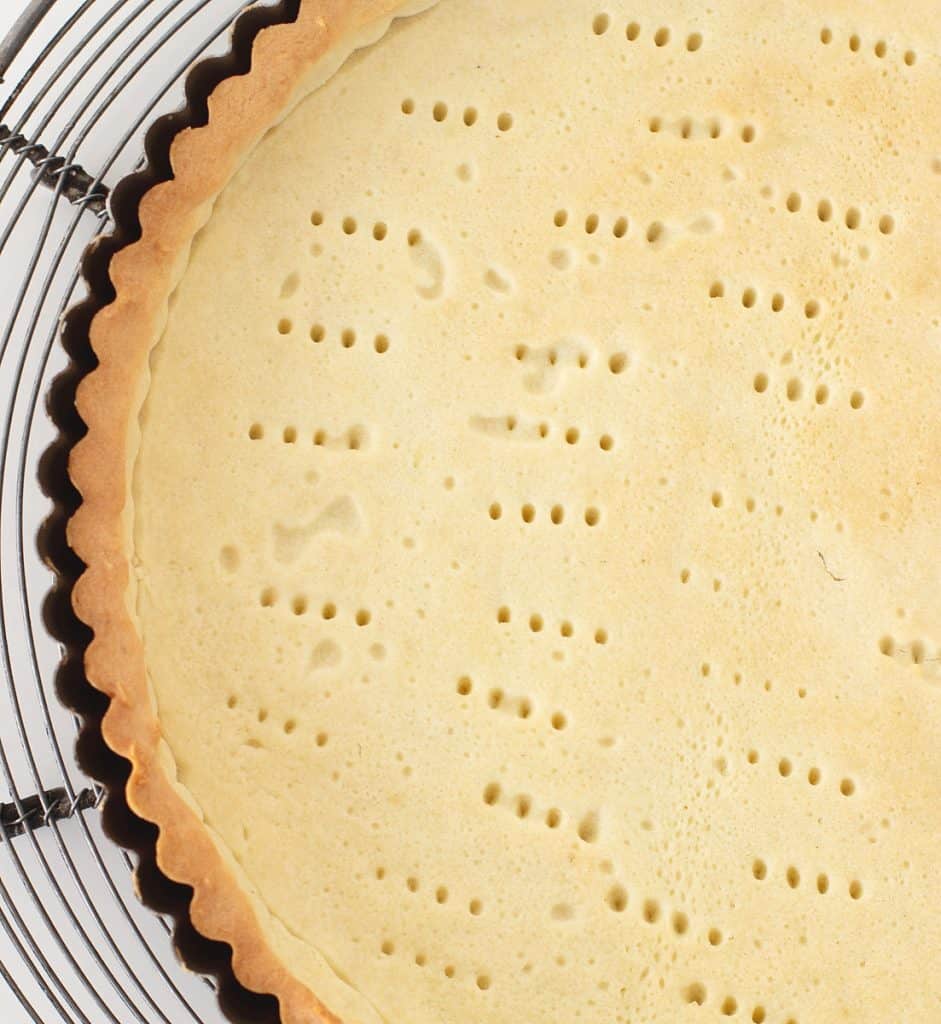 Other recipes you might like:
Apricot Frangipane Tart
Brown Butter Pecan Pie
Raspberry Apple Crostata
The Best Lemon Ricotta Pie
Fig Jam Tart
Sweet Potato Pecan Pie
Let me know if you make this recipe! I'd love to hear what you think about it.
Thank you for being here, I appreciate it! Let's connect via Facebook, Instagram, and Pinterest.
Print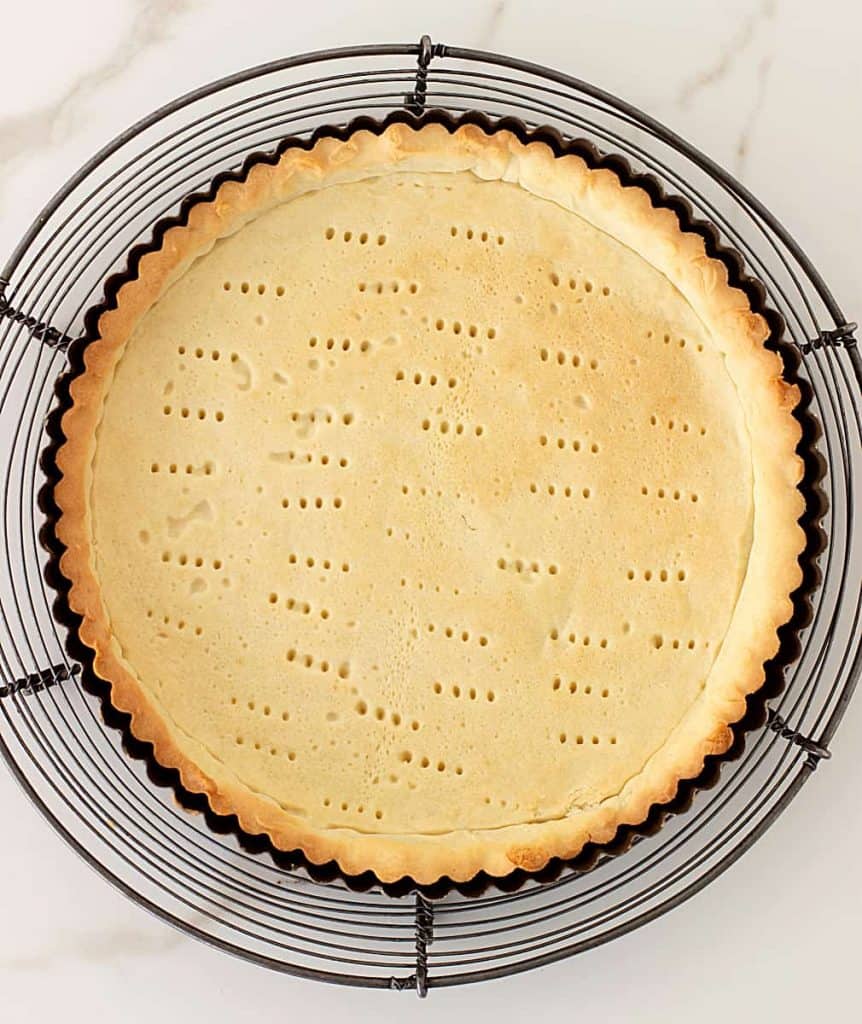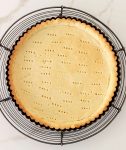 How to make sweet shortcrust pastry
Author:

Paula Montenegro

Prep Time:

60

Cook Time:

15

Total Time:

1 hour 15 minutes

Yield:

One

9

-inch pie

1

x

Category:

Basic recipes

Method:

Mixing

Cuisine:

International
---
Description
The perfect sweet shortcrust pastry or sweet pie crust is not hard to make if you follow the step-by-step recipe in this post.
Homemade sweet pie dough makes all the difference, no matter what type of pie or tart you make!
---
Scale
Ingredients
3/4 cup

(

120g

) powdered sugar
Pinch of salt

1 3/4 cups

(

250g

) all-purpose or cake flour

1/2 cup

+ 1 tablespoon (

125g

) unsalted butter, at room t°

1

egg, at room t°
---
Instructions
In a large bowl cream butter with a spatula or wooden spoon until it is smooth.
Add powdered sugar and mix until all is incorporated.
Add egg and mix with fork. It will not be smooth or completely incorporated. That is fine.
Add half of the flour and the salt.
Mix it but don't wait until the flour is completely incorporated before adding the second half.
Now, mix it until lumpy and few dry spots remain.
Turn it out onto a clean surface or counter and mix with your hands, trying to make it come together but touching it as little as possible.
When you have a smooth dough ball, wrap it in plastic and refrigerate for at least 1 hour and up to 2 days.
When ready to roll, take the dough from the fridge and let barely soften at room t°.
The dough must still be cold. Simply wait until you can start to roll it but not until it is very soft. This is important to ensure a tender dough.
Preheat the oven at 350°F /180°C.
On a lightly floured counter start rolling the dough disc, making sure you do quarter turns (I do them to the left) often to ensure the dough is not sticking and adding more flour to the counter if it is sticking.
Once you have the dough rolled a few inches larger than the pan, fold it in half and place the fold in the middle of the pan.
Open the dough and line the pan, being careful not to stretch the dough.
Use your hands to lower the dough and reach the union between the bottom and sides of the pie pan.
Go over the rim of the pan with the rolling pin to remove excess dough.
Prick the bottom with a fork and freeze for 20 minutes or put in the refrigerator for 1 hour.
At this point you can leave the dough frozen in the pan for up to a month, wrapped in plastic.
Or you can blind bake it or bake it completely, depending on what you're making.
If fully baked it will keep for a few days in a metal tin or at room t° if the place is dry and cool.
But I suggest you bake it the day you're filling it.
---
Notes
Ingredients: make sure you follow temperatures in the recipe.
Resting: the dough at this point needs to rest in the refrigerator for 1 hour or in the freezer for 20 minutes. This is a crucial step if you want the pie crust to roll easily and be tender and crisp after baking.
Blind baking: some fillings tend to seep into the unbaked dough while baking, so this step ensures that the dough develops a layer before the tart is filled and is not soggy after it is baked.
Additional details: the post above is filled with details about every step needed to make a great sweet pie crust.
Video recipe:Watch videos for Making the dough and Rolling and lining the dough.
Keywords: sweet shortcrust pastry, sweet pie dough, sweet pie crust
---