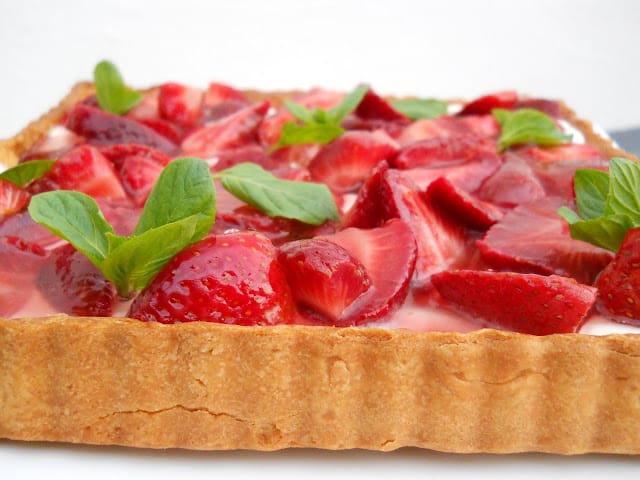 Making this strawberry pie for Sunday Supper brings a lot of different memories. The theme today is cookout recipes, since it's Labor Day in the US. Our worker's holiday is May 1, one of the two days in the whole year (the other being Jan 1st) when even shopping malls close.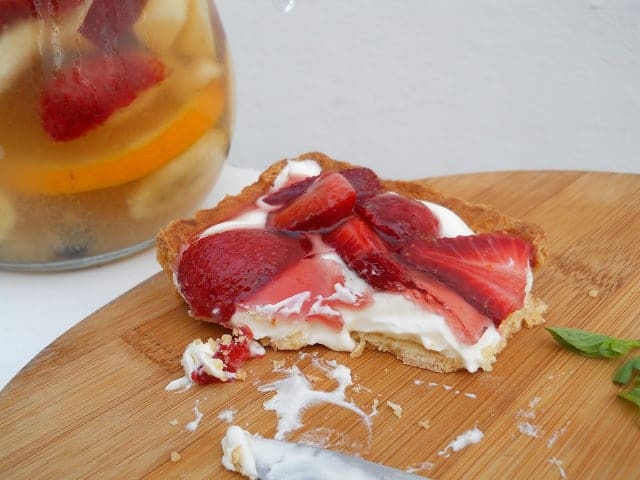 Do I need an excuse to come up with summery recipes?
Of course not, especially since the last days have been amazingly sunny and warm.
Since the strawberries at the market were surprisingly sweet and fat,  I decided to make my grandmother's strawberry pie. It's simple but full of flavor and has a delightful syrup on top made with the strawberries' own juices. 
She was a very traveled and worldly person, and baked double crusted apple pies and curries when nobody else did here. Her recipe uses sour cream with sugar, which results in a tangy cream and doesn't require whipping. I changed that a bit because I had mascarpone in the fridge, and we all know how quickly that goes bad. If you don't like to use gelatin, a few teaspoons of cornstarch can be added to the juices and cooked until thick.
Either way, the flavor will come from fresh strawberries and that always beats artificially flavored jello.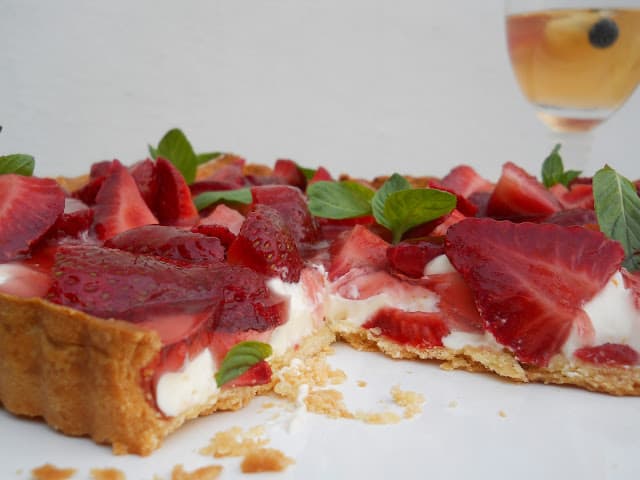 But before we eat our strawberry pie for dessert, we have to get the holiday started with something to drink.  Enter the clericó, or white sangria. I used that name to get you interested. Here, sangria is made with red wine, sugar and fruit. When white wine is used it's called clericó. 
This light colored version was so popular in the '80s, I don't think there's one of us from that neon clothing, big hair, shoulder-padded era that didn't drink it. Especially during the summer, after a long day at the beach. You would go to the beach bar and order a large jar of clericó to share with friends. Some of us would only munch at the fruit (banana pieces my absolute favorite), which got me into trouble anyway, because, after a while, the fruit would be soaked in a lot of wine.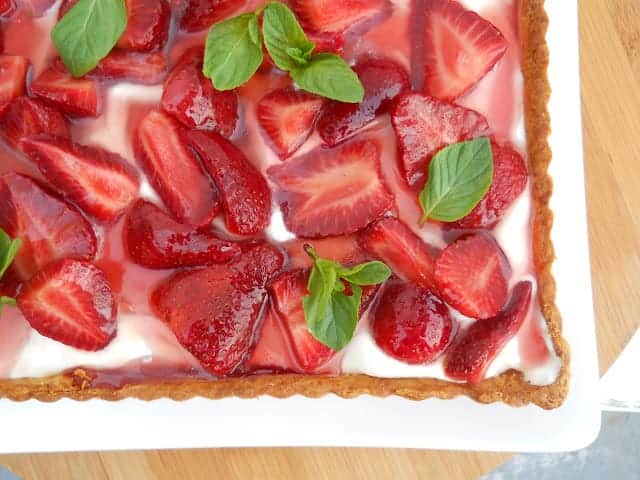 Today, I had a preview of summer, with a great menu that included the white sangria, salad, meat and potatoes, coleslaw,
strawberry tart and chocolate cake.
All wonderful, though some better than others (that's you zucchini salad). I can get used to this type of holiday menu, and if I consider all the holidays around the world that I take part of because of this blog, I might end up living in a semi-permanent good mood.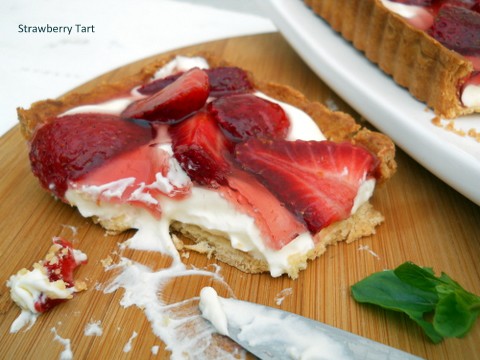 Print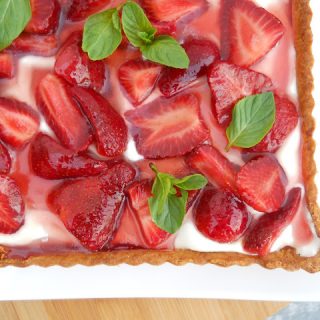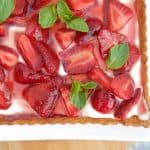 Strawberry Pie + White Sangria
Yield:

8

servings

1

x
---
Scale
Ingredients
For the dough:
½

recipe Pate Sablée (see recipe here)
For the filling:
1

pound strawberries (cleaned and sliced thick)

¼ cup

sugar

1 teaspoon

unflavored gelatin

1

Tbs cold water

¾ cup

cream

3

Tbs mascarpone

¼ cup

powdered sugar
Mint leaves (for garnish)
For the sangria:
1

banana

½

red apple

1/3 cup

blueberries

1/3 cup

sliced strawberries

1

orange (unpeeled)

½ cup

sugar

1

bottle dry white wineIce cubes (cold club soda might be used)
---
Instructions
For the dough:
Roll and line a square or round 8 inch (23 cm) pie or tart plate with removable bottom.
Prick the bottom dough and refrigerate for an hour.
Preheat the oven to 350ºF /180ºC.
Line the tart pan with aluminum foil and beans or pie weights, and bake for 15/20 minutes.
Remove the foil carefully and continue baking 10 to 15 minutes until the dough is fully baked.
Let cool completely on wire rack. Unmold and transfer to serving plate.
For the filling: Before you start rolling the dough, put the sliced strawberries together with the sugar in a bowl.
Cover and let marinate at room tº, at least 2 hours. If leaving the mixture more than a few hours keep it refrigerated.
When you're ready to assemble the tart, pour the liquid from the strawberries in a small saucepan.
Cook over low heat until reduced to half a cup, about 5 minutes.
In a small cup put cold water and sprinkle gelatin over. Let hydrate a few minutes.
Add to the hot, reduced strawberry syrup that has been removed from the heat, and mix until the gelatin is completely dissolved. Let this mixture cool in the fridge until it begins to thicken. Don't let it set.
Beat the cold cream and mascarpone together with powdered sugar until thick.
Spread this mixture evenly on bottom of cooled crust. Scatter marinated strawberries on top and then carefully add the cold strawberry gelatin mixture with a spoon. It might or might not cover the whole surface.
Let the cake set in the refrigerator for 15 minutes, garnish with mint leaves and serve.
For the sangria:
Slice the orange, the banana and the apple.
Put them in a jar together with the rest of the fruit. 
Add sugar and then half the bottle of white wine.
With a wooden spoon, mix everything well. Add the rest of the wine and ice cubes.
Pour wine into glasses and serve. Keep refrigerated.
---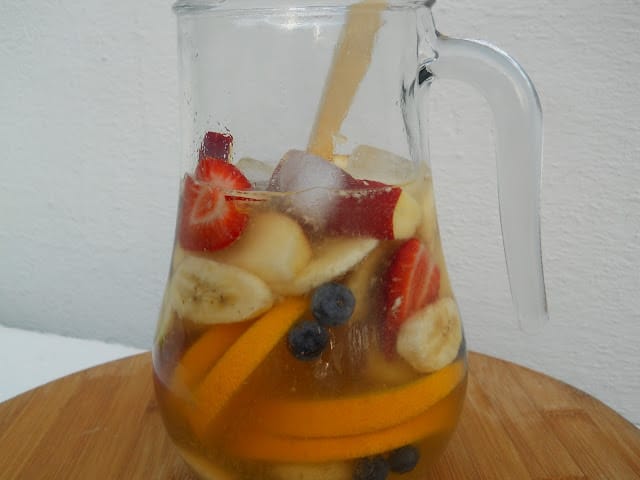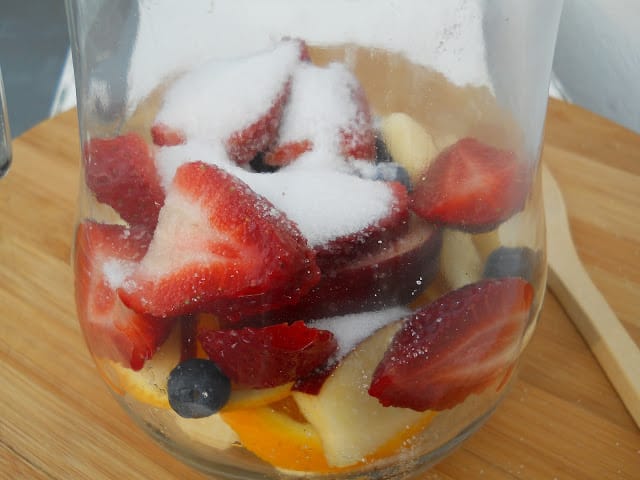 ---