A scrumptious recipe to take advantage of seasonal, sweet peaches! A galette is a free-form, rustic tart. A round of sweet dough is topped with luscious almond cream, fresh peaches, and sliced almonds. The result is juicy, slightly sweet, crunchy, and plain delicious. The components can be made ahead so it's perfect for barbecues, picnics, and lazy weekends.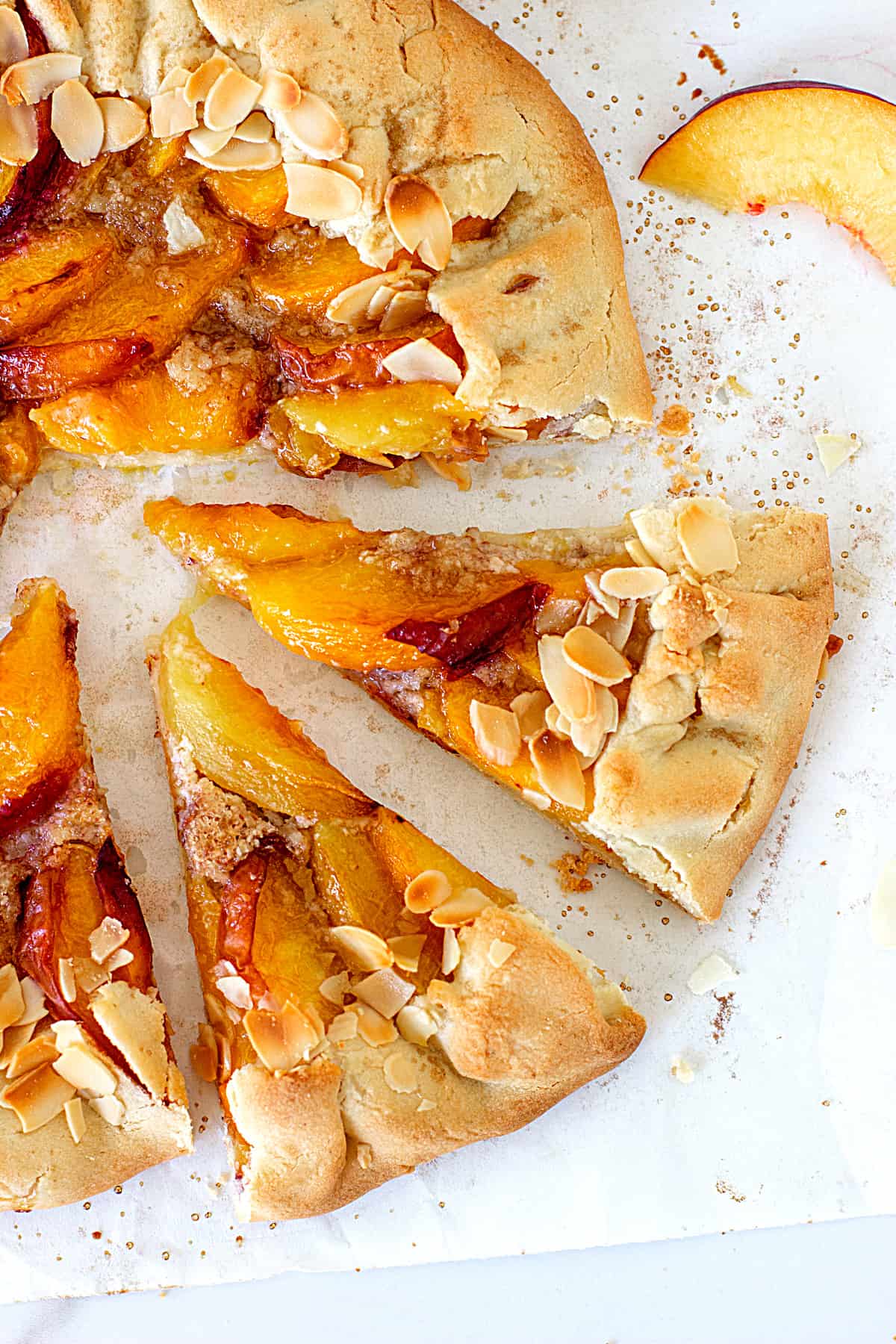 If you're in the mood for homemade peach pie but at the same time you want to go the minimal-effort-pie-crust route, a galette is exactly what you need.
What is a galette?
A galette is a free-form pie or tart, or rustic dessert in tart form. Whatever you call it, it doesn't involve lining a pie pan and scrimping the edges.
The pie crust is rolled into a circle, ¾ of it is filled, and the edges turned inwards leaving most of the filling exposed in the center. The pie is baked directly on a parchment paper or oven sheet, so there's no need for a pie dish. How's that for convenience?
It can be sweet or savory and we have our favorite Tomato Galette recipe to prove it.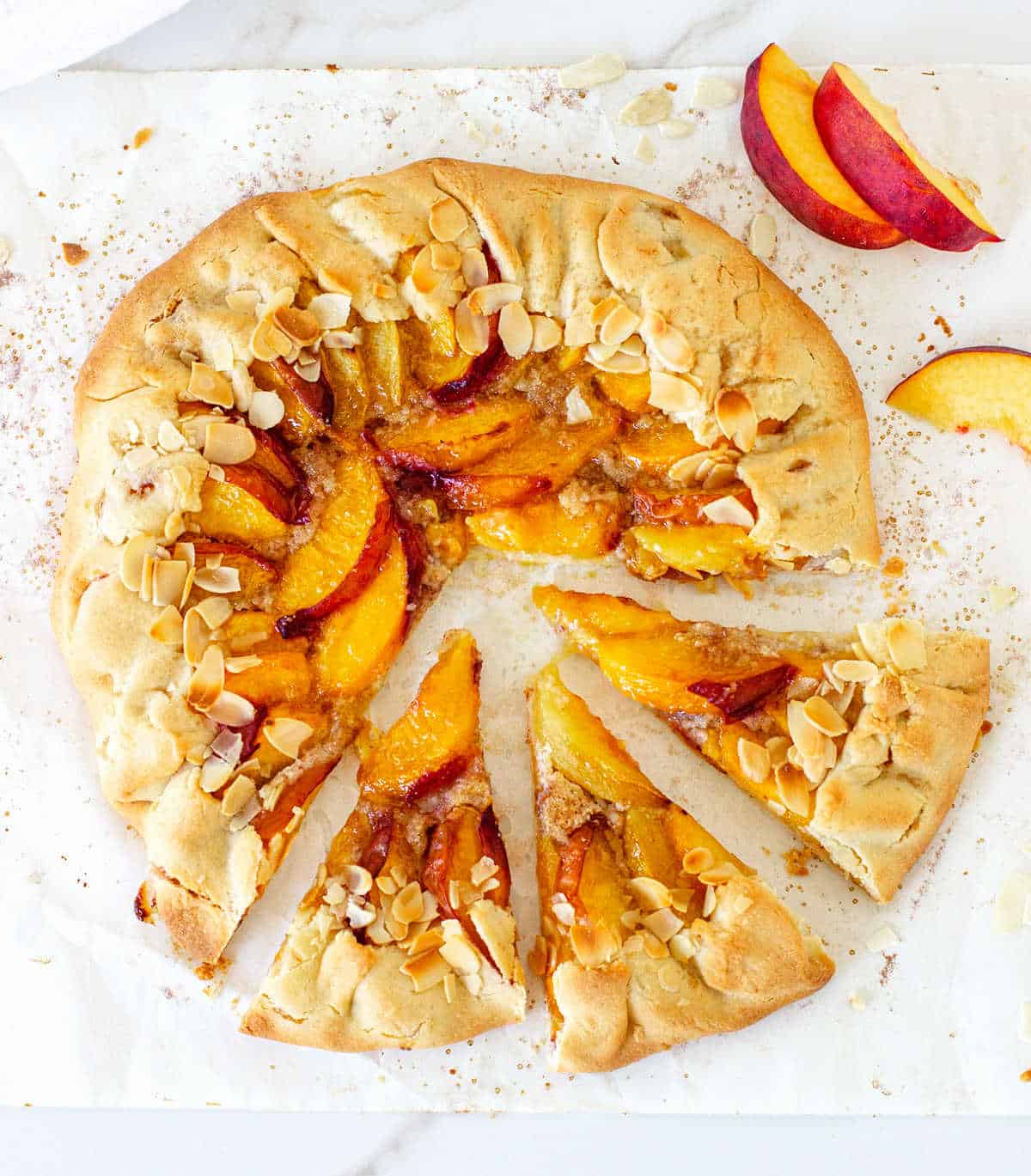 Galette dough
There are several pies that go well with galettes. It depends a lot on the type of filling you're using.
Italian pie dough: we love this easy sweet dough called pasta frolla. It's easy to roll, can be frozen for a few months and bakes to a golden crunch. Love it. It's sweet but not overly so, more spongy than our flaky pie crust, and richer from the extra egg yolk. I'm sure you'll love it.
All butter pie crust: this is our runner up, the sweet shortcrust pastry recipe that is so popular with readers of this blog.
Store bought: yes, you can use your favorite sweet pastry from the grocery store, preferably all butter but it also works with purchased puff pastry or flaky crust.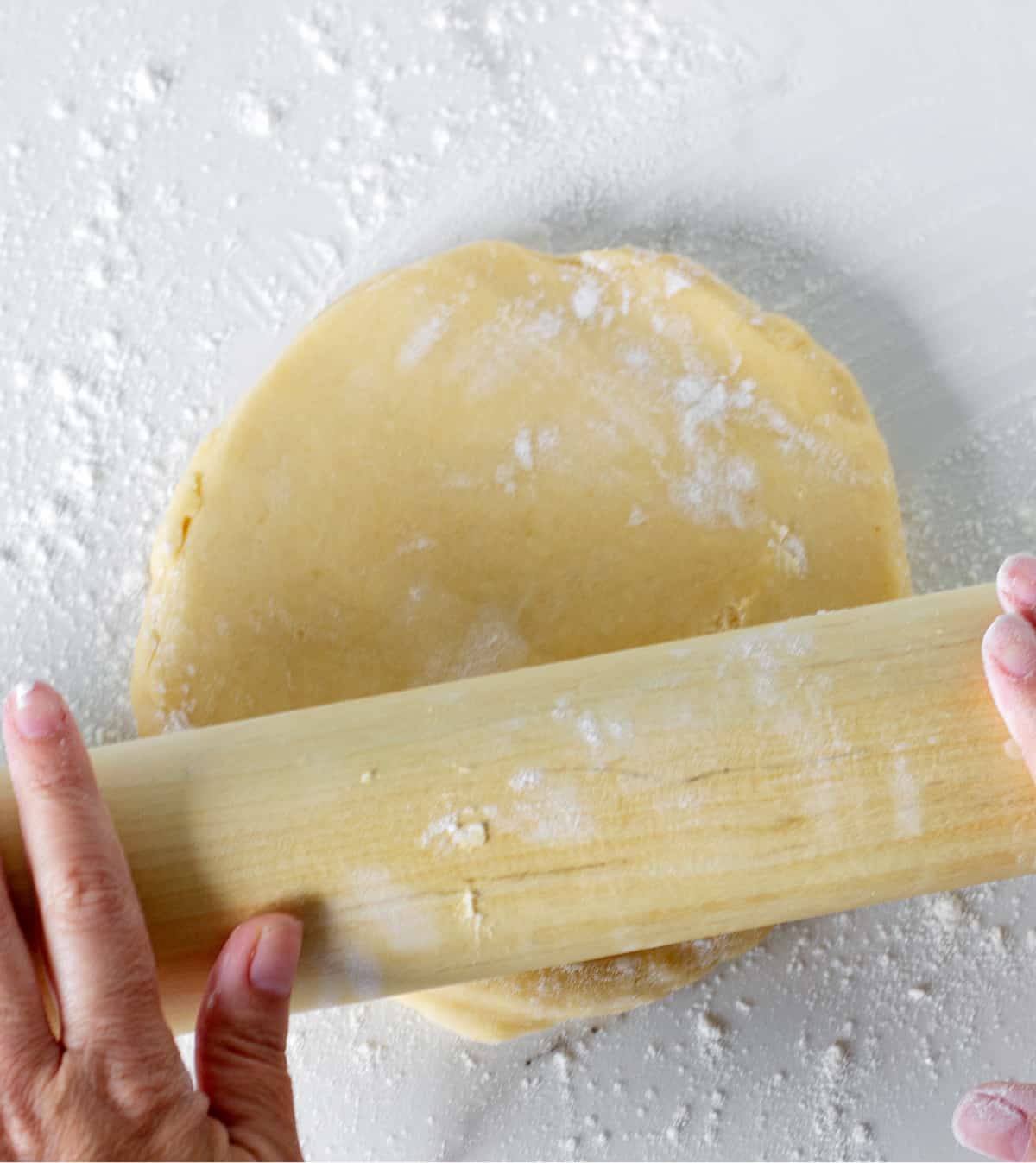 The filling
The filling consists of frangipane (a.k.a almond cream) and fresh fruit. The almond paste creates a barrier between the fruit juices so the crust is crisper. And it adds great flavor, of course!
Almond cream
I love this paste made from raw almonds and sugar. It's super easy and keeps for several weeks in the refrigerator or the freezer. And it has its own post in case you want a more detailed description, How to Make Frangipane.
It pairs well with most fruit tarts like the peaches in this recipe. Or the Pear Frangipane Tart and Apricot Raspberry Tart which are both very French and delicious.
The peaches
Fresh peaches: I highly recommend this recipe for when peach season hits.
Canned peaches: It does work with canned ones if you don't have the luxury of having stone fruit in season. You'll need to drain them well before slicing.
Should we peel them? I like to peel half and leave half with the skin on. A mix of texture and smoothness. Choose what works for you.
How ripe should the fruit be? It's best to have firm, ripe peaches but not overly juicy. If some slices are a bit overripe and don't look as pretty as the others. Also, the fruit cooks while baking so it will hold better if the fruit is just ripe enough.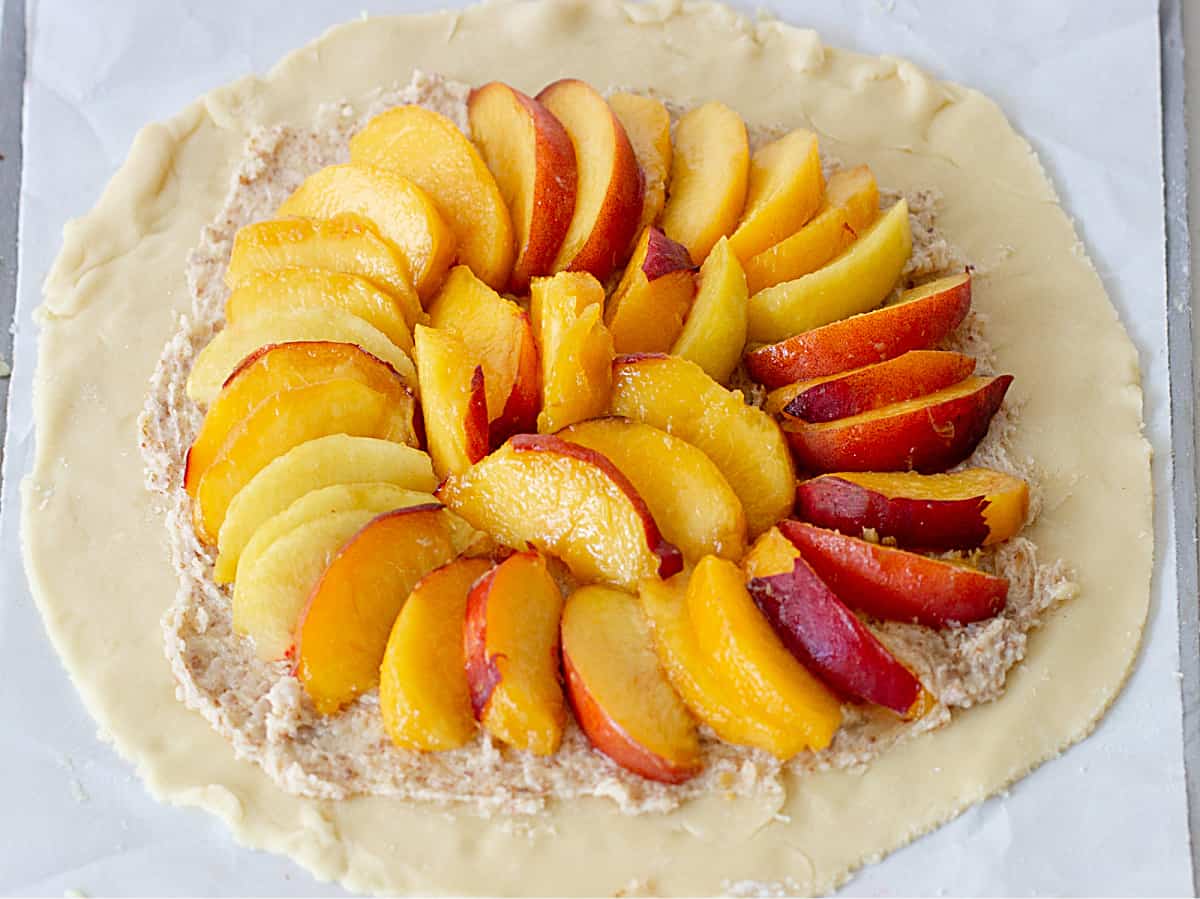 Assembling a galette
There are a few details that you need to taken into account.
Size of the dough circle: you will use a rolling pin like always when making a homemade crust. But make sure you leave a nice space around the edges (about 2-3 inches) to easily enclose the outer part of the fruit. Image above.
Amount of fruit: it's hard to give an exact amount of peaches needed because it depends on how thick you cut the slices. I use between 3 or 4 large ones for a 9-inch pie.
Egg wash: I don't usually use it, but you absolutely can. Simply mix an egg with some milk and brush the edges of the dough. It will bake to a more golden brown color.
Sugar and almonds: I do sprinkle the whole galette (outer egde and top of the peaches) with sugar and then some sliced almonds where the pie dough meets the peaches. It adds sweetness and crunch.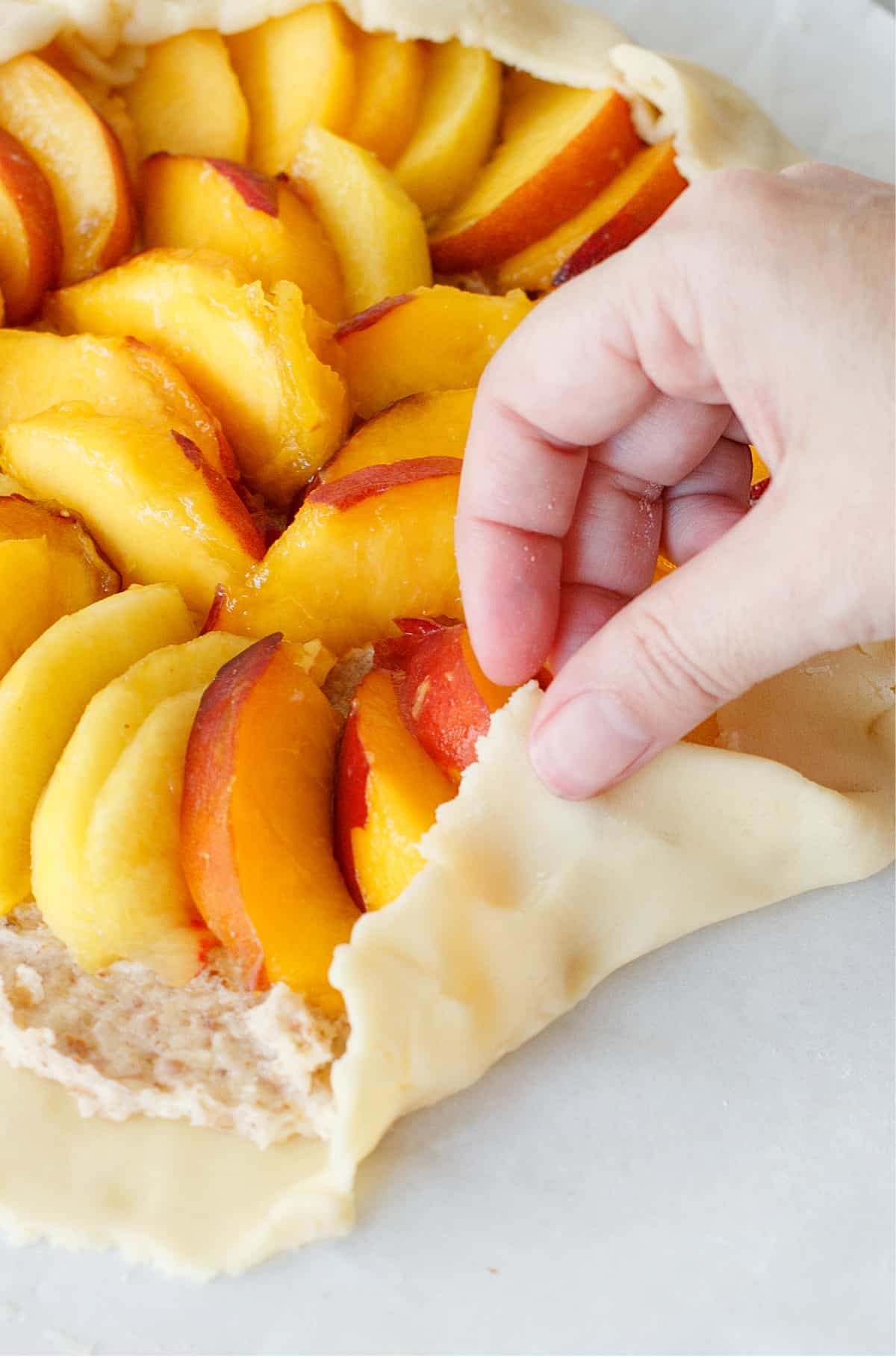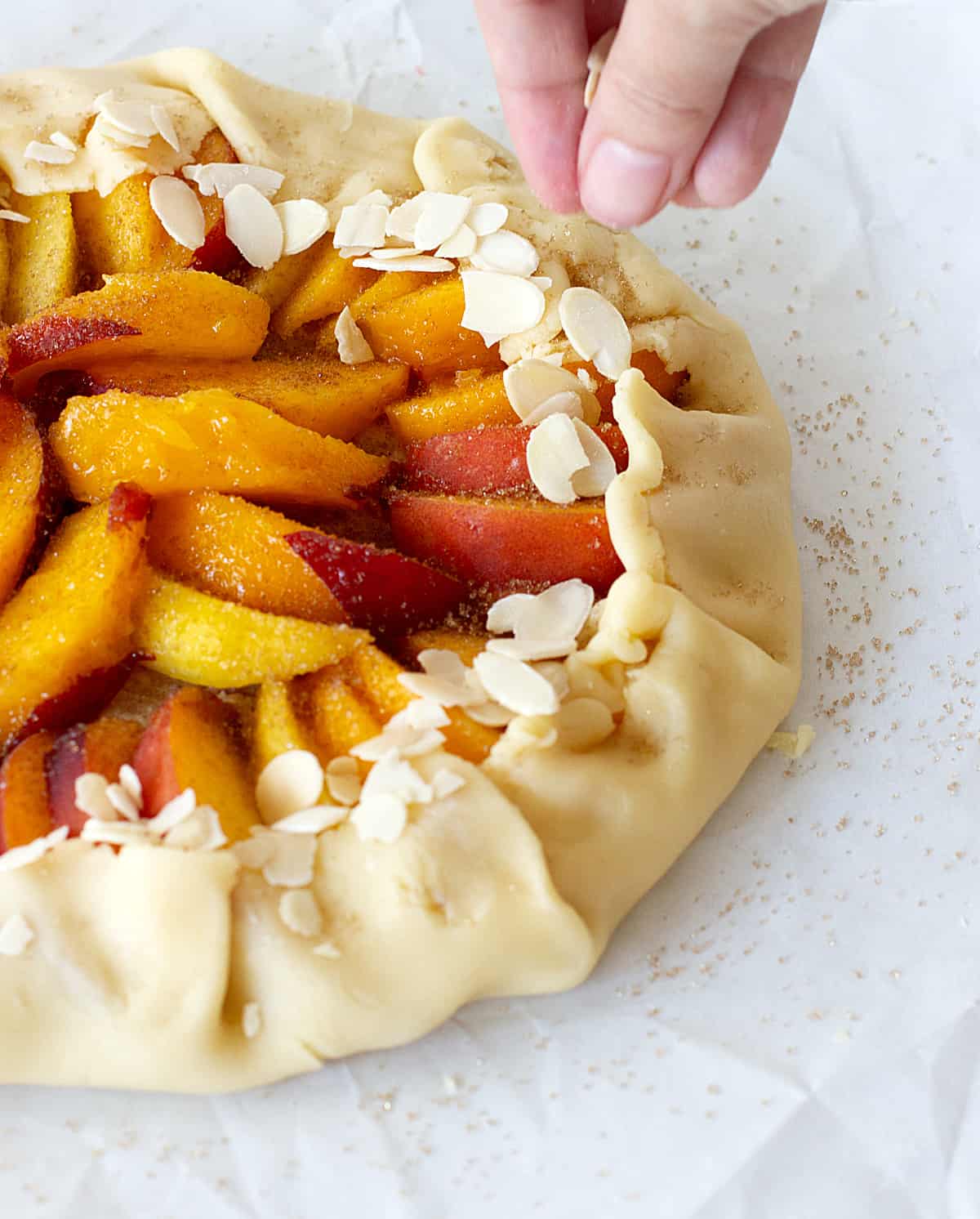 Make-ahead
Crust: you can keep it in the refrigerator for up to a week and frozen for up to 2 months. Always in plastic wrap or airtight freezer bag.
Almond cream: it's easy to make in the food processor, keeps for weeks in the refrigerator and can be frozen. Always use an airtight container.
Variation
Other fruit: this galette recipe works really well with nectarines, plums, pears and apricots.
Skip the almond cream and scatter the bottom of the pie with ground almonds or vanilla cookie crumbs.
Acid: you can also drizzle some lemon juice over the fruit and sprinkle with a heavier dose of sugar before popping it into the oven. It will cut down on the sweetness.
Top tips
Organization: always read the recipe first and make sure you have all the ingredients, at the right temperatures, and also the rest of the equipment and space (work surface or counter space) to make it. This will make the process so much easier!
Baking time: keep in mind that all ovens and pans are different, even if they look the same or very similar. The baking times in my recipes are as accurate as they can be, but it might take you more or less time. You can use a thermometer that is placed inside the oven (like the OXO oven thermometer) to check that your oven is the right temperature. I recommend you keep track of how your oven works and what tiny details you might need to adjust.
Serving it: slightly warm with a scoop of vanilla ice cream (and a drizzle of honey maybe?) is the perfect way in my opinion. But this is also a good tart to serve at room temperature.
Smaller galettes: you can make about 4 individual rustic tarts with this recipe. Very cute when you have guests.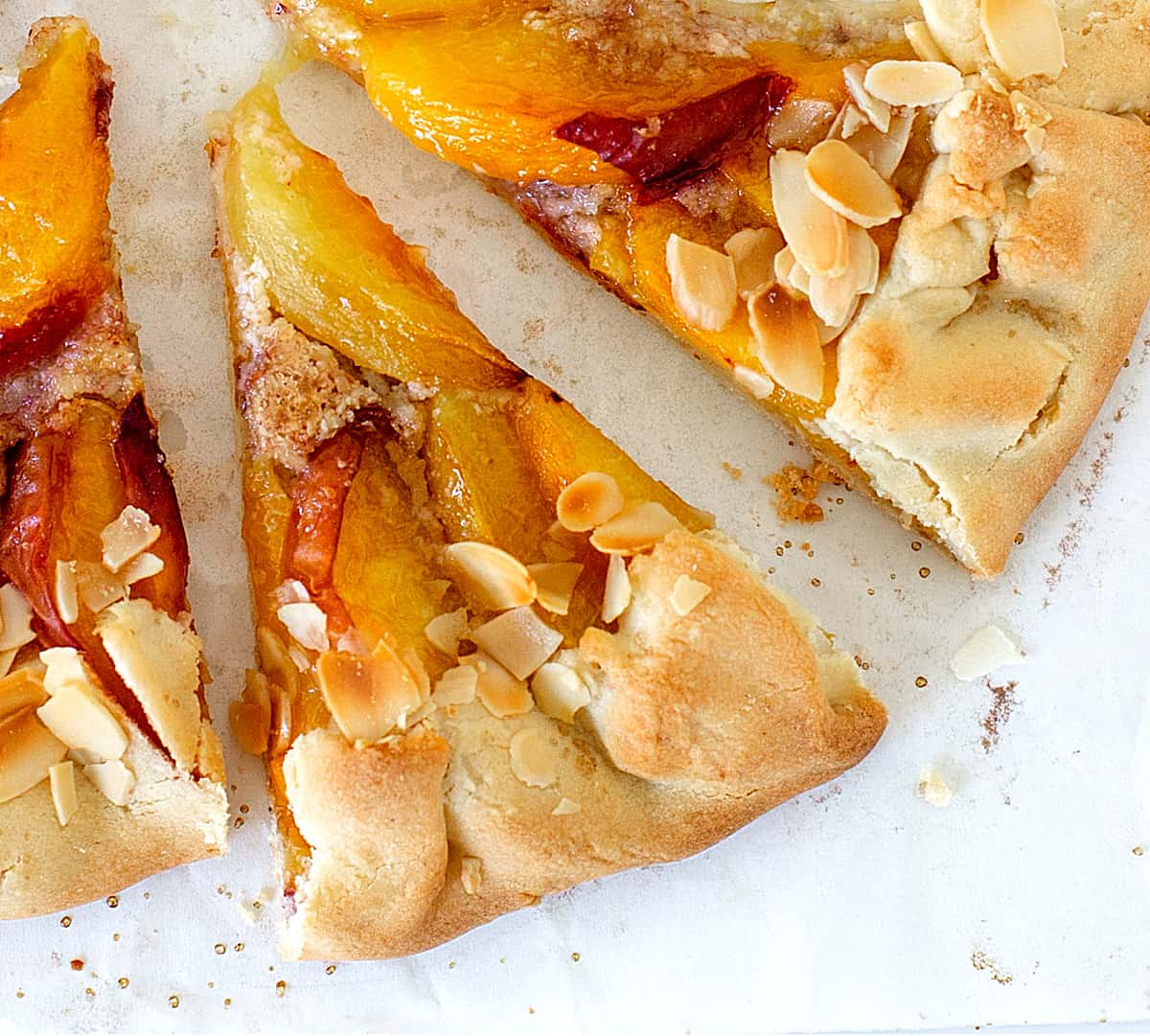 Frequently asked questions
What is the difference between a galette and a crostata?
They can be the same thing, one French and the other Italian. But crostata is also used when referring to lattice pies that are baked in a pie plate.
How do I keep my galette from getting soggy?
Use a cold pie crust, add a base before adding the fruit, and assemble it right before putting it in the oven. This way you don't give the fruit time to start releasing liquid. In the case of this easy peach galette we use almond cream. But you can also add a thin layer of ground nuts or cookie crumbs. They will soak up the extra juices from the fruit.
Can you reheat a galette?
Yes, you can, and it's a good idea if you stored it in the refrigerator. Heat it in a medium/high oven (350° to 375°F) for about 10 minutes so that the crust crisps up again, or becomes flake if using puff pastry.
How do you know when the galette is done?
The dough should be golden brown and the fruit bubbling and roasted, slightly shriveled. This is a rustic tart so you can also check the bottom of this tart and see that it's not still white and soggy. If that is the case, put it in the lower part of the oven for about 10 minutes so the heat is higher in the bottom.
---
Related recipes you might like:
---
Let me know in the comments below if you made this recipe and loved it, and if you had issues, so we can troubleshoot together. I love to hear what you think, always. Thanks for being here, it's much appreciated.
You might also consider subscribing to our FREE email series to Boost your Home Baking Skills! And our regular newsletter.
And let's connect via Facebook, Instagram, and Pinterest.
Print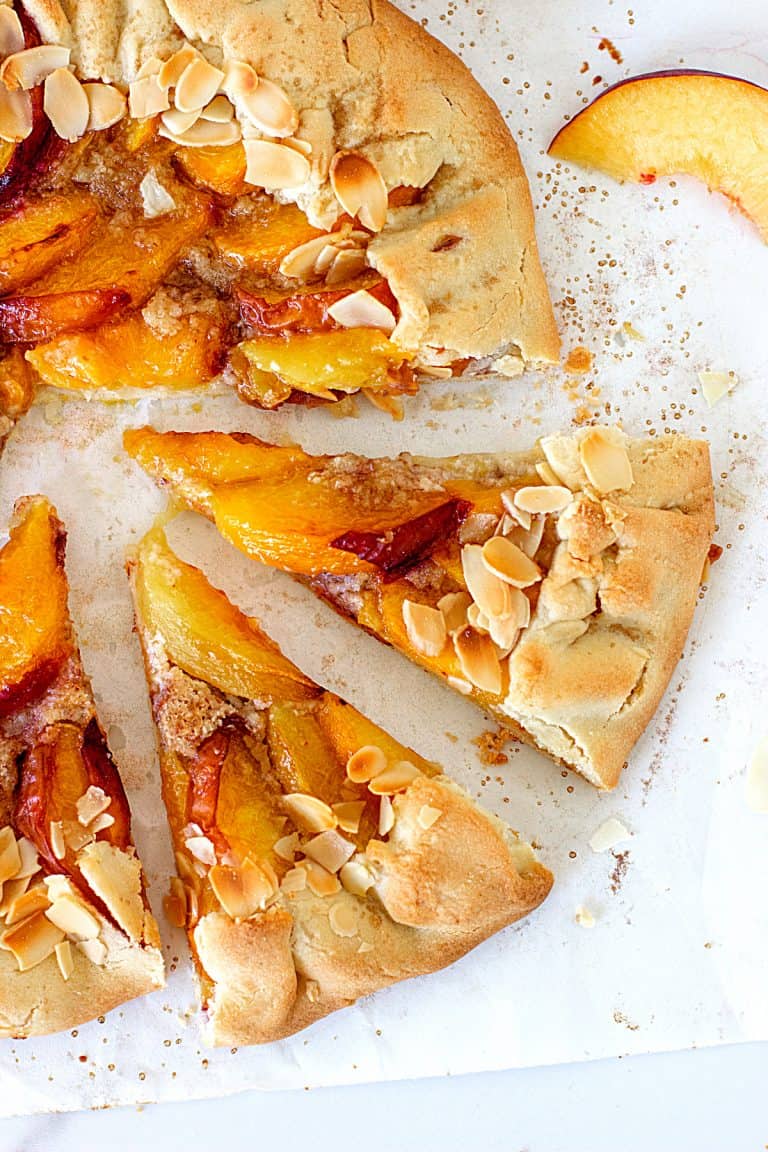 Fresh Peach Galette
A sweet crust encasing almonds paste and slices of fresh, juicy peaches. This rustic peach galette is a free-form tart that you will love! Perfect for warm weather and seasonal fruit.
Total Time:

2 hours 30 minutes

Yield:

8

slices

1

x
For the crust:
1 recipe Italian pie crust (for other alternatives see Notes, below)
For the filling:
½

recipe almond cream (homemade or store-bought)

3

-

4

large peaches, cored and sliced (with or without skin)

3

-

4

tablespoons sugar (I like brown sugar more than white, but both work just fine)

3 tablespoons

sliced almonds
Instructions
Preheat oven to 350°F/180°C
Have ready the measured almond cream and the sliced peaches. After the dough is rolled the assembly should be quick so the pie crust doesn't start to soften too much.
Roll the dough: start with the disk of cold dough on the counter, roll it a few inches, and finish on a piece of paper that will then go onto the baking sheet with the assembled galette. You will need to roll the dough about 3 extra inches than the galette size you want to make.
Lightly flour the counter space and have ready the piece of parchment paper at least 8x8 inches.
Take out the dough from the fridge and begin to roll it, lifting and turning it a quarter (I do it to the left) regularly, making sure that it doesn't stick.
Make a circle of roughly 11 inches in diameter to then have an 8-inch galette. I recommend transferring the dough to the parchment paper when it's about 9 inches and roll the rest on the paper, even if the paper is smaller. You will turn the edges inwards so don't worry.
Spread the almond cream in the center making a circle and leaving 3 inches without filling.
Arrange the peach slices any way you want.
Dust the fruit with the sugar and start turning the leftover crust inward. It will have small folds each time you lift it.
Complete the round and sprinkle the outer edge with the sliced almonds. You can add an egg wash first if you want to. Simply mix a lightly beaten egg and a tablespoon of milk and brush before sprinkling the sugar.
Bake for about 40 minutes or until the dough is golden, the fruit bubbly and the almond cream somewhat set.
Let cool on a wire rack until you can carefully transfer it to a serving plate.
Eat warm or at room temperature sprinkled with powdered sugar, a scoop of ice cream or whipped cream and a drizzle of honey.
Store leftovers at room temperature for a day and after refrigerated for 3-4 days, always wrapped to avoid it from drying out.
Notes
Crust: alternatively you can use our Sweet Shortcrust pastry or any other sweet crust you like, homemade or store-bought. An all-butter crust works well and also puff pastry.
Filling: if you don't want to make the frangipane or almond cream, use a few tablespoons of ground almonds or vanilla cookie crumbs. Put the peaches on top.
Serving it: slightly warm with a scoop of vanilla ice cream (and a drizzle of honey maybe?) is the perfect way in my opinion. But this is also a good tart to serve at room temperature.
Smaller galettes: you can make about 4 individual rustic tarts with this recipe. Very cute when you have guests.
Other fruit: this galette recipe works really well with nectarines, plums, pears, and apricots.
Author:

Paula Montenegro

Prep Time:

20 minutes

almond cream + pie dough:

90 minutes

Cook Time:

40 minutes

Category:

Pies & Tarts

Method:

Baking

Cuisine:

International