This is an Italian sweet pie crust known as pasta frolla. Perfect for making crostatas and galettes. It is a simple and rich dough used in many traditional recipes that can be made ahead as it freezes wonderfully!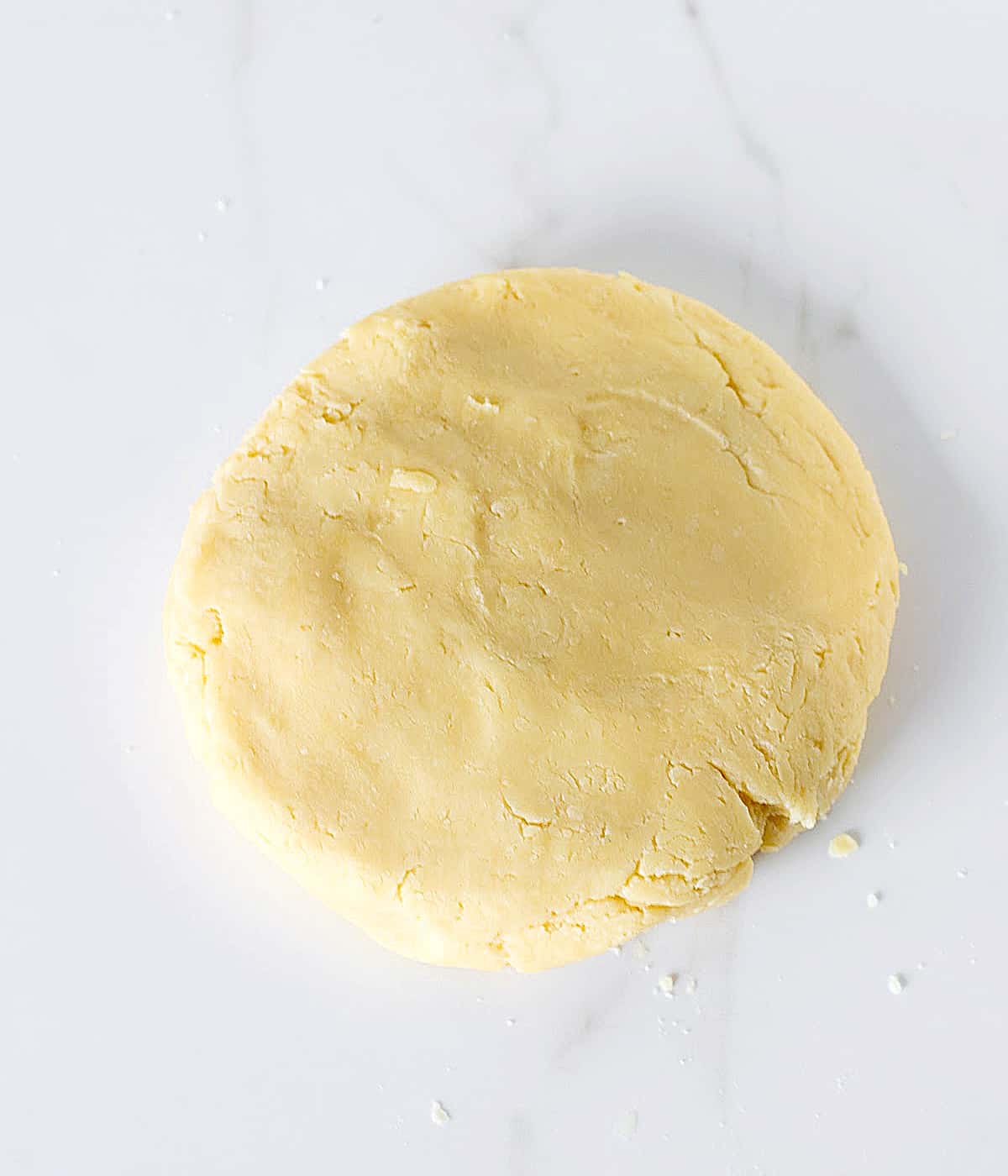 I use this pie crust recipe a lot.
So much so, that I decided it deserved its own post. It is, in essence, similar to other sweet dough recipes, like my favorite sweet shortcrust pastry. But there are details that make it unique.
You have already seen it around this blog in the very popular Lemon Ricotta Pie and the Fig Tart (that also features my mom's homemade fig jam!).
Ingredients
They are few and your usual suspects. Use the best quality ingredients you can afford, especially butter, as it will affect the flavor.
Egg yolk - it makes it wonderfully rich and more crunchy.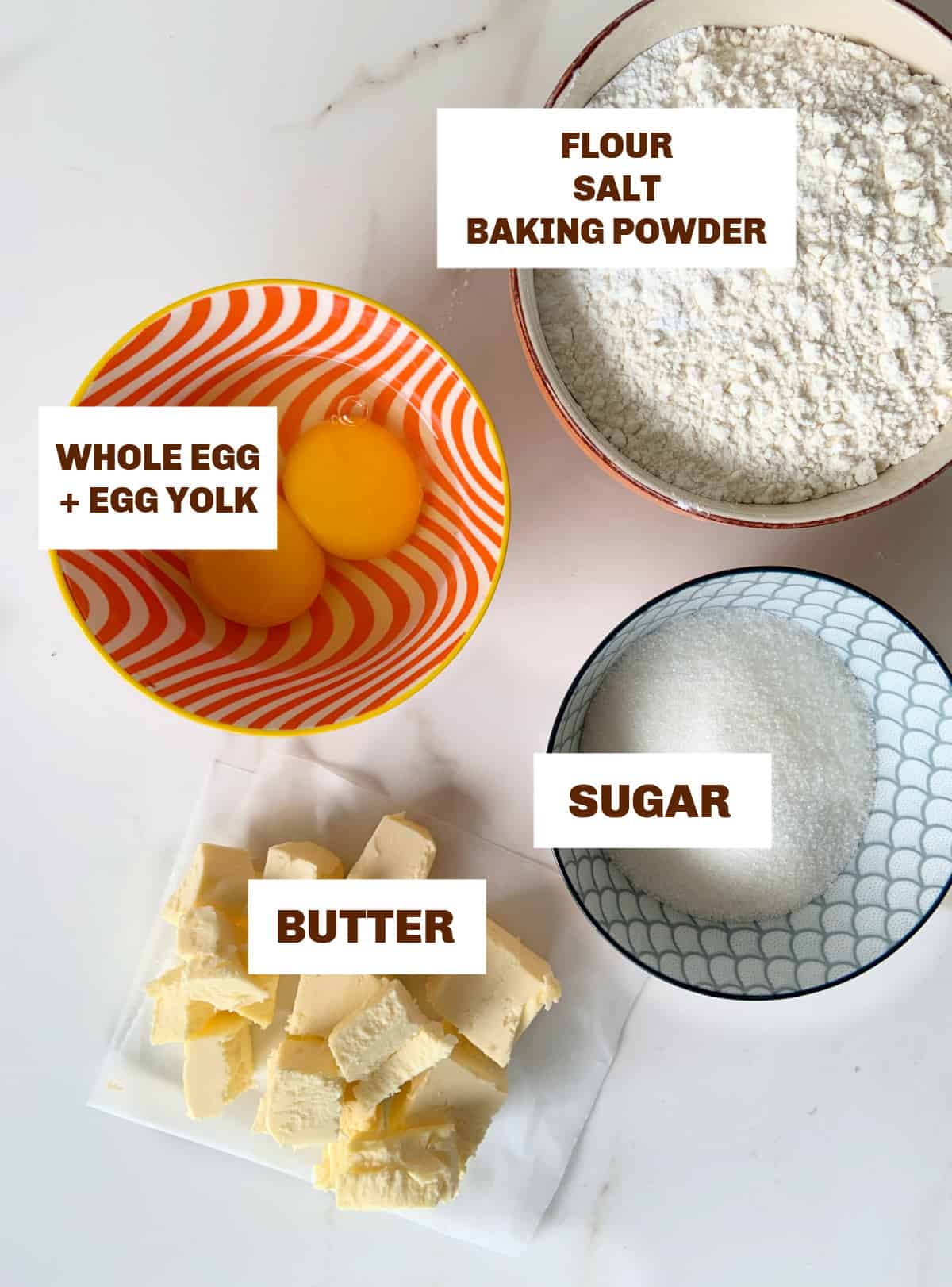 The extra ingredient
That would be baking powder. This is characteristic of this dough and gives it a kind of spongy, sugar cookie texture. That's why I love it for crostatas. You can omit it and you have a rich sweet pie crust.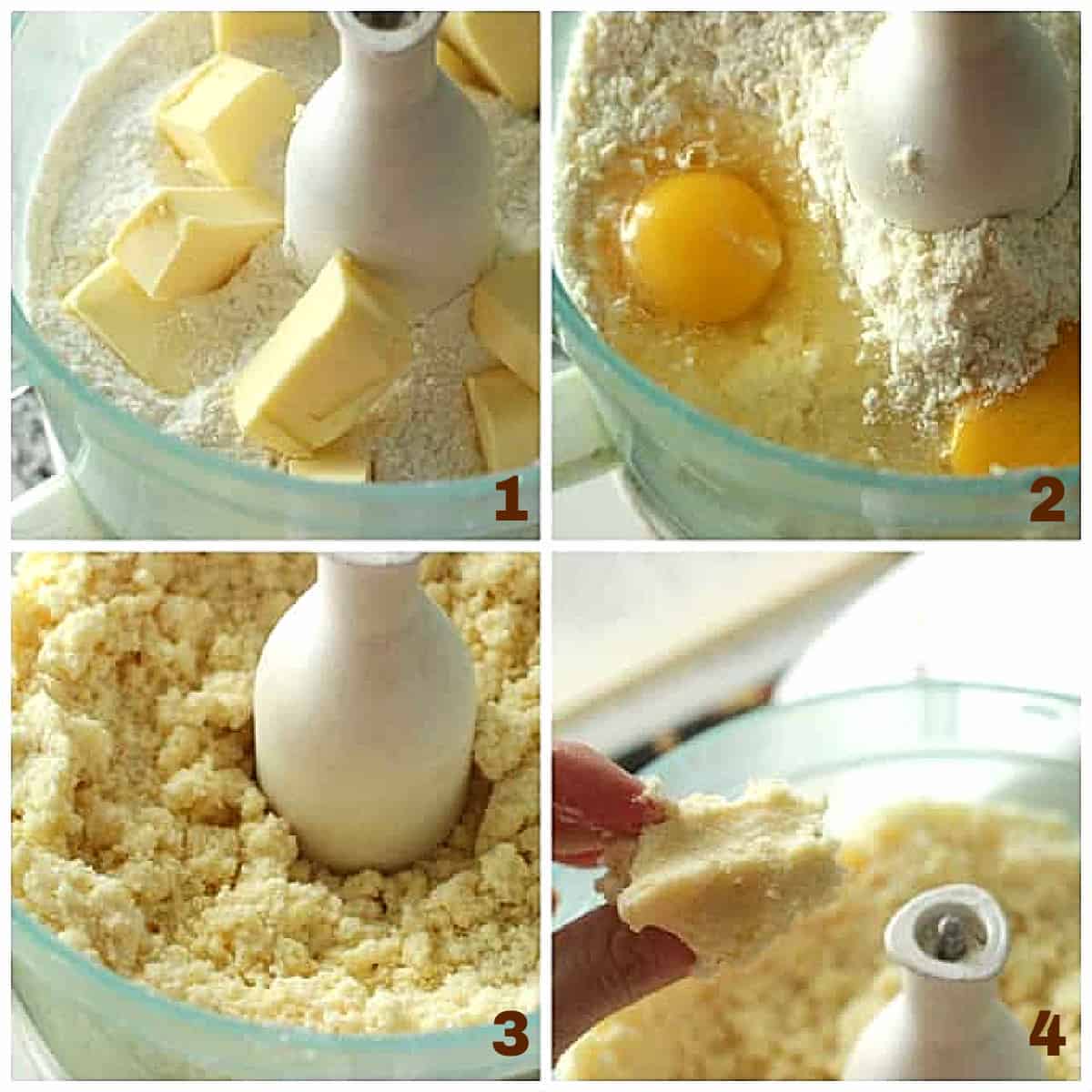 Process steps
In the food processor:
I love making pie dough in the processor because it's easy and fast.
You put the dry ingredients and add the cold butter cubes (image 1, above).
Process until the butter pieces are the size of peas or small beans, though it will be irregular and add egg and yolk (image 2).
Pulse with on/off just until it starts to come together. Don't overprocess the dough, this is key so that it doesn't end up being tough after it's baked. It doesn't need to become a ball, just a crumbly mass (image 3).
You know it's ready when you grab some of it, squeeze it in your palm and it comes together without crumbling (image 4).
Dump the crumbly mess onto a clean counter and follow steps 5 to 8 in the videos below 👇🏻
By hand:
I also love making it from scratch with my hands. It's like going to flour therapy, haha! I put together a step-by-step video tutorial below 👇🏻 that I think you'll find handy.
---
1
Dry ingredients and cold butter pieces. Work it all with your hands to integrate.
2
Break down cold butter pieces until they're the size of peas.
3
Add beaten egg and egg yolk. Mix with fork as much as you can.
4
It will be somewhat integrated but with some dry spots.
5
On a clean surface work it with your hands to form a ball. Be careful NOT to overwork it.
6
At first it appears as though it will never come together. But it will.
7
Fold the dough onto itself until you it forms a cohesive dough, but don't knead it.
8
Once you can form a disc of dough, stop working it.
---
Resting and rolling the dough
Resting: as with most crusts (there are exceptions like the Cherry Tart) pie doughs need to be refrigerated before using. This is because they need to relax in order to be able to be rolled out properly, without them shrinking.
- Wrap it well and refrigerate for 1 hour before using (image below, left).
Rolling: always roll cold doughs. Even if you think it's too cold and needs to be at room t° until it becomes pliable, check it often while you're waiting for it to be ready. Start rolling it as cold as you can (image below, right). It will soften quickly and you don't want the butter to start softening too much because it will make the final crust tougher. We don't want that.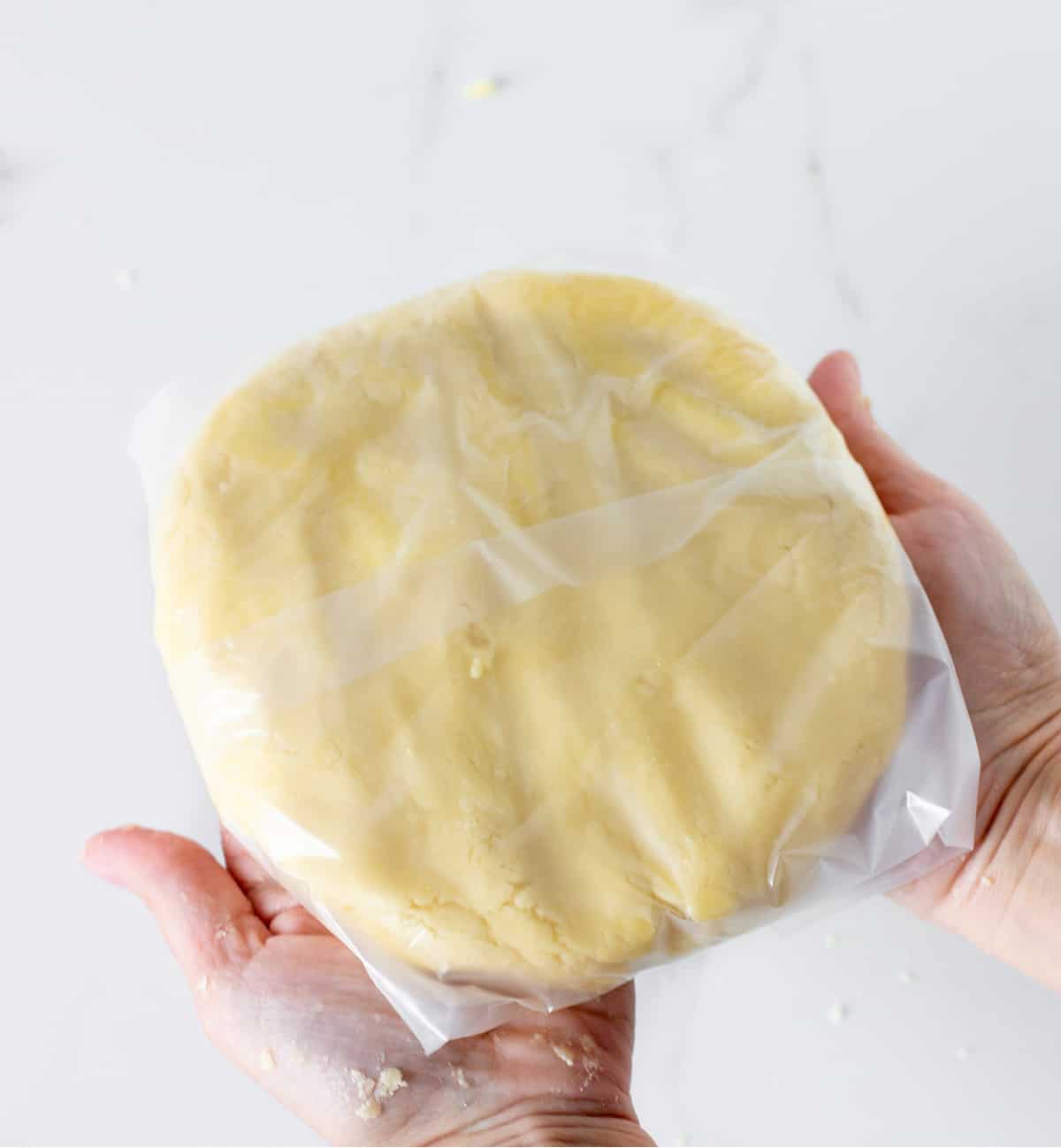 Storing
Refrigerating: after you make the dough ball, wrap it well and keep it in the fridge for up to a week. Make sure no part of the dough is left unwrapped as it will dry out. I wrap it in double plastic or in a freezer paper and then in a Ziploc bag.
Freezing: follow the same wrapping procedure as for the refrigerator. Make sure you label and date it. It can be frozen for about two months.
Our favorite recipes using this Italian pie crust are:
The Best Lemon Ricotta Pie (below, left)
Fig Lattice Tart (with homemade fig jam!)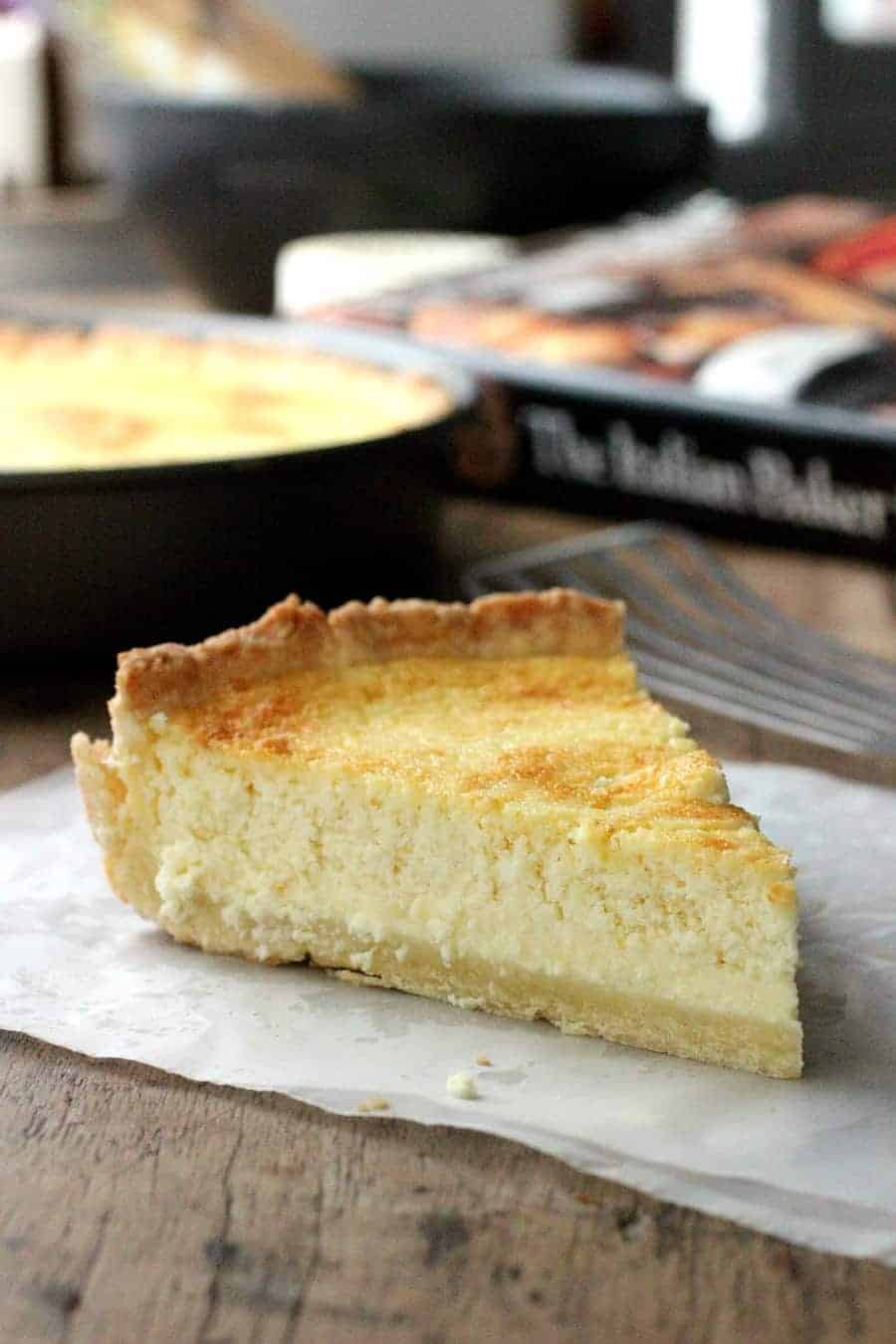 If you like homemade pie crusts, check our category for Basic Recipes! There are posts with detailed instructions, videos, and photos.
Let me know if you make this recipe! I'd love to hear what you think about it. Thank you for being here, I appreciate it! Let's connect via Facebook, Instagram, and Pinterest.
If you like the recipes in this blog, consider subscribing and getting all new posts by email. As a thank you, we'll also send you a FREE recipe e-book and our Guide to Freezer Baking!
Print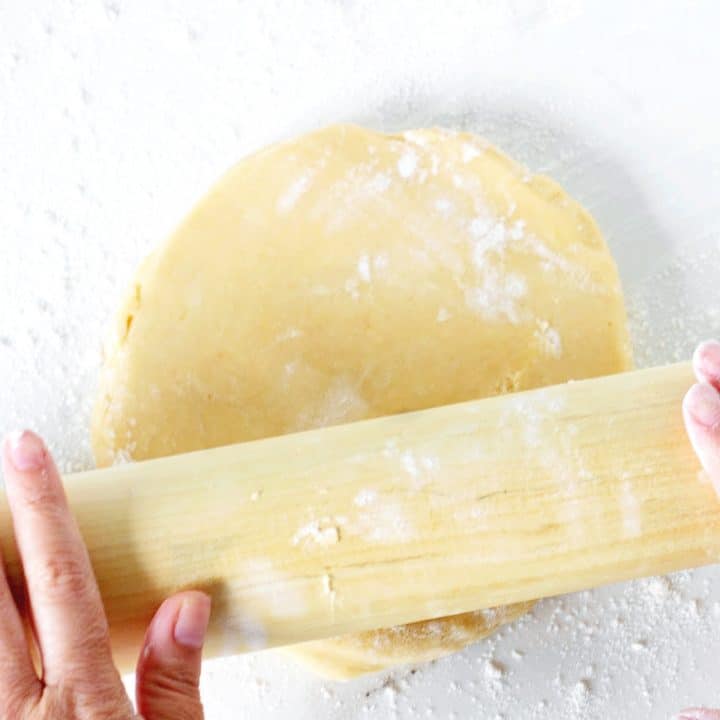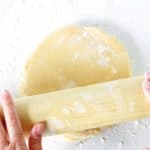 Italian Pasta Frolla (pie crust for crostata and galette)
Author:

Paula Montenegro

Prep Time:

20

Total Time:

20

Yield:

1

9-inch pie

1

x

Category:

Pies, Basic Recipes

Method:

Mixing

Cuisine:

Italian
---
Description
This is an Italian Sweet Pie Crust known as pasta frolla. Perfect for making crostatas and galettes. It is a simple and rich dough used in many traditional recipes. It can be made-ahead as it freezes wonderfully!
*Refrigeration time is not taken into account in the Prep time
---
For the dough:
2 ¼ cups

(

300g

) all-purpose flour

½ cup

(

100g

) sugar
Pinch of salt

1 cup

(

220g

) unsalted butter, cold and in pieces

1

egg

1

egg yolk
---
Instructions
For the dough:
In a food processor pulse a few times to mix flour, sugar, and salt.
Scatter butter pieces on top and mix until you have butter the size of peas.
Add egg and yolk and process using on/off until it starts to come together. Don't let it form a ball. It should come together when you pinch it with your fingers.
Turn it onto the counter and press it together to form a flat disk. I put it inside a plastic bag and aid myself with the bag while pressing my knuckles until it comes together. That way I don't touch the dough unnecessarily.
Refrigerate for 1 hour and up to 2 days.
---
Notes
Butter, have it cold and in pieces. This is very important so it mixes a bit with the flour but is not completely incorporated into it. Some pieces of butter the size of peas should remain in order to ensure flakiness when it is baked. I use a food processor for this part, but you can easily make it in a bowl with a dough cutter or use your hands.
Don't overwork the dough after adding the flour. This is a critical step if you want a tender, light dough. Once the flour is added, don't overwork it, it doesn't need to be kneaded. It needs to be mixed until there are no visible streaks of flour. Be careful not to overwork the butter and start to soften it too much (due to warm hands). If that happens, return it to the fridge for 10-15 minutes, and then continue.
Always let it rest in the fridge before rolling it. This step is absolutely essential. The dough, even if you didn't work it much when assembling it, will have developed some gluten (great for bread for example but not for doughs), so it needs to relax in the cold refrigerator before it is rolled. Otherwise, it will be difficult to stretch and will be too elastic, which will make it shrink as it bakes and be tough.
Flavorings: you can flavor with other extracts or liquors, such as almond, hazelnut, or orange.
Keywords: italian pie crust, galette dough
---