The search for a biscuit peach cobbler is over. This is all you asked for: juicy fruit that makes its own syrupy sauce as it bakes and a simple biscuit topping that is buttery and crisp. It's out of the oven in an hour, perfect for seasonal peaches, but it also works with frozen ones.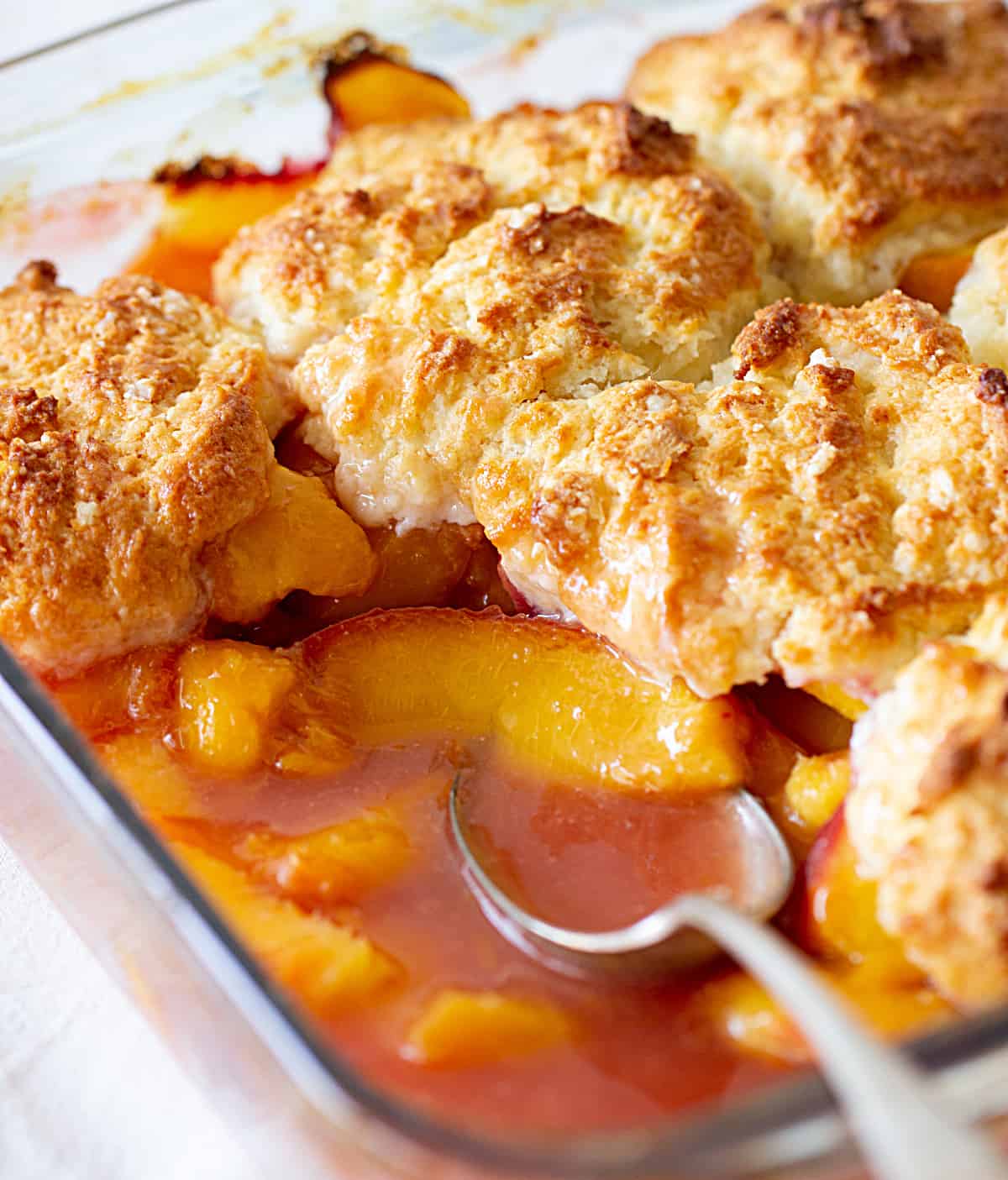 As an Amazon Associate, I earn from qualifying purchases. Please read my disclosure policy.
We take fruit cobblers very seriously here and this peach version has been one of the most popular for a few years now, second only to the spiced pear cobbler.
This is a fantastic recipe for a simple summer dessert, with the classic taste and texture of old-fashioned cobblers that emphasize fresh peaches' natural sweetness and flavor.
It's one of our favorite peach bakes that works with fresh and frozen fruit, and also nectarines. But a fresh peach cobbler is hard to beat.
What is a peach cobbler?
It's a simple dessert made with fresh peaches baked in a sweet sauce or syrup and topped with a biscuit-like crust that is typically made from a combination of flour, sugar, butter, and milk or cream.
This topping is dropped onto the top of the peaches in spoonfuls, giving it a rustic, cobbled appearance, hence the name "cobbler".
The dish is then baked in the oven until the crust is golden brown and the peaches are soft and tender.
Peach cobbler with biscuit topping is the most popular of all cobblers and a vintage recipe that stands the test of time.
It's often served warm, topped with whipped cream or ice cream.
It is a popular dessert in many parts of the United States, particularly in the South, and is enjoyed during the summer months when peaches are in season.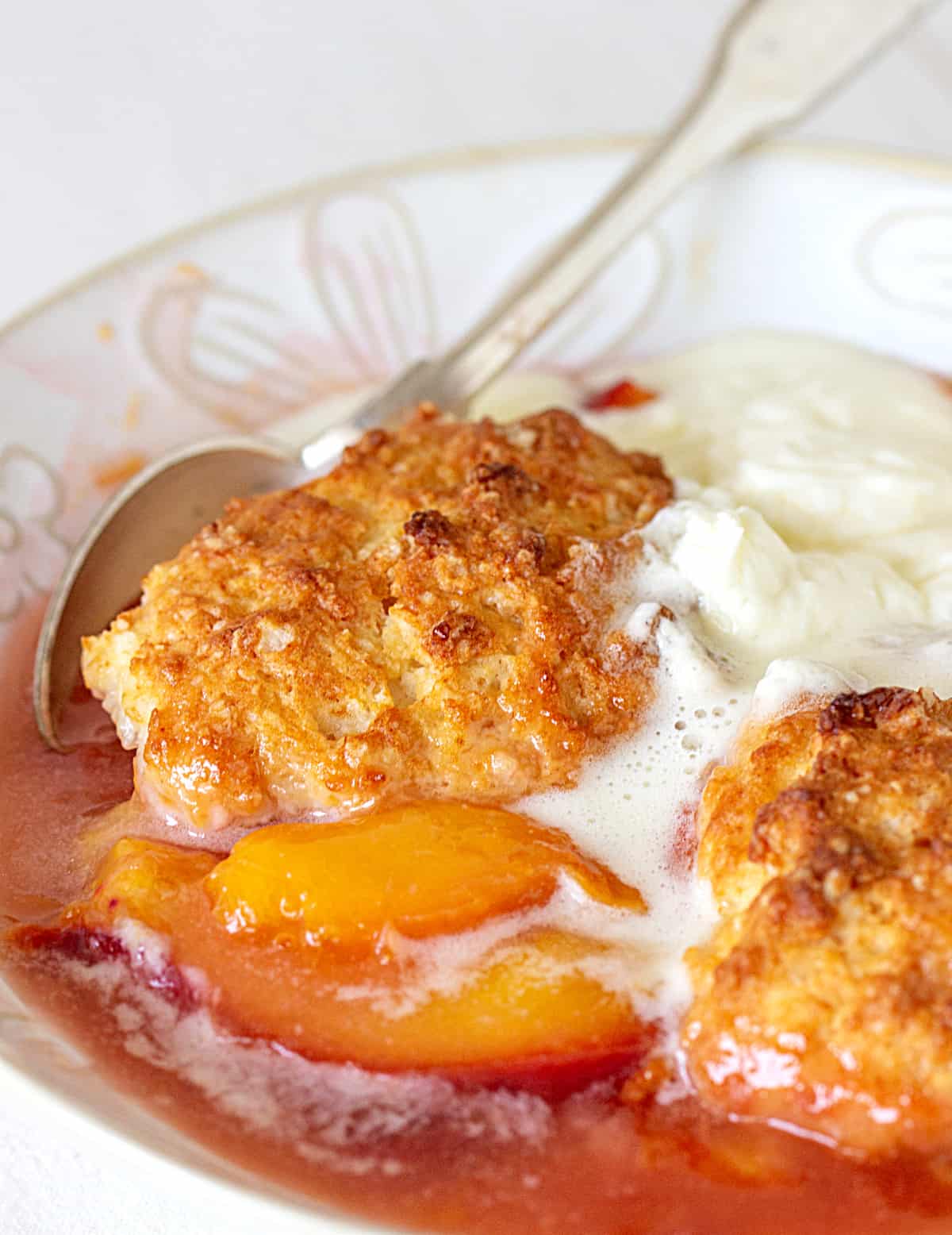 Ingredient list
Peaches: the first choice is using fresh, juicy peaches, peeled or left whole. But nectarines or frozen peach slices also work.
Buttermilk or plain yogurt: they give a slight tang and tenderness to the biscuit dough.
Brown sugar: I added a variation to use a mix of white and brown sugar because sometimes we want it sweeter (white) but with a hint of caramel (brown).
Cornstarch: it turns the peach juices into a syrupy sauce, one of this dessert's best parts. The tablespoon of cornstarch in this recipe acts as a thickening agent. Some recipes call for quick-cooking tapioca, but I never used it.
Lemon juice: brings out the rest of the flavors and balances the sweetness and starchiness of the recipe.
Cinnamon: any ground cinnamon you normally use works fine. I like Frontier Vietnamese cinnamon and Simply Organic Ceylon cinnamon.
All-purpose or cake flour: using them with baking powder is a way to control the amount of leavening. But you can use a cup of self-rising flour if it's all you have.
Baking powder: make sure it's not expired.
Salt: I like to use kosher salt when baking. But regular table salt works just fine.
Ginger: it's optional, but renders a unique flavor that complements the peaches and cinnamon wonderfully.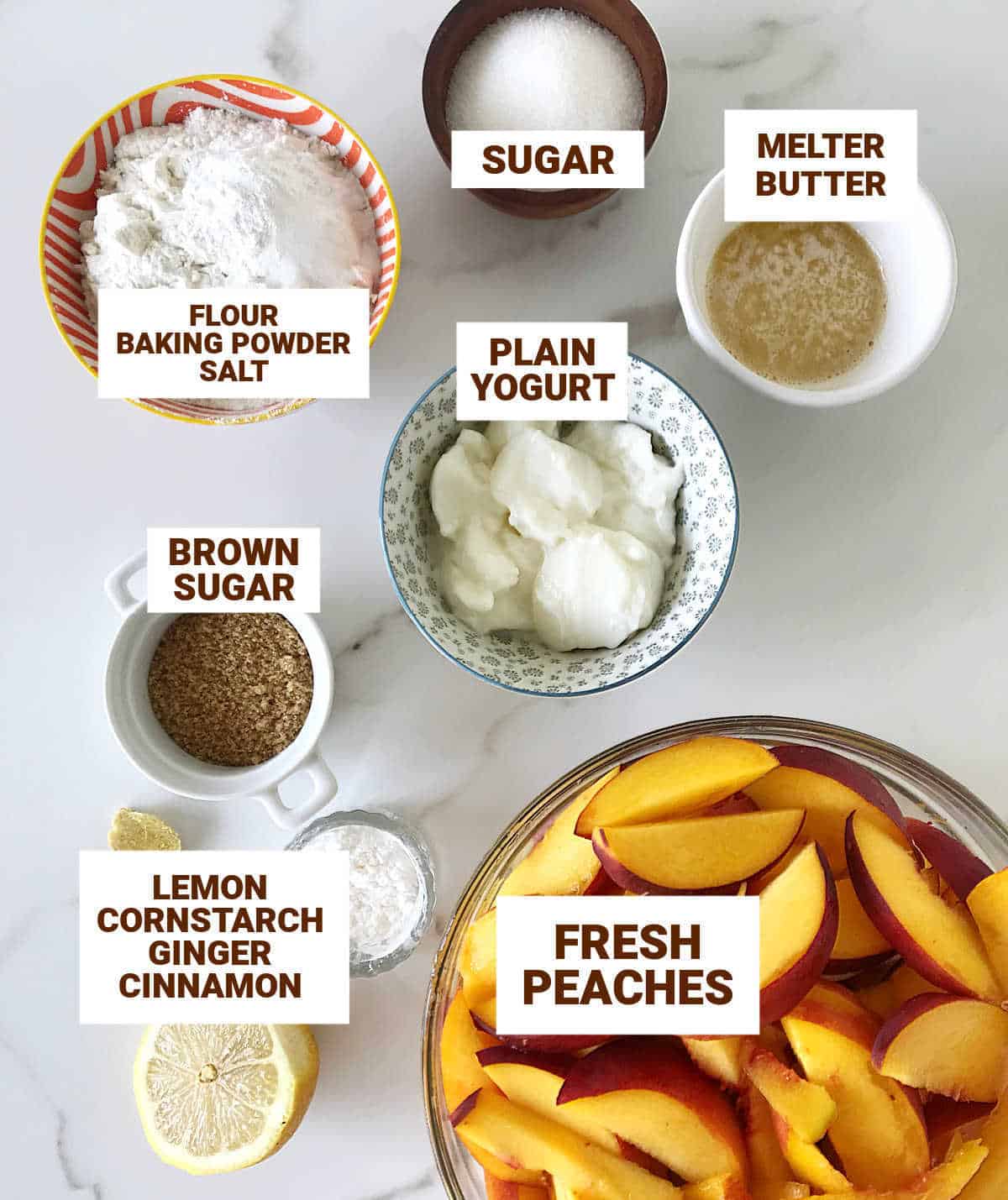 Peach cobbler filling
As with the topping, this step is as simple as mixing sliced peaches with the rest of the ingredients in a large bowl.
The magic happens once the dessert is baking and the fruit juice mix with the rest of the ingredients to create a wonderful syrup that you'll want to eat with a spoon directly from the baking dish.
Cutting the peaches: you can slice them thinner, thicker, or cut into chunks. The thinner they are, the more they will soften as they bake. I like to use thicker wedges, about 8 per peach, so that they keep their shape while baking.
Peach skin: I peel some and leave others with the skin. When in season, the skin is usually thinner and I'm OK with leaving some of it. But this is up to your personal taste.
Flavorings: the peach mixture flavor can be customized. We use ground cinnamon and ginger. But you can also add a few drops of vanilla extract to make it mellower and/or orange zest to add another flavor layer.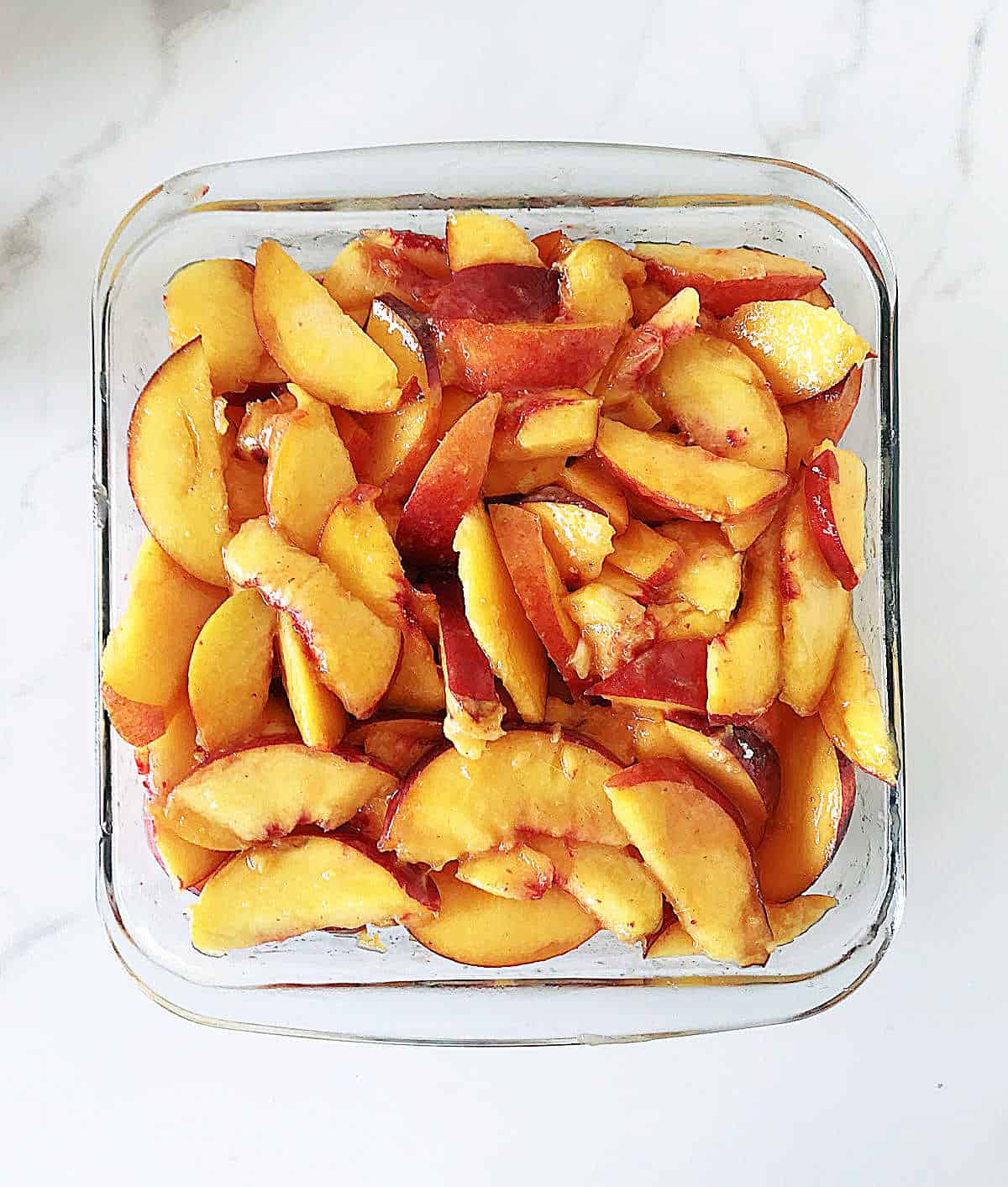 Biscuit topping for cobbler (top crust)
This is extremely easy to assemble, as you simply stir the ingredients in a bowl until you have a wet dough.
Melted butter: adds flavor and makes the top crust very easy to put together, as opposed to working cold butter into the flour mixture as we do for the old-fashioned blueberry cobbler.
Yogurt or buttermilk: it adds tanginess and tenderness to the biscuit topping. An excellent idea because we don't want a heavy top crust, we want the biscuits to bake as light as possible. If using buttermilk, reduce the amount to about ½ a cup. The topping batter needs to be thick, so start with a scant half a cup and see if you need more.
Flavorings: add a little cinnamon or nutmeg to the biscuit mix.
Vintage Kitchen tip: don't overmix! You don't want to develop gluten which will make the biscuits tough. Once the flour is incorporated, stop mixing.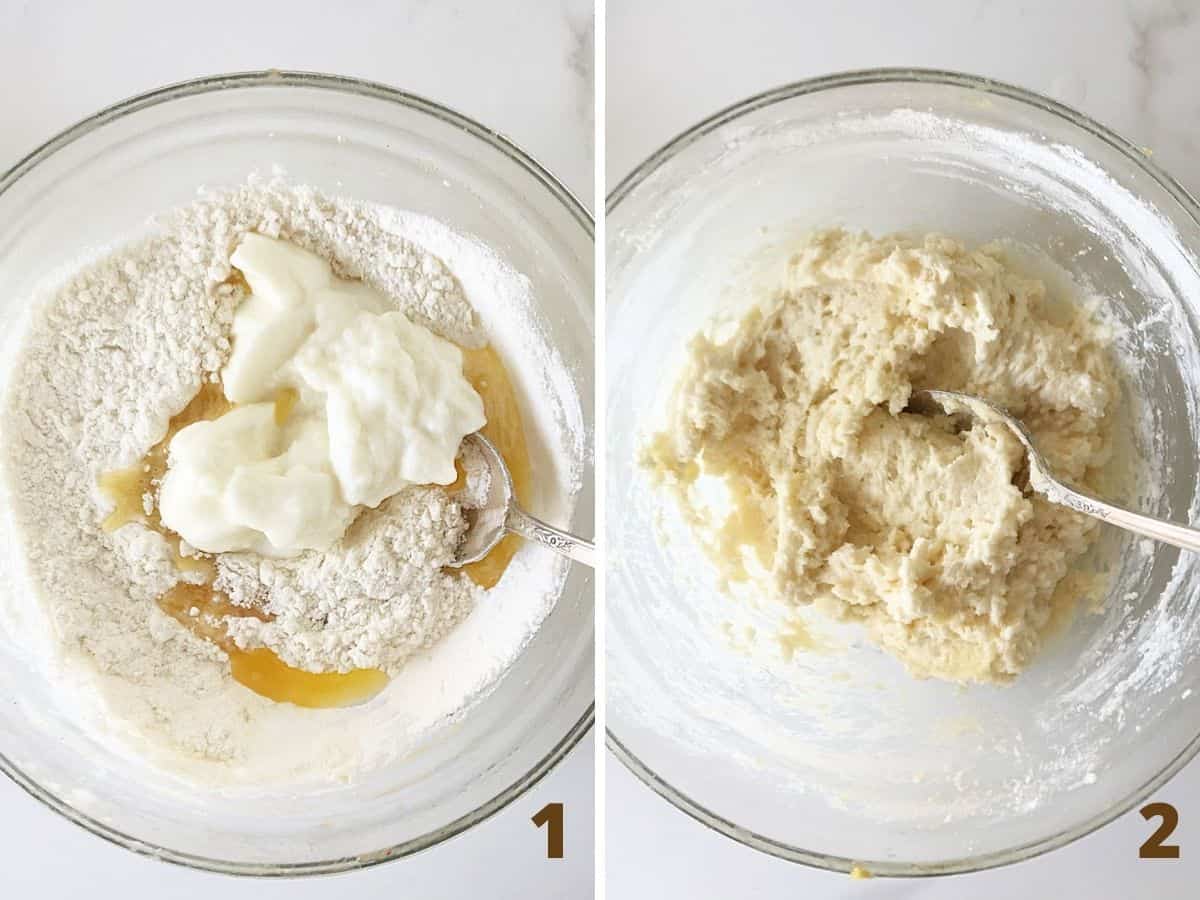 Assembling a cobbler
Type of baking dish: I like to use a glass or ceramic baking dish for cobblers. They can be square like in this recipe, rectangular like the pear cobbler, or oval like the blueberry cobbler. They all work just fine. This dessert is served family-style, so choose a cobbler dish you like to take to the table.
Cast iron skillet: another popular way of baking a cobbler. You can use an 8-inch skillet for this recipe.
Ratio: we're talking about the amount of filling to topping, which is, in my opinion, the most critical part of the assembly. Do you like more fruit filling than top crust? This is important to consider because we should constantly adjust our favorite recipes to what works best for us. I like a lot of filling so that the peach flavor is very present and a lot of juice is released.
Crunchier topping: you can sprinkle an extra tablespoon of sugar on top of the batter before it goes into the oven to create an even crisper layer.
Vintage Kitchen tip: if you feel you want more fruit or more topping, I recommend you adjust the amount of filling. Adding or removing a few extra peaches is easier than adjusting the biscuit dough.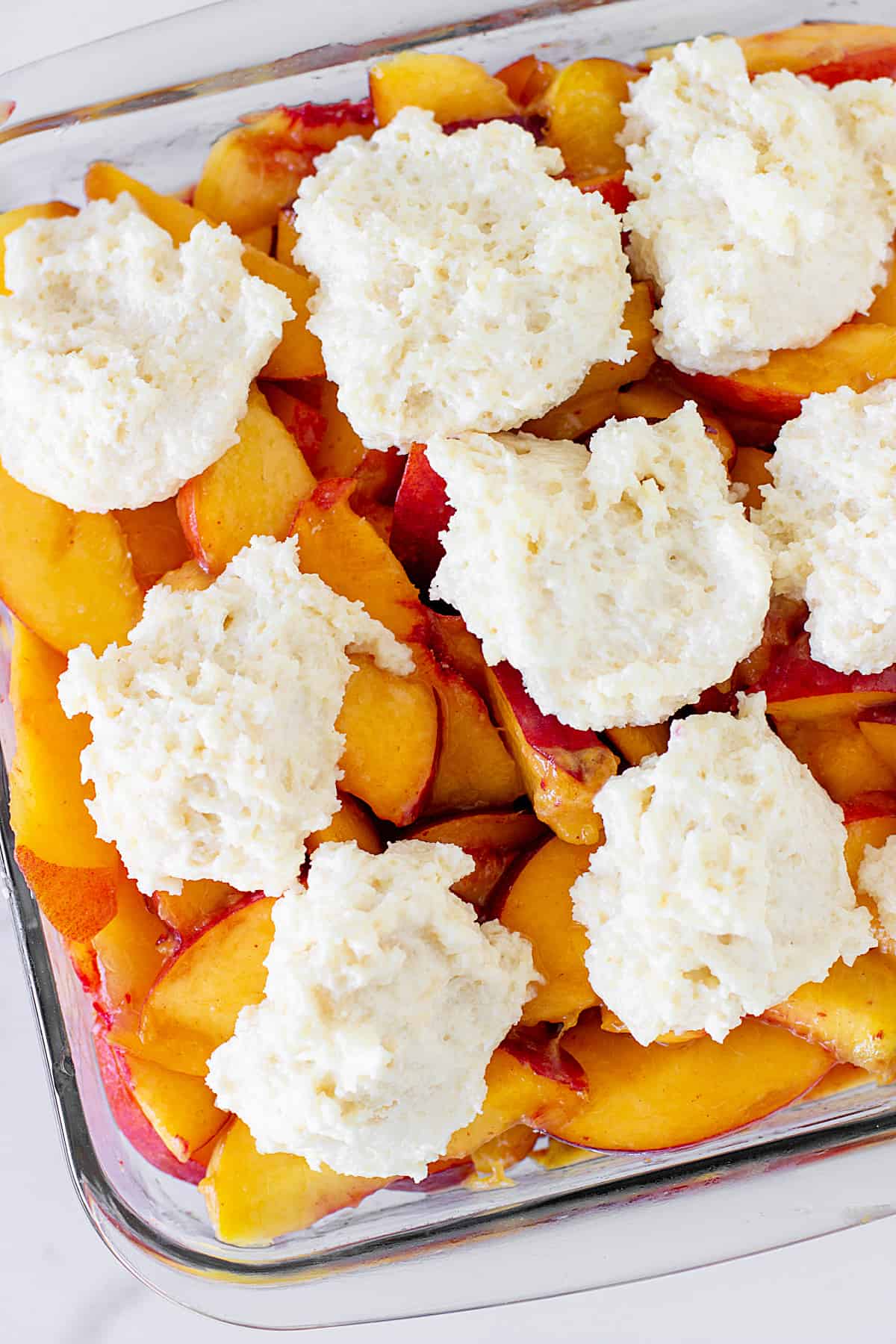 Serving
Ice cream: I think there's no better or more perfect ending to a family gathering than a bowl of warm peach cobbler with a scoop of vanilla ice cream! Your mouth will be having a party with different temperatures and textures. If I had to choose among my favorite desserts, it would be in the top 3.
Whipped cream: it will also work as a topping. Drizzling a touch of honey on top and some sliced, toasted almonds over the cream rounds it up.
Room temperature: I also like it plain, at room temperature, which works very well for outdoor picnics, barbecues, and potlucks. The peaches and brown sugar have lots of flavor, so I can skip the ice cream topping if I have none. I don't recommend eating it cold from the fridge because the flavor will not be significant. Cold tends to numb flavors.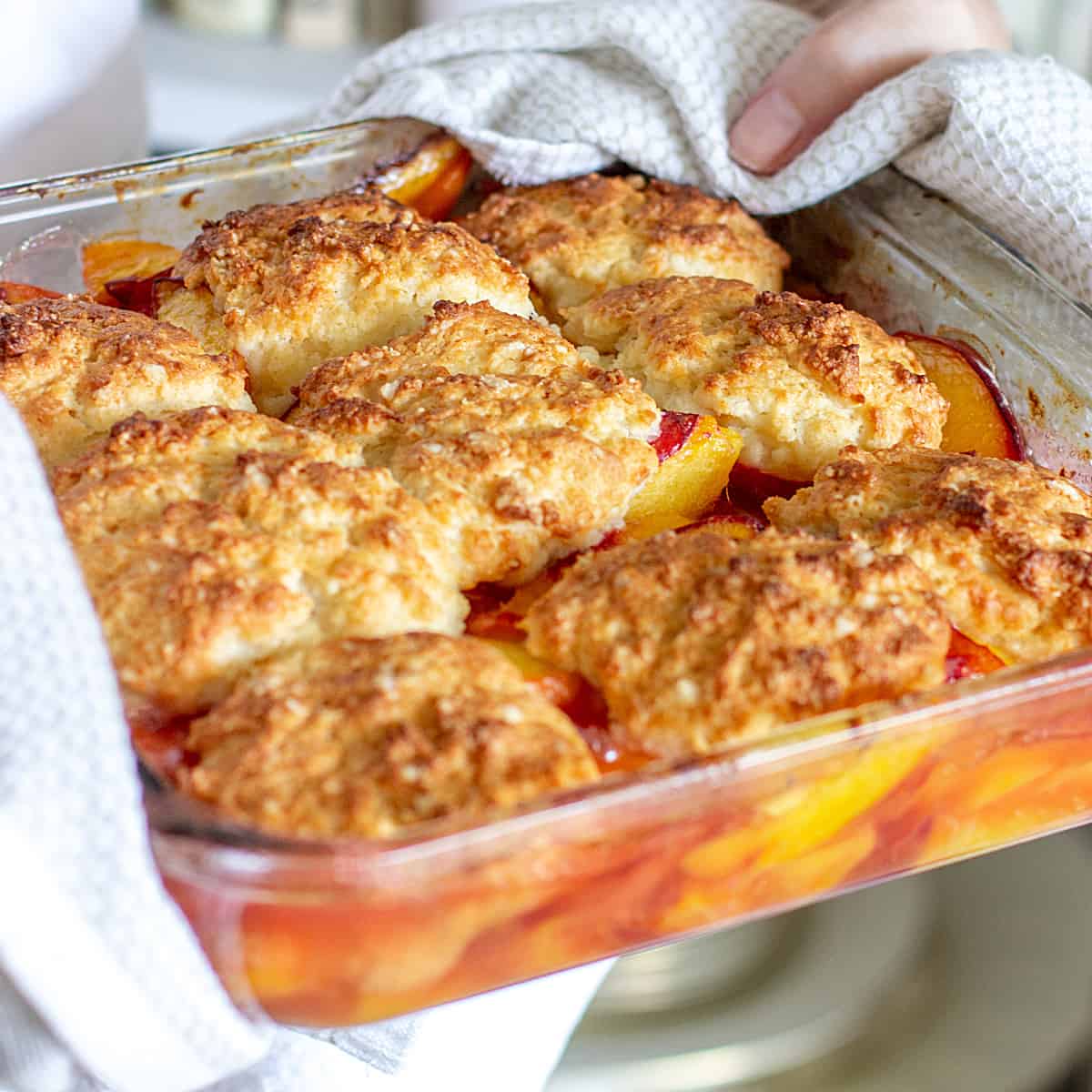 Storing
Room temperature - this easy peach cobbler recipe keeps well without refrigeration for a day, covered in plastic wrap.
Refrigerator - after a day, cover or use an airtight container and keep refrigerated. Fruit tends to ferment pretty quickly, especially in warm weather, and we certainly don't want that to happen!
Freezing - you can freeze the baked dessert in the baking pan and defrost it directly in a medium/low oven (about 300°F/150°C) until it's bubbling again. Or thaw at room temperature and warm before eating.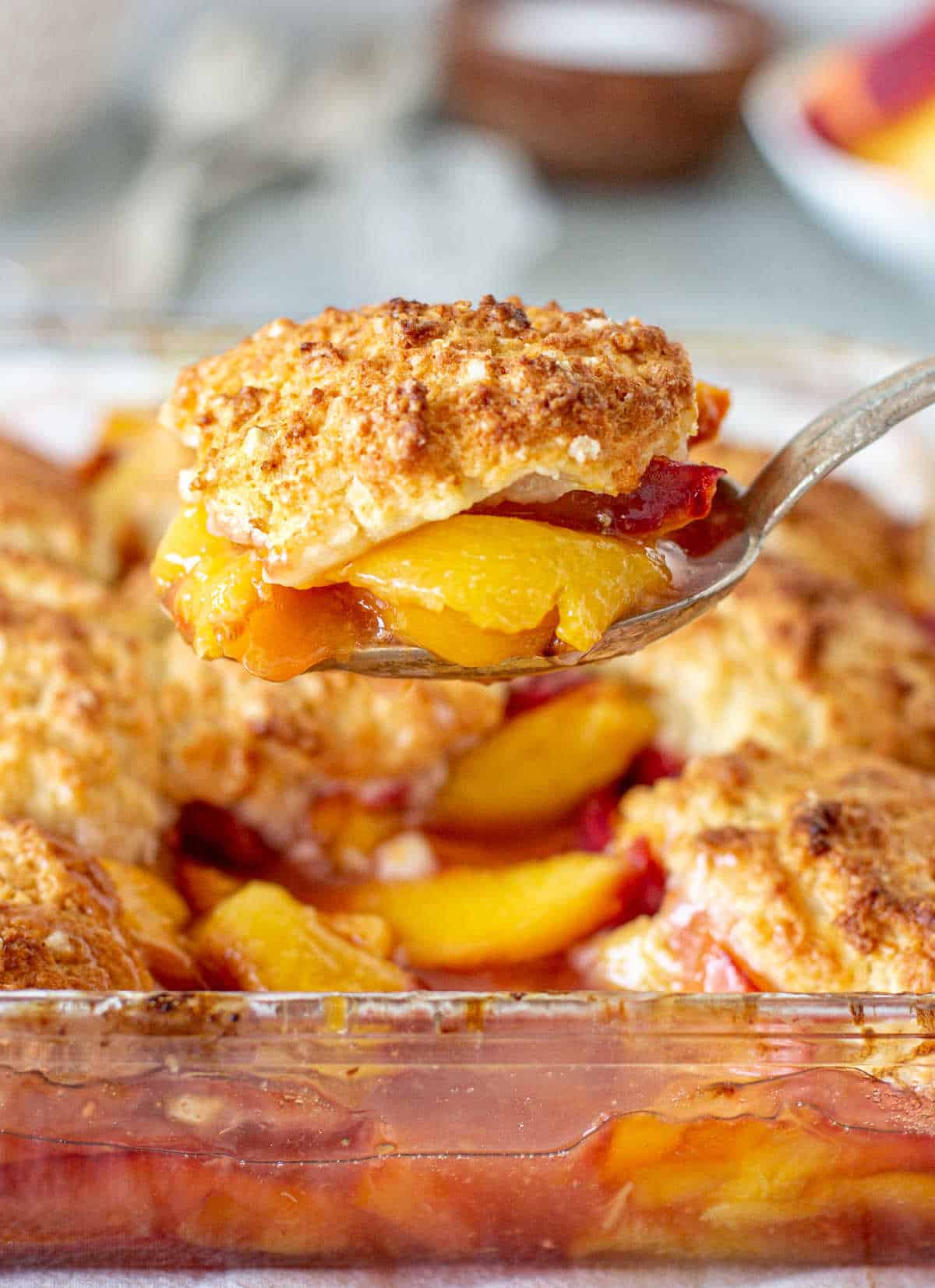 Does the batter go on the top or bottom of the peach cobbler?
Traditional cobblers have a biscuit-style top crust only. The bottom is the fruit layer. But you will find some recipes with a bottom batter-like crust, especially Southern ones. It's an ongoing debate because, in theory, that would make it a pie, not a cobbler.
What is a cobbler crust made of?
There are 3 popular types of topping, or top crust as it's sometimes called:
Drop biscuits: it's the classic topping and the type we're using for this recipe today. It's a wetter, spoonable dough mounded over the fruit filling but can also be slightly spread, as we do for our popular Pear Cobbler.
Pie crust: strips of pie dough top the fruit layer in a lattice and is usually called southern peach cobbler. It's a great way to use leftover homemade pie crust.
Traditional biscuits: this is how my grandmother made them. She simply put her favorite biscuit (buttermilk scones most of the time) on top. You can use store-bought canned biscuits and make a quick peach cobbler with biscuits.
What's the difference between a peach cobbler and a crisp or crumble?
A cobbler is topped with a biscuit-style, doughy batter, while crisps and crumbles have a crunchy topping with a higher butter content and no liquids. Both have a syrupy fruit layer at the bottom, but the top layer makes them different desserts.
What is the difference between a dump cake and a cobbler?
They are closely related, but a dump cake uses purchased cake mix for the topping and canned pie filling. This makes it quick and easy to assemble. Dump cakes tend to be sweeter since store-bought cake mix has a higher sugar content than the traditional biscuit-style cobbler topping, like fruit cobblers do.
---
Related recipes you might like:
---
Let me know in the comments below if you made this recipe and loved it and if you had issues so we can troubleshoot together. I love to hear what you think, always. Thanks for being here. It's much appreciated.
You might also consider subscribing to our FREE email series to Boost your Home Baking Skills! And our regular newsletter.
And let's connect via Facebook, Instagram, and Pinterest.
Print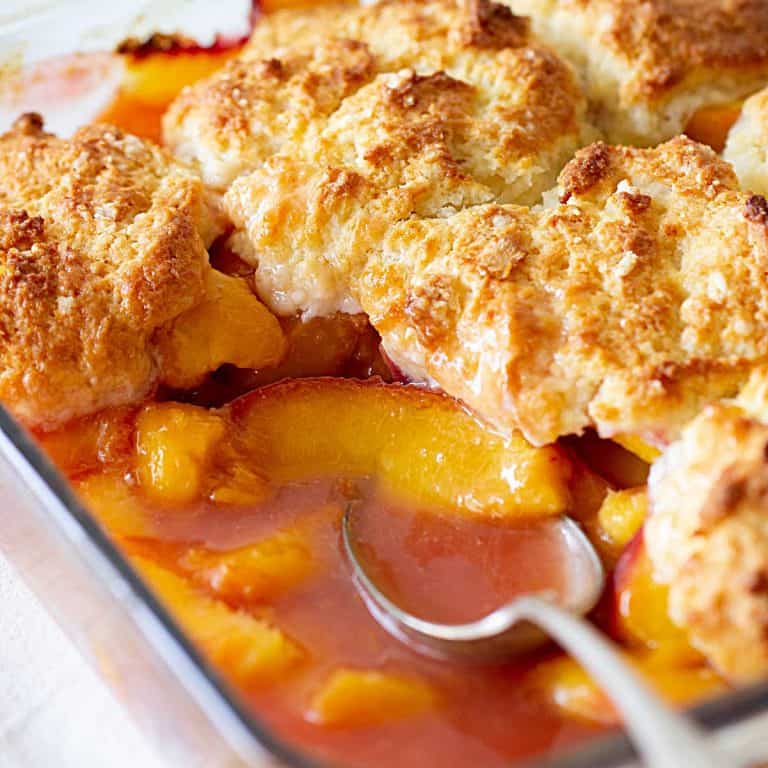 Easy Peach Cobbler
The search for a fantastic homemade peach cobbler is over, finally! This recipe is all you asked for: juicy fruit that makes its own syrupy brown sugar sauce as it bakes and a super simple biscuit topping that is buttery and crunchy. And it's out of the oven in an hour, tops. It's perfect for when peaches are in season, but it also works with frozen peaches.
Total Time:

55 minutes

Yield:

6 servings
For the filling:
5

cups

(5-6 pieces) ripe peaches or nectarines, cored and sliced fresh

¼

cup

brown sugar

1 tablespoon

cornstarch dissolved in 2 tablespoons of water

1 tablespoon

lemon juice

1 teaspoon

grated fresh ginger
Pinch of ground cinnamon
Pinch of ground nutmeg (optional)
For the topping:
1

cup

all-purpose flour

2 tablespoons

white sugar

1 ½ teaspoons

baking powder

½ teaspoon

salt

3 tablespoons

unsalted butter, melted

¾

cup

plain yogurt or ½ cup buttermilk, at room temperature
Instructions
For the peaches:
Wash, dry, and remove the stone (core) from the peaches. Cut in slices or small chunks.
Have ready a 9-inch glass or ceramic dish. You can butter it if you want.
Mix the fruit with the rest of the filling ingredients in a large bowl.
Dump onto the prepared dish and spread evenly.
For the topping:
Preheat the oven to 375°F/190°C.
Mix flour, baking powder, sugar, and salt in a medium bowl.
Pour melted butter, add yogurt or buttermilk and quickly mix with a spoon or spatula. It needs to be incorporated,

but not overmixed

.
Drop 9 mounds onto the peach filling, making three rows of 3. Leave space between them and around the edges so that the fruit juices can bubble up when baked.
Bake for about 35 minutes and check to see if the biscuits are fully baked. They will be golden and dry but lift one of them with a fork and check that there's no unbaked dough. Sometimes they look perfect, and the juices are bubbling, but there's still some raw dough.
If this is the case, bake it for 5-10 more minutes or until it's fully baked when you lift it a bit. You might want to loosely cover the surface with a piece of aluminum foil to prevent the biscuit topping from darkening too much while it continues baking.
Let cool on a wire rack until warm enough to serve.
Serve with ice cream or whipped cream if you feel like it.
Refrigerate leftovers, covered. Warm slightly in a medium oven before serving them again.
Notes
Organization. Read the recipe first and ensure you have ingredients at the correct temperature, equipment, and enough workspace. This will make the process so much easier.
Baking time. Keep in mind that all ovens and pans are different, even if they look similar. The baking time in my recipes is as accurate as it can be, but it might take you more or less time. You can use a thermometer (like the OXO oven thermometer) to check that your oven is at the right temperature. I recommend you keep track of how your oven works and what tiny details you might need to adjust.
Fresh peaches. Using fresh fruit is the way to go and nectarines also work wonderfully. The result is far superior than when you use canned peaches, IMO. You can also use nectarines, which are very similar to peaches, but with a much thinner, unfuzzy skin.
Yogurt or buttermilk. They give a slight tang and tenderness to the biscuit dough.
Sugar. I usually use all brown sugar, but I added a variation to use a mix of white and brown because sometimes we want it sweeter (white) but with a hint of caramel (brown).
Cornstarch. It turns the peach juices into a syrupy sauce that is one of the best parts of this dessert.
Lemon. They add flavor and balance out the sweetness and starchiness of the rest of the recipe. You can omit them, of course, just take into account that it will lack that balance.
Cinnamon and ginger. These might be optional if you're not into them or don't have them when you make this dessert. They pair wonderfully well with peaches.
Flour: using all-purpose with baking powder is the best because you can control the amount of the leavening. But you can use self-rising flour if it's all you have and you just want to eat a homemade peach cobbler!
Author:

Paula Montenegro

Prep Time:

15 minutes

Cook Time:

40 minutes

Category:

Desserts

Method:

Baking

Cuisine:

American
Nutrition
Serving Size:

⅙

Calories:

268

Sugar:

24.6 g

Sodium:

212.3 mg

Fat:

8.1 g

Carbohydrates:

44.6 g

Fiber:

2.6 g

Protein:

6.6 g

Cholesterol:

19.9 mg