Cobblers are one of the easiest desserts to make with fruit. They come together quickly, can be made ahead, and the combination of flavors is huge. They're perfect for using seasonal fruit but can also be made with frozen. Use this guide with recipes and tips to make them your own!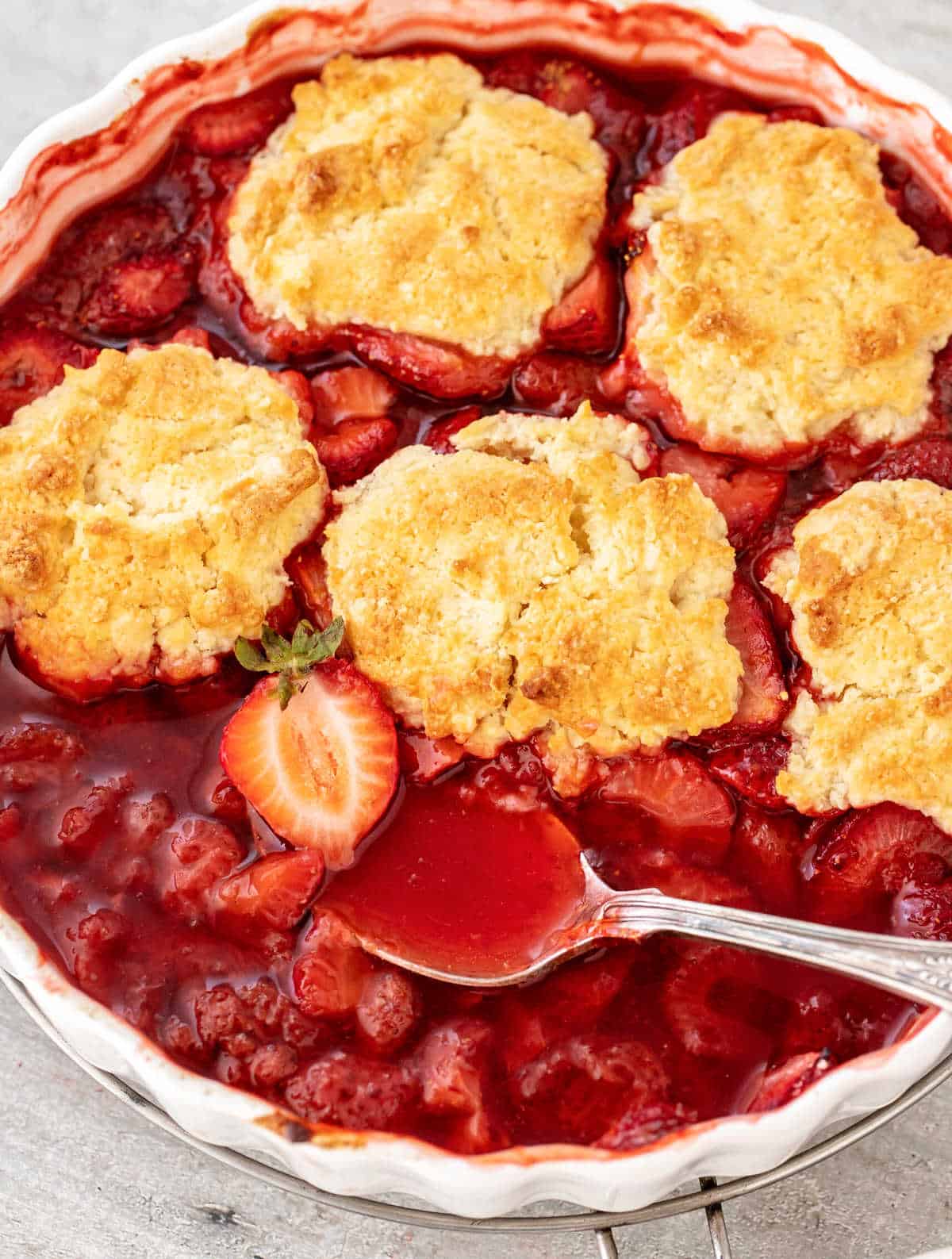 What makes a cobbler a cobbler?
The biscuit topping that bakes resembling cobblestones is the trademark of this dessert. And the reason it's called that way.
This is achieved by using a rather stiff dough (with flour spots sometimes) that is spooned or dropped in mounds over the fruit and doesn't expand too much during baking. It doesn't cover the filling completely.
That said, there are different types of cobbler recipes.
Types of cobblers
A cobbler has a fruit layer and a starchy topping. The fruit bakes and releases juices as the biscuit topping is baked, creating a syrupy filling and a sweet, tender upper crust. A fantastic combination if you ask me.
Traditional biscuits: this is how my grandmother made her cobblers. She simply put her favorite biscuit buttermilk scones on top.
Drop biscuits or batter: the type we're using for this recipe today is a wetter, spoonable dough that can also be spread, as we do in our super popular Pear Cobbler. Sometimes the dough is so wet it's almost like a thick batter that is added as a bottom layer and rises as it bakes, partially covering the fruit.
Pie crust: this is a great way to use leftover homemade pie crust or flavored, as shown in the Cinnamon Plum Cobbler.
Cobblers with biscuit topping
I like biscuit dough because it's soft and fluffy inside but turns golden brown and is crunchy on top. But there are small details, usually in ingredients, that can result in quite different toppings.
Using cold butter
In a large bowl put the dry ingredients (flour, salt, and baking powder) and add the cold butter pieces. The next step is to integrate the butter into the flour mixture and this means that it has to be broken into small pieces but it should stay as cold as possible. So touching it lightly, as little as possible, and getting the job done as quickly as possible is important. We have 3 choices:
By hand: it's how I do it because I like to feel the ingredients and also because it's usually a small quantity. The key is not to overwork the dough as it will start to melt the cold butter and that is not good if we want a tender dough. If you normally have very hot hands this is probably not the best option.
Pastry cutter: this is where you cut the butter into the flour with a pastry cutter (also called pastry blender) in a large bowl (don't use a small one as it will be more constricting and difficult to work in). This way you avoid touching the messy butter and have little chance of warming it too much with your hands.
Food processor: you can use this gadget to make the first part of the flour mixture, just before adding the wet ingredients. The key here is to use quick on/off pulses, just enough to cut the butter and integrate the dry ingredients. You don't want to process the whole thing and make a dough. So you might want to try this method if you don't have much success with doughs (they end up being tough because you overwork them). Or because you're making a large amount.
Using melted butter
It's my favorite way because it's the easiest and the results are perfect!
I make the strawberry cobbler that way and most of the biscuit toppings that call for cold butter can be made with melted. Simply combine the dry ingredients and then add the melted butter together with any other liquid that the recipe calls for.
Other cobbler-type desserts where I also like to use it melted are dump cakes. I found that stirring the cake mix with it (rather than topping it with sliced cold butter) creates a much better topping.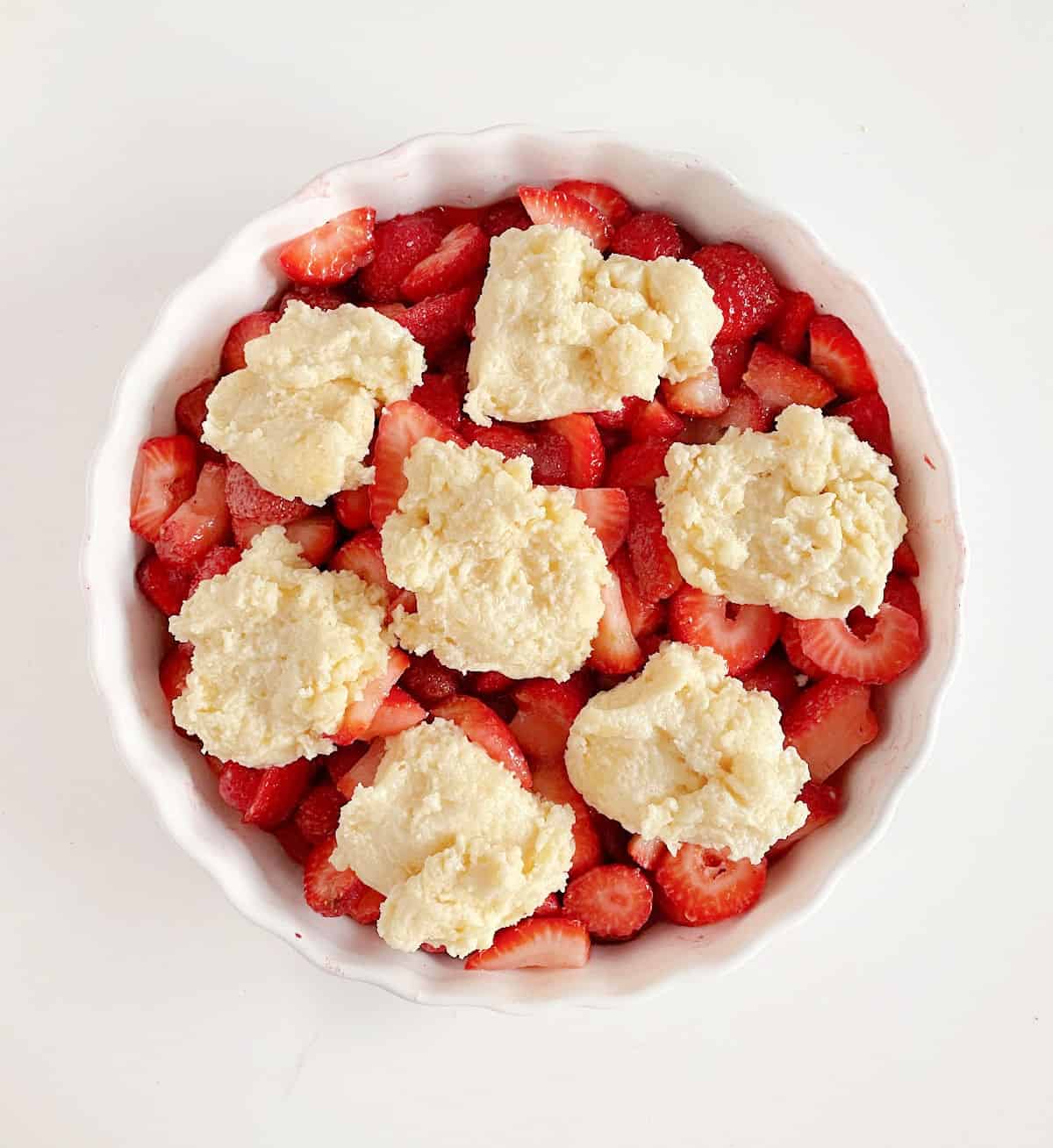 Cobblers with pie crust
This is an old-fashioned way of making this delicious dessert and a great way to use leftover pie crust. It consists of a layer of juicy peaches in syrup topped with a lattice crust (you can also use dough cutouts) that bakes to a golden brown. It can be made in advance and kept refrigerated or frozen.
The traditional way is making a lattice on top of the fruit, but any shape works. We make the plum cobbler with cinnamon dough cut into flowers (below).
Vintage Kitchen tip: make sure the pie crust is cold when you roll and cut it. Have the filling ready so the cobbler goes into the oven as soon as you add the top layer.
Choosing fruit for cobblers
Fresh fruit: this is always my first choice and I encourage you to take advantage of seasonal produce whenever possible. Cobblers are a great way to use fruit that didn't ripe well (it's mushy or lacks flavor), or that is not ripe enough.
Frozen fruit: this is the way to go when a fruit you love (berries for example) is out of season. This works especially well with berries and some stone fruit like cherries or peaches.
Canned fruit: another good choice when the other options are not available or you don't have time to peel and cut the fruit. Canned peaches and pears are two that I have used with good results.
Assembling a cobbler
Do cobblers have a bottom crust? They shouldn't as they would qualify as a pie more than a cobbler. But some versions do and they're usually those with a wetter batter that's spread in the bottom and rises as it bakes, enclosing the fruit.
How do I thicken my peach cobbler? Cornstarch is the most common thickener used nowadays, but you'll find tapioca or arrowroot in very old recipes. I make a cornstarch slurry (simply mix it with water or juice) and add it to the fruit layer (image below).
Can you make a cobbler the night before? Yes, you can. Assemble it, cover it well and then put it in the fridge. The fruit will release juice during the night so make sure you bake it the next day so it doesn't turn out soggy.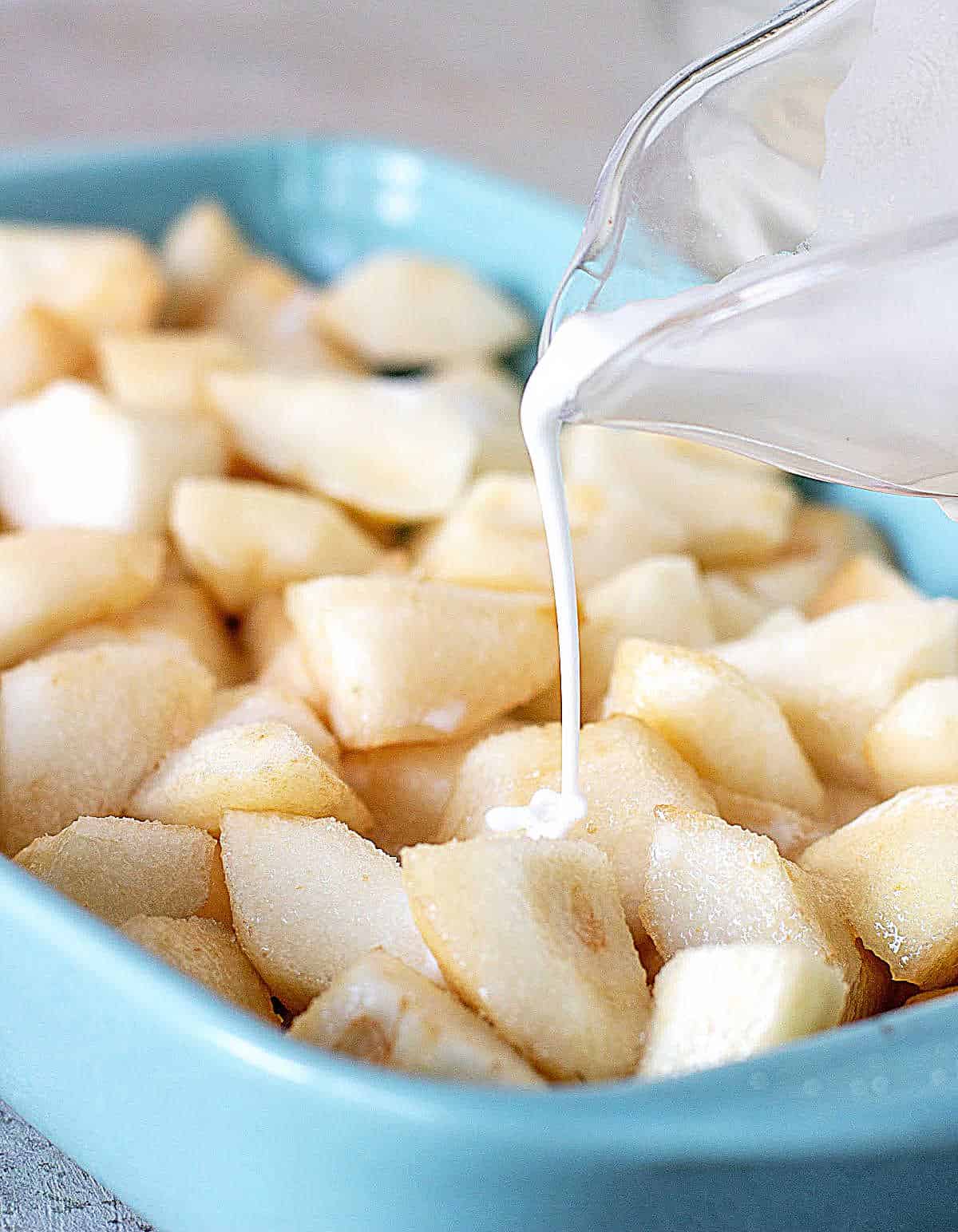 Baking a fruit cobbler
How do you tell if it's done? Even though the top is golden brown and the juices are bubbling, the cobbler might not be fully baked. Especially if using the traditional biscuit topping.
Top tip: lift the top here and there and check that the inside of the biscuits is dry, spongy and not wet. If needed, bake it a little longer.
Why is my cobbler runny? It might be that the fruit released too much juice and/or you're eating it before it had time to settle and cool down. If the fruit is naturally very juicy or frozen use cornstarch in the filling. A stay in the refrigerator will also thicken the juices, even if you reheat it.
How to prevent a dry cobbler: the juice is released when the fruit is baked, and some just don't have enough liquid on their own. That results in a dry dessert. The key is to add extra water or citrus juice to the filling and not rely on the fruit's natural juices.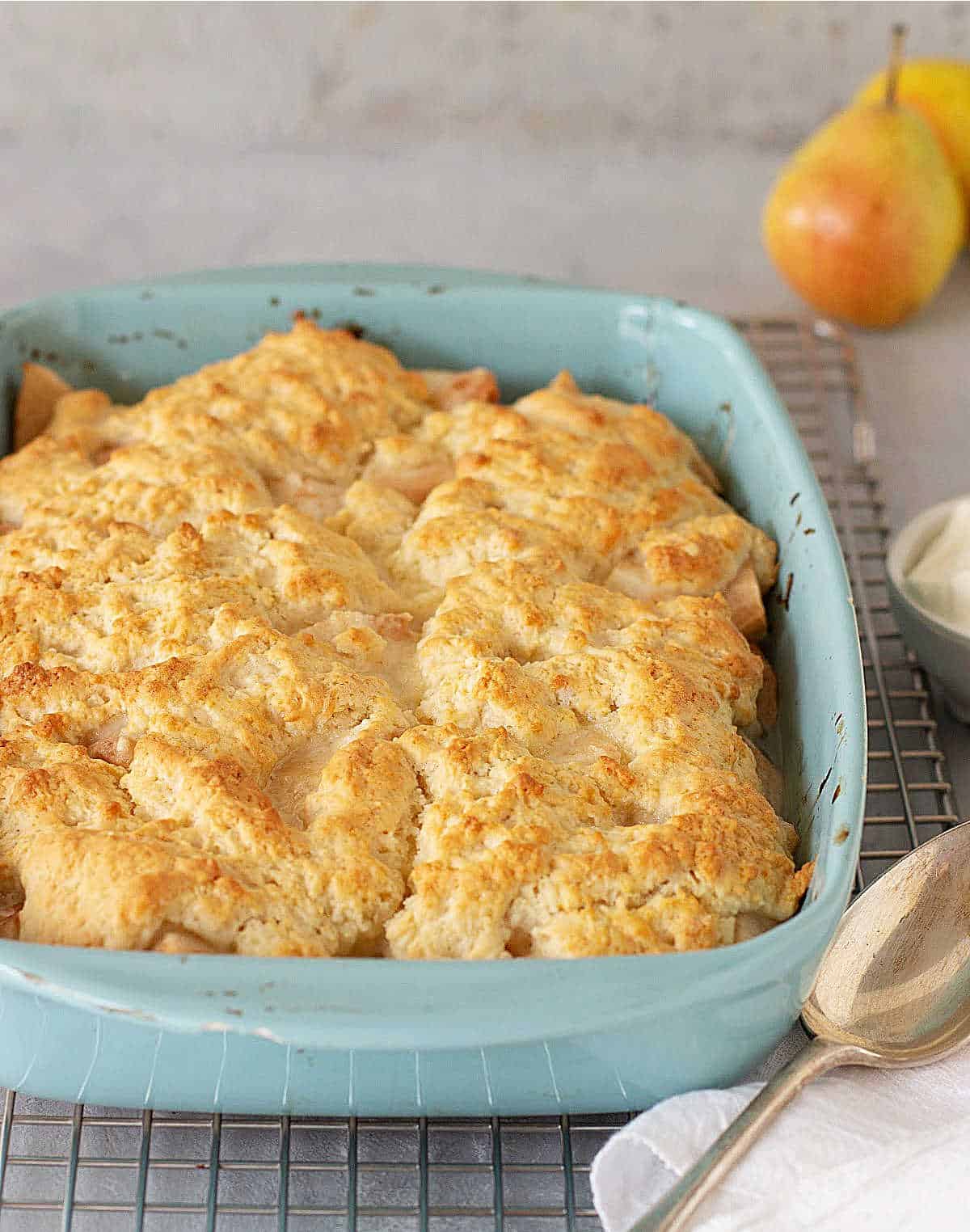 Storing a cobbler
How long do cobblers last? They keep well for a week in the refrigerator or a month in the freezer. I always recommend warming it in a medium oven before eating.
Do you need to refrigerate it? After 1 or 2 days at room temperature, it's best to refrigerate cobblers. The type of fruit you use is relevant as some can ferment quickly if left out for several days and ruin the whole dessert. Always cover the leftover cobbler well before refrigerating it, either with plastic wrap or in an airtight container, so it doesn't dry up.
Can you refrigerate a cobbler before baking? You can assemble it a few hours before baking it and keep it in the fridge.
Does it freeze well? Yes, they do! Some fruits are better than others. Berries freeze better than apples for example in my opinion, but since the dessert needs to go into the oven before eating it, all (or most) fruit works.
Can it be reheated? Yes, absolutely! And I encourage you to do it before eating it, especially if you're serving it with a scoop of ice cream.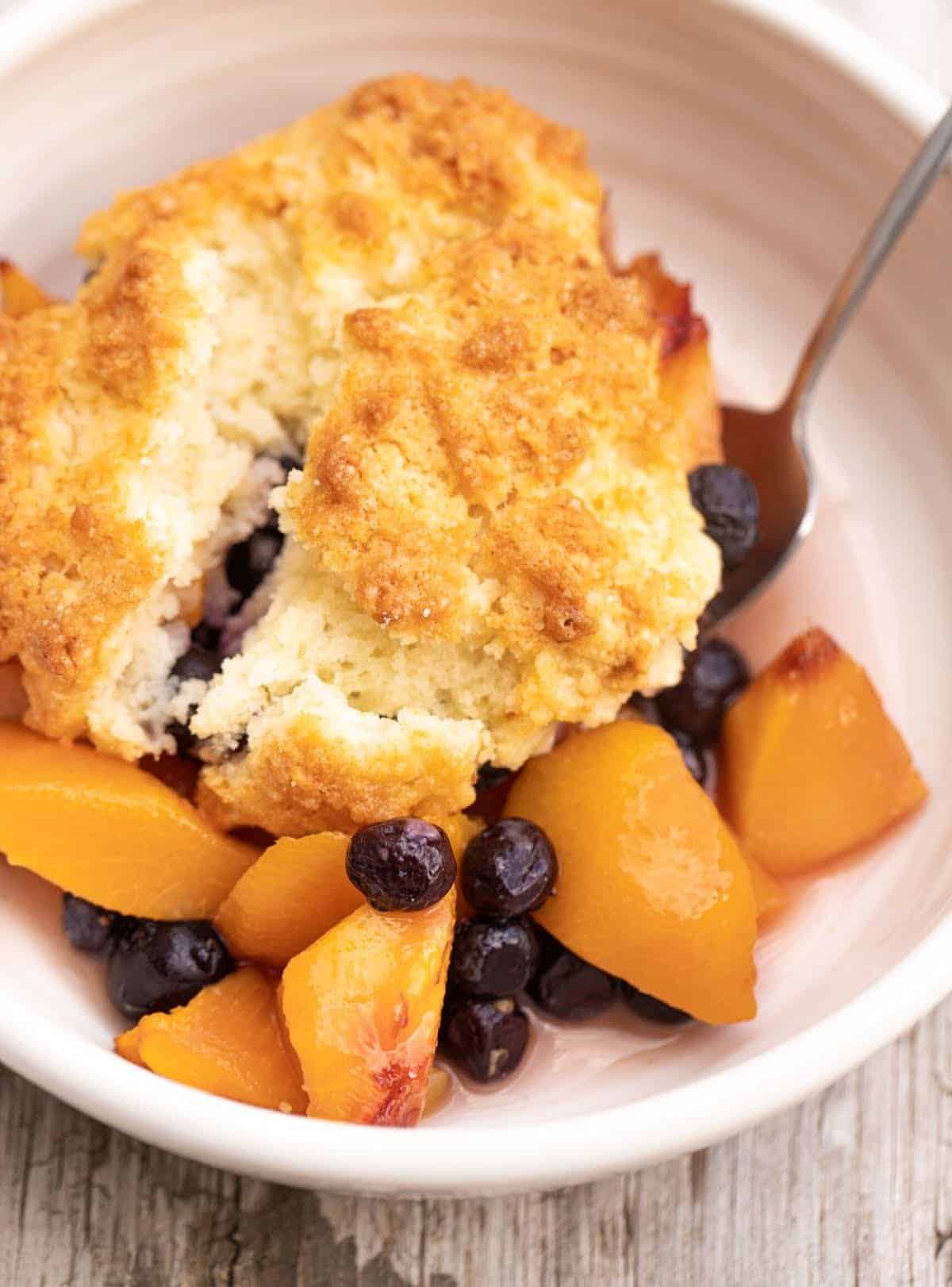 Cobblers vs similar desserts
We can say that the following desserts are all part of the same family. Some are siblings and some are cousins, but they all have a layer of fruit and a layer of floury topping.
What is the difference between a dump cake and a cobbler? Dump cakes are also referred to as cobblers with a cake mix because that's the ingredient used for the topping. So they are definitely closely related.
What is the difference between a cobbler and a Pandowdy? I think of a pandowdy as a sweet pot pie because the filling is cooked before going into the oven and it's completely (or almost) covered by pie crust.
What's the difference with a fruit crumble or crisp? Both have a crumbly topping that doesn't have liquid among their ingredients. So it's a drier kind of top layer.
What is the difference with a brown betty? What's unique about brown betty is that the fruit is layered with a crumble mixture. It's less related to a cobbler and more to a fruit crumble. I have a very old recipe for a peach blackberry brown betty posted (sorry for the small images and lack of text) that I need to update. But you can get an idea of it.
What is the difference between a cobbler and a pie? The latter has a bottom crust that encases the filling and that's the main difference. A cobbler with pie crust on top is the most similar, like an inverted pie.
Recipe roundup
You can flavor the fillings and toppings to match your own palate. So be inventive and let your imagination fly by using citrus zest, ground spices, extracts, or even some favorite liquor. Make the cobblers your own.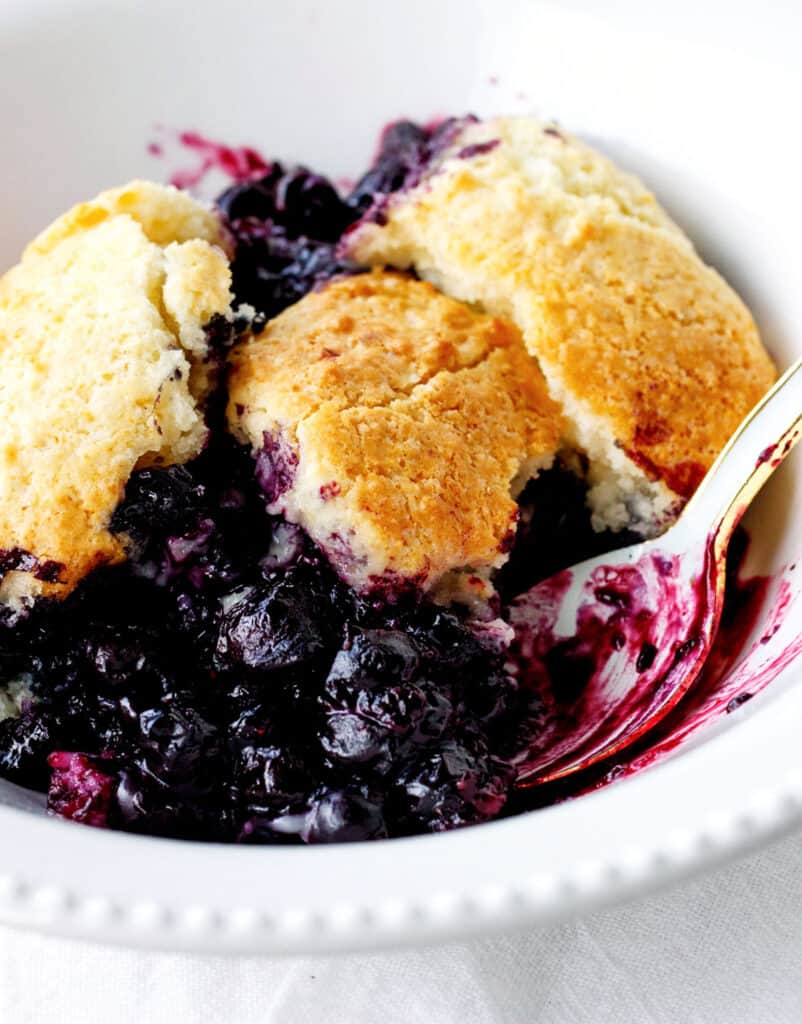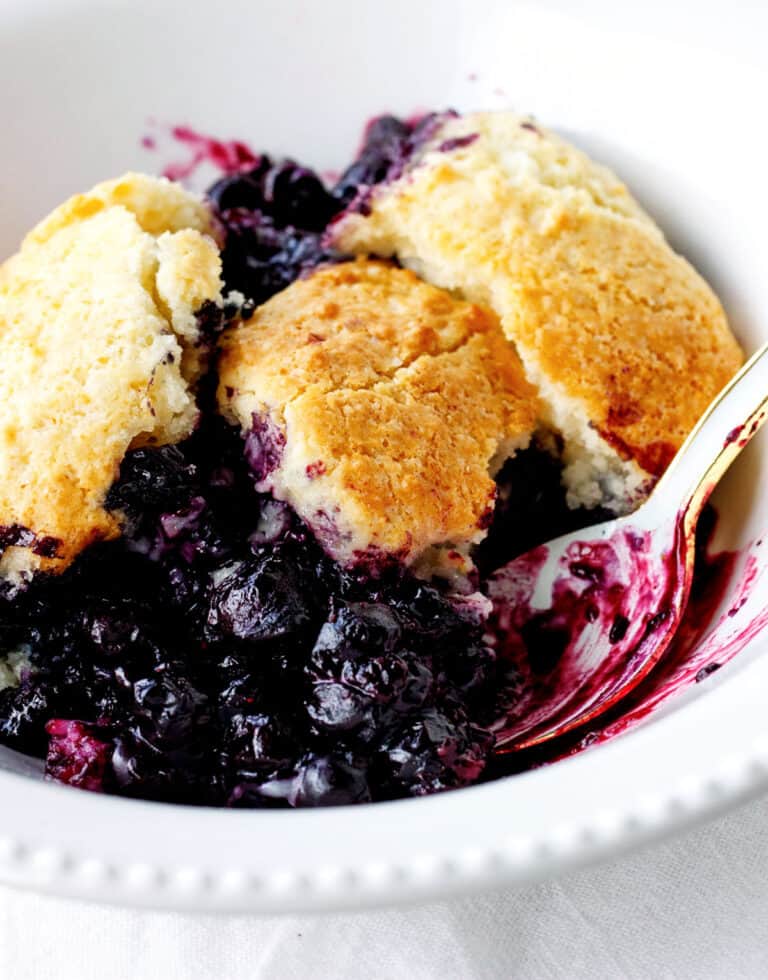 Easy Old Fashioned Blueberry Cobbler
This is one of those easy dessert recipes that checks both the quick and tasty boxes, with a golden brown topping and a layer of sweet fruit filling. It comes together quickly and is ready in under an hour!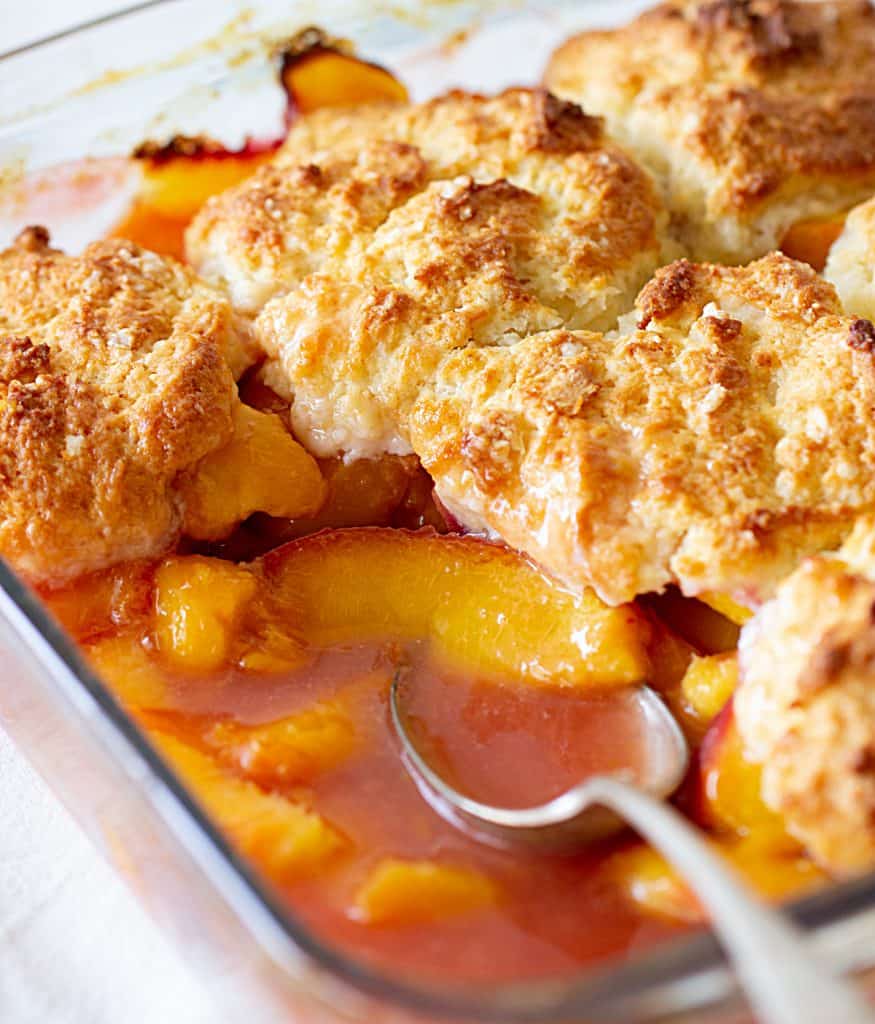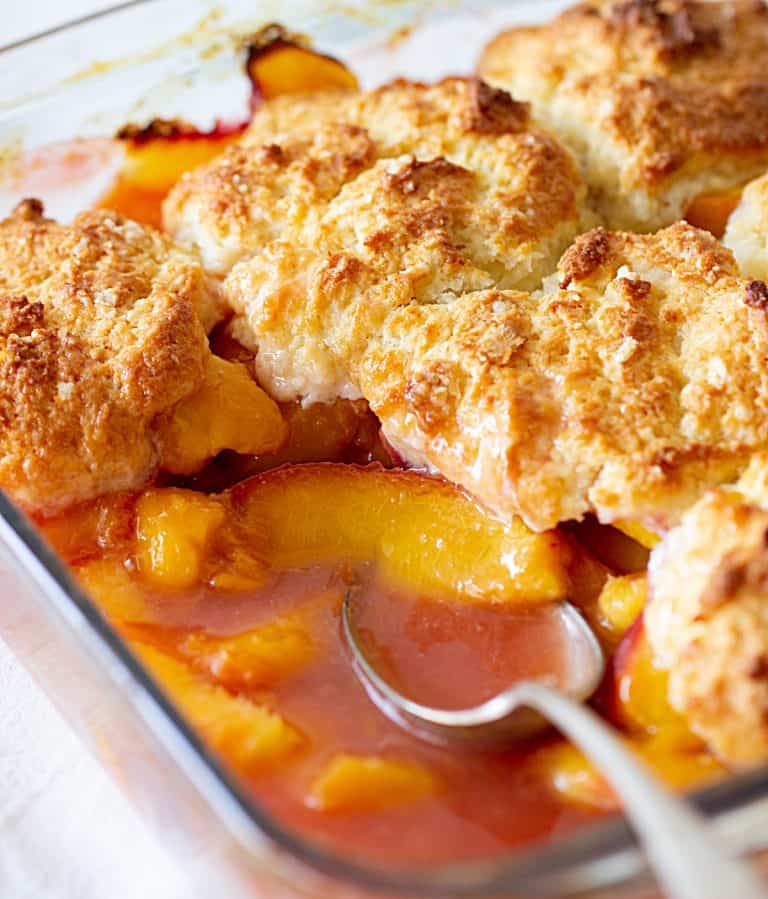 Easy Old Fashioned Peach Cobbler
The search for the best peach cobbler recipe is over. This is all you asked for: juicy fruit that makes its own syrupy brown sugar sauce as it bakes and a super simple biscuit topping that is buttery and crunchy. And it's out of the oven in an hour, tops.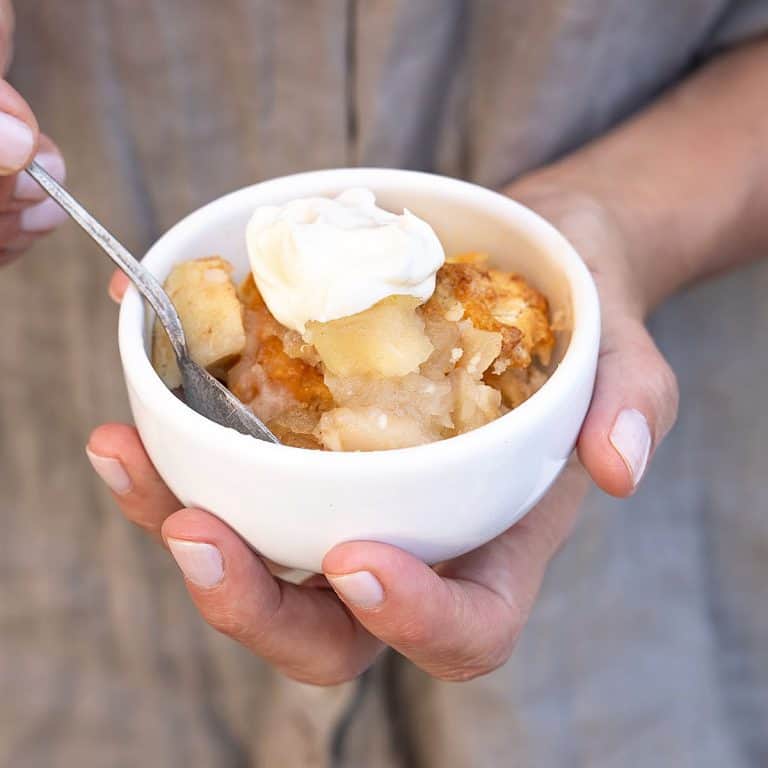 Easy Apple Cobbler
It's a simple dessert with a bottom layer of sweet, juicy cinnamon apples covered with a tender biscuit topping! A fantastic recipe that can be made year-round, keeps well, and can be frozen.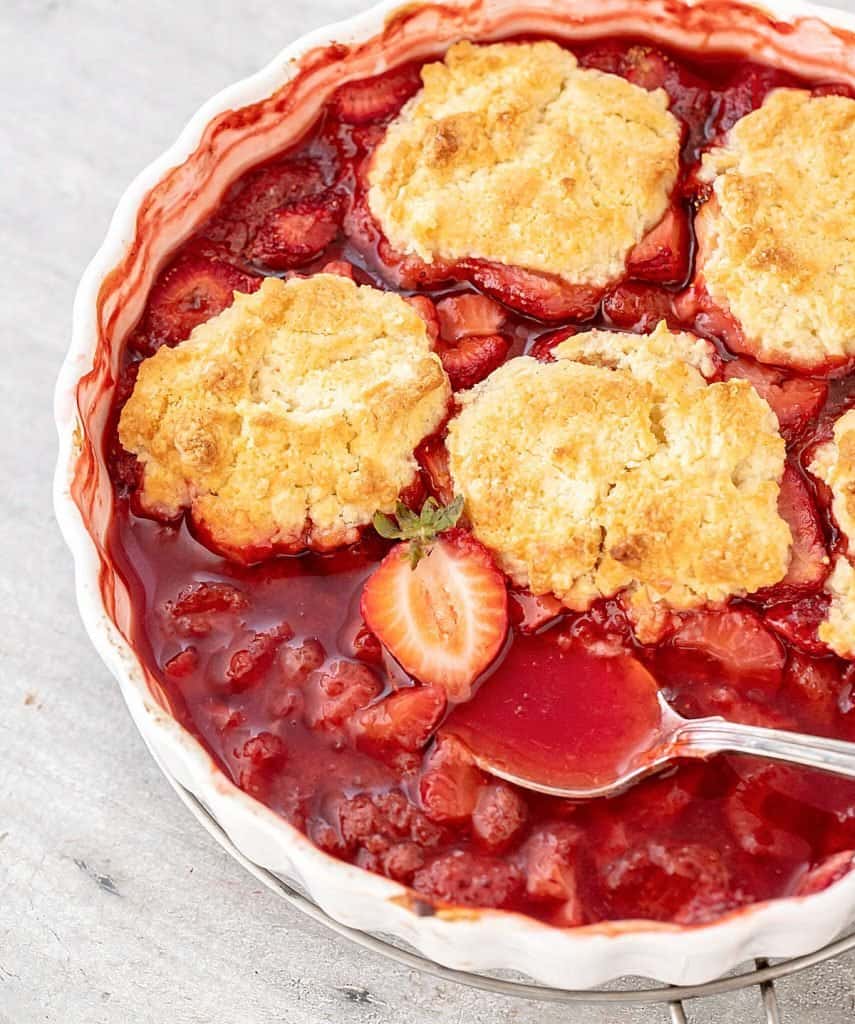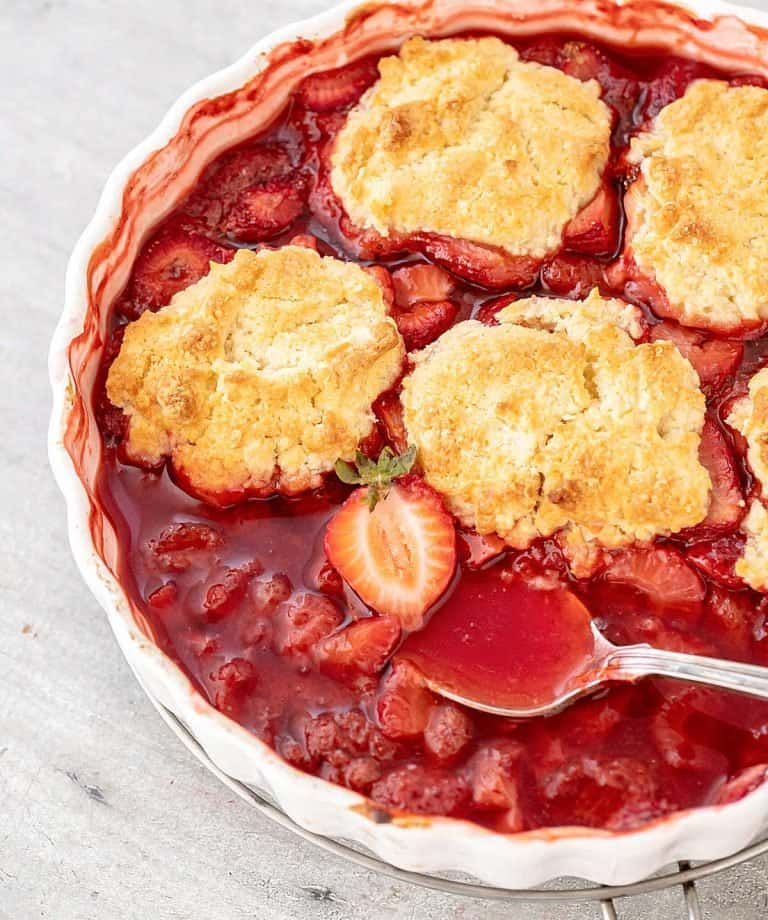 Easy Strawberry Cobbler
This easy recipe brings out the best of seasonal fruit and involves little time in the kitchen. Juicy, sweet berries are topped with biscuit dough and baked until golden brown to produce a scrumptious dessert. You can also use frozen strawberries.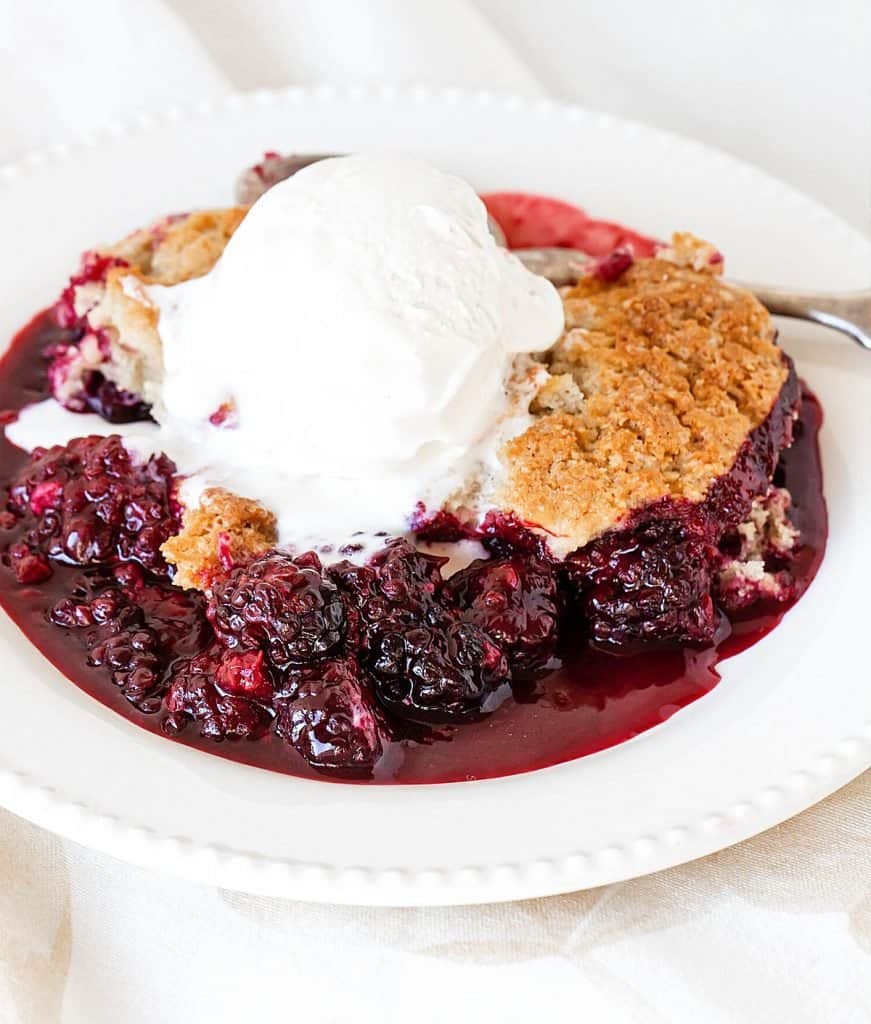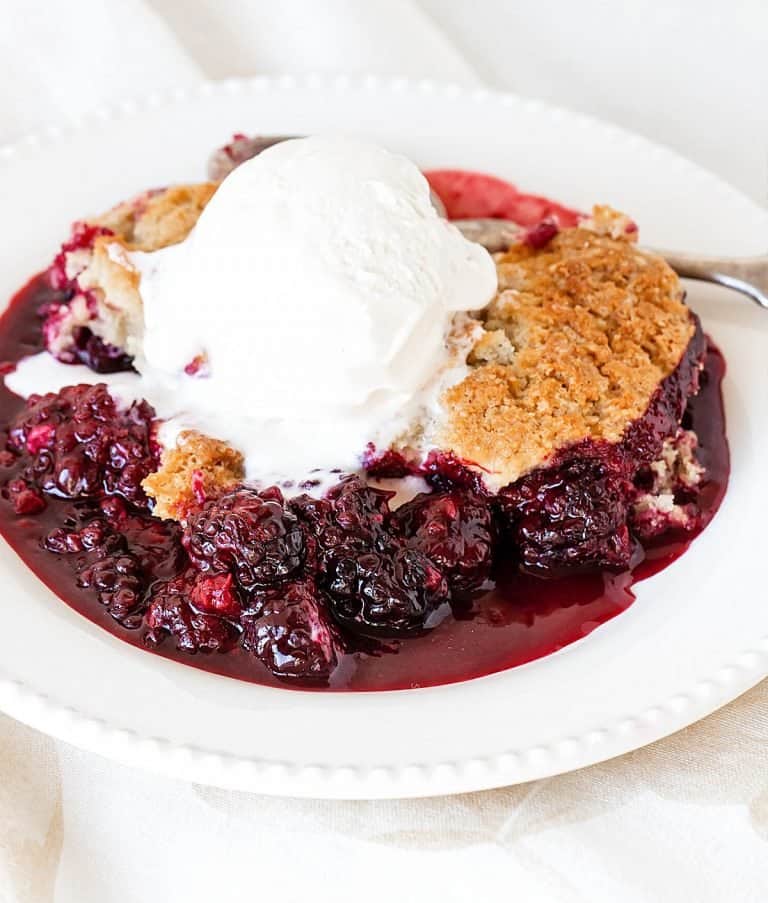 Easy Blackberry Cobbler
An old-fashioned recipe with a layer of juicy blackberries and a golden biscuit topping. It's fantastic served with a scoop of vanilla ice cream. You can have it ready in an hour and can be made ahead.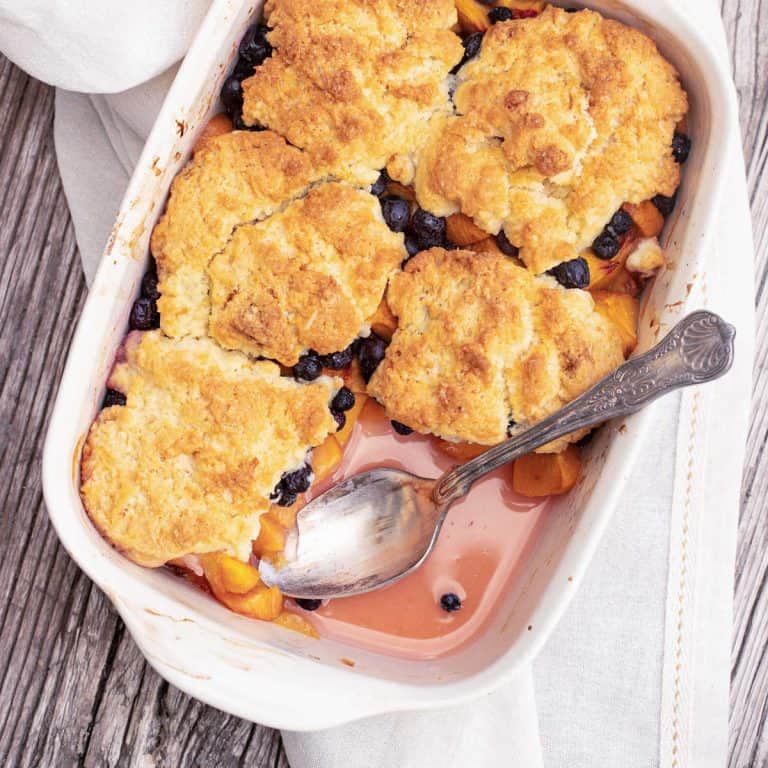 Peach Blueberry Cobbler
This easy cobbler recipe showcases the flavors of fresh peaches and blueberries in a dessert everyone will love! It consists of a juicy fruit layer topped by a biscuit dough that bakes to a golden brown and is wonderful served with a scoop of vanilla ice cream. You can use fresh or frozen fruit and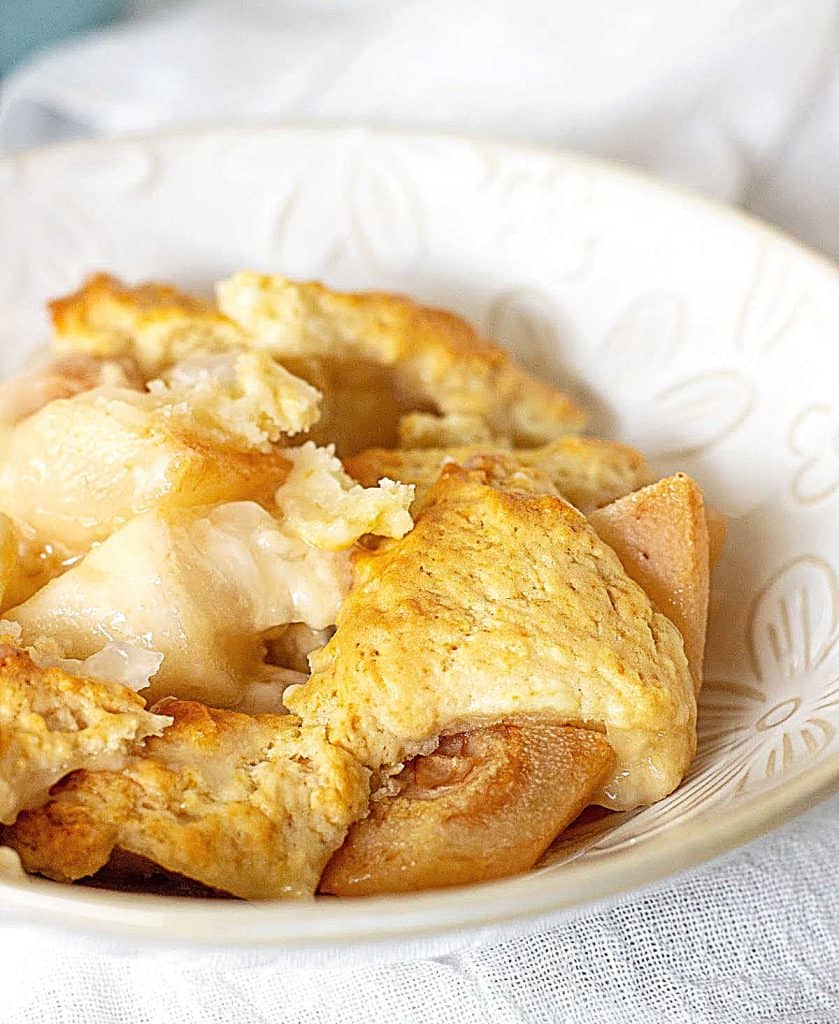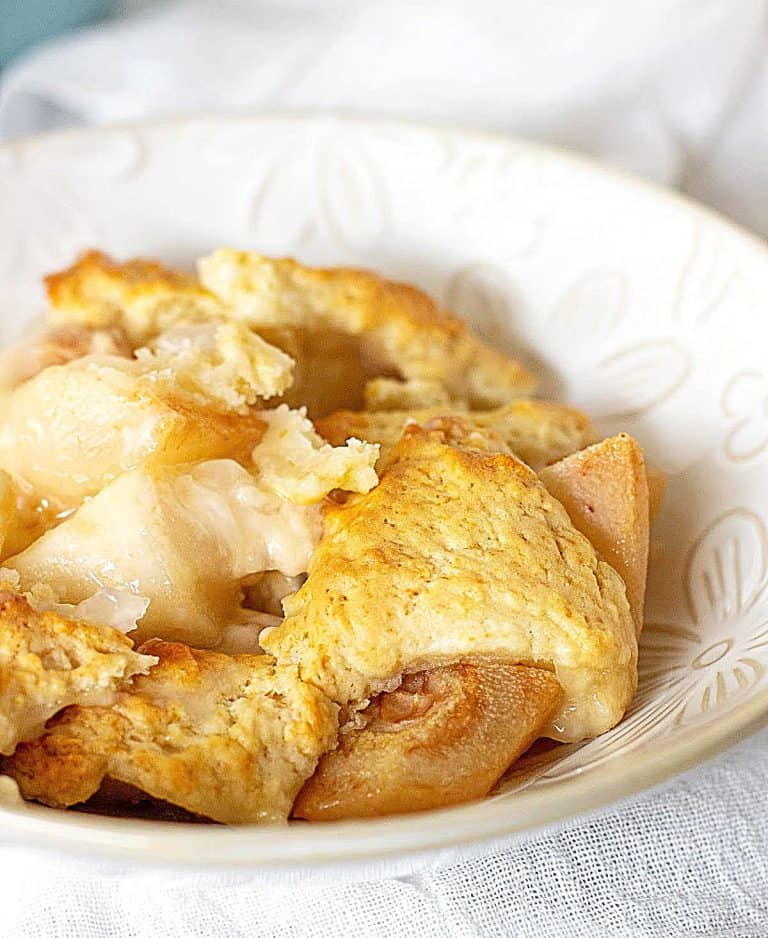 Easy Fresh Pear Cobbler
As soon as Fall starts I highly recommend making this pear cobbler recipe for dessert. It has a bottom layer of sweet, juicy, fresh pears that are smothered with an amazing tender biscuit topping! A fantastic fall dessert I'm sure you'll want to repeat often during the season.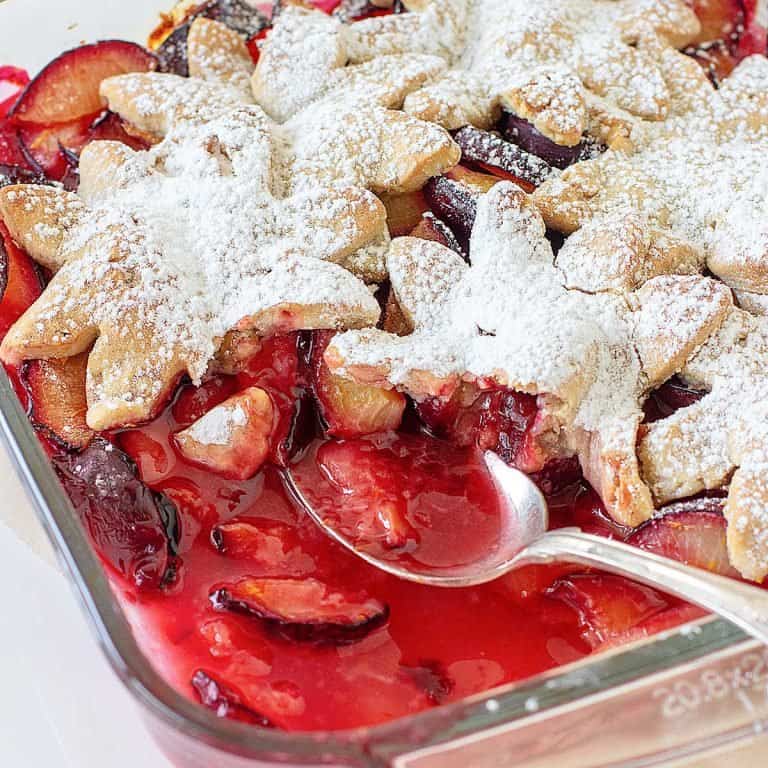 Cinnamon Plum Cobbler
This is one of the best desserts I make during plum season. The juicy plum layer bubbles up during baking creating a fantastic syrup! Make the cinnamon crust or use your favorite one.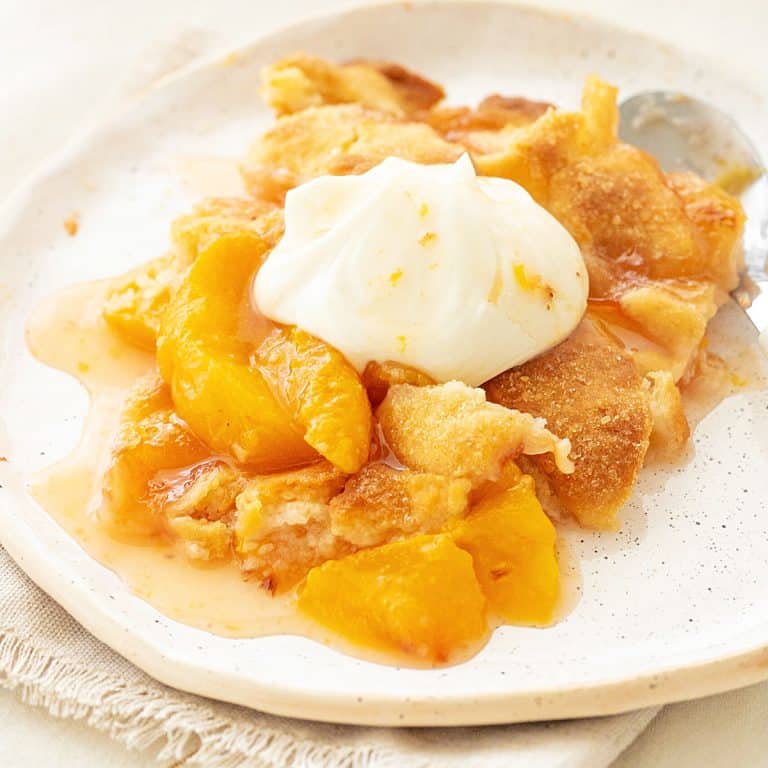 Peach Cobbler with Pie Crust
This is an old-fashioned way of making peach cobbler and a great way to use leftover pie crust. It consists of a layer of juicy peaches in syrup topped with a lattice crust (or cutouts) that bakes to a golden brown. It can be made in advance and kept refrigerated or frozen.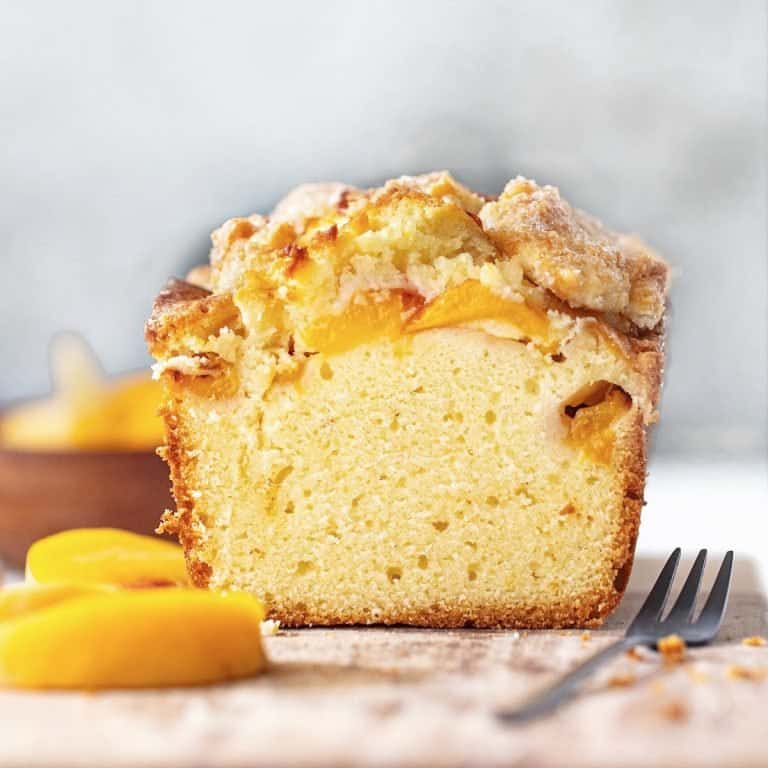 Peach Cobbler Pound Cake
This cake combines a soft but dense peach pound cake with a cobbler topping. The vanilla batter has a thick layer of fresh peach slices and creates a biscuit-like crust as it bakes. Great for a potluck or picnic.
As an Amazon Associate, I earn from qualifying purchases. Please read my disclosure policy.