Dump cakes are delicious cobbler-like desserts. They're very quick to assemble, and you can mix and match the filling and topping flavors. They make great additions to potlucks, picnics, barbecues, and family dinners. They freeze well and keep for a few days in the refrigerator, so you can make them ahead. You can go straight to the easy dump cake recipes.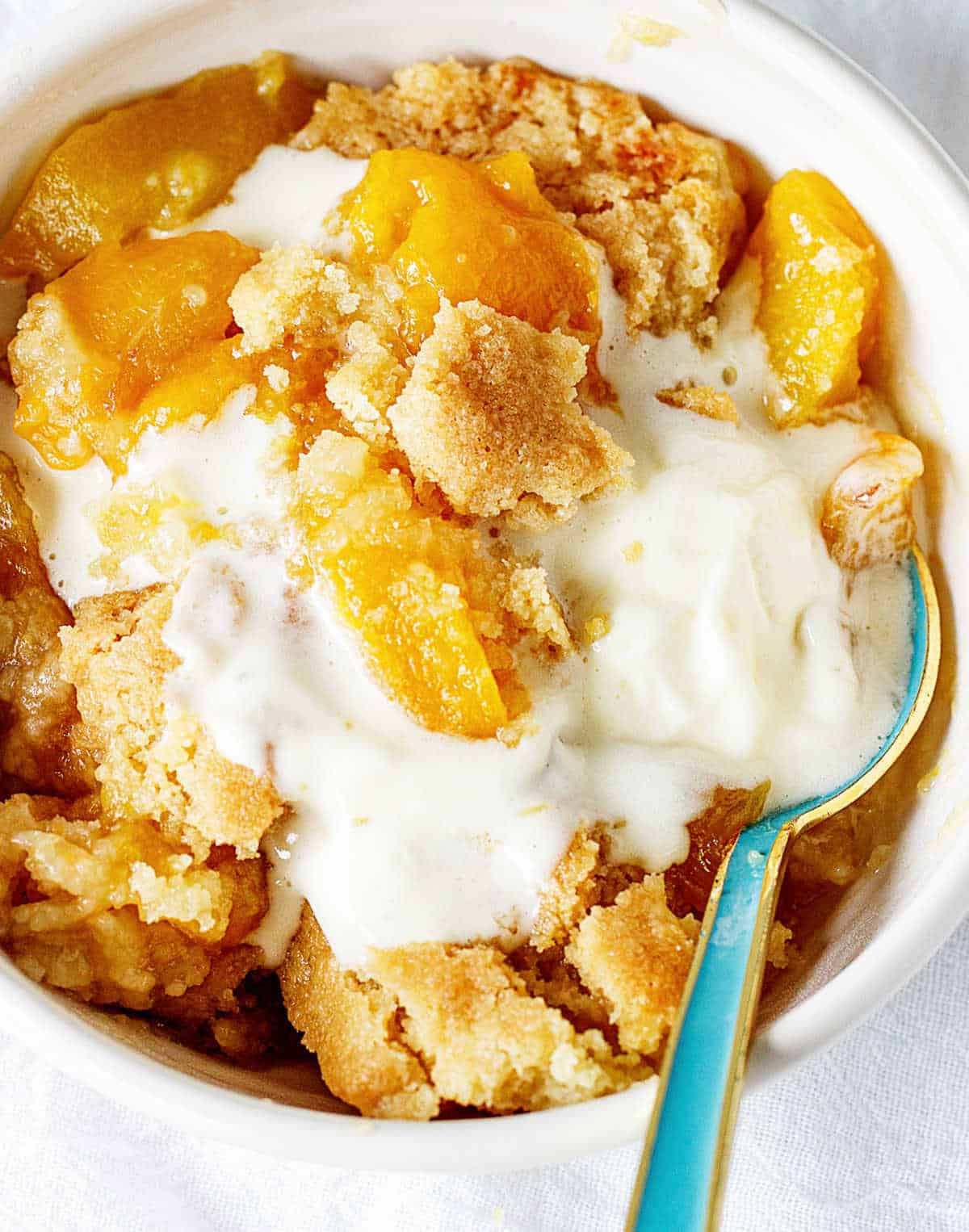 Why is it called a dump cake?
These desserts have a layer of pie filling topped by a cobbler-like topping.
The original recipe uses cans of fruit filling, a box of cake mix, and thinly sliced cold butter pieces.
The first two are literally opened and dumped into the baking dish, hence the name, and the butter slices are arranged on top of the cake mix in an even layer, covering it. Melted butter is sometimes used and just drizzled over the dry mix.
An easy dessert recipe, sort of a sweet casserole dish, that became very popular among busy moms decades ago.
You can choose to make homemade pie filling, as we sometimes do, or use canned stuff.
What is the difference between cobbler and dump cake?
Both are a quick dessert (usually fruit-based) with simple ingredients, and the main difference is the topping.
There are different types of toppings for cobblers: traditional biscuits, drop biscuits, and pie crust.
A dump cake's topping is made with cake mix and butter. The final result can vary and be more floury or crunchier depending on how you mix those two ingredients.
The fruit layer of both is fruit pie filling, and though a cobbler generally uses homemade recipes, you can make it with store-bought.
What does a dump cake taste like?
It's a cross between a cobbler and a crustless crumb pie. It's a dessert more than a cake in the traditional way, but we call it that because it uses a boxed cake mix.
The flavors will vary depending on the cake mix and filling you use and can go from a classic cherry dump cake to a modern lemon cobbler cake.
How do dump cakes work?
During baking, the butter melts and the juices in the fruit are released to moisten the dry cake mix. This bakes the floury topping in a cobbler-like fashion, crumbly and with a soft, biscuit-like interior sometimes, but not like the regular layer cakes we're used to.
They're perfect desserts for busy days.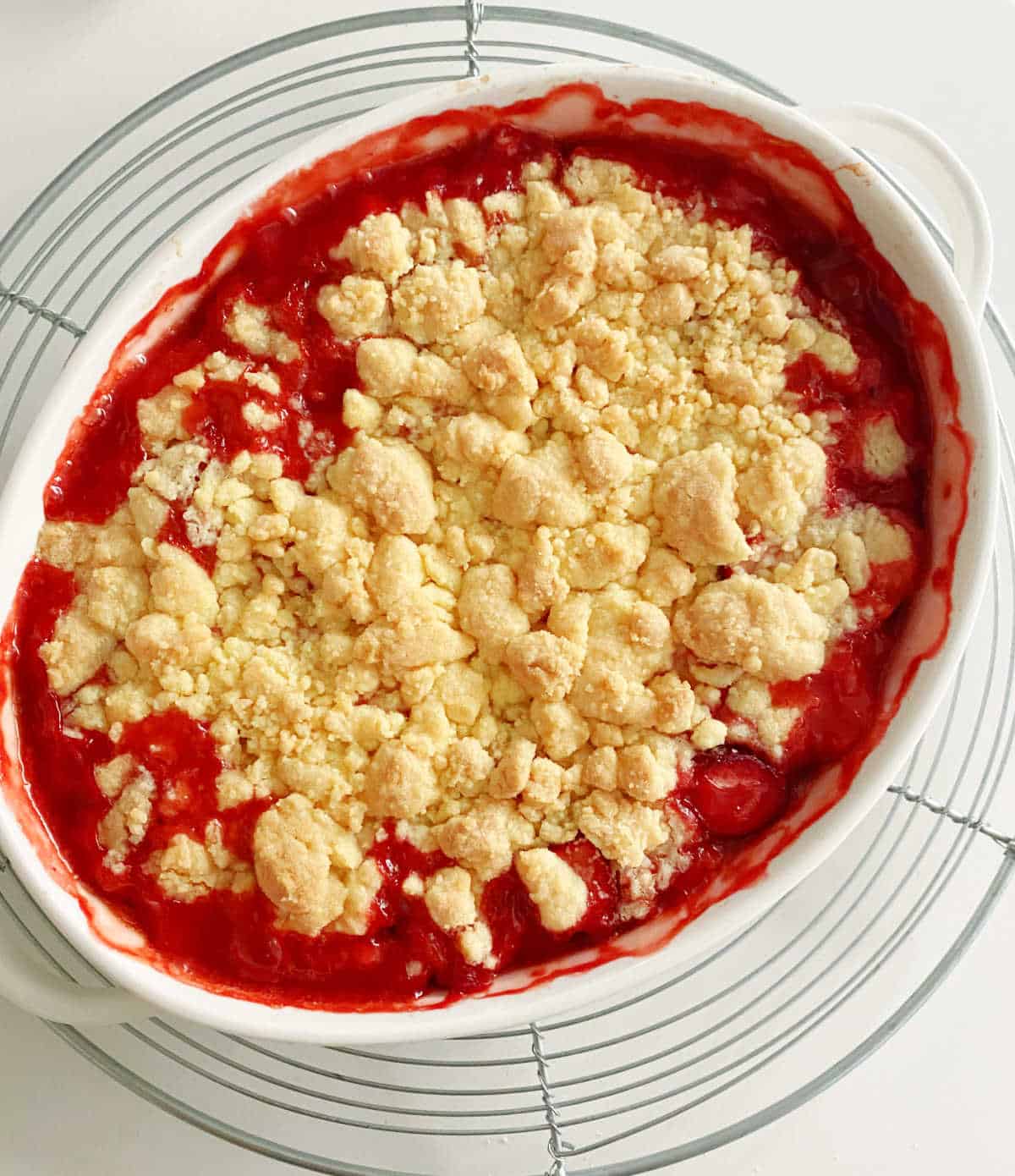 How to assemble a dump cake
Bottom layer: it's usually fruit-based, but there are other types, like the pumpkin dump cake, that don't include them.
You can use canned, store-bought pie filling or make your own. They're easy to make from scratch! Yes, super easy, just check this peach pie filling recipe.
Top layer: it involves two ingredients, cake mix and butter.
I like to mix both and use melted butter because the topping is crunchier and bakes better (like the cherry dump cake).
But the original recipes call for evenly sprinkling the boxed mix and covering it with thin slices of cold butter, as we do in this chocolate cherry dump cake. Or drizzling melted butter on top of the dry mix.
What are the best cake mixes for dump cake?
Dry cake mix: the type you find in the supermarket or grocery store, whatever brand you want.
Yellow cake mix or white cake mix are the most common ones, because they're vanilla-flavored and pair well with most fillings, if not all of them. But don't stop there. We use a chocolate cake mix with cherry filling, and sometimes use spice cake mix with apple pie filling.
Betty Crocker and Duncan Hines are popular ones but any brand you like works fine. They're all pretty much the same even though some ingredients might vary.
Do you stir a dump cake?
No, you don't. The layers must be differentiated from one another.
When is a dump cake done?
When the topping is dry and golden brown and the juices bubbling.
If using the old-fashioned way of covering the cake mix with butter slices, I strongly recommend that you check that there are no large dry spots on top mid-way through baking after all the butter has melted and started to seep into the cake mix. If that is the case, you might want to add a thin slice of butter to cover it and continue baking the dessert further. Biting into dry cake mix is not what we aim for.
How to serve dump cakes
Temperature: I don't recommend them too cold because it's harder to grasp the full flavors, but anywhere from cool to room temperature is fine. Of course, that's my, and my friends' opinion and I encourage you to find your own sweet spot.
Plain: they're fantastic on their own. This is especially good when taking them to potlucks and picnics.
With ice cream or whipped cream: similar to crumbles and cobblers, these desserts are amazing slightly warm (not hot) with a scoop of ice cream or a dollop of sweet whipped cream.
Toppings: drizzle caramel sauce or dulce de leche, chocolate sauce or fudge, sprinkle with chopped nuts or chocolate chips, fresh fruit, or berries.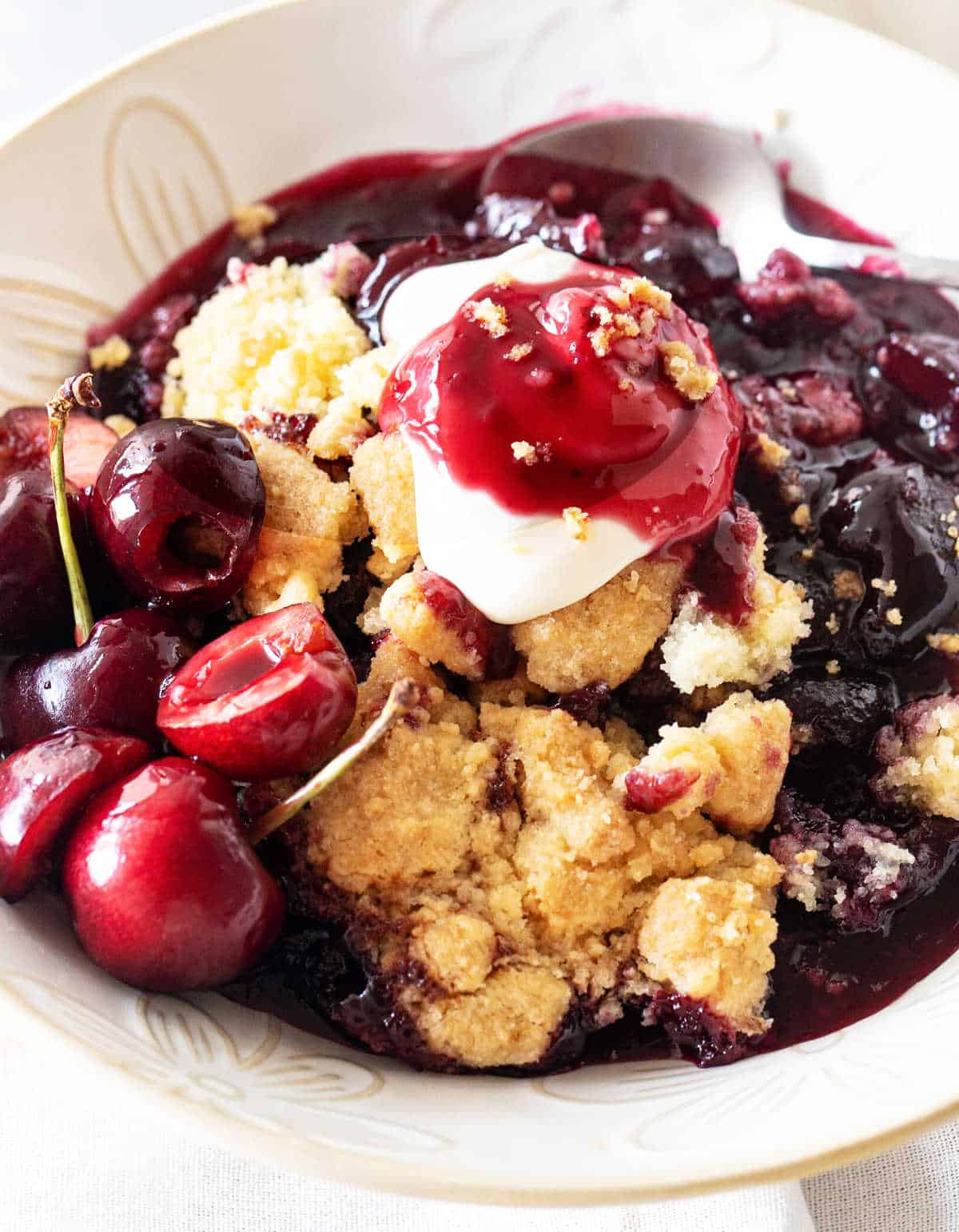 How long do they last?
They last for about 5 days in the fridge and a month frozen. But they can be eaten a few hours after they're baked, especially if you serve them warm.
Do they need to be refrigerated?
Yes, it does after it's completely cooled down. You can leave it at room temperature for several hours, but fruit desserts are best kept chilled to prevent them from fermenting too quickly and going bad. Cover the baking pan or dish with plastic wrap or use an airtight container to prevent dryness.
Can you make a dump cake ahead of time?
Yes, you can! And it's a great way to plan a dessert for a gathering. The baked dump cake will keep for 4-5 days in the refrigerator, well covered in plastic wrap. Simply let it come to room temperature before serving, or slightly warm it in a medium oven and serve it with a big scoop of vanilla ice cream.
Can you freeze them?
Absolutely! And it keeps for a month. Cover it well, first in plastic wrap and then in aluminum foil, and label it. Thaw at room temperature and warm slightly in a medium oven before serving.
Recipe roundup
You can flavor the fillings and toppings to match your palate.
So be inventive and let your imagination fly. Try new cake mix flavors and jazz up pie fillings (or canned fruit, like the pineapple dump cake) to make them your own.
---
As an Amazon Associate, I earn from qualifying purchases. Please read my disclosure policy.