Pieces of white bread dough are dipped in butter and cinnamon sugar, creating a caramelized surface when the monkey bread bakes. It's a great breakfast and brunch recipe.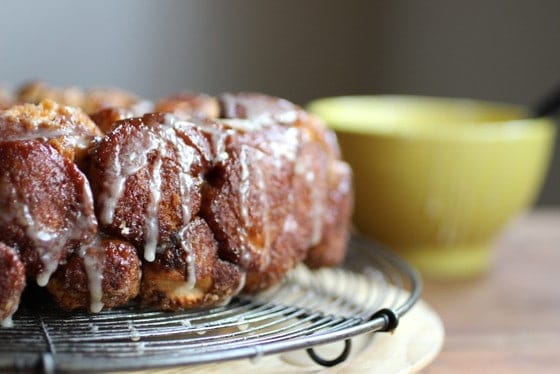 Bucket lists.
A new year, a new recipe crossed off the list. The List. If I thought starting a food blog would shorten it, of course, I was wrong by a gazillion light years.
The List is relentless in its urgency, each item more important than the last one, which seemed so urgent at the time.
So, what's on your bucket list as you start the year? You might find what you need today here or just add a few dozen new ones. That's how good the list of recipes is.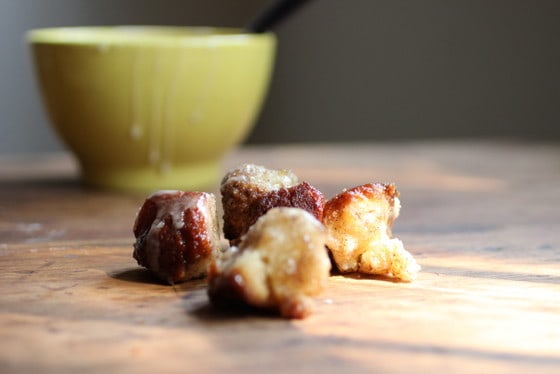 The List has two types of recipes, the ones I need to tackle because of a certain technique I want to master and the ones that just need to be made because I've been wanting to forever, and that is a long time, according to the years I've been cooking, like this monkey bread.
I don't think I ever saw a monkey bread pic that I didn't find amazing. Yet here I am, making it for the first time.
This recipe is from Mel, who has an amazing blog. That woman can come up with some of the most incredible recipes. Not to mention the cutest kids.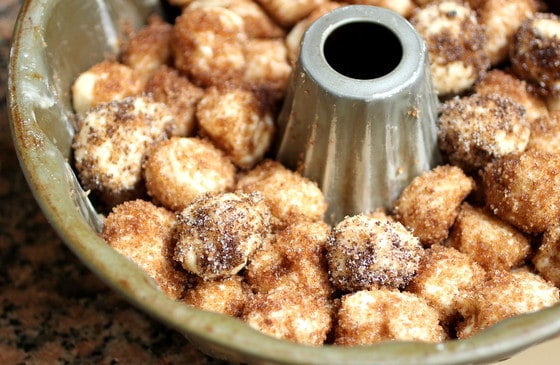 Little balls of bread are dipped first in butter and then in brown sugar with cinnamon and baked until caramelized.
It's like the best combination ever, for breakfast, snack, movie watching, the perfect sugar/starch craving soother. Or just because you wanted to make something decadent and fun to eat.
You probably have every ingredient in your house. You can use white sugar only, another spice or citrus zest, or a boozy glaze, which I did.
I added rum instead of milk because I really can't help myself. Please, please eat it while it's warm. And then lick your fingers.
My sugar-coated balls of dough look two different colors because they were. I ran out of light brown sugar and had to go with dark brown for the last part.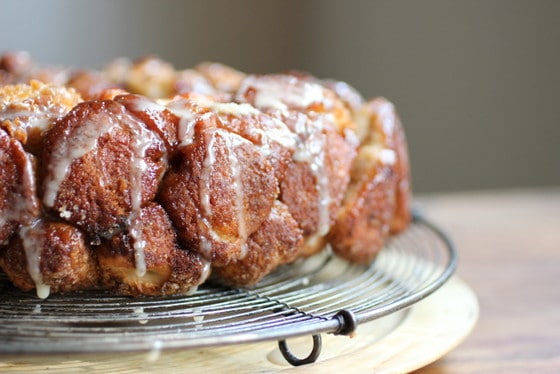 Mine unmolded pretty nicely, something that is achieved only if done within the first minutes after taking it out of the oven. Still, three pics later, it started to fall apart, which made it even more impossible not to start eating at once.
After all, it was falling apart. Interesting how fast one can pop these bites and not even realize a huge chunk of monkey bread is gone.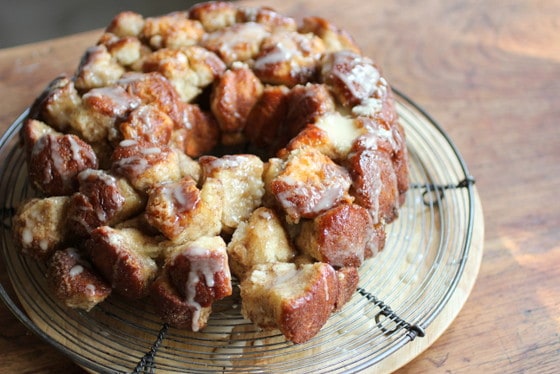 One last thing.
About dipping in melted butter and then in sugar. You have two hands, and it's a good decision to use one for each chore.
So, if you don't follow my advice and end up with two hands thickly buttered and sugared, so much that you have to wash them before you realize you've done it again and again, and again, don't come here to complain.