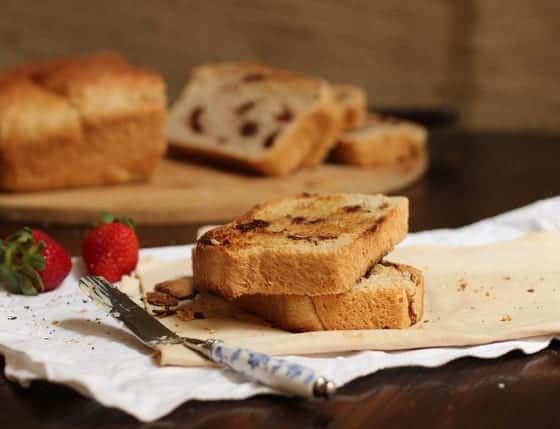 I like the month of April a lot. Wether it's spring or fall, like here, and even though some places are still having snow, the nerve I know, the weather has changed.
And leaving summer or winter behind is always welcome in my world.
My street is wonderfully full of yellow leaves. And there's a brightness from the rising sun in the morning that puts a smile on my face. And we're on easter break until Wednesday, so let's just say I'm doing nothing but baking and putting some order in my house. So that you get the picture. Lazy days.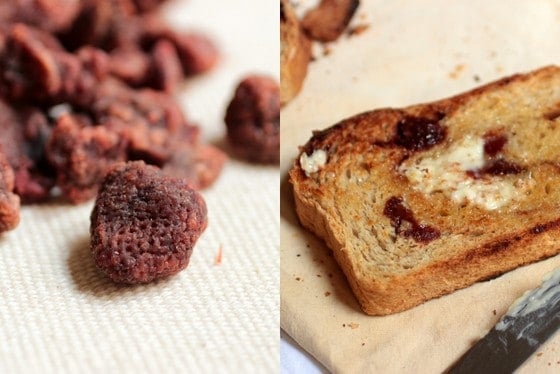 Bread baking is what I anticipate for this mild season days, because the humidity is usually low, the days are starting to shorten and I'm planning how my nesting is going to be this winter.
Today we have another
Twelve Loaves
edition, and
Lora
choose for it to be a berry month. All about baking bread, whether yeasted, quick, braids, rolls, scones, flatbreads with one berry or a mix of all of them.
So today, I decided to try an ingredient that I was curious about, dried strawberries.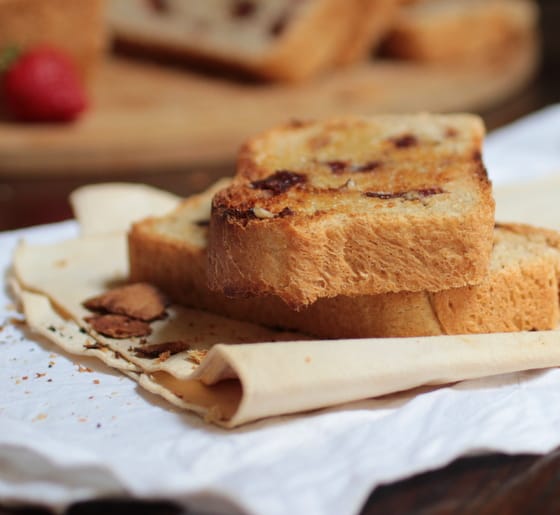 I'm usually very suspicious about dried and candied fruit that I don't make at home. But well, drying strawberries is not in my horizon to make anytime soon.
They are sweet and nice to chew on, like a little soft candy. I even took a picture where all the seeds can be seen, fossil style. At least I'm confident they are real strawberries that have been dried out.
And what better companion than cinnamon? A swirl of cinnamon and strawberries to brighten up the morning toast. Perfect.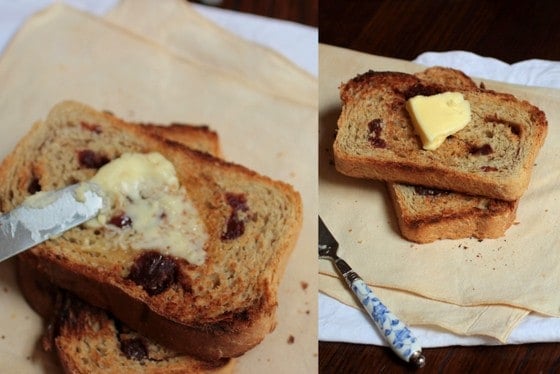 The strawberry flavor comes across subtly. Imagine you have a piece of cinnamon bread, slather it with strawberry jam, but then decide you want it plain, so you scrape it off.
This bread is made to be toasted. And with a knob of butter melting on top, it becomes a splendid breakfast.
Print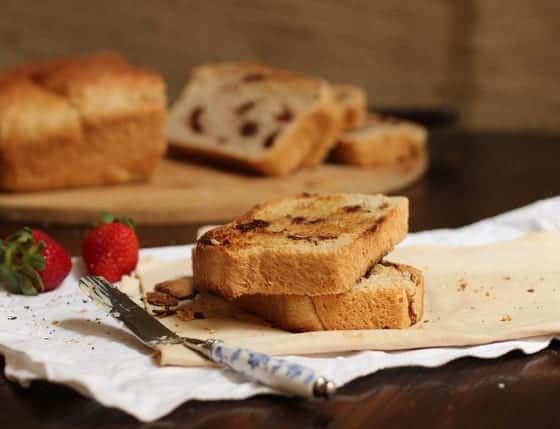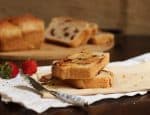 STRAWBERRY CINNAMON SWIRL BREAD
---
Scale
Ingredients
For the bread:
1 cup

whole wheat flour

½ cup

instant oats

2

Tbs honey

2 cup

warm water

1

Tbs dry yeast

1

Tbs salt

4

about cups bread flour
For the cinnamon filling:
1 teaspoon

cinnamon

2

Tbs sugar

3

Tbs butter (melted)

1 cup

dried strawberries
---
Instructions
For the bread:
In a small bowl mix ½ cup water with yeast. Let stand a few minutes until foamy.
In the bowl of a stand mixer, or a big bowl if making by hand, mix whole wheat flour, oats, 1 cup bread flour and salt. Make a well in the center, add honey, remaining water and yeast, and mix with a wooden spoon or spatula until very well combined.
With the dough hook, start mixing the dough at medium speed, adding the rest of the bread flour, ½ cup at a time, until the dough comes together. Knead for 6 or 7 minutes, adding extra tablespoons of bread flour if needed. The dough needs to remain somewhat sticky but not wet; it will never be a tight ball.
Transfer to an oiled bowl, cover with plastic wrap and let rise until doubled in size, about 1 hour.
Transfer the dough to a lightly floured work surface.
Roll the dough into a rectangle, with a rolling pin or stretching it with your hands. Flour the surface as needed, but as little as possible.
Brush the cinnamon filling over the entire surface of the dough. Scatter the dried strawberries on top of the dough. Roll as if you were making cinnamon rolls, and then cut into two equal pieces.
Place each piece in an oiled loaf pan, cover with plastic and let rise until doubled, about 1 hour.
About 20 minutes before baking, preheat the oven to 400ºF / 200ºC.
Bake bread for 25 minutes, lower the oven to 350ºF / 180ºC and keep on baking 10 to 15 more minutes, until golden brown and bottom sounds hollow when tapped.
Cool completely on wire rack before slicing.
Can be kept for a month in the freezer, well wrapped.
For the cinnamon filling:
Mix melted butter, sugar and cinnamon in a small bowl.
---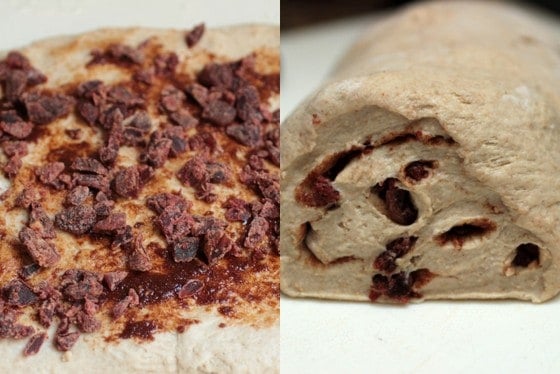 Look at what our very talented #TwelveLoaves bakers have created this April!
---