The perfect shortcrust pastry or pie crust is not hard to make if you follow the steps in this post. Only 3 ingredients (not counting water)! Homemade pie dough makes all the difference, no matter what type of pie or tart you make.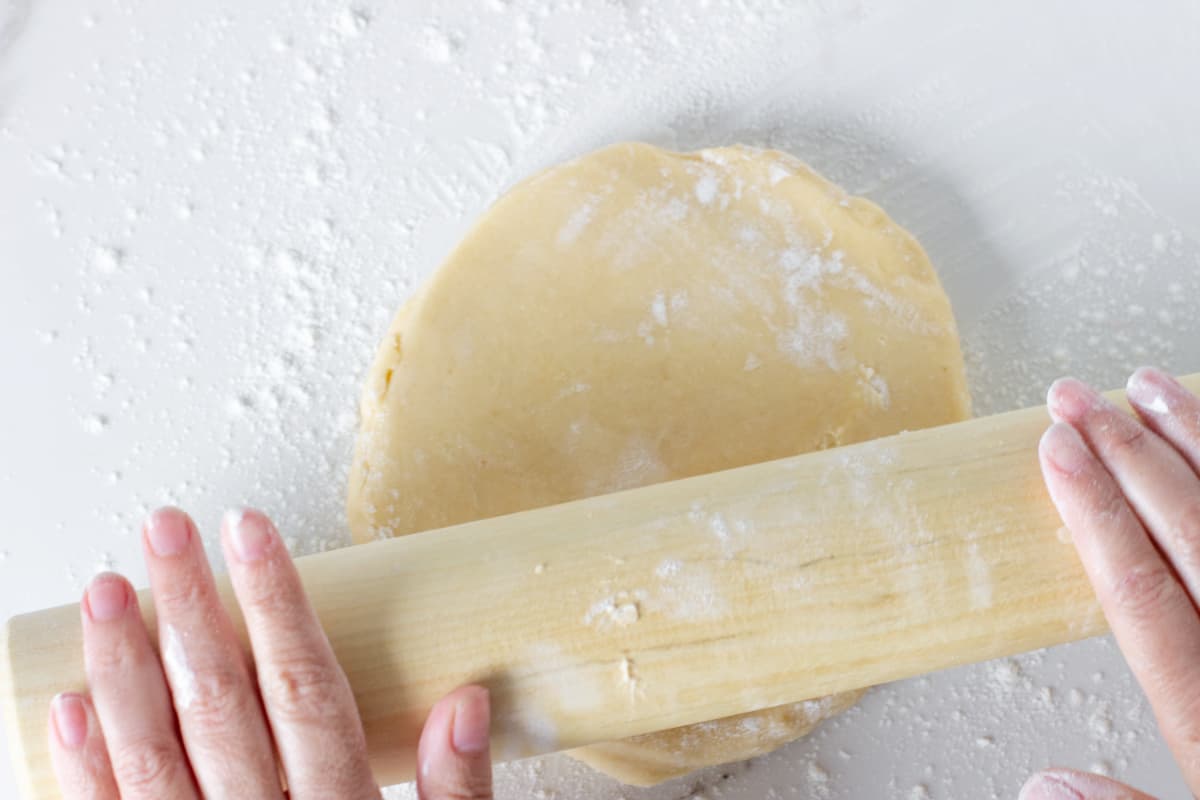 Disclaimer: this post is very similar to the Sweet Shortcrust Pastry. Many steps overlap no matter what pie crust you make. That said, the recipe is different and the way of mixing them is also.
Pie making season is almost here guys, and we're ready with homemade shortcrust pastry, or pie crust as many of you call it.
This is the basic recipe, the only one you'll ever need. It's very neutral, which means that it can go both for savory and sweet pies. I like to use it for very sweet fillings, where our favorite sweet dough might add too much sweetness.
So, let's get into the details of pie crust making.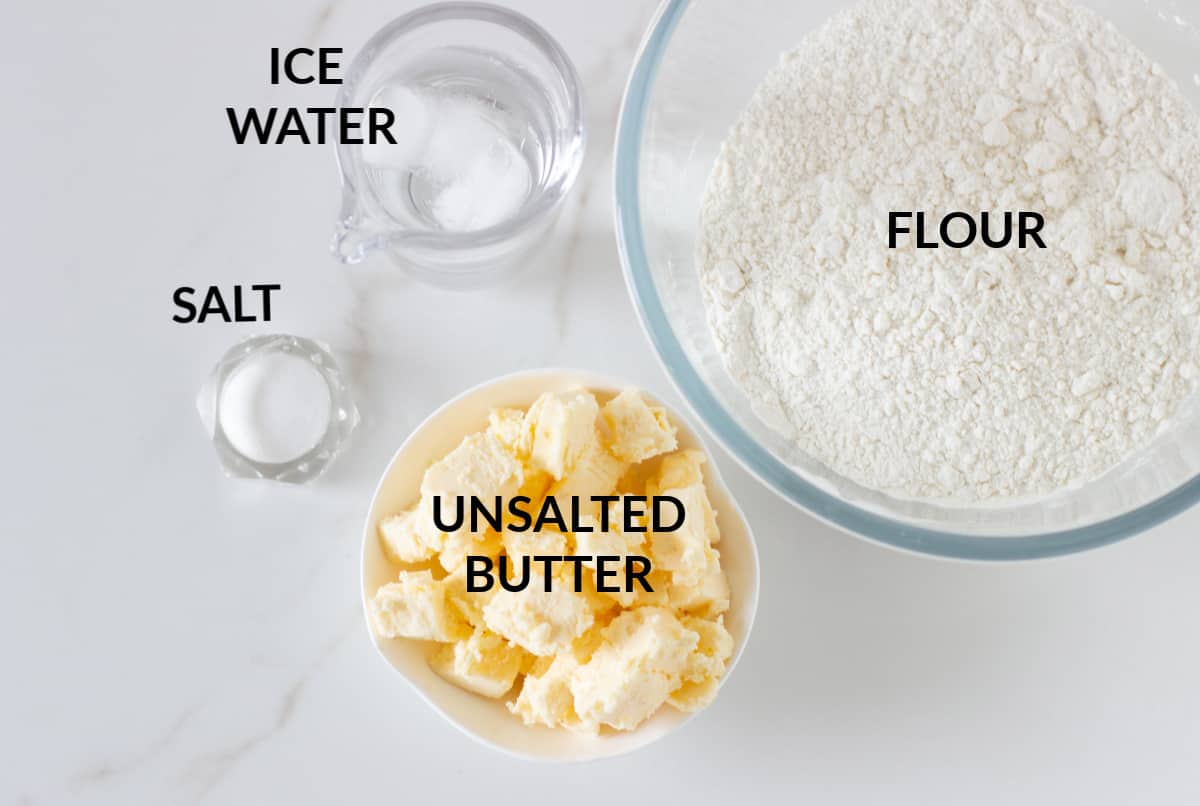 What is a shortcrust pastry?
Shortcrust means that the fat content (butter in this recipe) is high, and the baked result will be flaky and crumbly.
The step-by-step recipe here is made by hand. I strongly believe that learning this way is how we learn the most. If you know how to make pie crust by hand making it in with a mixer is a piece of cake. But if needed, you will always be able to make it with a bowl and a spoon.
You can make it in a stand mixer with the paddle attachment, but be very careful not to overwork it once you add the flour.
If you mix it too much the gluten develops and that is not good. The dough will not stretch as it should and the result will not be tender and flaky. But if, for example, you need to make a large quantity, the stand mixer is the way to go.
It has only 3 ingredients, not counting water (image above), so there's really no excuse!
Easy steps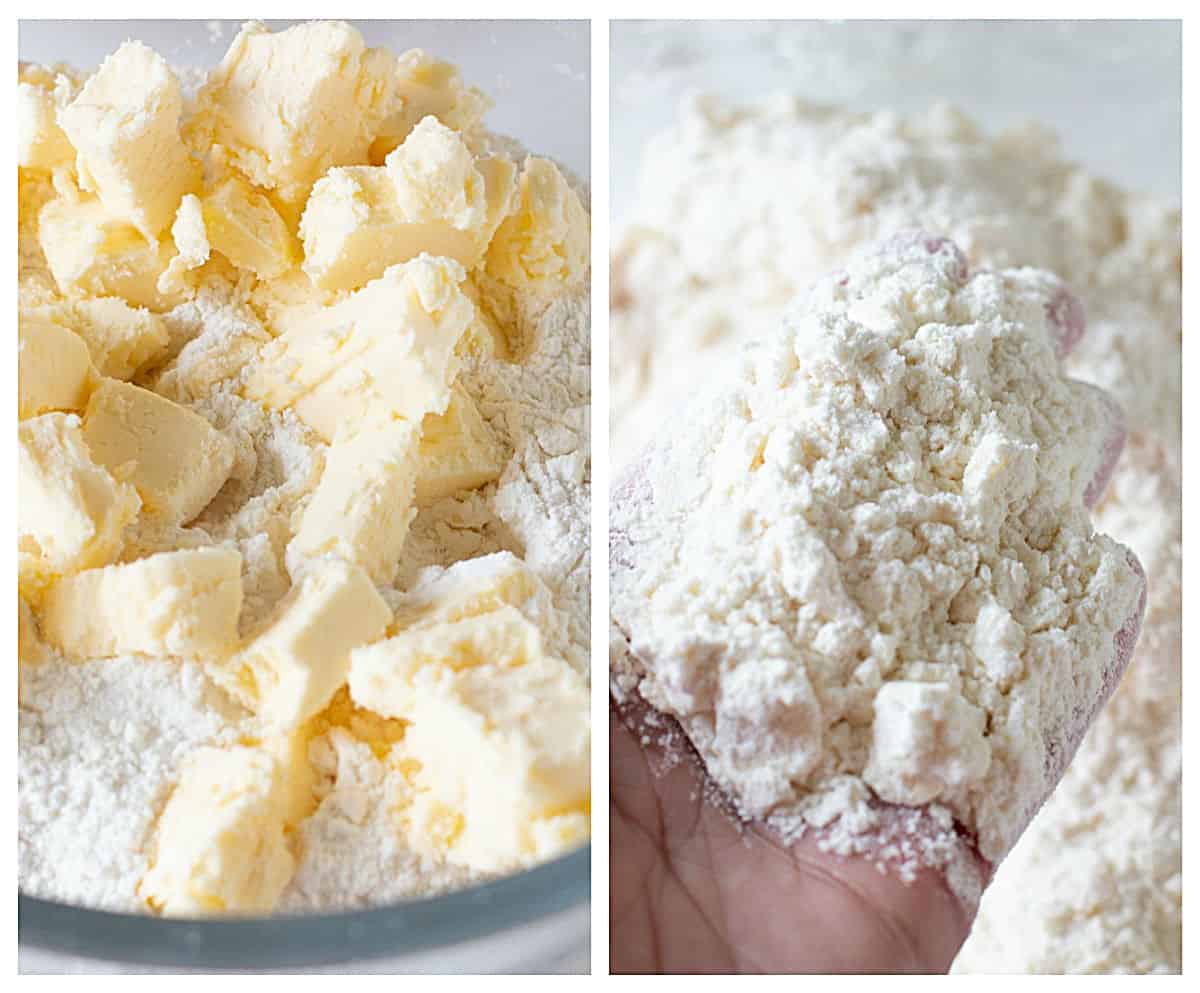 Have all ingredients measured and ready. Make sure you add the ice to the water and that the butter is as cold as possible.
Mix flour with salt and add the cubed butter (image above, left).
Mix with your hands, taking the time to break the butter cubes and mix them with the dry ingredients. This will take a few extra minutes if you use almost frozen butter. The mixture will be uneven, with different sizes of butter pieces, but as a guide they should not be larger than red beans (image above, right).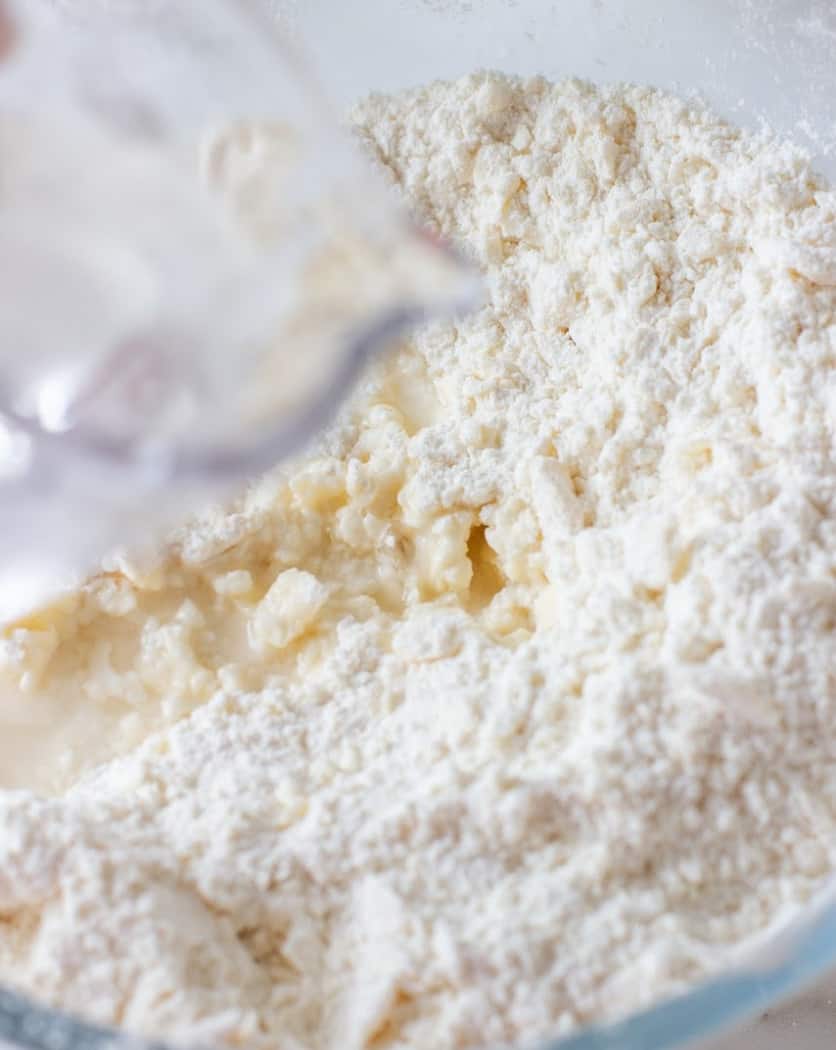 Add ice water, a few tablespoons, and mix with a fork and then with your hands.
The amount should be enough to have a cohesive dough that comes together when pressed in your palm. The image below on the left needs more water and the one on the right is good to go. Always err on the dry side since you can add a teaspoon or two of ice water when you form dough into a disc.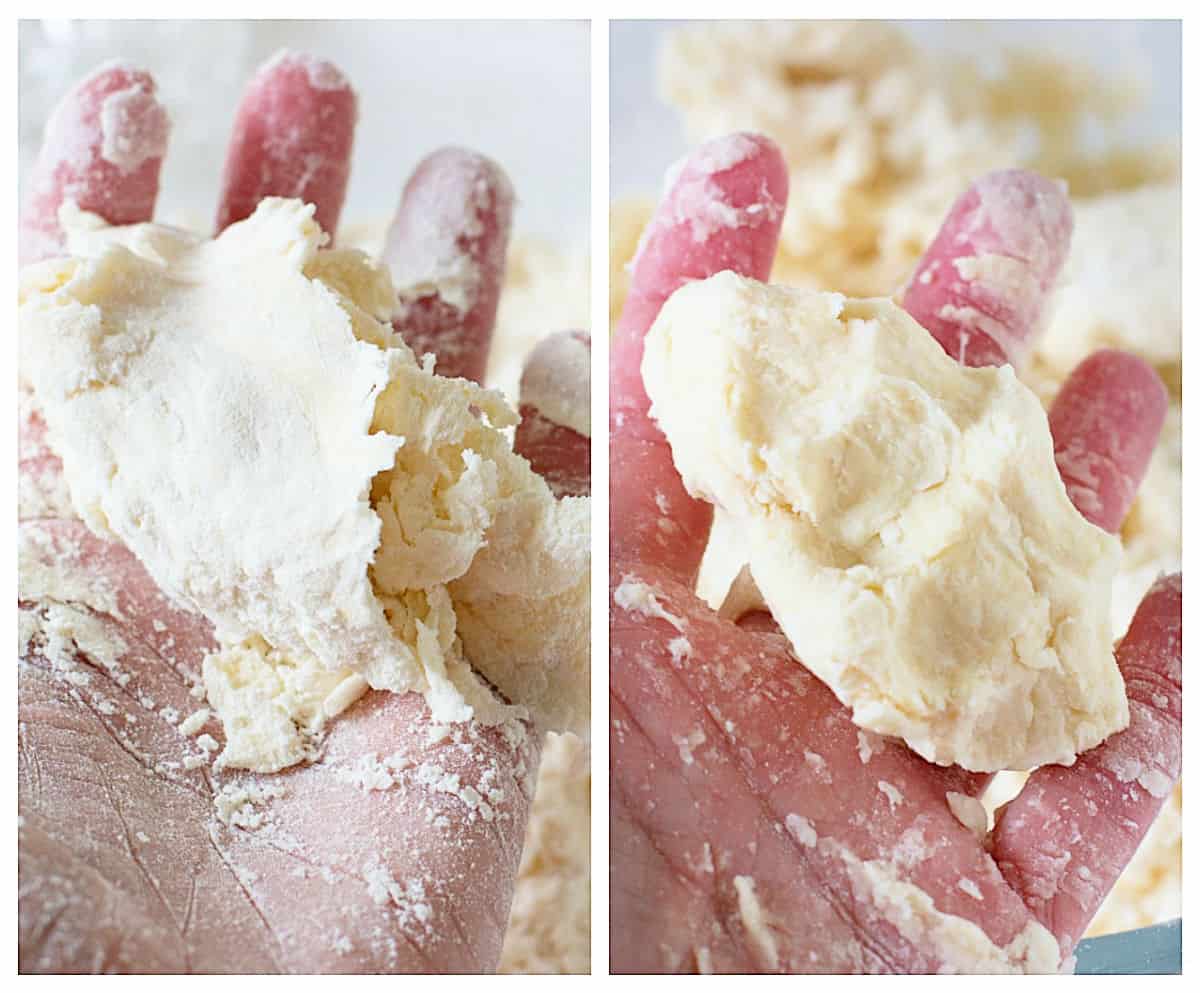 Give it a few turns in the bowl and turn out the mixture onto a clean surface.
Bring it together, giving it a few turns, until you have a dough ball. You must try to touch it as little as possible but have a dough that comes together and can be rolled. Don't knead it as you would bread.
Flatten into a disc (image below).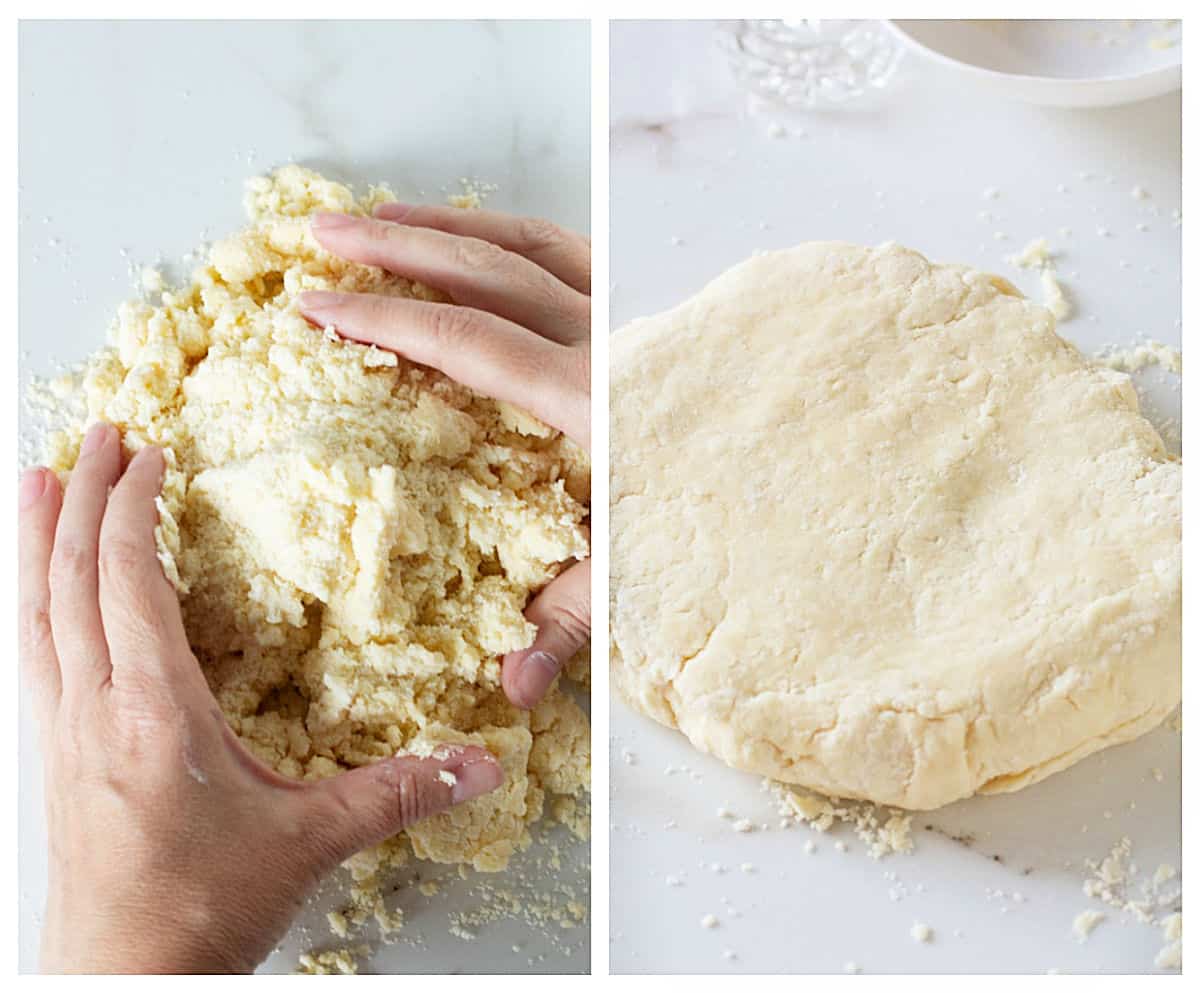 When you have a smooth disc of dough wrap it in plastic, making sure no spots are left open (image below). This is important so the dough stays soft. If air enters in contact with a part of the dough that is unwrapped, it will form a dry crust. If this happens, cut off that dry spot before rolling.
Watch our video tutorials 👇🏻
Resting time
The dough at this point needs to rest in the refrigerator for 1 hour or in the freezer for 20 minutes.
This is a crucial step if you want the pie crust to roll easily and be tender and crisp after baking. The resting time allows the dough to relax, making it easier to roll without having to stretch it.

Vintage Kitchen Tip
After the resting period, you're ready to roll baby!
Or, you can go ahead and freeze this shortcrust pastry for up to a month. Wrap it well, label it with the date and freeze it.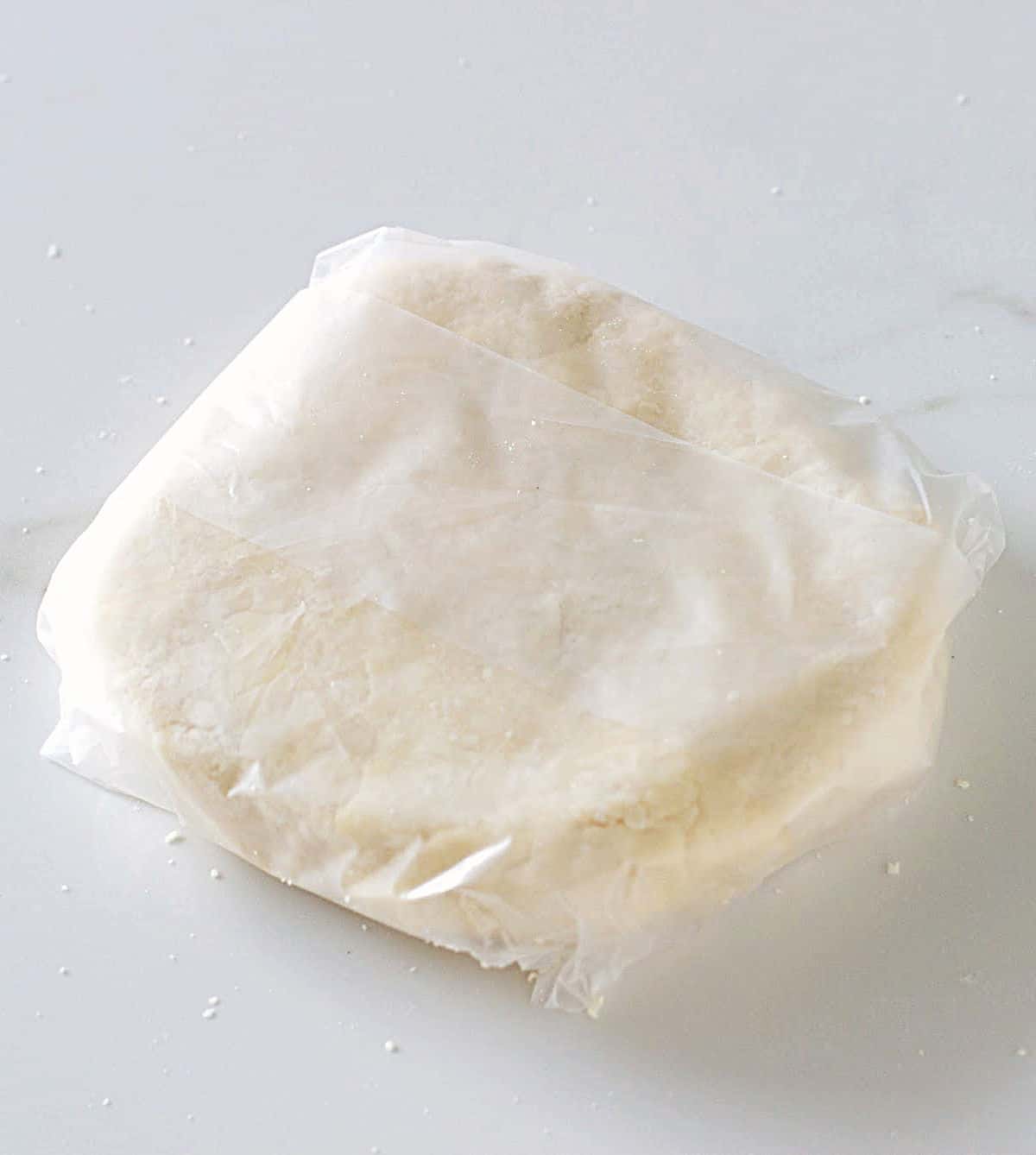 Defrosting
If the dough has been frozen you have to take into account that the best way to defrost it is in the refrigerator, if you want to ensure the best result. That will take hours. I do it from one day to the other. Simply put the wrapped packet with the frozen dough in the fridge.
If you're in a hurry you can defrost it at room temperature. Let it come to a point where it is very cold and barely softened.
Again, be careful it doesn't get too soft because it won't give you the tender and flaky result you want. It's best that you roll it out while still very cold.
Rolling the crust
This is the second part of this recipe. You have your shortcrust pastry and now you want to bake a pie or tart.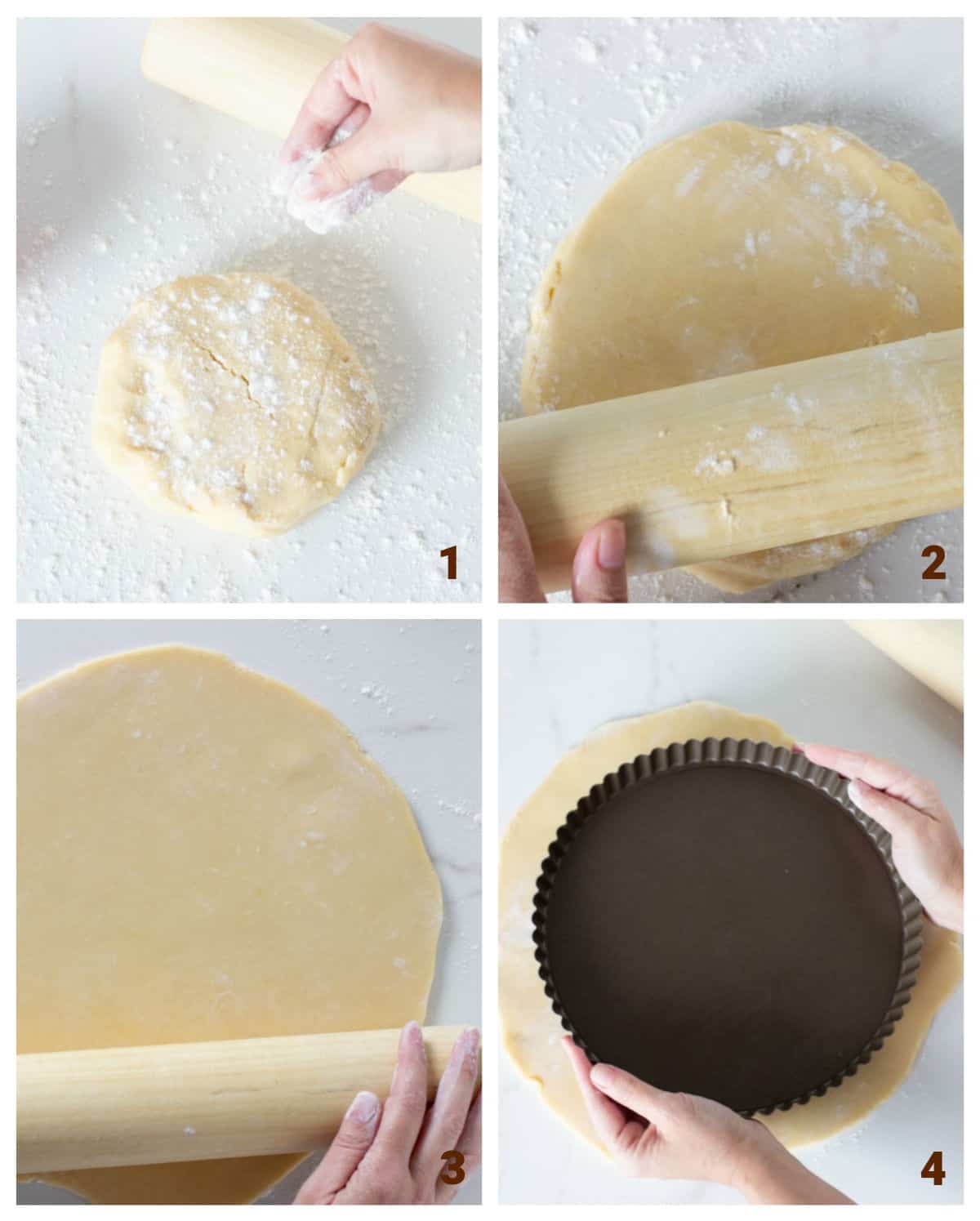 Lining the pan
Go to the post for Sweet Shortcrust Pastry and you'll find super detailed images and instructions for this part of the recipe, with all the steps and tricks. There is a Table of Contents at the beginning that will take you straight to this part.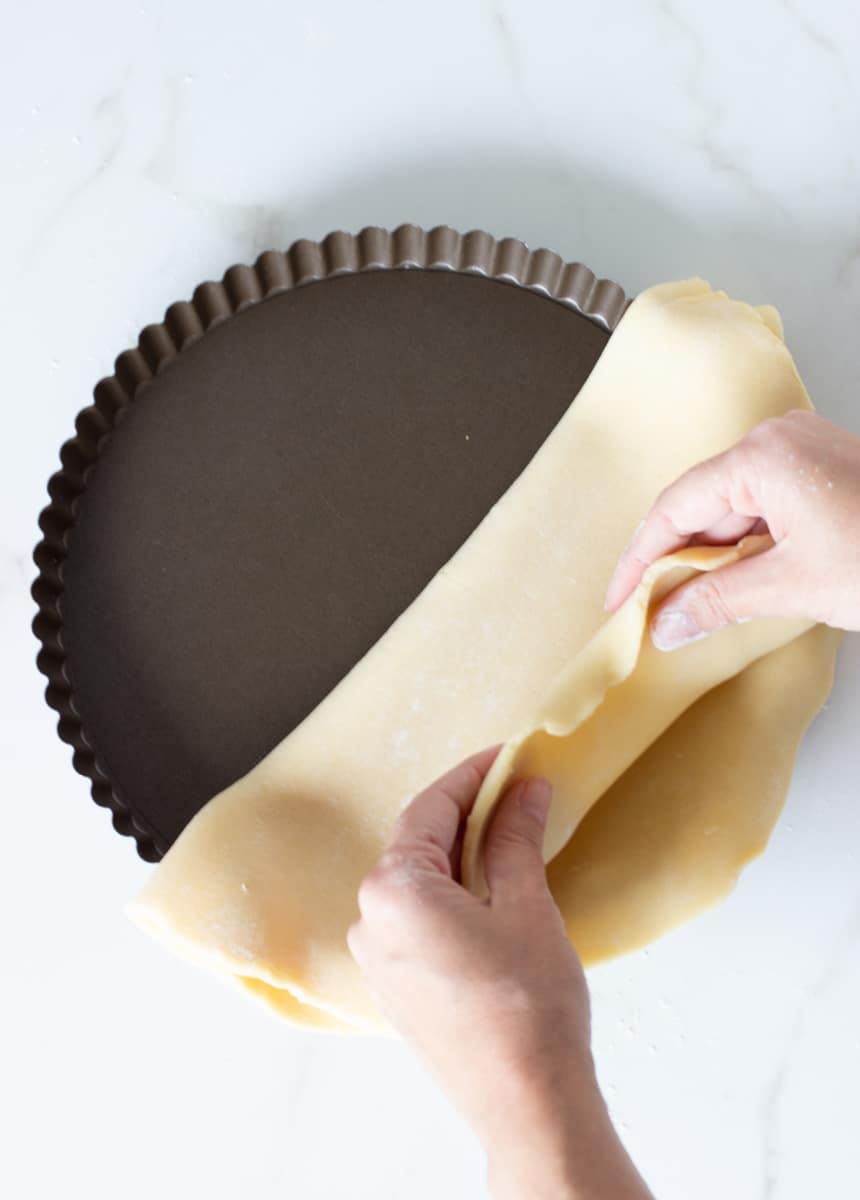 ---
Related recipes you might like:
---
Let me know in the comments below if you made this recipe and loved it and if you had issues so we can troubleshoot together. I love to hear what you think, always. Thanks for being here. It's much appreciated.
You might also consider subscribing to our FREE email series to Boost your Home Baking Skills! And our regular newsletter.
And let's connect via Facebook, Instagram, and Pinterest.
Print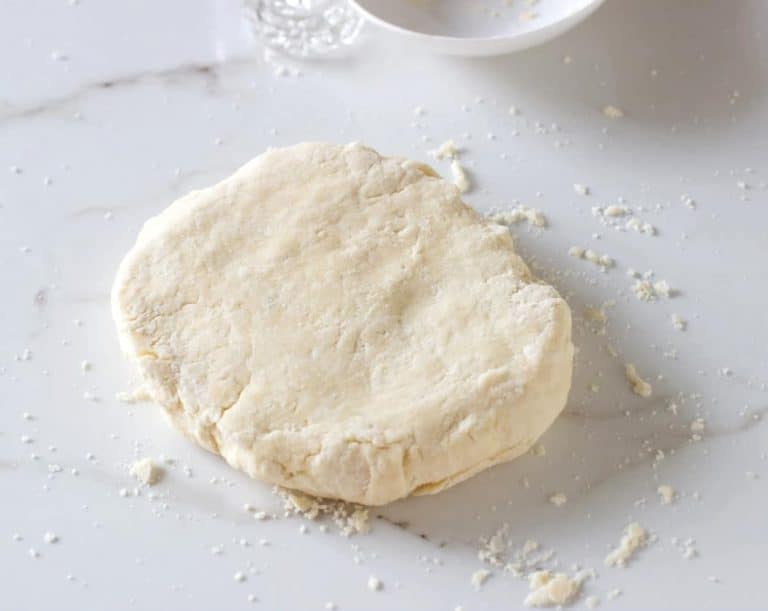 How to make Shortcrust Pastry
The perfect shortcrust pastry or pie crust is not hard to make if you follow the step-by-step recipe in this post. Only 3 ingredients (not counting water).
Total Time:

1 hour 40 minutes

Yield:

1 9-inch pie crust
Ice Water

2 ½

cups

(350g) all-purpose flour

1

cup

(225g) unsalted butter, very cold

½ teaspoon

salt

1 tablespoon

sugar, optional (for sweet pies)
Instructions
Put ice 4 or 5 ice cubes in a measuring cup and fill with cold water to about a cup.
In a food processor put flour and salt. Add cubed butter and pulse using on/off until the butter is the size of peas.
Add about ½ cup of ice water and pulse a few times.
Add ¼ cup more ice water and pulse until it barely comes together. Check the dough. Even though it's crumbly and dry, if you take some and squeeze it with your hand, it should come together. If it doesn't come together add a few more tablespoons water.
Transfer dough to a barely floured surface and gather it together into a ball. Don't overwork it or the dough will be tough. Wrap in plastic and refrigerate for an hour or up to 3 days.
Lining the pan:
When you're ready to use it, roll it on a lightly floured surface, starting from the middle and making sure the size is at least 1 inch bigger than the pan you're using.
Carefully place in the ungreased pie pan. Trim edges, prick the surface and refrigerate for 1 hour or freeze for half an hour.
Blind-baking:
Preheat oven to 350ºF /180ºC
Put foil and weights (I use dried beans) covering the dough surface and bake for 10 to 15 minutes. Lift foil and weights and continue baking for 10 more minutes, or until it's dry and starting to color.
Notes
Organization: read the recipe first and ensure you have ingredients at the correct temperature, equipment, and enough workspace. This will make the process so much easier!
Baking time: keep in mind that all ovens and pans are different, even if they look the same or very similar. The baking time in my recipes is as accurate as it can be, but it might take you more or less time. You can use a thermometer(like the OXO oven thermometer) to check that your oven is at the right temperature. I recommend you keep track of how your oven works and what tiny details you might need to adjust.
Don't overwork the dough: for tender crusts, you need to work them as little as possible but integrate the ingredients very well. A food processor or pastry blender and scraper (if making it by hand in a bowl) can help with the first step, where the cold butter is mixed with the flour.
Resting time: is essential if you want the pie dough to roll easily and be tender and crisp after it's baked. The resting time allows it to relax, making it easier to roll without stretching.
Make ahead: you can keep it in the fridge for 5 days or frozen for up to 1 month. Always well wrapped to prevent dryness.
Additional details: the post above details every step needed to make a great shortcrust pastry or pie crust. So you might want to refer to it.
Video recipe: Watch videos for Making pie dough and Rolling and lining pie dough.
Author:

Paula Montenegro

Prep Time:

20 minutes

Resting time:

60 minutes

Cook Time:

20 minutes

Category:

Pies & Tarts

Method:

Mixing

Cuisine:

International
Nutrition
Serving Size:

⅛

Calories:

352

Sugar:

1.7 g

Sodium:

149.3 mg

Fat:

23.4 g

Carbohydrates:

31.4 g

Fiber:

1.1 g

Protein:

4.3 g

Cholesterol:

61 mg
Keywords: shortcrust pastry, pie crust