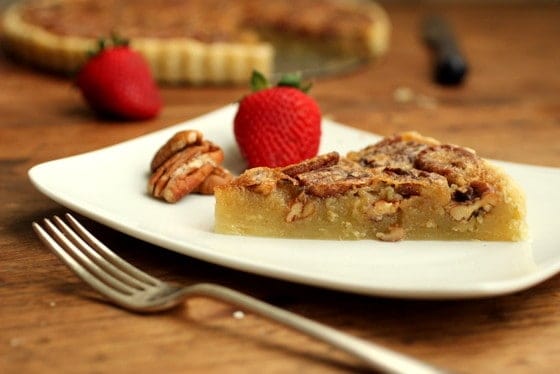 I guess the time has come for me to bake my first pecan pie.  And of course I choose one with a twist, or a bourbon brown butter pecan pie. The reason for my delay has to do with the over sweetness this pie usually implies. The only way then, is to make it at home.
I remember giving a recipe for traditional corn syrup pecan pie to a friend of a friend years ago. Every once in a while I run into her, and she never forgets to remind me of the great recipe I gave her, and how she makes it all the time. I have no idea which recipe I gave out, since I myself don't have a favorite one. It figures, since I never made one. Duh.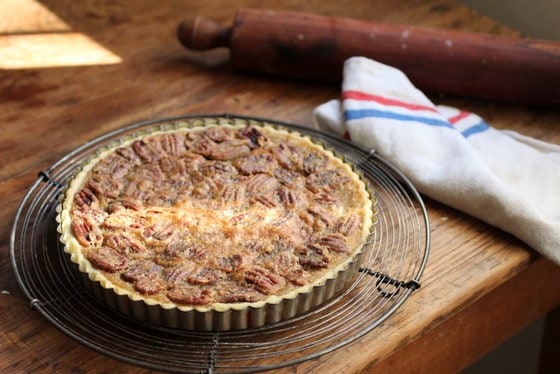 Through the years, I found a very interesting addition to this pie. Bourbon. What doesn't get better with bourbon in the kitchen? So an exciting pie was taking shape in my mind, where the sweetness was cut through with splashes of bourbon, take special note in the s at the end of splash.
Now we were talking about a pie that could very well find it's way into my kitchen and be welcomed by my appointed receivers of my baked goodies, now that I don't have the coffee shop anymore, which was the perfect place to get rid of all the unfinished cakes and pies and sweet stuff that was lying around my house after they were posted.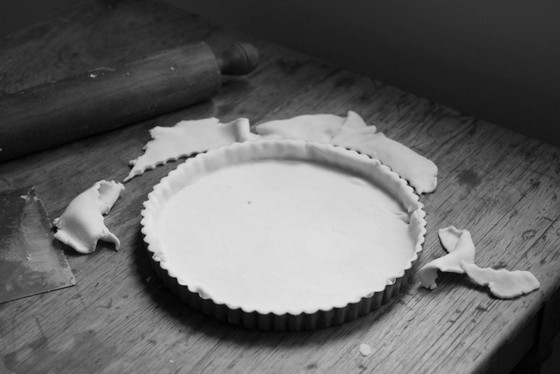 You see, there are flavors that people in this city sometimes don't understand, like a cardamom cake with rosewater or a spiced pumpkin bundt cake, the cloves are to blame for the latter.
So, believe it or not, sometimes it's hard to give out cake. Ridiculous but true. Hey, we're talking about cake after all. Or pie.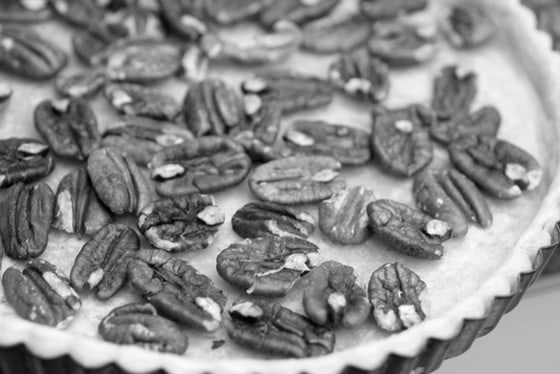 In my journey through many cookbooks another idea appeared involving a sort of custard and butter, browned in this case which really makes everything better, thus leaving out the corn syrup. I wish I had maple syrup which is extremely hard to find here. That would be the ultimate pecan pie with bourbon and maple syrup.
But it will have to wait until I find a bottle of that smoky, golden stuff.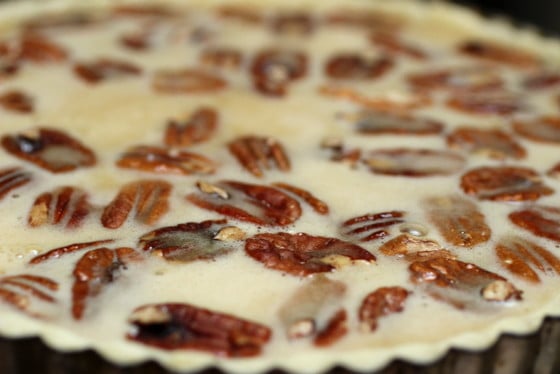 The pie 
dough I use is very simple. Doesn't even need salt, though I sometimes add a 
pinch. 
I like very unassuming doughs when it comes to flavor when using sweet fillings. So this is the one I use for savory quiches also.
One word about pie dough: the butter and water need to be ice cold, as in water with ice cubes and very cold butter. I put mine in the freezer while preparing the rest of the ingredients. If you don't have cold ingredients I might suggest you don't bother making homemade pie dough.
In the meantime, let's dig into a browned butter pecan pie with enough bourbon to earn the first place in the title. Oh this is good. And thin so it's not too much. Of course, I can't stress this enough, I think the way to eat this is with ice cream. Now that is a fabulous dessert that deserves a place in the table next week.
So let's get to the recipe which is very easy once you have you pie shell. And easy is the way to go now, because there are lists and plans and things to take care of before the celebration begins.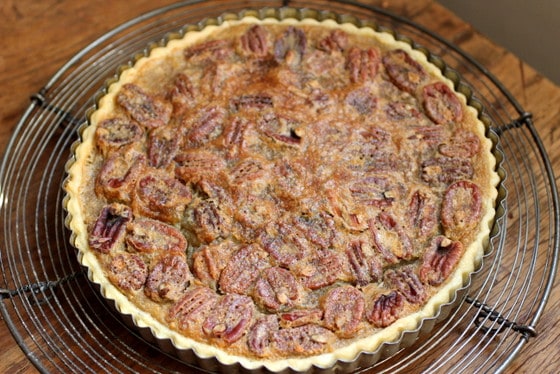 Print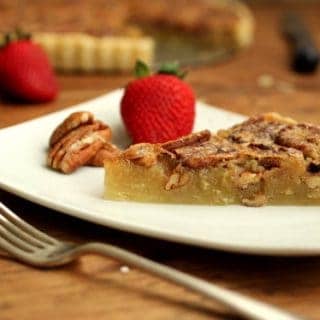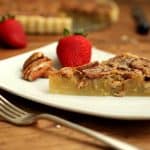 BOURBON BROWN BUTTER PECAN PIE
Yield:

8

servings

1

x
---
Scale
Ingredients
1

prebaked 9-inch pie shell
For dough:
Iced Water

2 ½ cup

s all purpose flour

1 cup

225g very cold butter
Pinch of salt
For filling:
3

eggs

¼ cup

flour

¾ cup

sugar

½ teaspoon

vanilla extract

3

Tbs bourbon

1 ¼ cup

s pecans (toasted)

10

Tbs 140g butter
---
Instructions
For dough:
Put ice 4 or 5 ice cubes in a measuring cup and fill with cold water to about a cup.
In a food processor put flour and salt. Add cubed butter and pulse using on/off until the butter is the size of peas.
Add about ½ cup of ice water and pulse a few times.
Add ¼ cup more ice water and pulse until it barely comes together. Check the dough. Even though it's crumbly and dry, if you take some and squeeze it with your hand, it should come together. If it doesn't come together add a few more Tbs water.
Transfer dough to a barely floured surface and gather it together into a ball. Don't over work it or the dough will be tough. Wrap in plastic and refrigerate for an hour or up to 3 days.
When you're ready to use it, roll it on a lightly floured surface, starting from the middle and making sure the size is at least 1 inch bigger than the pan you're using.
Carefully place in the ungreased pie pan. Trim edges, prick the surface and refrigerate for 1 hour or freeze for half an hour.
Preheat oven to 350ºF /180ºC
Put foil and weights (I use dried beans) covering the dough surface and bake for 10 to 15 minutes. Lift foil and weights and continue baking for 10 more minutes, or until it's dry and starting to color.
Preheat oven to 375ºF / 190ºC
For filling:
To make brown butter, put butter in a medium saucepan over medium heat.
Let it melt and continue cooking it. It will make loud noises at first, like an angry cat, but suddenly it will stop. That's when it will brown very quickly, so watch it.
When it's a deep amber color and has a nutty aroma, remove from heat and let the bubbles subside. The browned bit will go to the bottom.
While the butter is browning, put eggs, flour, sugar, bourbon and vanilla in a bowl.
Add browned butter, leaving sediments behind in the saucepan. Do this a bit at a time so the hot butter doesn't cook the eggs.
Put the toasted pecans in the bottom of the pre baked pie shell.
Carefully add the butter mixture. I like to put the liquid in a measuring cup, put the pie in the oven and carefully add the liquid. That way I can fill it to the top without moving it.
Bake for 30 minutes or until golden.
Cool on wire rack.
---
filling adapted from Room for Dessert, by David Lebovitz
---