A caramel bundt cake was the theme for this month. 
Now, I find caramel to be one of the best discoveries ever. EVER. The same goes for caramelized stuff. The latest fad of salted caramel has me over the moon, these salted caramel millionaire's graham cracker bars being the example. 
But at the same time, I wanted to share something different, try to enhance the caramel while not making it too sweet.
This orange caramel bourbon bundt cake turned out much better than I expected. It's the bourbon with the caramel, an inspiring idea from
a drink called old fashioned
, which involves whiskey, sugar, bitters and orange.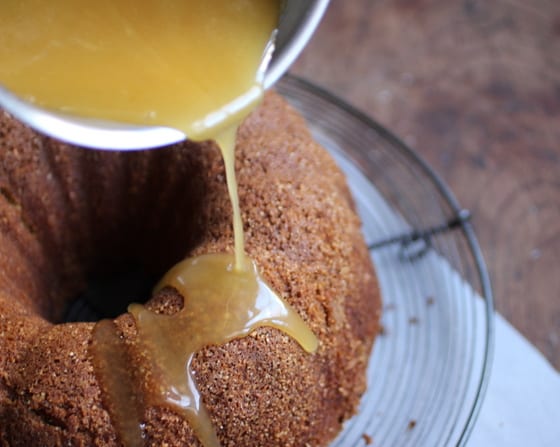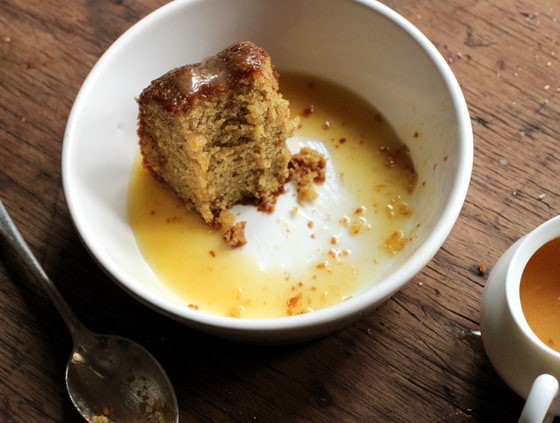 I had saved
this recipe
from my friend Susan's blog, so I guess it was a matter of time.
As I was telling you in my last fruit caipirinha post, I attended a bartender class once, some years ago. As a very late bloomer when it comes to cocktails, even wine, my palate wanted to take it all in, sort of a let's-do-some-catching-up situation. And there´s the kinda cool, sexy feeling involved in making drinks too.
You know, the bar's set up, the night is starting, there's music, interesting conversation many times. I was taking my little class very seriously.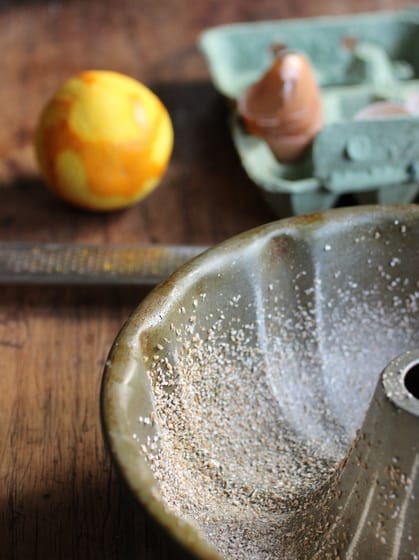 There were some obvious bumps on the road, like trying to like drinking a dry martini (very uncool when you cringe your face), beer which doesn't appeal to me much, and whiskey or bourbon. I can't really drink this last one by itself. Rocks or no rocks, it's too strong.
But prepare me an old fashioned and I'll sit right next to you and spill all my secrets.
Oh, I love the stuff. It has a slight caramel undertone, a mellow sweet and sour flavor, all the tough exterior of what appears to be a manly glass of bourbon blurred by the addition of sugar.
This cake is like a deconstructed old fashioned that focuses more on the golden caramel than the booze, with an orange cake as a base, a hint of bourbon both inside and out, and a caramel sauce made with orange juice instead of water. A sensational mix of flavors, very balanced, with the pooling sauce around the warm piece of cake if you choose to serve it in a deep plate or bowl. Almost a dessert.
To take it a bit further into the world of bourbon, I added some rye flour.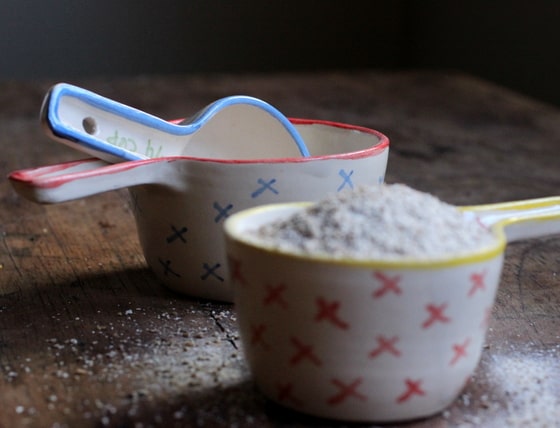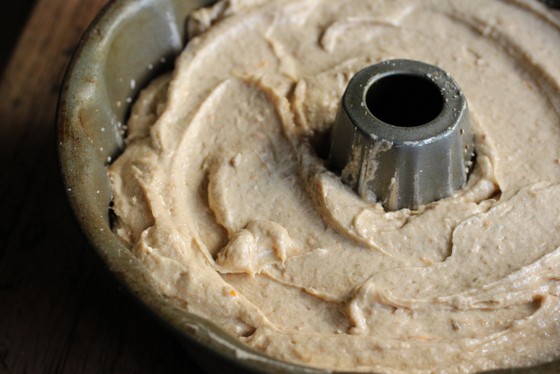 I already talked many times about my love for booze in cakes, the way they enhance a flavor or deepen it, and at the risk of boring you to death yet again, I will bring some titles into this conversation like chocolate port bundt, creamy devil's food stout cake, the raspberry wine chocolate bundt that I would trade many things for, or the orange rum cake, one of my early posts with an awesome recipe and sad pictures.
When used sparingly, it can have the same effect as an extract or a citrus zest. The key word being sparingly. Too much and you get what we here call a tipsy cake. Not a bad idea at all, but we're focusing on caramel today.
I highly suggest you eat it warm with the caramel sauce. It's up to you if you want it even more decadent and add a dollop of cream on top.
Or go 
ahead, make extra sauce and use it over vanilla ice cream too. 
Print
Orange caramel bourbon bundt cake
---
Scale
Ingredients
For the orange cake:
1 ½ cups

340g unsalted butter, room tº

2 ½ cups

500g sugar

5

large eggs (at room tº)

2 ½ cups

350g cake or all purpose flour

½ cup

rye flour

1 teaspoon

baking soda

¾ cup

milk

1 teaspoon

vanilla extract
Zest of

2

oranges

3

Tbs bourbon (I used Jim Bean)
For the caramel bourbon sauce:
¾ cups

150g sugar

¼ cup

corn syrup

½ cup

orange juice

1/3 cup

cream

2

Tbs bourbon
---
Instructions
For the orange cake:
Preheat oven to 350º F /180ºC.
Butter or spray a large bundt cake pan. Coat the entire surface with coarse rye flour (the way I did here) or dry breadcrumbs, shaking off excess.
In a large bowl beat butter until creamy and slowly add sugar, beating for 2 or 3 minutes. Add eggs, one at a time, beating well after each addition. Add orange zest and vanilla.
Sift flours and baking soda together in a bowl (I do this directly over the butter mixture when adding it).
Add dry ingredients in three additions alternating with milk and bourbon in two additions. Don't over beat.
Bake for 1 hour and 15 minutes or until a tester inserted comes clean. Transfer to wire rack and let cool for about 20 minutes.
Unmold onto serving platter and glaze with the warm caramel sauce.
Serve with extra sauce.
For the caramel bourbon sauce:
In a saucepan mix sugar, syrup and orange juice. Cook over medium heat, and let boil 10 minutes. It will bubble up a lot, so use a pan with high sides.
Remove from heat and add cream and bourbon.
Store in the fridge.
---
cake adapted from this recipe for orange chocolate marble pound cake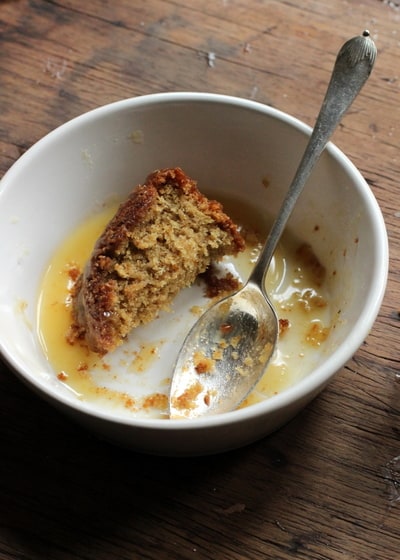 Are you ready for some mind blowing recipes for caramel bundt cakes?!
Brown Butter Bundt Cake with Salted Caramel Icing by Holly from A Baker's House
Buttermilk Bundt Cake with Salted Caramel Icing by Carrie from Poet In The Pantry
Caramel Apple Bundt Cake by Rachel from I Love a Disorganized Life
Caramel Pound Cake by Veronica from My Catholic Kitchen
Chocolate Bundt Cake with Salted Caramel by Alice from Hip Foodie Mom
Double Glazed Caramel Mocha Bundt by Stacy from Food Lust People Love
Dulce de Leche Bundt Cake by Renee from Magnolia Days
Dulce de Leche Swirl Pound Cake by Anuradha from Baker Street
Orange Caramel Bourbon Bundt Cake by Paula from Vintage Kitchen Notes
Salted Butterscotch Caramel Bundt Cake by Laura from The Spiced Life
Salted Caramel Mini Apple Cake Bundts by Anita from Hungry Couple
Snickers Bundt Cake by Karen from In The Kitchen with KP
Vanilla Bean Salted Caramel Bundt Cake by Kate from Food Babbles
---