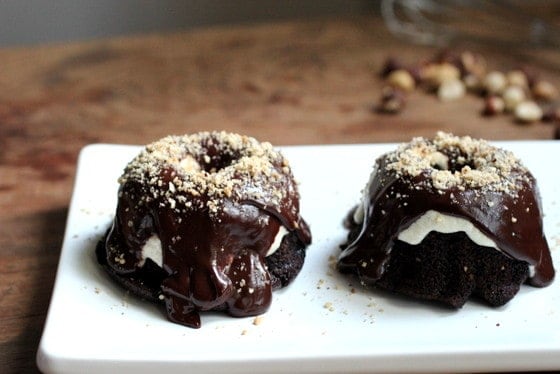 Aren't these the cutest chocolate hazelnut baby bundt cakes?
There are a few things I hate about baking. The fact that vegetables sprays are the absolute best way to coat a bundt pan drives me nuts. That and using so much aluminum foil and plastic wrap. I even went out to buy some butter-flavored (the horror I know) spray before I began making these adorable chocolate hazelnut mini bundt cakes.
Even though I use the million-dollar-gold-coated-can't-bake-another-cake-without-buying-them molds, or so I thought at the time, the wrong recipe and not enough spray will get you unmolded half bundts.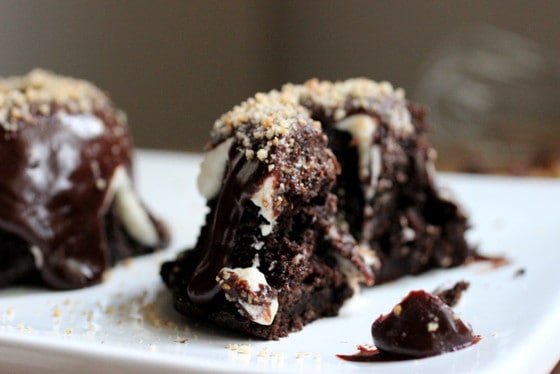 That said,
let's get on with this fabulous recipe that made pretty mini bundt cakes,
tastes so, so, so incredibly good and unmolded like a charm. After it rained a
hefty dose of spray of course.
The real rain came and went, then a few pretty cold days came and went, and finally it's time for proper spring days. Like these last few and I hope many more before the heat starts creeping and climbing, making us remember yet another holiday season where it was so hot the rest became irrelevant.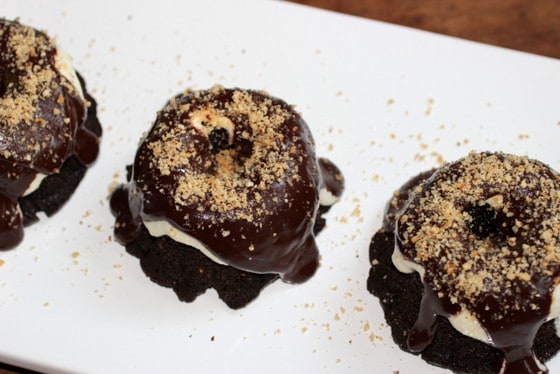 Today is National Bundt Cake Day and the Bundt a Month group is celebrating it. Not that I need a reason to bake a bundt cake, especially with chocolate and hazelnuts.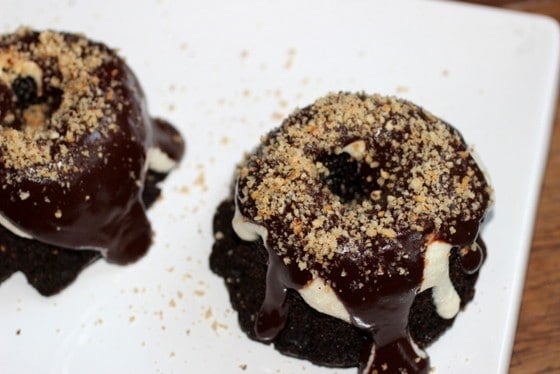 The coffee in the batter marries the rest of the flavors perfectly. It seems like coffee goes with so many other ingredients, it is starting to be like a wild card. And I love that, since I love a good brew. I was tempted to add coffee to the title.
I find that mini bundts are so cute on their own, but get even better when they get the red carpet treatment of a lot of sauce on top. The black and white comes way of some cream cheese frosting and chocolate sauce. Dig your fork and enjoy these scrumptious mini bundts.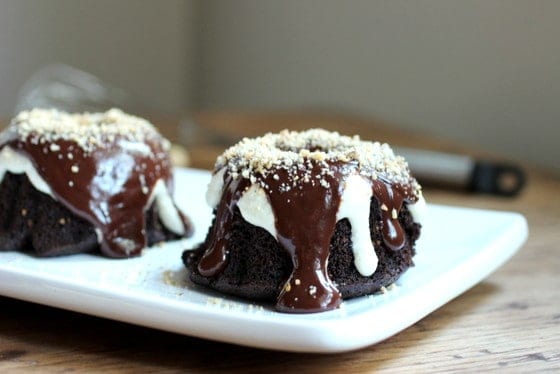 Print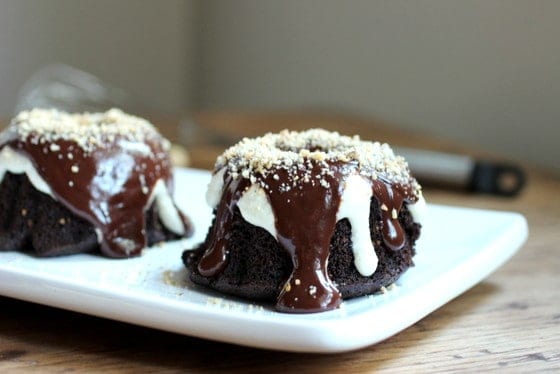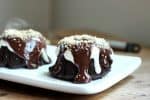 Chocolate Hazelnut Baby Bundt Cakes
---
1 cup

200g sugar

¾ cup

175g firmly packed brown sugar

1 ¼ cups

175g all purpose flour

1 cup

hazelnut flour

¾ cup

100g cocoa powder

1 ¼ teaspoon

baking powder

1 ¼ teaspoon

baking soda

¾ teaspoon

salt

2

eggs (room tº)

1 cup

milk

½ cup

vegetable oil

2 teaspoons

vanilla extract

1 cup

drip coffee (very hot)
Cream cheese frosting (see recipe)
Chocolate sauce (see recipe)
---
Instructions
Preheat oven to 350ºF /180º
Butter and flour or spray well with cooking spray, 12 mini bundt molds.
Sift together sugars, flour, hazelnut flour cocoa, baking powder, baking soda and salt. If any large pieces of hazelnuts or brown sugar don't go through the sieve, just add them without sifting.
In a large bowl beat eggs, milk, vanilla and oil for 1 minute.
Add dry ingredients to the wet, ½ cup at a time, while beating on low speed. Do this slowly so the batter doesn't develop clumps.
Heat coffee until almost boiling. Add slowly to the chocolate batter. Mixture will be very thin, almost like crepe batter.
Fill molds up to ¾ of it's full capacity. I put the batter in a glass measuring cup so it's easier to pour.
Bake until tester inserted in center comes out clean, about 25 minutes for mini bundt and 45 minutes for a big bundt.
Invert cake onto cooling rack. If cake resists, cool in the pan for 15 minutes before inverting.
Cover with a layer of cream cheese frosting, another layer of chocolate sauce and sprinkle with some ground hazelnuts if desired.
---