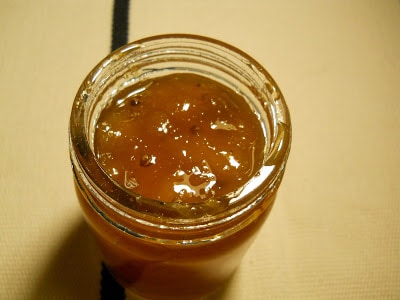 Mango chutney had been in my bucket list for a long time.
Global warming is a bad thing. For us, for the planet, for future generations. Still, and I know this is a bad feeling, it put a smile on my face today as I woke up to a sunny, very warm day, when some fog and humidity are usually scheduled for this time of the year. It was unexpected so I went on a food shopping spree, walked a million blocks and discovered a few shops on the way.
Half a block from the square where I usually 
sit and read
 there's a most charming fruit and vegetable shop. We're not big on shopping malls or supermarkets, and though there are plenty, people still like to do their shopping in small neighborhood shops; I most definitely do, and get to talk with the owner about not finding sour cherries anywhere, or how is it that they have such sweet strawberries, or the weather of course, always a topic of conversation.
Important Saturday morning stuff.
My latest discovery had me buying mangoes, pomegranates and figs, very unusual for this time of year, you know, since we're well into the fall, but you don't say no to this kind of surprises.
So walking back home involved many bags that I was already carrying, more stuff than I should have bought, considering I was
walking, but that's the usual story. I get carried away with fruits and jars of this and that.
I'm a beginner food hoarder probably, according to some, and I have solid proof so there´s no hiding.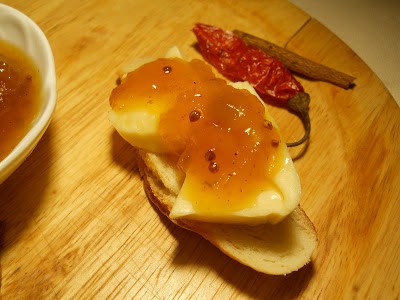 But I also now have, thanks to my pretty indiscriminate shopping, the most delicious mango chutney.
Looking for a recipe I went to my usual sources. And was not disappointed. In a couple of hours I had my first homemade, perfectly spiced mango chutney.
Lunch was one of my favorite, ridiculously easy snacks I often prepare that involve some kind of toasted bread, a piece of cheese and jam.
This time it was some French bread I did for another post (coming soon), a slab of queso fresco which is a soft, somewhat neutral tasting cheese that pairs perfectly with anything sweet (quince paste being the original combination), and as many tablespoons as I could fit of my new favorite spicy jam without making a mess.
I took some as a gift to a friend's house where I was having dinner so I think tomorrow I'll be making another trip and getting more mangoes. Another day of chutney-making awaits. I couldn't be happier.
You can find this 
great recipe
 in Kulsum's site. You'll probably find so many other things to make as well!
---