Time for the best fall cake I've made in a long time, this pumpkin apple cake has it all.
Since officially it's spring here, it's fall for most of you reading this post. Though the weather here certainly has a case of amnesia; it goes from cold days to the worst tropical storms ever in a matter of hours. What's a person to do but eat good cake, right?.
Pumpkin apple streusel cake is your answer to chilly weather, crisp leaves and the need to be done with summer fruit (that never ever happens to me, but still).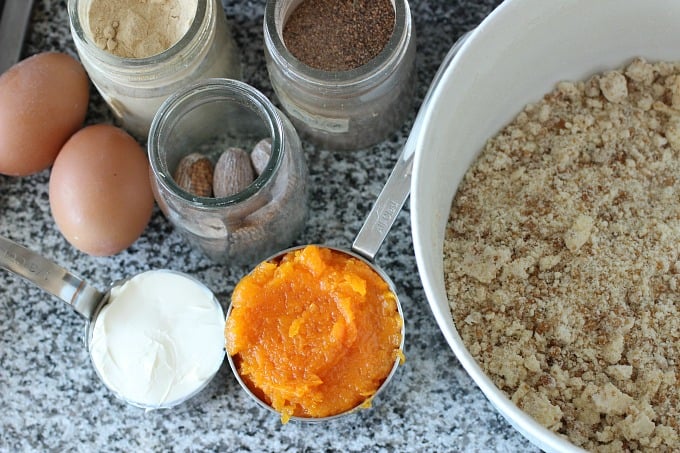 This is one of those recipes that mutes the never-ending internal monologue of what fall fruit or vegetable to use first, which one is our favorite, how to please apple and pumpkin lovers at the same time. Not to mention crumble fans, like me.
I will eat anything with a crumble topping. Anything. Seriously.
This pumpkin apple cake really is the best of both worlds. The crumble on top guarantees it.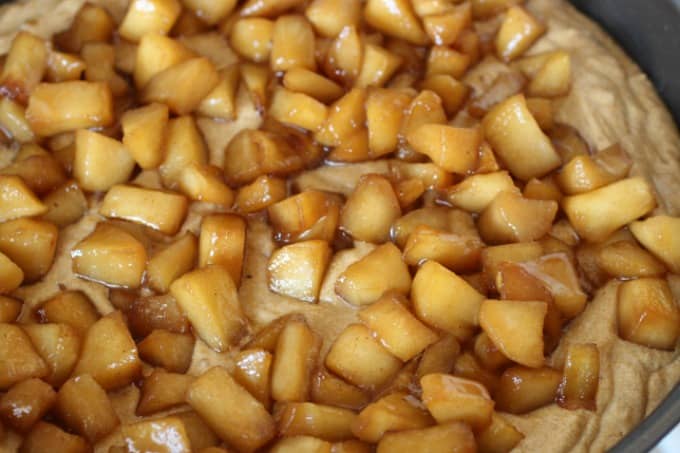 The apples are caramelized, which is a huge plus in my kitchen. Caramel goes with almost anything. I frankly can't think of something that isn't made better by the process of caramelization or with caramel added to it.
And while we are on the subject, can someone please enlighten me if caramelize is with a z or with an s? My whole life I wrote it with a z (as taught by my English teachers), but Google insists it's with an s… mmm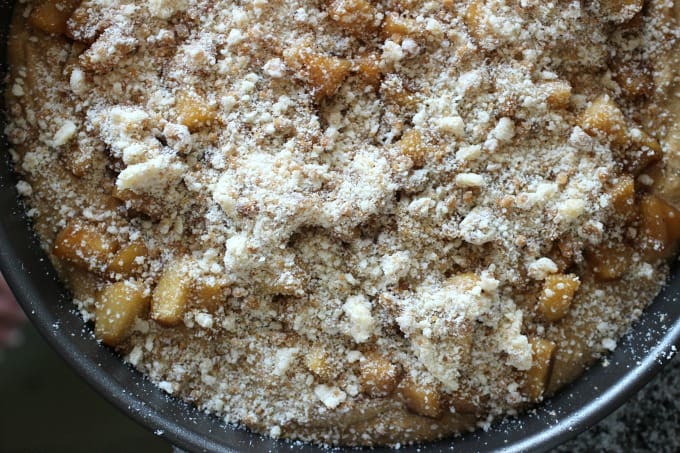 What is crumble or streusel?
The mixture of sugar, flour, and butter that is worked together until granulated, is called crumble or streusel.
Though quantities may vary, those are the exclusive ingredients needed to be called that. After those three, feel free to add spices or citrus zests, chopped nuts, even some oats or similar. They will add more crunch and flavor, and it will be amazing!.
A crumble or streusel can be used in cakes and muffins and bars. Check out this scrumptious apple crumb cake, or the lemon blueberry crumb cake or even the gorgeous raspberry apple crumb bars.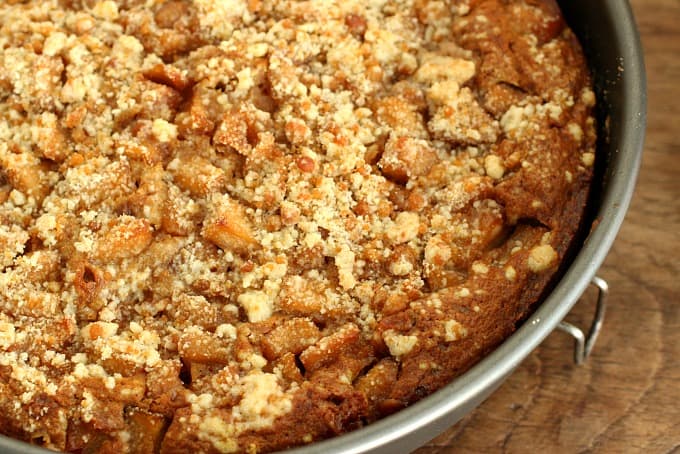 Anyway, this is the fall cake you were waiting for.
I use butternut squash because I always use it when it calls for pumpkin purée. I love it, is readily available all the time, and we don't have canned pumpkin of any kind here. It's the real pumpkin thing or nothing.
How to cook fresh pumpkin or squash for baking?
There are several ways.
You can boil it (no salt) and then mash it, but it retains too much water and it's no good for baking. You can steam it until very soft and mash it.
Or, my favorite way, throw the whole scrubbed squash in the oven at 350ºF (180ºC) and let it bake until a knife very easily pierces it from one side to the other. It should be very soft inside. Simply cut it in half, scrape the seeds and scoop the pulp. It will take about an hour or more depending on the size. But you just forget about it in the oven.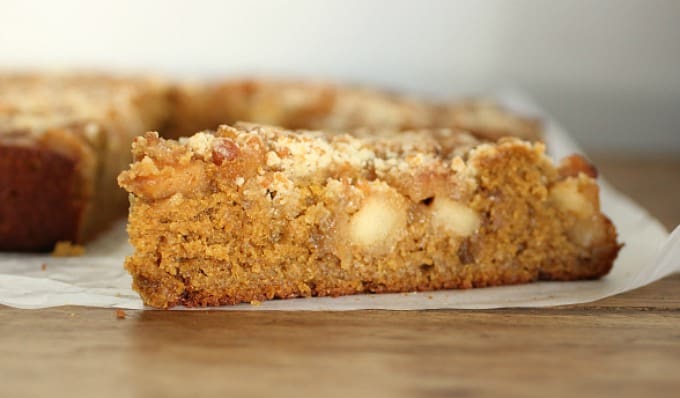 Oh, and the crumble is the base for the cake too. Just like Ina Garten's plum tart.
Awesome recipe.
Print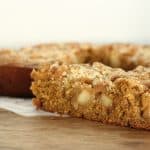 Pumpkin Apple Crumble Cake
---
Scale
Ingredients
For the apples:
3 Tablespoon

s butter

3

granny smith apples (peeled, cored and cut into cubes)

3 Tablespoon

s light brown or muscovado sugar

1/2 teaspoon

ground cinnamon
For the cake:
1 1/2 cup

s 210g all purpose flour

1 cup

200g light brown sugar

1/2 cup

110g butter, at room tº

1/2 teaspoon

salt

3/4 cup

pumpkin puree

1/3 cup

sour cream

2 Tablespoon

s sugar

1/2 teaspoon

ground cinnamon

1/4 teaspoon

ground ginger

1/4 teaspoon

ground allspice
A few grindings fresh nutmeg

1 teaspoon

baking soda

2

eggs
---
Instructions
For the apples:
In a large skillet, melt butter. When it foams, add apples and cook for a few minutes.
Scatter sugar over apples, stir and let cook over medium/high heat until caramelised, stirring frequently. Add cinnamon and remove from heat. Let cool while making the cake.
For the cake:
Preheat oven to 350ºF. Butter or spary an 8-inch cake pan.
In a large bowl mix flour, light brown sugar, butter and salt. With an electric beater or your hands, mix well until crumbly.
Measure 2/3 cups of the mixture and set aside. This will be the crumble topping.
To the rest of the crumble add pumpkin, sour cream, 2 tablespoons sugar, cinnamon, ginger, allspice, nutmeg and baking soda. Beat only until mixed.
Add eggs and beat until well incorporated. Don't overmix.
Pour mixture into pan, spreading evenly.
Top with the caramelised apples. Top the apples with the reserved crumble.
Bake for 1 hour or until golden and a tester inserted in the middle comes out clean.
Let cool on wire rack for 20 minutes.
Unmold and let cool completely. Or serve warm.
---
barely adapted from an old Bon Appetit
---