I've been meaning to share this red chile jam recipe with you for a long time. Sweet and spicy, it keeps for months and can be used for grilled meats, tacos, quesadillas. So delicious!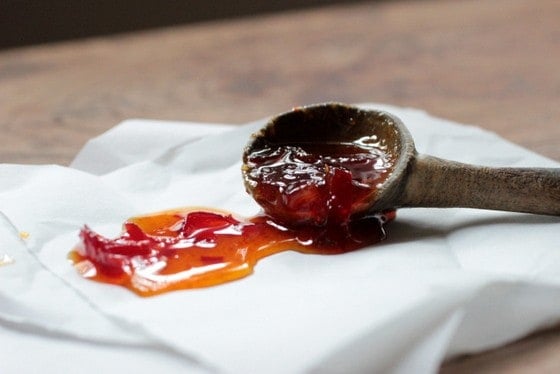 I made the chilli (or is it chili?) jam and decided to use it right away.
In come the tequila chicken quesadillas. I whipped them up at the last moment and they turned out amazing. Who can argue with spicy quesadillas, right?
But let's get to our jam recipe here
It's similar to making chutney.
The chiles and other ingredients are chopped small and cooked in a mix of sugar, vinegar, and water (image below). The result is syrupy, sweet, spicy, and wonderful.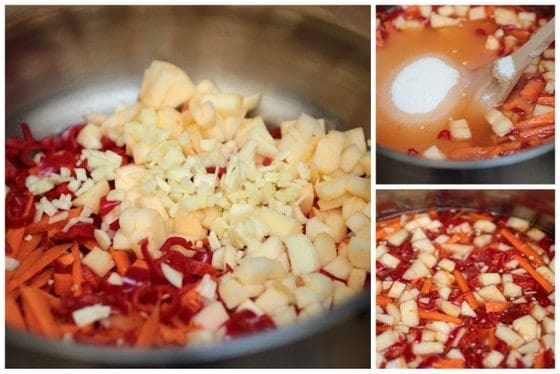 About red chillies
The red, small peppers used are very spicy. And it will take you several minutes chopping them.
So, please, wear gloves if possible and be very careful not to touch your eyes and face while doing this. For me the gloves (those disposable rubber ones) are non-negotiable. My hands burned for hours the first time I made this.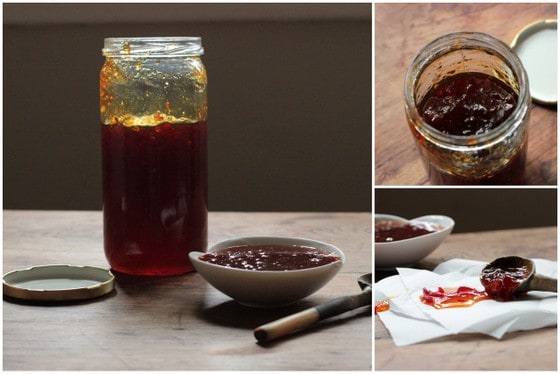 See the golden color? That's the jam with all its sugary goodness and spicy flavor.
A spoonful in a marinade, on a sandwich mixed with mayonnaise, as a dip for a quesadilla like I did today, or in a pizza with goat cheese or queso fresco.
This jam is good news for all who like spicy condiments and chutneys.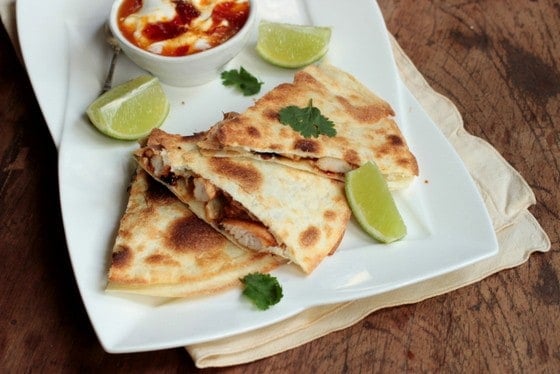 Other recipes you might like:
Crunchy Szechuan Pork and Carrots
Spicy Broccoli Harissa Pasta
Turmeric Ginger Cauliflower
Let me know in the comments below if you made this recipe and loved it and if you had issues so we can troubleshoot together. I love to hear what you think, always. Thanks for being here. It's much appreciated.
You might also consider subscribing to our FREE email series to Boost your Home Baking Skills! And our regular newsletter.
And let's connect via Facebook, Instagram, and Pinterest.
Print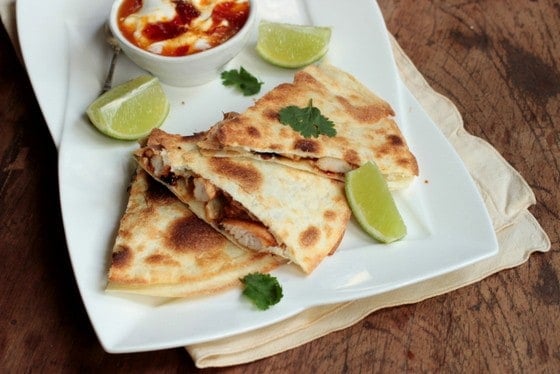 Red Chilli Jam +Chicken Quesadillas
Total Time:

1 hour 40 minutes

Yield:

7 cups
For the red chile jam:
7 oz

(

200g

) red chiles or chillies

5

garlic cloves

1 cup

chopped carrots

1 cup

chopped peeled apple

2 cups

white vinegar

6 cups

sugar

2 cups

water

2

Tbs salt
For the tequila chicken quesadillas:
8

big flour tortillas

4

chicken breasts (cut into bite size pieces)
Juice of

3

limes

½ cup

of tequila

4

Tbs red chile jam

4

Tbs olive oil +

2

Tbs for cooking

2

Tbs chopped cilantro

1 cup

grated cheddar cheese

1 cup

grated asiago cheese

2 cups

sour cream (to serve)

4

Tbs Red chili jam (to serve)
Chopped cilantro (to serve)
Lime wedges (to serve)
Instructions
For the red chile jam:
In a big non-reactive pot, mix together all ingredients.
Cook over high heat until it boils, then reduce to low and cook for 1 hour to 1 ¼ hours. It will be runny.
Have ready sterilized canning jars. I used two of the ones you see in the picture.
Pour hot jam, close lid tight and let cool to room temperature. Store.
For the tequila chicken quesadillas:
In a glass bowl, marinate chicken, lime juice, tequila, jam, olive oil and cilantro, for 2 hours.
Preheat oven grill.
In a skillet, heat remaining 2 Tbs olive oil. Add chicken, without the marinade, and cook for a minute or two. When it's beginning to brown, add marinade and cook until evaporated. Don't cook them much, as they still need some time in the oven. Remove from heat.
Have ready four tortillas on a flat surface. Put half of each cheese on the tortillas, dividing evenly. That is ⅛ cup per tortilla. Divide chicken evenly over them.
Top with remaining cheese, dividing evenly again. Top with remaining four tortillas.
Depending on your baking trays, grill 1 or 2 tortillas at a time, until they crisp and become golden, careful not to burn them. Turn them over and do the same.
Repeat with remaining quesadillas, keeping the other in the bottom of the oven so they are warm.
In a bowl mix sour cream with red chili jam and cilantro. Cut each quesadilla in 6 and serve with the sour cream and lime wedges.
Notes
The amount of sugar seems a lot but it's not. Don't overcook this, as it will be too thick later when it cools. It is very runny when you can it. If you overcook it by any reason, just add some hot water whenever you use it, to loosen it up.
The size of the vegetables will stay pretty much the same, except for the apple. So if you don't want chunky pieces, process everything a bit with an immersion blender, directly in the pot. It's complicated to do it in the processor since it's so hot and has too much sugar. Alternatively, chop the ingredients finely before adding them.
Author:

Paula Montenegro

Prep Time:

25

Cook Time:

75

Category:

Condiments

Method:

Cooking

Cuisine:

International