I've been meaning to share this red chile jam recipe with you for a long time.
And it seems fitting today, being that
Jen of Juanita's Cocina
with her spicy humor and love of chiles, is hosting this party. It's 5 de Mayo, time to grab that bottle of
mezcal
, worm and all, and celebrate in style!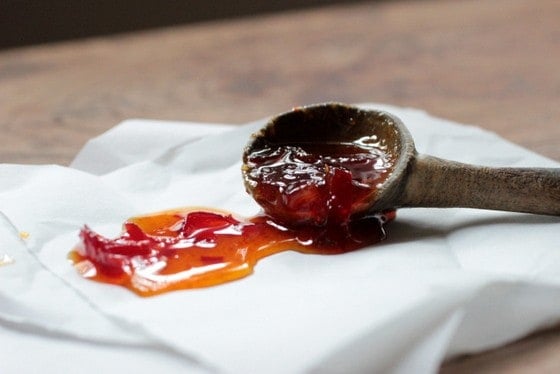 The tequila chicken quesadilla was an afterthought. The fact that this day was fast approaching and I was nowhere near of getting to the bottom of my stack of flour tortillas, made me whip this up at the last moment.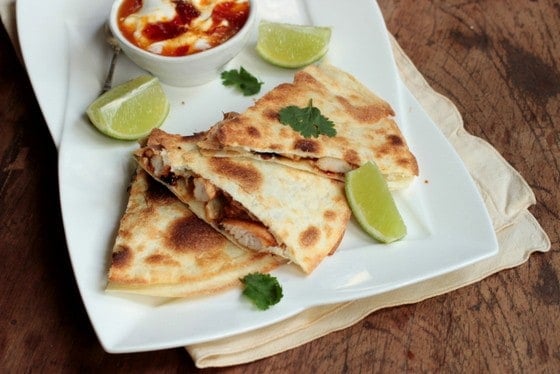 The reason why I have so many is due to a remnant from the time I owned a café.
The truth is, besides the brie and mango chutney quesadillas, and some random times I used tortillas as wraps, those babies are cold as can be taking up the entire middle shelf in my freezer. And 5 de mayo is almost over and I didn't do a damn thing with
them. Always late to the party, that's me. At least last year I had a grapefruit tequila drink to keep me company.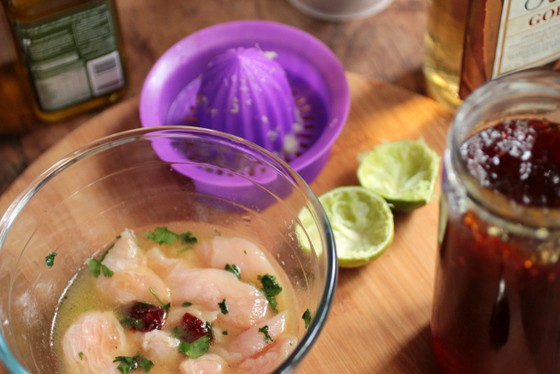 Anyway, tortilla issues aside, let me tell you a little about the marinated chicken here. It has a few important ingredients like lime juice and tequila. And a few tablespoons of the red chile jam.
See the golden color? That´s the jam with all it's sugary goodness and spicy flavor. All that punch makes it so versatile. A spoonful in a marinade, on a sandwich mixed with mayonnaise, as a dip for a quesadilla like I did today or in a pizza with goat cheese or queso fresco.
This jam is good news for all who like spicy condiments and chutneys.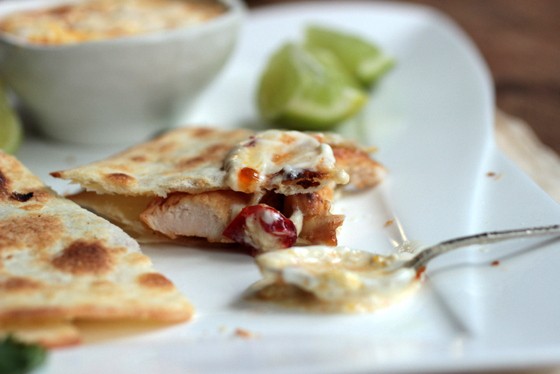 The marinade works well with red meat too. And if you have an avocado, serve it with this quesadilla too as a side. I particularly don't like putting avocados inside because I prefer to eat them cold, not warm.
The sour cream with jam and cilantro really completes this quesadilla. So don't overlook it. It adds a creamy freshness with a touch of fire and it works perfectly.
About those red hot chiles, seeding them and your hands. We need to talk about that. Really need to talk. Seeding a lot of hot chiles is no small task for your lovely hands. They will burn. And if you like me, choose to use the 30 small chiles instead of the 6 very large ones, it will take you like twenty minutes to do so, and you will have, literally, burning hands. Or face if you accidentally wiped a strand of hair from your cheek, or decided your nose itched. Don´t get me started if you inadvertently rubbed your eyes.
My hands burned for hours. And then it stopped. And hours later it started burning again. And it continued for a day or more. Painful guys, not to be taken lightly. All those home remedies involving milk and rubbing salt worked for about ten minutes… So please, please use gloves if possible. Or the large chiles which will mean 5 minutes working with them, tops. Yeah, and even then, use gloves. Don't be all stupid like me. Are we clear on that? Really? Are we clear? Good.
Now, enjoy this day, the food, the drinks, the friends, the good spirits all around you.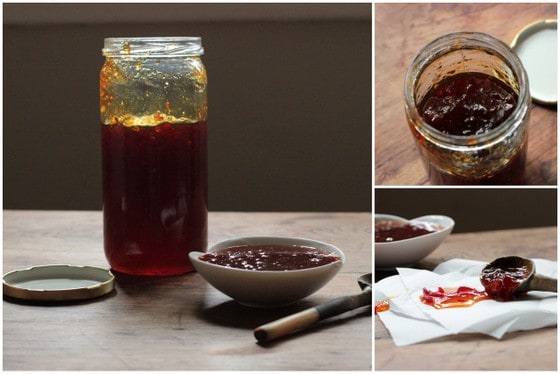 Print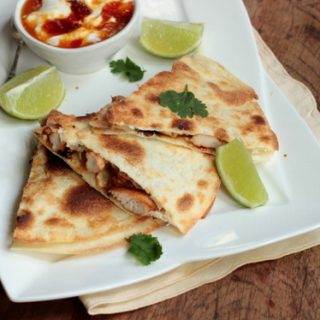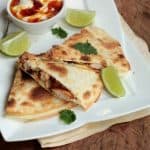 RED CHILE JAM + TEQUILA CHICKEN QUESADILLAS
Yield:

2

servings

1

x
---
Description
The jam makes about 7 cups. The amount of sugar seems a lot but it's not. Don't overcook this, as it will be too thick later when it cools. It is very runny when you can it. If you overcook it by any reason, just add some hot water whenever you use it, to loosen it up.The size of the vegetables will stay pretty much the same, except for the apple. So if you don't want chunky pieces, process everything a bit with an immersion blender, directly in the pot. It's complicated to do it in the processor since it's so hot and has too much sugar. Alternatively, chop the ingredients finely before adding them.
---
Scale
Ingredients
For the red chile jam:
7 oz

200g red chiles

5

garlic cloves

1 cup

chopped carrots

1 cup

chopped peeled apple

2 cup

s white vinegar

6 cup

s sugar

2 cup

s water

2

Tbs salt
For the tequila chicken quesadillas:
8

big flour tortillas

4

chicken breasts (cut into bite size pieces)
Juice of

3

limes

½ cup

of tequila

4

Tbs red chile jam

4

Tbs olive oil +

2

Tbs for cooking

2

Tbs chopped cilantro

1 cup

grated cheddar cheese

1 cup

grated asiago cheese

2 cup

s sour cream (to serve)

4

Tbs Red chili jam (to serve)
Chopped cilantro (to serve)
Lime wedges (to serve)
---
Instructions
For the red chile jam:
In a big non-reactive pot, mix together all ingredients. Cook over high heat until it boils, then reduce to low and cook for 1 hour to 1 ¼ hours. It will be runny.
Have ready sterilized canning jars. I used two of the ones you see in the picture.
Pour hot jam, close lid tight and let cool to room temperature. Store.
For the tequila chicken quesadillas:
In a glass bowl, marinate chicken, lime juice, tequila, jam, olive oil and cilantro, for 2 hours.
Preheat oven grill.
In a skillet, heat remaining 2 Tbs olive oil. Add chicken, without the marinade, and cook for a minute or two. When it's beginning to brown, add marinade and cook until evaporated. Don't cook them much, as they still need some time in the oven. Remove from heat.
Have ready four tortillas on a flat surface. Put half of each cheese on the tortillas, dividing evenly. That is 1/8 cup per tortilla. Divide chicken evenly over them.
Top with remaining cheese, dividing evenly again. Top with remaining four tortillas.
Depending on your baking trays, grill 1 or 2 tortillas at a time, until they crisp and become golden, careful not to burn them. Turn them over and do the same.
Repeat with remaining quesadillas, keeping the other in the bottom of the oven so they are warm. 
In a bowl mix sour cream with red chili jam and cilantro. Cut each quesadilla in 6 and serve with the sour cream and lime wedges.
---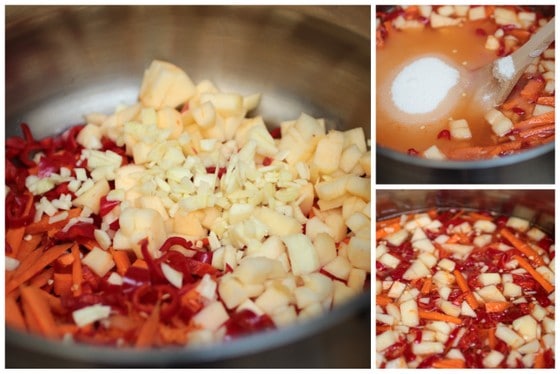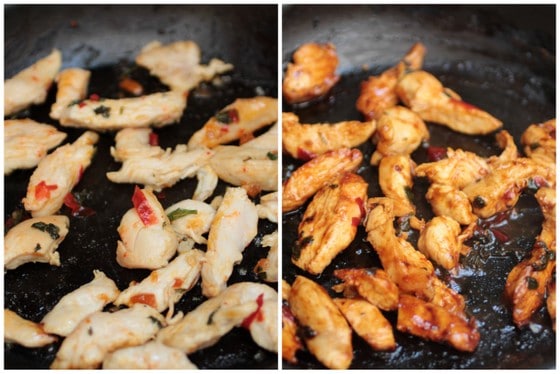 ---