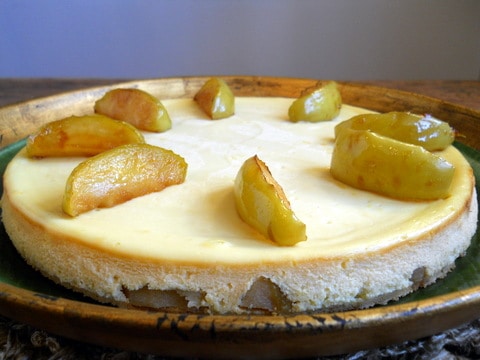 The change of season is being celebrated around the Sunday Supper table with apples, and my contribution is a gorgeous apple cheesecake.
It's the ultimate autumn (I had a very proper British schooling as you can see) fruit some may say. Together with pears and pumpkins they guarantee lazy summer days are over. I welcomed spring a few days ago, but apples are good all year round.
Today's 
event is hosted by
Cindy
and she put together a most wonderful virtual apple 
festival.  Our Sunday Supper group is 
getting so big, you have an astonishing amount of fantastic apple recipes to 
choose from.  
Isn't that amazing? I think so too. 
Over the last few years I developed quite a crush for cheesecake. My favorite recipe has no flour, an ingredient I find to be misplaced as part of the cheese mixture. With the right oven temperature and baking time, there's no need to add any starch. I have not posted many cheesecakes though except for that one with  
oreo cookies
and the ricotta tangerine one, which would be banned from this category by many since, technically, it's not a cheesecake in the way we all know, that is, that it's most prominent ingredient be cream cheese. But on with our apple cake.
For this recipe my caramelized apples met cream cheese and a buttery sablée dough to become a wonderful apple cheesecake.
With a hint of lemon and vanilla. A very straight forward dessert, with well known flavors combined. I had dog-eared this recipe ever since I got
this book
, which was more than ten years ago.
So far I had only made the
chocolate mint cookies
and a bourbon chocolate cake years ago. I can pretty much say it's a wonderful book, but then, I wouldn't expect less from an extraordinary baker such as
Nancy Silverton
.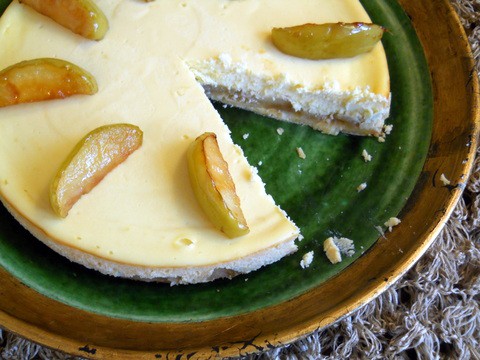 The crust is the 
one I use for every single tart or dessert that calls for a butter crust. It 
never fails and freezes well. The apples are caramelized and some rum is added,
a perfect addition to cut through the sugar and add another layer of flavor. Today I omitted the cinnamon, but I add a teaspoon with the sugar whenever I make apples for a crumble pie.
I like the sablée dough as a base here. A detour from the usual cookie crust, I think it makes for a more sophisticated apple cheesecake. I grew up eating my grandmother's 
apple crisp
, an absolute favorite of my father, so apples have always been a hit at my house. This was no exception. A caramel sauce would've been a superb addition. There's always a next time.
Print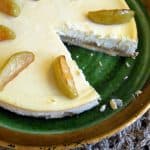 Apple Cheesecake
---
Scale
Ingredients
For the cheesecake base:
For the apples:
1 ¾

800g pounds apples
Juice of half lemon

2

Tbs butter

4

Tbs sugar

2

Tbs rum
For the cream cheese mixture:
21 oz

. 600g cream cheese, at room tº

¾ cup

sugar

3

eggs (at room tº)

2

Tbs lemon juice (

half a

lemon)
Zest of

half a

lemon

1 teaspoon

vanilla
Caramelized apples (for decoration (see recipe here))
---
Instructions
For the cheesecake base:
On a lightly floured surface roll sablée dough.
Using the bottom of a 9 inch springform pan as a guide, cut a circle.
Press it over bottom of springform pan. Prick with a fork and refrigerate for 1 hour.
For the apples:
Peel, core and slice apples into fourths. Slice each fourth in half. You will have 8 pieces per apple.
Toss in a bowl with the lemon juice. 
Melt butter on a large skillet over high heat.
When it begins to foam add apples and cook for 3 or 4 minutes, until they begin to soften.
Add sugar and continue to bake until they start to caramelize, about 5 minutes. Some pieces will be darker than others. Add rum, being very careful not to let any drop fall into the fire, otherwise it will ignite.
Let alcohol evaporate and cook a bit longer, until the apple slices are caramelized and have lost their liquid, but don't let them turn into mush. Transfer apples to a bowl and let cool.
Preheat oven to 350º F / 180º C.
Bake cheesecake base for 20 minutes, until dry and beginning to color.
In the meantime, prepare the cream cheese batter
For the cream cheese mixture:
While dough base is baking, put cream cheese in a large bowl.
Add sugar and mix well with a whisk or a handheld electric mixer. The mixture should be completely smooth.
Add eggs, one at a time, mixing just to get an even batter. Do not beat.
Add lemon juice, zest and vanilla and mix until incorporated.
Distribute apples on top of baked cheesecake base.
Carefully pour cheesecake mixture over apples, covering completely.
Bake at 350ºF for 35 minutes, lower the tº to 300º and bake for another 45 minutes. The cake will be jiggly.
Turn the oven off and, without opening the door, let the cheesecake inside for at least 1 hour.
Transfer to wire rack to cool completely. Wrap in plastic and refrigerate for 4 to 6 hours or overnight.
It keeps, refrigerated, for 3 days.
When ready to serve, unmold onto pie dish and arrange 8 caramelized apple slices (1 apple) in a circle.
adapted from 
Desserts
, by Nancy Silverton
For now, here's our incredible list of apple recipes:
Soups, Salads, Starters and Breads
Cinnamon Apple Chips- 
Shockingly Delicious
Mini Apple Pumpkin Pancakes – 
The Daily Dish Recipes
Overnight Apple Cinnamon French Toast- 
In the Kitchen with KP
Curried Apple and Leek Soup-
Soni's Food for Thought
Endive Spears Topped With Apple, Blue Cheese and Hazelnut Salad- 
The Hand That Rocks the Ladle
Homemade Apple Jam – 
My Trials in the Kitchen
Caramel Apple Butter Cheesecake Dip- Chocolate Moosey
Caramel Apple Bread – 
famfriendsfood
Apple Pie Bread 
Baker Street
Apple, Bacon & Brie Popovers- 
I Run for Wine
Apple and Almond Brie Puff Pastry- 
Family Foodie
Apple, Leek and Gruyere Tarts- 
There and Back Again
 Main Meals
Apple-Glazed Meatballs- 
The Messy Baker
Apples & Buttons (Ham, Apples and Dumplings)- 
Cindy's Recipes and Writings
Chicken Apple Meatloaf with Tarragon Tomato Sauce – 
Diabetic Foodie
Baked Tilapia Apple Crisp- 
Daddy Knows Less
Pork Tenderloin with Calvados Cream Sauce 
Sustainable Dad
Pulled Pork Sandwich With Pickled Red Onions 
Kwistin's Favorites
 Sides
Harvest Rice- 
Webicurean
Wild Rice with Apples, Dried Cranberries, and Walnuts – 
Ruffles and Truffles
Apple Topped Sweet Potato Mash- 
Momma's Meals
Warm Spice Pecan Raisin Apple Chutney- 
Sue's Nutrition Buzz
 Desserts
Double Apple Pot Pie- 
What Smells So Good?
Apple Walnut Coffee Cake- 
The Girl in the Little Red Kitchen
Apple Streusel Cobbler-
 Big Bear's Wife
Spiced Caramel Apple Pie-Chelsea's Culinary Indulgence
Apple Pear Kuchen for #SundaySupper (Apfel Birnen Kuchen)- Galactosemia in PDX
Apple Strudel – Magnolia Days
Old Fashioned Apple Crisp with Caramel Sauce-Noshing with the Nolands
Apple Cheesecake- Vintage Kitchen
Caramel Apple Crumble Bars- Hezzi D's Books and Cook
Apple Cake with Cream Cheese Frosting- From Fast Food to Fresh Food
Cinnamon Apple Dessert Chimichangas- Juanita's Cocina
Nutella Apple Quesadilla- Dinners, Dishes, and Desserts
Apple Crisp Ice Cream- Cravings of a Lunatic
Bavarian Apple Torte- The Lovely Pantry
Streusel Apple Crumb Pie + Pie Freezer Kits- Meal Planning Magic
French Apple Cobbler with Cinnamon-Maple Whipped Cream Weekend Gourmet
Chunky Apple-Apricot Bread Pudding- Comfy Cuisine
Apple Butter Spice Cake – Home Cooking Memories
Apple Pie and Custard- Happy Baking Days
#GlutenFree Deep Dish Carmel Apple Pie- Cooking Underwriter
Apple Brownies That Skinny Chick CanBake
Country Apple Dumplings- Mom's Test Kitchen
Apple-Gingersnap Cookies- Tora's Real Food
Apple and Cranberry Turnovers- Flour on my Face
Applesauce Chocolate Chip Bundt Cake with Caramel Glaze- Hip Foodie Mom
Caramel Frosted Apple Cookies- No One Likes Crumbley Cookies
Apple and Pecans Cake- Basic N Delicious
Apple Pull Apart Monkey Bread- Gotta Get Baked 
Beverages
Spiced Apple Ale Small Wallet Big Appetite
Apple Chia Tea- Pippi's in the Kitchen Again