After so much chocolate yesterday this basmati rice with salsa verde is in order. It's full of seeds and almonds, all components can be made ahead and it's super versatile. It is the perfect rice salad for a light lunch, a buffet table or even to take to work.
That psychedelic green comes from the turmeric that I cook my rice in. It really pops, doesn't it?. And it adds another layer of healthy flavor. We all know turmeric is good for us.
The salsa verde is amazing on its own and lasts quite a while in the fridge, but combined with the basmati rice it's heavenly. Really.
What is basmati rice?
It is a fragrant, long-grain rice used in Asian and Indian cuisines.
It has a flavor all its own, very different from regular rice, more like jasmine rice (one of my favorites of all times!). It comes in white and brown.
But basmati is probably the most versatile, hard to mess with and compatible with all those Middle Eastern and spicy dishes we all love (yes, I'm sure you love them too).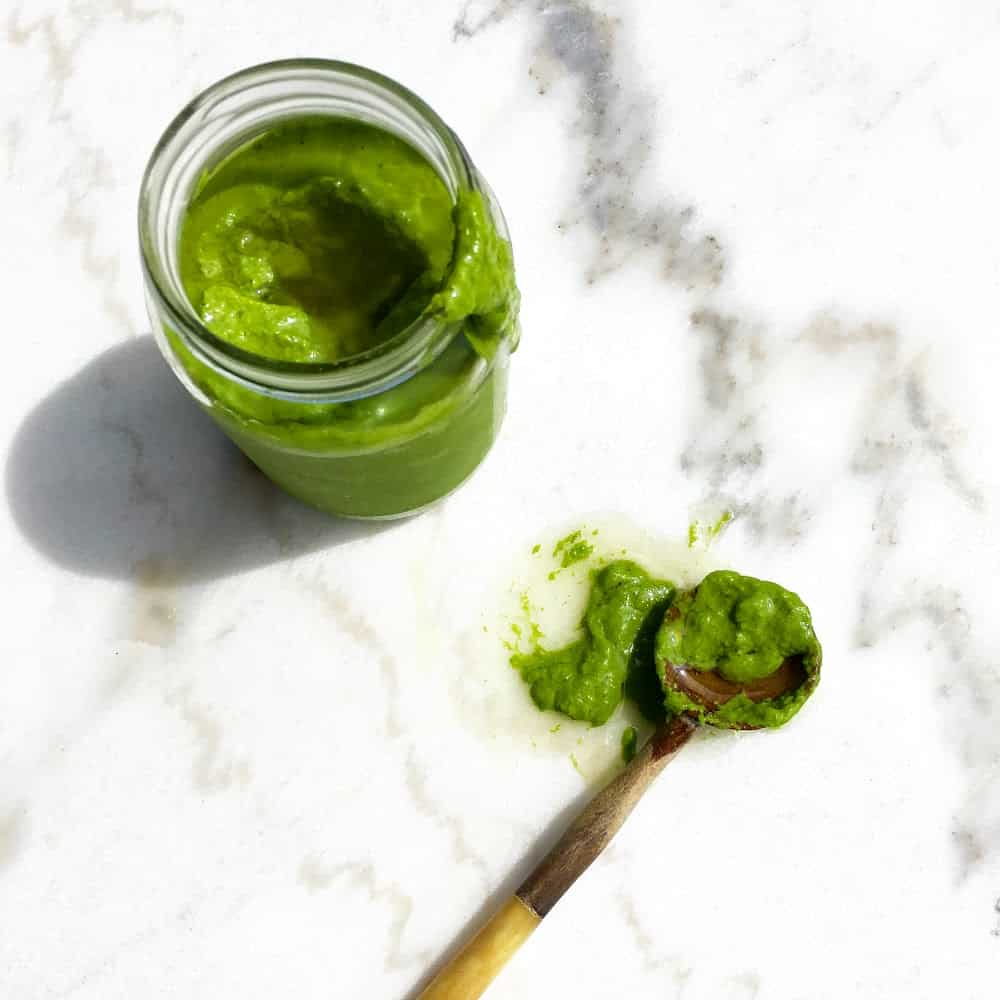 What is salsa verde?
Verde means green in Spanish and there are as many recipes called salsa verde as there are different hues of the color.
Today's recipe is my favorite.
It comes together in no time, or the time the blender takes. I use my hand blender because I don't make a large amount and the big blender is a pain to wash, too much trouble.
A few green ingredients, some olive oil, and you got yourself a yummy salsa verde that can be used in other grain salads, for pasta or even cold chicken.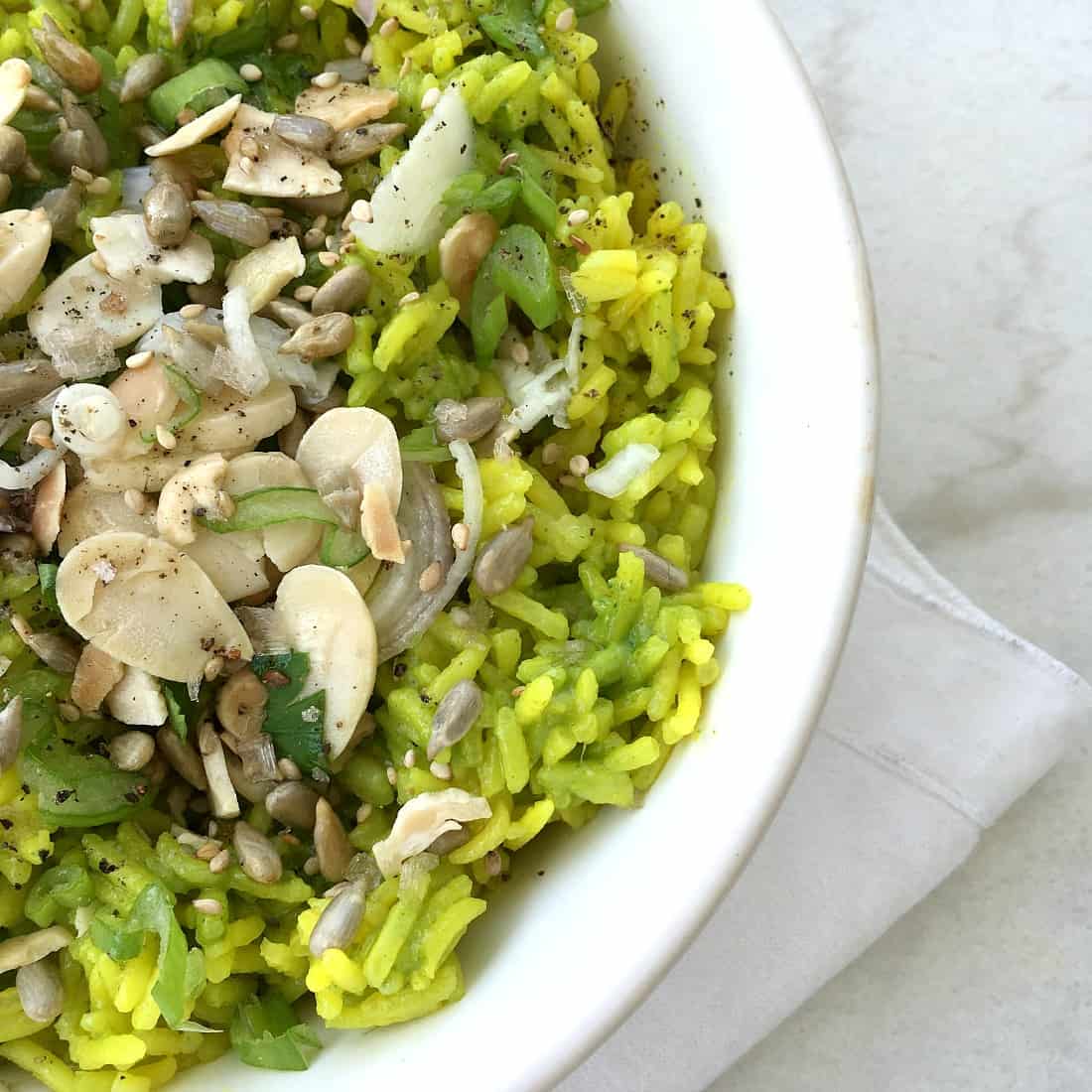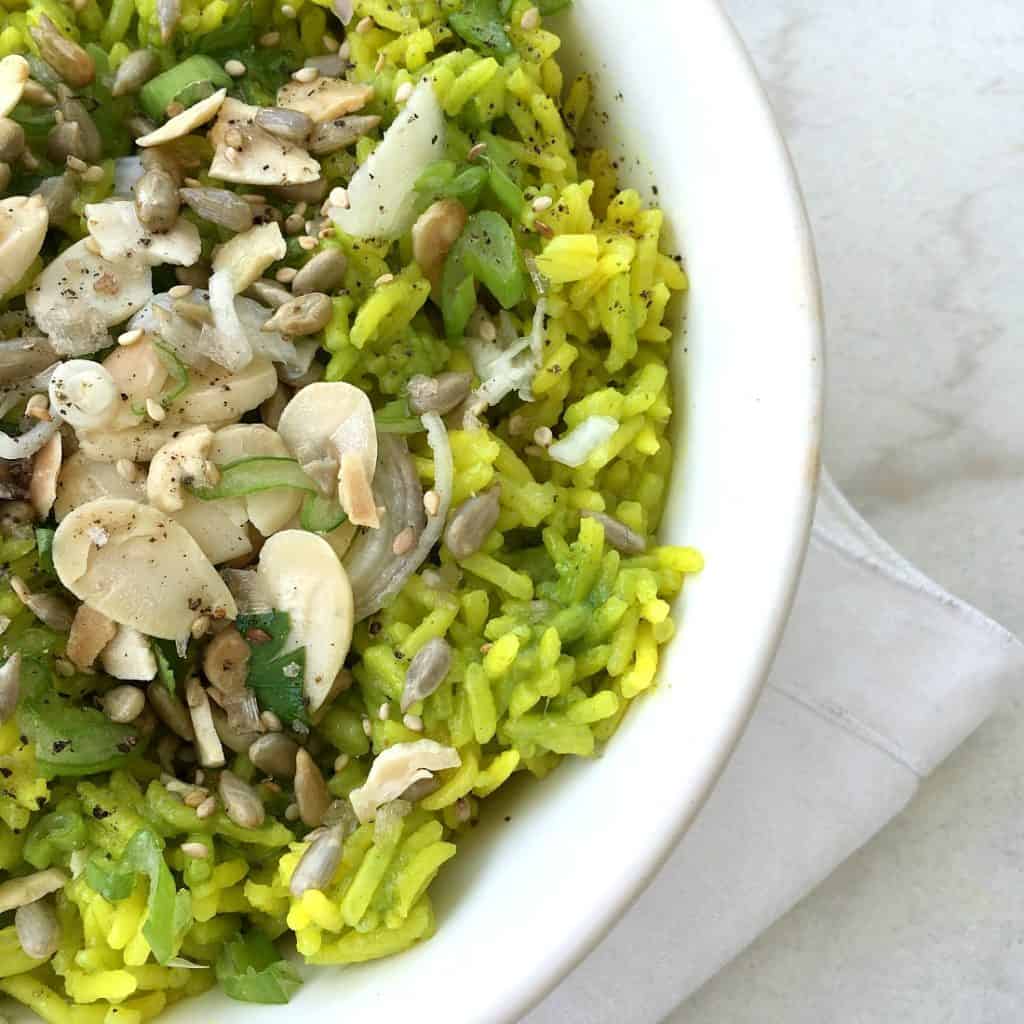 Then we have the crunch to finish this rice salad.
Toasted sliced almonds, seeds, green onion and the turmeric that I put directly into the rice water at the beginning, but it stained my white colander (I know!) so now I add it after the rice is done. Or to the salsa verde. You can skip it too.
The main idea here is the basmati rice together with the salsa. Together they are dynamite. A great addition to your next spring lunch or anywhere a little color and flavor is welcome.
I keep the cooked rice, the salsa, and the garnishes separated and put them together at the last minute. It is fresher and crunchier that way.
In a month or so I will be stocking up on squash, soup, and pears. For now, this rice salad is perfect.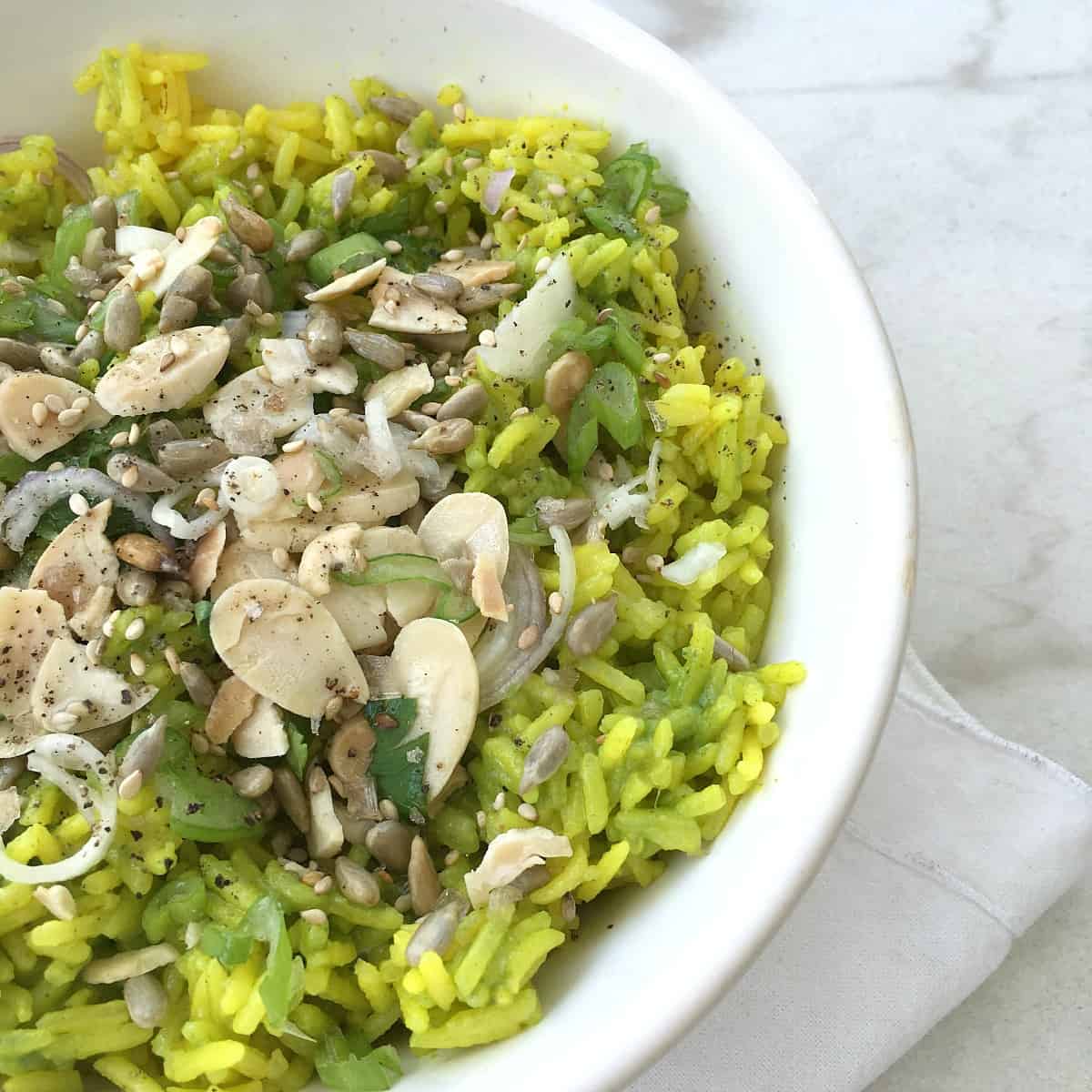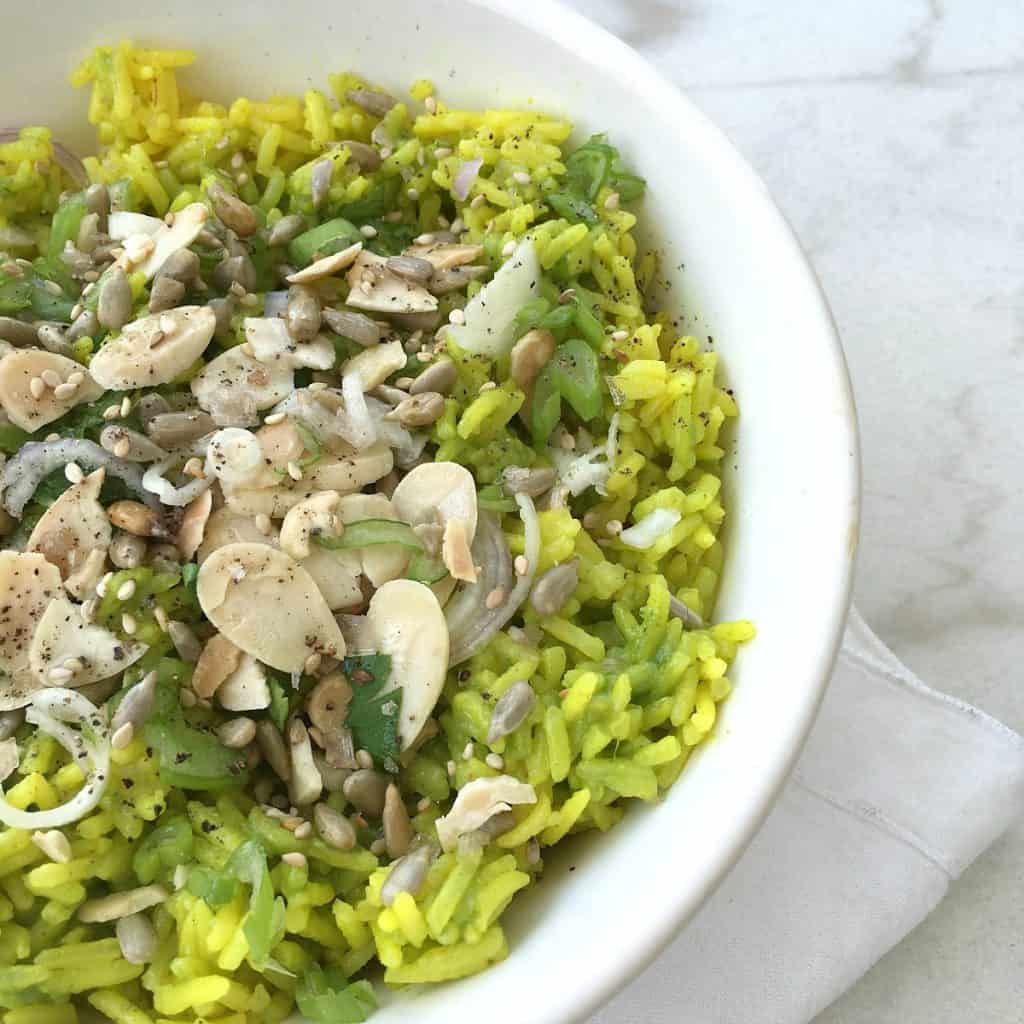 Other recipes you might like:
Persian Jeweled Rice
Cinnamon Rice Pudding
Quick Pickled Cucumbers
Roasted Butternut Squash and Wild Rice Casserole
Spinach Lemon Pesto
Royal Pesto Potato Salad
Easy Sun-Dried Tomato Dip
Let me know if you make this recipe! I'd love to hear what you think about it.
Thank you for being here, I appreciate it! Let's connect via Facebook, Instagram, and Pinterest.
Print
Basmati rice with salsa verde, almonds and seeds
Prep Time:

20 minutes

Cook Time:

25 minutes

Total Time:

45 minutes
---
Description
I use turmeric to cook the rice (it gives it that yellow green hue), but it stains a bit, so you might want to omit it or add it after the rice is cooked. 
---
Scale
Ingredients
For the salsa:
1

bunch arugula (clean and dry)

1

medium green onion

1/2 cup

fresh parsley

1/2 cup

fresh basil leaves

4

–

5

green olives (pitted)

2

tbs mayonnaise
Olive oil
Salt and freshly ground black pepper
For the rice:
2 cup

s uncooked basmati rice

1/2 teaspoon

turmeric (optional, see notes)

1/4 cup

sliced almonds (toasted)

2

Tbs sunflower seeds (lightly toasted)

1

Tbs sesame seeds (lightly toasted)

2

Tbs chopped green onions
Fresh parsley (chopped)
---
Instructions
For the salsa:
In a processor put chopped arugula, chopped green onion (only white and light green parts), coarsely chopped parsley and basil, mashed olives, and mayonnaise.
Add olive oil, about 1/4 cup and start to process. Add more oil if it's dry until you have a creamy salsa.
Season with salt and pepper to taste.
Keep covered in a jar in the fridge with a thin layer of olive oil on top.
For the rice:
Cook basmati rice according to package direction with salt and turmeric if using. Drain, transfer to a large bowl, drizzle with some olive oil, mix and let cool.
Mix with salsa verde to taste.
Add almonds, seeds and green onions, a drizzle of olive oil, fresh parsley and some black pepper.
---
---