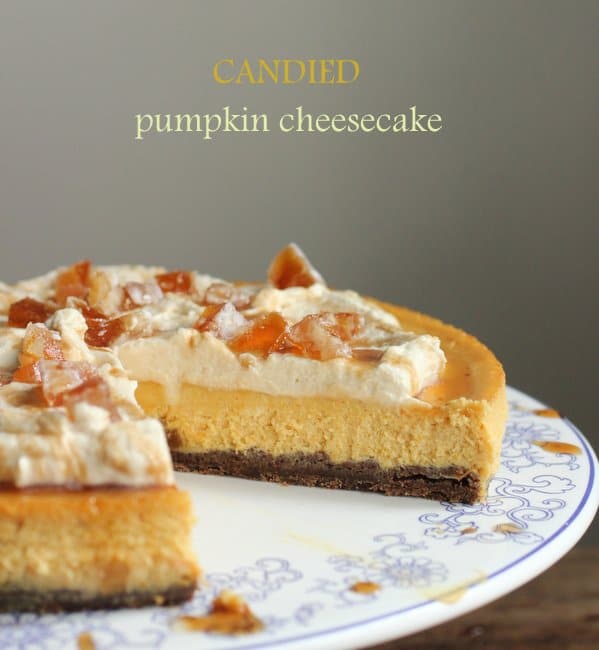 The title should've included the brown butter chocolate crust but it really was too much. Said by the girl woman who is posting her third pumpkin (butternut squash too) recipe in a week. I like to have long titles once in a while, when the recipe calls for it, but they can be hard to take in.
The main deal here is a cheesecake full of pumpkin – as a puree and candied bites all over the filling -, a chocolate shortbread base that I already introduced to you in the form of pretty cookies, and whipped cream with maple syrup.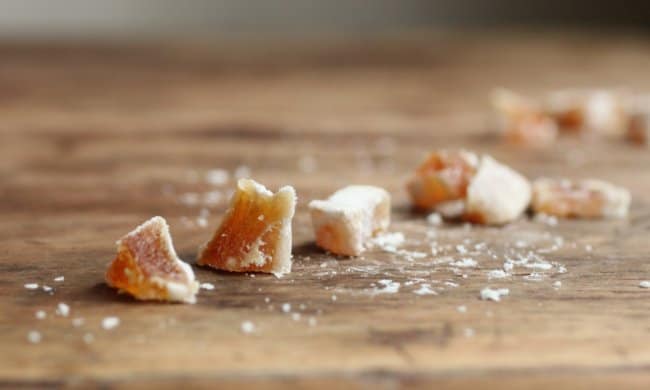 Yes, I got my hands on some maple syrup, no small feat around here. I do have the option of making homemade with maple extract, but we all know it's not the same. It can quell a desperate craving, but the real deal is the real deal and worth every second pestering a friend who's going to NYC to bring you a bottle, with specific instructions about the glass bottle, the grade, the need for a double Ziploc bag – one thing is to have it brake in your own suitcase and a very different one to loose a friendship over a bottle of maple syrup… or is it? ki.dding! – who at that point is happier with the idea of bringing you three heavy cookbooks than a bottle of sticky stuff.
I'm back on board the Sunday Supper train, after missing a lot of fun, just in time for Halloween! – hosted by the lovely Kathya Rodriguez of Basic n Delicious – and the recipes are flowing in, just in time to make your life a little bit easier.
Aren't we as sweet as cheesecake?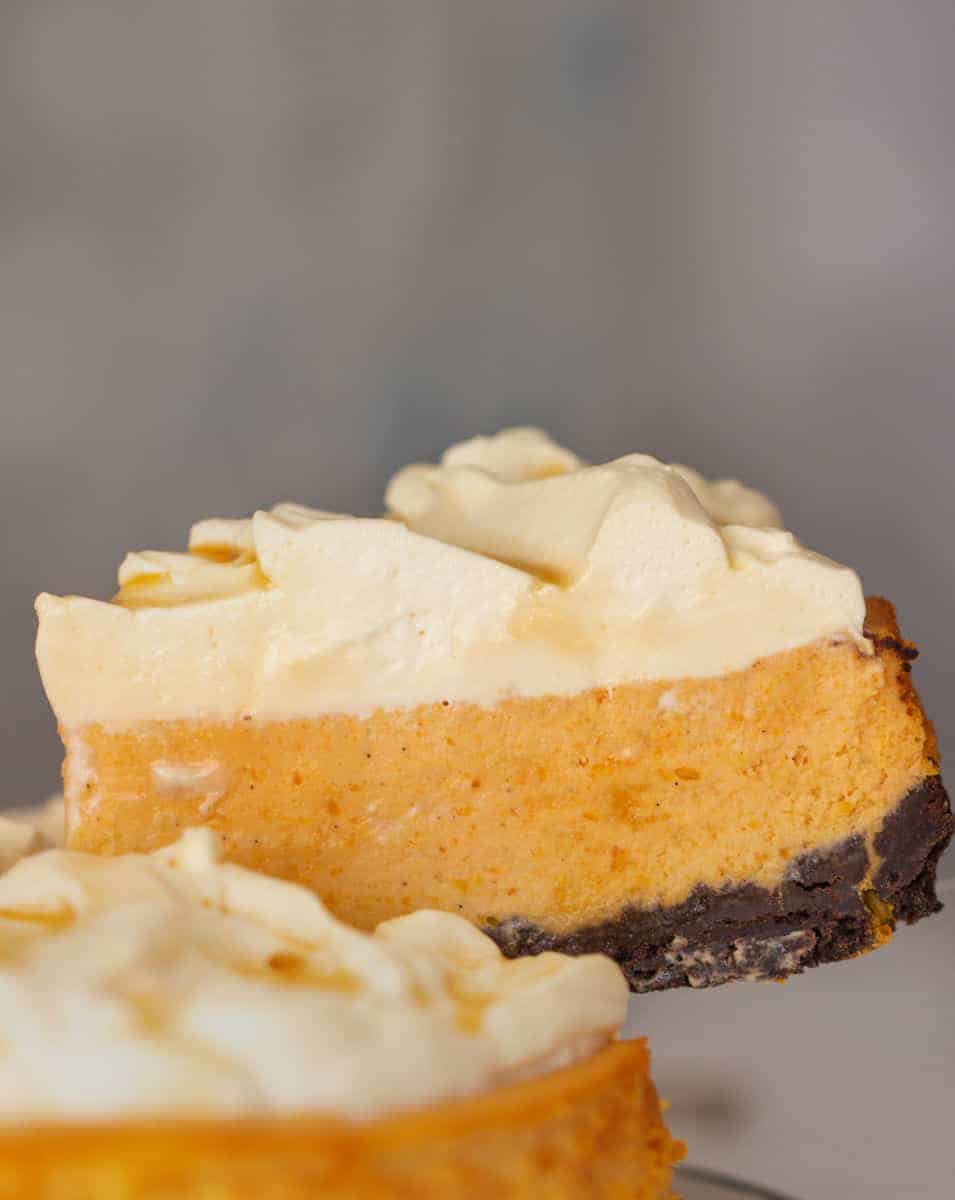 The whole is as good as the parts here, and we all know how great the parts are by itself. All the right words are in that title – according to moi of course – and since I'm having as much free time as a mother of newborn twins these days, I thought of piling up all the flavors together. It worked like a charm except in the height department; it turned rather shallow, which is not bad if you need to stretch it, but I had a vision of a tall cheesecake, slathered with a tall mound of maple whipped cream.
Well my friends, it didn't happen, did it? I was this close to using the smaller cake mold, but at the last minute realized I couldn't afford a bad outcome, no time to bake it again, so I went with the classic size. The flavor is still awesome.
Really, truly awesome.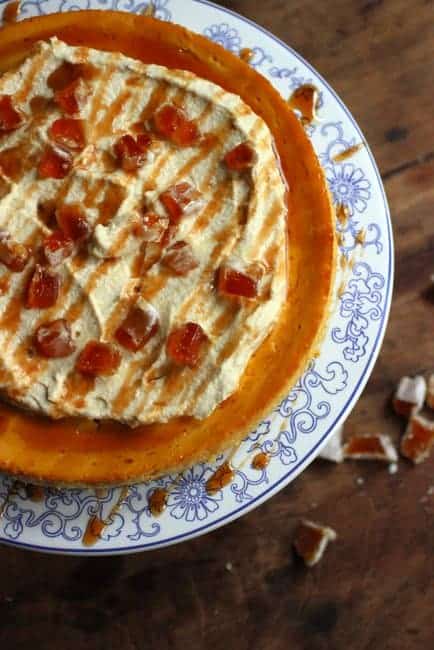 And it got her a place in the cake stand, which was not my first option, but when I went to look for my favorite off-white, shallow, large plate, I couldn't find it anywhere. It turned out my neighbor still had it from the time I gave her the raspberry graham cracker cinnamon skillet rolls.
Special note to neighbors/family/friends/colleagues: if you want to keep on receiving the goodies you should return the plates asap.
You might remember the candied pumpkin from this quick bread. Pumpkin in syrup has been around here forever, a way of preserving the vegetable and very much used in houses back in the day. What day? The very old days. Now it's still sold but not much eaten. There was a time when it was a staple dessert in restaurants, served with or without whipped cream. But we're using the candied one here, so that piece of info is not really relevant, is it?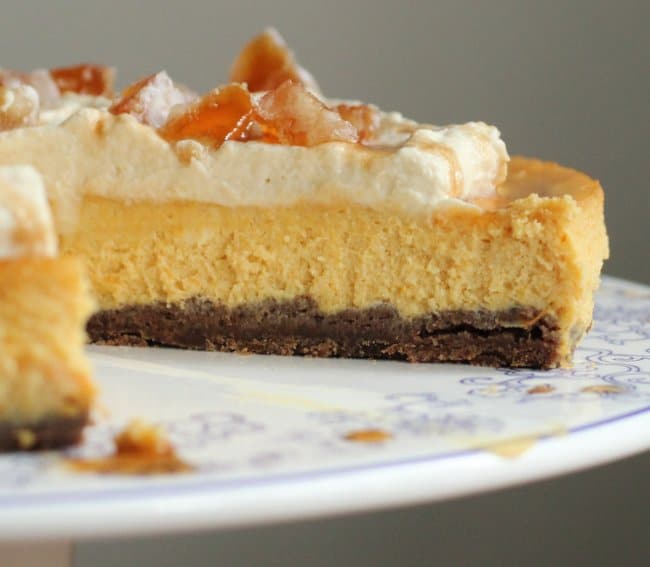 And by the way, I need to bake something as a thank you for my maple-syrup-carrier friend, hoping she'll like it so much she'll be willing to bring two bottles next time. Any ideas? What's your favorite maple syrup recipe?
Print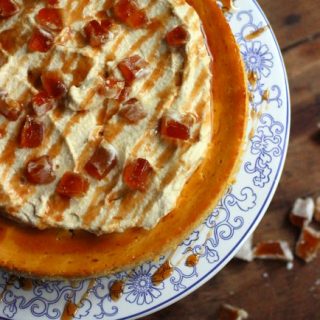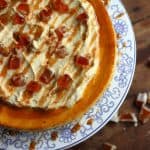 CANDIED PUMPKIN CHEESECAKE WITH BROWN BUTTER CHOCOLATE CRUST AND MAPLE CREAM
Yield:

8

servings

1

x
---
Description
I roast butternut squash or pumpkin at 350ºF until soft, scoop out the pulp and process it. If it has too much water I drain it on towel lined colander over a bowl for a few hours
---
Scale
Ingredients
For the pumpkin cheesecake:
10 oz

285g brown butter chocolate cookie dough, from this recipe

14 oz

400g cream cheese, room tº

½ cup

light brown sugar

1 cup

  pumpkin or butternut squash pureé (canned or homemade **)

½ teaspoon

  vanilla extract

2

large eggs +

1

egg yolk

¼ teaspoon

  ground cinnamon
Few gratings fresh nutmeg

¼ cup

cream

½ cup

  chopped candied pumpkin + extra for decoration
For the maple cream:
2/3 cup

  cream

3

Tbs pure maple syrup + extra for drizzling
---
Instructions
For the pumpkin cheesecake:
Preheat oven to 350ºF/180ºC.
Line the bottom of an 9-inch (24cm) cake pan with removable bottom with foil if wanted.
On a lightly floured surface roll chocolate dough to ¼ inch thick.
With the cake pan you'll be using, mark the circle and cut it.
Line bottom of pan with it and bake for 15 to 20 minutes, until dry and a little puffed.
Let cool on wire rack.
Turn down oven to 300ºF/150ºC.
In a large bowl beat cream cheese and sugar just until smooth.
Add pumpkin pureé, vanilla, eggs and yolk. Beat just until well combined.
Add cinnamon, nutmeg and cream. Mix to combine. Add candied pumpkin.
Pour into prepared pan and bake for 45 minutes. Turn oven off and let cool inside the unopened oven for 1 hour.
Let cool completely, wrap in plastic and refrigerate for 6 hours or overnight.
When ready to serve, transfer to serving plate, spread maple cream on top, and drizzle with extra syrup and candied pumpkin.
** I roast butternut squash or pumpkin at 350ºF until soft, scoop out the pulp and process it. If it has too much water I drain it on towel lined colander over a bowl for a few hours
For the maple cream:
In a medium bowl, beat cream with maple syrup until thick.
Be careful not to overbeat it so it doesn't curdle.
---
adapted from Food & Wine Annual Cookbook 2011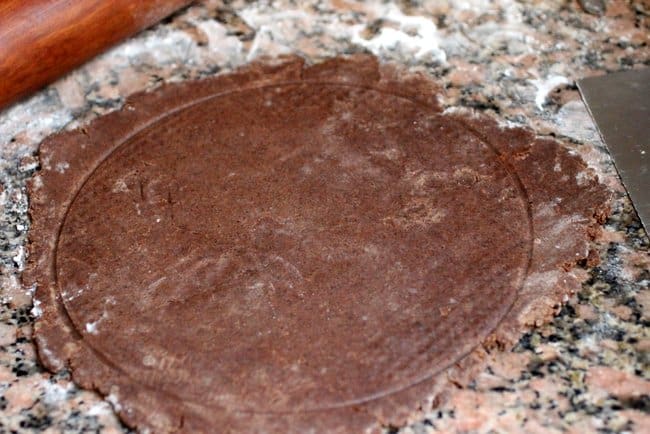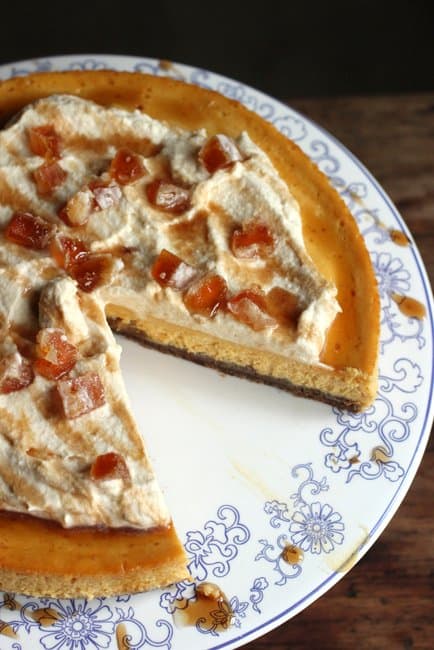 Look what we made for you!
COCKTAILS
SWEETS AND DESSERTS
CUPCAKES, COOKIES AND MORE
APPETIZER, MAIN MEALS
Join us today on our Twitter Chat at 7pm EST.
Simply follow the #SundaySupper hashtag and let's talk about all things Halloween!
---