Chicken Maryland, with creamed corn and fried bananas, was pretty popular when I was growing up. This rendition is more modern, with panko-crusted chicken, corn pudding with roasted peppers and a simple tomato salad.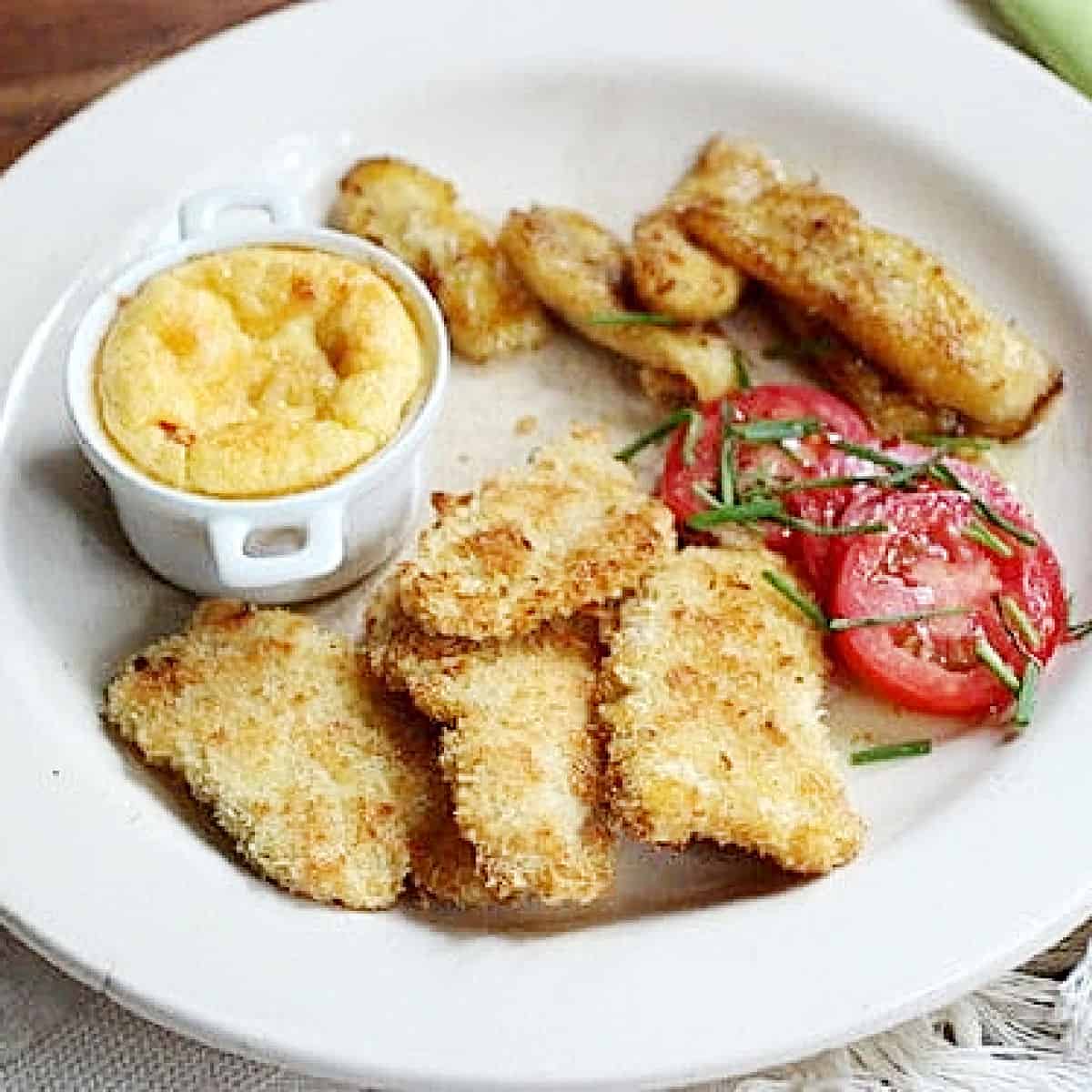 This retro chicken recipe was a treat growing up. Probably because we never ate it at home, so we were excited to order it at a restaurant.
It's a fried breaded chicken breast served with creamed corn, fried bananas, and a piece of roasted red pepper. Sometimes, a thin slice of ham came on top of the chicken and below the 'decorative' red pepper.
This modernized Chicken Maryland recipe consists of corn and roasted red pepper pudding, baked chicken breast fingers coated in panko crumbs, and bananas sautéed in a little butter. And a tomato.
The corn pudding
The corn pudding was the best part and qualifies as a meal on its own.
I used medium custard cups that would fit well on the plate.
Coming out of the oven, it looks puffed like a half-risen soufflé. You have to take it out while it still barely jiggles so the center is soft but cooked and creamy. And you can add anything to it, even ham, cooked chicken, and other veggies.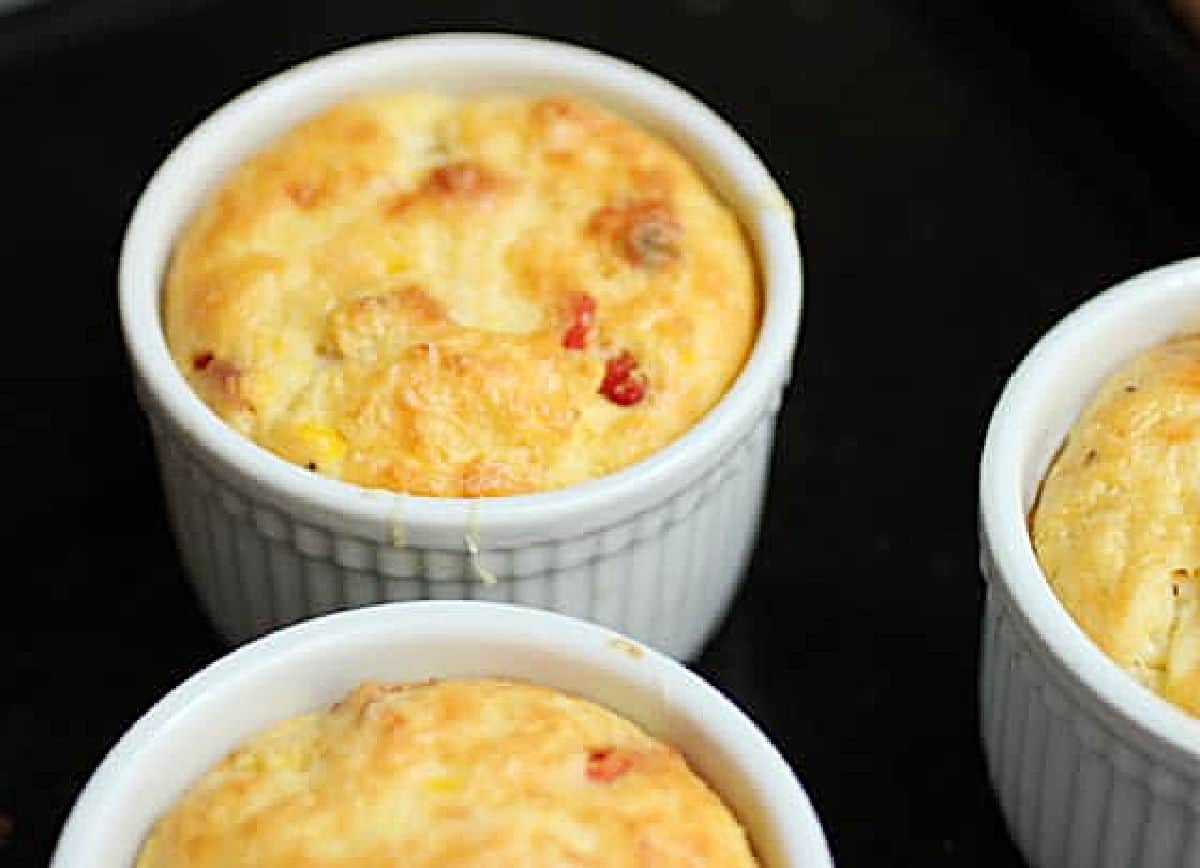 But the best way to make this is as a big pudding and serve it by spoonfuls, family-style. It turns out creamier than when making individual servings. So choose your favorite way.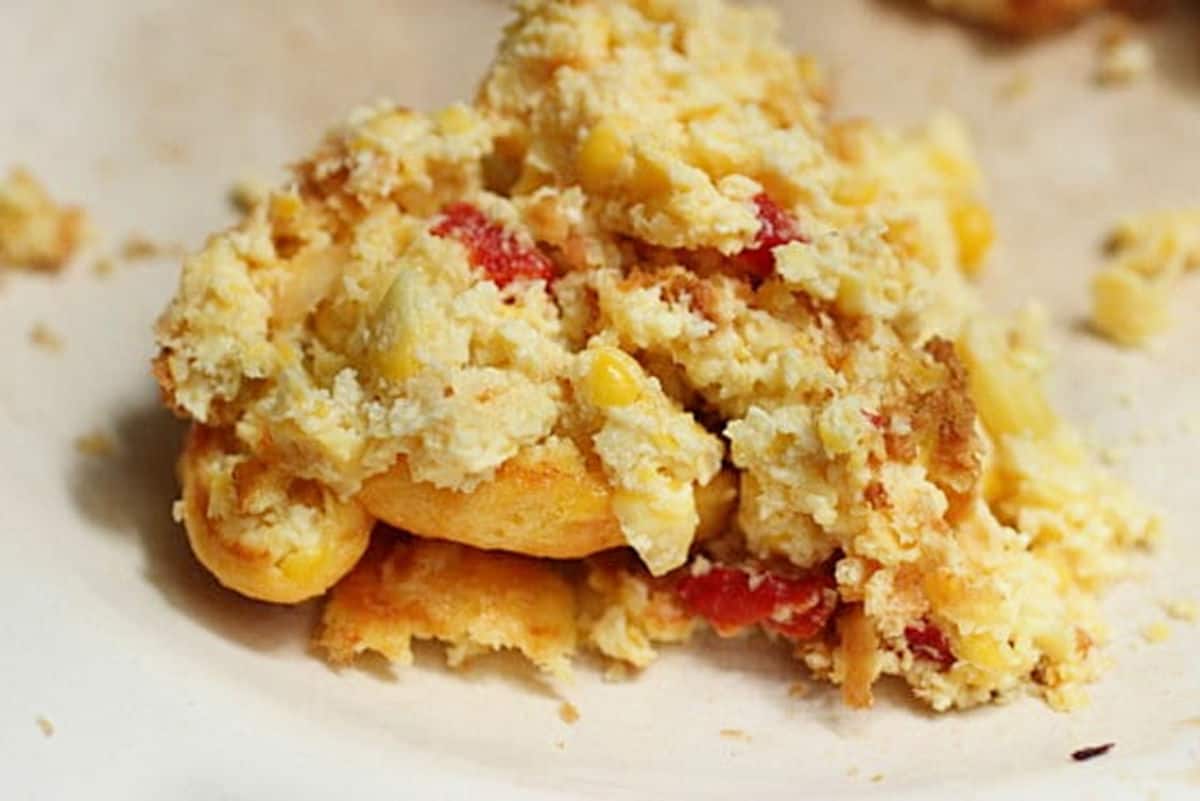 Blackened red pepper
The blackening of red peppers is a fun thing to do.
You get to put it directly over the flame and play around with it until it's all charred and soft. It infuses a smoky flavor that is fantastic!
You can also buy roasted red peppers, a much simpler option if you're short on time.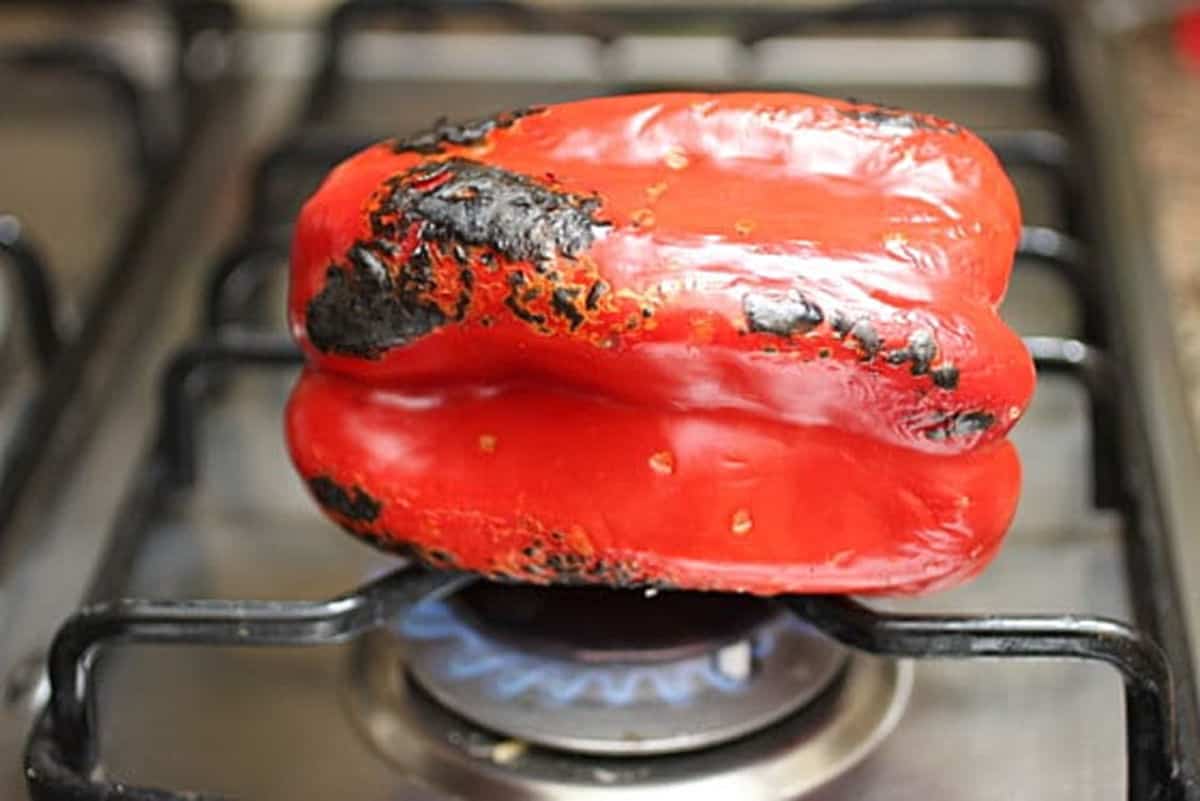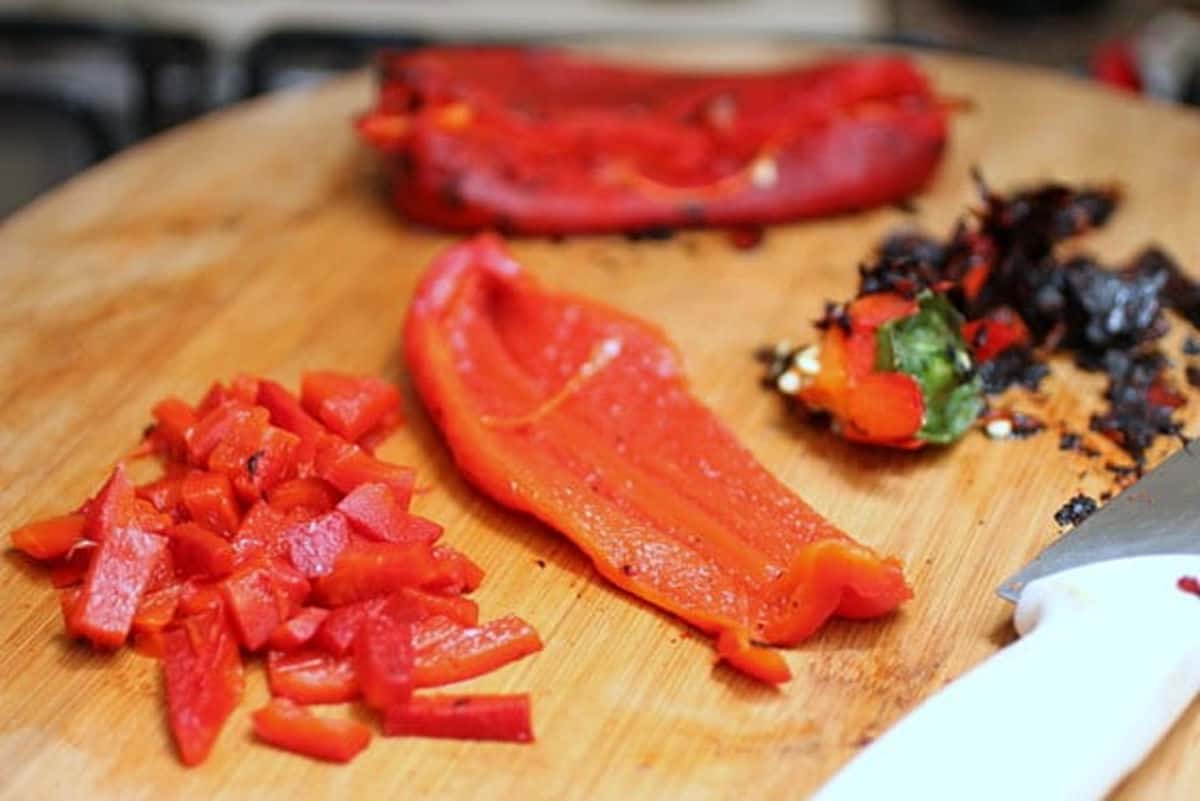 Breaded chicken
The chicken fingers are easy to make, and there's nothing like panko to achieve maximum crunchiness.
I dip them in egg and water, then in panko, and do it twice. Then, the tiniest drops of olive oil and into the oven they go.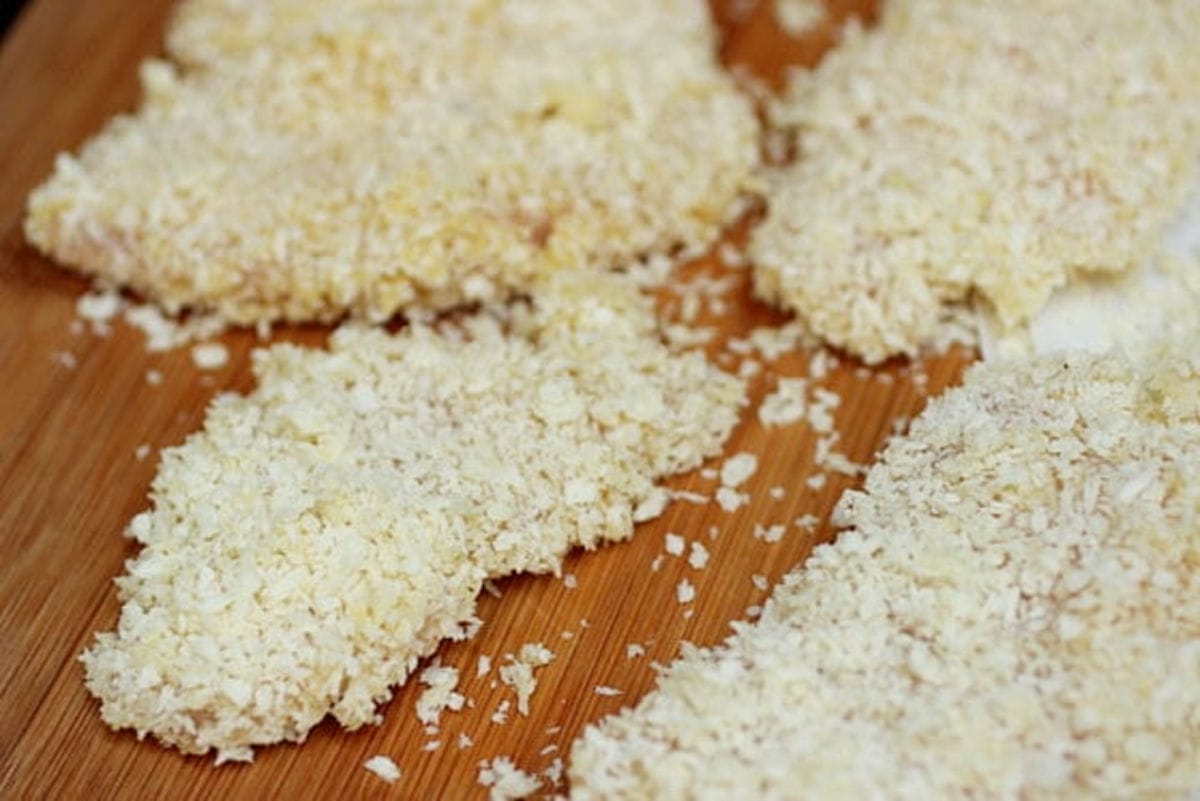 Fried bananas
It must be done at the last possible minute because they soften up turn brown quickly.
The banana was sliced and sautéed in some butter because there's no healthy way to do that.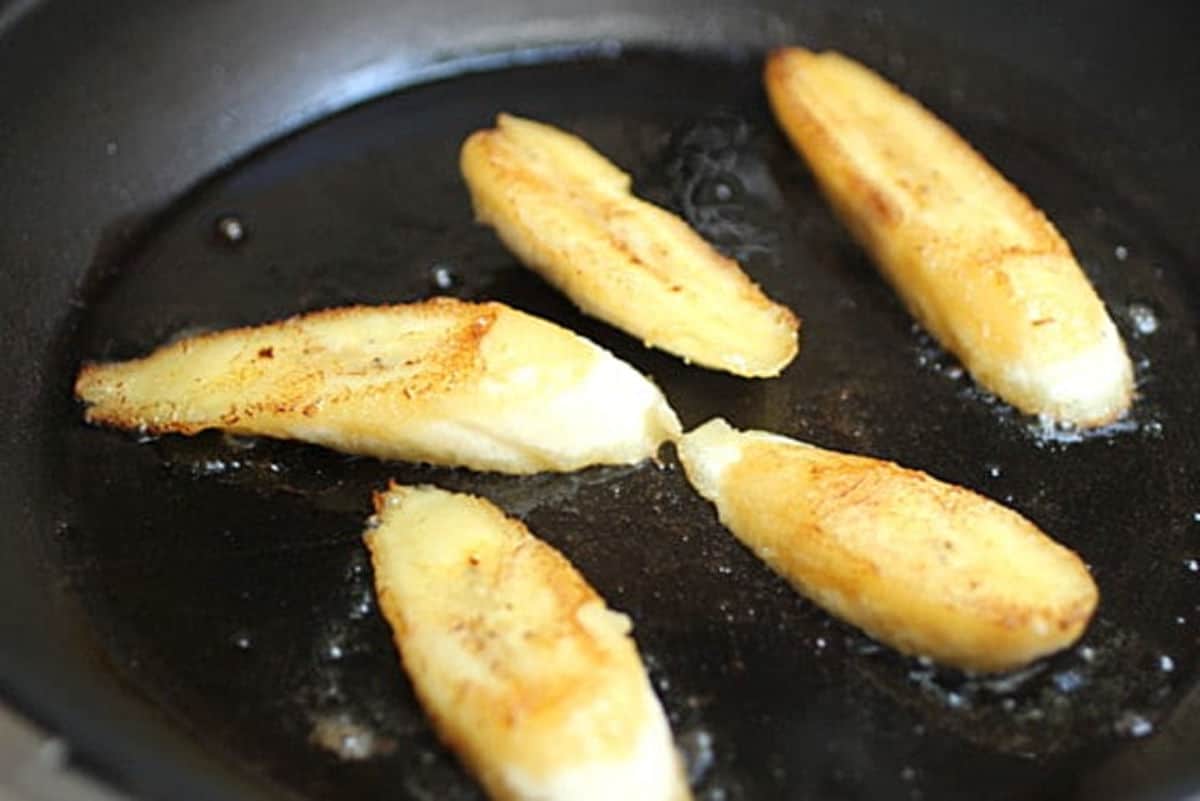 The addition of a sliced tomato was the inevitable thing to happen after plating all those monochromatic ingredients. I couldn't possibly eat that without something fresh to balance it a bit.
The tomato was a perfect addition and almost necessary.
But once I had my fork with some chicken, a piece of banana, tomato, and some corn pudding on top, it was very good. It was a flavor I had forgotten about.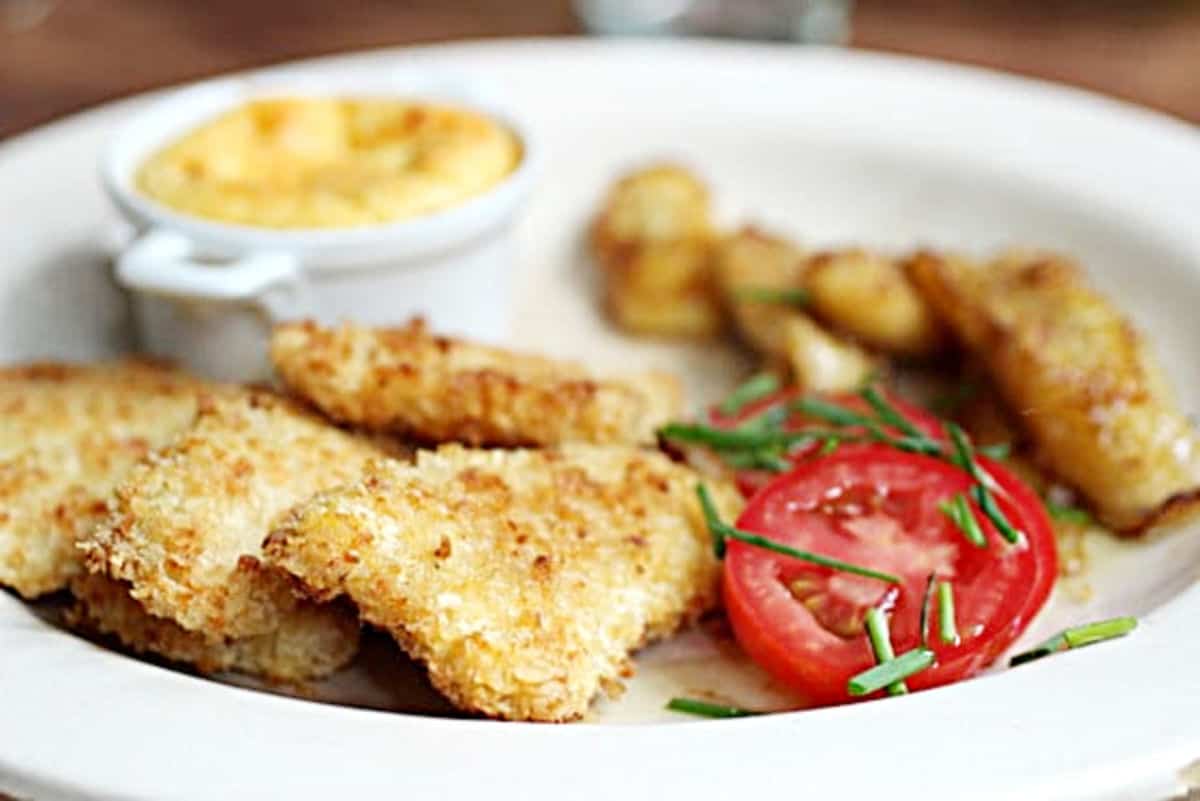 ---
Related recipes you might like:
---
Let me know in the comments below if you made this recipe and loved it and if you had issues so we can troubleshoot together. I love to hear what you think, always. Thanks for being here. It's much appreciated.
You might also consider subscribing to our FREE email series to Boost your Home Baking Skills! And our regular newsletter.
And let's connect via Facebook, Instagram, and Pinterest.
As an Amazon Associate, I earn from qualifying purchases. Please read my disclosure policy.
Print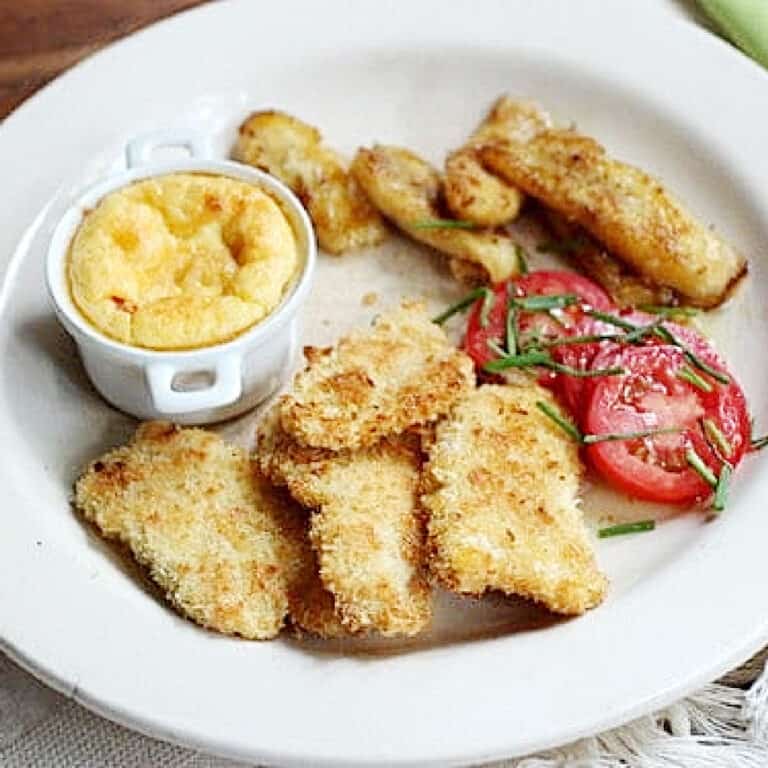 Chicken Maryland
This is a twist on the fantastic retro dish. Chicken, corn pudding, roasted peppers and fried bananas make up this delectable chicken dinner.
Total Time:

1 hour 20 minutes

Yield:

2 servings
For the corn pudding:
1 ¼

cups

corn kernels (fresh or frozen, defrosted)

1

cup

ricotta

2

eggs

2 tablespoons

butter (melted)

½

cup

cream

1 ½ tablespoons

flour

½ teaspoon

salt
Black pepper to taste

½ tablespoon

sugar

3 tablespoons

grated parmesan cheese +

1 tablespoon

for sprinkling

½

cup

chopped roasted red peppers (homemade below, or use store-bought red peppers)
For the chicken:
2

chicken breasts

2

cups

panko breadcrumbs (or more)

3

eggs

4

or

5

Tbs water
Salt and pepper
Olive oil for baking
For the bananas:
2

bananas

4 teaspoons

butter
Instructions
Make the corn pudding first. While it's baking, prepare the chicken and cook it in the same oven.
Fry the bananas at the last moment.
Place several chicken breast tenders, half a banana, one serving of corn pudding and ½ sliced tomato on each plate. Sprinkle with chives before serving.
If making your own red peppers:
It makes more than you need. Refrigerate the rest.
Put the washed and dried pepper directly on the flame. With kitchen thongs, turn it constantly, charring it as much as you can.
Let cool and peel it, scraping with a small knife or a spoon. Some skin won't come off and that's fine.
Cut it in half and take out seeds and veins. Wash the pepper pieces and dry them carefully with paper towels.
Chop ¼ of it for the pudding. Cut the rest in large chunks, put in a plastic container, cover with olive oil and cover tightly. Refrigerate for another use.
For the corn pudding:
Preheat oven to 350ºF.
Put corn, ricotta, eggs, cream, flour, salt, pepper and sugar in the bowl of a food processor fitted with the steel blade. Process until well mixed, about 30 seconds.
Take the blade out and add peppers and 3 Tbs parmesan. Mix with a spoon or spatula and check seasoning. You can also transfer the mixture to a bowl before adding the peppers, but you'll have an extra bowl to wash.
Transfer corn mixture to four 1-cup ramekins or 4-cup souffle dish. Sprinkle with remaining Tbs parmesan cheese and bake for 30 minutes, or until puffed and golden.
For the chicken:
Preheat oven to 350ºF. Oil a baking tray.
Clean chicken breast and cut into strips. Put panko in a shallow plate and season with salt and pepper. In a shallow bowl, lightly beat eggs. Add water and mix well.
Take chicken strips, dip them in the egg and coat them completely in the panko.
Repeat with the egg dipping and panko coating. Be sure the panko is well adhered. Some of it might remain in the egg after the second dipping.
Arrange in prepared tray, drizzle with drops of more olive oil and bake for 10 minutes. Turn over and bake for 5 or 10 more minutes, until golden.
For the bananas:
Peel bananas and cut into ¾ inch slices.
Melt butter in a skillet over medium heat and add bananas. Cook 1 minute on each side.
Do this a the last minute, preferably after the chicken is done.
Notes
The chicken can be breaded in advance and kept covered in the fridge for a day.
The corn pudding can be kept refrigerated for 4 days or frozen for 3 weeks, always well covered.
Prep Time:

30 minutes

Cook Time:

50 minutes

Category:

Main dishes

Method:

Cooking + baking

Cuisine:

International
Keywords: chicken maryland
Corn pudding adapted from Country Weekend Entertaining , by Anna Pump