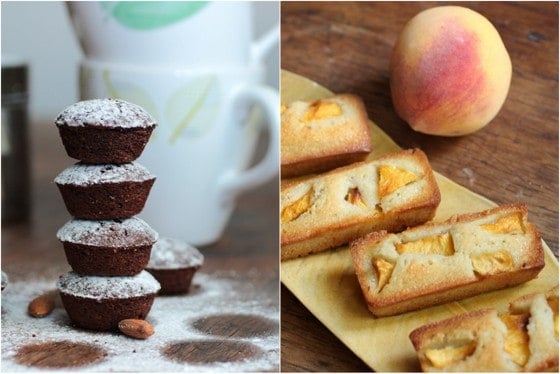 Though there are some very classic recipes that I don't quite get their popularity, others I had forgotten about in this whirlwind that are recipes nowadays with the explosion of food blogs. Or maybe, since my palate has changed so much in the last decade, I can appreciate them now. Or whatever.
What I'm trying to say is that I'm so glad we had to make financiers for today. So glad they came back into my kitchen for good. I had completely forgotten about them, and didn't have any memory standing out enough to be seen and rush me into the kitchen to see if if my brain has stored it right.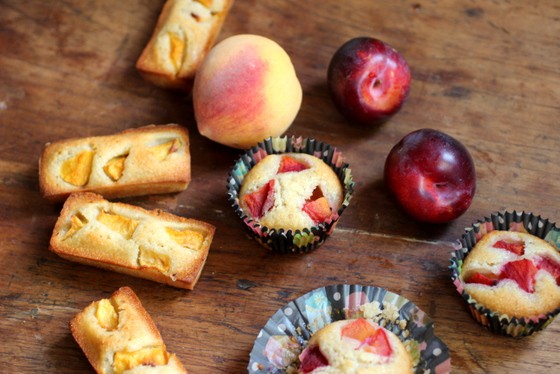 I made two types of financiers today for our French Fridays with Dorie group. The traditional plain almond ones with pieces of fresh peaches and plums, and the most addictive and buttery chocolate ones. Well buttery can certainly describe both.
I only had 3 egg whites in the fridge, the remains of a cinnamon ice cream, so I thought I'd only bake the chocolate in the mini muffin molds and call it a day. But after eating a few still warm, I not only decided to make the fruit ones but also another batch with chocolate.
So then I had extra egg yolks. So I made more ice cream. Life is tough in the kitchen.
My first bite into the chocolate ones really surprised me. I was expecting a brownie like feeling, but instead got a not too sweet, perfectly intense chocolate flavor, and a spongy but fudgy at the same time texture.
Remarkable little morsels. With a perfect balance of sweet and starch, very french.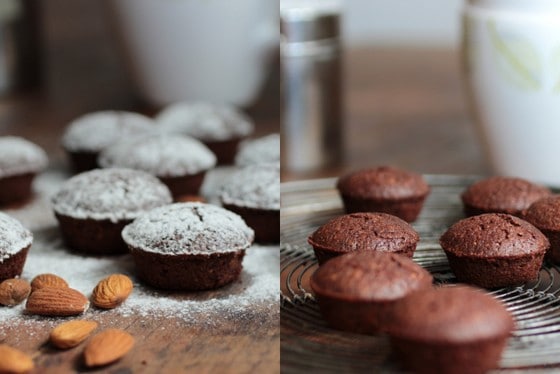 Though I
made sort of a deal with myself last week not to use the F word here, I had no
choice but to make room for it. That ugly word just keeps being the center of
my days.
That is
flood
, in case you're wondering. The
monstrous flooding that hit Buenos Aires
last week, Tuesday april 2 to be exact, which ironically is the day my parents got married (not a very successful marriage), made it's way into a part of my house. I'm still dealing with the aftermath, and though I came to terms with its damage, I find myself mad at life in general more times during the day than I care to admit.
I'm working on it, because, well, I'm certainly not proud of myself for that, trying to help others too, in very small ways, my tiny contribution to this mess.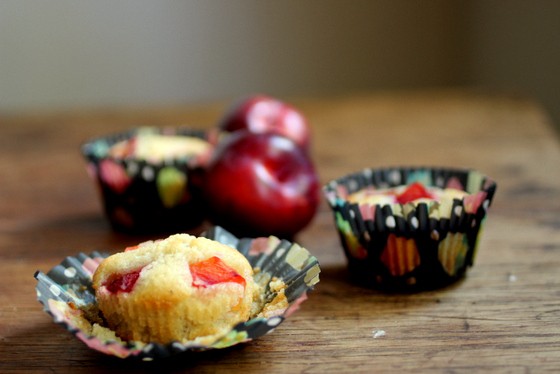 But the
main feeling that I wanted to share here and now, is my unconditional thanks to
my blogging friends who lined up with guest posts (starting next week!) and who took the time to write emails and offer their help. Mind blowing. I'm so touched by all of your words, who came just in time to comfort me when I was feeling like a wet dog with no owner.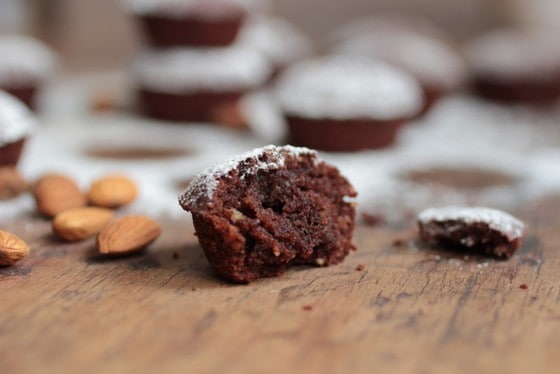 Back to the food here, I strongly feel that if you've never made financiers you should as soon as you can. The chocolate ones are my suggestion if you only make one of them. But they freeze so well, there's no excuse.
The recipes are quite simple and involve almond flour and melted butter. But the almond fruit financiers have a different technique than the chocolate ones. The first one is cooked in the stove, which sounded a bit weird, but man, it made everything so easy. No electric mixer, which is always a plus when a recipe doesn't need it. Though a few bowls were certainly involved.
They have to wait for hours in the fridge before being baked, and you can have the batter for 3 days and bake them in batches. Has anyone tried popping them into the oven without chilling them? Please tell me how it went.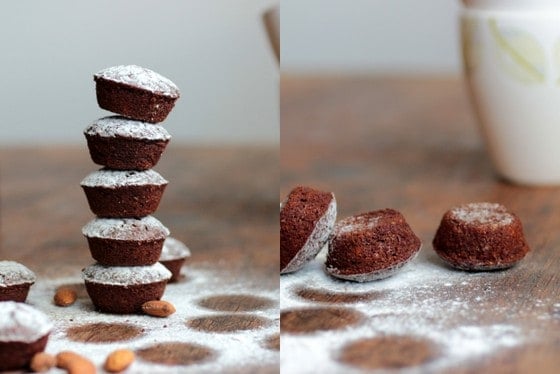 None of
these recipes make a lot of financiers. I would suggest doubling them if you
have company or want to take them over to a friend's house.
The suggestion is to eat them within the first couple of hours they are made. And I agree. But, I did try one many hours after they came out of the oven, and though they weren't as tender, they were still amazing.
Find the recipe for the traditional almond financiers here. Just add some stone fruit pieces or berries on top before baking.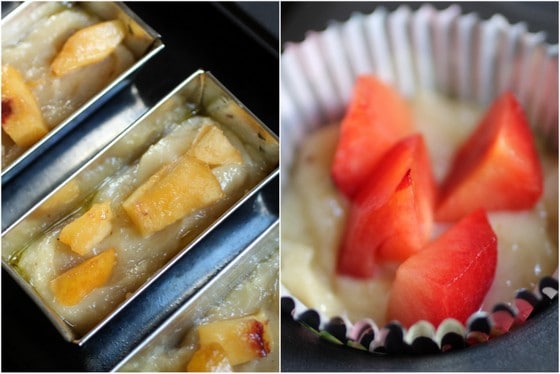 Print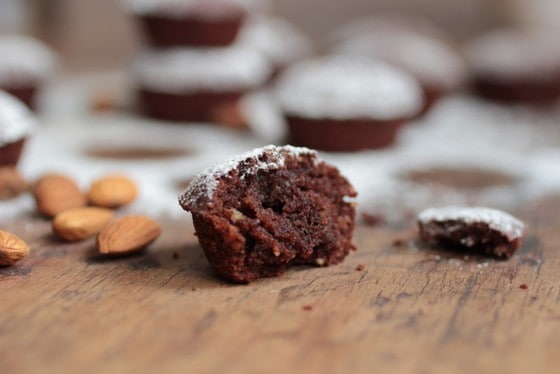 4 ½

Tbs unsalted butter (melted)

⅔ cup

heavy cream

5 oz

140g bittersweet chocolate, chopped

½ cup

confectioners' sugar

⅓ cup

almond flour

4 ½

Tbs all purpose flour

⅛ teaspoon

baking powder
Pinch of salt

3

egg whites (room tº)
Instructions
Preheat oven to 350ºF. Spray or butter mini muffin pan.
Put chopped chocolate in a bowl. Bring heavy cream to a boil in a small saucepan over medium heat. Pour over chocolate, let stand 1 minute and then whisk until completely smooth.
In another bowl whisk together sugar, both flours, baking powder and salt.
Whisk the egg whites just until foamy. Pour over the dry ingredients and mix to blend with a spatula. Add the melted butter and mix. Add this mixture to the ganache and blend mixing as little as possible.
Spoon the batter into the molds, filling ¾ of capacity. Bake for 13 to 15 minutes, until the tops are dry and a toothpick inserted in center comes out clean.
Cool for 3 minutes before unmolding them.
from
Paul Hévin
via
Around my French Table
, by Dorie Greenspan