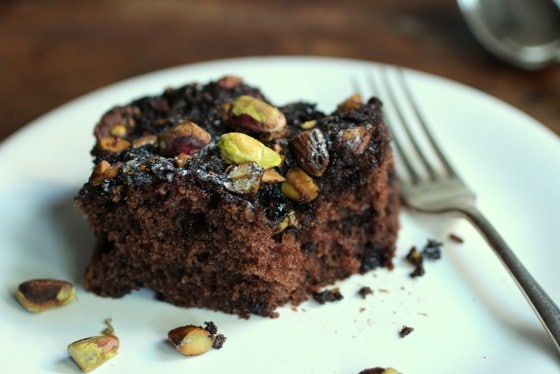 Something interesting happened that led me to make
this cake. If you google chocolate coffee cake, or look it up in
food blog search
(my favorite), you hardly find any. I found one after searching a lot.
All
coffee cakes have chocolate as an addition, usually in the filling, as chips or
a ripple, but there are none with a dark chocolate batter. So this chocolate
pistachio coffee cake was born.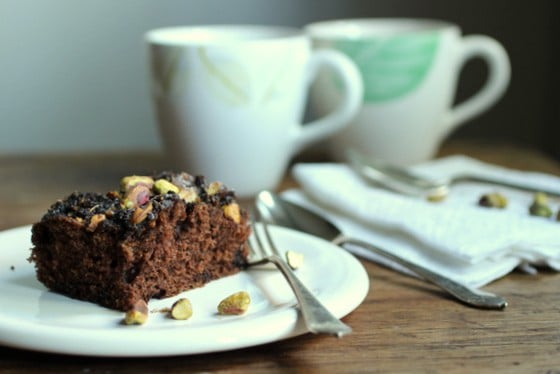 This is a coffee cake, simple in spite of the
excentric pistachios, with sour cream in the batter, a crumble on top and
perfect with an infusion. Are you a tea or a coffee person? It is a tea cake
too, don´t worry.
The winter has its ups and downs in this
city of Buenos Aires
, but even on sunny, blue sky days, darkness comes too soon, and
my feelings are of doing as little as I need to outside.
The kitchen and heated
comfort of my house rule my days. A chocolate cake was badly needed. It´s still
the most comforting way to kill a few hours while doing something I love, baking
a cake with chocolate.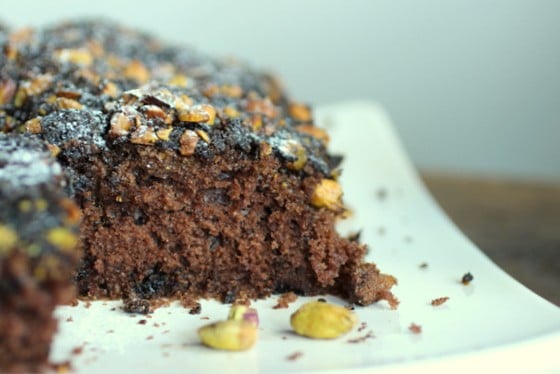 There´s not much to say about this recipe, except that
I went to the tried and true book about traditional and old fashioned cakes. I
changed the recipe a bit and out of the oven came a bubbling cake, deeply
colored from the very dark sugar I used. It looked almost burned though it
wasn´t.
Not that anyone complained. But it wasn´t the most appealing. I suggest
light brown sugar next time for the topping. It will be good for the pistachios
too, they will shine brighter.
I was supposed to post for the French Fridays with Dorie group today, but I really don´t know what happened.
I´ve missed the last
three recipes, including a cherry clafoutis, so it´s not a minor situation
going on here.
It can be summed up by saying there was too much work, a new
temporary one included, and the most inconvenient, annoying and inevitable
moment of the year, taxes!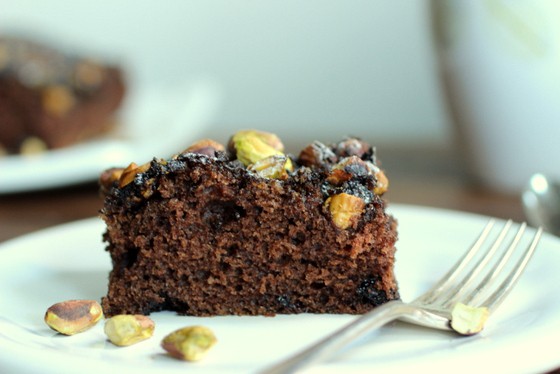 Print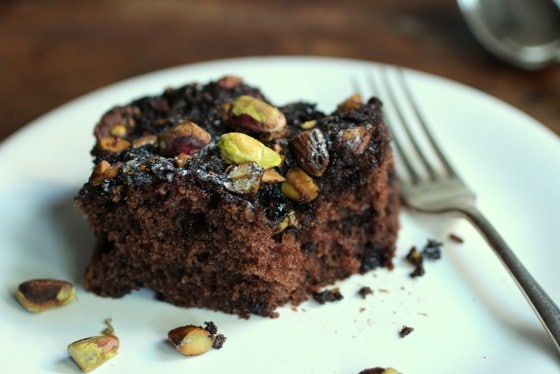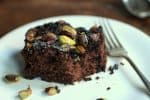 Chocolate Pistachio Coffee Cake
---
For the topping:
1

Tbs flour

1 teaspoon

ground cinnamon

¾ cup

150g firmly packed light brown sugar

2

Tbs 30g unsalted butter

1 cup

100g pistachios, shelled and coarsely chopped
For the cake:
1 ¾ cups

245g all purpose or cake flour

¼ cup

unsweetened cocoa powder

1 teaspoon

baking powder

1 teaspoon

baking soda

½ teaspoon

salt

4 oz

115g unsalted butter

½ cup

sugar

½ cup

dark brown sugar

3

eggs

½ teaspoon

vanilla extract

1 cup

sour cream

½ cup

semisweet chocolate chips
---
Instructions
For the topping:
In a bowl mix dry ingredients, add butter in pieces and mix with your fingers until clumpy.
Add pistachios, mixing lightly. Reserve.
For the cake:
Preheat the oven to 350ºF / 180ºC. Butter and dust with cocoa or flour a 13x9 inch (22x33cm) springform cake pan.
Sift flour, cocoa, baking powder and soda and salt together in a bowl. Reserve.
In a large bowl, beat butter until creamy. Add both sugars gradually while beating, until you have a light and creamy mixture, about 3 minutes.
Add eggs, one at a time, mixing well after each addition. Add vanilla.
Beginning and ending with the dry ingredients, add them dry in three additions, alternating with the sour cream in two additions. Don't overbeat at this point or the cake will be tough.
Add chocolate chips. Pour into the prepared cake pan and sprinkle the topping on top.
Bake for 30 minutes, or until a tester inserted in the center comes out clean.
Let cool on wire rack, unmold, sprinkle with powdered sugar and serve.
It keeps, wrapped, for a few days.
---
adapted from Cakes, by Maida Heatter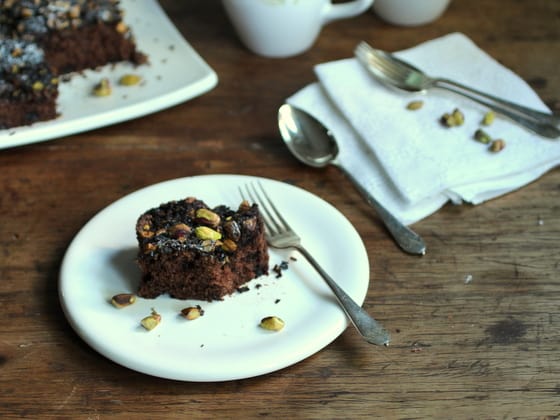 Today's 4 related recipes worth looking at:
---