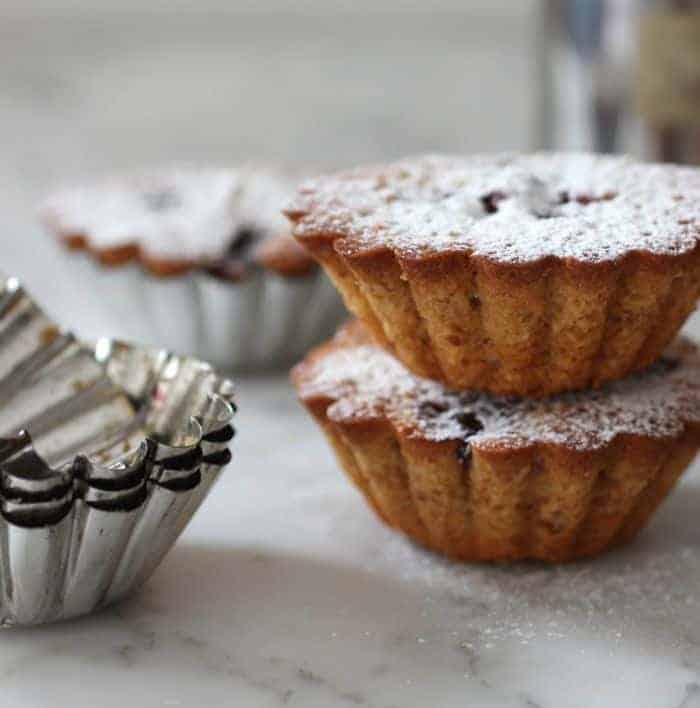 These cute, little, individual lemon and blackberry teacakes are my way of reluctantly inviting the beginning of cold weather into your kitchens because spring is starting here, but most of you are enjoying fall weather.
Berries and lemon, a sunny combination and an awesome recipe.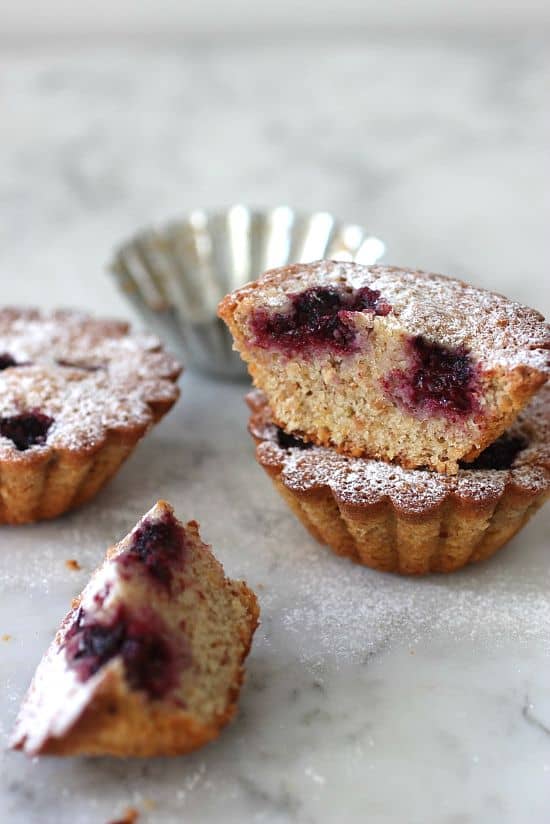 One of my favorite end-of-summer culinary things is to freeze berries individually.
All berries I can get my hands on go on a cookie tray, and later into a Ziploc bag when they are rock solid. So I can make summer recipes all winter. Or as long as the berries last. Even ice cream, something I eat all year.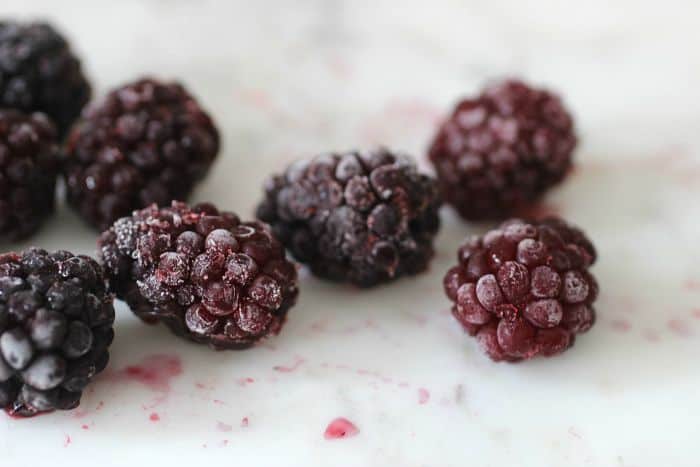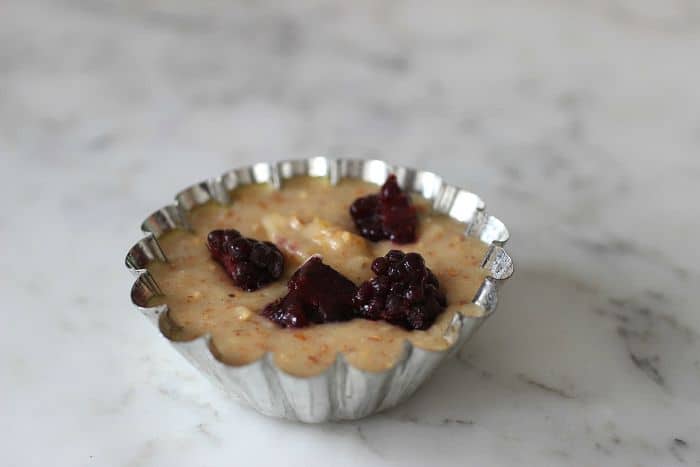 They're easily adapted to a gluten-free version; in fact, that's the original recipe. But I'm sharing here the regular adaptation because it's the way I made them the first time, and they were so so so darn amazing I didn't want to change a single ingredient.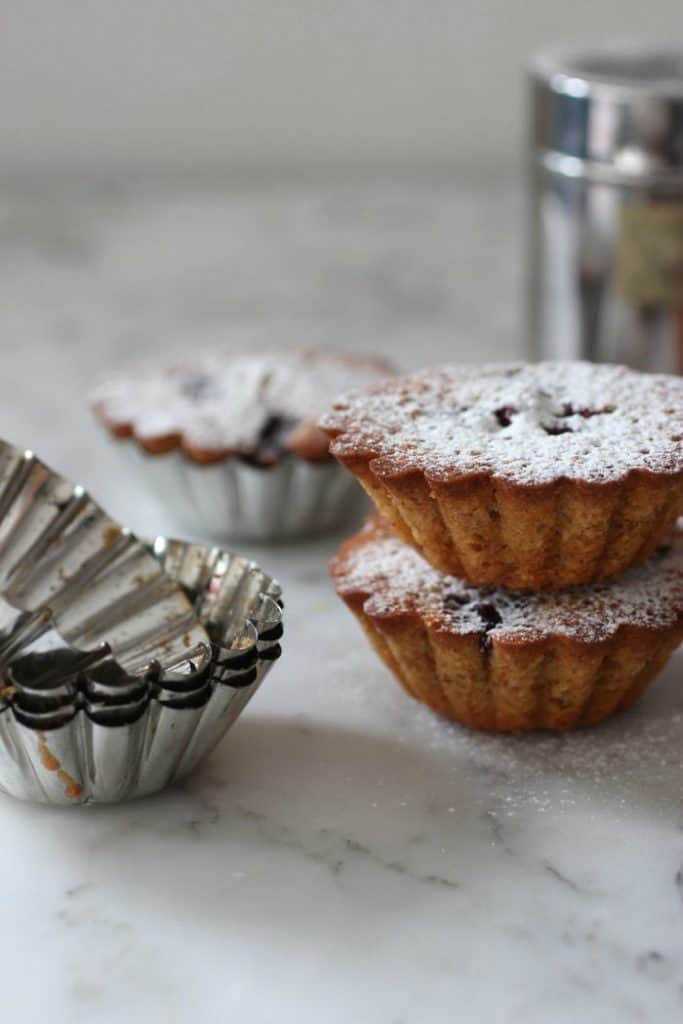 The lemon-berry duet is a common and very foreseeable combination of flavors.
Yet, these cakes, with almond flour, egg whites only and melted butter turned out to be in another league, so tender, balanced, with the right amount of sweet, acid, citrus and texture to make them a regular visitor in my kitchen.I guess they're some second or third cousin to the sensational financier, a masterpiece of French baking.
I used mini brioche molds as in the original recipe. Simply because I have them and, quite frankly, haven't made individual brioche (or brioche a tete, regrettable pics but awesome recipe) in ages. They look amazingly cute and are a perfect size; regular muffin molds work just as well.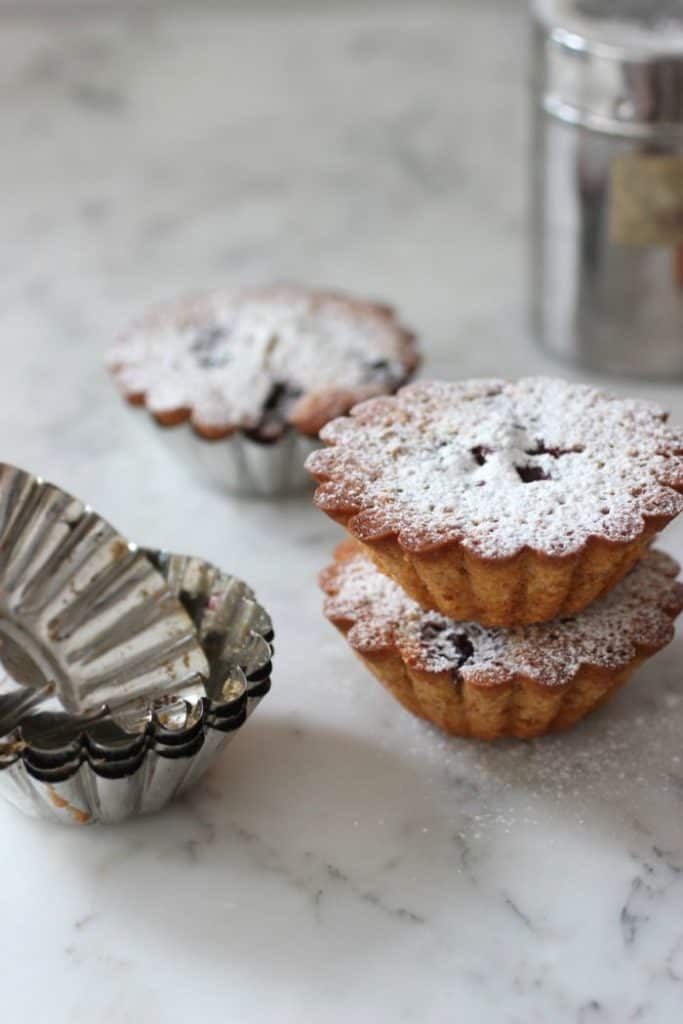 I highly recommend this book. Highly.
I bought it on a whim because it was pretty or because of the pictures or some similar reason. The thing is that every recipe I tried has been amazing, like the chocolate buckwheat almond cake, the blueberry muesli, the banana quinoa chocolate muffins, the plum hazelnut upside down cake or a lentil carrot soup that I will share soon.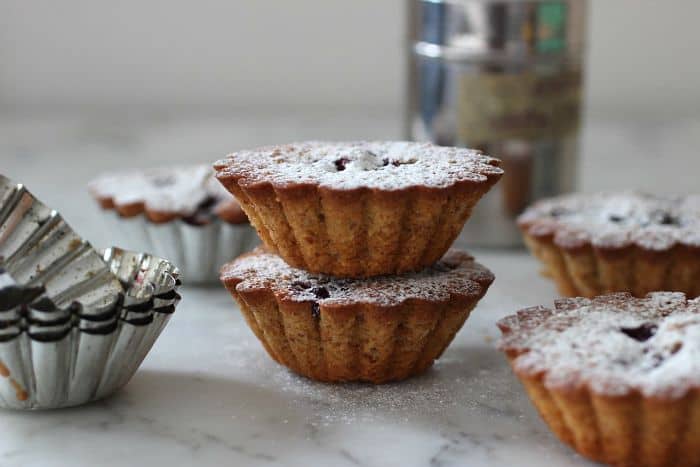 A dust of powdered sugar, and you're set. My kind of cake, rustic and incredibly tasty!
Print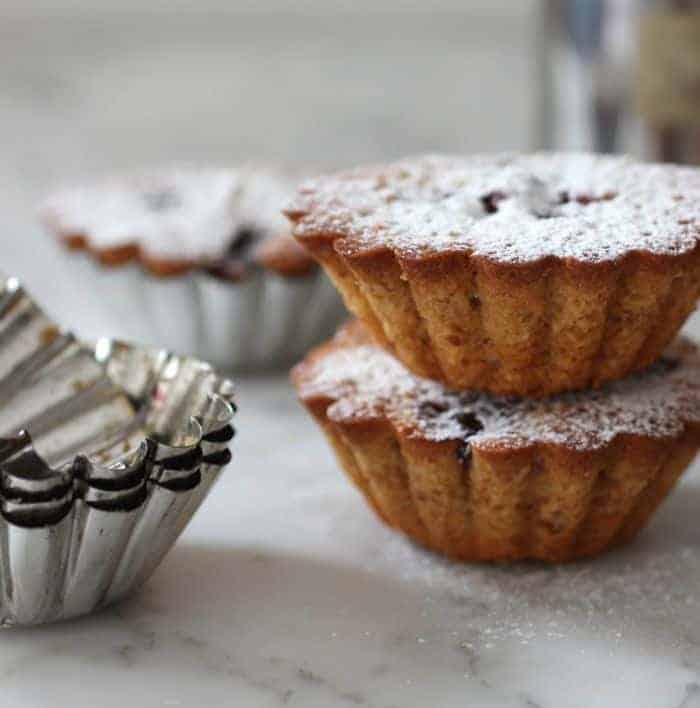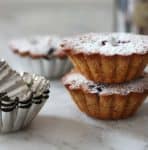 Lemon and Blackberry Teacakes
---
5 Tablespoons

70g unsalted butter

¼ cup

45g all purpose or cake flour (use rice flour for a GF version)

½ cup

60g almond meal

½ cup

60g confectioners' sugar
Pinch of salt

¼ teaspoon

baking powder

½ teaspoon

vanilla extract or paste
Zest of

1

lemon

2

egg whites (lightly bea

ten

until foamy)

⅔ cup

100g blackberries, fresh or frozen
---
Instructions
Preheat oven to 350ºC. Butter or spray 6 mini brioche or muffin molds.
Melt the butter in a small bowl and set aside.
In a large bowl, mix the sifted flour and confectioners' sugar together with the almond meal, salt and baking powder.
Make a well in the center and add the vanilla extract or paste, zest and egg whites.
Mix until well combined. Add the melted butter and mix carefully until fully incorporated. The mixture will be silky and shiny.
Cut the blackberries in thirds.
Put the individual molds on a cookie tray, and divide the batter evenly among them.
Add the blackberry pieces on top.
Bake for about 30 minutes, until a tester inserted in center comes out clean.
Cool 10 minutes on a wire rack and then carefully unmold. Cool completely.
Dust with powdered sugar and serve.
---
barely adapted from La Tartine Gourmande, by Beatrice Peltre
---