I took my grandmother's great apple crumble recipe, added blackberries, a few other ingredients, and ended up with a wonderful dessert, full of flavor and super easy to make! Juicy fruit and buttery crisp topping; it doesn't get much better than that. And it can be made ahead and frozen.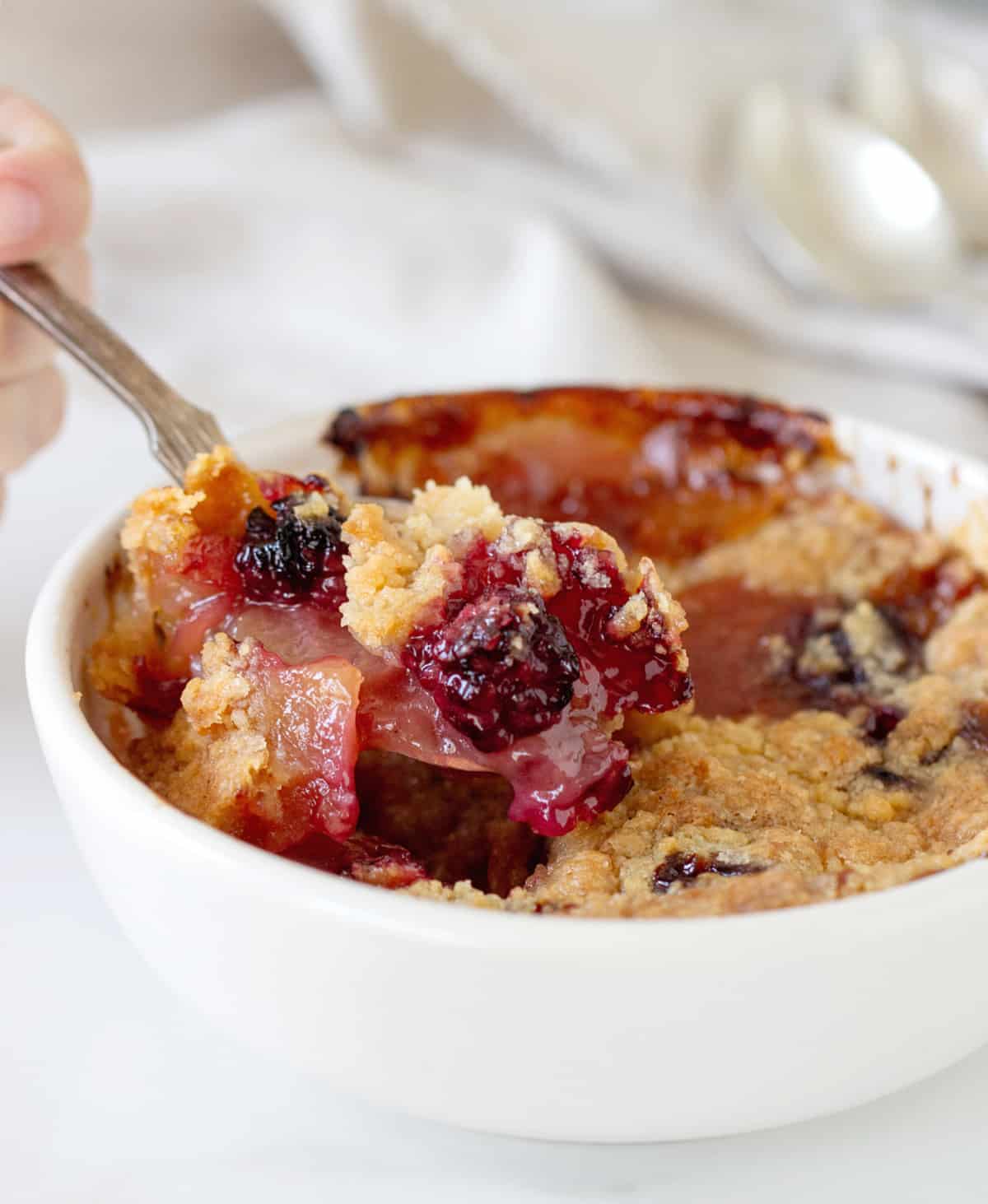 As an Amazon Associate, I earn from qualifying purchases. Please read my disclosure policy.
This is my first post on this blog in February 2012, the one that started this blog.
This is a twist or an upscale version of my first recipe, an old-fashioned apple crumble (we called it crisp, but who's counting) my grandmother taught me.
I tweaked and tested the recipe over the years with different additions, trying to get that vintage feeling, and this apple and blackberry crumble is the result.
We love apple recipes and are always looking for new ways to eat them. This was a great and very popular addition.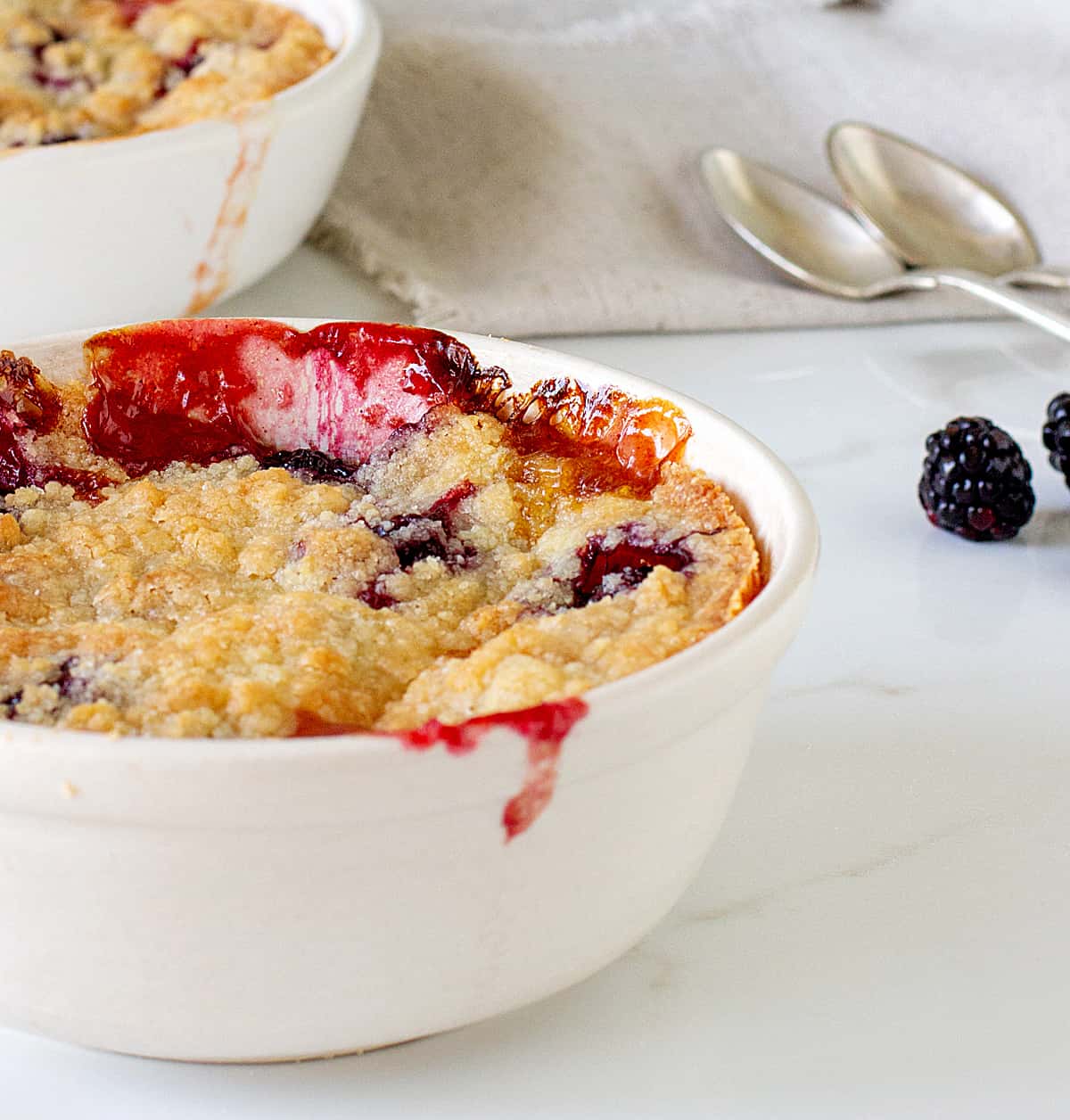 Difference between crumble and crisp
Both desserts have a fruit layer and a streusel topping.
A crumble has a topping that involves a mixture of butter, flour, and sugar. If you add oats, it becomes a crisp.
I disagree a bit on this last point, as you can make a crumble topping very crisp without oats by using the right proportions of the rest of the ingredients.
You can upgrade both with other ingredients like spices, and nuts in the topping.
Whether you call it a crumble or a crisp, both are widely recognized, and we all know what type of dessert we're talking about. With so many recipes online and a wide variety of languages, they are used interchangeably.
Ingredients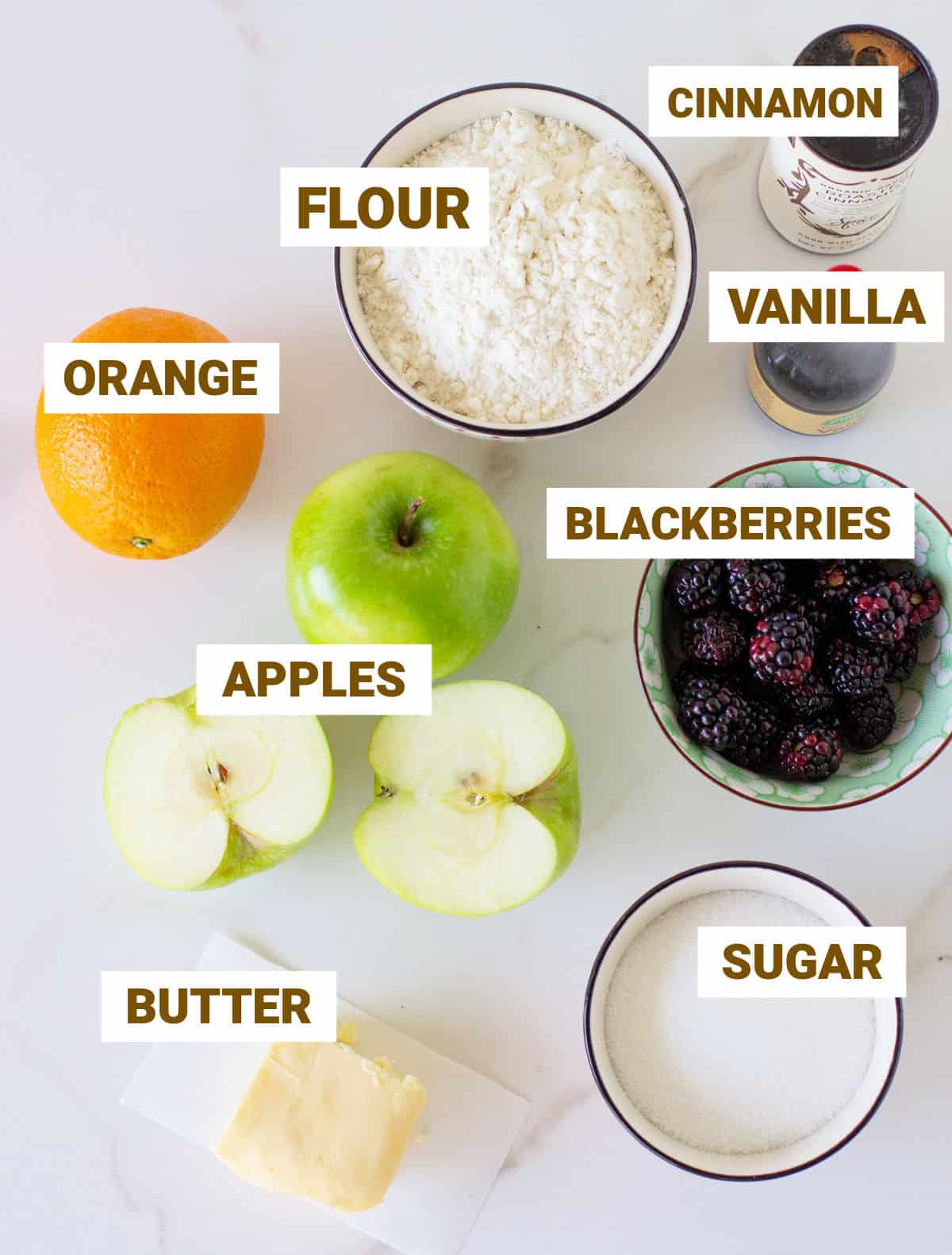 Do you need to peel the apples?
Though this is up to you, I recommend you peel them, as they will not stay crunchy but chewy and not in a good way.
How to cut the apples
I like to cut the apples into thin slices if using them raw, or thicker ones if cooking them before assembling the dessert. But it is a matter of preference.
You can also dice them as we do for the apple berry crumble recipe.
Video tutorial for cutting apples👇🏻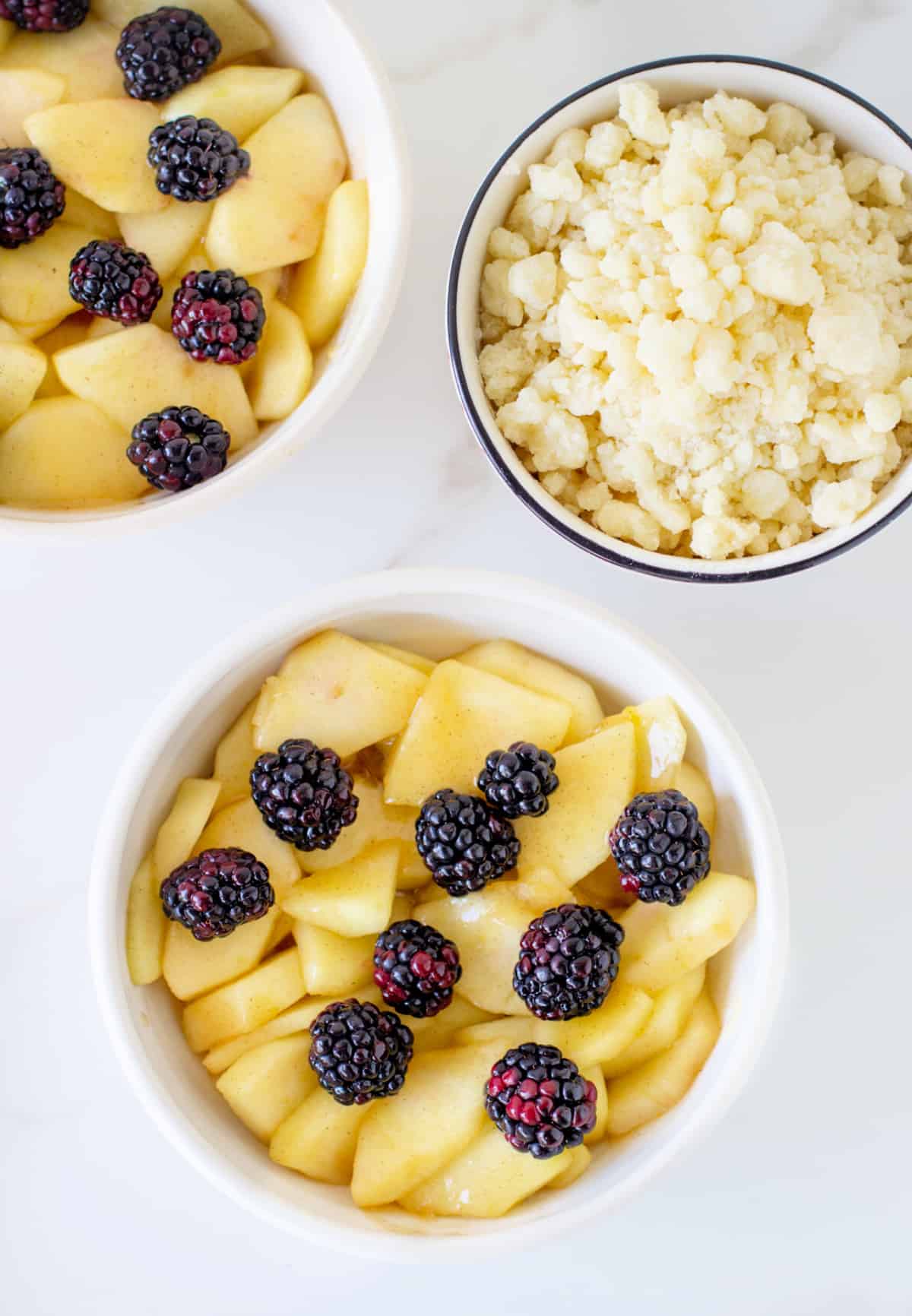 Serving
Serve it warm with a dollop of cream or ice cream on top. That will always be the best way, in my opinion.
Cream: poured cold directly from the container is how we eat it at my house. Alternatively, whip some cold cream with sugar (find the recipe in the Strawberry Shortcake Cupcakes post).
Ice cream: a scoop of your favorite vanilla ice cream will always be a crowd-pleaser! Butter pecan works wonders also.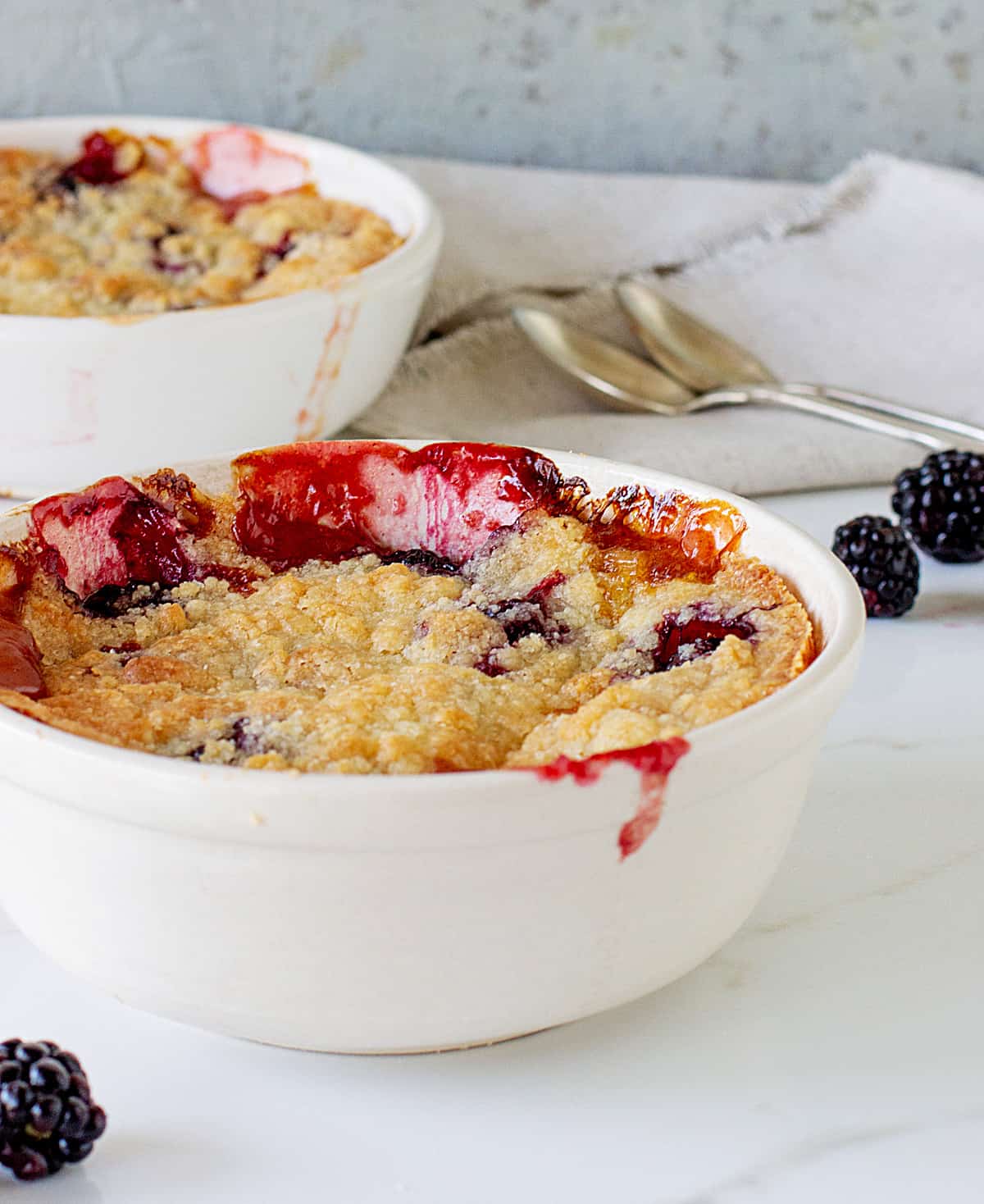 Kitchen notes
Organization: read the recipe first and ensure you have ingredients at the correct temperature, equipment, and enough workspace. This will make the process so much easier.
Baking time: keep in mind that all ovens and pans are different, even if they look the same or very similar. The baking time in my recipes is as accurate as it can be, but it might take you more or less time. You can use a thermometer(like the OXO oven thermometer) to check that your oven is at the right temperature. I recommend you keep track of how your oven works and what tiny details you might need to adjust.
Pre-cooked apples: you can put the apples, cornstarch, and sugar in a saucepan and cook over low heat for a few minutes until the fruit softens and some juice is released and thickens. As the apples continue to bake, they will soften and become more compote-like.
Raw apples: simply mix the apple slices with the thickening ingredients in a bowl until it's all coated and dump them onto the baking dish. Or mix it directly in the baking dish, it's messier but you don't have to wash an extra bowl. Even though the apples bake in the oven they will remain crisper and less sweet.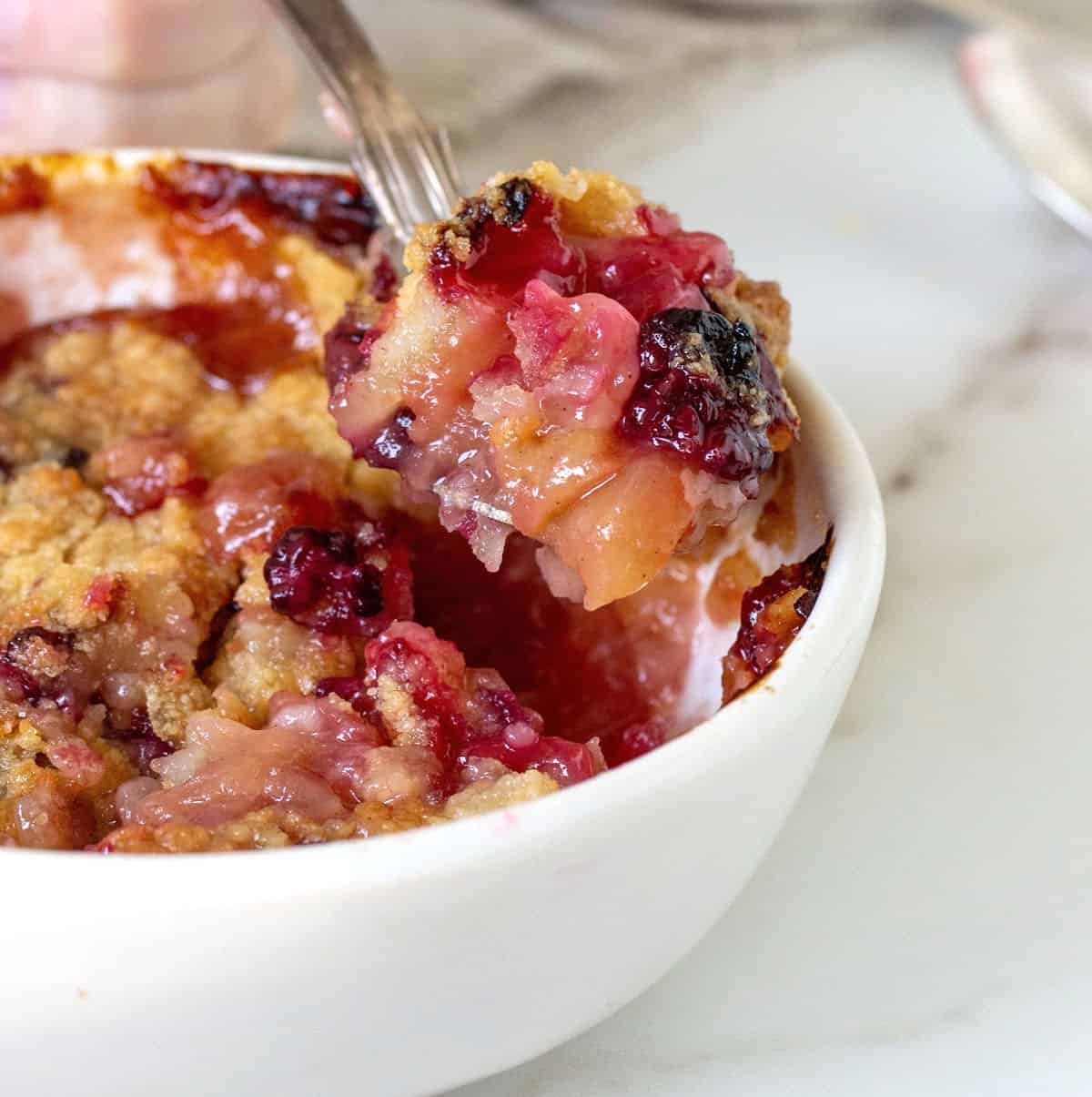 How do I get my crumble crunchy?
The right amount of sugar and butter versus flour will give you a crunchier or more floury topping. You'll love how crisp the one in this recipe is. Also, ensure you bake it until golden, which means the sugar caramelizes, making it crunchier.
What are the best fruits for a crumble?
Almost any fruit can be used in a crumble, except for melon, watermelon, and a few others. Stone fruit (like peaches, nectarines, apricots, and plums), apples, pears, and berries are the most popular.
How do you thicken the fruit?
To thicken the fruit layer of a crumble, cobbler, or crisp, you must add a thickener agent like cornstarch or flour. It will mix with the juices as it bakes and create a wonderful syrup.
---
Related recipes you might like:
---
Let me know in the comments below if you made this recipe and loved it and if you had issues so we can troubleshoot together. I love to hear what you think, always. Thanks for being here. It's much appreciated.
You might also consider subscribing to our FREE email series to Boost your Home Baking Skills! And our regular newsletter.
And let's connect via Facebook, Instagram, and Pinterest.
Print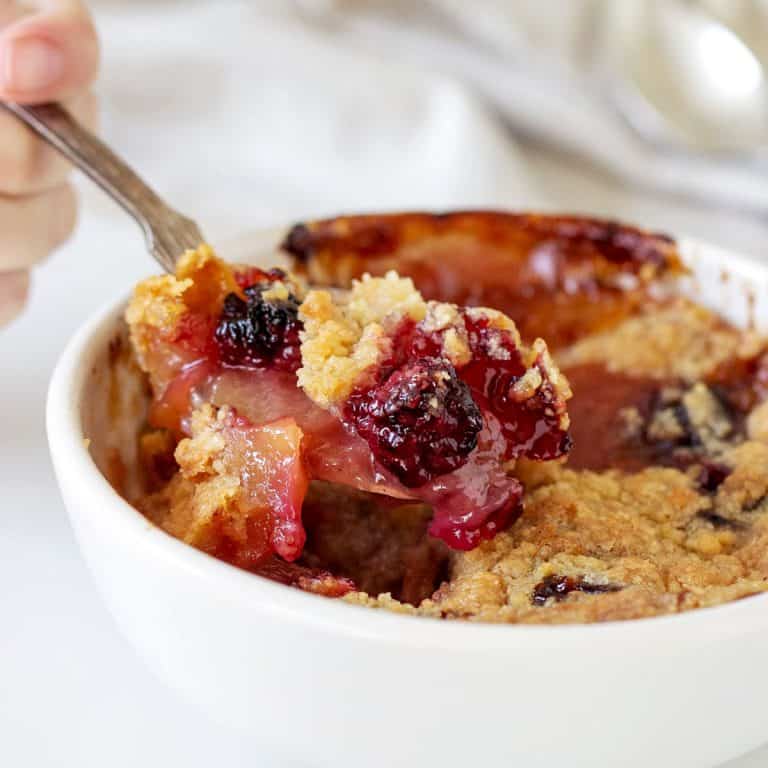 Blackberry and Apple Crumble
I took my grandmother's great apple crumble recipe, added blackberries, a few other ingredients, and ended up with a wonderful dessert, full of flavor and super easy to make! Juicy fruit and buttery crisp topping; it doesn't get much better than that. And it can be made ahead and frozen.
Total Time:

55 minutes

Yield:

6 servings
For the fruit layer:
2

pounds

(about 6 apples)

¼

cup

orange juice
Zest of

½

an orange

1 tablespoon

cornstarch

2 tablespoons

sugar

½ teaspoon

cinnamon

¼ teaspoon

vanilla extract (optional)

1

cup

blackberries, washed and dried (frozen work well, use directly)
For the crumble topping:
1

cup

(140g) all-purpose flour

¾

(150g)

cup

sugar

½

cup

(110g) butter, cold
Instructions
Preheat the oven in 350ºF (180ºC).
Butter a 9x9 inch (23x23 cm) glass or ceramic dish or 6 individual ramekins.
For the fruit layer:
Peel and core the apples. Cut them into medium wedges or dice.
Mix the apple pieces with the orange juice, zest, sugar, cornstarch, cinnamon, and vanilla in a bowl.
Transfer to the prepared baking dish.
Alternatively, cook the above mixture in a saucepan over low/medium heat until apples start to soften and release some of their juice, about 5 minutes. Don't let them soften too much.
For the crumble topping:
In a food processor

: put the flour and sugar in the bowl with the steel blade. Pulse once or twice.
Add cold butter and pulse until the butter is the size of peas.

In a bowl

: put the flour and sugar in a large bowl, add the cold butter pieces and with your hands or a pastry blender, mix until the butter is the size of peas.
To assemble:
Put the apple mixture in the baking dish and top it with the blackberries.
Sprinkle the crumble mixture over the fruit. It will be very irregular and that is fine.
Bake for 35 to 40 minutes or until golden brown and berry juices are bubbling.
Cool until warm and serve with whipped cream or vanilla ice cream.
Or eat it plain, at room temperature.
Notes
Crumble: it can be made ahead and frozen for a month. Or refrigerated for several days.
Apples: if you want firmer apples use the first method of adding them directly to the baking dish. If you like softer apples cook them first. It's all explained in the recipe above.
Storing: it keeps at room temperature for 1-2 days, though I prefer to wrap and keep refrigerated. Warm it before eating at a 325°F (165°C) oven. It can be frozen, well wrapped, for a month.
Variations: blueberries work well instead of blackberries and lemon instead of orange.
Author:

Paula Montenegro

Prep Time:

15 minutes

Cook Time:

40 minutes

Category:

Desserts

Method:

Baking

Cuisine:

International
Nutrition
Serving Size:

⅙

Calories:

435

Sugar:

50.2 g

Sodium:

5 mg

Fat:

16 g

Carbohydrates:

73.9 g

Fiber:

6.4 g

Protein:

3.2 g

Cholesterol:

40.7 mg
Keywords: apple blackberry crumble