Who knew apples and chocolate tasted so good together! Layers of sweet and juicy fruit topped with a buttery crumble with dark chocolate make up this dessert that is wonderful in so many ways: it comes together quickly, can be made ahead, and is great to serve a crowd.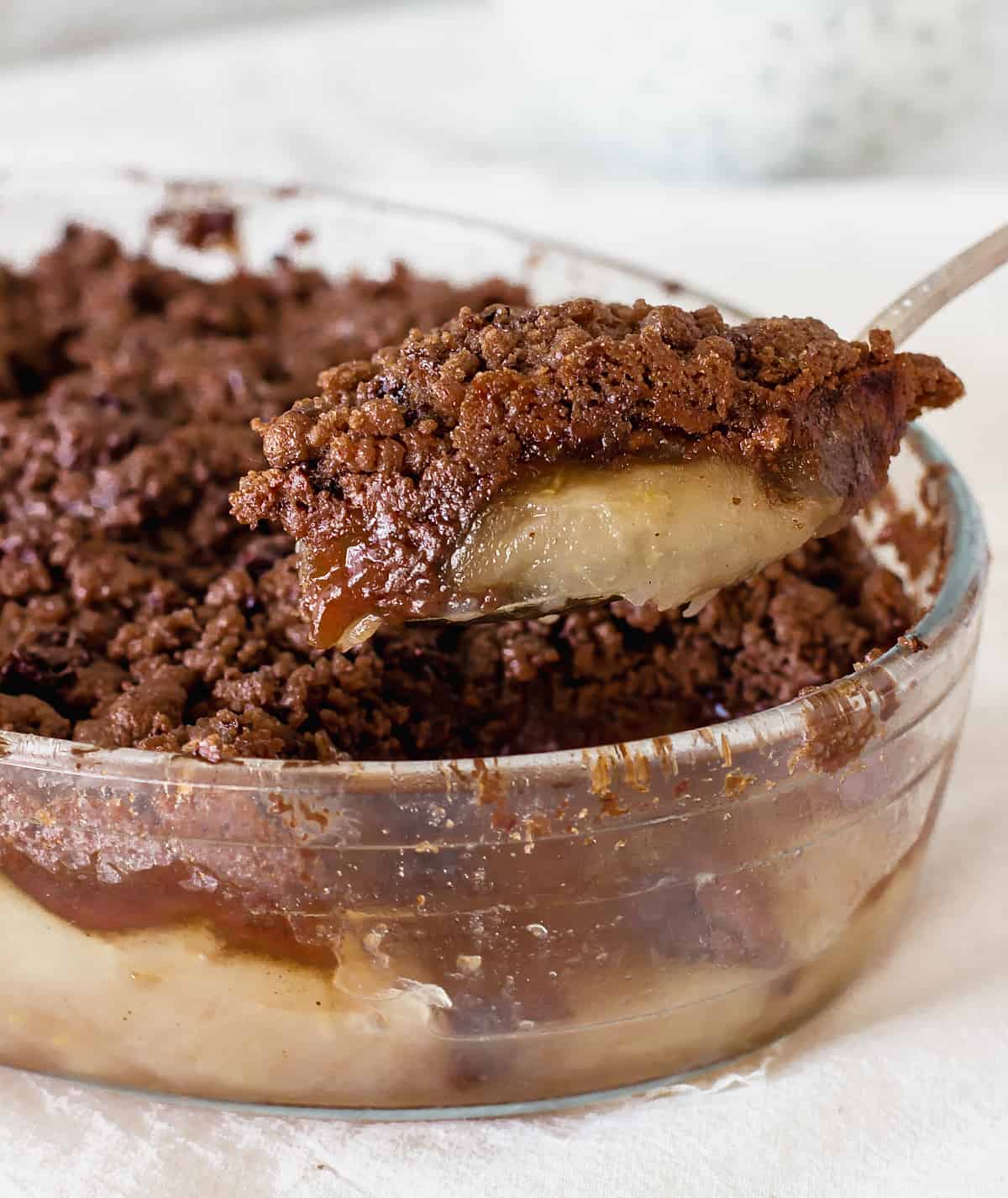 Originally published in September 2012, this post has been updated with text and images to serve you better. The recipe remains the same.
This chocolate apple crisp is perfect comfort food.
Who doesn't love apple desserts, and especially apple crumble? I know that in my house it's at the top. Maybe a lemon pie can trump it once in a while. Maybe.
I grew up in a family that didn't particularly like chocolate and cheesecakes. The nerve, I know. I mean, how can you not love brown sugar cheesecake or a flourless chocolate cake??
So I had to come up with ingenious ways of using fruit. This chocolate apple crisp (or crumble as we like to call it also) is one of my favorites.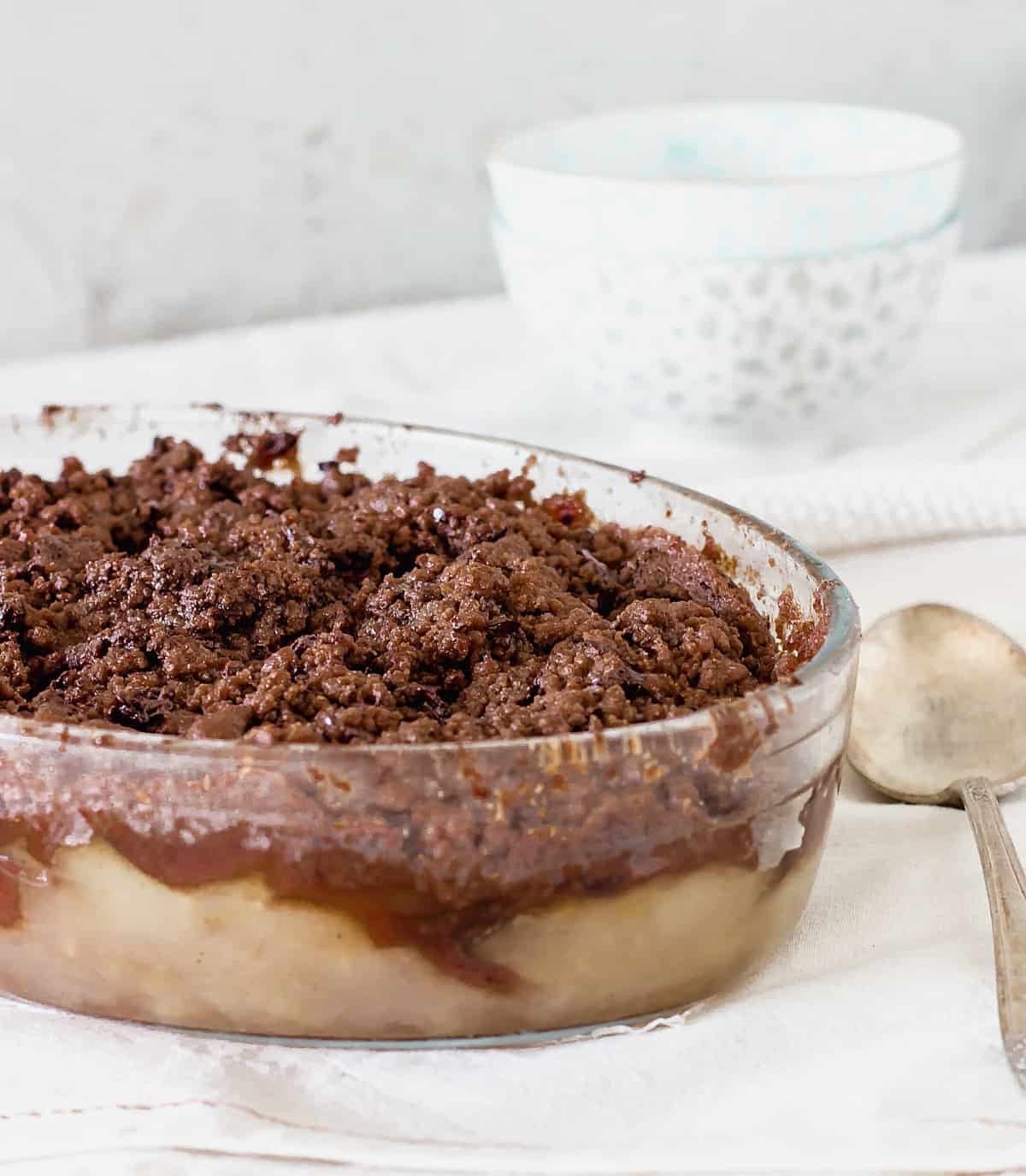 I based on my grandmother's original recipe, the first thing I ever made, and also on a recipe in this book, which has become a bit of a favorite lately. I'm learning a lot about using alternative flours, which I absolutely love!
The result is incredible. Really, the combination of apples, cocoa, and chocolate is amazing.
Ingredients
This apple crisp has two parts: the fruit layer and the crumble topping (streusel) which includes chocolate.
Fruit layer
Type of apples: I use granny smith apples because they're the most acidic (needed to balance out the butter and sugar in the rest of the recipe) and they hold their shape well after baking, which is great so you don't get a mushy layer of apples.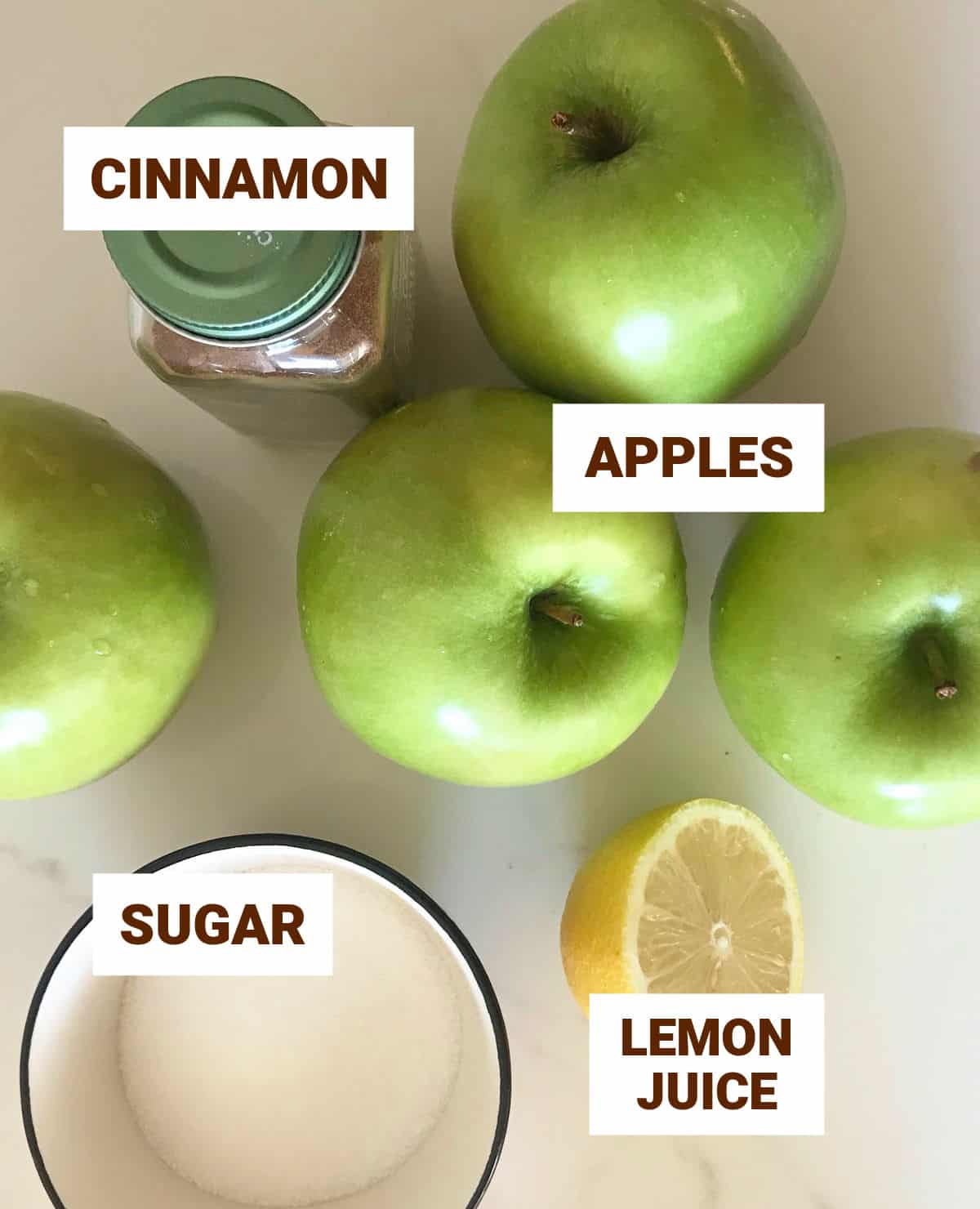 Chocolate crumble layer
This is the topping and it is a simple crumb mixture (butter, sugar, and flour) with the addition of cocoa and chopped chocolate. The result is fantastic!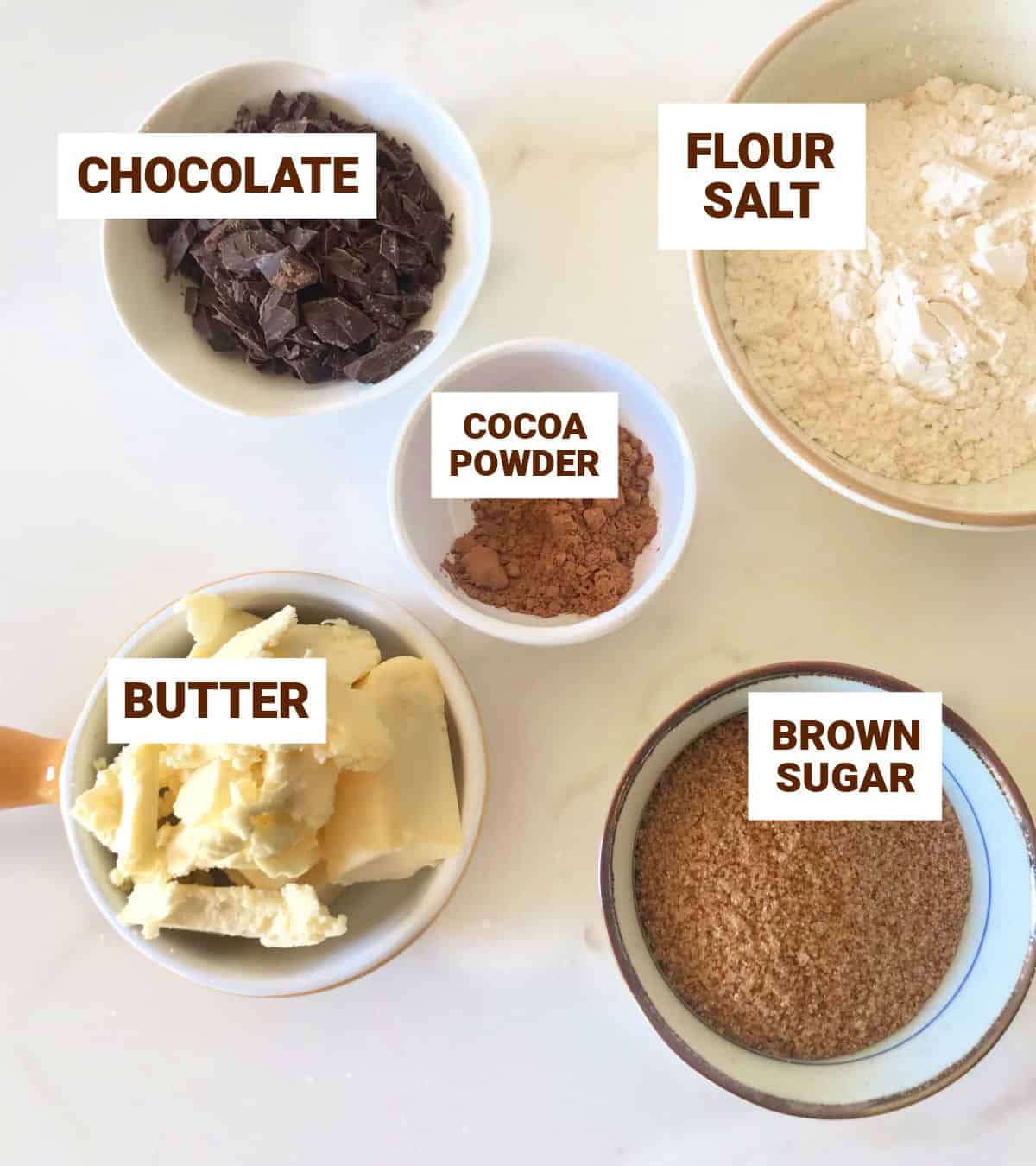 The steps
Cutting the apples
After peeling and coring the apples, the truth is that you can cut them in whatever thickness or shape you want.
The difference will be after they are baked: thick slices will be not as soft as thin slices. Too thin slices will become more of a compote, very soft. Chopped apples will almost disintegrate by the time the dessert is baked.
Chunks that are too large will make it more difficult to eat with a spoon without having to cut each piece.
And so on.
My favorite way? Cut the apples into quarters and then slice them crosswise (the opposite of lengthwise) so they end up being bite-sized.

Vintage Kitchen Tip
Then comes a layer of sugar, cinnamon, and lemon juice on top of the apples (image above, right).
About the sugar: adding it is optional. It will sweeten the dessert. If you have a sweet tooth it is great. If you like lightly sweetened desserts (like I do) you're probably better off adding half or not at all. The crumble has enough sweetness. It will depend on how acidic the apples are.
Making the topping
The steps are very easy: mix the dry ingredients in a large bowl (image 1). Add the cold butter in pieces (image 2) and work it with your hands until it is the size of peas, approximately (image 3). Add the chopped chocolate (chunks or chips) and mix it before using (image 4).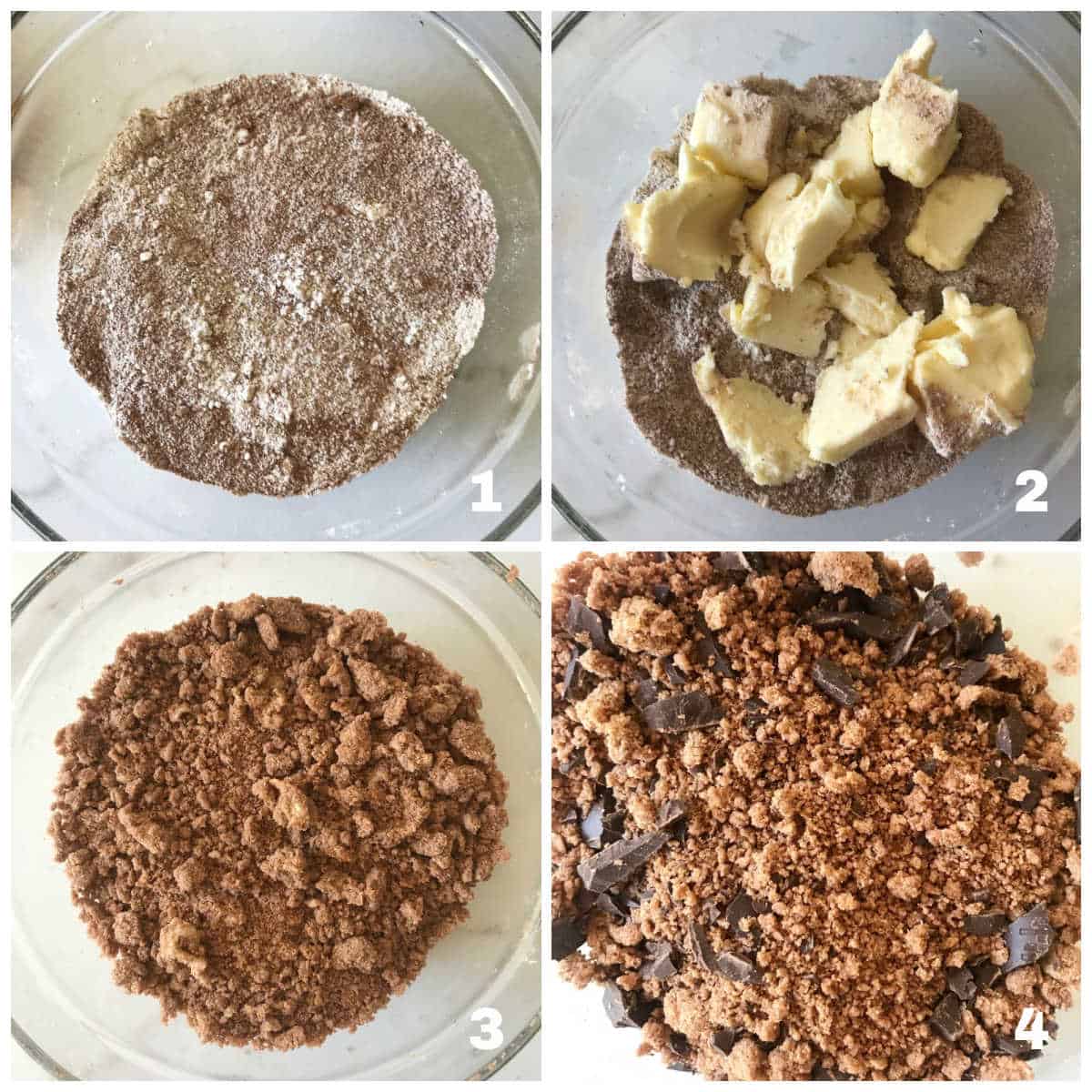 What is the best ratio of apples and crumble?
Both the fruit and the crumble with dramatically shrink during baking. Especially the apples.
That's why we pile a large mound of both sliced apples and crumble topping in the dish. It looks like it will all fall and never bake. But it does and it comes out of the oven perfectly.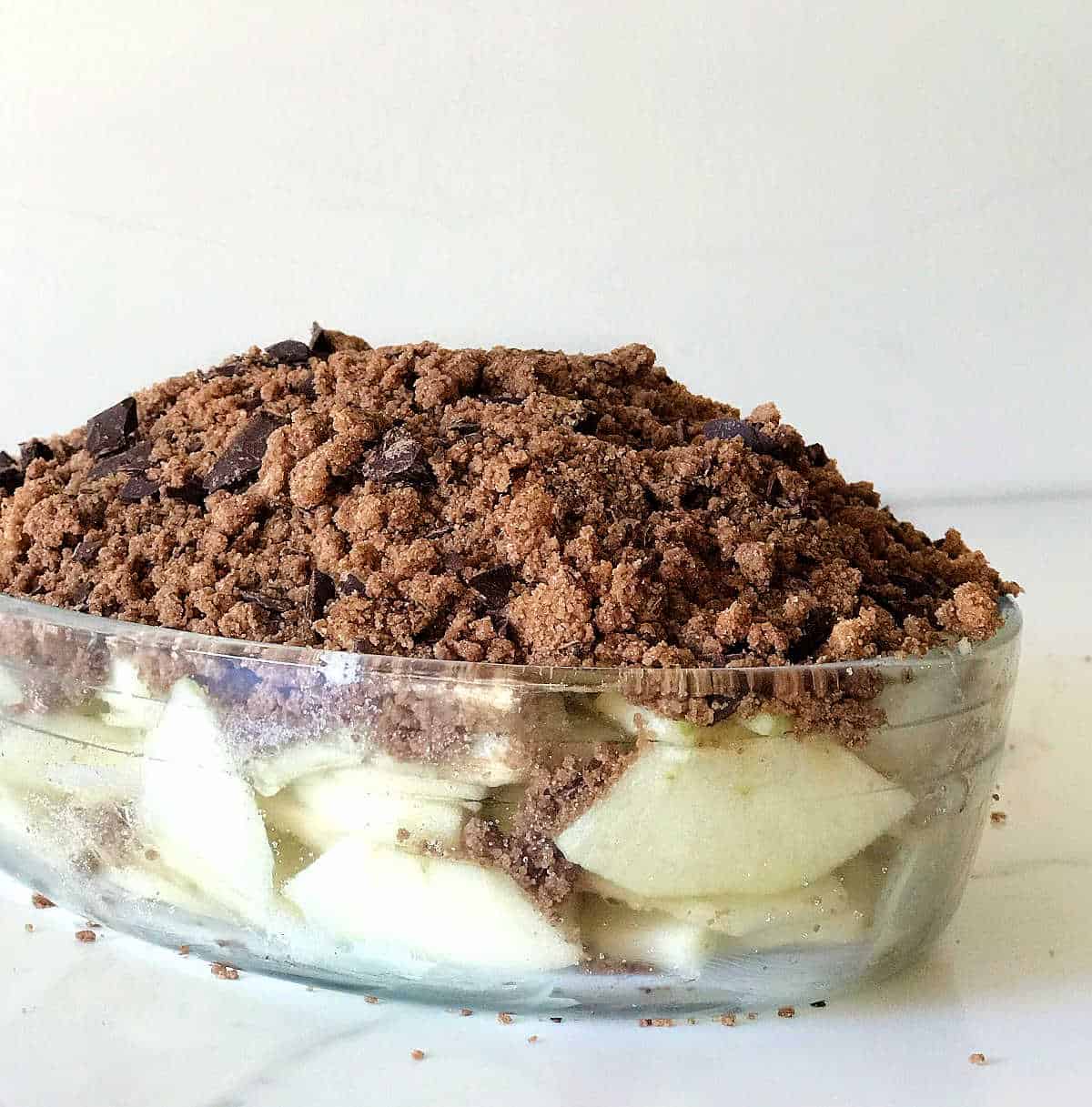 I like to have a 3:2 ratio or three parts apples and two parts chocolate crumble (image above). Approximately.
I make this dessert without paying much attention to amounts. I did while developing this recipe, but I don't usually. Sometimes it has more chocolate, sometimes it has less fruit.
So find you're own favorite ratio and use it with any fruit crumble or crisp recipe you make.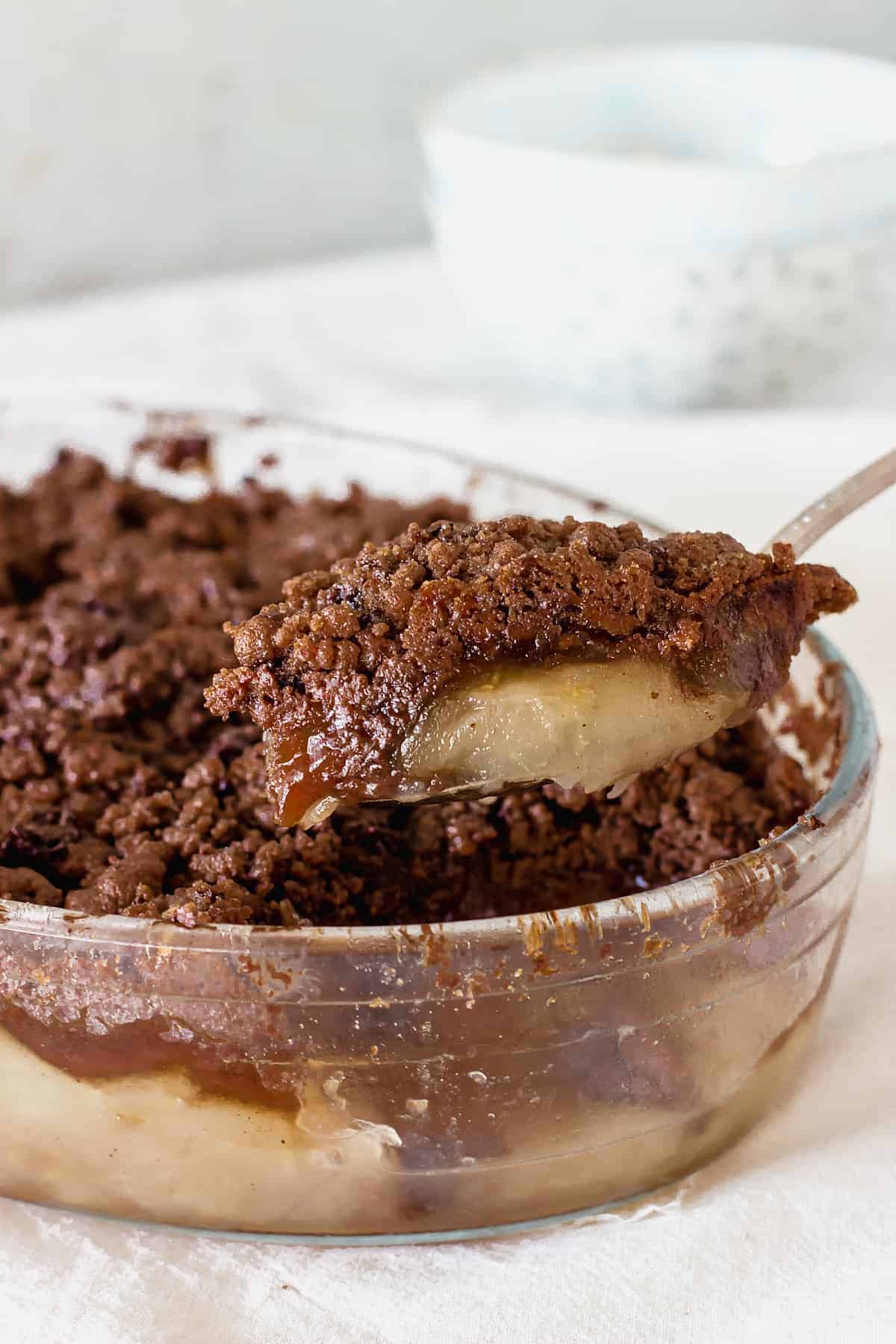 Make-ahead
This dessert freezes wonderfully. Wrap it well and freeze it for a month or so. I like to defrost it in the refrigerator and warm it before eating.
The chocolate crumble can be frozen, without the chopped chocolate. And it keeps well in the refrigerator for at least a week. Add the chocolate before assembling the dessert.
Dessert for a crowd
It can be easily doubled or tripled.
If you have to feed a large number of people, make the crumble ahead of time. You can use the food processor. Don't overmix, but pulse until the butter is the size of beans or peas.
Bake it up to a day ahead and keep refrigerated, covered. Warm before serving.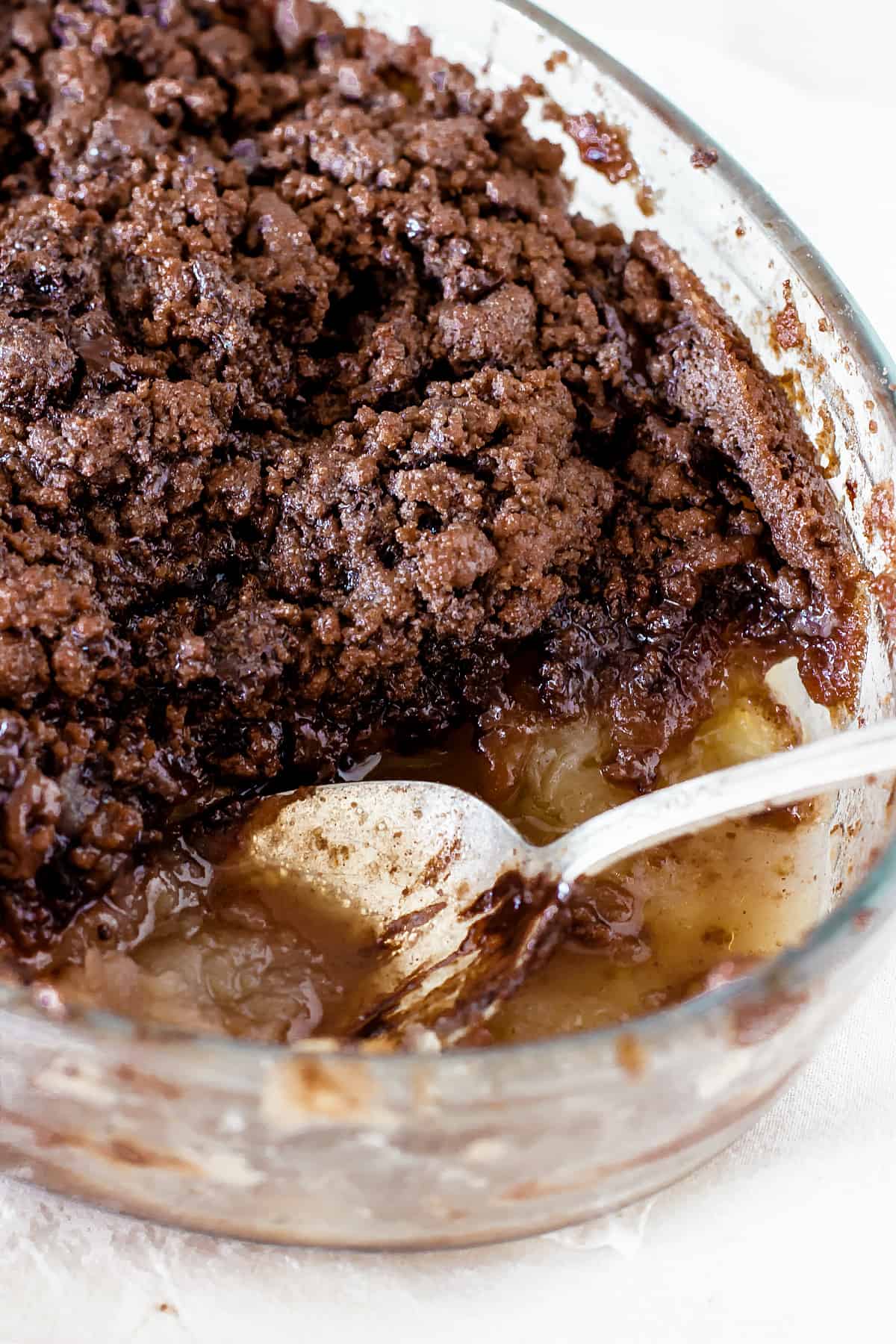 ---
Related recipes you might like:
---
Let me know in the comments below if you made this recipe and loved it and if you had issues so we can troubleshoot together. I love to hear what you think, always. Thanks for being here. It's much appreciated.
You might also consider subscribing to our FREE email series to Boost your Home Baking Skills! And our regular newsletter.
And let's connect via Facebook, Instagram, and Pinterest.
Print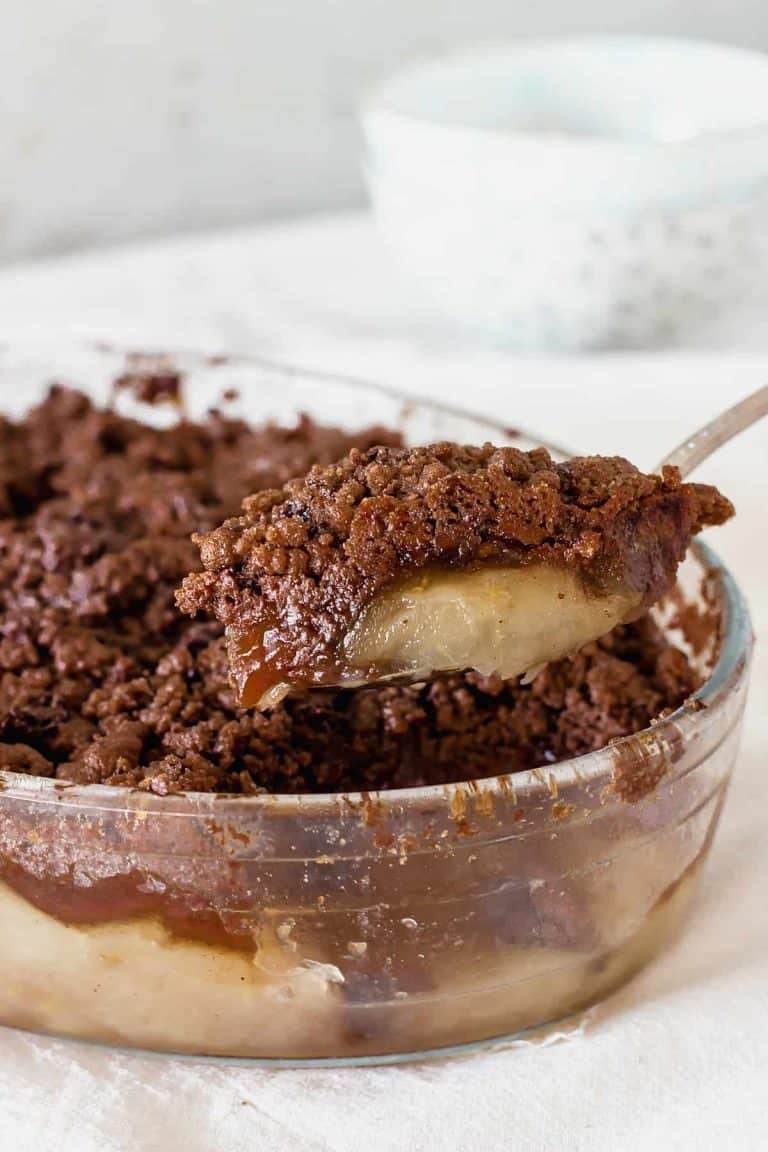 Chocolate Apple Crisp
Who knew apples and chocolate tasted so good together! Layers of sweet and juicy fruit topped with a buttery crumble with dark chocolate make up this dessert that is wonderful in so many ways: it comes together quickly, can be made ahead and is great to serve a crowd.
Total Time:

1 hour 5 minutes

Yield:

8 servings
1

pound

apples, about 4 (I am partial to Granny Smith, but other baking apples work well)
Juice of

half a

lemon

2 tablespoons

sugar

½ teaspoon

cinnamon
For the crumble:
⅔

cup

all-purpose flour

⅓

cup

superfine whole wheat flour
Pinch of salt

1 ½ tablespoons

cocoa powder

¾

cup

brown sugar

⅔

cup

butter, cold and in pieces

½

cup

chocolate chips or chunks
Instructions
Preheat the oven in 350ºF /180ºC.
Butter a 9-inch glass or ceramic dish.
In a small bowl mix sugar and cinnamon.
For the crumble, in a large bowl (or the bowl of a food processor) add flours, cocoa, brown sugar and lightly mix.
Add butter in pieces and work it with your hands or a dough cutter (or pulse if using the processor) until clumps begin to form.
Transfer to a medium bowl, mix in chopped chocolate or chips and reserve.
Peel, core and cut apples in half. Cut in half again so you have 4 quarters for each apple. Cut each piece in slices.
Add to the prepared dish and sprinkle with sugar/cinnamon mixture.
Drizzle with the lemon juice.
Top with the chocolate crumble mixture distributing evenly. It will look like it's too much but it's fine.
Bake for 35 to 45 minutes or until dry, bubbly and the apples are easily pierced.
Serve warm with ice cream or whipped cream.
Notes
Flour: you can use buckwheat flour instead of the whole wheat.
Apples: I always use Granny Smith for desserts, but use your favorite baking apple. If they are already sweet you might want to not add the tablespoons of sugar over the apples before the topping.
Chocolate: I love using chunks because they are bigger so you bite into soft chocolate, but chips work very well too.
Storing: you can freeze the whole baked dessert, well wrapped, or make it a day ahead and warm before serving. Or just make ahead and freeze the raw crumble to save time.
Author:

Paula Montenegro

Prep Time:

20

Cook Time:

45

Category:

Desserts

Method:

Baking

Cuisine:

International
Keywords: apple chocolate crisp, chocolate apple crumble