A layer of juicy apples and berries are topped with a crisp crumble in this fabulous dessert that can be frozen or made ahead and is a total crowd pleaser! This is the ultimate last-minute dessert!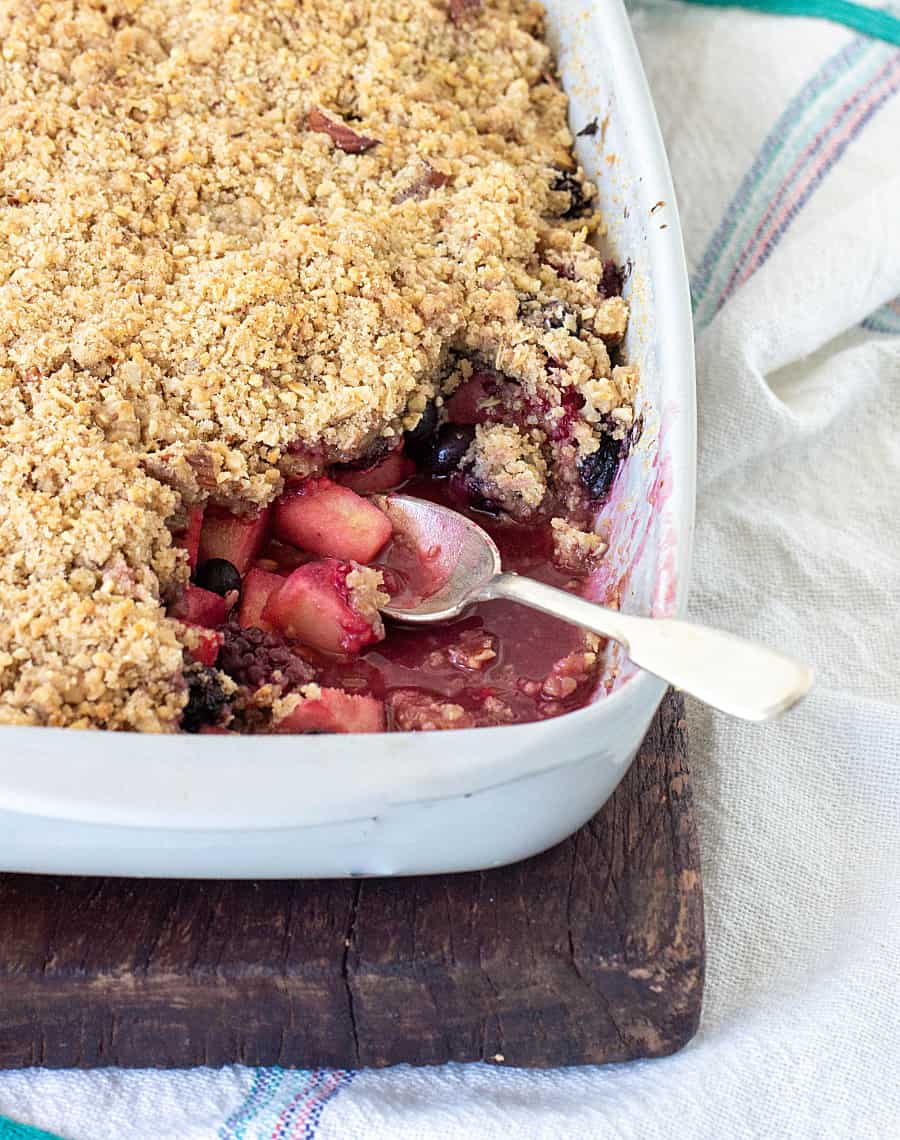 Apple crumble (or crisp as it's also known) is the first recipe I ever made, guided by my grandmother. I wrote it down in my binder and have it to this day.
It was more intuitive than exact, and I've always made fruit crumbles that way. I feel the crumble and know if it needs more butter or sugar. And the same with the fruit; sometimes I add an extra layer of sugar and lemon and sometimes I don't.
But, don't worry, today I'm giving you a step-by-step recipe for the perfect apple berry crumble. And some variations.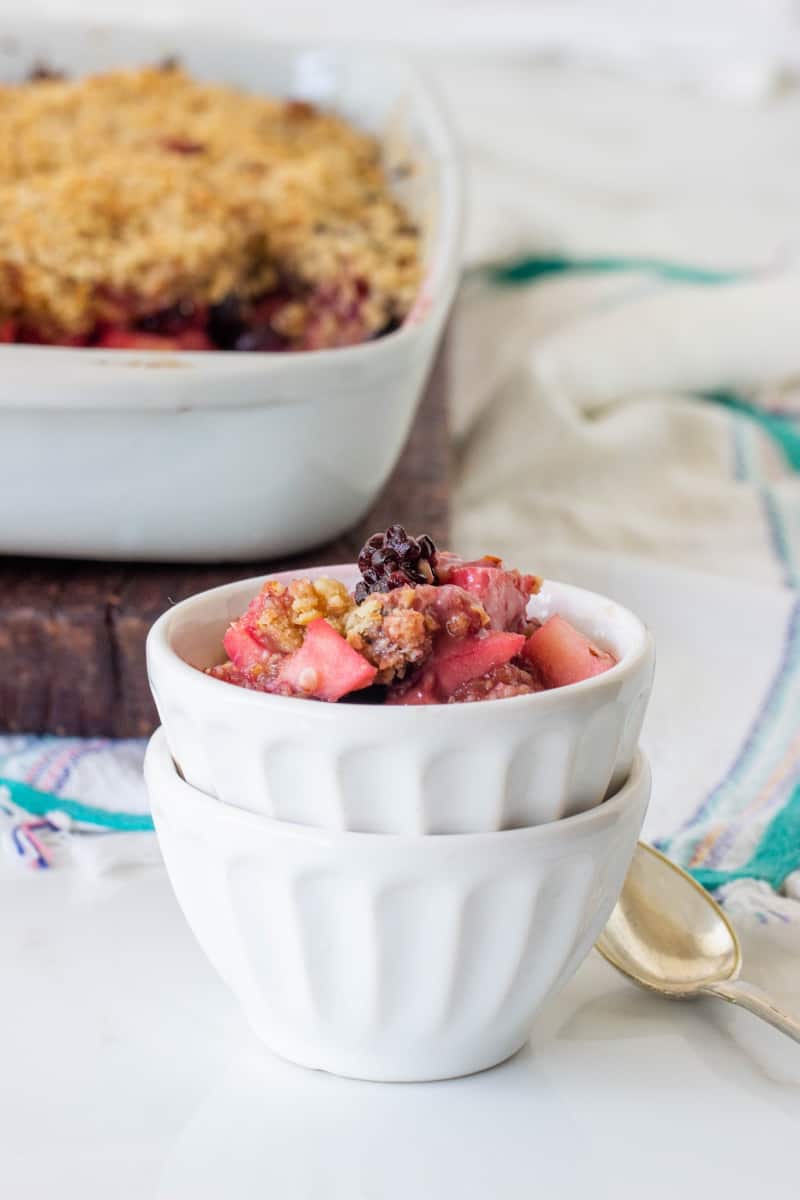 What is a crumble?
Crumble is a wonderful crunchy topping made with butter, sugar, and flour in its basic recipe. There are as many variations (pretty much like shortbread), as there are fruits.
But those three ingredients are exclusive for it to happen and the ratios make it more crunchy or more crumbly. If you add more sugar it will caramelize more, have a more golden color, and have extra crunchiness. As opposed to using more flour and having a crumblier, paler-looking topping.
Other ingredients commonly added to a crumble topping are oats and nuts. Both add an extra crunchiness that is very welcomed.
WATCH THE STEP-BY-STEP VIDEO 👇🏻
Easy steps
Pan - this type of dessert is usually served from the pan where it's baked, so use a nice ceramic or glass one. I use rectangular ceramic pans (images above) because the ratio of fruit/crumble is perfect. Not too much of one but enough of both. You can also use individual ramekins.
Fruit - can be fresh or sometimes frozen, as with berries. Make sure you cut or chop it so it can be eaten only with a spoon. We don't want to be cutting fruit after it is served to us.
Sugar - depending on the fruit I sometimes add a few extra tablespoons of sugar to the fruit, before adding the crumble (image below, left). If they're too acidic it balances them well. Most people like sweet desserts, so it's a good idea.
Lemon - I almost always add the juice of half a lemon to the fruit, also before the crumble. I can't think of a fruit that won't benefit from it considering the amount of sugar that surrounds this dessert. And even acidic fruits like the apples and berries we're using today, are enhanced by it.
Crumble - it can be made ahead and kept in the fridge for a few days or in the freezer for a few weeks. Always well covered. When ready to use it defrost it in the refrigerator.
Baking - you can bake it several hours and up to 2 days before you're going to eat it. Simply reheat it in a 350°F/180°C oven for 15 minutes approx.
Serving - this is a dessert that screams to be served warm with whipped cream or ice cream.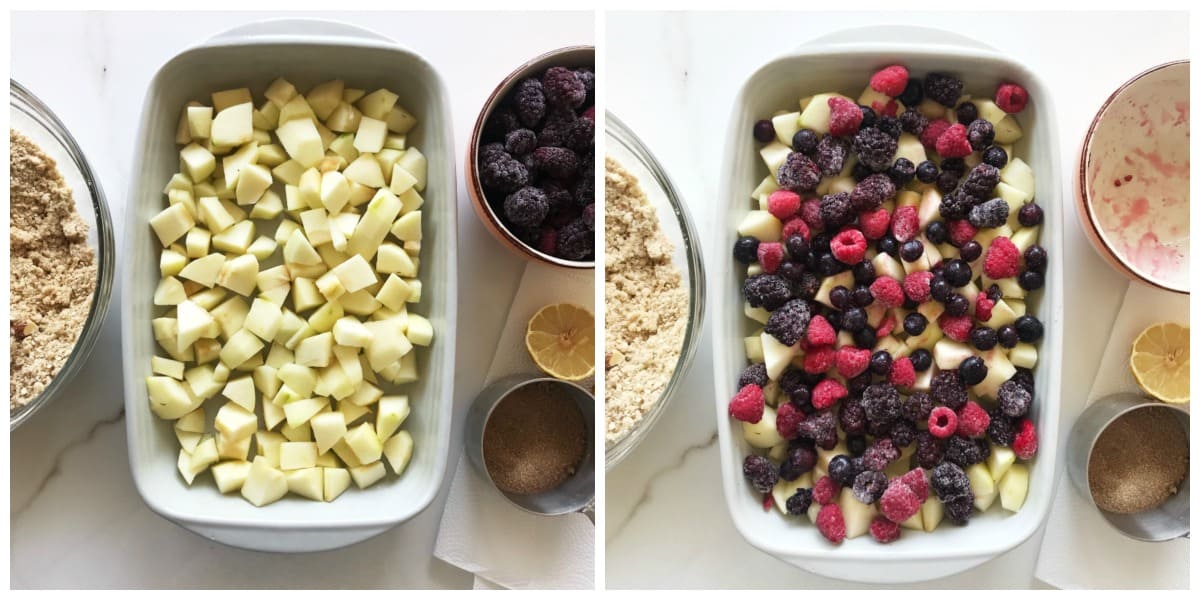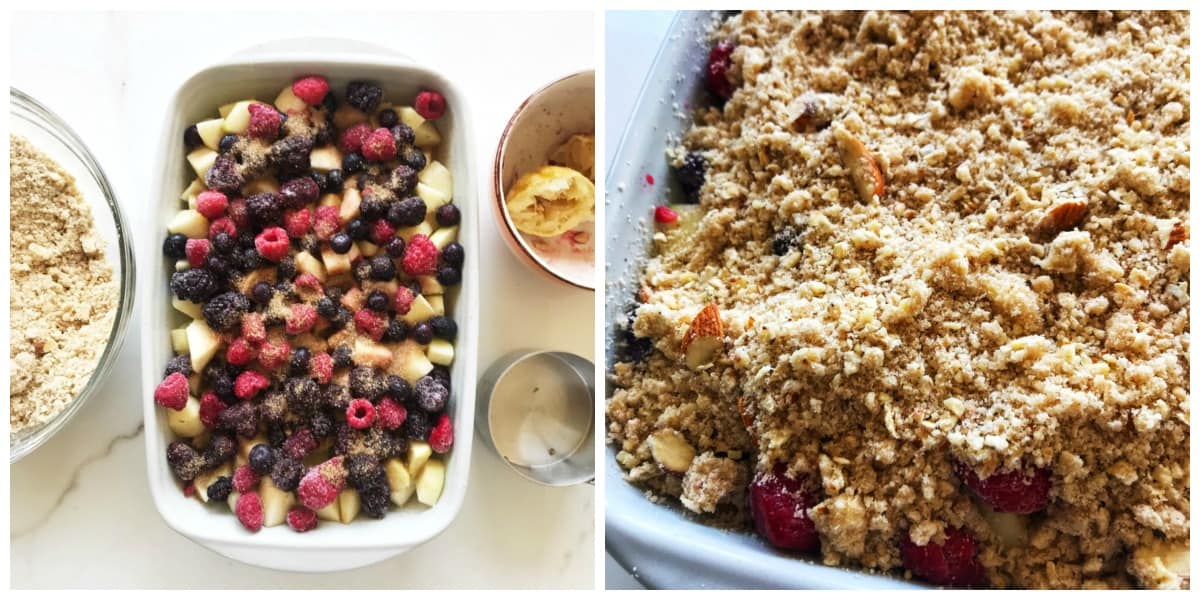 Variations
Fruit: we are using apples and mixed berries, but I can't think of a fruit that isn't good with a crumble on top. Top choices would be apples, berries, stone fruit (peaches, plums, cherries), pineapple, pears.
Crumble: the basic one involves butter, sugar, and flour. This recipe today has oats and almonds, which give it a great crunch, but they can be omitted and extra flour used. Any other nut you like can be used, like hazelnuts in a pear crumble for example.
Serving: you can bake it in one pan as we did today, or use individual ramekins. Warm with some whipped cream or ice cream is everybody's choice usually, but you can innovate and serve a pear crumble with pistachio ice cream, a peach crumble with ginger ice cream, or whipped cream. Match your favorite fruit and spice combinations.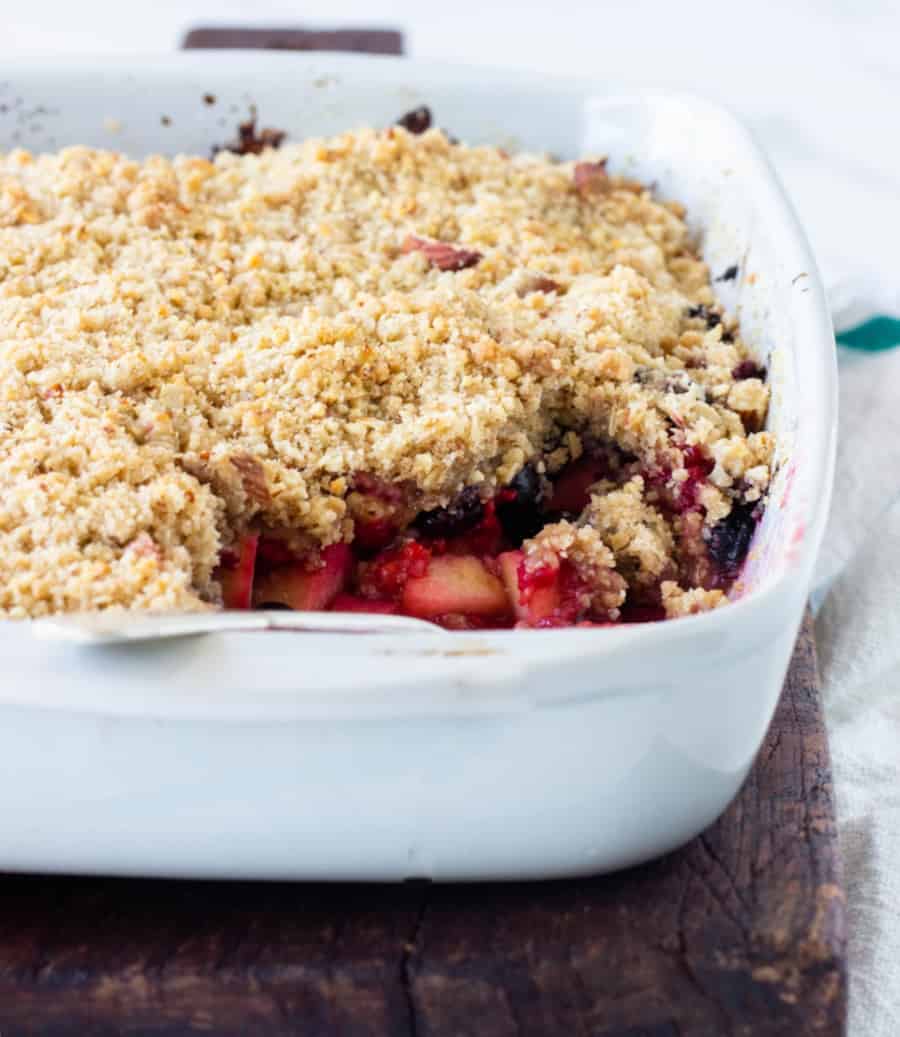 Top tips
Organization: always read the recipe first and make sure you have all the ingredients, at the right temperatures, and also the rest of the equipment and space to make it. This will make the process so much easier!
Baking time: keep in mind that all ovens and pans are different, even if they look the same or very similar. The baking time in my recipes is as accurate as it can be, but it might take you more or less time. You can use a thermometer that is placed inside the oven (like the OXO oven thermometer) to check that your oven is at the right temperature. I recommend you keep track of how your oven works and what tiny details you might need to adjust.
Last-minute dessert: always have frozen berries and crumble topping in the freezer. That way you can put together a fabulous fruit crumble in no time. You don't even need to cut up fruit. Dessert ready in 40 minutes!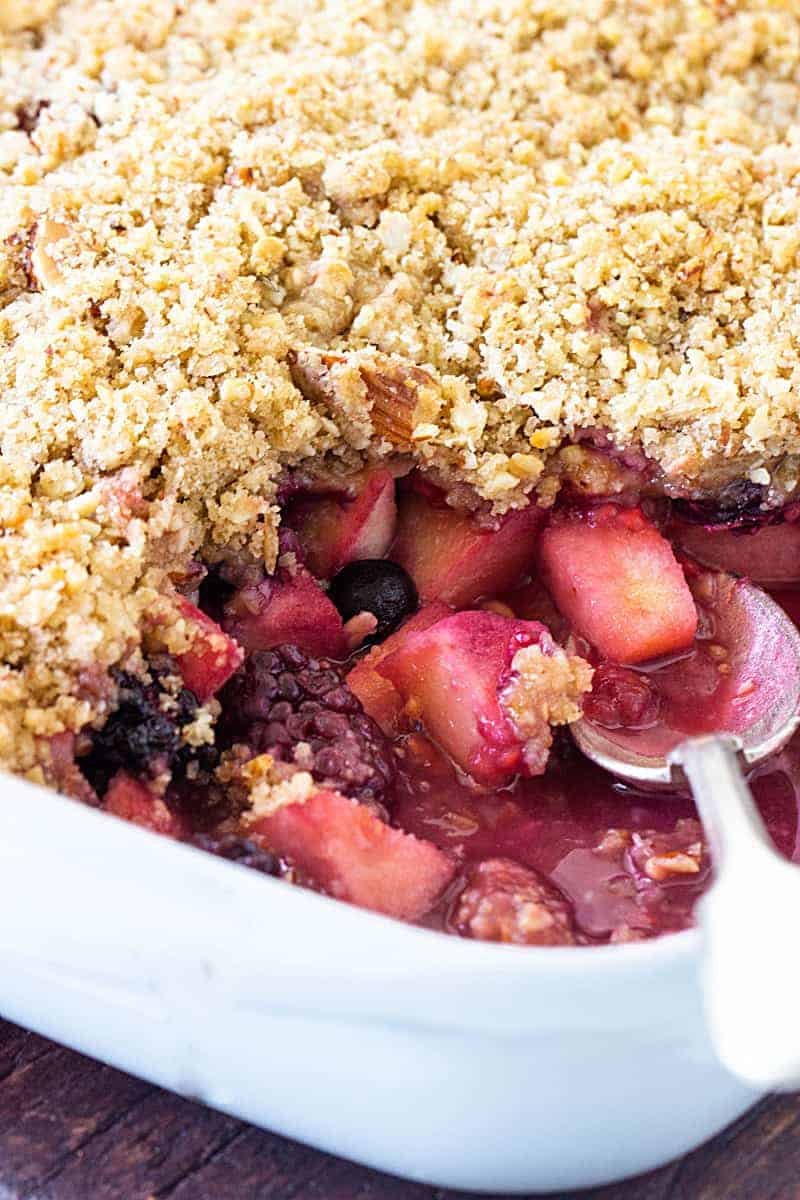 ---
Related recipes you might like:
---
Let me know in the comments below if you made this recipe and loved it, and also if you had issues, so we can troubleshoot together. I love to hear what you think, always. Thanks for being here, it's much appreciated.
You might also consider subscribing to our FREE email series to Boost your Home Baking Skills! And our regular newsletter.
And let's connect via Facebook, Instagram, and Pinterest.
Print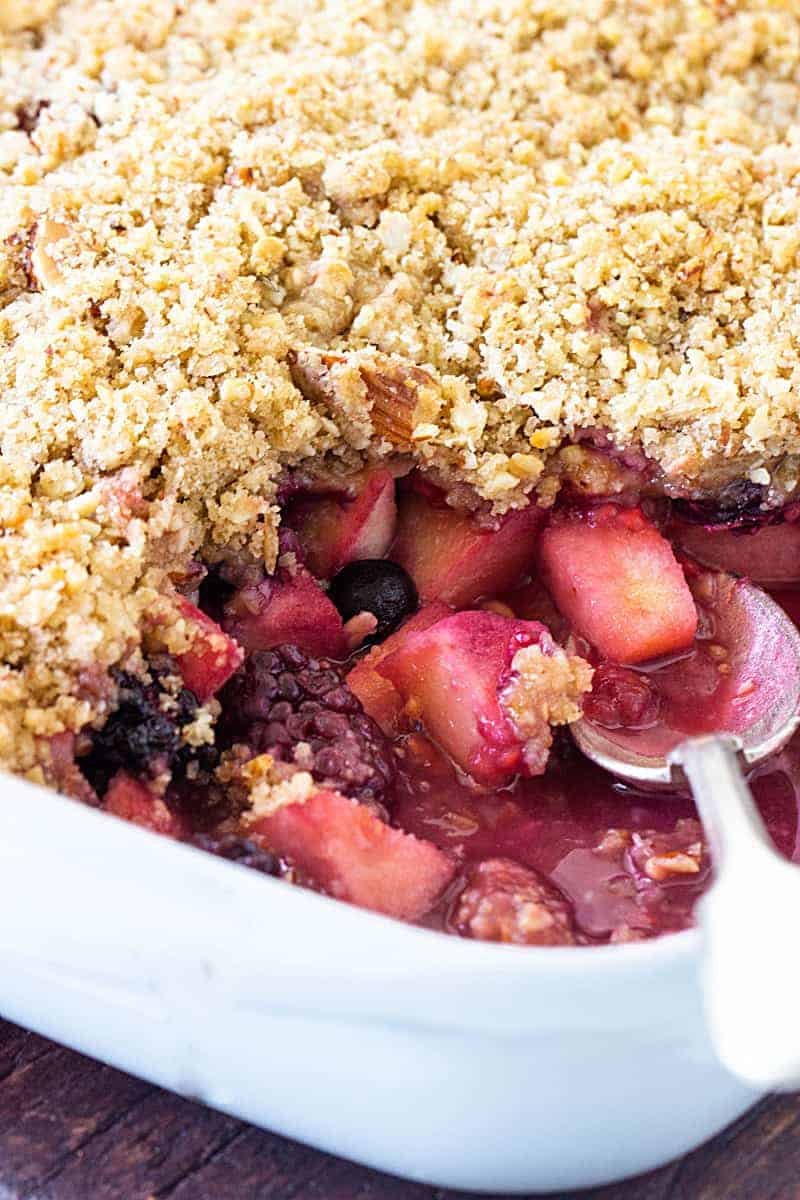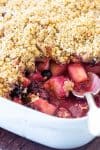 Apple Berry Crumble
Author:

Paula Montenegro

Prep Time:

20

Cook Time:

40

Total Time:

1 hour

Yield:

8

servings

1

x

Category:

Dessert

Method:

Baking

Cuisine:

American
---
Description
A layer of juicy apples and berries are topped with a crisp crumble in this fabulous dessert that can be frozen or made-ahead and is a total crowd pleaser!
---
¾

cup

(105g) all-purpose flour

½

cup

(40g) regular oats

¾

cup

(80g) sliced or chopped almonds

¾

cup

(150g) granulated sugar
Pinch of salt

¾

cup

(180g) unsalted butter, cold, cut into pieces (plus some extra to butter the dish)

1 ½

pounds

(¾kg or about 5) Granny Smith apples

2

cups

mixed berries (fresh or frozen)
Juice of

½

lemon

2 tablespoons

brown sugar
---
Instructions
Preheat the oven to 350°F /180°C.
Have ready a 9-13 inch ovenproof ceramic or glass dish. Butter it and reserve.
Prepare the apples:
Peel and core the apples.
You can dice the apples (as seen in the photos in the post above) or cut them in quarters and slice them.
Make the crumble:
In a large bowl add flour, sugar, and salt and mix to combine.
Add cold butter and work it with your hands or pastry cutter until you have pieces the size of peas. Some of the mixture will be sand-like with very small butter pieces.
Mix in the oats and almonds until you have a lumpy mixture trying not to completely break the almonds. At this point, you can cover it and refrigerate for a few days or freeze it.
You can also mix flour, sugar, salt, and butter in a food processor and then transfer to a bowl and mix the oats and almonds.
Assembling:
Put a layer of apples in the buttered dish.
Top with the fresh or frozen berries.
Sprinkle with the brown sugar and drizzle with the lemon juice.
Cover the fruit with the crumble. It will be uneven, rustic looking and maybe parts in the sides will not be completely covered. That is fine.
Bake for about 40 minutes, until the top is golden and fruit is bubbling.
Serve warm with whipped cream or ice cream.
---
Nutrition
Serving Size:

⅛

Calories:

405

Sugar:

31.2 g

Sodium:

24.7 mg

Fat:

22.4 g

Carbohydrates:

49.2 g

Protein:

4.4 g

Cholesterol:

45.8 mg
Keywords: apple berry crumble