The buttery crunch of shortbread is unmistakable, and the nutty flavor of brown sugar mixed with vanilla will make it impossible for you to resist them. A simple recipe with few ingredients but a deep vanilla flavor and crunchier texture.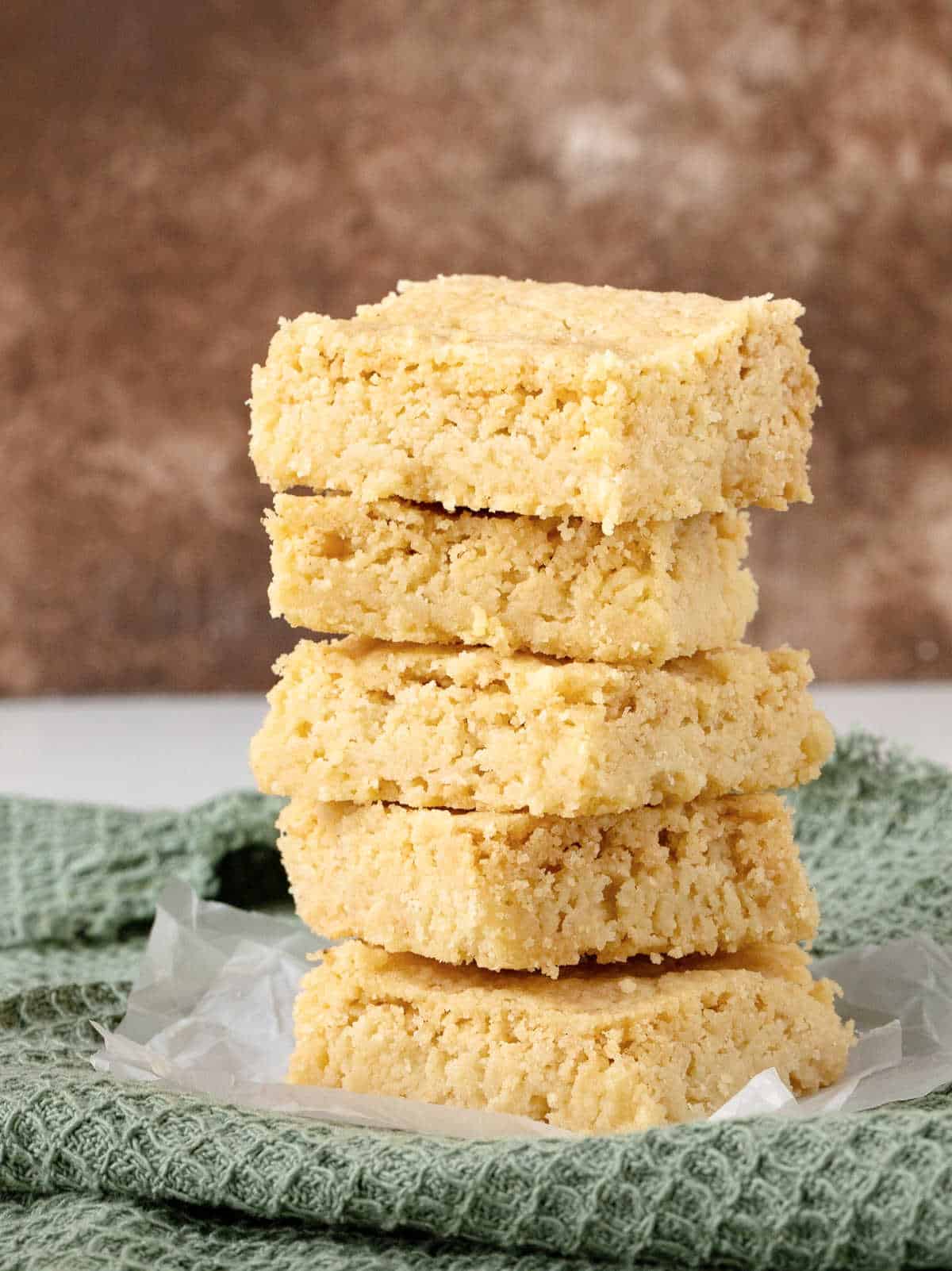 As an Amazon Associate, I earn from qualifying purchases. Please read my disclosure policy.
Originally published in 2012, the text and images in this post have been updated to serve you better. The recipe remains the same.
We love shortbread and don't have enough recipes in this blog, let me tell you. But the ones we do, like the lemon shortbread, are super popular.
Don't be fooled by the rustic appearance of these brown butter shortbread squares.
Or, come to think of it, it'll be better if you are fooled and expect nothing. You're in for a surprise.
They are an explosion of buttery vanilla goodness and take the much-loved shortbread to another level.
There is something about brown butter. It might have a place of its own in the food pyramid.
Is it possible to use brown butter from now on in every single recipe that calls for melted butter?
If you try this simple brown butter pound cake, you'll understand what the hype is all about.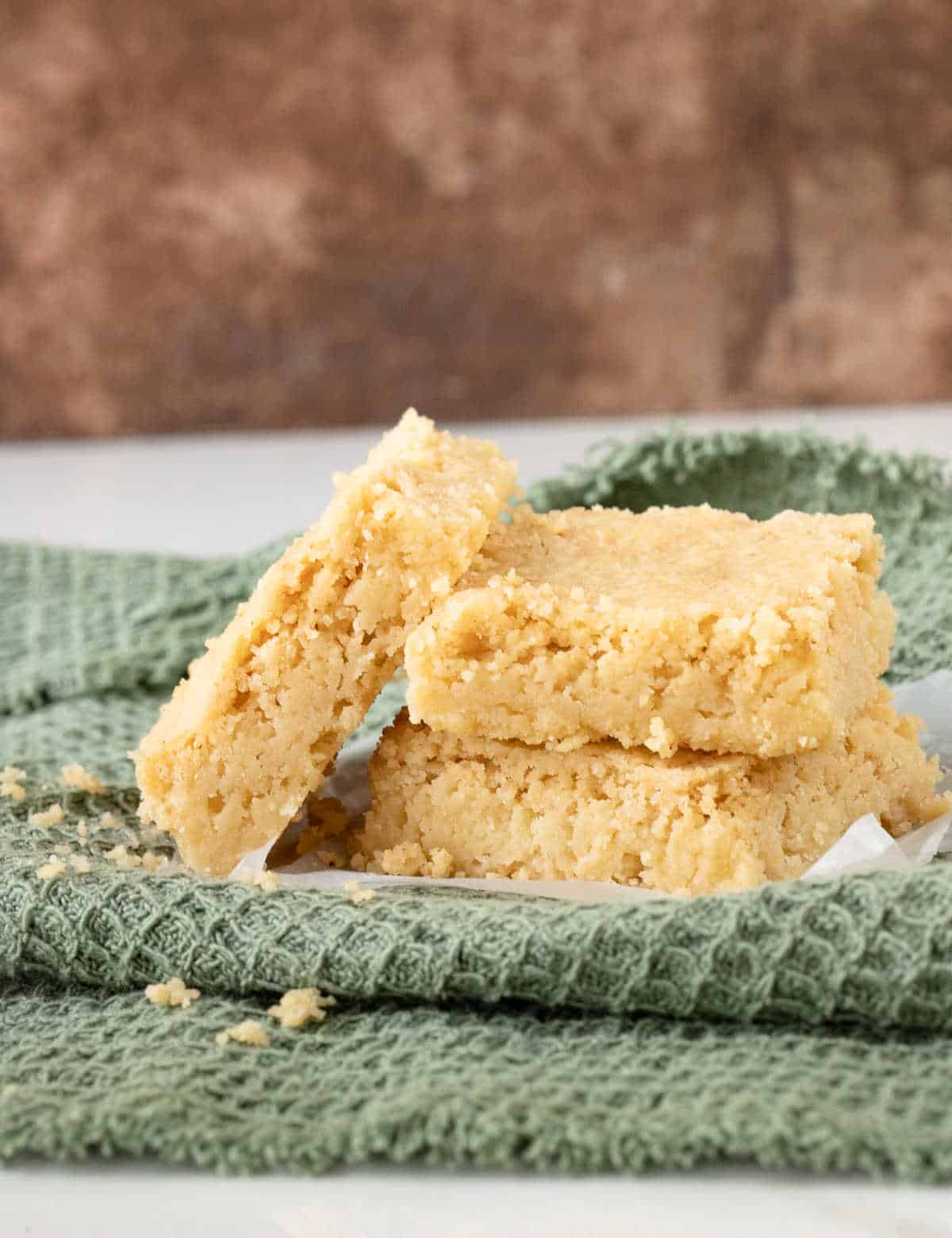 What is brown butter?
The short version is what the name implies: butter that is browned.
Also known as the French beurre noisette (translates as hazelnut butter), it's butter (salted or unsalted) that is heated or cooked long enough for the water (yes, butter has water in it, sometimes a lot) to evaporate.
This leaves behind the solids that start to brown, turning golden or amber in color, and with a beautiful nutty aroma (hence the hazelnut reference).
Truly worth making, even though it's an extra step.
We have a whole post dedicated to it: how to make brown butter.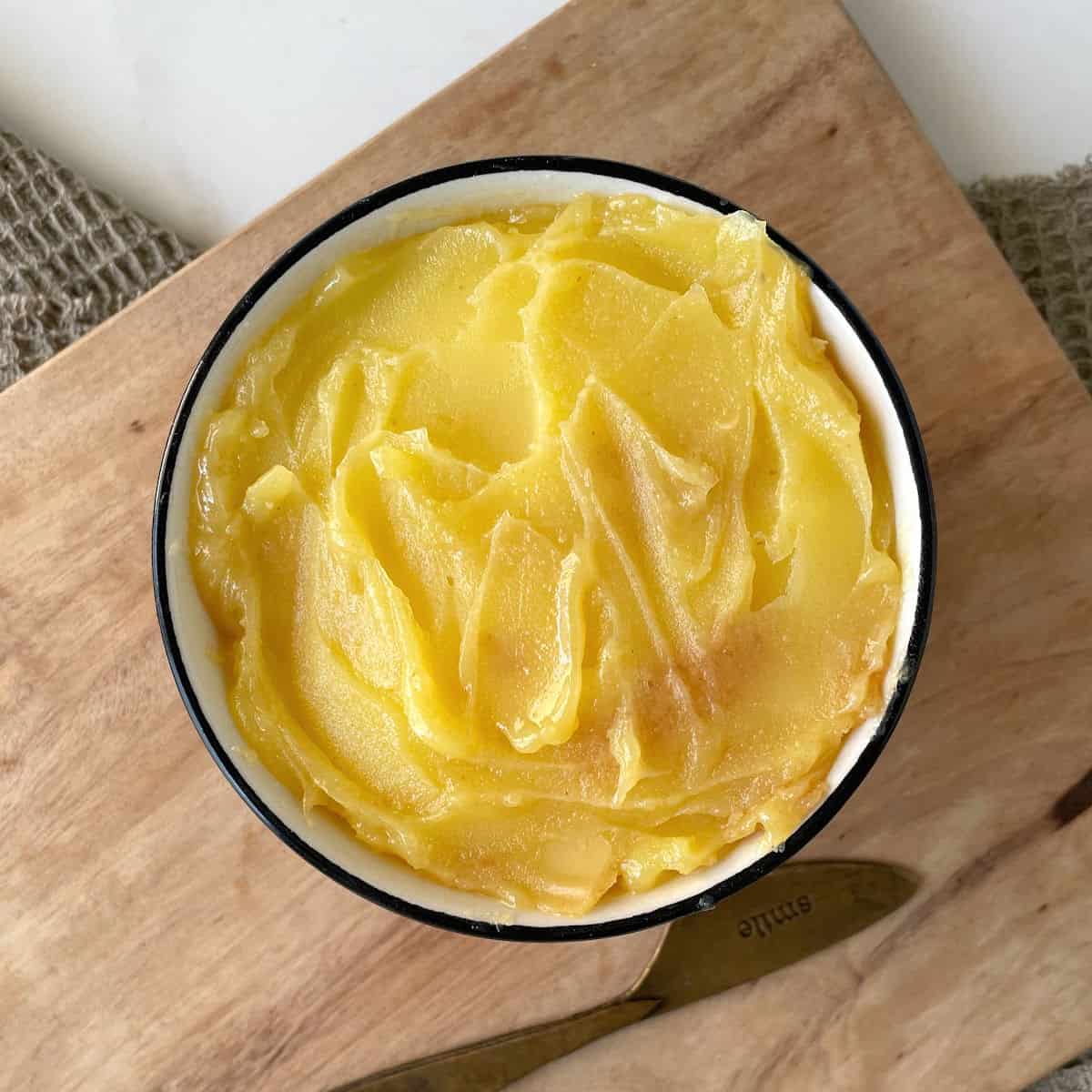 Tips to make brown butter shortbread
Shortcuts: make the brown butter ahead. It keeps for a month (at least) in an airtight container in the fridge and longer in the freezer.
Don't overwork the dough: for a tender shortbread, make sure the mixture is not kneaded or overmixed. This is not a pie crust that needs to come completely together. The mixture will be crumbly and come together as you pat it in the pan. A light touch is needed.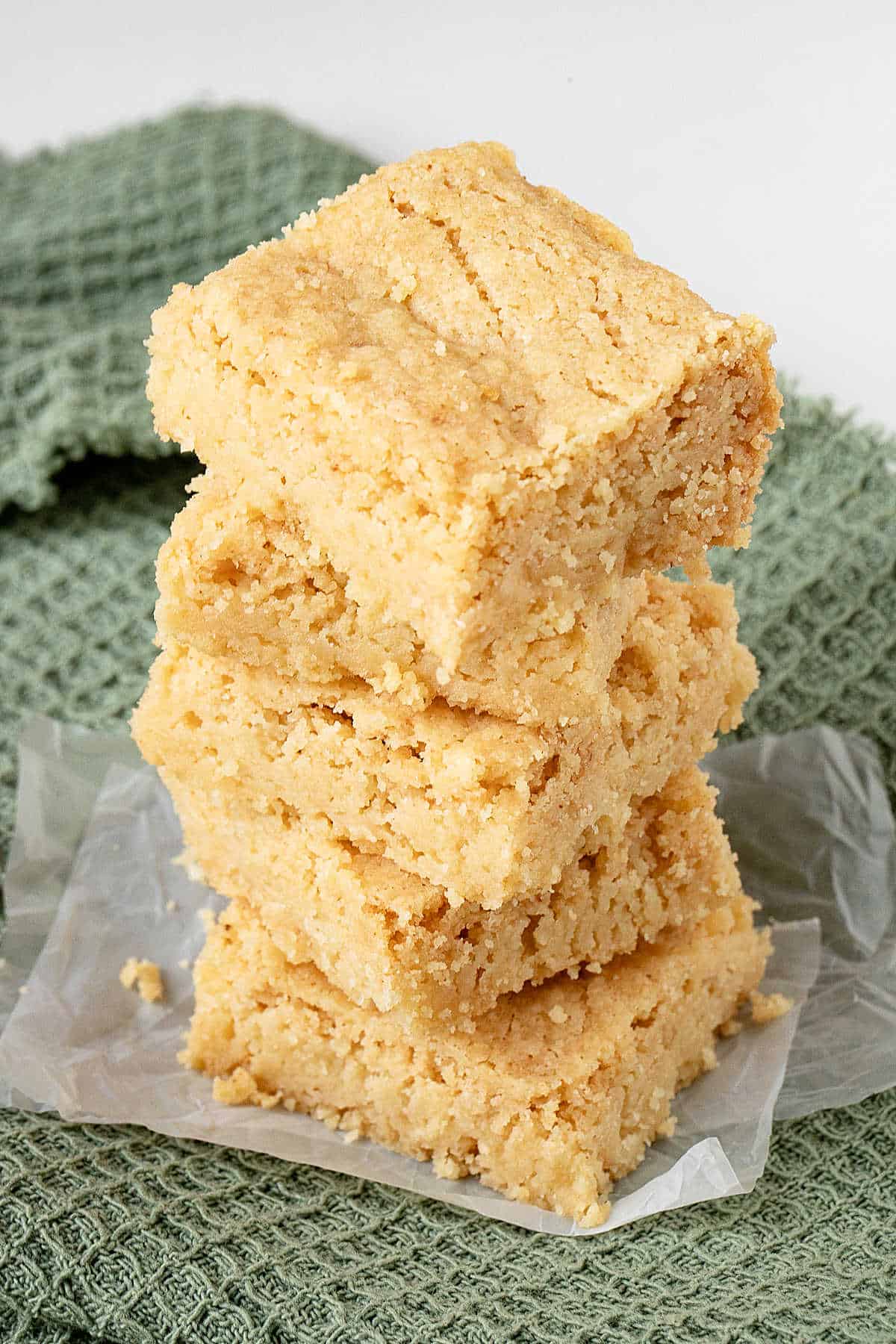 Brown butter goes from clear to brown in a second.
Much like caramel suddenly turns a very deep amber. So after melting the butter, it will bubble a lot and suddenly, the bubbles will subside. That's when it turns nutty and darker. It takes about 10 minutes.
So don't answer the phone, check your e-mail, or stuff like that. Stay by the stove. Please.
Kitchen notes
Organization: read the recipe first and ensure you have ingredients at the correct temperature, equipment, and enough workspace. This will make the process so much easier.
Baking time: keep in mind that all ovens and pans are different, even if they look the same or very similar. The baking time in my recipes is as accurate as it can be, but it might take you more or less time. You can use a thermometer(like the OXO oven thermometer) to check that your oven is at the right temperature. I recommend you keep track of how your oven works and what tiny details you might need to adjust.
Make ahead: shortbread can be kept in tins for a few weeks.
Toppings: you can drizzle them with melted semisweet chocolate or a citrus glaze.
---
Related recipes you might like:
---
Let me know in the comments below if you made this recipe and loved it and if you had issues so we can troubleshoot together. I love to hear what you think, always. Thanks for being here. It's much appreciated.
You might also consider subscribing to our FREE email series to Boost your Home Baking Skills! And our regular newsletter.
And let's connect via Facebook, Instagram, and Pinterest.
Print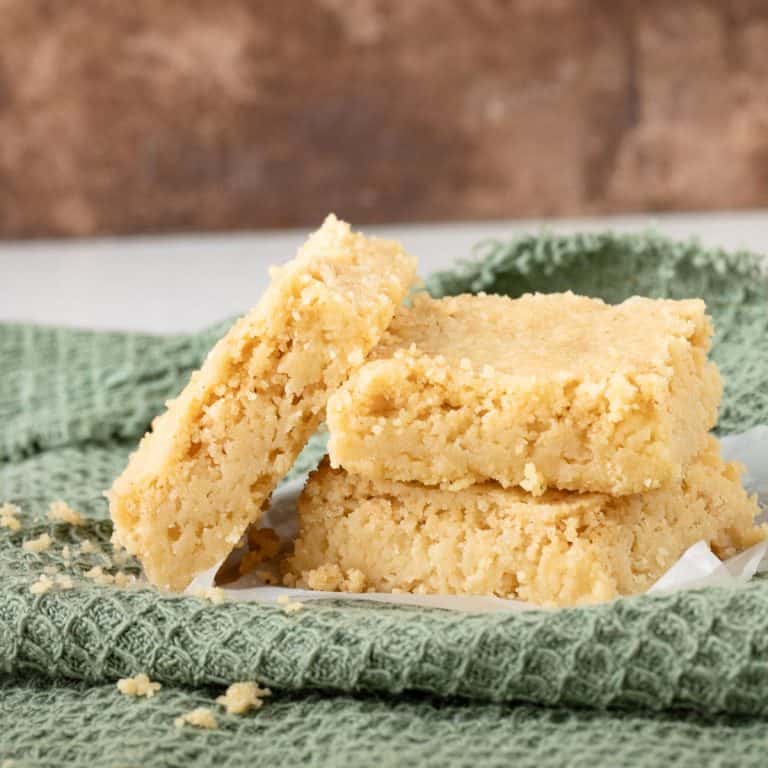 Brown Butter Shortbread
Total Time:

50 minutes

Yield:

12 squares
8

oz

. (1 cup) unsalted butter

2 teaspoons

lemon juice

1 ½

cups

all-purpose flour

½

cup

cornstarch

1 teaspoon

baking powder

⅛ teaspoon

salt

1 teaspoon

vanilla extract or paste

1 tablespoon

milk

¾

cup

granulated sugar
Instructions
In a medium bowl, put ice cubes and fill with cold water, so you have an ice water bath to stop the browning of the butter.
In a medium saucepan, melt butter. Stir often and let it boil. The mixture will be yellow and the bubbles will be large. After 8 to 10 minutes, it will start to darken and smell nutty. Dark flecks will appear at the bottom of the pan. Remove from heat and add lemon juice. Stand back, since it will bubble up furiously. Put the saucepan on top of the icy water and let the butter firm up.
Transfer the cold browned butter to a large bowl.
Add, sifting, the flour, cornstarch, baking powder, and salt. Mix well with a wooden spoon or spatula.
Add vanilla, milk, and sugar. Mix until everything is well combined. It may appear a bit dry. If you need to, put everything on a working surface and knead it into a ball. Don't overwork the dough.
Make a log and wrap it in plastic. Refrigerate for 1 hour or until it is firm enough to cut without cracking or losing shape.
About 15 minutes before cutting the cookies, preheat the oven to 300º F / 150º C.
Line a baking tray with parchment paper.
Pat the dough and even it out. It will be uneven, and that's fine.
Bake for about 30 minutes, until it's dry on top and starting to brown.
With a smooth-bladed knife, without cutting it all the way through, mark the block in half and then into sticks while the shortbread is hot and in the pan. This will help you cut them more easily after you remove them.
Transfer to a wire rack and cool completely.
Store in a covered tin.
Author:

Paula Montenegro

Prep Time:

20 minutes

Cook Time:

30 minutes

Category:

Cookies

Method:

Baking

Cuisine:

International
Keywords: brown butter shortbread
From Best Dessert Book Ever, by Maida Heatter