The buttery crunch of shortbread is unmistakable, and the nutty flavor of brown sugar mixed with vanilla will make it impossible for you to resist them.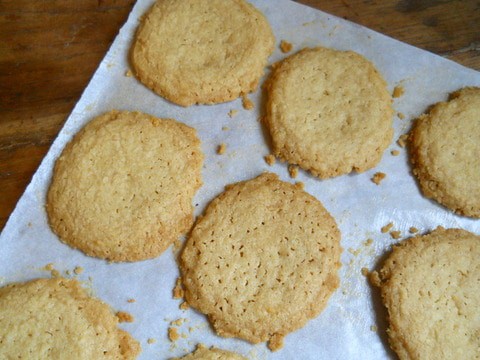 Don't be fooled by the rustic appearance of these brown butter shortbread crisps. Or come to think of it, it'll be better if you are fooled and expect nothing. You're in for a surprise.
Can this be the best tasting, most addictive shortbread ever? I think so and you might agree.
There is something about brown butter. It might have a place of its own in the food pyramid, unlike any other thing. Is it possible to use brown butter from now on in every single recipe that calls for melted butter? Or am I exaggerating a bit? If I am, it's just a bit. Must be the butter overdose after eating these. It's the brown butter-fueled brain talking.
Now, if you're frowning your forehead or just sighing resigned, unable to understand such blunt advocacy of butter, I will tell you that, you still haven't seen a picture of these in tiny bites filled with dulce de leche. And worse, you haven't seen me eat many of them in a few minutes. They were just a few bites.
And they were worth every single greasy, artery-clogging calorie.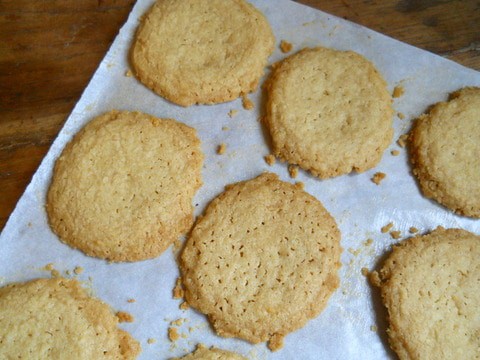 Now, about the actual recipe.
Brown butter goes from clear to brown in a second.
Much like caramel suddenly turns a very deep amber. So after melting the butter, it will bubble a lot and suddenly the bubbles will subside. That's when it turns nutty and darker. It takes about 10 minutes.
So don't go answer the phone, check your e-mail, or stuff like that. Stay by the stove. Please.
Print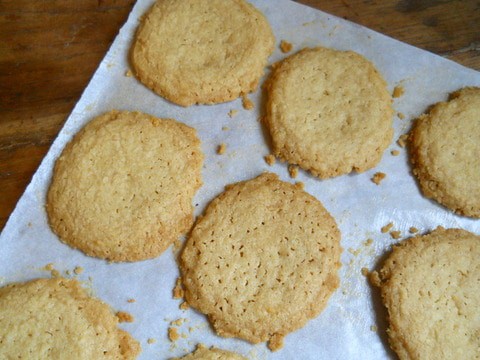 Brown butter shortbread crisps
Total Time:

50 minutes

Yield:

12 squares
8

oz

. (1 cup) unsalted butter

2 teaspoons

lemon juice

1 ½

cups

all-purpose flour

½

cup

cornstarch

1 teaspoon

baking powder

⅛ teaspoon

salt

1 teaspoon

vanilla extract or paste

1 tablespoon

milk

¾

cup

granulated sugar
Instructions
In a medium bowl, put ice cubes and fill with cold water, so you have an ice cold water bath to stop the browning of the butter.
In a medium saucepan melt butter. Stir often and let it boil. The mixture will be yellow and the bubbles will be large. After 8 to 10 minutes it will start to darken and smell nutty. Dark flecks will appear in the bottom of the pan. Remove from heat and add lemon juice. Stand back, since it will bubble up furiously. Put the saucepan on top of the icy water and let the butter firm up.
Transfer the cold browned butter to a large bowl.
Add, sifting, the flour, cornstarch, baking powder and salt. Mix well with a wooden spoon or spatula. Add vanilla, milk and sugar. Mix until everything is well combined. It may appear a bit dry. If you need to, put everything on a working surface and knead it into a ball. Don't over work the dough.
Make a log and wrap it in plastic. Refrigerate for 1 hour or until it is firm enough to cut without cracking or loosing its shape.
About 15 minutes before cutting the cookies, preheat oven to 300º F / 150º C.
Line a baking tray with parchment paper.
With a sharp knife, cut ½ inch rounds and put side by side on the paper, leaving an inch in between them.
Bake for about 30 minutes, until they are a bit golden.
Transfer to wire rack and cool completely. Store in a covered tin.
Prep Time:

20 minutes

Cook Time:

30 minutes

Category:

Cookies

Method:

Baking

Cuisine:

International
Keywords: brown butter shortbread
From Best Dessert Book Ever, by Maida Heatter