A sweet and warmly spiced pie with a wonderful contrast of creamy potato filling and crunchy graham crust. It's a great pie for beginner bakers or to impress everyone at Thanksgiving with a different dessert option.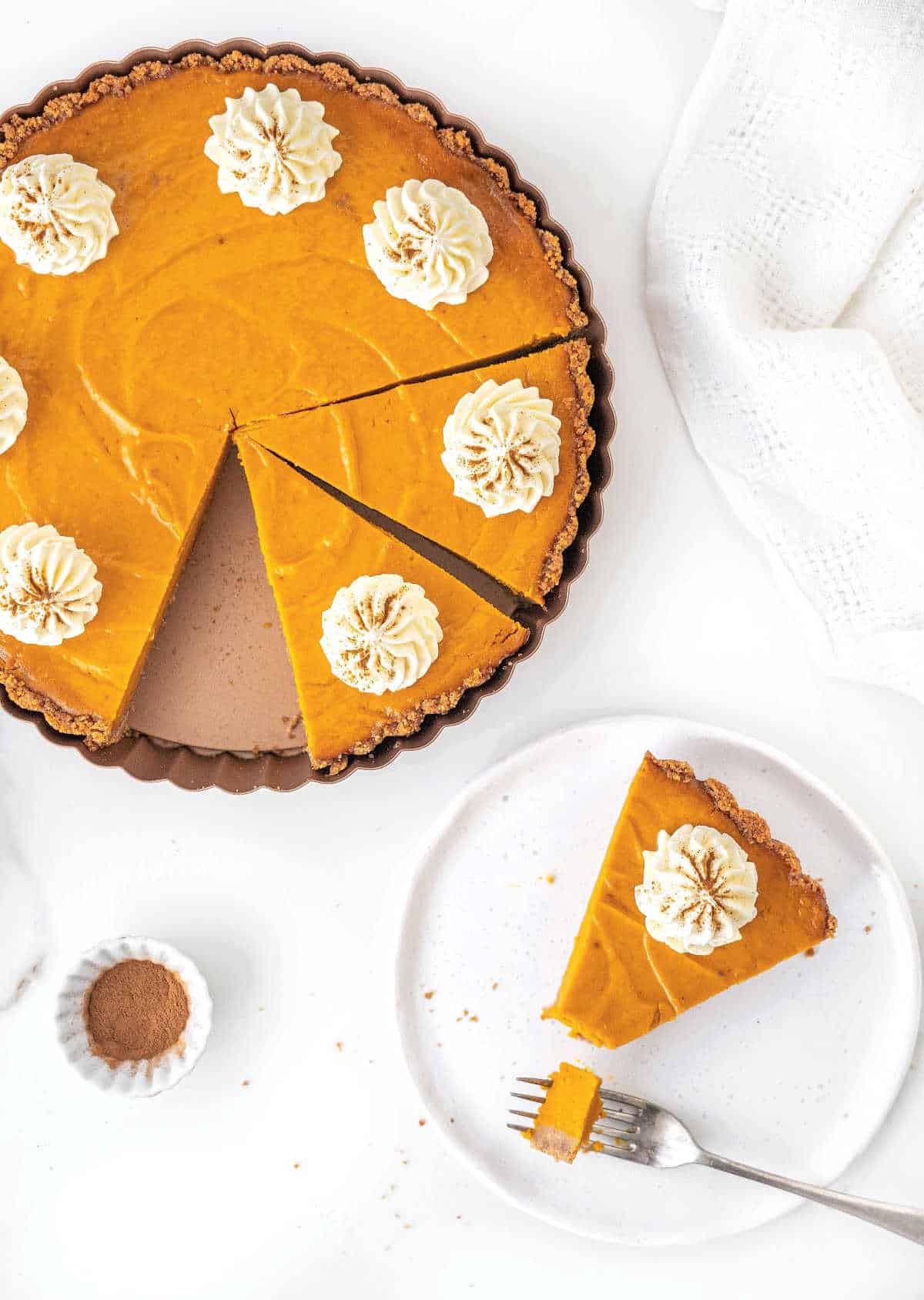 Sweet potato pie is the awesome cousin to the popular easy pumpkin pie and sibling to the condensed milk sweet potato pie.
It's a crowd-pleaser, bringing raves from everyone at the Thanksgiving table!
We serve it with sweetened whipped cream, complementing but not overpowering the smooth and rich filling. The main ingredient is sweet potato puree, which can be a bit sweeter than pumpkin.
The easy crumb crust is a time saver and qualifies as a winner, making this recipe a last-minute holiday dessert option. For more of these easy pies, I posted a recipe roundup about pies with graham cracker crust.
Why make this pie
Quick and easy: since it uses a graham cracker crumb crust and the filling comes together in a few minutes, it's at the top of my list for desserts for the holiday season. And fall gatherings in general.
Flavorful: it's creamy and uses Fall spices that can be adjusted to your preference.
Make ahead: it keeps well for several days and can be frozen.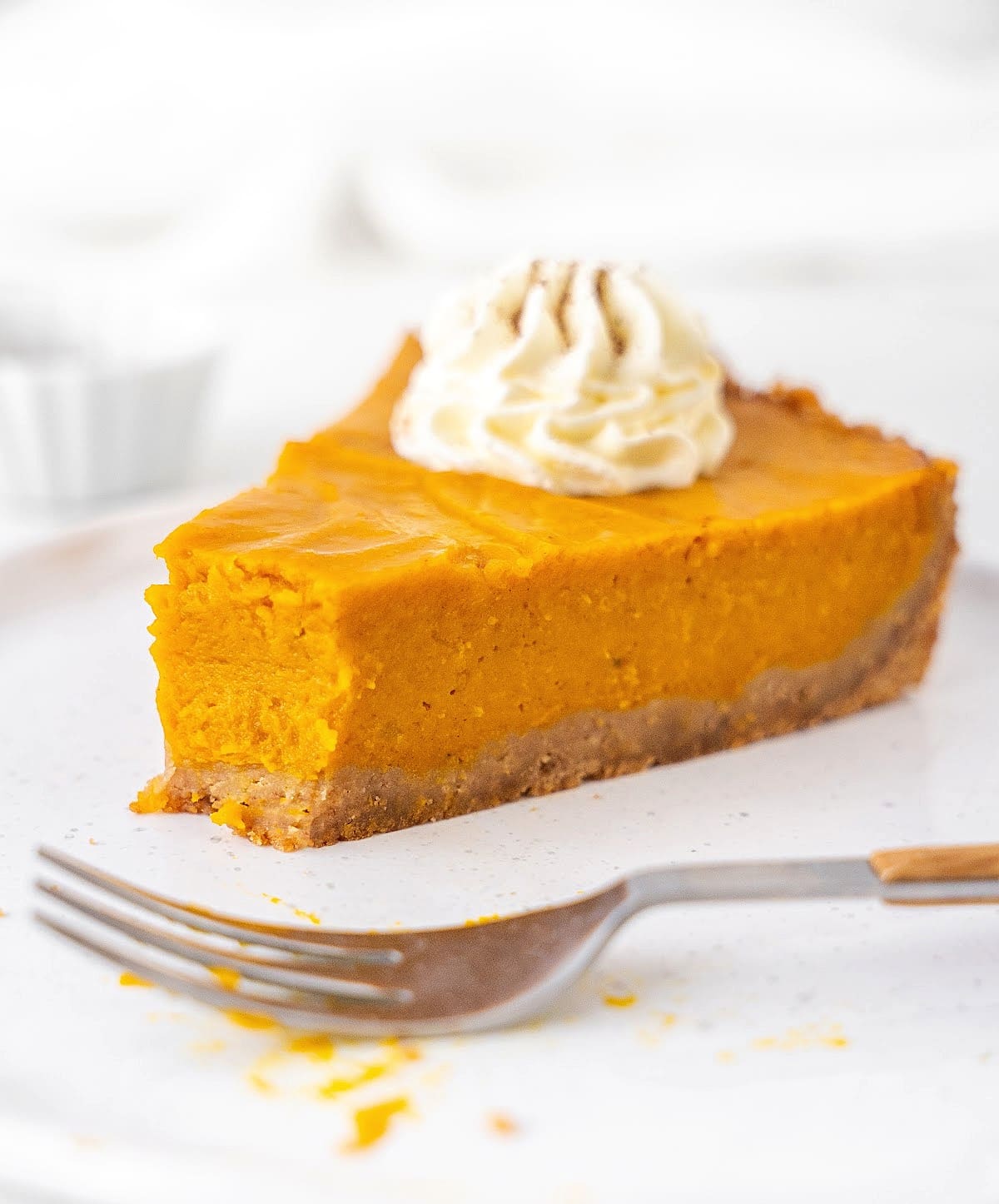 Ingredient list
See the recipe card at the end of this post for quantities.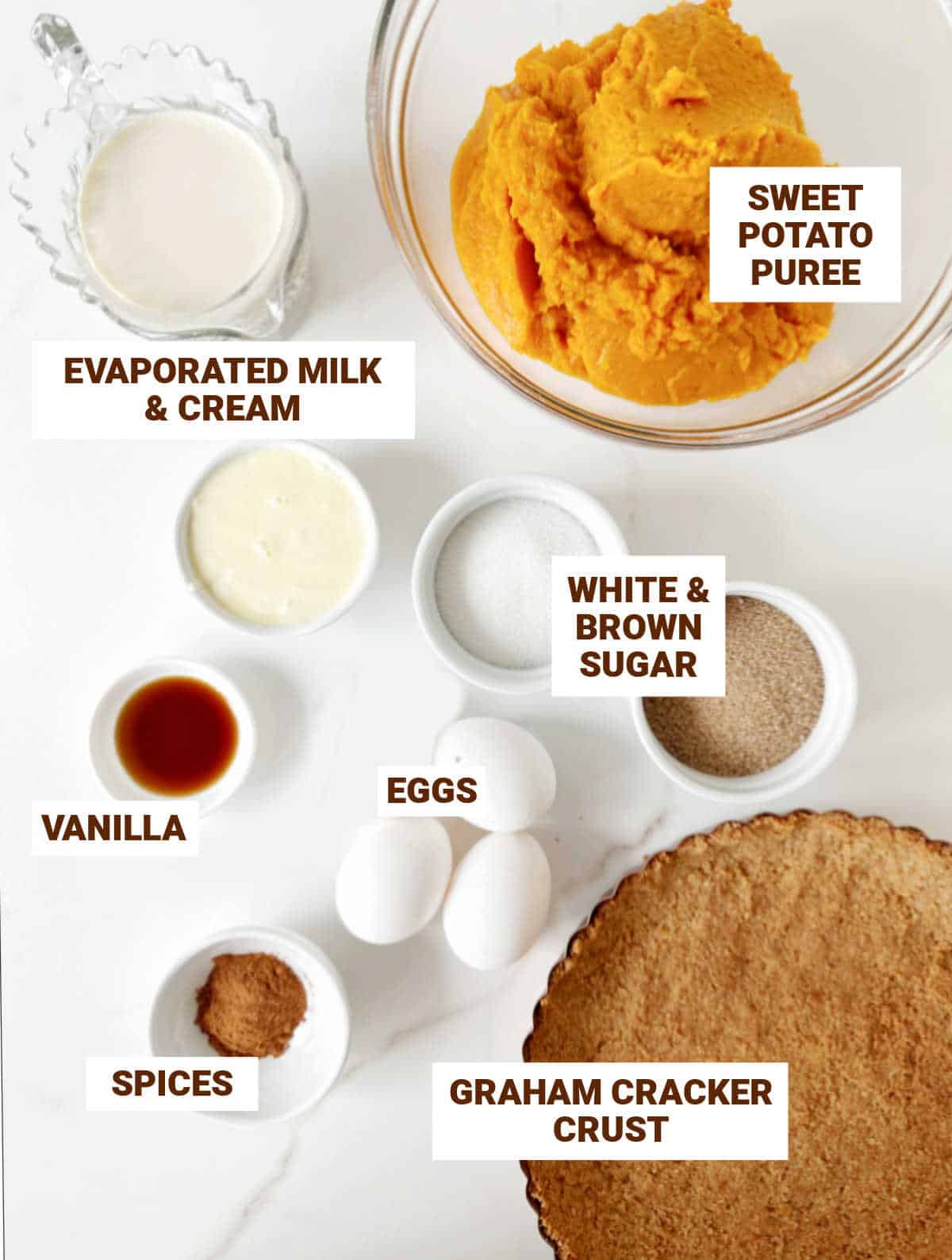 Variations & substitutions
Sugar: use white granulated sugar instead of brown. It sweetens a tad more and you don't get that caramel tone, but the pie will be delicious anyway.
Store-bought crust: if in a hurry, you can use a graham cracker pie shell from the grocery store.
Individual pies: use mini graham cracker crusts to make mini desserts.
Easy graham cracker crust
This is a simple cookie crumb crust, similar to the one used for the popular cheesecake pie.
Graham crackers are traditional cookies found mostly in the US with honey, earthy sweet flavor. They are amazing in a pie, and you can make your own graham crackers.
Food processor: you need fine crumbs, so using a processor is the best choice to save you time and make it easier. It will ensure an even crust that can be easily patted on a pie pan.
No food processor for the crumbs? Use a rolling pin, put the crackers in a large Ziploc bag, leaving a small opening (or directly on the counter, but make sure there's a lot of space as bits will spread around), and roll them until you crush them completely and have a fine mixture. It will take several minutes, but it can be achieved.
No need to pre-bake the crust as the sweet potato pie filling has to be baked.
Check out our homemade graham cracker crust post with images and a video.
How to make the sweet potato filling
This is a super easy pie filling! Just mix the ingredients, and that's it. A hand mixer or whisk and a bowl are all you need.
Don't beat the sweet potato mixture. You need to stir or whisk it more than beat it. There's no need to incorporate air, resulting in the filling puffing up too much when baked. It does rise a bit during baking, and that's normal, but we want it to stay creamy, similar to a cheesecake.
No need to use an electric mixer, though you can. Use it at the lowest speed. Add the eggs, one at a time, integrating them well without beating. This is important for a creamy consistency.
Vintage Kitchen tip: make sure the ingredients are at room temperature, as that will ensure they integrate well and create a smooth filling.
Baking
When is the pie done? Start checking 5 minutes before the given time in the recipe. The center should still jiggle a little. It will firm up as it cools down and then when it's refrigerated.
Chilling: for smoother results, let the pie cool, cover, and refrigerate for several hours (or up to 2 days) before serving.
The filling reaches the top of the pie crust without overspiling. The pie is removed when the center is still slightly jiggly. After it's cooled down and refrigerated, the filling will be smooth and cut wonderfully.
Kitchen notes
Organization: read the recipe first and ensure you have ingredients at the correct temperature, equipment, and enough workspace. This will make the process so much easier.
Baking time: keep in mind that all ovens and pans are different, even if they look the same or very similar. The baking time in my recipes is as accurate as it can be, but it might take you more or less time. You can use a thermometer(like the OXO oven thermometer) to check that your oven is at the right temperature. I recommend you keep track of how your oven works and what tiny details you might need to adjust.
Mini sweet potato pies: you can use small, individual mini pie pans and serve each guest their own dessert. Use medium ones (not bite-sized, unless it's a cocktail party). You can also make shots or trifles, alternating layers of the crust with filling and whipped cream.
Make it your own: adjust to your and your family's palate regarding the amount of spices, sweetness, and how you like to serve it. You can add up to 2 tablespoons of maple or corn syrup in addition to the sugar if you like a different or sweeter flavor. Use the spices that you like. I don't like cloves much, so I use them sparingly. But you might love it, so go ahead and change the proportions and use more of it.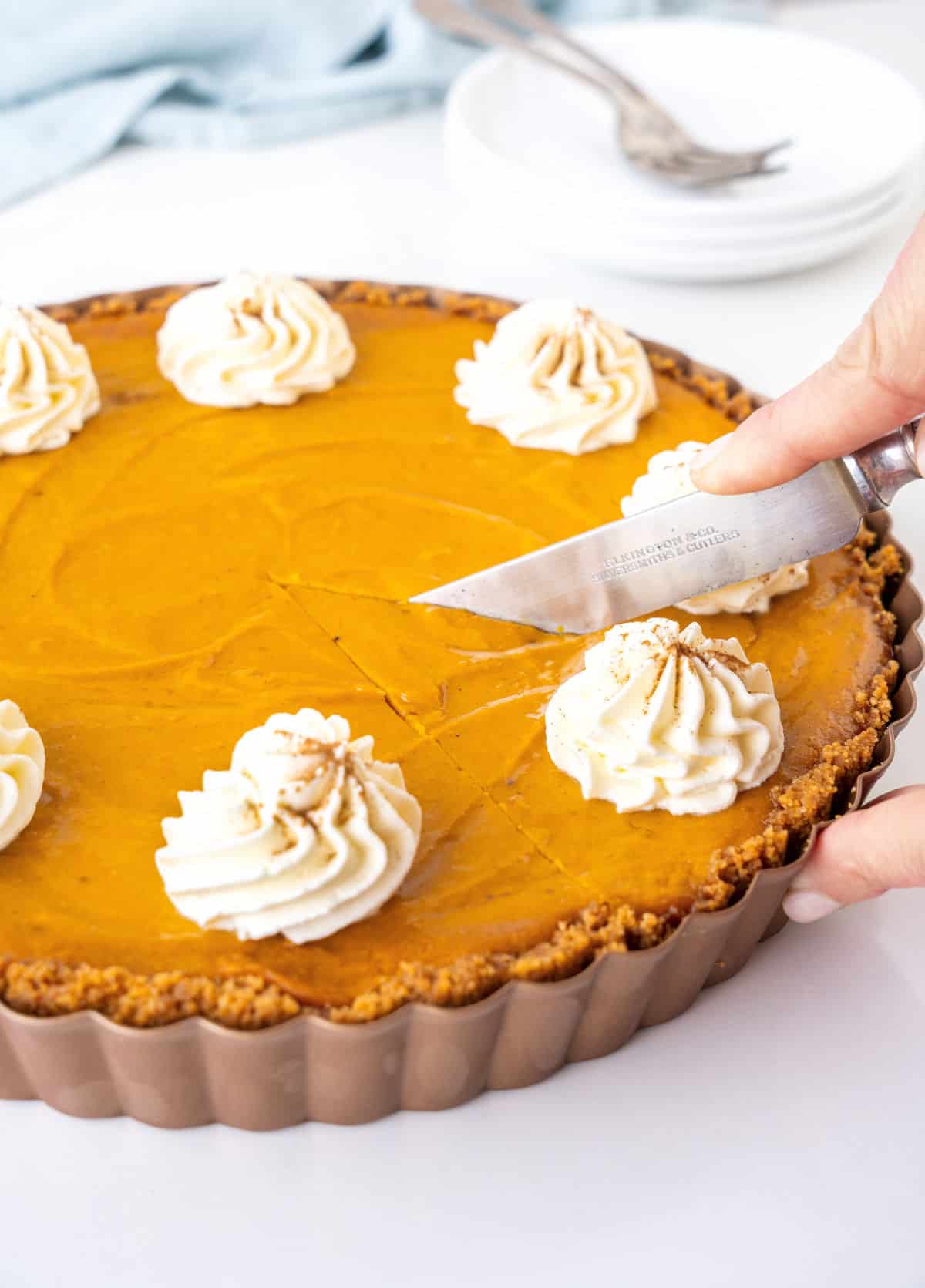 Serving
This pie can be eaten at room temperature or somewhat cold. I don't recommend it straight from the fridge, as the flavors are a bit lost when it's too cold.
Whipping cream: this is a favorite way after eating sweet potato pie. A simple topping that makes it even more luscious. Find directions on how to whip cream here.
We pipe it around the edges of the pie, but you can add a dollop to the slice on the plate or mound it in the middle.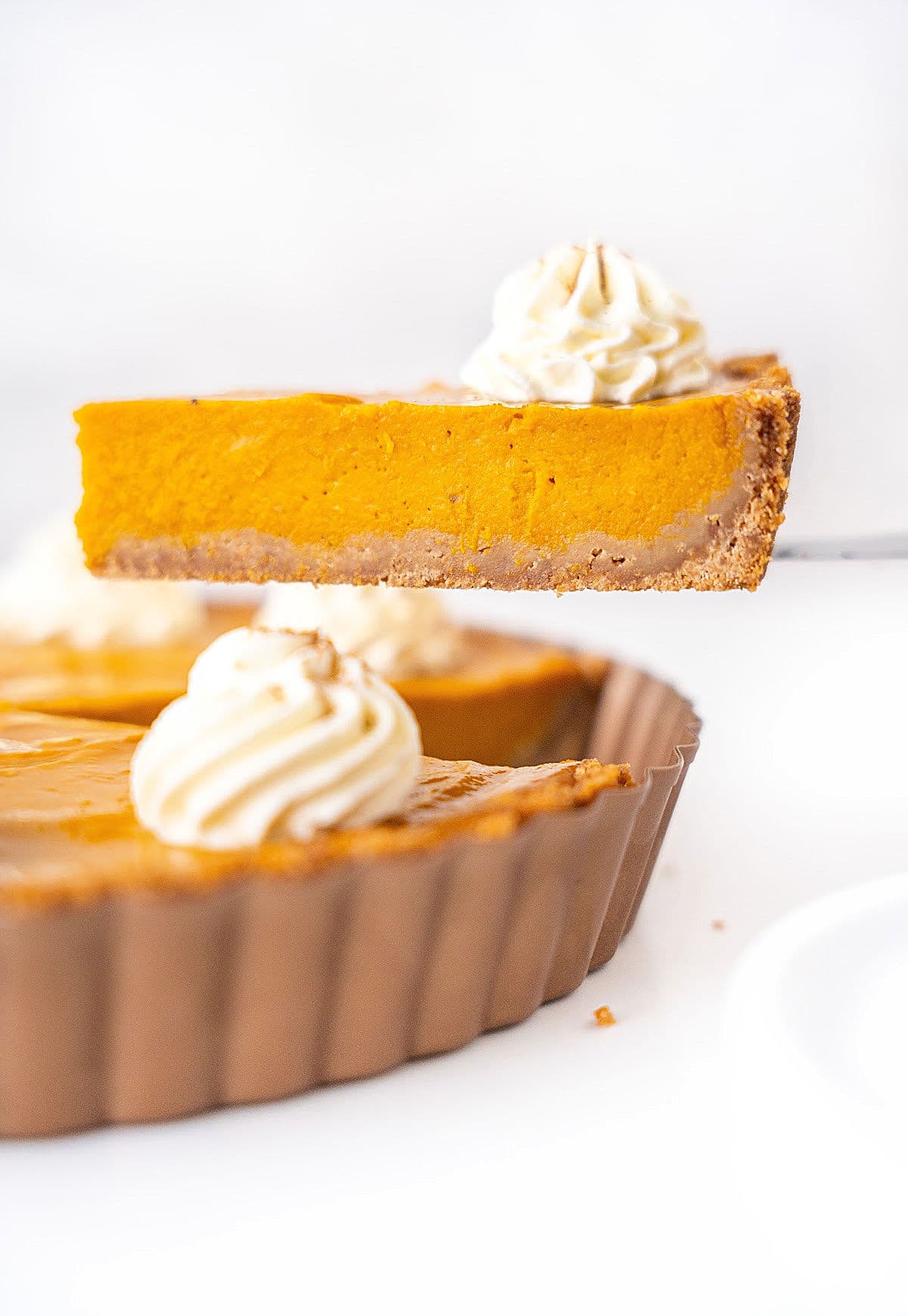 Storing
At room temperature: it keeps well, covered in plastic wrapped or under a cake dome, the day it's made and before you add the whipped cream, if you're using it.
Refrigerating: once you add the whipping cream, keep it in the fridge and cover it (without crushing the topping too much) to prevent it from drying out quickly. I use plastic wrap, but you can use aluminum foil or a pie container with a lid that fits in your fridge.
Freezing: wrap the cooled pie (without the topping) in plastic, then aluminum foil. Place it in an airtight container or a resealable freezer bag. Be sure to label it with the date. It can be frozen for up to a month. To thaw, transfer it to the refrigerator for several hours or overnight. Do not thaw it at room temperature. It's always a good idea not to subject the pie to go from one extreme temperature to another.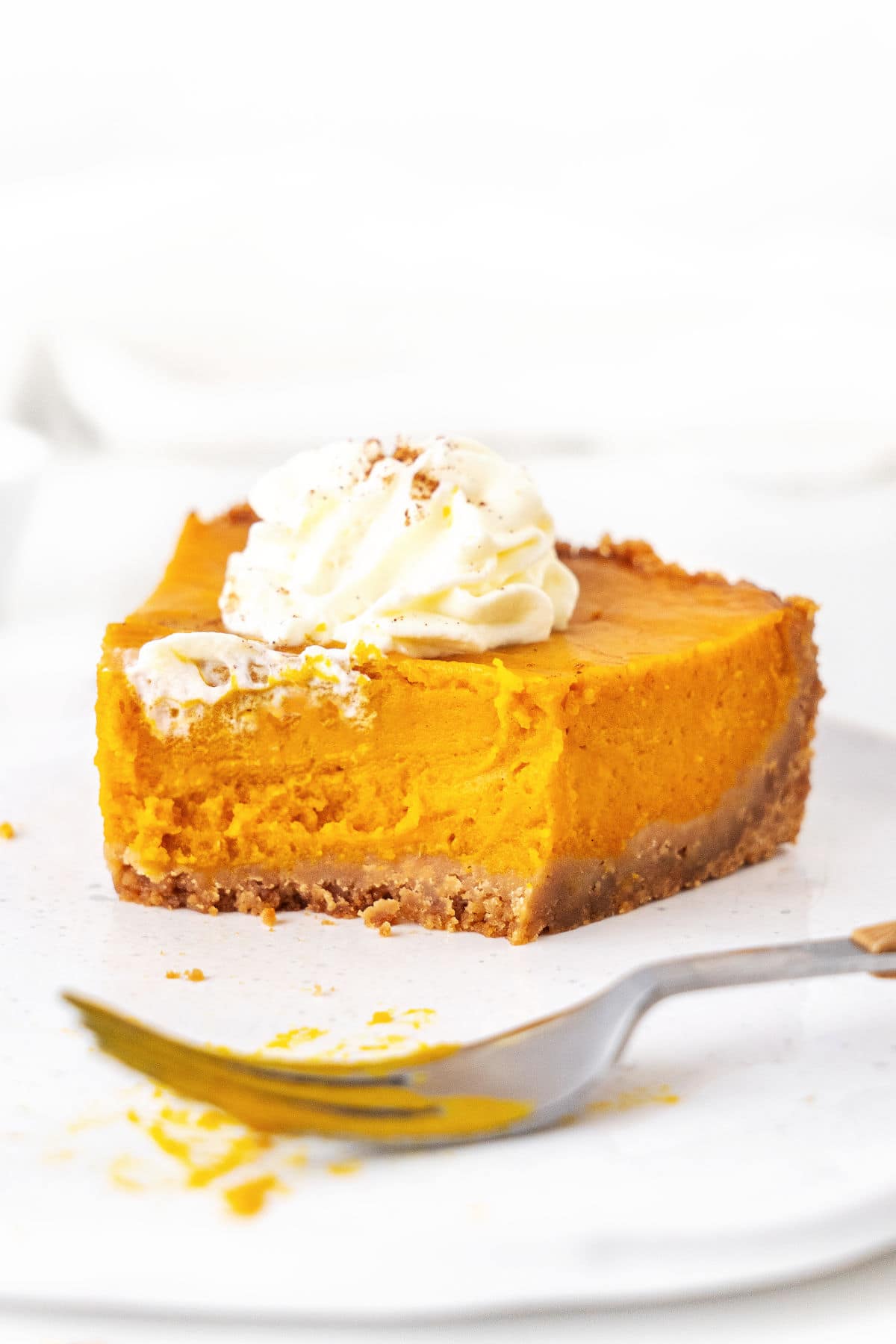 ---
Related recipes you might like:
---
Let me know in the comments below if you made this recipe and loved it and if you had issues so we can troubleshoot together. I love to hear what you think, always. Thanks for being here. It's much appreciated.
You might also consider subscribing to our FREE email series to Boost your Home Baking Skills! And our regular newsletter.
And let's connect via Facebook, Instagram, and Pinterest.
As an Amazon Associate, I earn from qualifying purchases. Please read my disclosure policy.
Print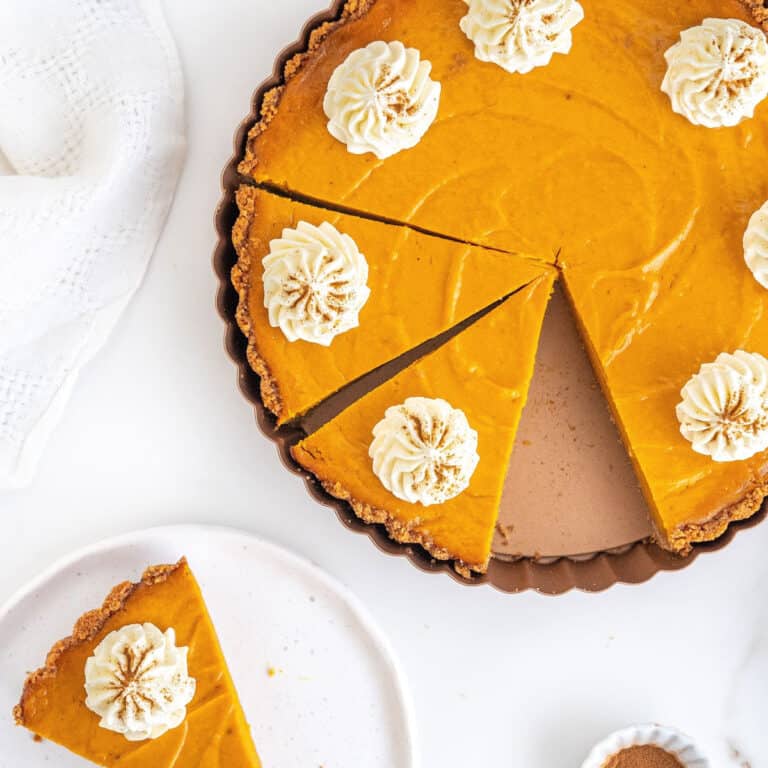 Sweet Potato Pie (easy graham crust)
A great addition to your holiday pie recipes, this delicious pie uses simple ingredients and is a fun twist on classic holiday desserts. A very easy recipe with a crumb crust (instead of the more laborious traditional pie crust) and warm spices. A fantastic idea for your sweet potato recipes.
For the crumb crust:
1 ¾

cups

fine graham cracker crumbs

2 tablespoons

brown sugar

½

cup

butter, melted
For the filling:
3

cups

homemade sweet potato puree

⅓

cup

brown sugar

¼

cup

white sugar

3

eggs, at room temperature

1

and ½ teaspoons ground cinnamon

¼ teaspoon

ground ginger

¼ teaspoon

ground nutmeg

¼ teaspoon

ground allspice
OR

1 teaspoon

apple pie spice

1 ½ teaspoons

vanilla extract

¾

cup

evaporated milk

2 tablespoons

cream
For the cream topping:
1

cup

double, heavy, or whipping cream

1 ½ tablespoons

sour cream or cream cheese

3 tablespoons

powdered sugar
Instructions
For the crumb crust:
Preheat the oven to 350°F/180°C if you're baking the crust. You can opt for simply chilling it until firm.
Have ready a 9-inch pie plate or pie pan with a removable bottom and high sides.
For the cookie crumbs, the easiest way is to use a food processor and process until you have fine crumbs. Make sure there are no large pieces or that it's a very coarse crumb mixture as it will prevent the mixture from compressing well. You can also make the crumbs by hand, but it takes a while and some patience. Crush the cookies with a rolling pin. It's easier if you put them in a large plastic bag, like a Ziploc bag, leaving it a bit open to let the air out as you roll.

By hand

: mix crumbs with the sugar in a medium bowl. Add the melted butter and combine everything until it resembles wet sand and no dry spots remain.

Food processor

: you can make the mixture directly in the bowl of the processor. Simply process the graham crackers with the sugar and add the melted butter to the bowl of the processor, pulse a few times, and you have your graham mixture ready.
Press the mixture onto the pan, starting at the edges and the angles where the base and sides join together and make sure it's compacted. This will help when removing the pie from the pan.
Chill in the fridge while making the filling.
For the sweet potato filling:
Mix the sweet potato puree with sugar in a large bowl.

Add eggs one by one, mixing well each time. I use a whisk. If you want to use an electric mixer, do so at the lowest speed.
Add evaporated milk and cream (liquid, straight from the container) and mix well. Do not beat the mixture, but integrate it well.

Add spices, vanilla, and salt, and mix until smooth and creamy.
Pour the sweet potato mixture into the prepared pan.
Bake for about 40 minutes or until it's *almost* firm in the center.

It should still jiggle a little.

Let cool completely on a wire rack, cover it with plastic wrap, and refrigerate for several hours (or up to 2 days) before serving.

Serve with sweet whipped cream dusted with cinnamon.
For the whipped cream topping:
Beat cold cream with sour cream/cream cheese and powdered sugar in a medium bowl.
Consistency of the cream: I like it to be thick but soft, so I whip it to medium peaks. But you can go all the way and beat it to firm peaks, similar to chantilly cream if you want to pipe it.
Be careful it doesn't curdle. It's what happens if it's overbeaten. You might want to beat with an electric mixer until you're almost there and then end it by hand with a whisk. It's hard to overbeat a preparation with a manual whisk.