Chewy, thick, and delicious, these are very easy one-bowl cookies with a great caramel flavor from those butterscotch chips (or chunks). They can be out of the oven in less than 30 minutes, or you can keep the dough in the refrigerator for a couple of days or in the freezer for a month.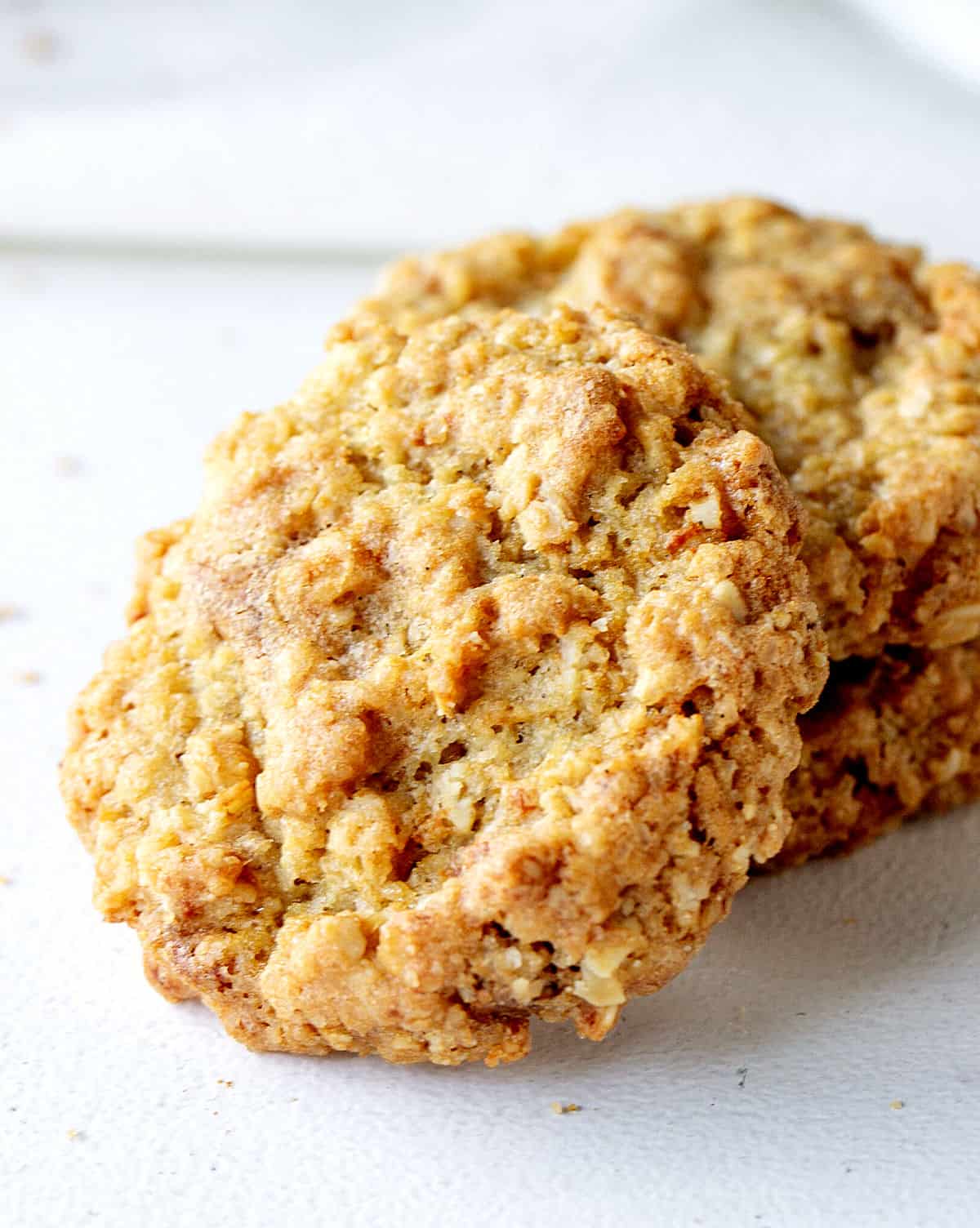 I'm pretty sure you'll love this sweeter and more festive twist on one of our favorite cookies. Who doesn't love them? Even though I love the Oatmeal Walnut Cookies, at this time of year butterscotch morsels are the way to go!
Are you baking cookie boxes or gifts? This is a great recipe because it travels well and can be frozen if you want to make ahead (instructions for that is further down this post).
Other ideas that I love to bake and gift or take as hostess' gifts are Lemon Crinkles, Chocolate Sandwich Cookies, and gingersnaps.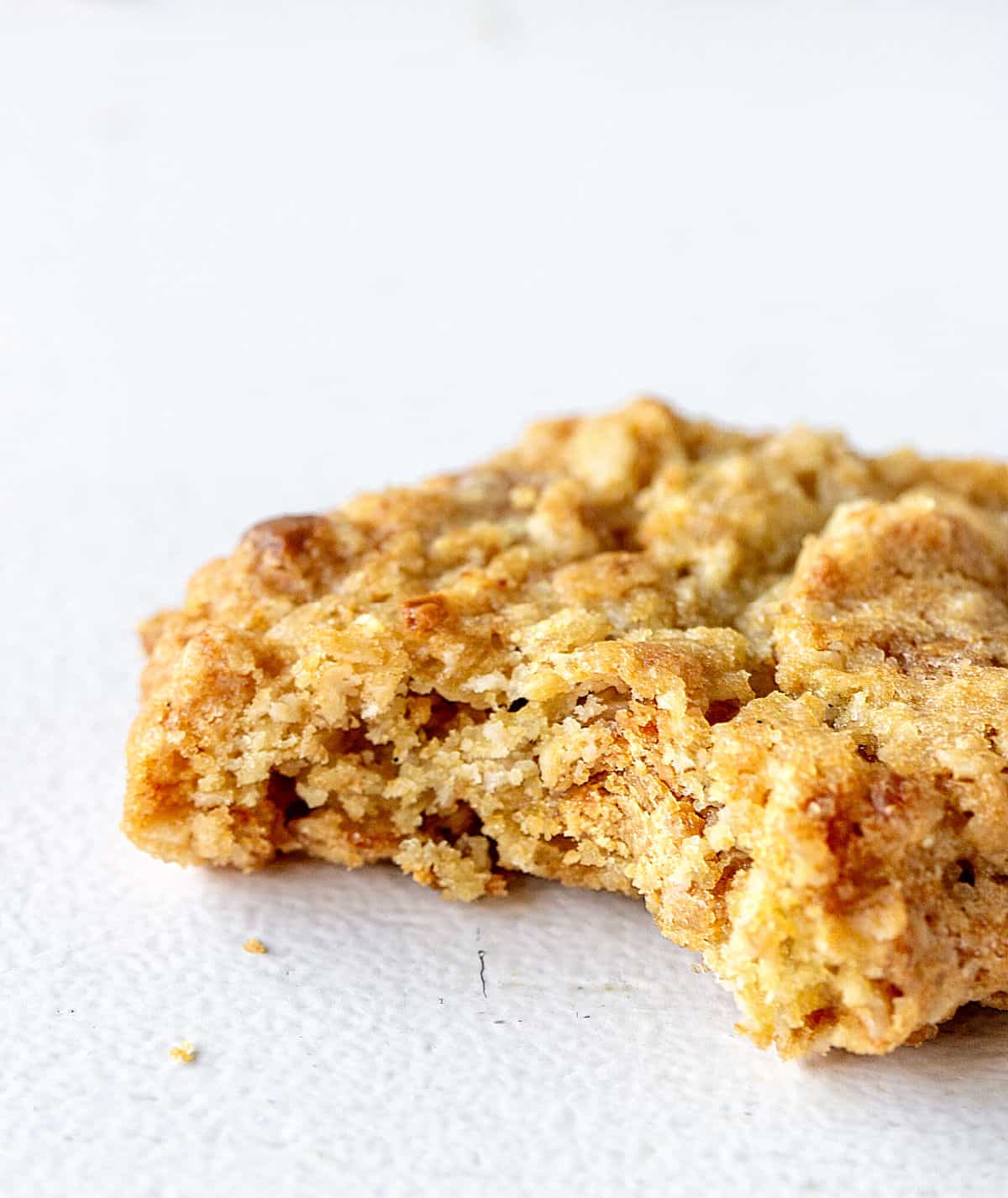 Main ingredients
Oats: I like traditional oats because of the rustic feeling and bite it adds to these cookies, but instant can also be used. My tests show that they will make it the cookies softer and chewier.
Sugar: I use that magic combination that is white and brown sugars together, but you can use only one if that's all you have. All white will make them sweeter and only brown usually adds more moisture and caramel flavor.
Butterscotch chips: I also love to use chunks as you can see in the image below. But chips work fantastically well and are more easily available.
Vanilla: this is the only flavoring I use in this recipe and I personally love vanilla paste, but any pure extract works.
I post links to my favorite brands of ingredients in the Notes in the recipe card, at the end of this post.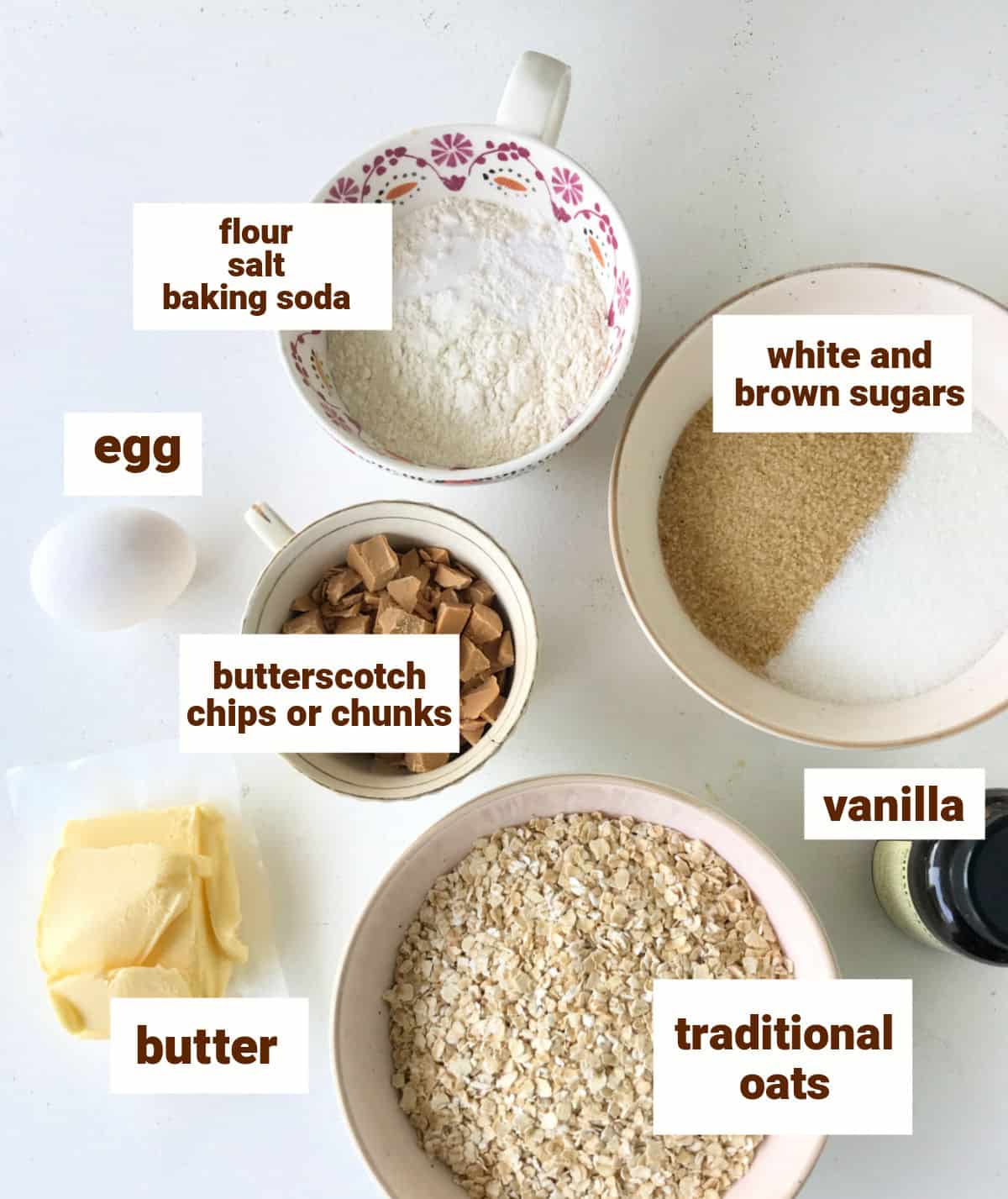 Easy steps
This is a one-bowl cookie recipe that can be made with a whisk and spatula or an electric hand-held beater. If doubling it I recommend a stand mixer for easier mixing.
---
1
Soft butter is beaten with sugars
2
Egg and vanilla is added
3
Dry ingredients and oats are added in parts to integrate better
4
I like to use a spatula but you can also make this dough with an electric beater
5
Add butterscotch chunks or chips
7
Scoop portions on parchment paper and bake as directed
8
Soft, chewy but full of texture!
---
Freezing
This is one of the best ideas not only for holiday baking, but also to have at all times and bake fresh butterscotch oatmeal cookies every time you feel like it.
Short freezing: my favorite way is scooping the cookies like in the image below and popping the cookie sheet directly into the freezer until you want to bake it. This is great when you're making them the next day or two. No need to defrost them, simply bake them directly from the freezer. They might take an extra minute of baking.
Longer freezing: cookie dough can be frozen for a month, and if this is your intention, scoop the cookies in the same way as the image below, but don't leave space between them. You will be able to pack probably the whole recipe in one sheet. Put the sheet in the freezer and when the mounds are rock solid, transfer them to a bag and remove the cookie sheet from the freezer. This way you'll save a lot of space.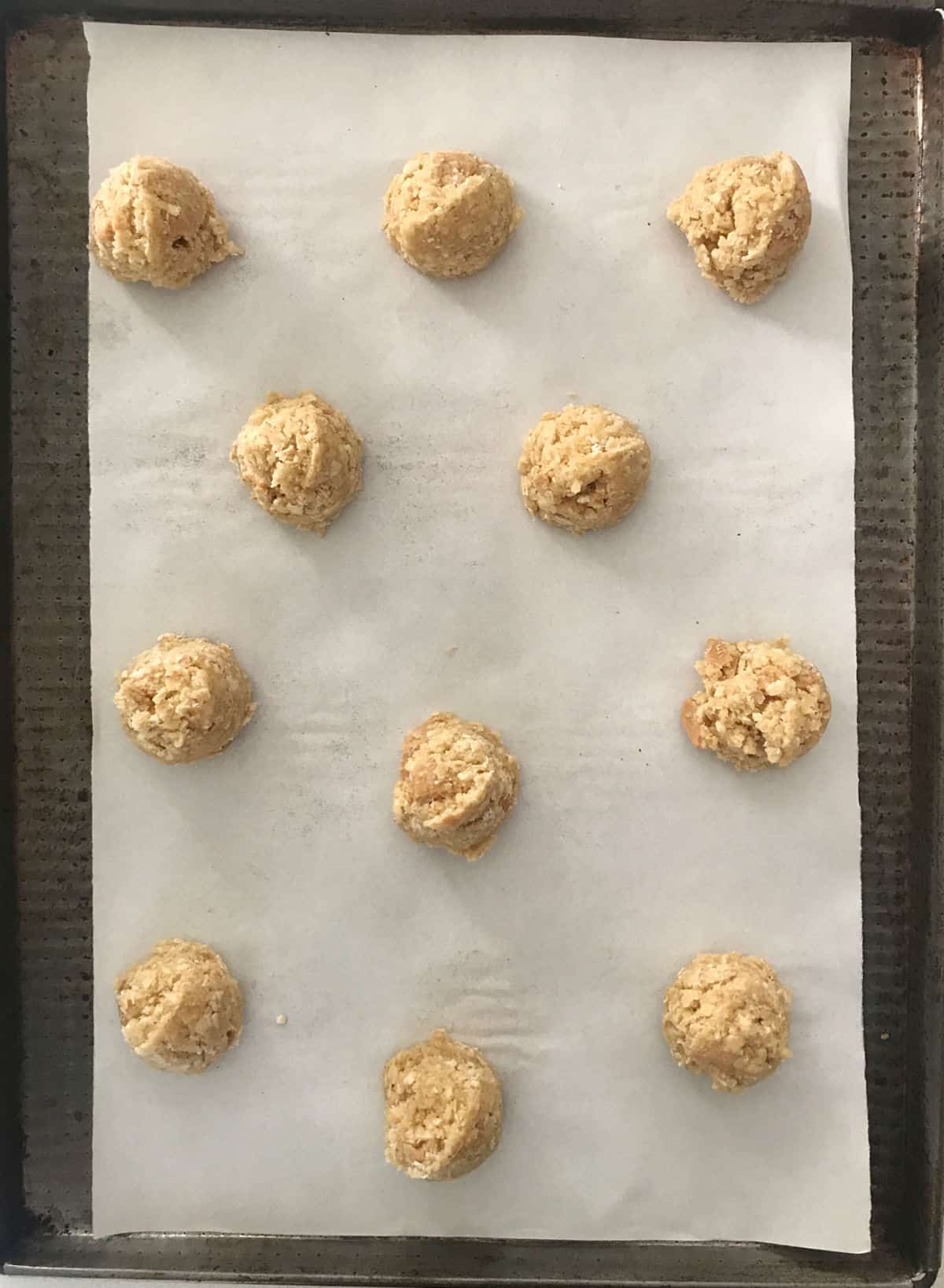 Storing
As with most cookies, they can be stored in airtight tins or cookie jars. They will become softer as the days go by.
Also, cookies can be frozen after they are baked, well wrapped. But I think the method mentioned before in the freezing section is better. The freezer dries them out in the long run and, since they are already baked, they will be drier than fresh ones. If you do freeze them after baked, warm them slightly in a medium oven before eating.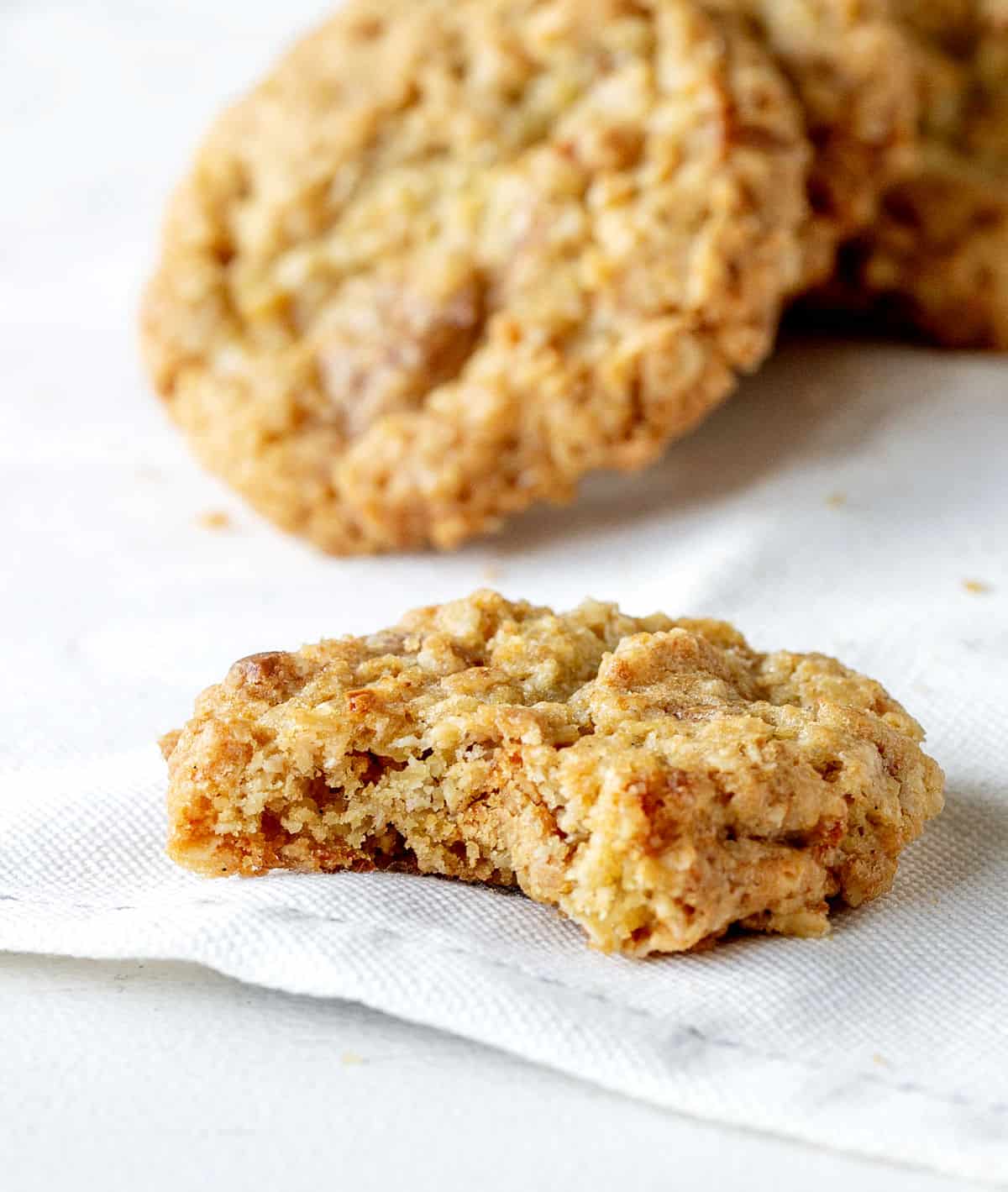 Frequently asked questions
Which oats are best for baking cookies?
Traditional oats are the best option because of the texture. Instant oats will work if that's all you have. I don't recommend steel-cut oats for this recipe as it's a very different texture and they don't bake completely.
Why do my oatmeal cookies come out flat?
The most probable cause is the butter being too soft or almost melted. This might happen with the butter you use when making the batter and also if the batter is left out at a high room temperature before baking. When this happens the cookies spread too much before the edges bake.
How many calories are in a butterscotch oatmeal cookie?
It depends on the size of the cookie, but a medium one is around 160 calories (see Nutrition info at the end of the recipe card, below).
How do I stop my cookies from spreading so much?
Refrigerating the cookie dough before baking will prevent them from spreading too much. Also, check that the oven temperature is the right one; a low oven might have the same negative result.
Other recipes you might like:
Let me know in the comments below if you make this recipe! I'd love to hear what you think about it. Thank you for being here, I appreciate it! Let's connect via Facebook, Instagram, and Pinterest.
If you like the recipes in this blog, consider subscribing and getting all new posts by email. As a thank you, we'll also send you a FREE recipe e-book and our Guide to Freezer Baking!
Print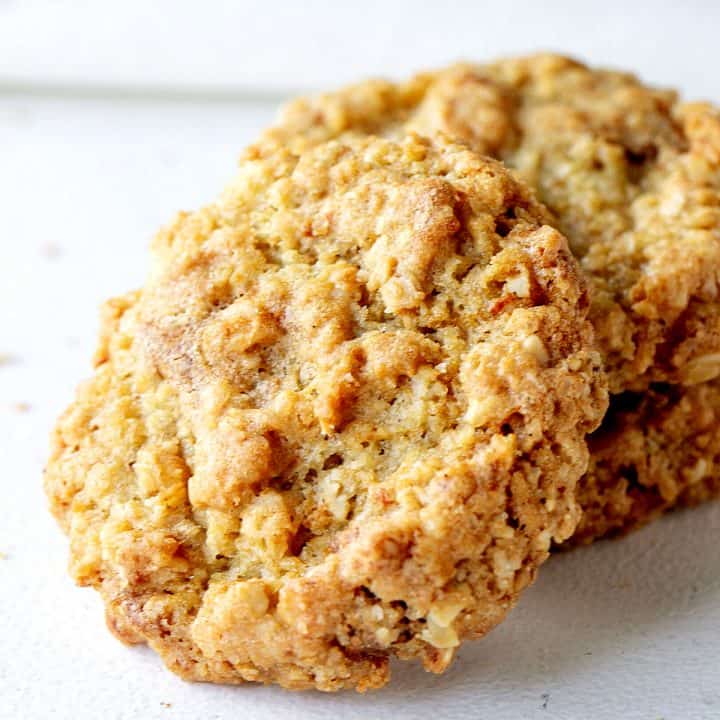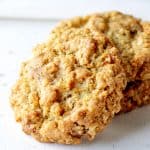 Butterscotch Oatmeal Cookies
Author:

Paula Montenegro

Prep Time:

15

Cook Time:

12

Total Time:

27 minutes

Yield:

30

medium

1

x

Category:

Cookies

Method:

Baking

Cuisine:

American
---
Description
Chewy, thick, and delicious, these are very easy cookies with a great caramel flavor from those butterscotch chips (or chunks, even better). They can be out of the oven in less than 30 minutes, or you can keep the dough in the refrigerator for a couple of days.
---
2 cups

(

180g

) rolled oats

2 cups

(

280g

) all-purpose flour

½ teaspoon

baking soda

½ teaspoon

salt

¾ cup

(

180g

) unsalted butter, room tº

1 cup

(

200g

) dark brown sugar

½ cup

(

100g

) white sugar

1

egg (room tº)

1 teaspoon

vanilla extract or paste

1 cup

(

170g

) butterscotch chips

1

or 2 teaspoons milk, your favorite liquor or orange juice, optional (sometimes the batter is stiffer than we'd like, so you can add some liquid)
---
Instructions
Line cookie sheets with parchment paper or butter the pans.
Beat butter with sugars in a large bowl.
Add egg, vanilla and beat well.
Add oats, flour, baking soda (I sift it to avoid lumps), and salt. Mix just until well blended and no dry spots remain. If the mixture is too dry add a tablespoon of milk, orange juice or liquor.
Add butterscotch chunks or chips and mix well.
Refrigerate the batter for 1 hour or bake them immediately. See note below.
Preheat the oven to 350ºF / 180ºC.
Scoop walnut-sized balls (or larger if you want bigger cookies) on the prepared sheets, leaving space between them. You can flatten them slightly with a fork if you want, I usually don't. But it is a good idea if you want to underbake them a bit.
Bake for 12 to 15 minutes, until golden and beginning to harden around the edges. If you want crunchier cookies, bake them a few minutes more.
Let cool for a few minutes on a wire rack before lifting them carefully from the paper and cooling them completely.
Keep in tightly closed tins or jars.
---
Notes
Refrigeration: leaving the mixture for at least 1 hour in the fridge hydrates the oats and improves the chewiness and moistness of the baked cookies. But they are amazing when baked directly also. I recommend you try and see which is your favorite.
Liquid: sometimes the batter is stiffer due to the weather, type of oats, size of the egg, etc. So I added milk, juice, or liquor as an additional ingredient if this happens, to make it moister.
Measuring the cookies: Use a small ice cream or cookie scoop if you want even-sized cookies. Leave about a 2-inch separation between each.
Baking: underbake them a tiny bit and they are chewier. Bake them a few minutes longer and they are crunchier and a little caramelized, my favorite. You truly can't go wrong here.
Batching and freezing: Make a large batch (double this recipe for example) and freeze them (I pop the baking sheet with the scooped out cookies in the freezer and then transfer to a bag when they are rock solid). It will save you time and you'll always have freshly baked oatmeal cookies. There is a post dedicated to Freezer Baking that you can consult.
Butterscotch chunks: I love using both, and if you can't get chunks, you can use the Dulcey chocolate from Valrhona, chopped. I love Nestle Butterscotch morsels and Guittard Butterscotch baking chips. Also, I love to use Valrhona Caramelia chocolate and use as chunks.
Variation: these work great with white chocolate or vanilla chips also. You can make a large batch, divide it and make different cookies at the same time.
Keywords: butterscotch oatmeal cookies
---