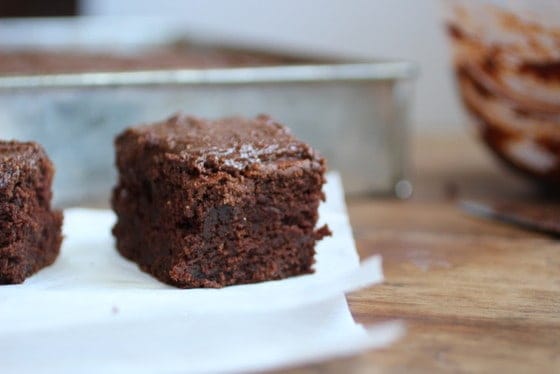 About this chocolate potato cake. It's beyond good.
The original recipe is made with Idaho potatoes.  Are they special? Do they taste different? Creamier? Never seen one, or tasted one; not a clue. I know the title of the recipe points in another direction, but I lied. Sorry.
But here's the thing: this is the most extraordinary, velvety, moist, delectable, melt-in-your-mouth chocolate cake I ever made. Hands down. And I have made many. Have searched years for the perfect, easy, everyday chocolate cake. And how could I know that it was made with cocoa, potato, and in the food processor!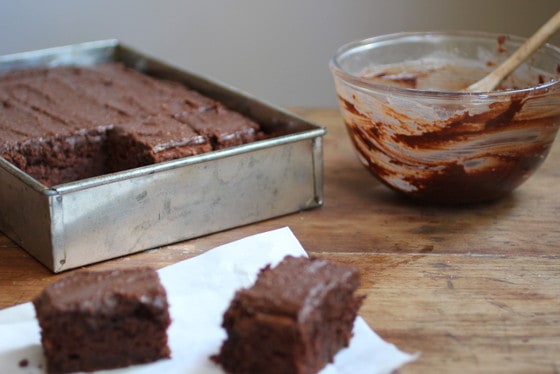 I added a peanut butter frosting, but that's completely not the point here. It's all about the chocolate potato cake itself.
So, what do you do if you have a lonesome potato and need a cake for, say, eight friends that are coming in two hours? You make this amazing cake.
But please don't wait. Please. Go now to the kitchen because you probably have everything you need. So easy and so good.
Go. NOW.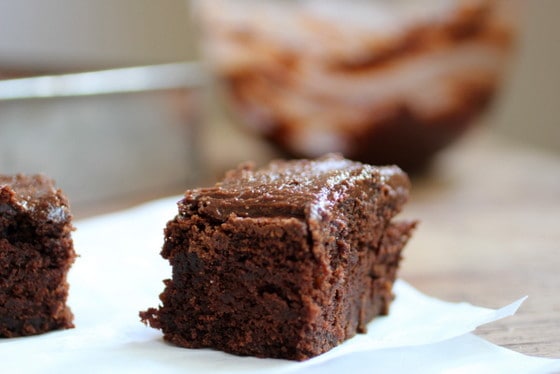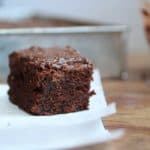 Chocolate Potato Cake
Ingredients
For the cake:
1  4-

ounce 

115g Idaho russet potato, peeled and cut to fit feed tube

2  

cups

sour cream

1 ¾  

cups

cake flour

1 ¾  

cups

sugar

¾  

cup

unsweetened cocoa powder

½  

cup

/ 1 stick 

115g unsalted butter, room tº

2

large eggs

1 ½  

teaspoons

baking soda

1  

teaspoon

vanilla extract

½  

teaspoon

salt
For the peanut butter frosting:
2

cups

peanut butter

3.5

oz

100g semisweet chocolate, melted

¼ to ½

cup

powdered sugar

use large amount if using natural unsweetened pb

2

or 3 Tbs cream
Instructions
For the cake:
Preheat oven to 350º. Butter and flour 9x13 inch cake pan or line it with foil.

If you don't have a large food processor you may need to make it in two batches. I do.

Put the shredding disc in the food processor and shred the potato. Transfer to a large bowl (you will use it to

mix the whole batter later), insert the steel knife and put the shredded potato back in the bowl of the processor.

Add half the remaining ingredients and process for 3 minutes, stopping once to scrape sides of bowl. Transfer mixture to the large bowl.

Repeat with remaining half of the ingredients and process another 3 minutes, stopping once to scrape sides of bowl. Add contents of food processor to potato mixture and combine everything well.

Transfer to prepared pan. Bake for 35 to 40 minutes, until tester inserted in center comes out clean. Cool completely in pan and invert onto platter.

Frost with peanut butter chocolate frosting, dust with powdered sugar or frost with whatever you like.
For peanut butter frosting:
Melt chocolate in microwave or double boiler. Mix thoroughly with peanut butter and powdered sugar. Add cream until

it's of desired consistency. Spread on top of the cooled cake with a spatula.
from Bon Appétit – January 1989