Gooey, easy to make, and incredibly delicious, this simple crepe is a dessert you just can't miss. You can make the crepes ahead.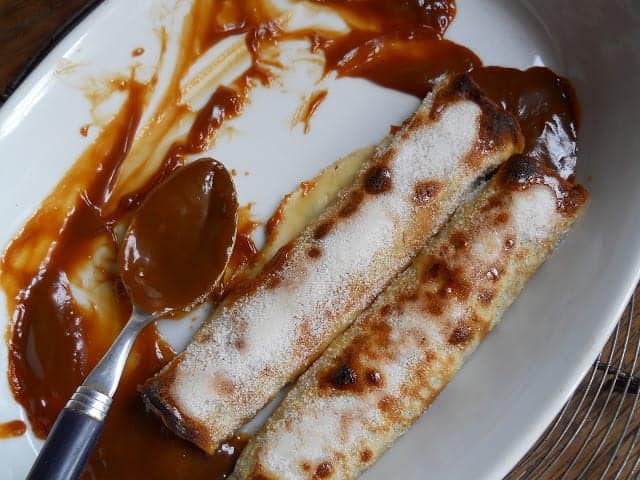 I thought that if you had bought some dulce de leche because you badly wanted to make alfajores, which you should really since they're that good, I might as well give you another easy recipe to use the rest of the jar. Especially if you have leftover crepes. What? You don't? Well, you should remedy that also, immediately.
Even if you already used the sticky jam to make brownies or chocolate wafer cake, you certainly bought a new jar, having caught the dulce de leche bug that will never leave your system. As you can see, my feelings for this sweet milk jam are serious.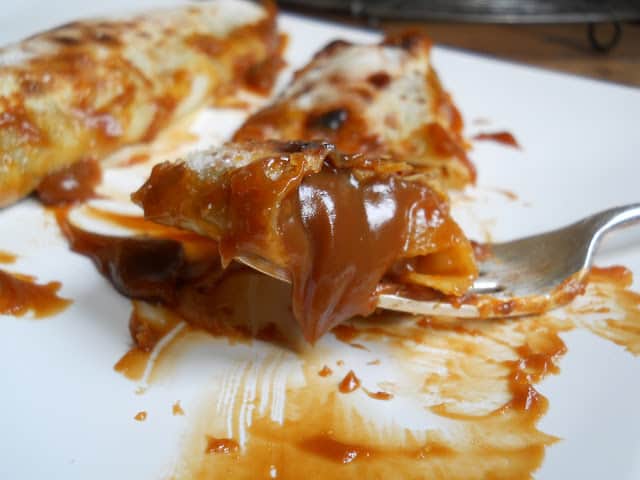 I was without my computer for four days. The screen decided to freeze one night and, though I could momentarily get hold of another one for a few hours on Sunday, it wasn't until yesterday that I was able to return to my blogging duties.
Funny how it can take over your day, how I didn't know what the hell to do without it, especially in the first morning hours while I had my breakfast coffee.
I need to update it, and the day will come, together with a change in my website which is working on with a wonderful designer friend. To tell the truth, he's working on it, I'm just the lucky recipient for now. We have a new logo that I love and a self-hosted site that I hope to have up and running soon.
Meanwhile, these filled, warm, sweet, gooey crepes will help calm my anxiety.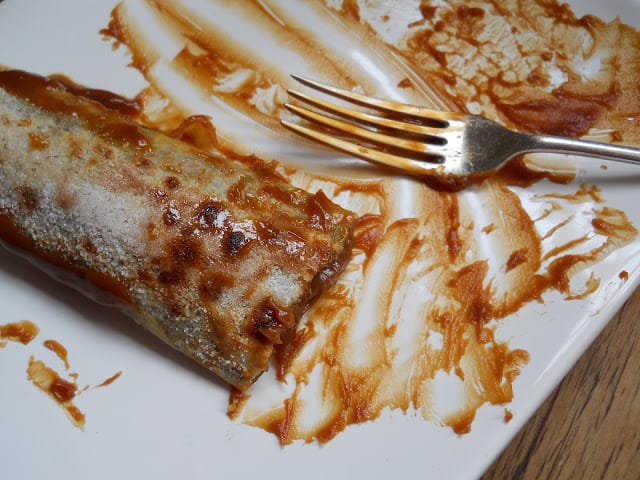 Crepes are a wonderful base for so many fillings. This sweet variation, which definitely can't be called a recipe, because, you know, it's like buttering a piece of bread and broiling it, will help you satisfy that sweet craving that suddenly creeps up from nowhere. Or feed dessert to the five additional mouths that appeared on your table because you kid decided to come home with his buddies, unannounced.
Any way you look at it, it's fast and delicious. Just slather the crepes with the amount of dulce de leche you want, I won't judge, roll them up, sprinkle with sugar and broil until a bit caramelized.
Then, and this is a big and important then, please allow the temperature to come down a bit before you take your first mouth full.
Otherwise, you'll have a burned tongue, and that's no fun. After all, it's caramel coming out of the oven, boiling caramel.
That consideration taken care of, there's nothing left to do but enjoy this sticky dessert, that will make a mess on your plate and have you scraping the sides of the serving dish with a spoon. So great.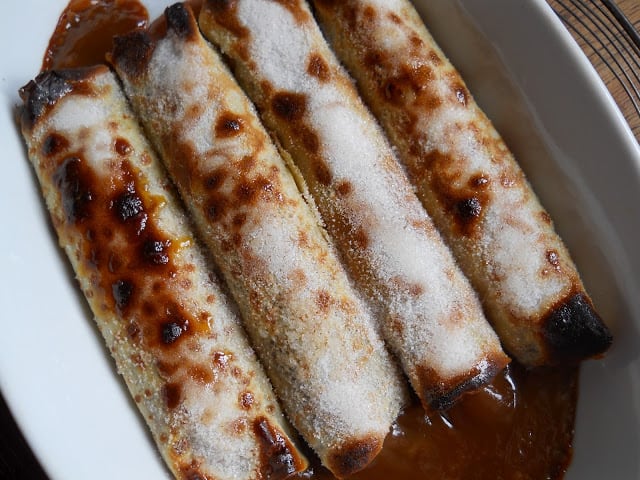 Personally, I love the burnt ends and the fact that the caramelization is not even. A bit of this and that with every bite.
Print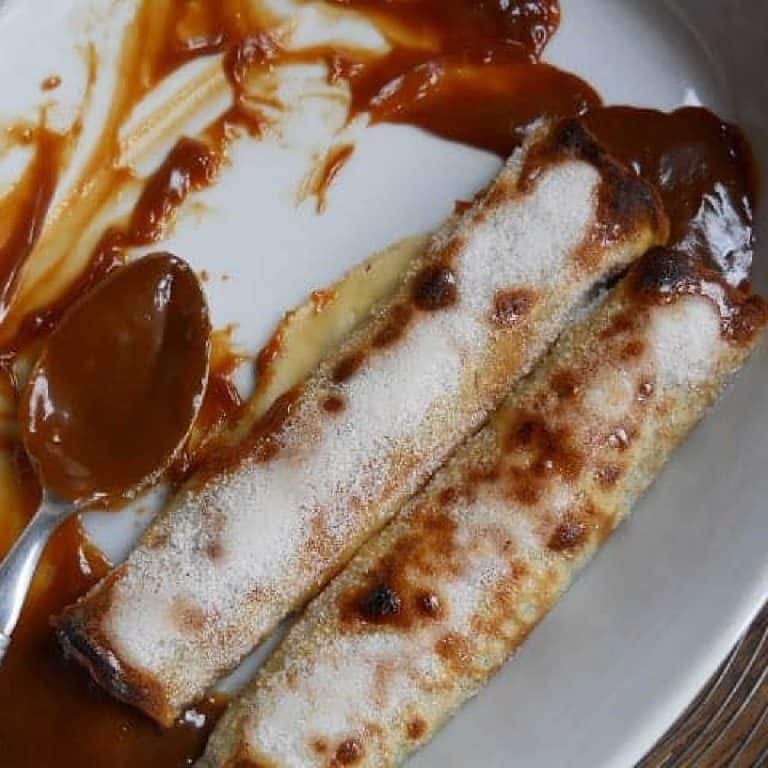 Dulce de Leche Crepes
The recipe is just a guideline. You can stuff them to your liking, I use about 3 Tbs for each crepe. If you have a blow torch you can caramelize the crepes without using the oven. Just be sure they're room tº.
Total Time:

45 minutes

Yield:

3 servings
6

crepes (thin French pancakes)

2

to

3

cups

dulce de leche

⅓

cup

sugar
Instructions
Preheat broiler to 400ºF /200ºC
Put crepes on a flat working surface, fill them along the center with dulce de leche, roll up to encase filling and arrange them, side by side, on a baking dish.
Sprinkle with sugar and broil for a few minutes until caramelized.
Wait a few minutes before serving them since they're very hot.
Author:

Paula Montenegro

Prep Time:

15

Cook Time:

30

Category:

Dessert

Method:

Cooking

Cuisine:

Argentinian
Keywords: dulce de leche crepes