I decided I would make a dutch baby for the first time, and somehow ended up with this wonderfully sweet and creamy white chocolate pancake with blueberries. In a cast-iron skillet, of course.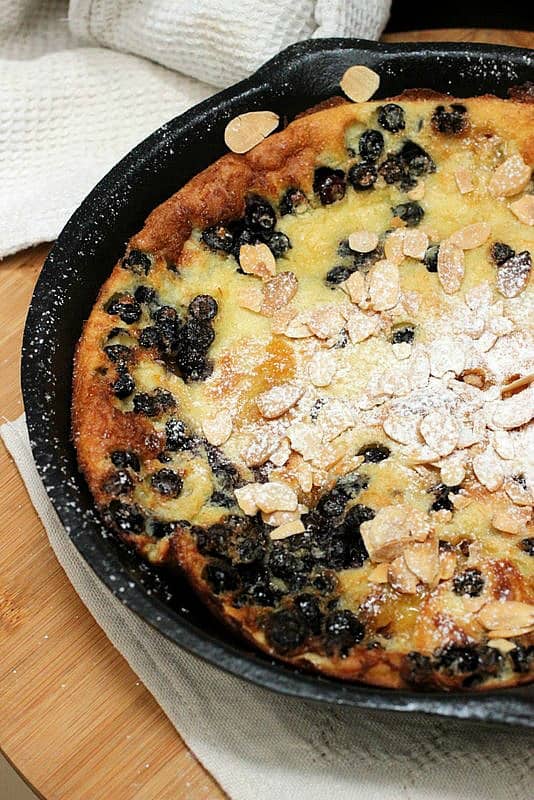 I don't have a lot of pancake recipes in this blog, but the ones that make it are really good.
So this blueberry dutch pancake is out of the ordinary for me.
There's something magical about taking a dutch pancake out of the oven, all puffed and majestic. It deflates pretty quickly, like the popovers, but it's a great dish for brunch or breakfast.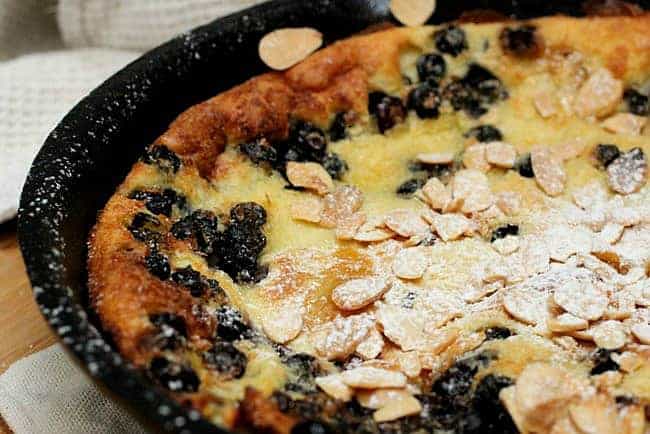 What is it about a pancake baked in the oven that's so appealing? That it puffs so much?
Probably, because it's like a giant thick popover that bubbles up and cracks, leaving the baker with just a few minutes to admire it in all its height before poof! it's completely flat and ordinary looking.
That kinda makes the baker the only one admiring the work. But hey, life is not only about praise, but it's also about self-fulfillment. Let's say the latter came in the form of a puffy pancake and a mouth full of it.
The hazards of baking.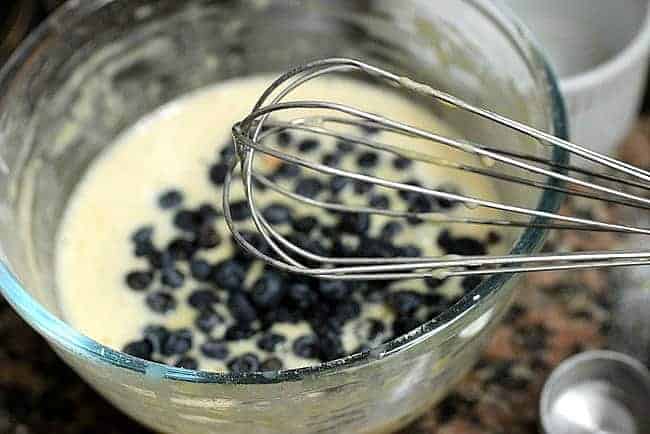 Tips for making this recipe.
Oven - have it preheated, otherwise, the pancake will not rise as it should.
Skillet - I use cast iron, but you can use your favorite non-stick one. Beware that they are very heavy and that you will need kitchen towels to take it out of the oven. It will be piping hot!
Chocolate - this recipe calls for white, but use dark if that's your jam or if you don't like very sweet pancakes.
Blueberries - fresh or frozen, both work. Raspberries are good also.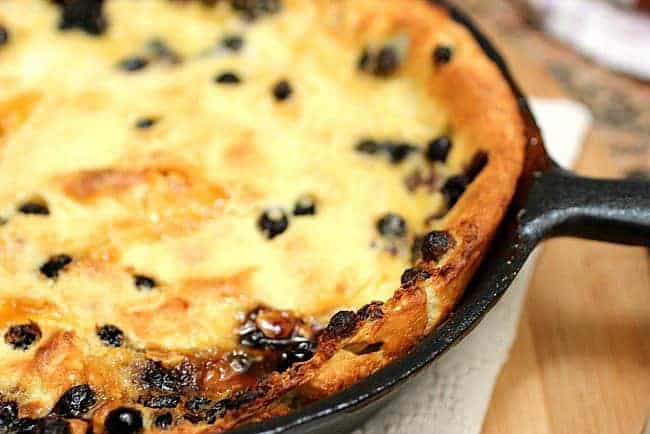 This is more of a dessert than a breakfast, in my opinion. Unless you like sweet things in the morning.
Quite sweet. But hey, dessert is dessert, meant to be sweet and filling, and a hot skillet makes it ideal to plunge the spoons directly and eat from it, no plates necessary and one less pile of dishes to wash.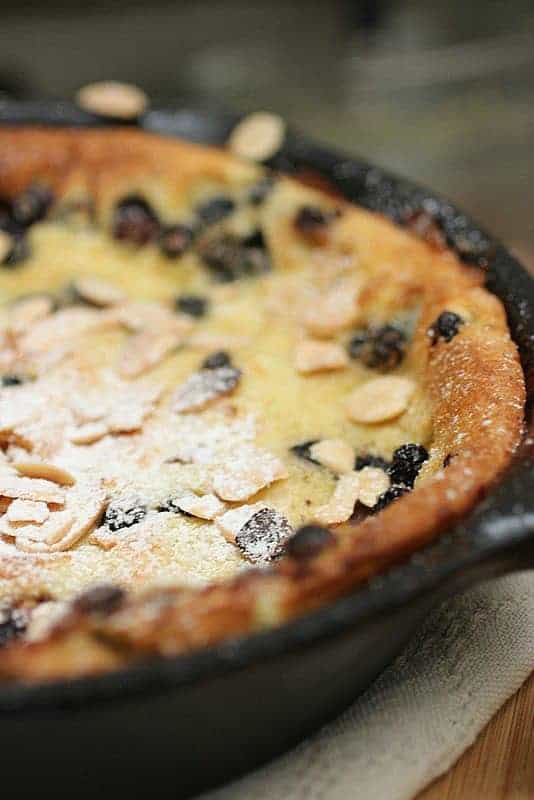 Other recipes you might like:
Best Buttermilk Pancakes
55 Pancake Recipe Round-up
Swiss Chard Pancakes
Cornmeal Berry Pancakes
Blueberry lemon cupcakes
White chocolate custards
Let me know in the comments below if you made this recipe and loved it and if you had issues so we can troubleshoot together. I love to hear what you think, always. Thanks for being here. It's much appreciated.
You might also consider subscribing to our FREE email series to Boost your Home Baking Skills! And our regular newsletter.
And let's connect via Facebook, Instagram, and Pinterest.
Print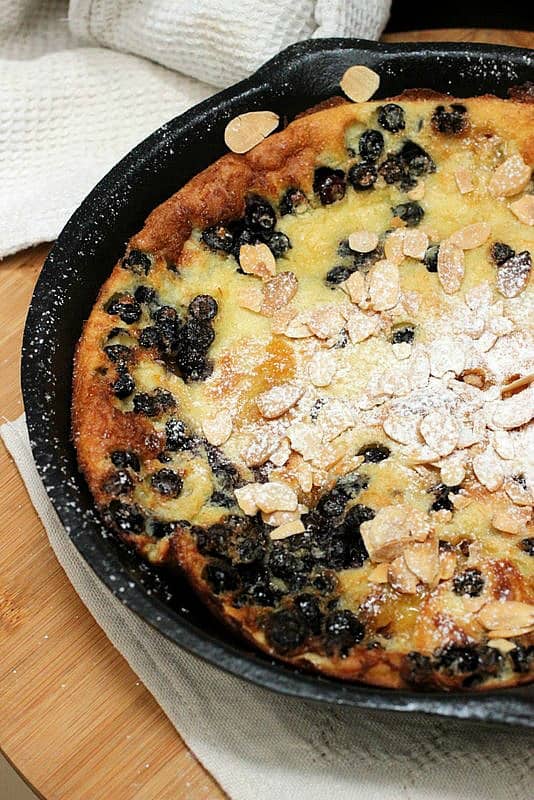 White Chocolate Blueberry Dutch Pancake
Total Time:

30 minutes

Yield:

6 servings
2

eggs

½ cup

milk

½ cup

sifted all purpose flour

1

Tbs confectioners' sugar

¼ teaspoon

vanilla extract

¼ teaspoon

sea salt

2

Tbs butter

⅓ cup

white chocolate chips

½ cup

blueberries (fresh or frozen)

2

Tbs sliced almonds (toasted)
Confectioners' sugar (for sprinkling)
Instructions
Preheat oven to 220º.
Have all ingredients ready.
Melt butter in an 8-inch cast iron skillet over medium heat. Let it brown a little.
Meanwhile, in a blender or with a wire whisk, mix eggs with flour and sugar until well blended.
Add milk gradually and then vanilla. Add salt.
Mix in white chips and blueberries.
When the butter is browned add this mixture quickly to the skillet, and pop the skillet immediately into the oven.
Bake for about 20 minutes, until golden and puffed.
Take it out of the oven, sprinkle with almonds and confectioners' sugar and eat.
Author:

Paula Montenegro

Prep Time:

10

Cook Time:

20

Category:

Breakfast, Dessert

Method:

Baking

Cuisine:

American
Keywords: white chocolate pancake, white chocolate dutch pancake