These are delicious and beautiful as you take them all puffed up from the oven. They're a great recipe for brunch or to accompany meat juices.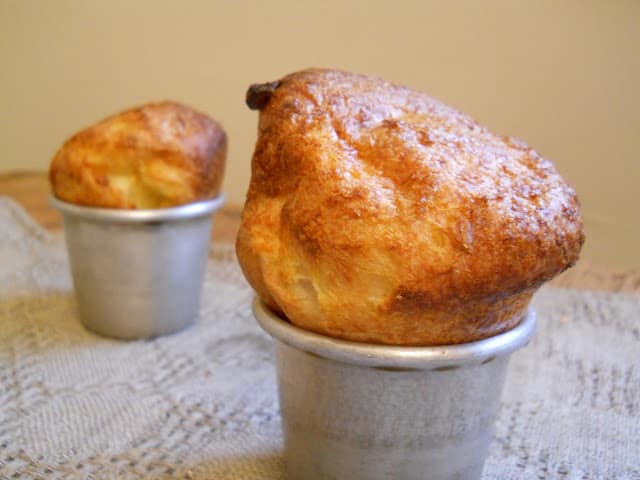 Sometimes things happen at the right time.
Today we are baking from the wonderful book Baking with Julia by Dorie Greenspan, and the recipe is Popovers. The contributing baker is none other than the great Marion Cunningham.
This is my first time making popovers, and boy, they are a tough thing to photograph.
Even if you, like me, had never baked popovers there's a big chance you had wanted to for a long time. Just looking at a picture of these incredible golden irregular towers of dough makes most of us drool.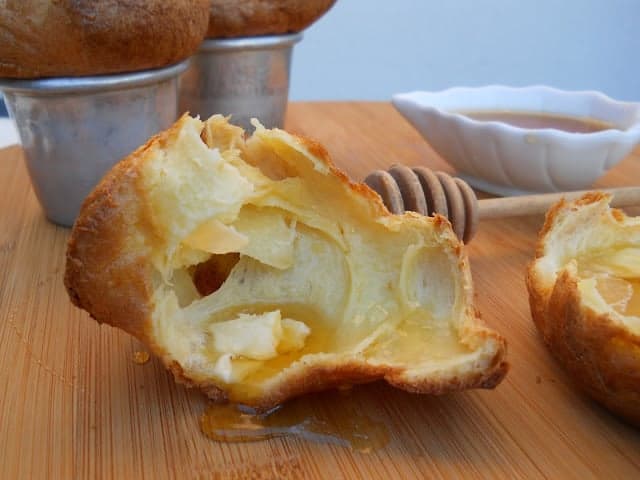 And it's a very well-deserved title they hold. A blender, a few ingredients, and a while later you're taking amazingly tall popovers from your oven.
Metamorphosis like this one is what draws me to baking. Such a simple, unassuming-looking thing before it goes into the oven, and then boom… the most incredible result!
Like a soufflé, these little things are a bit temperamental. They should go from the oven to the mouth with as little time in between as possible. A few minutes later they start deflating a bit and lose their crisp exterior.
I had mine smeared with butter and honey, a bit of a mess but a delicious one.
The recipe is written exactly as it is in the book, but I will tell you what my personal experience was, since being a novice popover baker, I followed the recipe exactly the first time and then adjusted a few things.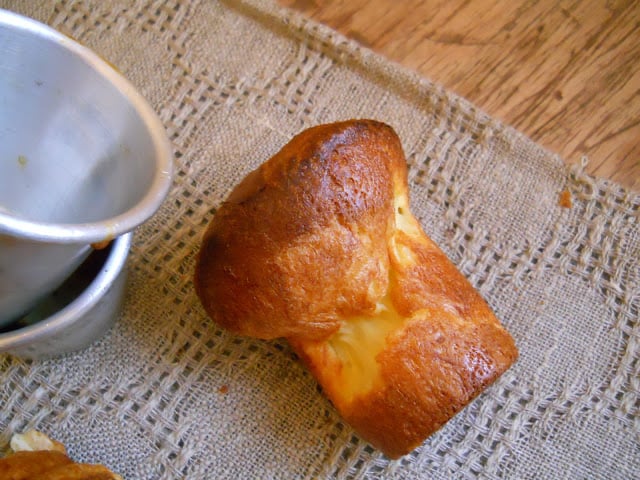 I baked three batches using the same batter. I put the remaining batter in the fridge overnight, as you would for pancakes, and by far, the best batch was the one I baked almost a whole day later. They were less eggy and had more flavor.
I used aluminum cups (not glass) and had a hard time un-molding them, except the ones that had less batter and consequently didn't rise as much, those popped out easily. I buttered them the first time, double buttered them the second time and used vegetable spray the third time. I have to admit the spray was the winner. That and no more than ⅓ of the cup full of batter.
And, though I didn't open the oven door for the first 25 minutes as instructed, the first batch, which I dutifully baked for 15 to 20 minutes more, came out with an opaque, thicker crust. Not nice.
In the second and third batches, I left them only an additional five and ten minutes and they were golden and much better. The interiors were the same each time.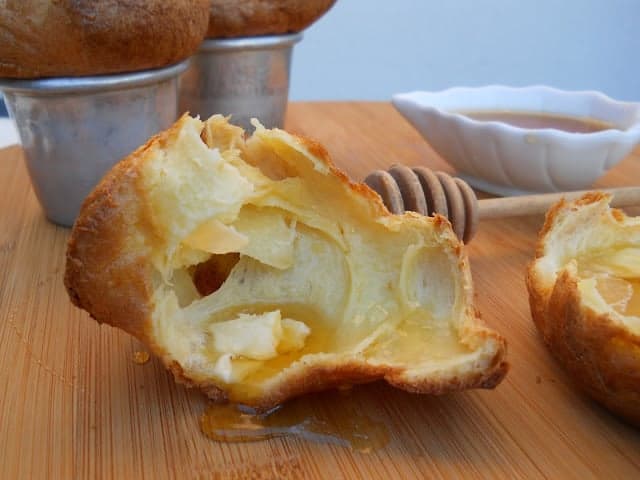 Even though the recipe calls for room-temperature ingredients, the popovers I baked with cold batter straight from the fridge were perfect.
Print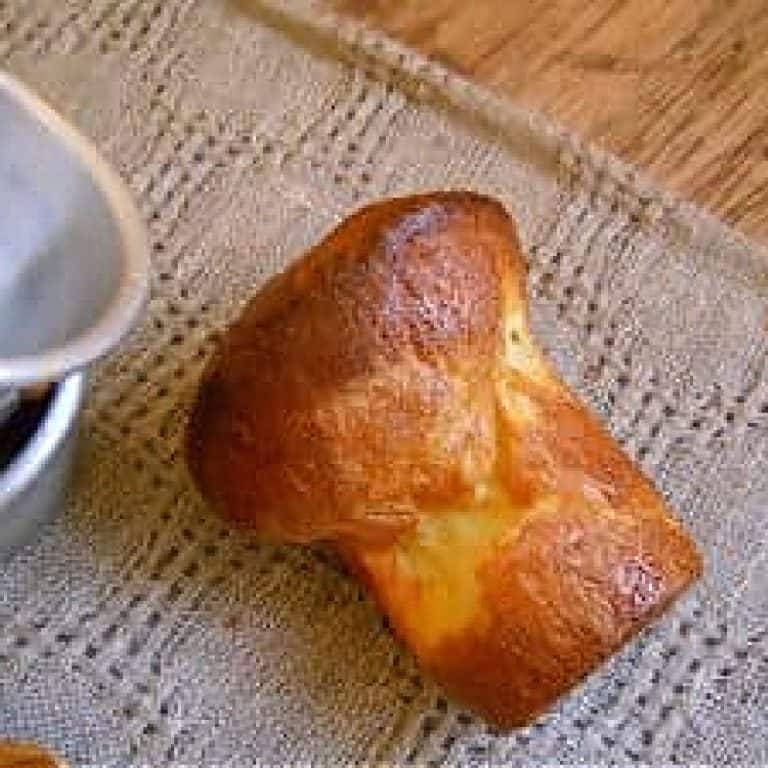 Easy and Best Popovers
These are delicious and beautiful as you take them all puffed up from the oven. They're a great recipe for brunch or to accompany meat juices.
Total Time:

55 minutes

Yield:

12 medium
1

cup

all-purpose flour

1

cup

whole or 2% milk, at room temperature

½ teaspoon

salt

3

large eggs, at room temperature

2 tablespoons

unsalted butter, melted
Instructions
Melted butter, for greasing popover cups.
Position a rack on the lowest rung of the oven and preheat the oven to 425ºF.
Butter or spray nine ¾ cup glass custard cups or ten ½ cup muffin cups. If you're using custard cups, place them on a jelly-roll pan, leaving space between each cup. If you're using muffin pans, you'll need to use two 12-hole tins because you won't be filling all the muffin cups to give the popovers ample air circulation.
Pour all the ingredients into the container of a blender and whirl until smooth. (This can be done in a food processor or in a bowl using a hand-held mixer). Strain the batter if it is at all lumpy.
Baking the popovers:
For the custard cups, pour ⅓ of the batter into each cup, dividing any extra batter among the cups.
For the muffin cups, use ¼ cup of batter for each cup, filling alternate cups in each tin so that every popover has puffing space.
Bake, without opening the door, for 25 minutes, until the popovers are puffed, nicely browned, and crisp on the exterior.
Turn the temperature down to 350ºF and bake for another 15 to 20 minutes, to help dry out the interior, which, no matter what you do, will always be a little doughy in the center. (Some people love this part, others pull it out).
Serve immediately.
Storing:
Popovers are at their puffiest right out of the oven.
You can hold them at room temperature for a few minutes, or wrap them airtight, freeze them for up to a month, and reheat them in a 350º F oven for 10 to 15 minutes, and they'll taste good, but never as good as freshly baked.
Author:

Paula Montenegro

Prep Time:

15 minutes

Cook Time:

40 minutes

Category:

Bread

Method:

Baking

Cuisine:

American
From Baking With Julia, by Dorie Greenspan