This is one of my family's Christmas recipes that we only eat that day but that we all die for! Stack of thin crepes layered with homemade mayonnaise and whatever other ingredients you want. For us, that is ham, lettuce, tomatoes, eggs, and other things.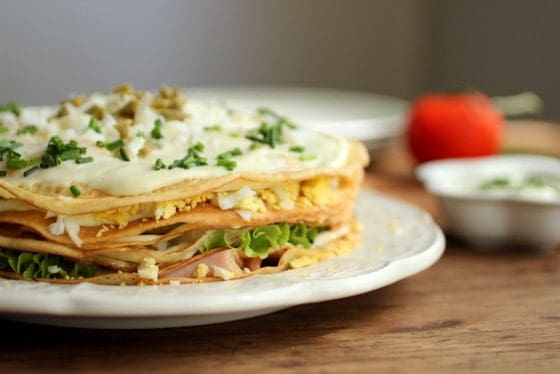 My Christmas will be spent tomorrow at my father's house. We celebrate the 24th at night, Christmas Eve, or Nochebuena as we call it.
It will include appetizers, a turkey with corn and prune stuffing, quince and mustard sauce, salads, a lemon cheesecake, and apple pudding, the last two made by me. And I will miss this savory crepe cake - not a minor issue - because it's a tradition on my mother's part of the family.
Those recipes are not family ones, except for the turkey, and that is my father's area, that's why I have no Christmas recipe for you.
Though I'm hoping I'll be able to take good pics and post about it in the coming weeks.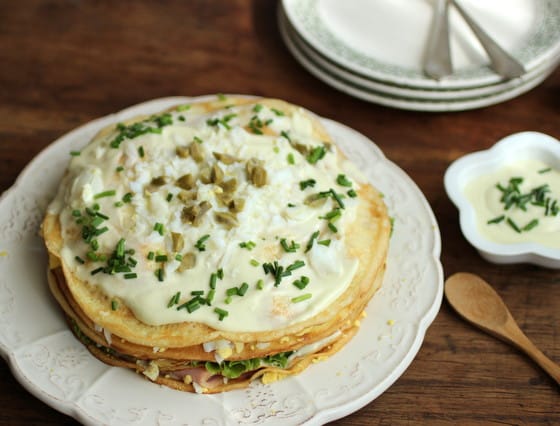 For the last few years, we've been gathering at my uncle's house to celebrate the new year.
Sort of a family potluck, with all of my cousins on my mother's side, a few odd guests invited at the last minute, and that part of my family I never remember clearly, the second or third aunt or cousin who come with their own families, and though I try I hardly ever remember their names; they usually remember mine which is embarrassing.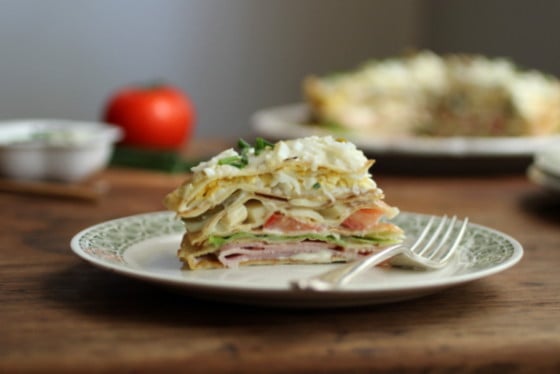 And of course the familiar food at the table. Since this is the recipe my maternal grandmother used to make, it obviously makes an appearance at the buffet table. A very large table.
It ends up being a big affair, with tables and chairs borrowed from the whole house, because, just like that, without anyone realizing it, forty people end up seating together to celebrate the new year.
I hadn't eaten it in years and was surprised to be craving it as much as I did when I was growing up and this was a once-a-year thing my grandmother made, with familiar flavors that tasted better because of the anticipation. Last year, my cousins made it exactly like the original recipe, with canned devil ham, store-bought mayonnaise, and an awful decoration of red peppers from a jar.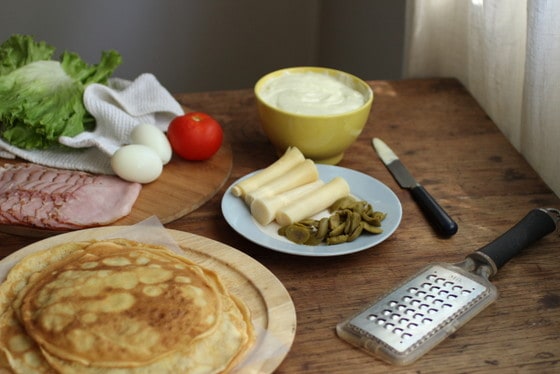 Today my version is jazzed up a bit using homemade mayonnaise, smoked pork tenderloin instead of the canned ham, and adding hearts of palm.
This savory cake is very simple.
Just a few things to take into consideration: since you're spreading mayonnaise on every crepe don't put too much on each, remember to salt every layer, don't overstuff the center of each crepe, and don't press the layers down, that way it will be taller and you will be able to distinguish the different fillings when you cut it.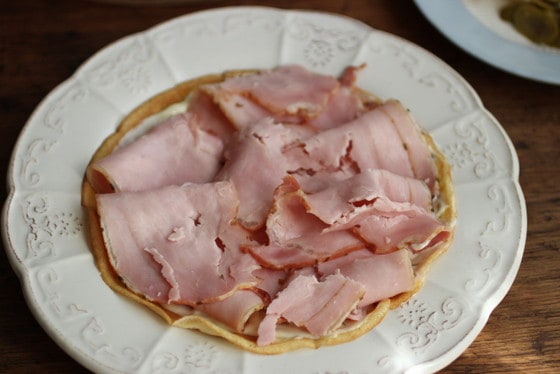 The final decoration on top is up to you. I don't decorate really, it's not my thing, especially savory things, so I just added some mayo, grated egg, chopped olives, and some chives on top.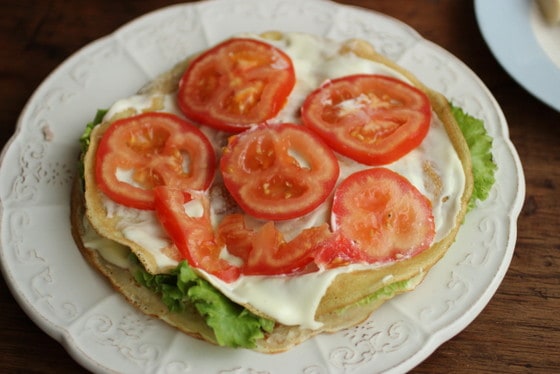 This cake can be filled with many other ingredients, depending on your taste, from tuna to roasted red peppers, smoked salmon, etc.
I'll make it again in a week and take it over to my uncle's house. I hope they find my revised version as good as the old one. I'll be crossing my fingers, just in case.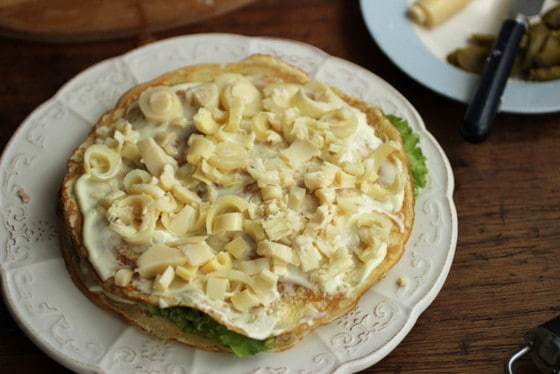 And as the night closes in, the new year is toasted to, the traditional lucky 12 grapes or raisins are eaten, white is worn with pink underwear, which is something hard to pull off, who knows where that idea started, and all traditions are taken care of, I'll be looking forward to the next time.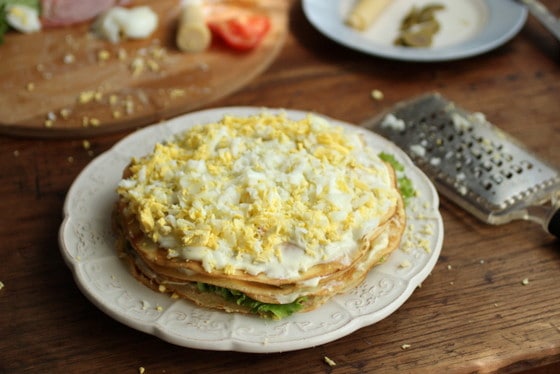 I find myself eating the pancake tower, as it's called in my family, chatting away with my cousins as someone is inevitably cornered and told some story again and again by a drunken guest; while we swear next year we'll do something with our friends because it should be more fun than family again.
Just to find ourselves, a few minutes later, vowing to each other to attend the party again next year, all of us, so as not to leave the others prey of the drunken or boring guests.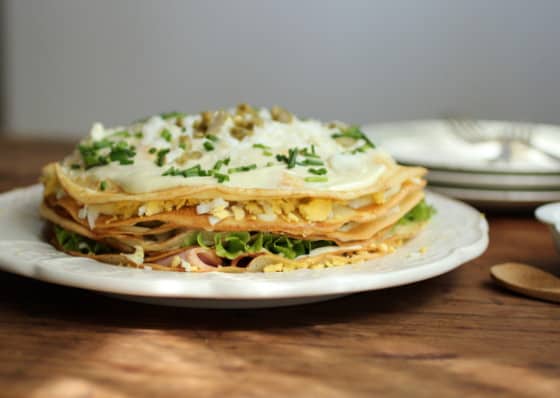 I always have fun with my cousins, even though I'm the oldest, and I love celebrating New Year.
It's a new year after all. It's important. If the old one was good we have a lot to celebrate; if it was not so good you want to toast to
a better one.
Happy Holidays to everyone, hold your loved ones tight, and enjoy the moment!
Print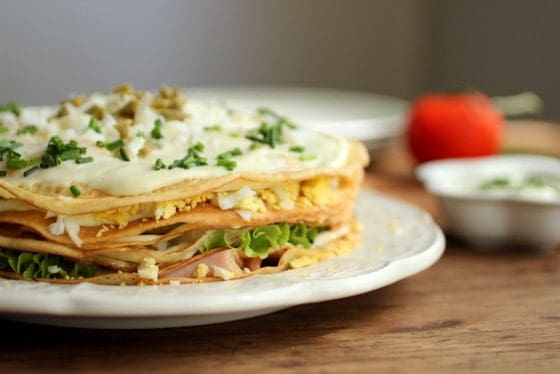 Savory Crêpe Cake
It's very important to keep homemade mayonnaise refrigerated at all times. Use store-bought if you don't want to eat raw eggs.
Total Time:

30 minutes

Yield:

6 servings
1

recipe Crepes (find recipe here or use store-bought)

7

oz

(200g) sliced smoked pork loin or ham
Lettuce (2 leaves)

1

medium tomato

2

hard-boiled eggs, cold or at room temperature

1

cup

chopped hearts of palm

½

cup

chopped green olives

2

Tbs chopped chives, for garnish
For the homemade mayo:
1

cup

olive oil

1

cup

canola oil

2

eggs

½ teaspoon

dijon mustard

½ teaspoon

salt
Juice of

half a

lemon
Dash of tabasco
Instructions
For the homemade mayo:
Put both oils in a jar and reserve.
Put eggs, mustard and salt in the bowl of a food processor fitted with the steel blade. Process for a minute, until foamy.
Very slowly at first, drop by drop, start adding oils through the feed tube. The first half cup should be added by drops, so it emulsifies well. Have patience.
After the first cup you can add the rest in a thin stream. The mayonnaise will be thick.
Add lemon juice and tabasco and pulse to combine. Check seasonings and refrigerate.
It will keep 3 to 5 days.
Have ready: room temperature crepes, smoked pork, rinsed and dried lettuce, thinly sliced tomato, eggs and a large hole grater, hearts of palm, olives and mayonnaise.
I put it together like this:
In the plate you plan to serve the cake place one crepe and spread a thin layer of mayonnaise
Arrange smoked pork or ham on top
Another crepe spread with some mayonnaise
Arrange lettuce on top
Another crepe spread with mayonnaise
Arrange sliced tomatoes, covering the surface
Another layer of crepe spread with mayonnaise
Arrange chopped hearts of palm covering the surface
Another crepe spread with mayonnaise
Add chopped olives.
Another crepe spread with mayonnaise
Grate 1 ½ hard boiled eggs directly over crepe (reserve ½ for top of the cake)
Last crepe on top. Spread some mayonnaise and grate reserved egg on top, sprinkle with chopped olives and chives.
Keep refrigerated until ready to serve.
Notes
You can fill this with whatever savory combination you like.
Buying the crepes and the mayo makes this a snap to put together.
Author:

Paula Montenegro

Prep Time:

30 minutes

Category:

Appetizers

Method:

Layering

Cuisine:

International
Keywords: savory crepe cake
Homemade mayonnaise: barely adapted from Martha Stewart