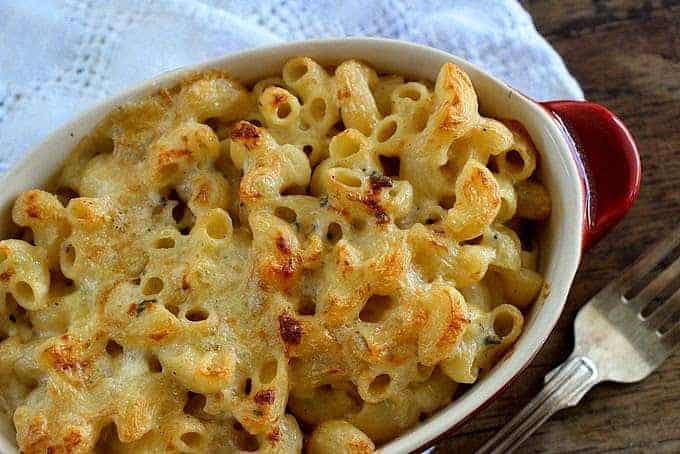 Well hellooooooo…    yes, it's been that long, I know. How have you been, my friends? I've missed you like crazy, and you should've listened to my inner talk about this one being the week when I would resume my blogging; every single week since the third one of February when I posted the cheesecake brownies.  A minor detail the fact that I was hardly baking and/or cooking. Minor.
So let's wing it and go straight to this easy recipe for baked mac and cheese.
.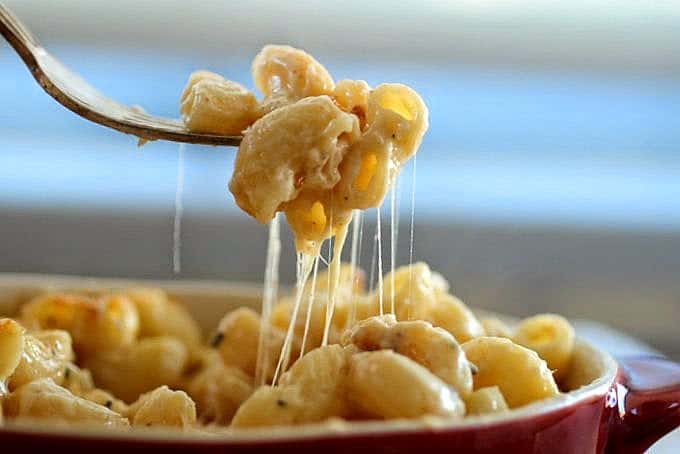 I came back with a few food memories from my two-year stay in California when I was young enough to go to middle school, a fact I shared with you when I recreated smitten kitchen's recipe for homemade wheat thins. The box with the orange mac and cheese was something I looked forward to. As a messed up teenager – and I don't mean that in a bad way, it's simply a fact of being a teenager – being thin was one of my major goals, so pasta drowned in cheese was food I dreamed about, not food I ate regularly.
And then there was the non-cooking mother situation, a fact hard to overlook, which led to boxed and frozen everything whenever she could. And besides, I had nothing to compare to; the box of mac and cheese tasted amazing since it was my only shot at eating it.
Now that I think about it, maybe my mom was on to something, lower the food expectations of your household and the three things you do make occasionally will be talked about as if they were a freaking flavor sensation.
.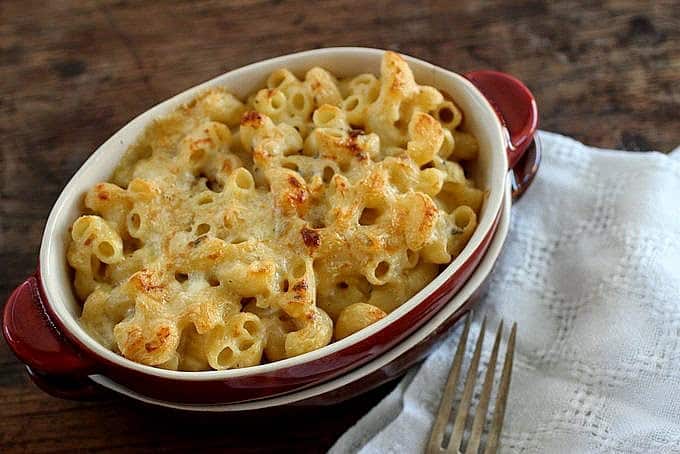 Back to our humble dish of pasta with cheese here, it was by accident that I made it. My last secret recipe club post was coming up, and being one with the memory of an elephant, I never looked up who my secret blog was. I just went and made a recipe from the one I was sure I had been assigned to. Imagine my surprise when I realized I had made another recipe from last month's blog; not because of the recipe, but because I had little time to actually make it on time to post what I had really been assigned. That's how you got the
ham and cheese muffins
and this baked macaroni and three kinds of cheese recipe. Lucky you. And the fact that it's all about cheese doesn't escape me either. Maybe it's a regression to those teenage years. I hope not. Ha.
 .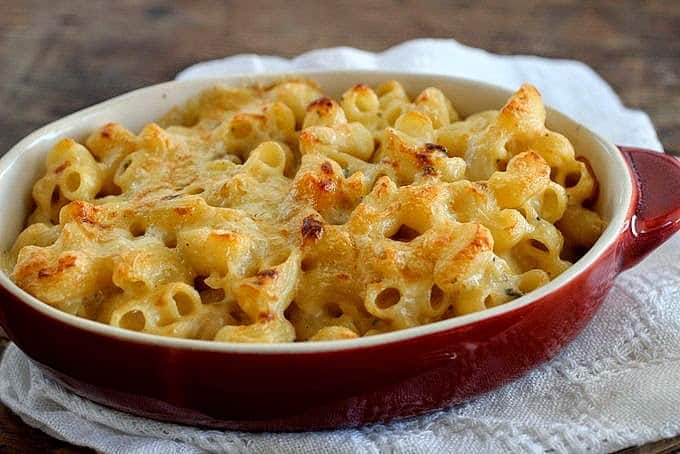 Anyway, the easy in the title is for real, since sour cream is involved, and that makes it creamy without trying. A sharp cheese is absolutely necessary, unless you want bland thrown into the equation; I use blue cheese because, well, I worship it, it's one of my favorite flavors – a few hints here and there in this blog, the
skillet blue cheese burgers
, my mother's legenday leftover pasta frittata, or the amazing pumpkin ricotta gnocchi with blue cheese butter.
What is exclusive is the au gratin part, fancy words for broiling it in the upper part of the over.
Because, my friends, mac and cheese with no crunchy part on top is just not worth it. Said by the person who fought over orange macaroni and cheese with no crunch whatsoever.
 .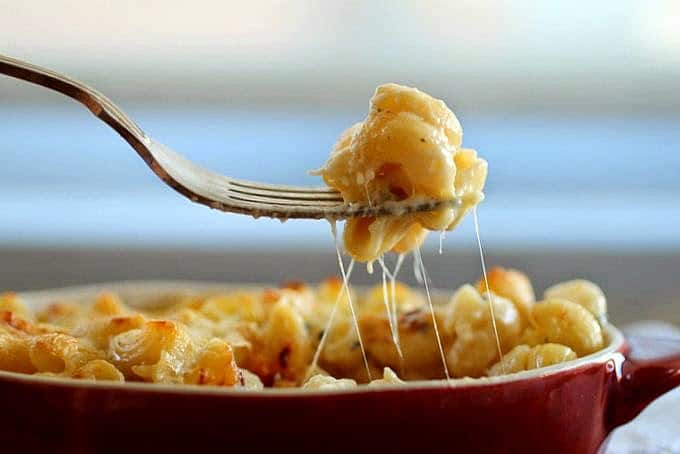 That was then, this is now. I turned 46 a week ago, at least I can say my palate evolved.
.
Print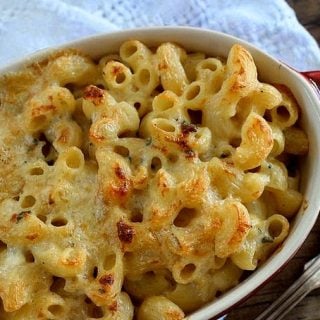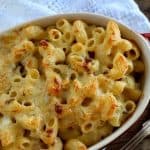 Easy Baked Macaroni and Three Cheeses
---
Scale
Ingredients
1/3 cup

sour cream

1/3 cup

milk

½ cup

shredded sharp parmesan or asiago cheese +

¼ cup

for topping

½ cup

cubed mozzarella cheese +

¼ cup

for topping

½ cup

crumbled mild blue cheese

1 cup

elbow macaroni (cooked and drained (I made

1 cup

so I could have 3 servings))

2 tablespoon

s chopped onion
Salt and freshly ground black pepper
Dash of sriracha sauce
Large pinch of fresh thyme
---
Instructions
Preheat oven to 350ºF. Have ready to medium individual oven ramekins.
Mix sour cream, milk, ½ cup parmesan, ½ cup mozzarella, blue cheese and onion in a bowl.
Add cooked macaroni, season with salt, pepper, thyme and sriracha and mix well.
Top with the rest of parmesan and mozzarella cheeses, dividing evenly.
Bake for 15 to 20 minutes, and lastly broil for minutes, being careful not to burn it.
---
adapted from Fantastical Sharing of Recipes
---